Google Shares New Tools to Audit Website User Experience
Google has rolled out a new garage full of tools you can use to tune-up the page experience of your business website, so your rankings climb and your ideal customers stick around.
Paul D. Grant also recommends this free website performance assessment.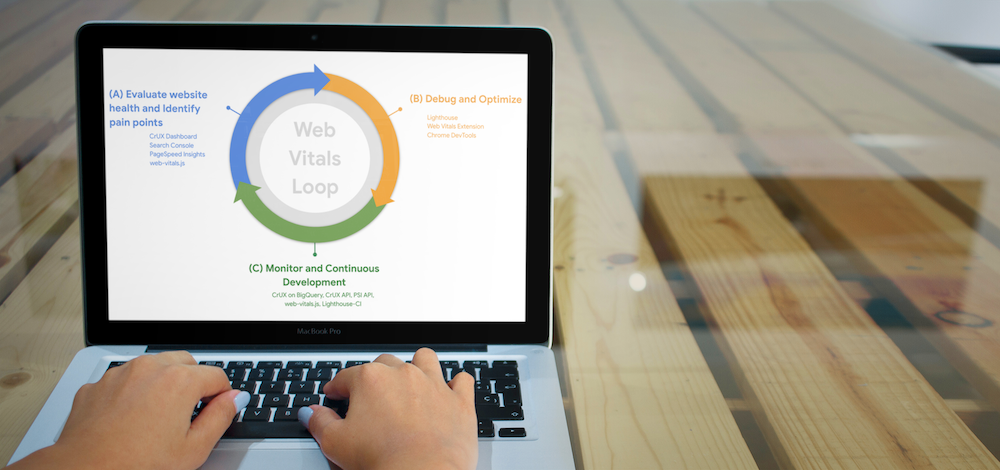 What you need to know about Google's advice (short version)
Let's get into it.
Free Assessment: Website Performance Assessment
Why does page experience matter again?
Last year Google added new, page experience-specific metrics to something called Core Web Vitals.
Core Web Vitals measures how "healthy" your website is from a search and page experience perspective – this includes how quickly your site operates and pages load, the responsiveness of your website design across different devices), your website security, how easy your website is to use, and so on.
🎓 IMPACT+ course: On-page SEO and the user experience
Us inbound marketers cared because when Google announced those new metrics, they also shared that (at some point) they would be used as a ranking factor for website content in search results.
And that finally happened this past June on mobile, with desktop to follow sometime in the future. So, this latest news is Google's way of making sure website owners – like you and me – have what they need to address any page experience issues that may now be weighing down their content rankings (and annoying their site visitors).
What tools Google says you really need
The recommended auditing process is called the "Web Vitals Loop." Outlined in the diagram below, Google lays out its suggestions for how you can most efficiently audit, prioritize, and address gaps in your business website user experience: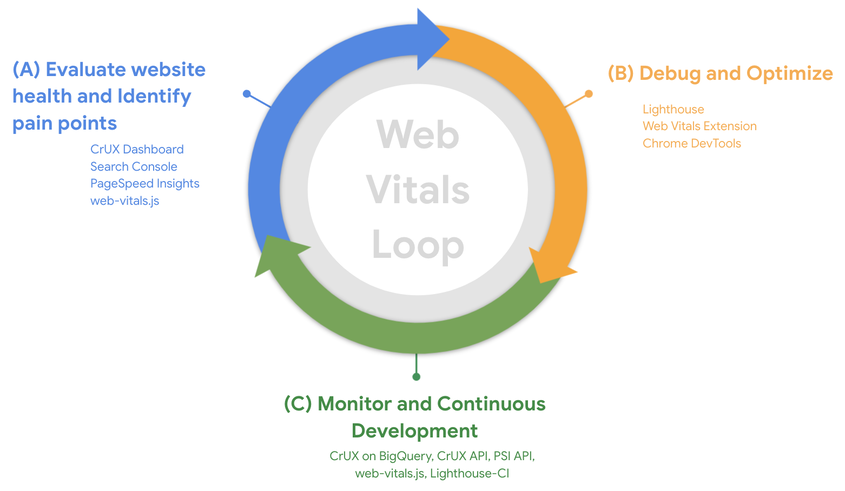 Image source: Google
Although it seems pretty straightforward, let's dig a little deeper:
Evaluate your website health and identify pain points
You should be doing this every day. Is your traffic good? Is it

growing

? Is it converting? Do certain pages do better traffic than others? Are visitors viewing one page and bouncing off the site or are they sticking around? Are your offerings clear? Are your pages loading quickly? (Or are they taking forever to load, like it's 1981?) How good is your mobile experience? These are the questions you need to be asking yourself.



Tools you can use:

Search Console, CrUX Dashboard
Debug and optimize
Once you've done your analysis, take action: Fix broken stuff. Analyze why the successful pages are successful. Make sure your calls-to-action are functioning correctly. Sometimes, while amid the crush of running a business, it's easy to forget to experience how things look from the customer's side of the equation.

🎓 IMPACT+ course:

Investing in your company's website user experience

As this applies to your website, take the time to click around (as if you were a user), check links, ad so on. Then, critically evaluate how good your user experience is (or isn't). You want visitors easily cruising around your site, navigating like they're sailing on calm seas. (You definitely don't want this.)

Once you've identified your UX issues, prioritize what needs to be done. Get the easy stuff out of the way, sure, and make sure anything big you're taking on has a big payoff.



Tools you can use:

Lighthouse, Chrome DevTools
Monitor and continuous development
This is where you'll begin to feel the pressure of your actions.

Beeee

-cause Google found that website owners that focused on improving their performance would actually regress backward with that performance over as many as the next six months.

Counter, meet intuitive.



But if you keep a close eye on how your website is doing, with page experience at the forefront of your mind, you'll have a better chance at sidestepping that performance backslide.



Tools you can use:

CrUX via BigQuery, Search Console
What you should do next with your site
If you are doing all the right things, the Google machine will smile on you like the artificial lifeform that it is. To earn that smile, make sure you are:
And, of course, we're here if you need us. To talk more about driving traffic, leads, and sales with your inbound marketing, chat with one of our advisors.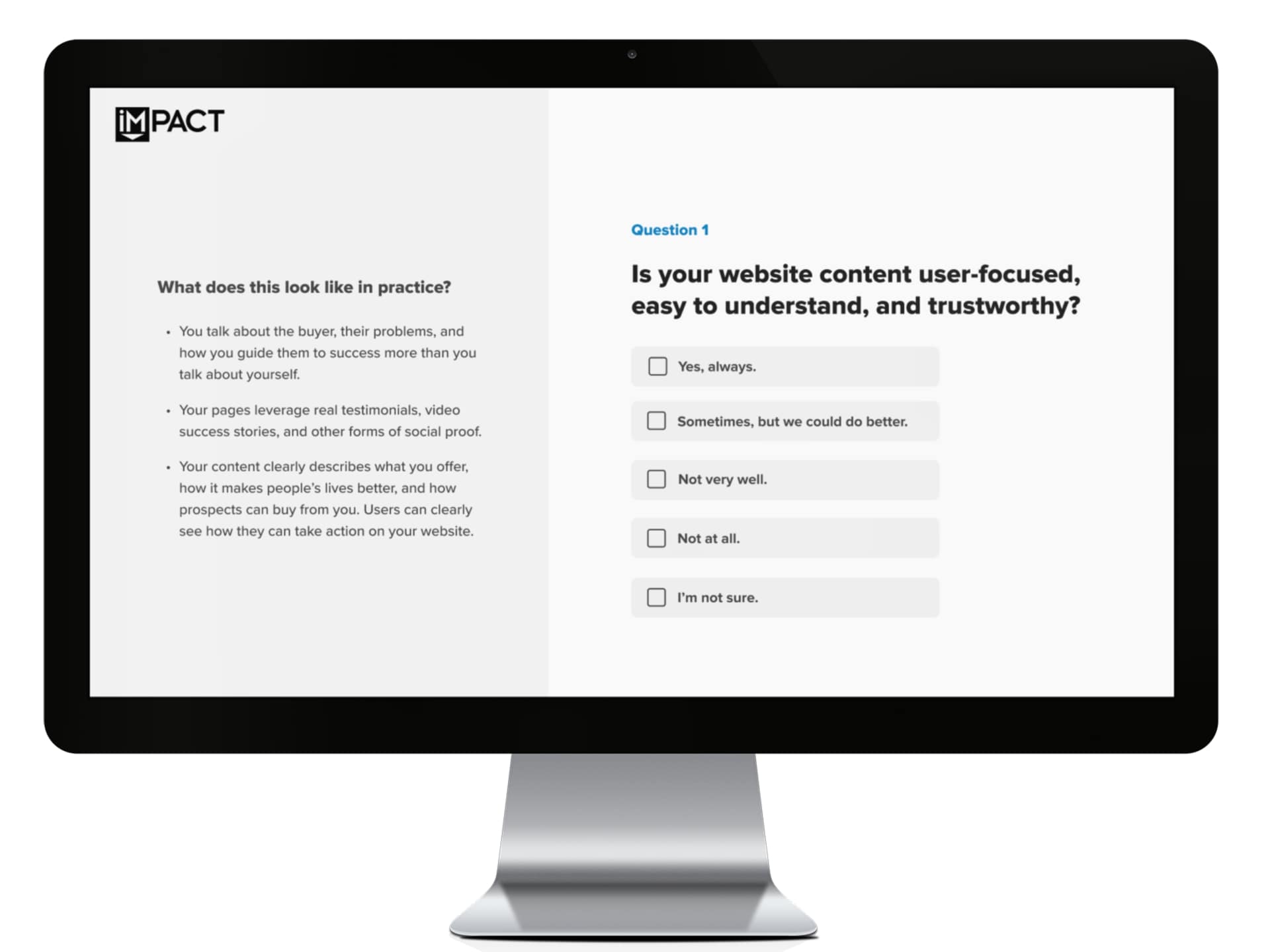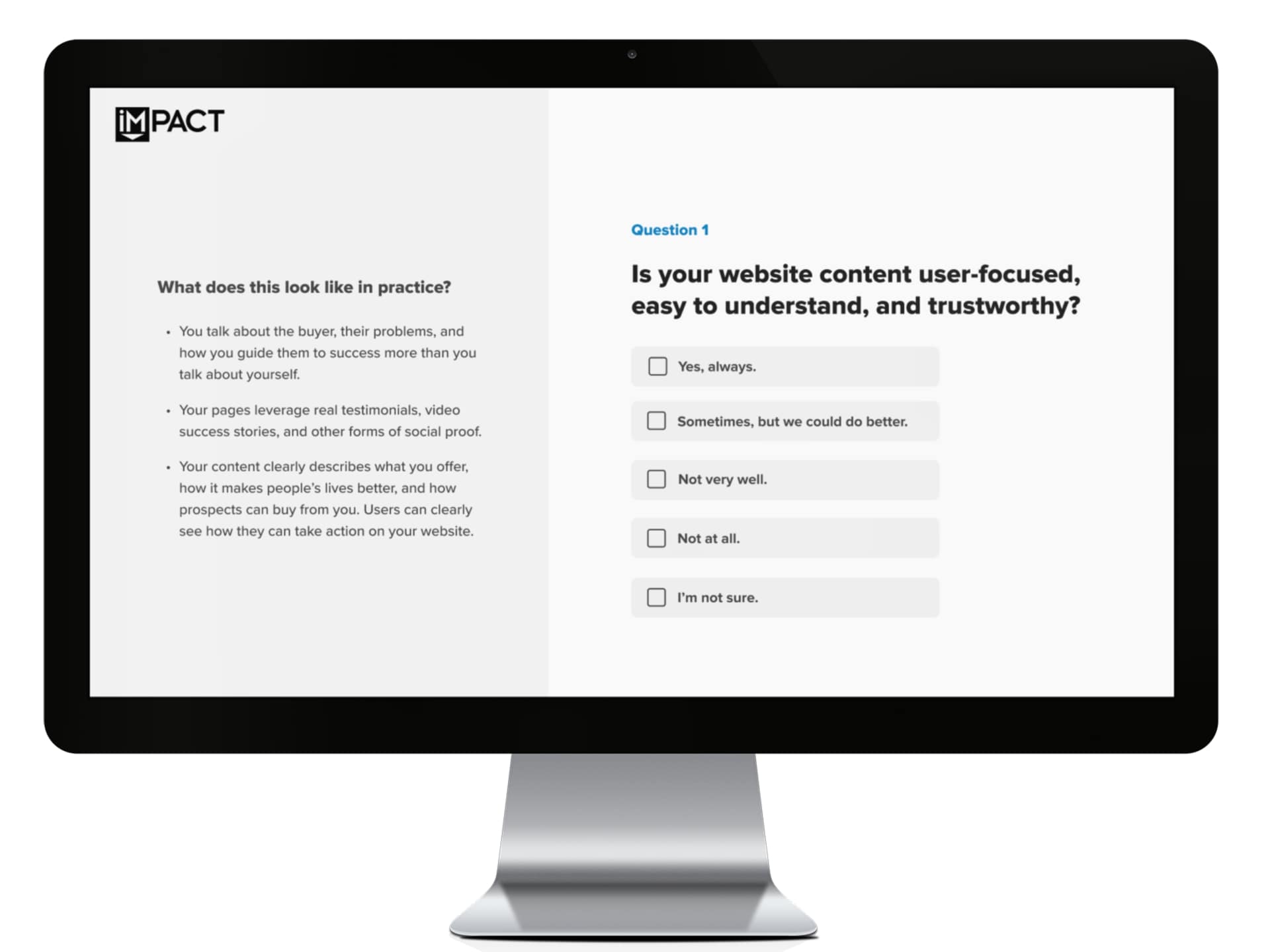 Free Assessment:
Website Performance Assessment
Does your website build trust with buyers and bring in revenue?
Take this free 10 question assessment and learn how your website can start living up to its potential.
Published on August 12, 2021