9 SEO Best Practices for Stronger Organic Traffic in 2023
Outrank your competitors and drive more traffic to your site with these fundamental search engine optimization tips.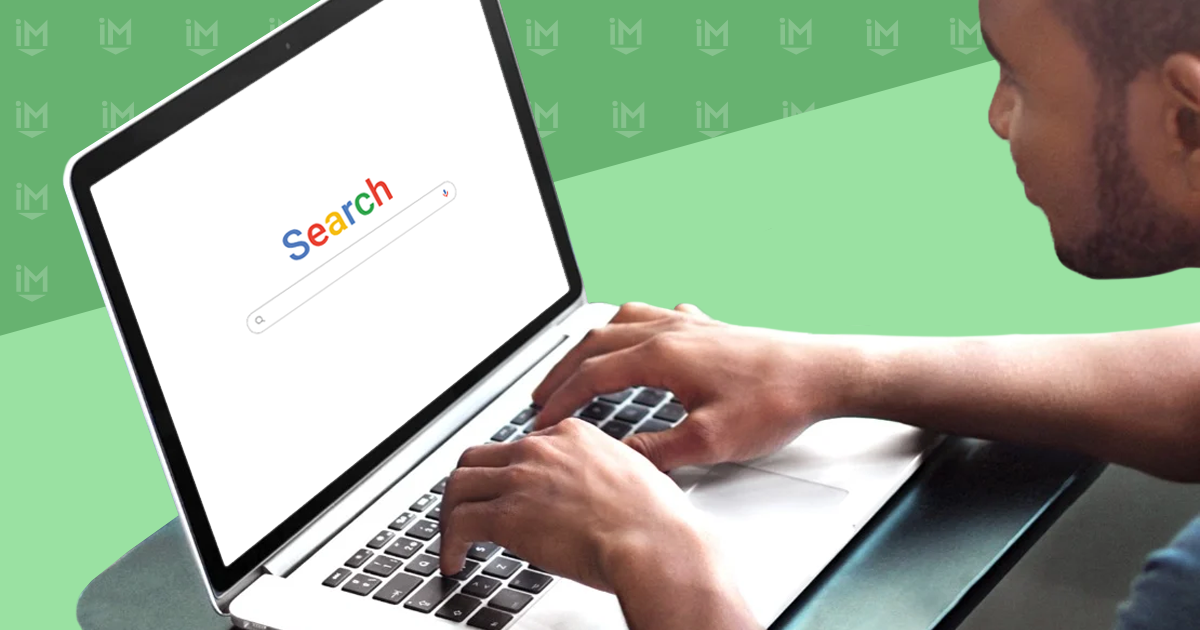 Improve your search engine optimization with these SEO best practices
Develop content based on target keyword research
Use effective titles and headings
Write strong meta descriptions
Optimize all images
Include a number of internal links
Provide a user-friendly design (on desktop and mobile)
Optimize page speed
Make use of navigation and sitemaps
Lean into semantic HTML
If you're a business owner or lead a marketing or sales team, you know that increasing your website's visibility can make or break your sales numbers and revenue.
According to recent research by HubSpot, 75% of users never scroll past the first page of search results. This means that most people searching online find what they're looking for immediately, and when your website doesn't rank as well, it's harder for your prospects to find you quickly, if at all.
If you want to increase traffic to your site and attract more leads, search engine optimization (SEO) is an important way to do this. But in the age of content overload, how can you really distinguish yourself from the competition?
In this article, we are going to go over:
A powerful way to improve search results most businesses aren't using.
How to get better search engine optimization for your website with SEO best practices.
While we understand how important it is to drive website traffic to your website — after all, more traffic equals more visibility — we also believe it's important to focus on the right traffic. Sure, you can find common SEO best practices pretty much anywhere, but we teach SEO to our clients a bit differently.
Want to brush up on SEO basics, but also learn how to improve your traffic, leads, and sales by adopting a simple framework that has helped our clients generate millions in revenue?
Here's what to know.
A powerful way to improve search results that most businesses aren't doing
We know that you're here to learn more about driving web traffic to your website by improving your organic search results, and most SEO resources will offer the SEO best practices we're providing in the next section.
It's important to know these basic best practices because they will help you rank better and should be worked into your strategy to improve search performance, but there is one thing most SEO trainers don't understand or teach.
And it's one of the pieces to the SEO puzzle that makes it all come together and actually work.
You don't want just any web traffic coming to your website; you want to drive the right traffic — meaning sales-qualified leads who are ready to buy and are looking for the products and services you provide. Creating content that addresses their needs should be a key part of your SEO strategy.
For those familiar with IMPACT, chances are you know Marcus Sheridan's inspiring story. Before he was one of the principals here at IMPACT, he owned River Pools and Spas, a pool company that almost lost everything to the 2008 recession.
To save his business from going under, he published content on his website that answered the questions his customers were asking. But not in just any way — with honesty and complete transparency.
As a result, his website's traffic and sales erupted, saving the company (which is still thriving today).
This means that even though there are technical ways to improve the SEO for your website, if you want to drive the right kind of traffic, you need to get honest about your products and services and what it is you do. Trust is one of the most important ways to build business today, and to build that trust with your prospects, you need to answer their questions with transparency.
What does this mean, exactly?
We teach our clients — some of whom have seen millions in growth — to drive more qualified leads to their site with an inbound marketing framework called They Ask, You Answer.
Within this framework, there are five topics that move the sales needle the most. These may seem obvious, but after teaching hundreds of companies his method and helping them get the same results, it's clear that most businesses aren't providing this content at all, or at least not well (typically because most businesses are afraid to tackle these topics head-on).
They're effective in any industry, and whether your business is B2B or B2C.
We call them The Big 5, and they include:
Pricing and costs: How much your solution costs (factors, considerations, what defines value, etc.).
Problems: The negatives about, or issues with, your solution that buyers ask about.
Versus and comparisons: How your product or solution compares to similar products or solutions.
Reviews: Honest and unbiased opinions and observations about your product, solution, etc.
Best in class: What the best solution available is.
We've seen it time and time again: When businesses take the time to answer these questions honestly and thoroughly, their search engine rankings improve and they see organic traffic increase steadily month over month.
Understanding users' search intent and applying it to content creation on your site is the best way to be the No. 1 teacher in your industry and establish a precedence of reliability and trust with prospects and search engines alike.
If you'd like to learn more about how to write these topics most effectively, we have a free, detailed course led by our Content Coach Kevin Phillips called "How to Write The Big 5" that you'll find useful.
You can also talk to one of our advisors, who can give you more direction on writing these topics. They are always there to help walk you through how to approach The Big 5 and to answer any questions you might have.
In the meantime, here are some of the more conventional approaches to SEO that you can use together with They Ask, You Answer for even better results.
How to get better search engine optimization for your website with SEO best practices
With constant and secretive Google algorithm updates and so much information to build your SEO, where do you start? In 2023, these are some of the biggest ways you can boost your traffic.
1. Develop content based on target keyword research
As you develop your content SEO strategy, SEO tools like Semrush, Surfer SEO, and Ahrefs can help you zero in on what your ideal target keywords should be. Your keyword planning tools are set up to help you align your content with what your searchers are looking for. Each piece of content you create should strive to match search intent as closely as possible.
Whichever tool you use should provide suggestions based on:
Primary keywords. These high-level keywords should serve as the main topic.
Secondary keywords. Should be used as often as possible as subheadings in your articles and pillar pages.
Supporting language. Lower-level keywords you can use throughout the text.
In your research, when you find strong secondary keywords that have enough search traffic around them, see if you can justify creating articles and content for them alone. When you publish articles about a larger topic and link them to an article about a subtopic — and vice versa — you're telling search engines you know a lot about that keyword/subject, which increases your chance of ranking for it.
When you try to fit everything into one piece of content, you risk overstuffing that content with awkward, keyword-heavy text that can feel unnatural to your readers (and Google).
You should also look at the opportunities presented by long-tail keywords. These lower-volume phrases frequently have more transaction-focused search intent attached to them, making them perfect for content that pulls your potential customers further down the funnel.
2. Use effective titles and headings
Though the terms may be interchangeable to most people, titles and headings are distinctly different and occupy different parts of your web pages' code.
The title is placed in the <head> element of each HTML document you create, and the <head> serves as a container for each web page's metadata (data about data). This includes information like the document title, the language used on the page, and scripts for your analytics tools.
The title (which is placed between the <title></title> tags) tells Google and other search engines what the page is about at the very highest level. It's also shown on the search engine results.
For example, the larger blue text here is taken from the title tag on our "What Is Inbound Marketing?" page:

Well-constructed titles do two important things:
Include the primary keyword you're trying to rank for.
Make people want to click or read the content.
Good titles are a key part of SEO best practices and should be among the very first things you consider when creating content. If your web pages get indexed by search engines and end up ranking but don't get clicks, Google will replace them in the search results with articles that do get clicked.
Headings are part of the code that creates the part of the page that your users actually see. The on-page title of your HTML document will be wrapped in the <h2> tag, with your subheadings placed between <h2> and further subheadings wrapped in tags ranging from <h3> to <h6>.
Here is a simple example:
SEO expert Kevin Church explains:
"When you write title tags and headings, think about how you can make a user know exactly what they're getting out of the article. People love to see there will be a depth of information.

For example, using '9 Great Ways to Increase Your Inbound Marketing Traffic' as your title is better than 'Increase Inbound Marketing Traffic Today.'

You want to think about something that would make a user stop and want to read your content, but also use the keyword so Google understands what your article is about."
Because headings provide Google with a better idea of what the page is about as well as your pages' structure, they are heavily weighted. Including a secondary keyword in your subheadings, for example, tells Google that you not only cover the main topic but also other parts of the topic and are hitting it from several angles.
You should also take the time to craft individual titles for multiple pages, even if they cover similar aspects of the same topic.
Search engines like to rank high-quality content that covers the topic well because they are looking for that one-stop source of information. When Google ranks your website, it does so with confidence that "this is the page that will answer your question."
3. Write strong meta descriptions
The meta description tag defines the block of text that shows up after the content title in the SERPS (search engine results pages). Just like your page titles, your page's meta description is placed in the <head> of each page's HTML code.
This is the text that explains what information that content provides.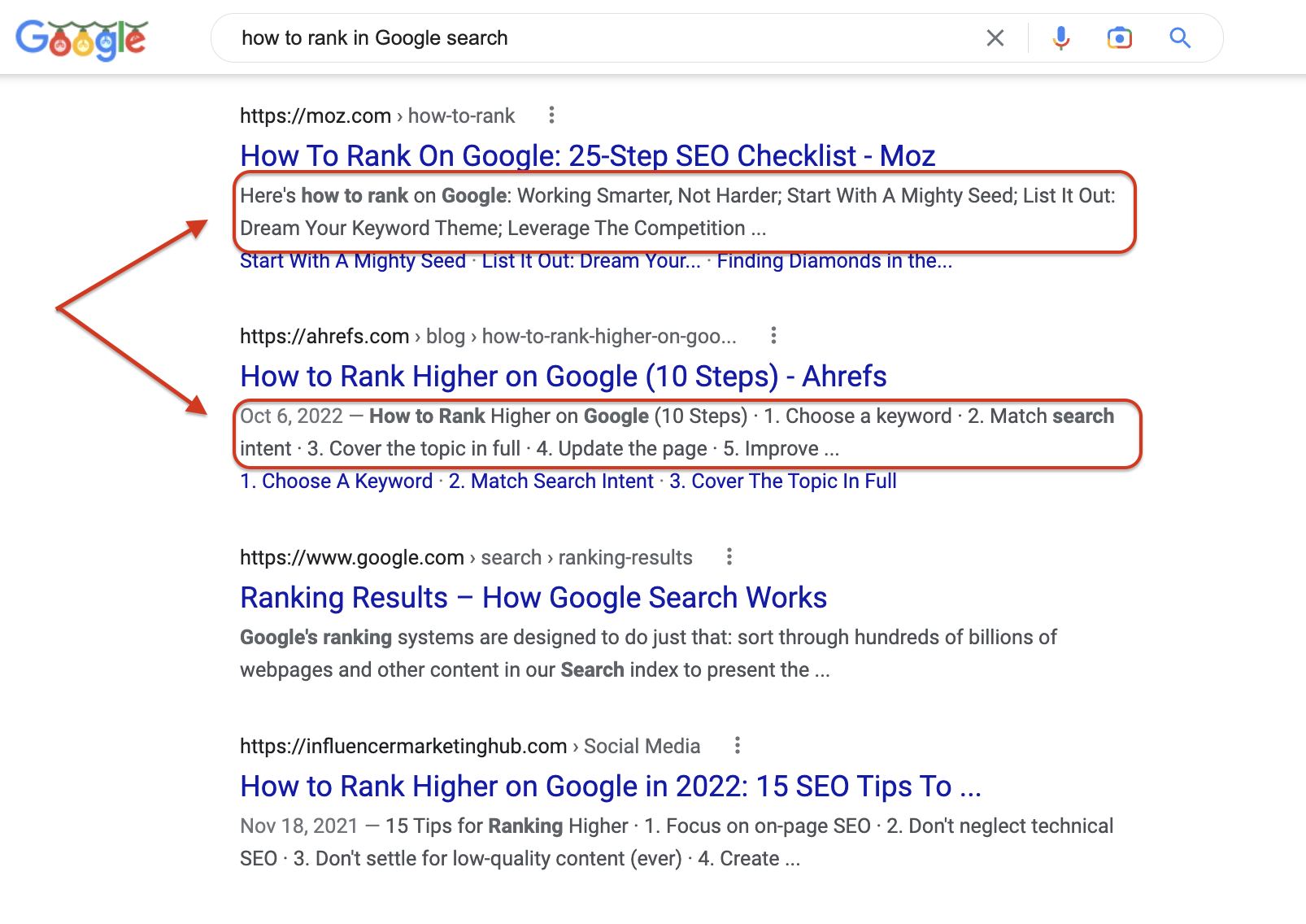 As with the header text, you need to think about what you look for as a user. What description would make you click on the link to read more?
Keep in mind that Google frequently rewrites meta descriptions. After analyzing user intent, they do their best to take your content and describe it as something they think users are looking for and then display that. Sometimes they take the text from your meta description or what's on the page and reconfigure it in a way they think works better.
The meta description is not used in the search rankings algorithm; however, your site's click-through rate from the search results is. So, make your meta description as attractive as possible, even if Google ends up rewriting it for you. It's always worth trying to get the information you want out there, and it's an opportunity for free advertising within the search rankings.
4. Optimize all images
You want your pages to load as quickly as possible, so make sure you optimize images so their file sizes are as small as they can be.
Use Google Lighthouse to scan your site and find what images might cause it to slow down. Optimization services, such as Bulk Resize Photos and Ezgif, can help you reduce media file sizes, but most CMSs offer some optimization features too, allowing you to edit directly in the post.
The easiest way to avoid having to reduce a lot of image sizes later on, is to make it a best practice to develop your images to look as good as possible at the smallest size possible.
This is because Google considers the user experience in its search ranking algorithm, and if your page loads slowly but your competitor's page that contains the same information loads quickly, especially on mobile, Google is going to give the faster page to users first.
Another SEO tip from Kevin:
"In addition to optimizing your images for size, use alt tags and on-page image descriptions to help with organic search.

It's not enough just to rank well in Google Images for someone looking for a red widget example or a Star Trek ship model, but it can help in actual organic search.

If a page has 22 pictures of red widgets, Google will think it's a good page to learn about red widgets."
It's also important to consider accessibility. Many users will take advantage of screen reader technology to help them navigate the web, and you want to tell Google and the other search engines that you support them.
So do what you can to limit the file size of your images and build in strong alt text (the text that describes what the photo is in case the photo can't be rendered) so the visual media you do choose supports your overall SEO strength.
5. Include a number of internal links
You want to link whenever it's appropriate, but always include a few internal links to relevant pieces of content. Google crawls every page and wants to see that you are linking to more articles around the article that you're writing.
Link with intention and keep search in mind, especially when choosing anchor text. This means that instead of using phrases such as "Read this article," you're using anchor text that utilizes the primary keyword that the article is based on. This tells search engines more information about where the link is headed.
Google doesn't say how many external or internal links to include, but as a rule of thumb, base this on the length of your content. The most important thing is to make sure all your internal links are relevant.
There's no hard limit to how many you should include, but if you link to a lot of non-relevant content, it distracts the reader and confuses search engines. We recommend using several internal links for clarity purposes toward the beginning of the article when you're introducing new concepts to your readers, but your ultimate goal when creating links in your content should be to focus on the user.
6. Provide a user-friendly design (on desktop and mobile)
Design is frequently left out of internal discussions around improving a company's search engine rankings, with the focus instead tending to rely on improving meta tags and creating high-quality content, but it really shouldn't be.
Google wants users to easily find what they're looking for when they land on a page, no matter what device they're on. Aim to make it as easy as possible for someone on their phone to use your site — and just as easy on a computer web browser.
Is it easy to navigate your site? Is it easy to scroll and click links? Does your long-form content provide a table of contents or an easy way to jump around? Sometimes when you build a website for your desktop users only, you don't get a chance to see how it looks on a phone.
Again, when developing your website, keep the user in mind. Depending on how your prospects engage with your content, you might not need to worry about mobile that much, but for pure ranking purposes, the mobile experience matters a lot.
Thankfully, content management systems like HubSpot and WordPress make it easy to ensure your site's user experience is consistent and easy from the start, thanks to responsive design.
7. Optimize page speed
The <head> section of each HTML document loads before the visible portion of a particular page does. This means that the code in this section should be as lean as possible.
Unfortunately, because this section of a page is less visible to stakeholders on a site, the head ends up being neglected over the years. It's not unusual for multiple scripts for Google Analytics or user behavior tools like Hotjar to be left in the code, slowing download times.
If you're curious about what you can do to optimize your page speeds, you should take advantage of Google's Lighthouse test. This tool shows you everything that is slowing down your load time, in addition to images. It can deliver information at a granular level, essentially telling you: "Hey, these are the seven things that are loading slowly." You can use this information to decide what is essential to your internal needs and what can be omitted.
You also want to make sure your CSS (cascading style sheets) are tidied. They should be up to date and constructed as efficiently as possible. Whenever you have an opportunity to minify your CSS, you should take it. You don't have to take a large amount of code down, but every tenth of a second counts.
Site managers with pages that contain a lot of information will want to take advantage of opportunities to deliver as much content as possible to Google and the user as early as they can. It's a good idea to ensure that your text is visible before your web font loads.
You can also take advantage of lazy loading so that less search-critical content, such as images and video, is rendered after your page's text.
8. Make use of navigation and sitemaps
Your top navigation is the single greatest vote you can have on your site for the importance of a piece of content.
Here are tips for making it SEO friendly:
Link to your biggest pillar pages from your top navigation. You don't want to link to everything at this level, but the main topic pages on your website should go here.
Use language that is relevant to the searcher. Try not to use terms such as "solutions" and "services" if you can help it. For example, a plumber's website could link directly to "sink installation," "toilet installation," etc.
Sitemaps, on the other hand, are XML files that tell Google what's on your site. Once yours is complete, submit it to Google through Google Search Console. In the case of HubSpot and WordPress, you'll automatically have a sitemap built in that breaks out all the sections of your website in a coherent way.
As a general SEO best practice, you should make sure your sitemap is clearly laid out and that Google knows about it. Google is really good at crawling pages and finding internal links, but you should always have a sitemap set up within Search Console. It's a great resource to have, especially if, down the line, you need to disavow toxic backlinks.
9. Lean into semantic HTML
Semantic HTML tells Google what it's crawling and looking at, and header tags are one of the biggest parts. Semantic HTML reveals the structure of a page — how the content is laid out and what primary and secondary topics are included. It doesn't only show Google what the concept is, but what the text is in relation to the rest of the text.
This means that instead of formatting your text on a page with larger and smaller text, you use the heading tags discussed earlier. Instead of using the <b> tag to indicate bold text, the HTML code around the text should indicate the text is <strong>, which places more emphasis on what is between the tags.
There is a specific, linguistic difference to Google about how aspects of your text function, and they consider the HTML to see how much of the page is bold versus italic. They know what a well-written document title and page structure look like.
Much like creating a site with a user-friendly design, most content management systems make it very easy to create a page using proper semantic HTML.
Improve organic traffic and optimize your website
To take the first step toward implementing They Ask, You Answer in your business and improving your organic traffic once and for all, talk to one of our advisors who can walk you through how to see these incredible results at your own company.
If you'd like to read more before you reach out, here are some additional resources:
While all these SEO best practices and concepts are great to know, it's the framework we teach that makes them actually work. With our coaching and hands-on training, you'll finally get the support you need to grow your business online and generate more revenue while increasing your traffic, leads, and sales.
Free: Assessment
Does your website build trust with buyers and bring in revenue?
Take this free 6 question assessment and learn how your website can start living up to its potential.
Score My Website
Free: Assessment
Does your website build trust with buyers and bring in revenue?
Take this free 6 question assessment and learn how your website can start living up to its potential.
Published on November 18, 2022