SEO strategy mistakes: top 7 ways you're killing your rankings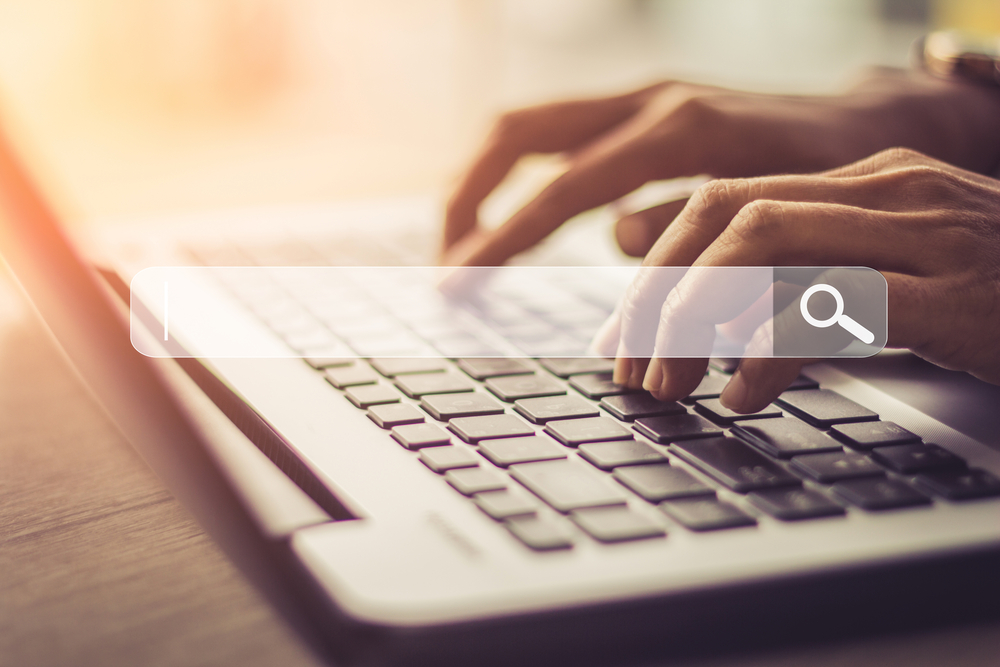 Most common SEO strategy mistakes
You didn't complete an audit before you created a strategy
Your strategy doesn't take competition into account
You're forgetting some of the most important SEO basics
You didn't set goals or benchmarks for success
You didn't have an analytics platform to measure your metrics
You implemented your improvements, but you never did anything after that
You haven't appointed someone to own your strategy
As long as we've been online, search engine optimization (SEO) has been a popular subject among marketers.
In fact, it's the topic I've written about the most in the past few years. That's because, even as other strategies evolve, the need to optimize our digital footprint for search engines only grows.
Therefore, it's not enough for businesses to solely create an SEO strategy; they need to maintain and update that plan on a regular basis to ensure optimal performance.
But that can be really hard.
SEO strategy mistakes are very common, especially when companies are trying to make a dent in that part of their marketing plan for the first time.
In fact, the biggest SEO strategy mistake I've seen in my years working with clients is not having any strategy at all!
It's important to note that — like with any good business plan — you actually will need a strategy for approaching your SEO. You can't just "do" SEO. Don't get me wrong, it's possible that you can throw things at your content and website and they'll perform well, but it's also highly unlikely.
Without creating and implementing a well-thought-out SEO strategy, you won't know what success looks like, how what you've implemented is actually performing, or what traffic, leads, and sales you can attribute to your efforts.
In this article, we'll talk about the top seven SEO strategy mistakes that may be killing your rankings. But first, a quick refresher on the two main types of SEO:
On-page SEO: According to

HubSpot

, this type of SEO involves the optimization of your content and website in order to tell "Google all about your website and how you provide value to visitors and customers. It helps your site be optimized for both human eyes and search engine bots."
Technical SEO: Unlike traditional on-page SEO,

technical SEO

doesn't necessarily focus on the content you produce, but rather the optimization of your website and server to improve the crawling and indexing process, as well as to increase search visibility.
In short, you need both to be successful. They can be part of the same strategy together, but they should be handled differently.
If you're reading this, you know SEO is important. You may or may not have some type of strategy, but it's safe to assume that you either aren't seeing the results you expected, or you have no idea if you're even implementing a solid plan.
You are not alone, I promise.
The following are common SEO strategy mistakes — that apply to both on-page and technical — that are made when it comes to executing on your SEO plan.
7 most commonly-faced SEO strategy mistakes
If you currently have an SEO strategy you're implementing, you might have already experienced some of these. If you are not working off of a strategy, the following list can act as an indication of what you should avoid.
Each of these SEO strategy mistakes are applicable to both on-page and technical SEO and, luckily, can be rectified to ensure proper optimization of your digital presence.
1. You didn't complete an audit before you created a strategy
The first thing you should do before even attempting to improve your SEO is audit your current state.
An SEO audit helps you visualize all of your website content, technical functionality, the health of your website, and your site architecture in a way that will better allow you to organize and prioritize what to do when you actually get into the implementation part of your efforts. It's what helps drive your strategy.
An audit also helps you see what may be performing well and what may not be, which can help you set benchmarks and create goals to measure success (mistake number four).
Digging into the health of your content and your website can show you important findings like how secure your website actually is, what keywords are bringing in the majority of your traffic, or which pages are the least helpful for your visitors.
Without setting the foundation for what to tackle, it's going to be extremely difficult for you to know what to focus on.
2. Your strategy doesn't take competition into account
When looking at on-page SEO especially, you'll need to look at what your competitors are doing. In a world where everyone is writing about the same thing, you need to do it better than them if you want to win over visitors and search algorithms.
If you don't pay attention to what other industry leaders are doing, you're missing a giant opportunity to surpass them in the search results.
My favorite way to do this is to choose a focus keyword you've identified from your audit, type it into Google, and see what shows up on the first and second pages.
For example, when I type in the long-tail keyword, "why should I write content," the following top-ranking resources appear.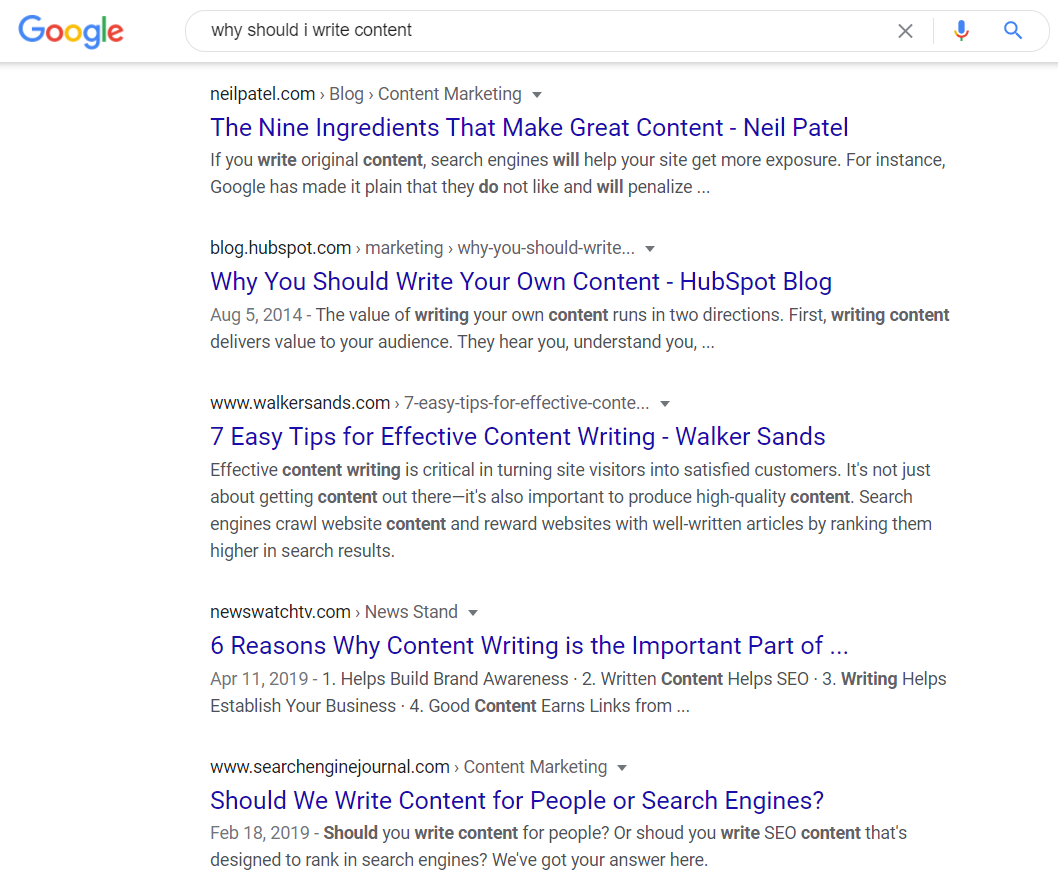 If I was trying to rank for this keyword, I'd browse the competition's content that is already taking over the first couple pages of Google and figure out how to produce something better.
Depending on the trends you observe, you might decide that adding a video to your article would help you rise to the top. Or maybe your competitors missed a huge opportunity to include visuals in their content, so you find some supporting images to add to what you write.
Of course, you don't want to copy exactly what they've done, but if their content is ranking well, it's safe to assume that their strategy is portraying a good amount of value to the people landing on those pages.
3. You're forgetting some of the most important SEO basics
Search engine optimization can be overwhelming; there's just so much you can do to help improve your content and your website.
Because of the complexity, it's often easy to skip over some of the most basic tactics, like applying an SSL certificate, creating meta-descriptions for each page of your website, simplifying your URL structure, and ensuring each image has proper alt text. As simple as they may be, these things could have a tremendous impact on your search rankings.
According to Franco Valentino, Founder of NarrativeSEO, there are five key items that you must not skip when you're focusing on SEO:
Create (and maintain) your sitemap
If

launching a new website

, when moving from staging to production, do not forget to remove the no-index meta
Ensure you do not disallow the entire site in robots.txt
Choose clear keywords to target for your overall website and each high-priority page
Compress your images so they aren't too large
These, along with a number of others, are crucial items to add to your SEO checklist. Here's a simple guide to follow to ensure you're hitting all the right ones.
4. You didn't set goals or benchmarks for success
How can you measure the success of your efforts if you don't even know what you're working towards?
I really don't think you can.
Once you've finished your audit, you should have some extensive data to review and utilize to create goals you'd like to work towards.
This data could be quantitative or qualitative, and it will give you a good idea of where you currently stand in different areas of your SEO. By looking at the history and trends of how your website and content have been performing, you should be able to make SMART goals to work towards.
For example, if you're reviewing your organic traffic trends and find that you're steadily increasing by about 2% month-over-month, you may want to set a goal to get to an increase of 5% month-over-month by the end of the year by implementing tactics from your SEO strategy.
If you're doing this for the first time, however, the data you have access to may not be the most descriptive. If that's the case, you can still create estimated benchmarks on where you'd like to be. Once you begin to collect additional data, you'll be able to adjust those benchmarks to make them more accurate and achievable.
5. You don't have an analytics platform to measure your metrics
Expanding on mistake number four, you can't set realistic goals or know if you're reaching them if you're not even measuring them.
If you're using an all-in-one platform like HubSpot, chances are you have access to a lot of handy dashboards and reports that can show you a bunch of insightful information. However, I find that a combination of different tools and platforms gives us a deeper look into the actual performance of our SEO. Luckily, there are many available to us today that can help with that. A few that I recommend include:
Each of the above can help you collect important initial data to help create your SEO strategy, as well as give recommendations on how to implement improvements when it comes to your digital footprint.
6. You implemented your improvements, but you never did anything after that
I see this happen all the time. A company has finally done "something" about their SEO, and they think that's it.
They may see some improvements in the way their website functions and how they're ranking for certain topics, and then a few months later, they're right back to where they started.
Why? Because SEO isn't just a one-time thing or a set-it-and-forget-it tactic; it's something that needs to be maintained. It's a long-term, consistent investment into the health of your website and digital presence.
Think of it like your phone.
The way we use our smartphones is constantly evolving, so Android and iOS push updates every so often to ensure they're optimized as best they can be for the user. Then, apps need to follow suit.
Google does the same thing. The way we search for information changes, and as a result, Google pivots to help deliver the most relevant results by updating or introducing new algorithms.
Because of this, it's important for businesses to stay on top of these changes to ensure they're able to keep aligned with what Google rewards for "good SEO behavior."
Another thing to keep in mind is that your competitors or other industry leaders can outperform you by simply doing a better job (mistake number two).
Watch Google and your competition carefully, and make sure you stay on top of the ever-changing SEO trends.
7. You haven't appointed someone to own your strategy
A rule we live by at IMPACT is "if everyone owns it, then no one owns it." And if no one owns it, then...well, it most likely won't get done.
Putting one or two dedicated people in charge of your strategy will help make sure your company is doing what it should when it comes to your SEO, including maintaining your digital health, improving your online presence, and keeping up with the many trends and algorithm changes out of your control that may affect your rankings.
Of course, the best case scenario is appointing someone in your organization, but you could also outsource some of your strategy to a freelancer or SEO agency.
The bottom line is if you really want to avoid SEO strategy mistake number six, you'll need someone accountable for the performance and results you'll garner.
Don't worry! It's never too late to focus on improving your SEO
Like I said in the beginning of this article, SEO is ever-evolving, and it still remains one of the most important things to focus on when it comes to your marketing strategy. You have time to right the ship.
If you've already created a plan for improving your SEO, but you aren't getting what you want out of it, use the above list of SEO strategy mistakes to see where improvements may be possible. Try investing in an analytics platform or run a thorough audit of your current state.
On the flip side, if you haven't yet prioritized SEO, or you are just starting to implement a plan, I urge you to learn something from these mistakes! Use them to prevent yourself from making the same ones.
And as always, don't assume you now need to learn and know everything about SEO to be successful. If you're not an SEO expert, that's okay. Help is out there! Consider hiring a consultant to help you craft the perfect SEO strategy, or read more articles like this one to further move your organization forward.
Free: Assessment
Does your website build trust with buyers and bring in revenue?
Take this free 6 question assessment and learn how your website can start living up to its potential.