7 things every 2020 SEO strategy should include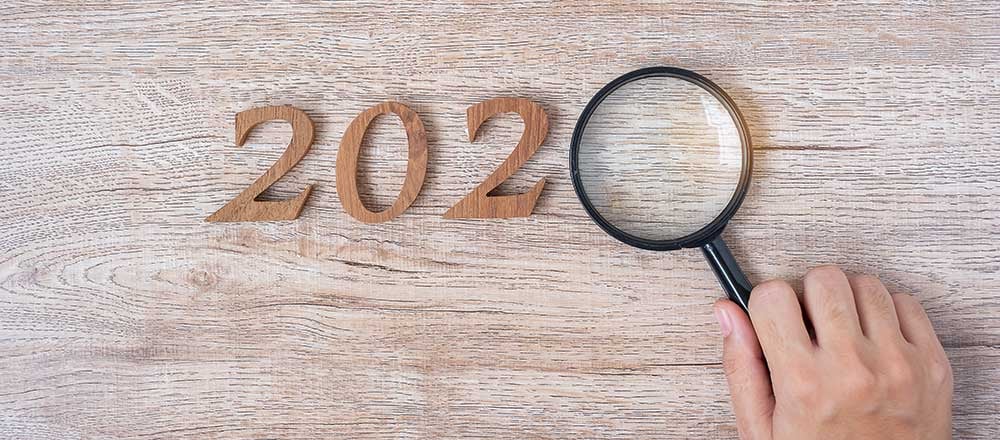 SEO Strategy Essentials
Featured Snippets
Mobile Optimization
Security
A Local Strategy
Video
Question-focused Content
Schema Markup
The ever-changing algorithms of search engines can make you crazy.
Keeping up with them are challenging and every new update can feel like a personal attack when you've just seemed to have conquered the last one.
How can marketers know how to build an SEO strategy so their content will rank in search engines and get in front of the intended prospects when the expectations keeps changing?
Join the IMPACT coaches for a deep dive on a new topic every month in our free virtual event series.
Understanding that search engines try to serve the best answers to searcher queries is important, and keeping that in mind is the best first step.
However, as marketers, we can implement several strategies to help get our content more easily found.
Here are seven things every SEO strategy should have in 2020.
1. Featured snippets to rank in "position zero"
On desktop computers, 34.4% of all searches result in no click. On mobile devices, 62.5% of all users never click on search results.
That's due larger in part to the fact that they don't need to.
Zero-click searches are those that return results directly at the top of a search engine result page (SERP) in what is commonly referred to as "position zero," which doesn't require a click-through to see the answer.
Common examples of a zero-click search include queries about the time, the weather, the cost of a product, or where to find it — things with definitive or simple answers.
Answers to these searches are found in what we call featured snippets.
Featured snippets are short, direct answers to queries that show up directly under ads and 54.68% of clicks go to them.
Furthermore, voice searches addressed to Siri or Alexa (or whatever your robot is named) often only return the featured snippet, which renders other results moot.
Here is an example of a snippet for the query "what is a featured snippet?"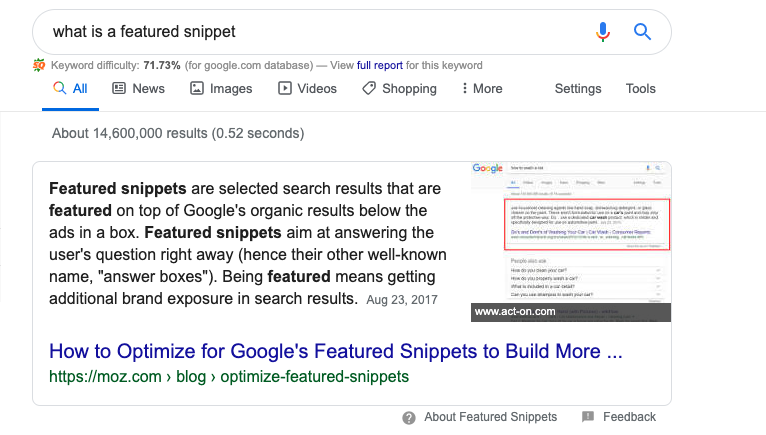 You want to be here.
Google is constantly experimenting with snippets and how they display, so folks may see different types of snippets out in the wild. However, here are the three primary types of snippets:
Paragraphs that are featured most in snippets are between 40-60 words, and 30% include a picture (like in the example above).
Tables are especially helpful for topics that feature comparisons.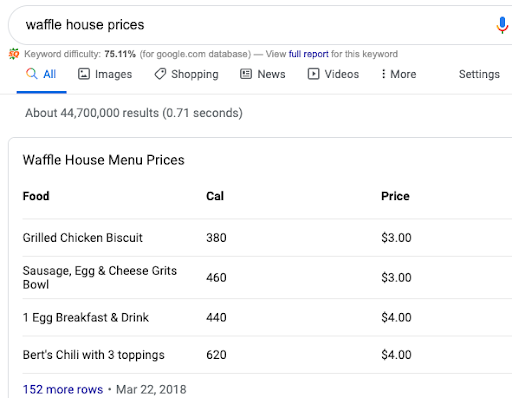 Lists are good for those articles that have bullet points or numbered lists. People love lists.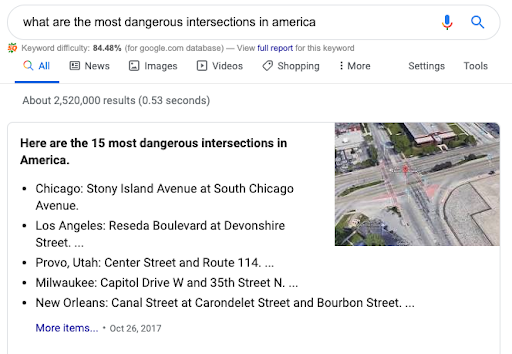 Snippets are typically taken from content that ranks on the first search engine results page. So, the content you have that is already ranking in the top 10 of the SERP is your best opportunity to land one.
Once you have found opportunities, look at your content. Does it contain a quick text answer or a table or a list? Include these elements to increase your chances for being a featured snippet.
Here is an example article from IMPACT. Note how the snippet is formatted:
The snippet appears first in the text, offering a quick answer to a potential query.
(If you're using our free content calendar template, you will see fields for planning out featured snippets for your content topics in advance.)
2. Mobile optimization
It's no surprise that Google rewards mobile-friendliness and, more specifically, responsive design.
In fact, the average mobile-friendly score of websites that rank for featured snippets is 95/100. So your site needs to be responsive, adjusting to whatever size of screen it's viewed on.
Not sure if your site is responsive? Most website builders have built-in previews to tackle this, but Google Chrome lets you find out by sizing your browser window down.
If the size adjusts accordingly, then you can start viewing that page on other devices besides your desktop or laptop. If not, you can ask your developer to make some easy changes to your current site to make it responsive.
As more and more people are using smart devices, giving them a great user experience will not just help you with SEO, it will also make your visitors happy.
3. Security
According to WPHacked, "In 2020, small business cybersecurity is one of the most serious economic and national security challenges we face as a nation."
Plus, 70% of all featured snippets are on sites that have adopted HTTPS. So take it seriously!
Every page on your site should be secured with an SSL certificate.
Chrome now shows a warning for all sites that are not secured by an SSL certificate, and in some cases it won't even render pages that do not.
Imagine if you are researching products on a website and you received a warning saying the site wasn't secure.
You would probably think twice about making a trusting that information or visiting again, right? You definitely don't want to create that same doubt for your own website visitor.
Make sure all of your URLs resolve to HTTPS (rather than HTTP).
If they don't, those pages are not secure. If you haven't already taken care of this, it can cost you with search engines and with your visitors because people will not put as much trust in your content.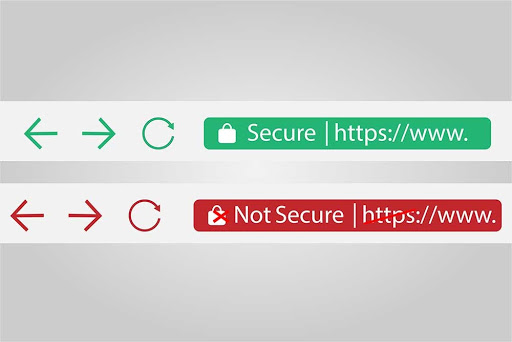 4. A local strategy
Local searches that include "near me" or "close by" have increased by 900% in recent years. That is a lot of people looking for information locally.
Of those searches, 88% of local business searches on a mobile device resulted in either a call or a visit to the business within 24 hours.
This could mean big bucks!
If you are a local business, you'll want to optimize your online properties, including your website and social media pages, to show up for those searches.
Be sure that all of your online properties are consistent with your name, address, and phone number. Your website should also have this information displayed on the footer of each page on your site.
In a similar vein, have you paid attention to your Google My Business listing?
If you are a local business, you should maximize your Google My Business listing and update it regularly. Be sure to add pictures, video, and posts.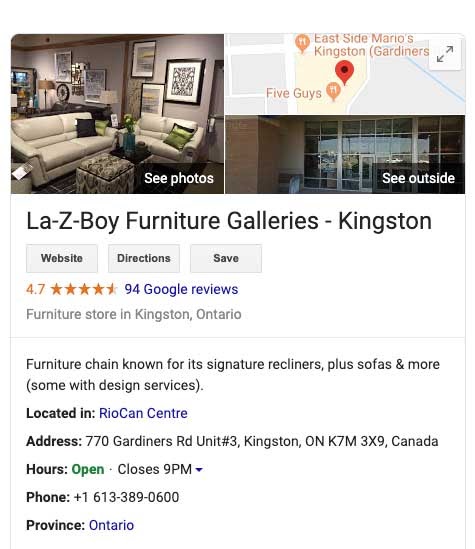 It is also a great place to post your upcoming events.
5. Video
With a whopping 72% of businesses saying video has improved their conversion rate, it's clear consumers and marketers love video.
But so do search engines — especially YouTube parent Google.
There are seven different types of sales and marketing videos we highly recommend you focus on, as they are proven to drive traffic, leads, and sales.
We call these The Selling 7, and we've seen businesses achieve amazing results with them:
80% videos

should answer the top 7-10 questions sales teams hear most often. We ask our prospects to watch our 80% videos before we get down to business.

Employee bio videos offer a quick look into who works at your company. Usually around two to three minutes, these videos give basic information about each employee to show off their personality and let the viewer get to know them.
Product and service page videos (like this example) showcase how your products and services can be solutions.
Landing page videos helps you build trust with your readers and guides them through the next step in your sales process.
"Bad fit" videos (like this one) show readers who might not be a good fit for your products and services.
Customer journey videos (like these) let you showcase your success stories.
"Claims we make" videos show (rather than tell) people what you're promising to do for them as a company.
By embracing The Selling 7 as the core of your video marketing strategy, your business will rank better in search, which will attract more qualified leads and close more deals faster.
6. Question-focused content
Creating content that answers the questions your prospects are asking is a crucial search strategy.
It will help you with search engines and it may help you get featured snippets, which can increase your traffic.
Your content should answer the most pressing questions that your audience has. For example, no matter what someone is buying, whether it's a pack of gum or a car, they want to know about price.
At IMPACT, we refer to these core topics as "The Big 5." These topics are the ones that can affect your bottom line.
Make sure any content you produce is 80% educational (answering questions) and only 20% promotional.
7. Schema markup
Search engines don't always understand what a website's content is all about. This is where schema markup (also called "structured data") comes in. Schema is a language that helps search engines better understand your content and serve it up when best fit.
According to Search Engine Land, by implementing schema, you could get a 30% increase in click-through rate, but it does require you to add some HTML code to your site. So, you may need to brush up on some of your technical skills or call upon a web developer.
This list of tools and instructions can help get you started.
Final thoughts
Search engines change their algorithms all the time, but the impetus behind each change is to better serve relevant content to people who are searching.
With some careful planning, you can get and keep your content in front of the people who will ultimately buy from you.
The strategies in this article can help you implement the necessary technical and content changes that are required for 2020.
Join the IMPACT coaches for a deep dive on a new topic every month in our free virtual event series.
Register Here
Join the IMPACT coaches for a deep dive on a new topic every month in our free virtual event series.
Published on January 9, 2020