The Selling 7: How to Make Amazing Employee Bio Videos (+ Examples)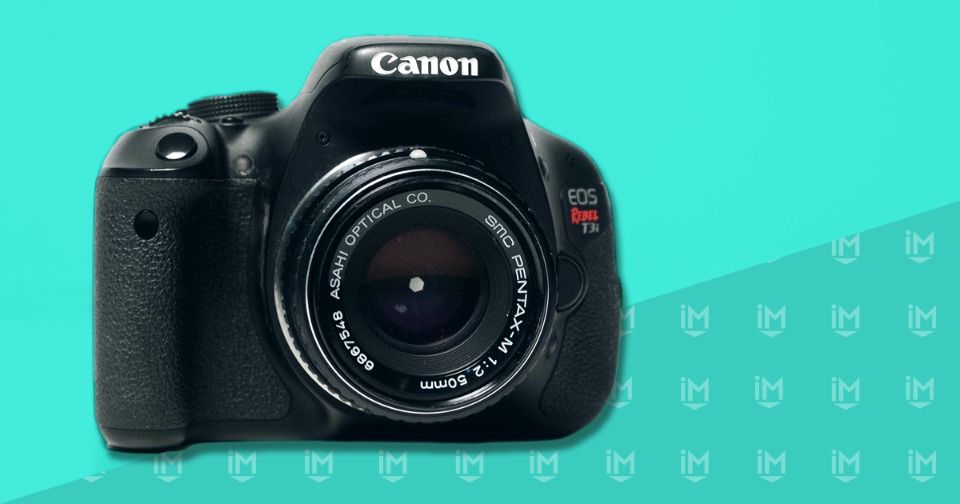 If you were to explain what makes your company different from any of your competitors, there's a good chance you'd say it's your people. Whether you're talking about customer service, quality control, design, or anything else, it's the people doing the work that make your organization unique.
The trouble is, every business is likely to say something similar.
So, if a customer is choosing between 10 different options, and they all say that their people are their biggest differentiator, how can that customer choose?
An employee bio video can actually show the customer the very people who make your company special.
If the video is done right, it can start to establish trust and lay the groundwork for a relationship.
After all, a core tenet of They Ask, You Answer is trust — in fact, we believe trust to be the currency that's necessary for all business transactions.
An employee bio video can be that trust-building differentiator that shows your prospects who they'll be working with and exactly why your people make your business what it is.
Below, we'll cover some basics of employee bio videos:
What employee bios are
What the best videos include
How to plan ahead to get the video you need
If you're a videographer, marketer, or business leader, you'll be ready to introduce your team to the world.
The human side of business
It can be hard for a potential customer to assess if you're worth their investment.
You can show them examples of your work, share a case study or two, or talk about an award you won, but even a business that looks perfect on paper might not be the right fit.
As a marketer, it's your job to build connections with your potential customers so they feel confident before you start working together. Customers want to know that you can achieve what they need you to and you can deliver what you promise.
Employee bio videos are one of the easiest ways to engender this with existing and potential clients.
What are employee bio videos — and why do you need them?
An employee bio video is a quick look into who works at your company. They are a critical component of what we call The Selling 7 — the videos you need to produce to really resonate with your customers.
These videos are usually around two to three minutes and give basic information about each employee to show off their personality and their expertise.
Employee bio videos are very effective at building trust and establishing connection.
Before we go any further, let's check out an example. Here's a bio video for Will Schultz, one of our coaches here at IMPACT:
If the videographer has done the job right, you should come away with a pretty good idea of who Will is and what he does. You might even have started to like him or feel like you know him.
Will Schultz is no longer just a name on a website. Now he's a person. Someone you can trust.
When you watch someone speak on video, talking passionately about their job, you see the human side of the business. You see a smiling face that you can connect with.
Employee bio videos help your potential customers form relationships with your team — which makes them more likely to move forward and do business with you.
So, let's look at how these videos get made.
What does a good employee bio video look like?
These videos can look different based on your business, but I recommend the following:
It should be shot in 'interview style'
A good tip for shooting employee bio videos is to shoot interview style.
Seat the employee in front of the camera and have an interviewer sit next to the camera. Have the employee talk to that person in a conversational tone.
This helps a lot when your employees aren't comfortable on camera. They can talk to someone instead of a lens.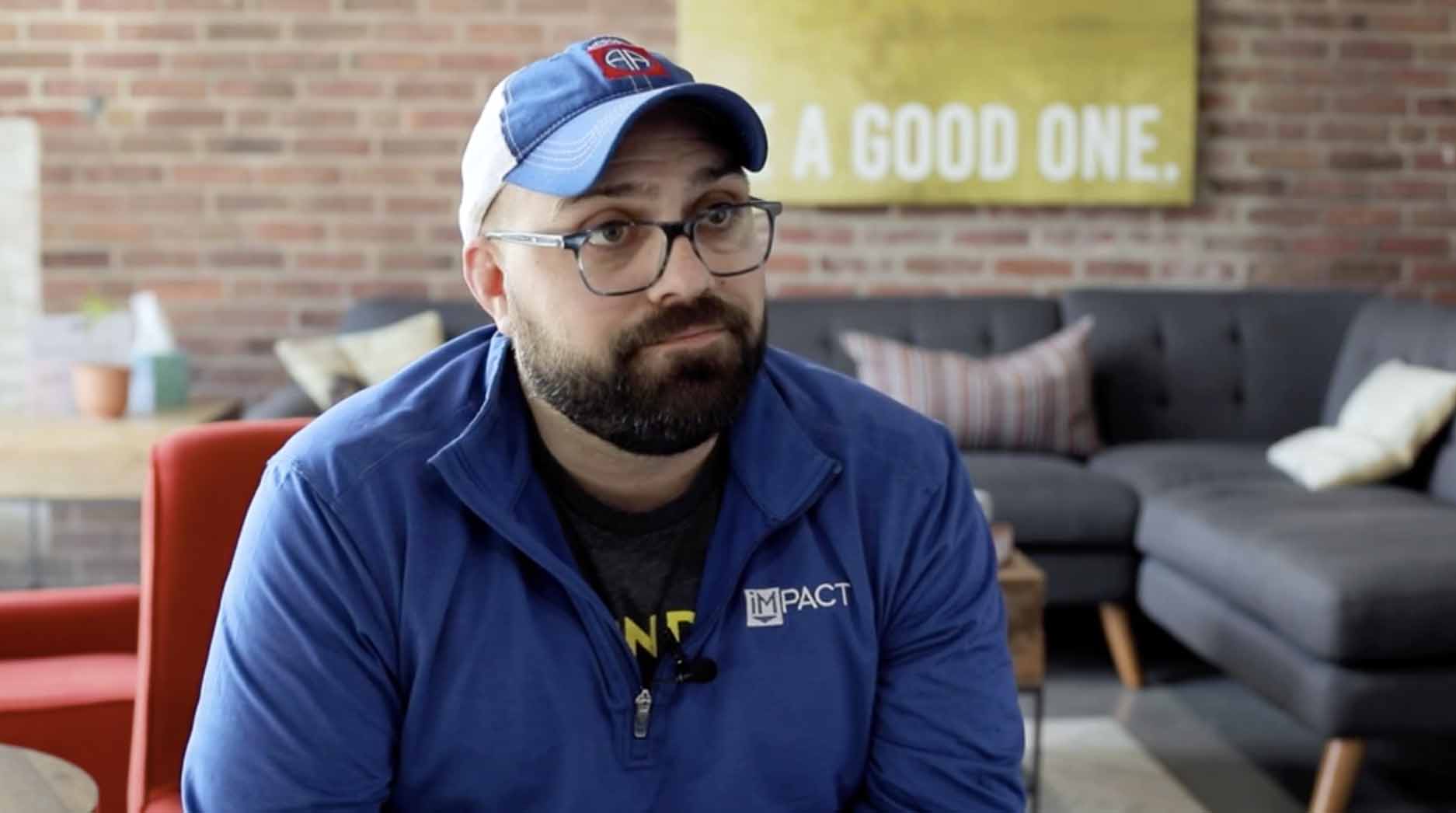 Notice how Chris is looking slightly off-camera? That's totally fine. He's going to speak more naturally to a person who's there instead of into the camera lens.
It should incorporate 'b-roll'
Make sure you have some b-roll, that is, footage without sound, to put over the main footage. This can take three forms:
Second-camera footage from the interview to add a different angle and break things up
Footage of the person doing the things they're talking about: working, speaking, designing, etc.
Footage of the person's personal life or family.
This will help the video feel fresh and visually interesting.
It also helps the viewer gain a visual of what that employee's day-to-day looks like. This makes it easier to picture working together.
Lastly, if the employee in the video isn't very comfortable on camera, b-roll can also be helpful for covering up nerves.
It should be short
Keep the employee bio videos short. A video does not need to be long to accomplish its goal. All you need is enough to show your audience you're personable and trustworthy.
It should stay true to your brand
Sometimes it can feel like there's conflict between trustworthiness and personality. Too heavy in one direction can make the person feel stiff and rigid. Too much the other way can feel too trivial.
Make sure you stay true to your brand identity while still having some fun. You want to be memorable while also showing expertise.
What should employees talk about in their videos?
A videographer scheduling a shoot for an employee bio video should make a list of predetermined questions that they can share with the team. This will help everyone be ready to get the most out of their interview.
There are three main topics to cover in this kind of video:
1. Their role
First, they should explain their role. Titles can be confusing, especially to people outside the organization.
To get the most out of this question, you can ask questions like:
What is your role?

What does your day-to-day look like?

What are the problems you help clients solve?

How long have you been in this position?
These questions establish both the mechanical aspects of the job and establish credibility.
2. Their ideals
The next thing to focus on is their ideals. Why do they do what they do? What makes them care about their work?
Ask questions like these:
What makes you well-suited for this role?

Why do you love your job?

What's the most fulfilling part?

What do you think the customer experience should be like?
These questions humanize the person, while still focusing on their professional role. This will help the audience relate to the person on their screen.
3. Their life outside of work
And lastly, they should describe their personal life. Expressing your passions and hobbies can help build connections with people you have never even met. For example, you probably still remember the picture of Will with his bike and surfboard.
Examples of great employee bio videos
Now let's look at some examples so you get the idea. Just like the one for Will above, these help you feel like you know the person you're learning about. If the video does its job, you're now more likely to want to work with this person in the future.
Here are some examples of my favorite employee bio videos.
Aquila Commercial
This video puts a face to a field that can seem buttoned up and formal. David is clearly passionate and knowledgeable about the work he does for Aquila, a commercial real estate firm in Texas.
JMAK Properties
This one pulls you right in by leading with b-roll, and the video clearly conveys helpfulness and enthusiasm.
The interview-style shooting allows her to be comfortable and conversational.
Make your business more human
It's hard to develop a human connection online — and buyers are often skeptical of sales pitches and too-good-to-be-true offers. Seeing a face and hearing a voice can help.
Building trust through video is the fastest way to make connections.
Business deals are built on relationships, and relationships need to start somewhere.
Employee bio videos are a helpful tool for building relationships with your prospects and helping them become customers.
Free Assessment:
How does your sales & marketing measure up?
Take this free, 5-minute assessment and learn what you can start doing today to boost traffic, leads, and sales.