YouTube SEO: 6 Most Common Mistakes (and How to Fix Them)
If you want your videos to be found at all, you must understand how YouTube works, be willing to adjust your video content to your audience, and adapt as the video platform continues to change.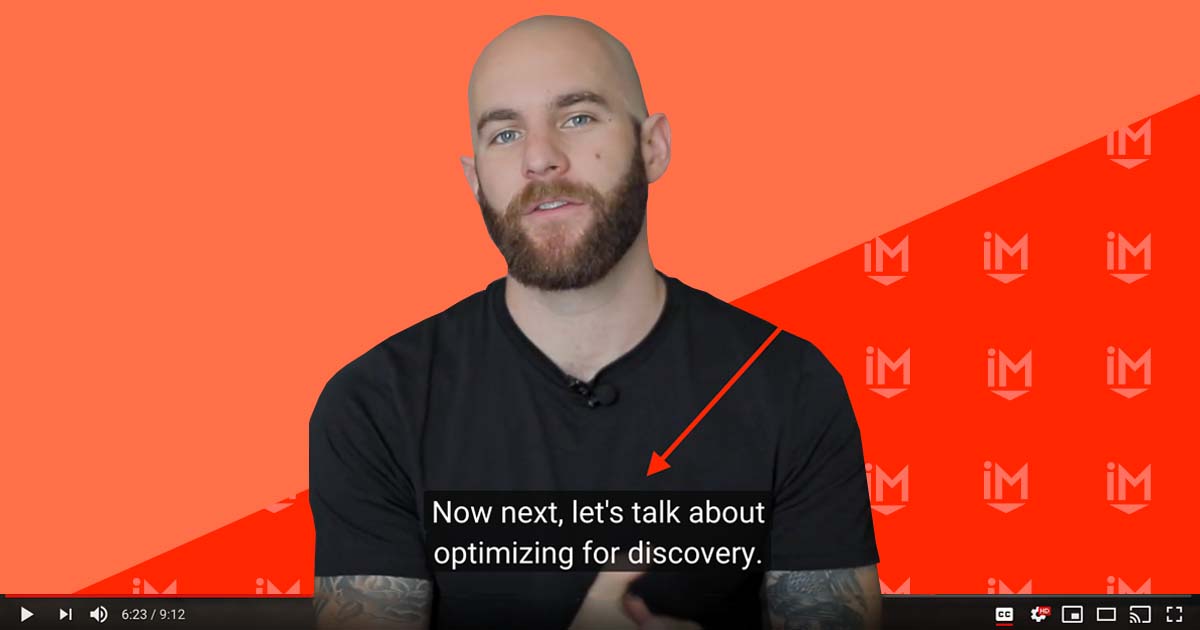 Most common YouTube SEO Mistakes
Short descriptions with no keywords
Not saying your target keywords and phrases
Not paying attention to off-page metrics
Bad thumbnail designs
Not prompting engagement
Not pushing people to more videos
What are the most common YouTube SEO mistakes?
Now, let's dig into the details, shall we?
So, you're looking at your business YouTube channel and it seems as though something isn't really catching on. You know your content is valuable, but nobody seems to find it. Or, maybe some videos on your channel seem to do well, while others are a complete flop.
"What am I doing wrong?" you're thinking to yourself.
Well as it turns out, many of the mistakes you might be making are pretty common.
In fact, through training and consulting dozens of companies over the past few years, I've narrowed down six critical mistakes that, once fixed, will almost guarantee success and help you build a successful YouTube SEO strategy.
🔎 Related: How to run a blended written and video content strategy
If you want your videos to be found at all, you must understand how YouTube works as a video platform, be willing to adjust your video content to your audience, and adapt as the video platform continues to change.
But YouTube isn't just a search engine
Before we get into the most common mistakes, there is an important distinction to make as you look at the engine that suggests videos to YouTube viewers. YouTube is as much a discovery engine, as it is a search engine.
In other words, when you use a normal search engine you enter a query, find your answer, and move off the search engine.
With YouTube, however, even once you've found your answer, you continue to find suggested content. YouTube calls this a search AND discovery algorithm.
This means that not only do you have to optimize your videos around specific keywords and phrases, but also ensure that YouTube knows how to suggest your content beside other similar content as well.
🔎 Related: What your 2021 video marketing strategy must include
Doing this will not only help YouTube and Google better understand what your content is about and organize it, but it will help get more qualified eyes on it as well.
If that sounds confusing, just think of how Amazon makes a suggestion to buy a tripod while you're in the process of buying a camera. It knows these products are related even though you didn't search for tripods.
So again, search engine optimization is important, but you must also consider the "discovery" element of the algorithm as well.
With that being said, let's get into the most common mistakes we see businesses making with YouTube SEO and getting found on the platform.
1. Short descriptions with no keywords
In the past, a common understanding of YouTube SEO was that the on-page factors like the title, description, and tags were the best way to rank for keywords. There seemed to be a particular belief, even from myself, that exact-match keywords in your tags were the best way to rank for those keywords aside from your title.
That is until YouTube stated:
"Tags can be useful if the content of your video is commonly misspelled. Otherwise, tags play a minimal role in your video's discovery."
Turns out that in addition to your title, the description is actually where you need to include those exact-match keywords and other contextual information for the algorithm.
Commonly, the description gets no love, but if you give it the right structure, it can be quite powerful.
We suggest structuring it something like this:
Opening statement
Content description
Call-to-action
Boilerplate Information

As you can see in this example, a structure can ensure that you include all of the necessary SEO elements and calls-to-action while maintaining readability.
The first part of this description, or the opening statement, is what would be displayed in search results.
The content description, or second element of a great description, is typically a bulleted list which includes more targeted keywords and phrases including ones that might not fit neatly in a normal video description.
🔎 Related: The ultimate checklist for uploading videos to YouTube
For example, above we included "plan and execute a content strategy calendar" in my content description bulleted list. Although Liz addresses it in her video, by itself it doesn't really fit into a paragraph description.
By using a structure and including those important contextual keywords and phrases in your description, you're helping YouTube understand when to display your video in search results and when to suggest it with other related content.
2. Not saying your target keywords and phrases
Another important YouTube SEO factor is closed captions.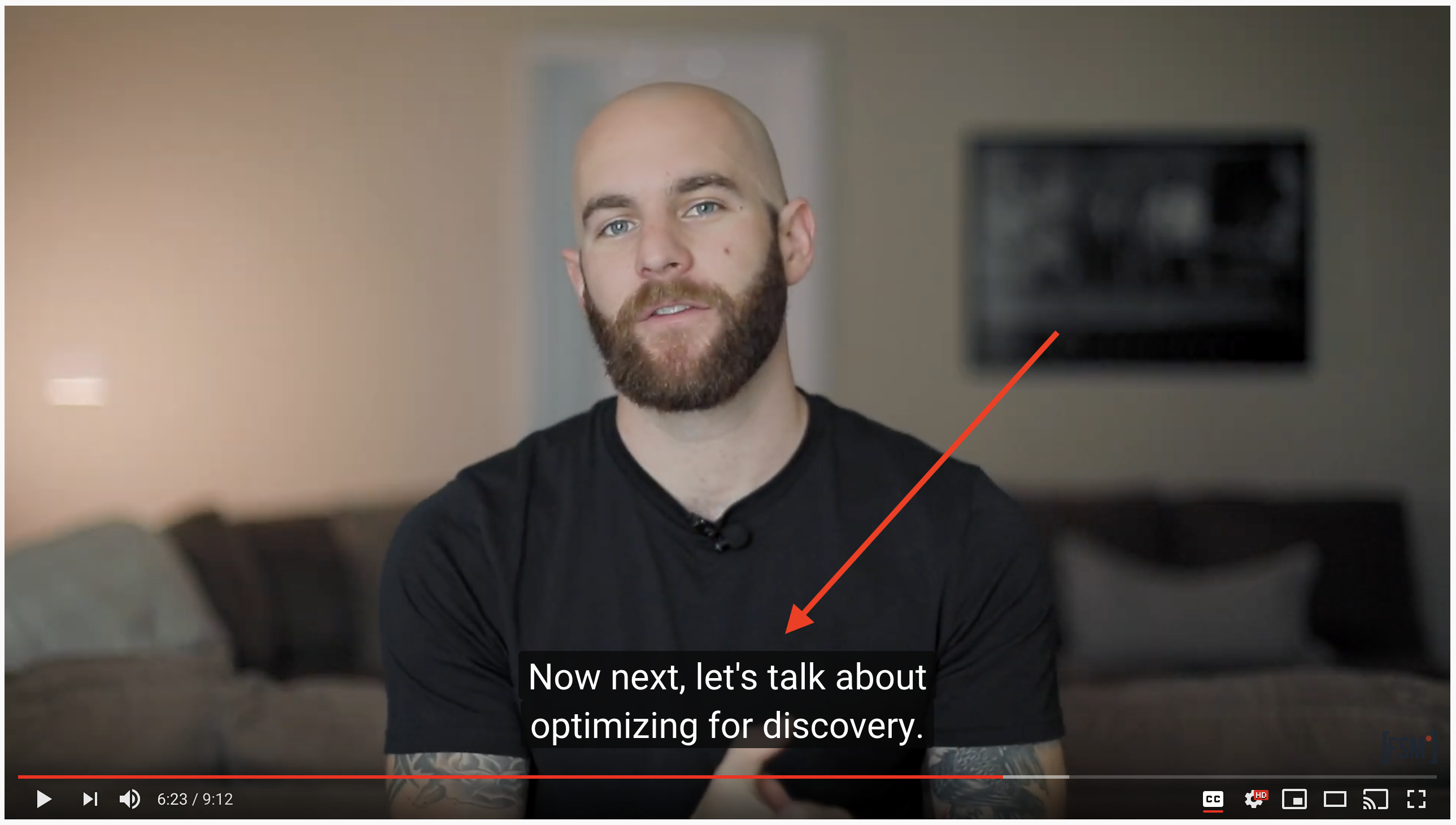 By default, YouTube transcribes the dialogue of uploaded videos to make them accessible to all, but there is one point of debate around the accuracy of those captions files.
In recent years, experts have believed that YouTube would only index a video's captions file if it was a "custom" captions file, meaning a separate transcription was uploaded from tools like Rev.
Others say that the automatically generated transcription will suffice. In my opinion, and from what I've seen working with clients, it's best not to rely on the automatically generated captions.
Considering they are only about 70% accurate, you run the risk of Google and YouTube seeing it as gibberish and even marking it as spam. This could affect your whole channel.
🔎 Related: How to add captions to YouTube and Facebook videos
Nevertheless, whether you choose to upload your own captions, or use the automatic ones, you should make a conscious effort to at least say your target keywords or phrases out loud in your video.
If the phrase is clear in your dialogue, the algorithms know what you're talking about and have a better chance of displaying your content to your target viewer.
You may even get picked up for a "featured clip" in Google search results.
Similar to a featured snippet, Google will display short clips of a video if it believes that clip alone will answer a searcher's question.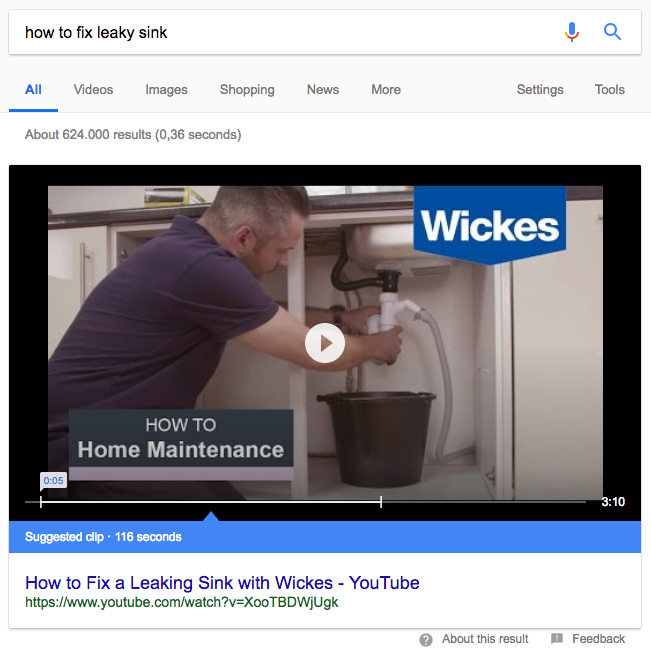 (Source: https://www.woorank.com/en/blog/suggested-clips-youtube)
3. Not paying attention to off-page metrics
Some of the most important SEO factors YouTube tends to favor to rank your videos higher actually have nothing to do with what you do at all; they are focused on what your viewers do.
Off-page metrics include things like:
Audience retention (how long they watch)
Engagement (likes, shares, comments, subscribes)
Click-through rate (how often people click when they see your thumbnail)
Think about what these things communicate to the algorithms. Would a video that's valuable, engaging, and worthy of promotion have a short average view duration and no engagement?
As stated by YouTube:
"Your goal is to keep audience retention as close to 100% as you can (because this means viewers are watching all of the way through your videos). And videos with consistently high audience retention and watch time have the potential to show up more frequently in Search and Suggested locations on YouTube."
But, it's not enough to simply know what affects performance; It's more important to follow that data and make better decisions about the content of your video.
If you don't, you're inadvertently hurting your video SEO.
Get to know your analytics dashboard in YouTube and use it as a guide to improve your videos, your channel, and, in turn, your results with video. YouTube makes it incredibly easy to track metrics like reach, views, and engagement with the new YouTube Studio dashboard.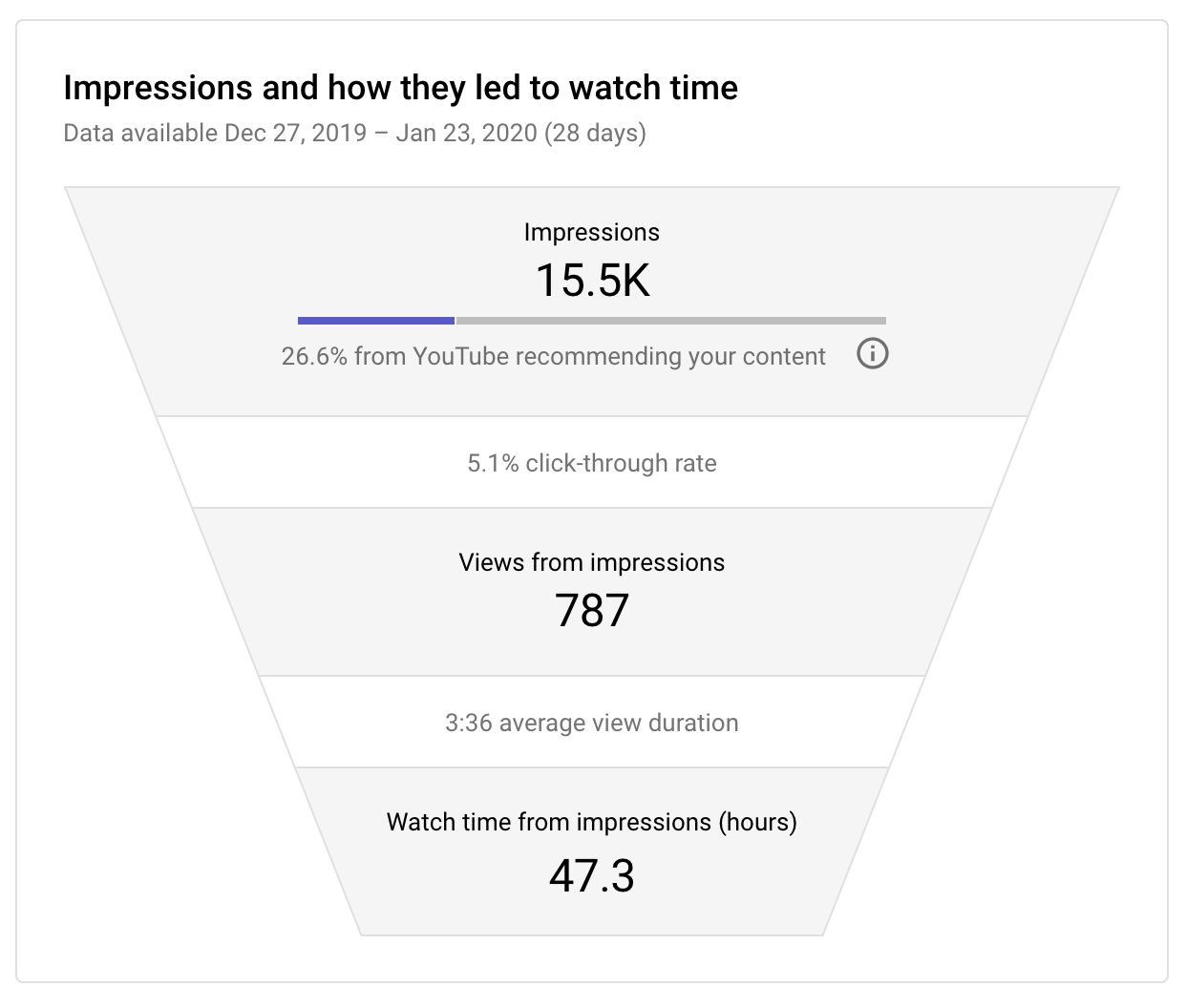 (Source: YouTube Studio)
4. Bad thumbnail designs
As mentioned above, YouTube clickthrough rates are one of the most influential off-page metrics and your video thumbnail can make or break this even for the most keyword-optimized, value-packed video.
In other words, I've seen videos that rank #1 for a search term in the first 24 hours of being published, only to be pushed to the second page after suffering from a bad clickthrough rate.
So what makes a thumbnail fail?
Thumbnails that either don't grab attention, don't generate interest, or otherwise don't look valuable.
First of all, you must have a custom thumbnail design. Otherwise, you're relying on YouTube to pick out a still frame of your video, that sometimes ends up looking like this…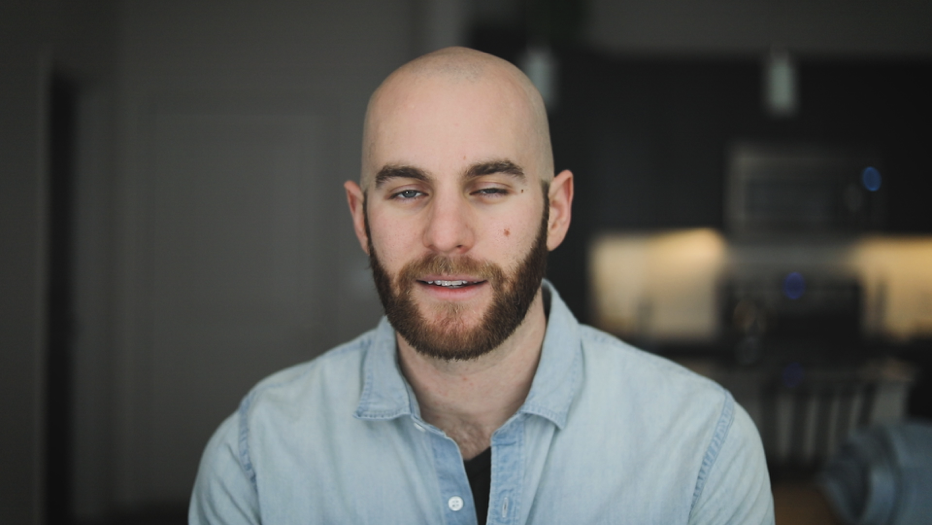 Not very enticing, slightly embarrassing, and killing your video clickthrough rate. Fact is, amongst the abundance of things a YouTube viewer can click on, you need to draw their attention with a great thumbnail.
If you're wondering what I mean, take a look below. What looks like it's more worth your time?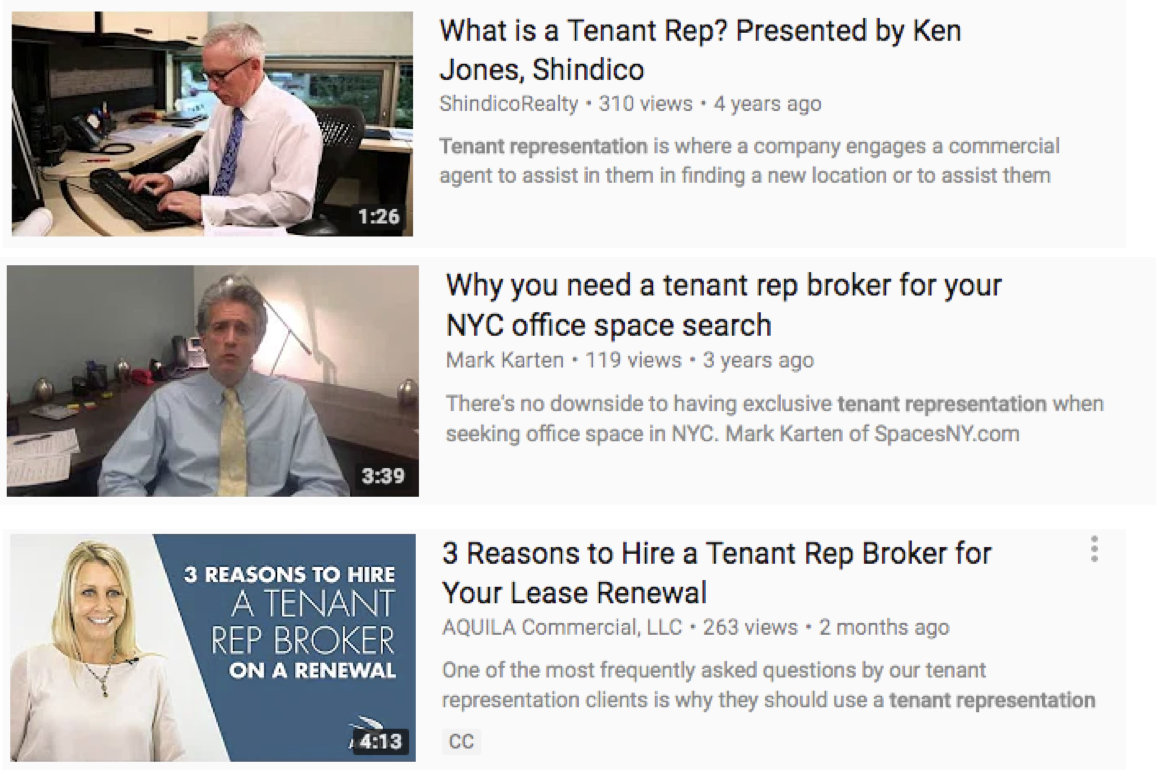 Although we can see a small preview of the video in each of these thumbnails, there is a wealth of "visual cues" in the last thumbnail.
It includes a number of best practices when it comes to an enticing, and clickable thumbnail like:
Large, Bold Text
High Contrast Elements
The Person or Product Featured in the Video
Enticing Visual Cues
Here's how we structure our thumbnails at IMPACT for our own YouTube channel: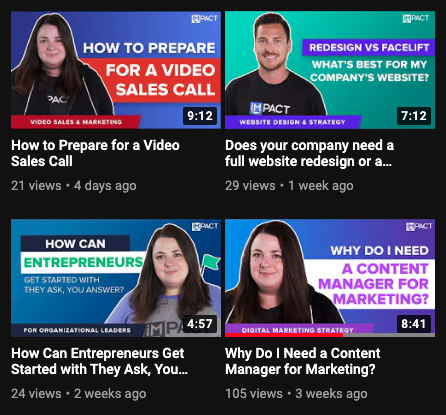 How do you make great thumbnails like ours? I'm so glad you asked:
5. Not prompting engagement
There's a strong correlation between video performance and engagement like comments, shares, likes, and subscribes.
In fact, Brian Dean of Backlinko.com once analyzed 1.3 million YouTube search results and concluded that videos with lots of comments often ranked number one in search results.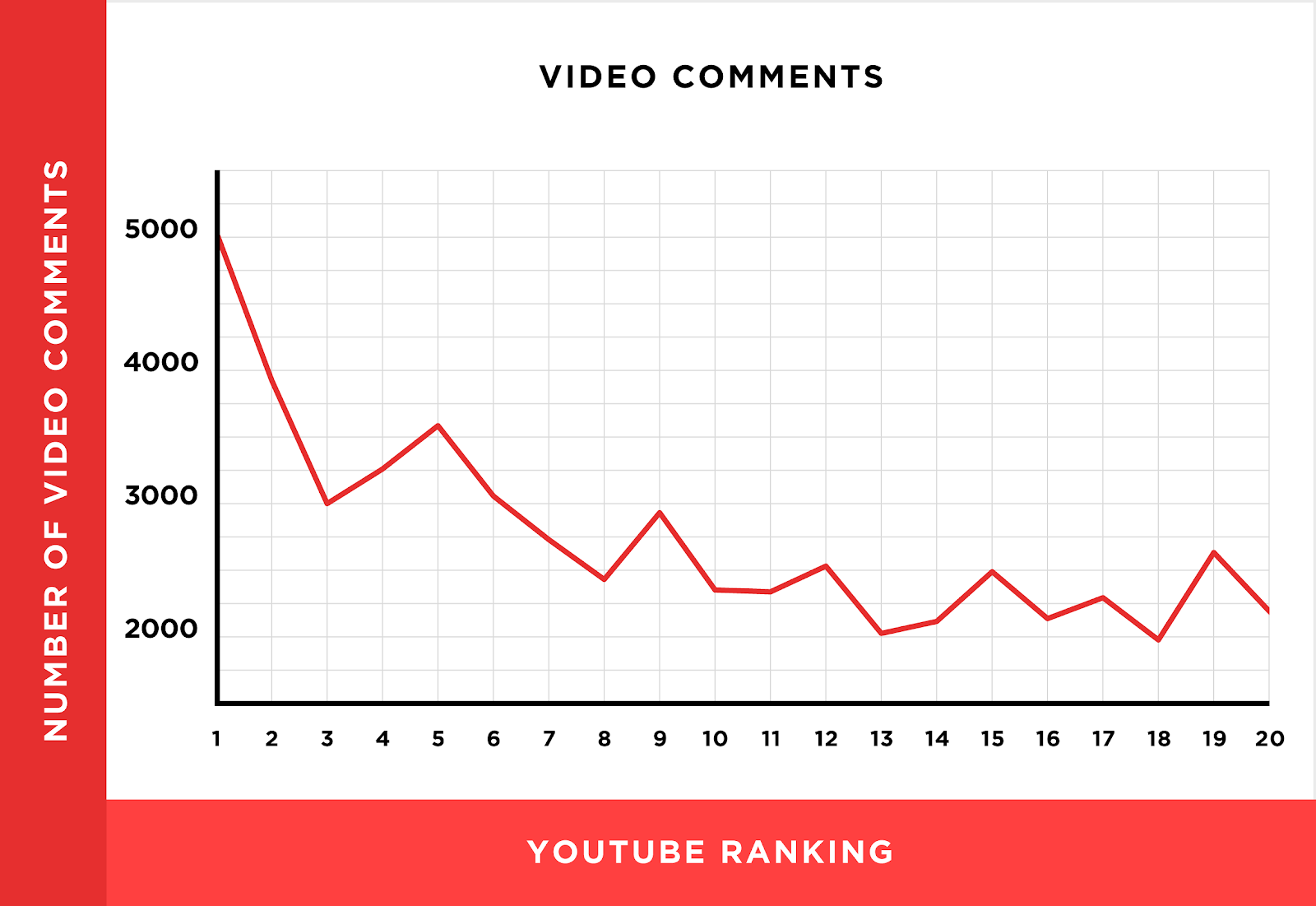 (Source: https://backlinko.com/how-to-rank-youtube-videos)
In his words, "If someone leaves a comment, it sends a strong message to YouTube that they probably enjoyed the video (or at least engaged with it."
The problem is, often we don't do the most logical thing to promote engagement.
Ask for it.
There is no shame in asking for viewers to participate voluntarily in conversation, appreciation, or promotion. Even better, use on-screen prompts and icons to visually reinforce what you're asking them to do.
Also, as a fun fact, YouTube doesn't admonish dislikes or any comment with negative sentiment. Controversial videos often perform very well.
6. Not pushing people to more videos
While an individual video performing well is great, the entire channel performing well is even better. And, as you may guess, if the entire channel is performing well, it affects the discoverability and searchability of every video you ever publish.
The biggest problem is oftentimes we don't make it easy for a viewer to consume multiple videos on our channel (or extend their viewing session).
When viewers consume multiple videos in one session, at least two things happen:
You increase view duration on multiple videos
You increase the amount of time the viewer spends on YouTube
As you might guess, YouTube enjoys when content keeps viewers on the platform. After all, that's more ad space they get to sell.
So when you extend a users viewing session with your content, you'll see a favorable outcome in your video and channel performance.
Sean Cannell, a notable YouTube expert, suggests using a "cluster strategy."
"Before recording, Sean thinks through four or even 10 videos that can all be related. That way, as he records the series, he can cross-reference videos from the cluster when relevant, and put links to related videos on YouTube cards and in the video description."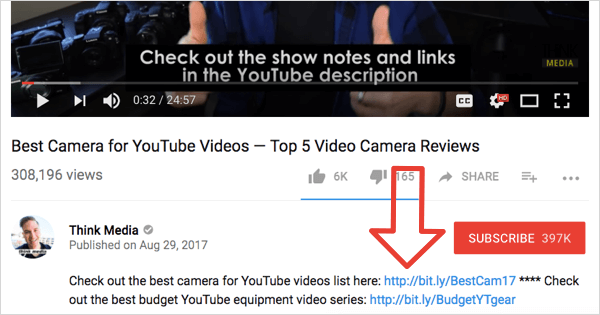 (Source: Social Media Examiner)
As you can see, when it comes to YouTube SEO, there is quite a lot to know and optimize even after you create great content —emphasis on starting first with great content.
Fact is, even with all of these best practices, if your videos aren't solving a real need or keeping people watching, it's safe to assume that all the search engine optimization in the world isn't going to bring success.
One final thing to keep in mind: It's very rare that I see videos that were "repurposed" for YouTube perform very well in search.
By repurposed I mean, initially it was made for Facebook or for the website, but just to get some more views, it was thrown up on YouTube as well.
Instead, those organizations who put time and energy into making content specifically for the platform, and therefore are able to make the viewing experience great on YouTube first tend to crush it.
If you want to see what these best practices look like in action, I'd recommend checking out some of the channels from current and former IMPACT clients to get a taste of what's possible:
The Metal Roofing Channel by Sheffield Metals
The Copier Channel by AIS Las Vegas
The Home and Gun Safe Channel by Liberty Safe
Furniture Academy by La-Z-Boy Southeast
And if you're looking to drive traffic to your own site, read this article about in best practices for SEO in general.
Free Assessment:
How does your inbound marketing measure up?
Take this free, 5-minute assessment and learn what you can start doing today to boost traffic, leads, and sales.
Get Started
Free Assessment:
How does your inbound marketing measure up?
Take this free, 5-minute assessment and learn what you can start doing today to boost traffic, leads, and sales.
Published on November 25, 2020