Subscribe
Join 40,000+ sales and marketing pros who receive our weekly newsletter.
Get the most relevant, actionable digital sales and marketing insights you need to make smarter decisions faster... all in under five minutes.
Thanks, stay tuned for our upcoming edition.
How To Hire an In-House Videographer: Selecting and Interviewing the Best Candidate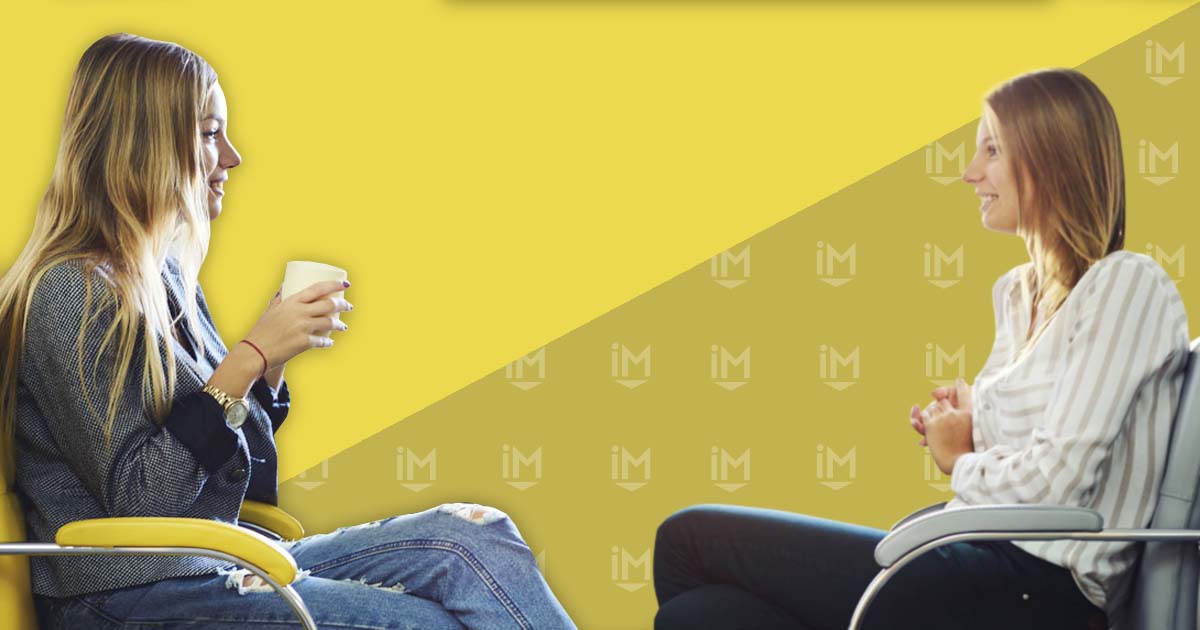 As we continue to experience this massive shift in sales and marketing content, where many organizations understand the importance of becoming a media company, we need to find the best creative talent out there.
Marketing departments all over the world are hitting the job market in search of the best and brightest video creatives.
Many will find talented professionals that are a good fit at their company, while others will realize they have no idea how to hire for the position, and frustrations will grow.
Maybe we can save you from this hassle.
At IMPACT, we assist many of our clients in their search for a videographer. With the addition of hiring a content manager, these two positions should create powerful video content that drives revenue.
In an interview situation, what should you ask, what should they demonstrate, and how will you know you've found a good candidate?
We'll outline some of the personal traits a videographer candidate should have, how to identify creative "street cred," what to ask in an interview, and how to assign a special task (here at IMPACT, we call this a "situation activity") that will help you find the best candidate.
Identifying personality traits of a videographer
Later in this article, we'll go into more depth about that task that you'll be giving the candidate which will show their creative side in a video but, for now, let's focus on personality traits.
⚠️ Free resource: Videographer Job Description Template
The person who fills your videographer position will be the visual storyteller of the company. As such, they need to be a GREAT fit within the culture of your business.
They will have frequent contact with employees within the organization, and in certain scenarios, will have to give and receive criticism to develop the best content possible. Somebody who is uncomfortable with feedback, overly introverted, or doesn't "jive" well with the culture just won't fit.
It's also important to look for a strong desire for personal growth within your videographer candidates.
Each video they create will hopefully be better than the last, so you really want your videographer to take feedback well. If they are always trying to better themselves, this should happen automatically.
You'll want to also make sure they're interested in learning about new technologies and workflows.
Think about this: the videographer is probably going to be the only employee who focuses solely on video, so they can't rely on a manager or colleague to help them when it comes to video sales and marketing.
Ask questions that will help you get to know the type of person they are.
Personality traits you should be looking for include:
They are able to work with a team or on their own.

They own the production process and do what it takes to make great content.

They are self-starting and treat the brand as if it were their own.

They deal well with criticism and are able to receive feedback easily.

They have great communication skills and are able to interview and make people comfortable.

They are energetic and able to excite people to be on camera.

They look at the content from the eye of the viewer to create the best experience.

They are a lifelong learner and eager to identify new learning opportunities.
More often than not, someone who is fun and energetic is going to be a great candidate for this role.
Many people within your organization might not particularly enjoy being in front of a camera. This means your videographer will need to know how to focus people, and not just cameras.
What a good candidate should demonstrate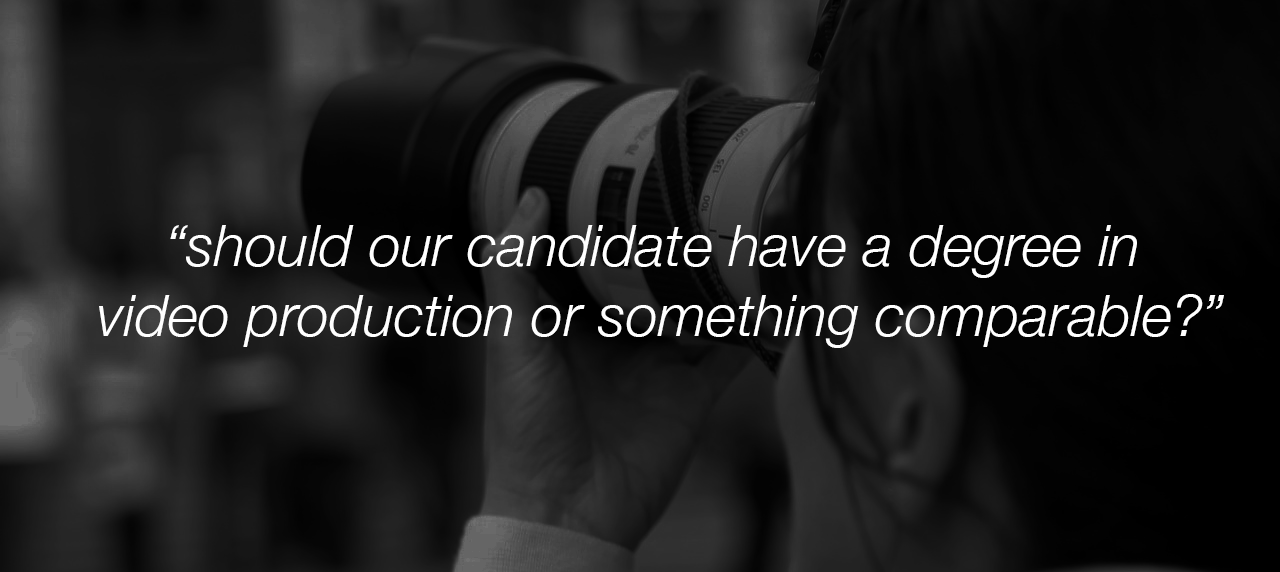 A common question we get: "Should our candidate have a degree in video production or something comparable?"
It's a great sign if they have a degree, as it shows a level of discipline, and you'll know they've had some formal training. Yet, it's not necessarily a deal-breaker if they don't.
In the end, this is a creative position. Instead of their formal education, focus on the practical skills they can demonstrate and abilities specific to the position.
Here are some common things we look for to help you get started:
Potential fields of study
Journalism.

Education.

Video production.

Graphic design.

Photography.
Technical skills
Proficient with video editing software (Adobe Premiere Pro or Final Cut Pro are the most common).

Experience with Adobe After Effects or Motion is preferred.

Experience with Adobe Photoshop and Adobe Illustrator is a plus.

Can conduct research and purchase needed equipment.

Can operate and maintain proper levels and calibration of cameras, audio and video recorders, and other production equipment.

Embraces new technology (like AR, VR, etc.) as it develops.

Understands the importance of

tracking video marketing metrics.
Creative skills
Proficient at storyboarding, scripting, and concepting.

Understands basic and advanced composition techniques.

Understands the fundamentals of branding (this person will create motion graphics and other visual elements that need to play well with your brand).

Very detail-oriented and able to identify quality issues in audio and video.

Understands the basics of social media and video hosting.
Video portfolio
Has a YouTube, Instagram, or Vimeo channel.

Has a personal website with a portfolio.
These are just some ideas of how to gauge experience and skill level. Not all videographers are going to meet all of these criteria.
One important thing to remember: your candidate must display traits that lend themselves to business storytelling and not just cinematic knowledge.
Extra interview questions for your videographer candidates
If your candidates have already passed the culture fit screening, technical and creative skills, and have a stellar video portfolio, you're on track.
Here are a few more interview questions you can ask your candidates to continue to vet them and get some valuable insights into how they are as a videographer as well as how successful they'll be at your company:
What's your favorite part of video editing? What is your least favorite?

Where (what website) do you go to learn and improve your skills?

What don't you like about the video production process?

What are the most important steps in pre-production?

Tell me about a time when your footage didn't turn out as you had hoped. What did you learn? How did you fix it?

Who are some of your favorite videographers, channels, or influencers?

What makes a perfect visual story?

What videos have you seen online that were poorly done?

When you see someone doing something wrong on camera, how do you generally offer feedback? Examples?

How do you deal with someone who doesn't feel comfortable on camera?

What's the toughest feedback/criticism you've ever received for some of your work? Was it valid?

What makes a business video different from, say, a short film?

From what you know about our company so far, what's an important element of telling our story?

What do you feel are the most important videos our company could shoot right now?
As you can see by these questions, it's important that you find out how knowledgeable they are, how well they receive feedback, and if they're up for the challenge of making amazing videos for your organization.
Once we've vetted our candidates with these specific interview questions, it's time for the practical challenge.
A simple video assignment for the interview process
What videographer interview would be complete without actually seeing what the candidate is capable of?
That's where the practical video assignment comes in. By this point, your candidate has probably "talked the talk" during the interview process but now let's see if they can "walk the walk" by actually creating a video.
This assignment not only shows you the candidate's video skills, but will also tell you a lot about their time management, creativity, critical thinking, and communication skills.
Here's exactly what I ask videographer candidates to do here at IMPACT:
"I'd like you to submit a 2-3 minute video similar to the educational style and tone of this video here. Take note of the format. (Intro, Logo Bumper, etc.)

I'd like you to make the topic of the video ONE of the following two options:

1. Why you want to work at IMPACT.

2. Why you're so passionate about video.

The video needs to include you and be shot indoors. Other than that, I want you to use your creativity.

Here are a few of the things I'm going to be looking at:

On-camera performance.

Audio mastering.

Color grading.

Use of text overlays.

Overall creativity.

Followed directions.

Please send this to me in the next 2-5 business days. I'm available to answer any questions you might have. When you submit your video, please give me a brief description of the project and why you made certain creative choices."
Note: An even better way to customize this activity for your organization would be to give them one of your blog articles as the topic of their submission. If you don't have any articles yet, the topics mentioned above will work.
Once you've received their video, use the criteria from earlier in this article to gauge their skill levels, personality, and creativity.
Did they do the bare minimum or go above and beyond? Did they seem to struggle to complete the task, or did they push their boundaries?
Next steps to finding your next visual storyteller
At IMPACT, we've used these very criteria to help align some of the best video marketing talents with organizations that have fully embraced becoming a media company.
Use your own judgment and apply these specifically to your industry to make sure you find the best possible fit.
If you still have questions about how to find the best videographer for your business, set up a time to talk to one of our advisors, and we'll walk you through the process.
Trust us, choosing carefully now will save you a world of hassle and frustration down the line.
Free Assessment:
How does your sales & marketing measure up?
Take this free, 5-minute assessment and learn what you can start doing today to boost traffic, leads, and sales.