How To Create an Effective YouTube Marketing Strategy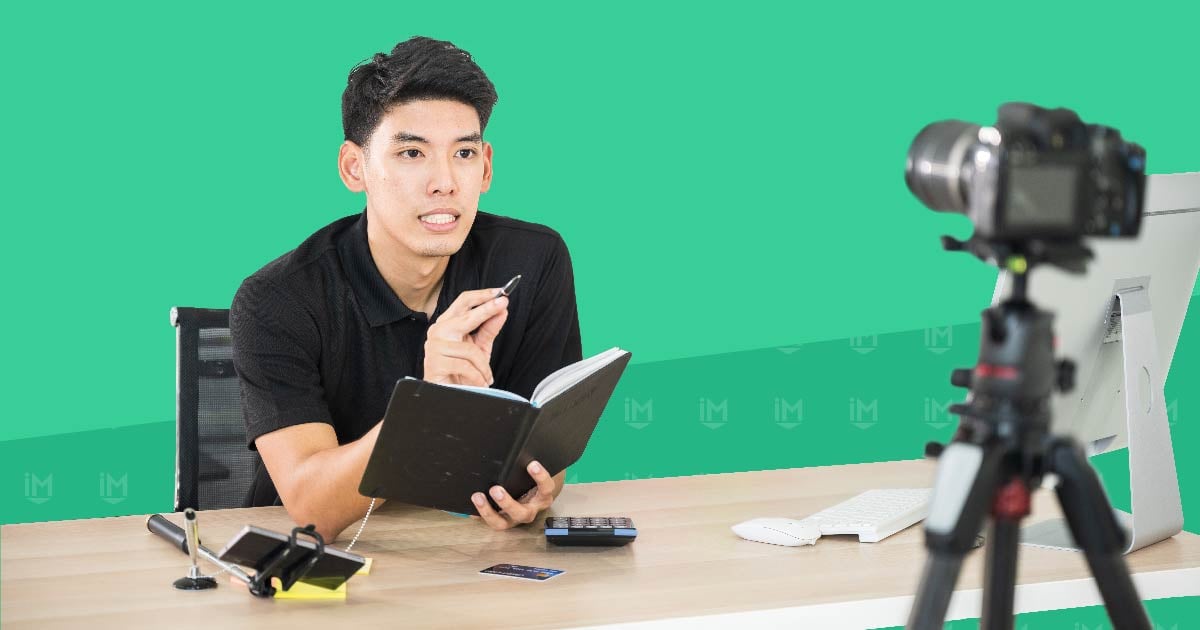 In 2022, video marketing is nothing new. We see it recommended by experts and thought leaders from all walks of life, and we see every platform catering to video content. But, despite its familiarity, video marketing is far from easy.
Mastering video production is a literal art form. Add in trying to conquer an elusive, competitive video platform like YouTube, and it's no wonder so many marketers are still struggling to see the traffic, leads, and sales results they want.
Thankfully, we have spent the last few years researching and fine-tuning our own YouTube channel – as well as channels for dozens of our clients – to do just that.
I recently spoke with one of our They Ask, You Answer coaches, Devon McCarty, who has had particular success helping clients in these goals, and in this article, I'll share some of what Devon has learned from guiding so many clients to video marketing success:
Why you should prioritize YouTube marketing
What an effective YouTube marketing strategy should include
What kind of YouTube videos you should create
How to set up a YouTube channel
Best practices and tactics to keep in mind for YouTube marketing
Video marketing is too important to get wrong, so let's start learning.
Why should you prioritize YouTube marketing?
Video marketing is known to catapult traffic, leads, and sales when it's teamed with a strong content and inbound marketing strategy like They Ask, You Answer.
They Ask, You Answer at its core is about addressing your audience's questions and concerns honestly and thoroughly to build the trust needed to earn their business. With its use of visuals, sound, and human delivery, video is particularly effective at doing this.
Not only is YouTube the premier destination for video online, but it's also the second most trafficked website in the world, according to Alexarank. Some also rank it as the second-largest search engine in world, following only its well-known parent company.
So, if you're not prioritizing a YouTube marketing strategy, you are missing out on invaluable awareness and nurturing opportunities.
But the benefits of a YouTube marketing strategy don't stop there.
Customers use video to research purchases
A recent survey found that 83% of respondents report that a product/service-explainer video helped them make a buying decision. In fact, product reviews and unboxings are some of the most popular types of videos on YouTube.
These, along with video tackling your audience's questions and concerns (i.e., The Big 5), are a smart and effective way to move prospects toward purchase.
YouTube videos can educate your customers
Your customers have questions about your business's services, products, or areas of expertise, and YouTube positions you perfectly to give them answers.
By providing lots of how-to content, helpful tips, or in-depth instructions about your products or services through your YouTube marketing, you can give your audience what it wants: information. If you build trust and nurture relationships, this audience will reward you with more business.
An active YouTube presence positions you as an expert and thought leader
By putting out timely, quality online video content, you can show you're an expert in your business arena. It's another way to secure trust and spark more interest in your brand.
Video helps you build trust
If you want to connect with modern consumers, building trust is essential. In fact, one Edelman survey found that 81% of consumers say brand trust is a deciding factor when making a purchasing decision.
Not only does trust bring in business, but it can also skyrocket customer loyalty.
The same study found that 82% of U.S. consumers will stick with a brand they trust, even if another brand becomes trendy.
One of the best ways to secure trust with potential and current customers is to give them helpful content and let them get to know you on a more personal level. By uploading useful information across YouTube and showing your name and face in videos, viewers will start to recognize you as a reliable source of information.
What should a YouTube marketing strategy include?
Clearly, having a YouTube marketing strategy is important, but what does a successful one look like?
Goals
Defining success starts with knowing what success is to you. In other words, what are your goals for this initiative?
Video expert Devon McCarty explains, "To determine your goals, start by deciding what you want out of the engagement with YouTube. Do you want to increase brand awareness or brand affinity? Drive lead generation? Build a community? Develop a learning center for existing customers?"
There are a number of options to consider.
Once you figure out your focus, you can then nail down specifics.
If you're looking to build brand awareness, perhaps your goal should be to "Generate X number of subscribers by the end of the quarter" and to "Increase your average watch time to X minutes."
If you're trying to generate leads, perhaps your goal is to "Generate X leads by the end of the quarter" on a YouTube exclusive offer.
Regardless of what it is, your goal must be SMART (specific, measurable, attainable, realistic, and time-bound).
Keep in mind when setting SMART goals what you're ready and willing to commit to. How many videos are you willing to spend time and energy on creating each week or month? How long are you going to focus on this initiative?
When it comes to setting benchmarks for your YouTube marketing strategy, Devon suggests you start by understanding where you are:
How many videos do you create per month?
How many YouTube channel subscribers are you getting each month?
How many people are commenting on your videos?
How many people are sharing your videos?
How many views are you getting?
How long are people viewing your videos?
How many clicks? (once you've become a YouTube Channel Partner)
How many leads converted from YouTube?
All of these factors will impact the scope of your goal.
Metrics
With goal setting comes metrics. How are you measuring your progress toward your goals?
Once you know what you want to achieve with your overall marketing strategy, sit down and determine which metrics will actually be indicative of your achievement — and not just a vanity metric.
Here are some common metrics to track based on what you're trying to accomplish with video marketing and a YouTube marketing strategy.
Awareness and reach metrics
Awareness is all about getting knowledge of your brand out there to your target audience. The metrics below relate directly to this – identifying how many people are actually being exposed to your videos and in turn your brand.
Views


View count is just that; it's the number of times your video has been "watched" by an individual. On YouTube, this

is counted

as 30 seconds.

Subscribers
While some may say this is a vanity metric, your number of subscribers can give you a decent gauge of how many people want to see your content regularly and also can open more doors on the platform itself such as monetization.
Video engagement metrics
Engagement is about taking someone from a passive viewer to an active one. It shows that your video content struck enough of a chord to elicit an action/reaction.
If this is your goal, these are the metrics you should pay attention to:
Likes (thumbs up)
If viewers thought this was a great video, they can "like" or "thumbs up" it. This is usually an indication of agreement that the video content is on par with what the viewer would like to see.
Dislikes (thumbs down)
The "thumbs down" option on YouTube can indicate that either users disagree with the subject matter, or they generally didn't like the content.
Because of this ambiguity, this is a metric that would require further investigation.
Number of comments
Your number of comments (those that aren't bots at least), can be a good indication of how much conversation your video is sparking. Comments can offer valuable feedback on the content you created and give you an opportunity to engage directly with your viewers.
Even better, they allow viewers to engage with each other, building a sense of community around your brand.
Watch time
If you want to see if your video is actually resonating with your audience, then a great place to start is watch time, or the time spent watching your video.
YouTube calls this metric, "estimated total minutes spent viewing your content." If your video is 10 minutes long and viewers are only watching for 30 seconds, this is a good sign that your video content isn't engaging with your audience, and in turn, likely isn't speaking to the right audience.
On the other hand, if people are watching all the way through; you may have just hit the mark!
Conversion Metrics
Lead generation may not be your first thought when it comes to YouTube, but it is possible. If this is your goal, keep your eye on:
Card Click-through Rate (CTR)
Just like with your website, click-through rate and conversions will measure just how many viewers were engaged enough to be interested in what you are trying to get them to do.
Analyzing the CTR of each of your YouTube cards will help you understand what offers people are most interested in, or even what times in your videos or positions on the screen are most effective for getting clicks.
If you're not eligible to use YouTube cards to click off onto your website yet and you're directing people to links in your video description, make sure to monitor the CTRs of that page and offer as well.
Schedule
Your publishing schedule or cadence should ultimately be dictated by your audience's behavior and preferences, but if you're just starting to build out your YouTube marketing strategy, where do you begin? What's a good initial cadence?
At IMPACT, we encourage our clients to start by releasing at least two videos per week at a consistent time and day.
We've found this to be a healthy benchmark for production for most companies with a dedicated videographer on staff and a good way to build a relationship with your subscribers. (It's a myth that YouTube's algorithm rewards or punishes your channel based on frequency.)
Publishing consistently is like establishing good credit. The longer and more consistently you make your payments, the better your credit score will become. With YouTube, the longer and more consistently you publish quality content on your channel, the better your subscriber count and channel reach will become!
Monday/Wednesday, Tuesday/Thursday, or Wednesday/Friday are each pretty good plans. However, you should pay attention to your metrics to see which days perform best for you, and refine accordingly.
If down the line, you've got content creation dialed in, or a videographer who is knocking out videos left and right, perhaps even scaling up to three a week or more will help your reach, engagement, and previously established goals.
But note that we mentioned having a dedicated videographer. Hiring someone to focus solely on video creation shows a commitment to a YouTube marketing and video strategy. With a talented, full-time videographer on staff, you have more flexibility to create content as needed.
Content strategy
When it comes to creating a content strategy, your focus should be on providing value in order to build trust.
Trust is ultimately what makes people comfortable enough to hand their hard-earned money over to a business; the trust that they'll deliver what they actually promise. If you can successfully build this through YouTube content, half the sale is already made.
While "value" will vary from audience to audience, it usually comes in one of two buckets: education or entertainment. Entertainment can take many forms, but educational content tends to be pretty universal.
According to the They Ask, You Answer methodology, valuable educational content is rooted in answering the questions buyers have about your product, service, or industry. If you can address their concerns openly and honestly, you stand out as a trustworthy resource.
Plus, new research from Conductor has found that consumers are a whopping 131% more likely to buy from a brand immediately after they consume early-stage, educational content.
Customers want to be empowered to make their own informed purchase decisions, and the brands that help them do that are often rewarded.
But what questions are people asking exactly? What should you be answering with your video content?
More on that shortly.
Plan for lead generation
Awareness is great, but YouTube viewers who turn into leads or customers are better. That's why it's so important for your video strategy to include a plan for driving traffic back to your website and generating leads.
Perhaps that means directing people to the link in your description that goes to a landing page, or it could include capitalizing on YouTube Cards.
Either way, it's important to identify a specific next step to your videos so you can help viewers along the journey toward engaging more deeply with your brand and making a purchase.
Tools and tech
One of the biggest benefits of YouTube is that it's a free platform for anyone to get started with. However, if you want to have a YouTube marketing strategy that truly excels, there are several third-party tools you can capitalize on to help you optimize your performance.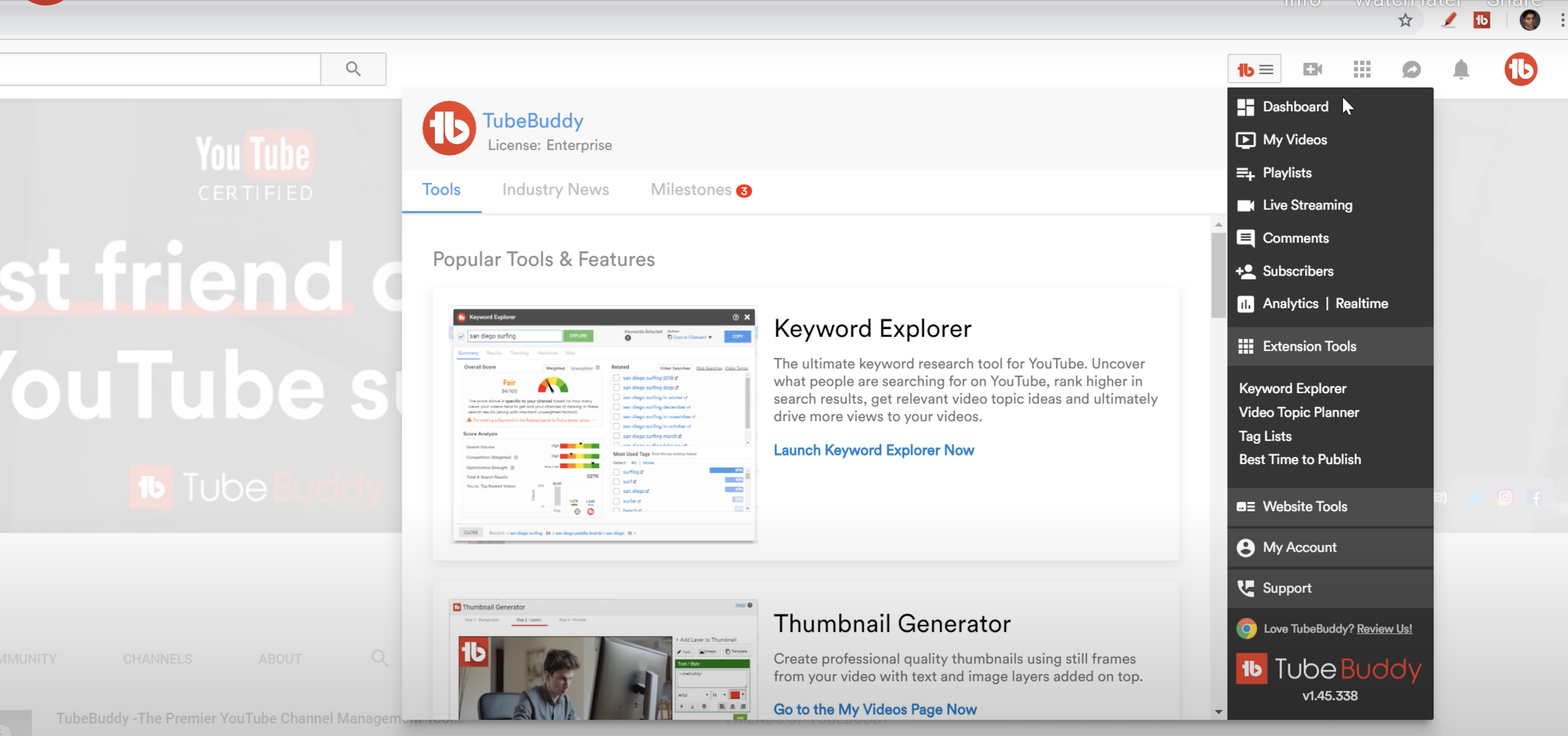 Image Source: YouTube (TubeBuddy)
TubeBuddy is an IMPACT and YouTuber favorite with good reason. This web browser extension helps you get more views and increase subscribers by providing you with tools for:
Advanced keyword research
Promoting your YouTube channel
YouTube thumbnail optimization
Video processing
and much more
The tool is free to get started with, but you can upgrade for as little as $7.20 per month.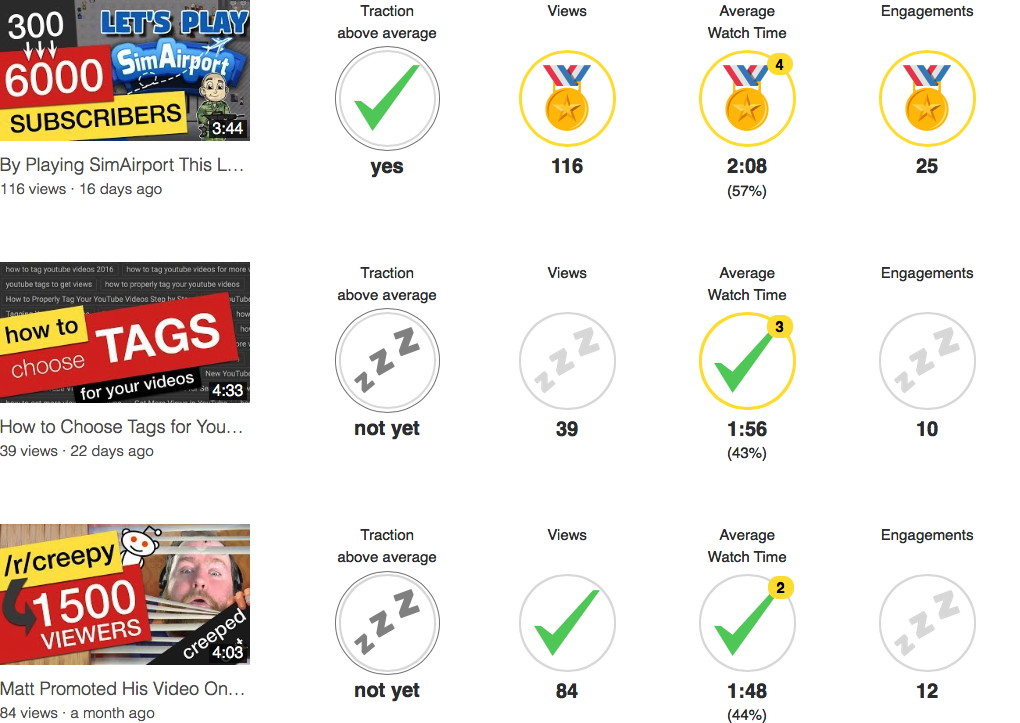 Image Source: Morningfame
Morningfame is a YouTube tool that compares your channel with other channels of similar size and then provides recommendations on how to improve your reach and attract more subscribers through keyword analysis and research and rich channel data.
Your first month with Morningfame is free, and the platform then has plans starting at $4.90 per month.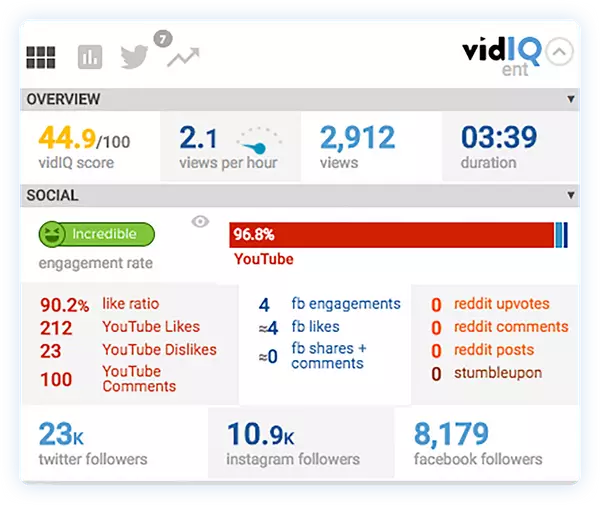 Image Source: VidIQ
VidIQ is another web browser extension that Devon highly recommends.
It promises to help you scale your YouTube channel using a long list of features and services, including bulk analysis of your YouTube descriptions, recommendations for tags, video titles, and descriptions, competitor tracking, trend alerts, daily ideas, and more. As with the others, vidIQ is free for the basic plan, but you will need to pay to unlock all of the features.
YouTube aside, you will also, of course, need video equipment and post-production software. To help, we've put together our suggestions for building out an in-office studio on a budget and stock video and audio resources.
What kind of YouTube videos should you create?
As we mentioned, creating YouTube videos around your audience's questions and concerns gives you a valuable opportunity to not only build trust but to get found by users when they're searching for answers as well
The best way to find out what questions to cover is by talking to your salespeople and front-line team members, but there are five crucial content areas to address no matter your industry or business.
We call them The Big 5:
Cost: How much your solution costs (factors, considerations, what defines value, etc.).
Problems: The negatives about, or issues with, your solution (that buyers tend to ask about).
Comparisons: How your product or solution compares to other options.
Reviews: Honest and unbiased opinions and observations about your product, solution, etc.
'Best of' lists: What the best solutions available are.
When these topics are addressed thoroughly, your brand becomes trusted by your audience. In turn, people are more likely to follow and buy from your business.
And don't just take our word for it. Research shows that some of the most popular types of videos on YouTube are product reviews, top lists, and anything educational.
Another type of popular video is a narrative. This is where things like customer testimonials can share the personal experiences people have with your brand.
How to set up a YouTube channel
Creating a YouTube channel gives your potential customers access to a single, cumulative, and searchable library of branded content on one of the most popular websites in the world, allowing you to share your expertise via video and further establish yourself as a trusted leader.
We have a detailed breakdown on how to set up a YouTube channel for your business as well as a course that can take you through it step-by-step, but here's a quick summary:
Create a Google account for your business
Create your business YouTube channel
Set up your profile image
Upload a banner image
Complete your "About" section
Add featured channels
Create playlists
Create and post a channel trailer
Set up controls
6 YouTube marketing tactics and best practices to keep in mind
Now that your channel is set up and you have your YouTube marketing strategy in place, here are some YouTube best practices and tactics to keep in mind.
1. Be consistent
Once you agree on your frequency of publishing, it's important to maintain that cadence of output to maintain your audience and engagement (which in turn maintains your favor with the YouTube algorithm).
Now, this doesn't mean you can't take a break. Devon explains, "It's not uncommon for certain successful channels to have 'seasons' of content. They create a specific number of videos and release them during a specific cadence for several months. Then, once their season ends, they either halt all production to create their next 'season' or release their shorter 'off-season' content while they work on their main channels."
For channels that are just starting out, it's more important and effective to start and maintain a continuous stream of publishing for as long as possible. Once you grow your community of subscribers and start seeing a huge increase in public watch hours, you'll have more freedom over content publishing cycles.
Either way, once you start your cadence of publishing, it is important to keep going. Breaks or lulls without notice can confuse and frustrate your audience and lose any favor you gained in search rank.
With this in mind, wait to start publishing until you've got a nice bank of completed videos ready to go, so if something happens that delays future projects, you'll have a nice stock of completed videos ready to go regardless.
2. Always include a call-to-action
What's the logical next step for your viewers? Where should they go or what should they do after they've finished watching your video?
For the last several seconds of your YouTube videos, you have the ability to add a few clickable call-to-action buttons, so make sure you have a logical place for them to go next and clearly guide them there.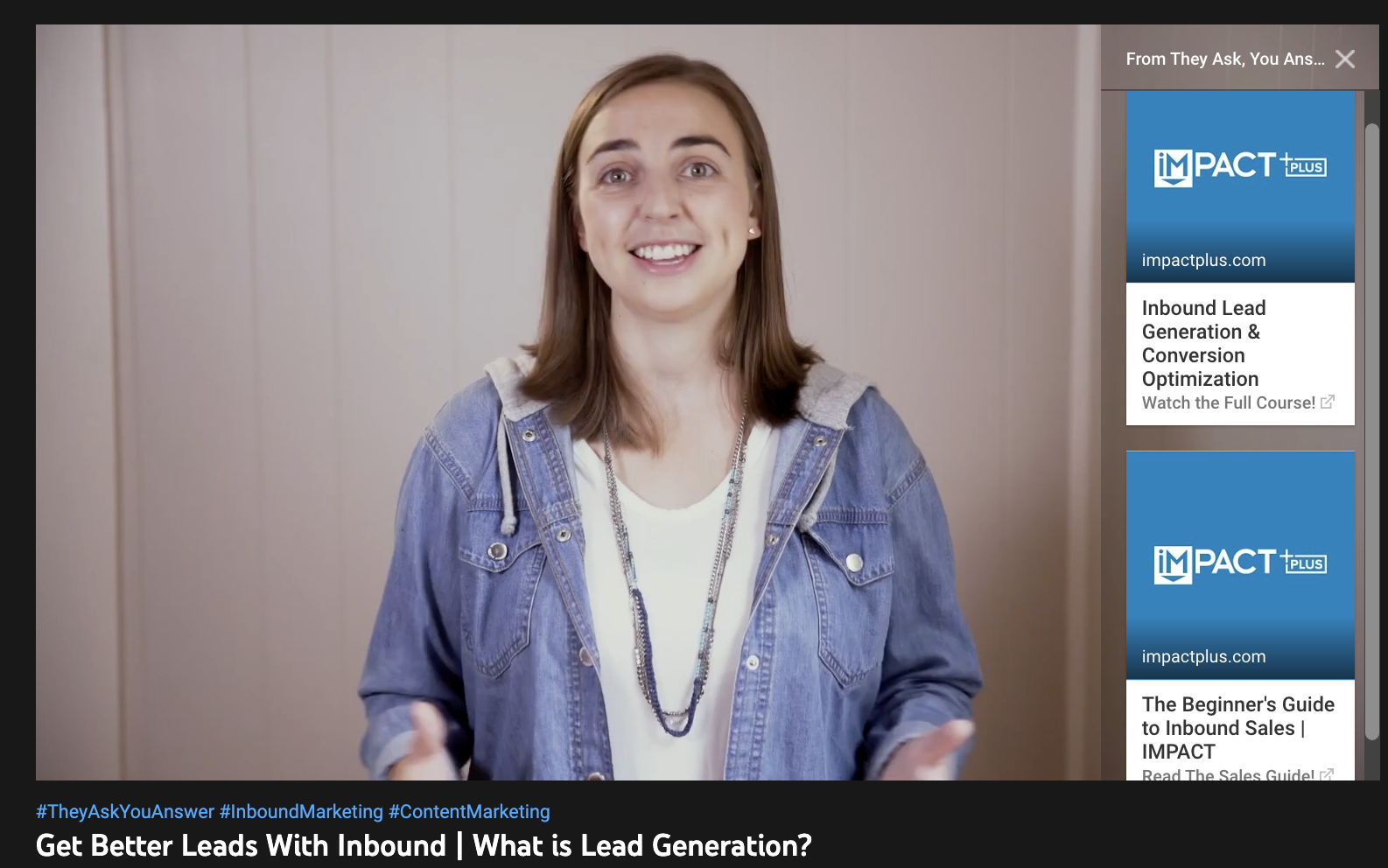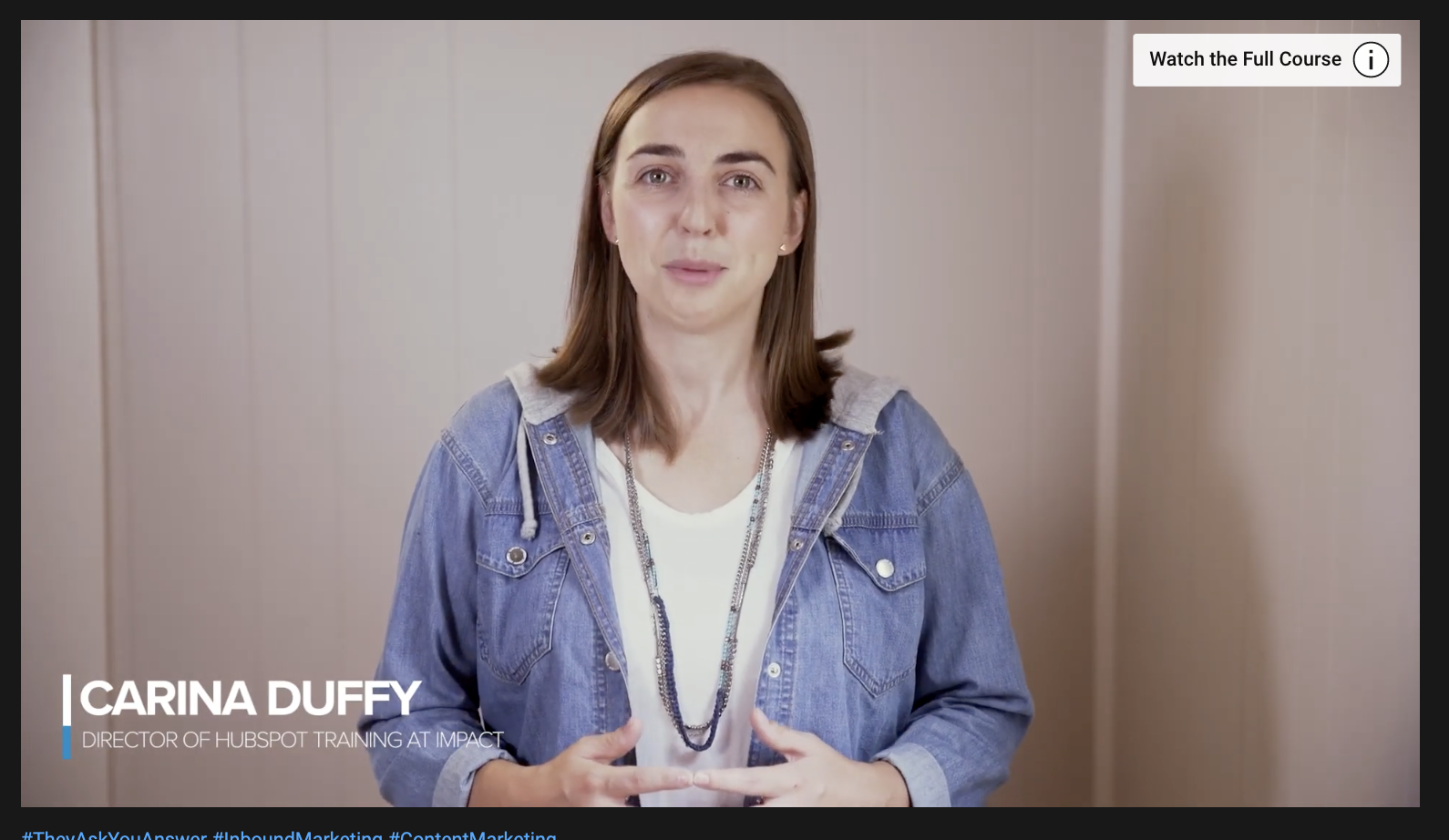 Examples of YouTube Card CTAs on the IMPACT channel
You can even have your talent say it aloud on camera. The better you vocalize your calls-to-action, while letting the viewer see the action you want them to take, the more likely they are to take that step.
For example, you can ask viewers to subscribe to your YouTube Channel or to watch another video.
Once your channel has hit the KPIs needed to become a YouTube Channel Partner (with at least 1,000 subscribers and 4,000 valid public watch hours) you can even add specific links to your approved website.
Have a checklist, ebook, or guide? Want to just send them directly to contact you on your website? This perk gives you the ability to drive people from YouTube directly to your website with the click of a button.
But remember, even if you don't have this feature yet, you can and should link to offers in your video description as well. Below you'll see there are several hyperlinks in the description of the video shared above despite it having YouTube Cards attached.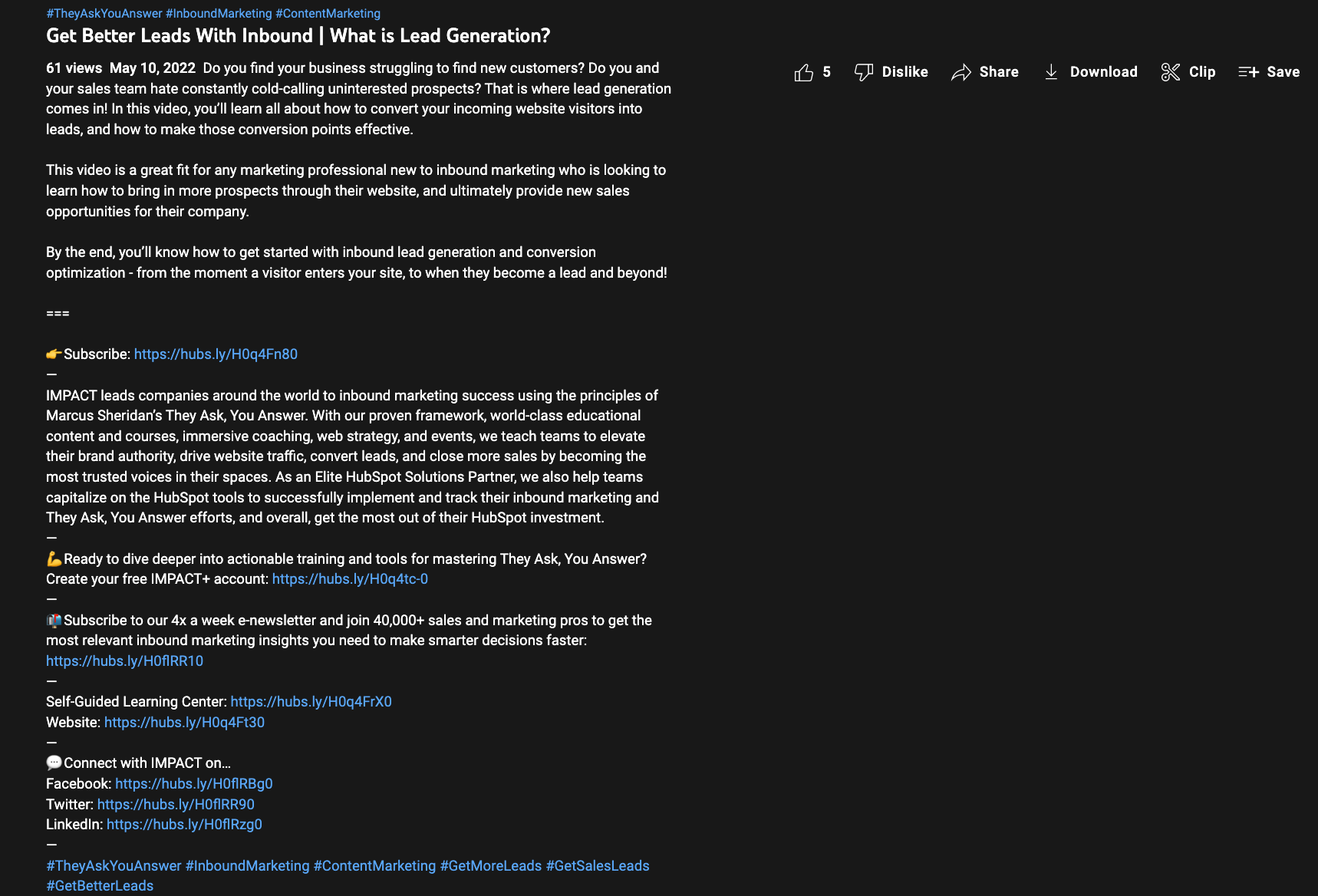 3. Assign a channel owner
Like any great show or marketing initiative, it's important to have one person who is responsible for managing the success of your YouTube video marketing.
You can have other people involved in the production and creation process of video, and even allow them to upload to your YouTube Channel, but you want to have someone who owns the strategy, has a clear understanding of the vision, and can make sure you're on track to reach your goals.
4. Capitalize on your YouTube channel trailer
Like a movie trailer, your YouTube channel trailer is where you can give visitors a sneak peek at what to expect from your videos and make your best pitch for why they should subscribe. Your trailer shows up at the top of your homepage and is prime real estate to introduce yourself.
Here's a great example from IMPACT client AQUILA:
5. Consider partnership/collaboration videos
Like co-branded content, co-branded or collaborative videos are a great way to get in front of new audiences and affiliate with another trusted voice in your space. Look at your network and your audience and determine who you could partner with on a topic or problem.
Ultimately, this will help you reach bigger audiences that may not know about you yet, and helps your credibility by having someone else who isn't paid by your company talking on your channel.
6. Always optimize your video titles and descriptions
Looking at YouTube video titles and descriptions, you'll likely notice that they tend to follow the same patterns and formats. There are two reasons to do this early on. The primary reason is YouTube search; if you want people to find your videos, you need to make sure that both your titles and YouTube video descriptions feature the keywords and supporting phrases used by your audience.
Kevin Church, our director of SEO, recommends:

"Have search in mind from the start of your YouTube strategy. Not only do you want to make sure that your video content aligns with what people are looking for, but you'll also want your on-page supporting content to help support its discovery.

I recommend creating a standardized title and description template, especially for things like an ongoing series of related videos. This helps you quickly check all the video SEO boxes, while also speeding up your time spent writing a description and getting a video posted."
Just like your own website, SEO should be a part of your YouTube marketing strategy. TubeBuddy is a great place to start. If you have access to dedicated keyword research tools like Semrush, you should take advantage of them.
Start your YouTube marketing strategy off on the right foot
YouTube marketing is no small feat. It is a multifaceted endeavor that requires time, dedication, and organization to truly master, and truthfully this article only scratches the surface.
With these tips and best practices in hand, you can start your YouTube marketing journey with confidence and start experimenting to see what will deliver the results your business needs.
If you're looking for a deeper dive into creating a YouTube Channel and finding YouTube success, or simply more video marketing inspiration, check out these IMPACT+ courses:
Also, make sure to grab your free copy of "The Complete Guide to Video Marketing for Business in 2022."
Free Assessment:
How does your sales & marketing measure up?
Take this free, 5-minute assessment and learn what you can start doing today to boost traffic, leads, and sales.