Video marketing: what your 2021 business video strategy must include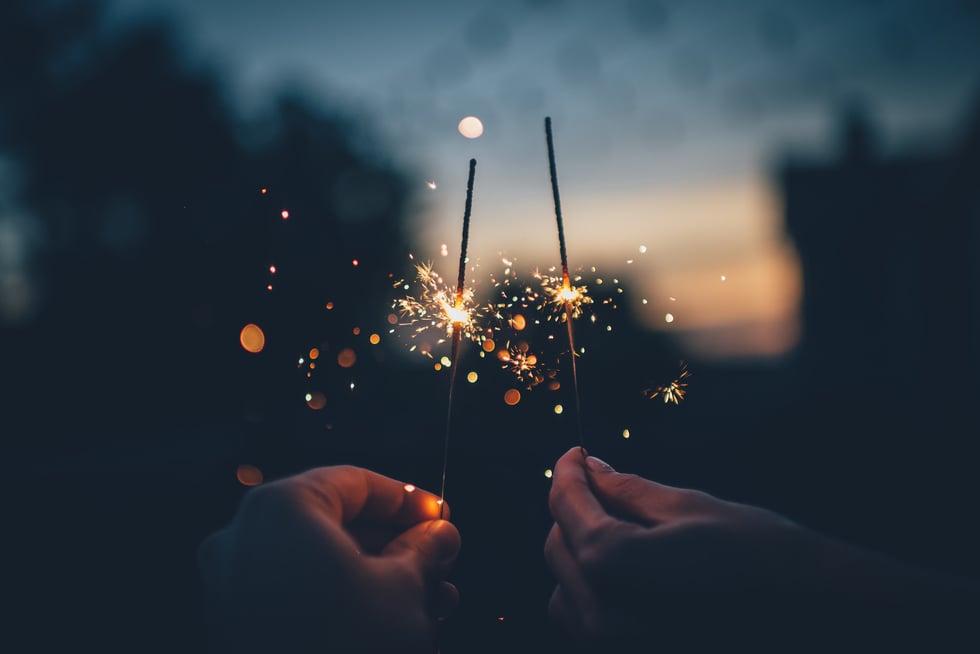 October 30th, 2020 min read
Business video strategy checklist
Hire an in-house videographer

Add video to your website

Video in your sales process

Live video

Virtual events
Is it too early to commit to a New Year's Resolution? I don't think so.
When I'm not a video trainer for IMPACT's clients, I'm coaching group CrossFit classes at a local gym in Cocoa Beach, FL, and you can bet that January is a big month for the gym.
But I'm not going to use this article to give you fitness advice; Rather, I'm going to use it to talk to you about what your video strategy should be for your business in 2021.
First, some context:
More than ever, people are ready for the new year. 2020 has been the year we wish we could forget, but will always remember. From a business perspective, it was already hard to be a small business with only around 50% of businesses making it to the five-year mark. And that's without factoring in COVID-19.
When you do factor in the pandemic, 76% of businesses have been negatively impacted.
There are some industries that have thrived though, like home improvement and pet-centric businesses.
2020 has also been a great year for video with 81% of businesses implementing a video marketing strategy this year, a 63% increase over last year.
With video expected to make up 82% of internet traffic in 2021, the upward trends are not going away anytime soon.
In this article, I'm going to break down what you should be in your 2021 business video strategy, whether you're a novice or you're a video veteran, but like fitness, video is a commitment.
Publishing consistent video content takes time and a willingness to be open to the process of letting this behemoth of a strategy into your business.
The points I will lay out below are meant to deliver long-term results, even when we're past the pandemic. So the first thing you need to decide before you jump is whether or not you can commit to video.
For the video newbies
1. An in-house videographer
Video is not an initiative that can be divided among the rest of your sales and marketing teams. Video is a process that requires the total attention of at least one person.
Think about it: To create one video, you need to have an outline created, and approved before the shoot. Then, you have the shoot which includes gear set up: lights, camera, microphones, backdrop.
Once the gear is set up and ready to go, then you can shoot the videos you were planning to create that day. Once that's complete, it's time to edit.
Editing is more than just putting all your clips together. An experienced editor will mix the audio tracks with music, color correct your clips, and do it all with proficiency and precision. We haven't even factored in company-wide meetings, travel if you have multiple locations, approval of the content, and publishing.
Your 2021 business video strategy needs an in-house videographer.
⬇️ Free Tool: Videographer Job Description Template
Hiring a videographer does not just mean someone will be owning the everyday tasks, this means bringing in a voice for video in your organization. This person should not only have the soft skills necessary to publish great videos, but to take ownership of your video initiative and grow it to the success you hope to see with adding this initiative to your strategy.
By hiring a videographer, you're committing to doing the work properly, and ensuring that you have a resource on your staff for the long term success of your business video strategy.
During the pandemic where many have lost their jobs, this is a great opportunity for you to scout some great video talent and bring them into your organization.
2. A plan for adding video to your website
Your website is a vital sales tool. And it has been for a while now. As far back as 2019, we recognized that 70% of consumers made up their mind on what they wanted to purchase before they could talk to a salesperson. This is why the website as we know it has been promoted from a virtual brochure to your most talented salesperson.
In 2021, the average person is forecasted to watch 100 minutes of video each day online.
By adding videos to your website, you're giving visitors to your site the opportunity to self-select which media type they would like to consume to learn about your product or service.
What type of videos should you be putting on your website? Start with The Selling 7:
Cost and pricing videos
Customer journey video
🔎Related Playbook: 📖 Create Videos that Drive Revenue
Create a diagram of your website, starting with your homepage, and accounting for all the pages in the ideal path you'd like visitors to take once they leave the homepage.
Once you've finished that diagram, with your videographer, place The Selling 7 topics on the diagram where they fit the best, for example, all your landing pages should have a landing page video.
3. Video in your sales process
Sales has changed. Especially now during the pandemic, human connection is extremely important in being successful with it.
Salespeople are often the last people that you want to talk to even on a good day, so building trust and humanizing them is a must.
Video can do that.
Video has been shown to aid sales with 90% of customers saying that watching a video on the product helped them make a buying decision, and 75% of prospects in the latter phases of the sales process being more likely to close after receiving a personal video message.
It starts by getting them to use 1-to-1 video in the sales process.
One-to-one video is a personalized, custom message created using your phone or your computer. It's meant to send a unique message to a single person or group of people to deliver information about what they can expect from you, the sender. This video is not highly produced.
Why is this so important? This tactic builds trust by introducing you to people you've never met before. It provides a human element to your communication and brings faces and voices back to text.
🔎Related: 📖 1-to-1 video vs. 1-to-many video: When to use each in your sales process [+video]
As a creator outside of IMPACT, I've used 1-1 video for guests on my podcast. Before someone comes on with me, I send them a video introducing myself, telling them what they can expect during a recording, letting them know why they don't get to see the questions in advance, and explaining why this will be a video call.
The result? Less nervous guests, better conversations, and overall more engaging episodes because they feel as if they've had a chance to interact with me before being interviewed by me.
But how do you know what videos to use in the sales process later on? Talk to your sales team. What are the questions they get all the time? What frustrations or experiences prompt someone to ask these questions?
Once you have a list, start creating videos that answer these questions that your team can start using in assignment selling. They likely could be the makings of a great 80% video as well. Consistently have conversations with your team on how these prospects are responding to the videos and the questions.
🎥 Watch: Assignment Selling content is your greatest sales tool

Video veterans
If you're reading this section, that means you feel confident in your video website and YouTube strategy. These are the foundation of a solid video strategy, and the following suggestions are the cherry on top of the video strategy cake.
4. Live video
In 2019 it was reported that internet users consumed 1.1 billion hours of live stream video content. So, all the major social media platforms at this point have embraced live video.
This trend is not going away anytime soon, so live video needs to be in your business video strategy.
During the pandemic, everyday face-to-face, in-person conversation is hard to come by. Live video can help you safely engage in the face-to-face conversation and still pick up on any nonverbal cues that will allow you to address concerns in the moment. Live video is also just inherently more authentic. As things are live and can't be edited, viewers feel like they're getting a more genuine glimpse at who you are and how working with you will be.
There are many platforms to choose from, but I would recommend focusing on the platform your brand gets the most engagement on whether that be Facebook, Instagram, YouTube, or LinkedIn.
You may be reading this and liking this idea, but wondering what type of content could you put in a live stream?
Live video is a great opportunity to continue to educate your customers. Did you have to cancel the launch party of a new product this year because of the pandemic? What if you could do this launch party online using live video? This is just one example of the events you could host online. This is just one use case of live video that you could take advantage of. Check out this article for more ideas on how you can incorporate live video into your business marketing strategy.
Create buzz around your live streams by post them in your community.
5. Virtual events
You may be thinking, wait, didn't you just discuss this in the section above? But when I'm discussing virtual events in this section, this is a larger scale, experience with multiple moving parts and videos.
Amidst the pandemic, the number of virtual events doubled, and even before that, virtual events were steadily growing in popularity.
Why is a virtual event compelling?
Well, you can invite speakers from all over the world. Inviting speakers from outside your organization who have their own raving fans allows you to organically make a connection with someone who may have not heard of your business otherwise. Think of the opportunities to network with potential prospects or potential partners for another virtual event.
It also opens up your audience to people in different geographic locations who may not have been able to attend in-person events previously. Another consideration, even beyond the pandemic is the cost-saving measures. When it comes to virtual events, there are no costs for travel, renting spaces, food, etc. IMPACT has pivoted to virtual events this year, and we've broken down more in-depth how this could impact the future of events here.
✍ Read: How to find and manage speakers for your virtual event
Bonus: A video podcast
If this is something you've always wanted to do, now is the time to jump in. Podcasting has consistently shown growth over the years, and in 2020 there are over 800 thousand active.
What I find more compelling is that three out four podcast listeners tune in to learn something new.
With that being said, and with the number of podcasts there are to consume in the world, no longer can you get away with having mediocre content. A video podcast is a great way to stand out.
One of the advantages of a video podcast is that they are usually candid conversations. Conversations allow for not only questions to flow, but for follow-up questions to be brought to the table and answered.
Generally, podcasts are created live-to-tape, which basically means shows are recorded with the intent that they could go live at the time of recording.
To get started with your video podcast, you first need to decide what the format of the show is going to be. Is it going to be interview style or talking head? Are you going to have recurring segments? Are you going to have a guest every week?
The frequency of podcasts matters as well. As a video podcast, you'll likely be posting your content on a platform like YouTube or Facebook. Both platforms value frequency of posting, and on YouTube, if you create new playlists with your podcast content, that counts towards your unique content creation.
A video podcast captures all of the biggest humanizing and engagement benefits of video content in general, butI only recommend starting a video podcast if you have a clear vision of how it fits into the rest of your content strategy and of how you can consistently deliver this content.
The video and audio quality also has to be top-notch. Check out Film School for Marketers and our episode about how to start a video podcast.
Is 2021 here yet?
Now that I've laid out a roadmap for you in 2021, it's time to get to work.
One of the things you can decide on is what are you going to focus on first? Whether you're a video newcomer or a video veteran, there's always something you can be doing to take advantage of the next task when it comes to video.
Regardless of which one it is, remember one thing: It all comes back to building trust as a thought leader.
What does it truly mean to be a thought leader in your industry?
Consider this question: What are the all-encompassing resources people turn to when they have a problem? I'm thinking of sites like WebMD. WebMD literally gives you information about all the medical conditions you could possibly think of. They dominate that space.
What can you do to dominate your space? One way is by developing an unbiased, repository of industry specific-educational video content for those searching for all the questions in your industry to consume.
By adding the items mentioned above into your 2021 business video strategy, you will be better equipped to accomplish this goal and see the leads and deals that come with it.