Subscribe
Join 40,000+ sales and marketing pros who receive our weekly newsletter.
Get the most relevant, actionable digital sales and marketing insights you need to make smarter decisions faster... all in under five minutes.
Thanks, stay tuned for our upcoming edition.
Video Marketing: What Your 2022 Business Video Strategy Must Include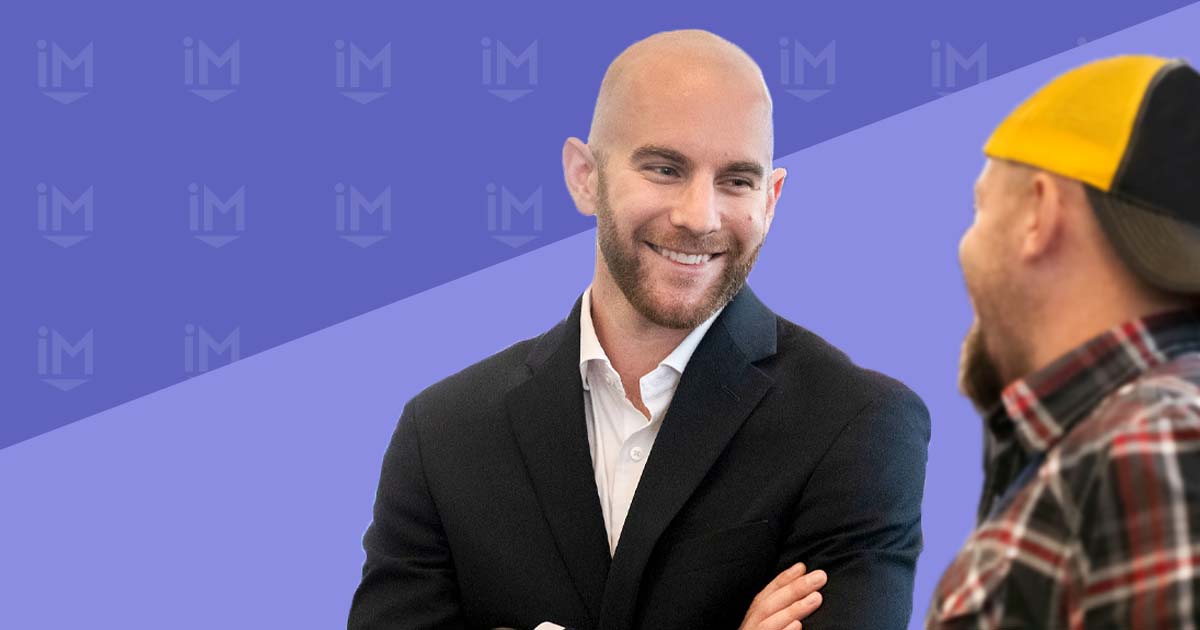 Business video strategy checklist
Hire an in-house videographer
Add video to your website
Use video in your sales process
Create live video
Host virtual events
January gets all of the attention when it comes to New Year's resolutions — mostly because so many of us give up before the month is through, falling back into comfortable old habits and waiting until next year to really change.
But the key to starting something new is to focus less on the goals and outcomes, and more on the processes and beliefs that will get you there. As James Clear writes in Atomic Habits, "It's hard to change your habits if you never change the underlying beliefs that led you to your past behavior."
All too often, businesses hold back from fully committing to video marketing because of underlying beliefs that are hard to shake:
Video is too expensive.
Video production, especially post-production, is slow and labor-intensive.
Video content is hard to update.
My team won't want to be on camera.
Only when we change these beliefs can we truly change our habits — and the outcomes will be worth it.
The truth is that in 2022 video production is cheaper and more efficient than ever before. But more important than that is the fact that your customers expect video from your brand. They almost require it. At the same time, video builds trust with your audience in a way that no blog post or website copy can.
In 2021, more than half of all businesses used video in their marketing, and the frequency and speed of production continued to climb. According to Biteable, 36% of marketers today make videos a few times a week, and 14% make videos every day.
And video is not just for marketing. Nearly a third of businesses use video in their sales process, and this results in shorter sales cycles and higher close rates.
Experts have predicted that video will make up more than 80% of all internet traffic in 2022, so if you're not embracing video now, you're in danger of falling behind.
But not to worry. In this article, I'm going to break down what should be in your 2022 business video strategy, whether you're a total novice or a video veteran.
Remember though, video creation is a commitment. You can't just make one or two videos and be done. We recommend developing a culture of video within your organization so that video content becomes a part of everything you do — from your marketing strategy and sales process to communication within your business.
The points I will lay out below are meant to deliver quick wins and long-term results, provided you commit to producing video content.
In this article, I'll cover:
Business video strategy for newbies (including hiring a video producer, planning a video strategy, and using video in the sales process)
Business video strategy for veterans (including live video, virtual events, and video podcasting)
In other words, there will be something for everyone. Let's dive in together.
Business video strategy for newbies
New to video production? This is where you should start.
1. Hire an in-house videographer
Video marketing is not an initiative that can be divided among the rest of your sales and marketing teams. Video is a process that requires the total attention of at least one person.
Think about it: Video creation is an intricate, multi-step process. To create one marketing, sales, or social media video, you first need a strategy that details exactly what the video will be used for, who the intended audience is, and where it will be hosted. Next, you need to have a script — or at least an outline — that's been written and approved before you're ready to shoot.
Then, you have to complete the shoot, including set up for lights, camera, microphones, staging, and backdrop.
Once the gear is set up and ready to go, you need to shoot the videos themselves, checking everything and troubleshooting along the way.
Once that's complete, it's time for post-production. Editing is more than just putting all your clips together. An experienced editor will mix the audio tracks with music and color correct your clips, all with proficiency and precision using pro-level editing software.
Clearly this is a big job — and we haven't even factored in company-wide meetings, travel if you have multiple locations, approval of the content, and publishing.
To get all this done with any kind of efficiency, your 2022 business video strategy needs an in-house videographer.
How to hire a videographer
Your videographer (or video producer) will be your in-house storyteller. Therefore, you should approach hiring this person with the mindset that you're looking for both hard and soft skills. This person needs to have the hard skills necessary to film, edit, and publish high-quality videos, as well as the soft skills to make colleagues feel comfortable on camera and plan marketing strategy.
This hire is critical to the success of your video marketing initiative.
By hiring a videographer, you're committing to doing the work properly, and ensuring that you have a resource on your staff for the long-term success of your business video strategy.
2. A plan for adding video to your website
Your website is a vital sales tool. As far back as 2019, we recognized that 70% of consumers made up their mind on what they wanted to purchase before they talked to a salesperson. How do they come to these decisions? By self-educating with the materials they find online — whether it be written content, videos, or product reviews, which they find through search engines.
This is why the website as we know it has been promoted from a virtual brochure to your most talented salesperson.
In 2021, the average person watched 100 minutes of video each day online.
By adding videos to your website, you're giving visitors to your site the opportunity to self-select which media type they would like to consume to learn about your product or service.
What type of videos should you be putting on your website? Start with what we call The Selling 7. These videos speak to your target audiences and help them understand your product or service — and what your company stands for.
Once you understand these types of videos, you can start to plan where to use them on your website.
Create a diagram of your website, starting with your homepage, and accounting for all the pages in the ideal path you'd like visitors to take once they leave the homepage.
Once you've finished that diagram, with your videographer, place The Selling 7 topics on the diagram where they fit the best. For example, all your landing pages should have a landing page video.
Then, begin to prioritize. What are the high traffic conversion paths that could benefit from a video?
This way, you can produce as many videos as you need — and place them exactly where they'll do the most good. Then, evaluate video performance and tweak and update as necessary.
3. Utilize video in your sales process
Sales has changed. Even before the pandemic, we were shifting toward a virtual sales economy. Now, that change has been supercharged. Today, you can buy nearly everything online, and video calls are replacing boardroom meetings in every industry.
But no matter the platform, sales success comes down to trust.
Salespeople are often the last people that you want to talk to even on a good day, so building trust and humanizing them for your buyers is a must.
Video can do that.
As many as 90% of customers say that watching a video on the product helped them make a buying decision, and 75% of prospects in the latter phases of the sales process are more likely to close after receiving a personal video message.
There's no doubt video can help your sales process. The hard part is getting started.
Start with 1-to-1 and 1-to-many videos
I recommend training your sales team to use 1-to-1 and 1-to-many videos in the sales process.
These types of video deliver a personalized, custom message to a prospect — and they can be easily created using a phone or computer. Your sales team can send a unique message to a single person (or group of people) that conveys information about what they can expect during the sales process. These videos are not highly produced. In fact, the lower production quality is an asset in this case because it makes the video feel authentic and friendly.
This tactic builds trust by introducing your sales team to people they've never met before, providing a human element to your communication, and adding faces and voices to the text of an email.
Instead, there's a GIF like this and a personalized message that offers richer connection.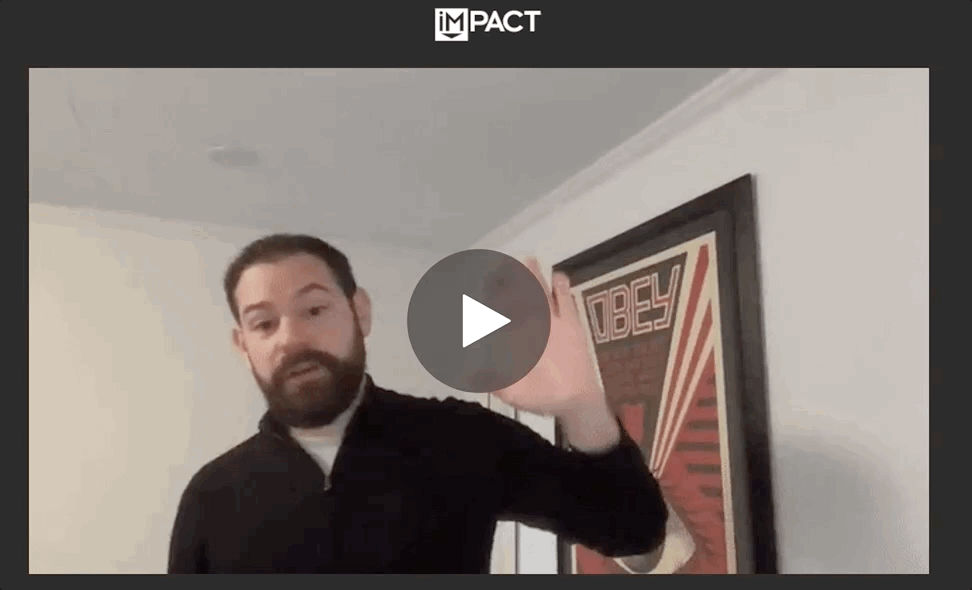 Beyond 1-to-1 videos, how else can video improve your sales process?
Remember the 80% videos I mentioned above? This is where they are very effective. Before a sales call, a salesperson can send a prospect an 80% video to clear up the most common questions every customer asks. Then, in the meeting, the conversation can be more productive, since the video has gotten many questions out of the way ahead of time.
Your videographer should have frequent conversations with your sales team to learn about the fears, concerns, and questions they're hearing from buyers.
Business video strategy for veterans
If you glanced over the first section and found yourself saying "Check, check, check," this next section is for you.
If you're reading this section, that means you feel confident in the way you use video on your website. You've probably got a bevy of high quality marketing videos — as well as a fully-realized video production process.
You might even have a YouTube channel complete with brand videos, how-to videos, and other high quality video content.
The following suggestions are the cherry on top of the video strategy cake.
1. Explore live video to connect with customers
In 2019 it was reported that internet users consumed 1.1 billion hours of live stream video content. All the major social media platforms at this point have embraced live video.
This trend is only going to increase in the years ahead, so live video could be a great way for you to reach your target audience.
Live video, whether on Facebook, Instagram, YouTube, LinkedIn, or other social media platforms, can be a way of connecting with your audience through an authentic medium. As things are live and can't be edited, viewers feel like they're getting a more genuine glimpse at who your brand is and what it will be like to work with you.
There are many platforms to choose from, but I would recommend focusing on the platform your brand gets the most engagement on.
Wondering what type of content you might put in a live stream?
Live video is a great opportunity to continue to educate your customers. Did you have to cancel a launch party or announcement because of the pandemic? Could you deliver a similar experience using live video? This is just one idea. Check out this article for more ideas on how you can incorporate live video into your business marketing strategy.
Create buzz around your live streams by posting about them in your community.
2. Host virtual events
Bigger than launch parties are full-scale virtual events. These can replace in-person events with an equally valuable experience. At this point, HubSpot has hosted two virtual INBOUND events, each with thousands of attendees, dozens of speakers, and many different kinds of video footage, from live AMAs to pre-recorded sessions to virtual networking events.
Amid the pandemic, the number of virtual events doubled, and even before that, virtual events were steadily growing in popularity.
Why is a virtual event compelling?
Well, you can invite speakers from all over the world. Inviting speakers from outside your organization who have their own raving fans allows you to organically make a connection with someone who may not have heard of your business otherwise. Think of the opportunities to network with potential prospects or potential partners for another virtual event.
It also opens up your audience to people in different geographic locations who may not have been able to attend in-person events previously. Another consideration, even beyond the pandemic, is the cost savings. When it comes to virtual events, there are no costs for travel, hotel rooms, renting spaces, food, and more. Though you have to pay for the platform, the cost is significantly less. You can pass this savings on to your attendees, while still turning a profit for your business.
IMPACT pivoted to virtual events when the pandemic began in 2020, and we've broken down how the success of virtual events could influence the future of all events.
Bonus: A video podcast
If this is something you've always wanted to do, now is the time to jump in. Podcasting has consistently shown growth over the years, and in 2021 things kept trending upward.
Research shows that three out of four podcast listeners tune in to learn something new.
With that being said, and with the number of podcasts there are to consume in the world, you can no longer get away with having mediocre content. A video podcast is a great way to stand out.
Generally, podcasts are created live-to-tape, which basically means shows are recorded with the intent that they could go live at the time of recording. Going from "podcast" to "video podcast" should not be too difficult.
To get started with your video podcast, you first need to decide what the format of the show is going to be. Is it going to be interview style or talking head? Are you going to have recurring segments? Are you going to have a guest every week?
The frequency of podcasts matters as well. As a video podcaster, you'll likely be posting your content on a platform like YouTube or Facebook. Both platforms value frequency of posting, and on YouTube, if you create new playlists with your podcast content, that counts toward your unique content creation.
A video podcast captures all of the biggest humanizing and engagement benefits of video content in general, but I only recommend starting a video podcast if you have a clear vision of how it fits into the rest of your marketing strategy and of how you can consistently deliver this content.
The video and audio quality also have to be top-notch. Check out this Film School for Marketers and our episode about how to start a video podcast.
Building a video marketing strategy that goes beyond 2022
Now that I've laid out a roadmap for you in 2022, it's time to get to work.
One of the things you can decide on is what you are going to focus on first. Whether you're a video newcomer or a video veteran, there's always something you can be doing to take advantage of the next task when it comes to video.
Regardless of which one it is, remember one thing: It all comes back to building trust as a brand. For any video metrics you track, try to connect them back to that one central tenet: Is this video building trust with my audience?
So, what does it truly mean to be a thought leader in your industry?
Consider this question: What are online resources people turn to when they have a problem or a question? Think of a site like WebMD, which gives you free information about any medical condition you could possibly think of. They are among the most trusted online voices in the medical field.
What can you do to become the WebMD of your space? By developing an unbiased repository of industry-specific educational video content for those searching for answers to all the questions in your industry to consume.
By adding everything mentioned above into your 2022 business video strategy, you will be better equipped to accomplish this goal and see the leads and deals that come with it. Your marketing funnel will be full of well-educated prospects who are qualified for your products or services.
When you create videos with this goal in mind, you set yourself up for a great 2022 and beyond.
Free Assessment:
How does your sales & marketing measure up?
Take this free, 5-minute assessment and learn what you can start doing today to boost traffic, leads, and sales.