How to upload a video to YouTube: The ultimate checklist pre, during, and post checklist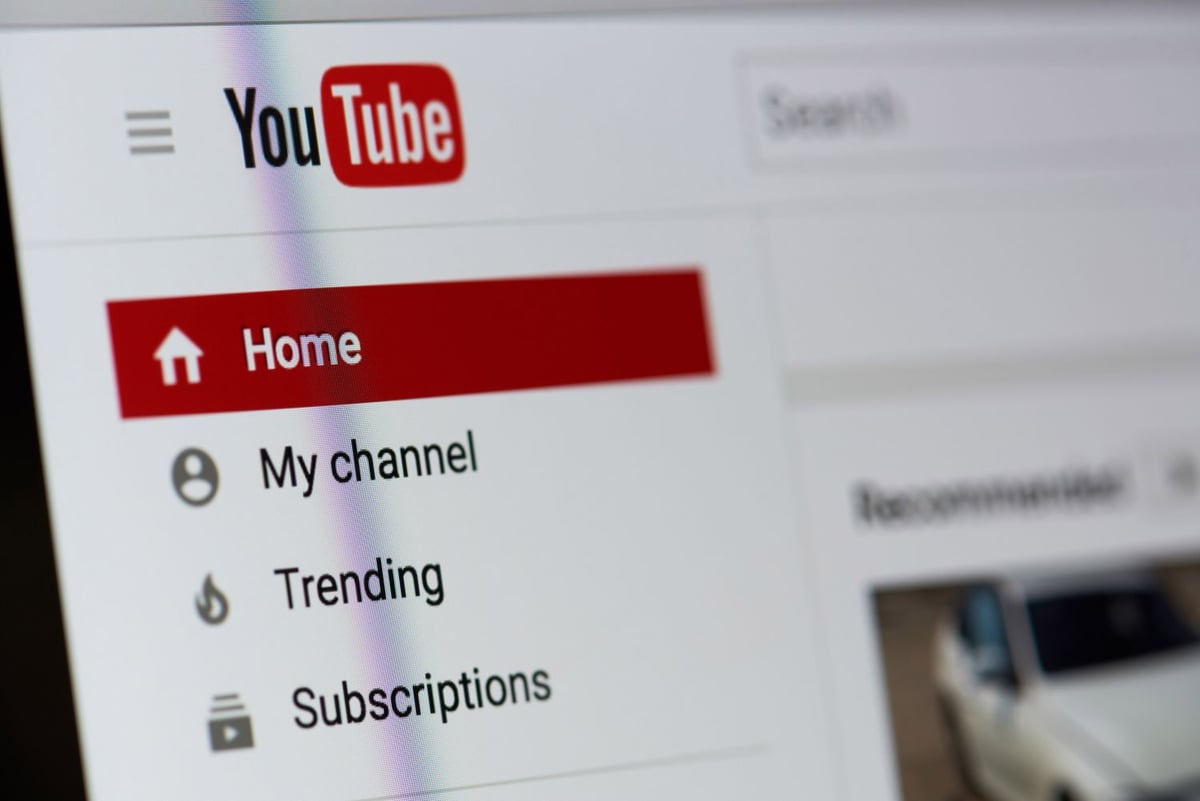 Editor's Note: This article was originally published in May 2017 and authored by Zachary Basner. It was recently revised and updated to reflect new best practices and current YouTube guidelines.
So, you've taken the time to create an amazing video for your business and you're ready to upload it to YouTube.
Great! But you know that, for your company, this video is more than just a fun piece of content.
YouTube is considered the world's second largest social media platform with 79% of internet users reporting they have a YouTube account.
In turn, by uploading a video to the platform, you're spreading your company's message to the world, contributing to your website's SEO, and overall increasing your digital footprint.
When you put it that way, simply uploading a video isn't so simple anymore.
In this moment of truth, you're probably wondering, have I done everything I can in post-production to make sure the video performs well? Does this video align with YouTube's best practices to get found and actually watched?
After years of asking myself the same questions as a videographer and marketer, I'll share with you my checklist for uploading a video to YouTube.
With it, you'll make sure you're getting the most out of your YouTube content.
In this article, I'm going to break down the steps you as a creator should take during post production, uploading and publishing, and sharing to optimize your video for success.
Post production
The quality of your video can have strong implications for your video's search ranking once uploaded to YouTube, so there are few things to keep in mind in post-production.
Additionally, in an age where one billion (yes with a B) hours of video are watched daily on the platform, making a statement with the professionalism and quality of your content is extremely important to standing out.
1. Optimize your aspect ratio and playback quality
YouTube displays videos in the aspect ratio of 16:9.
During the editing process, make sure you're editing using this setting in your software and exporting at this aspect ratio as well to avoid black bars (as seen below) on your YouTube upload.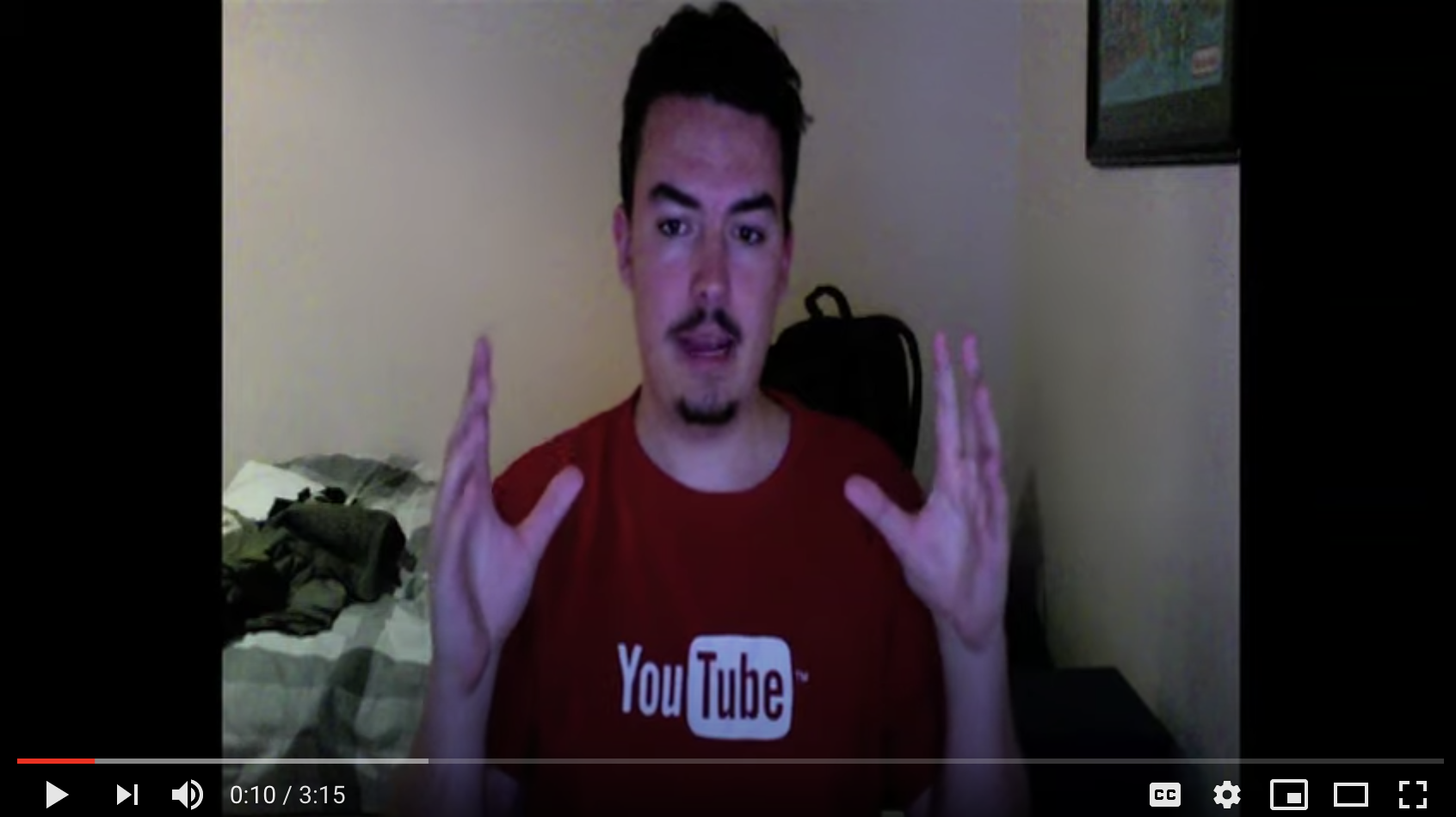 Example of a video not formatted for YouTube's 16:9 ratio.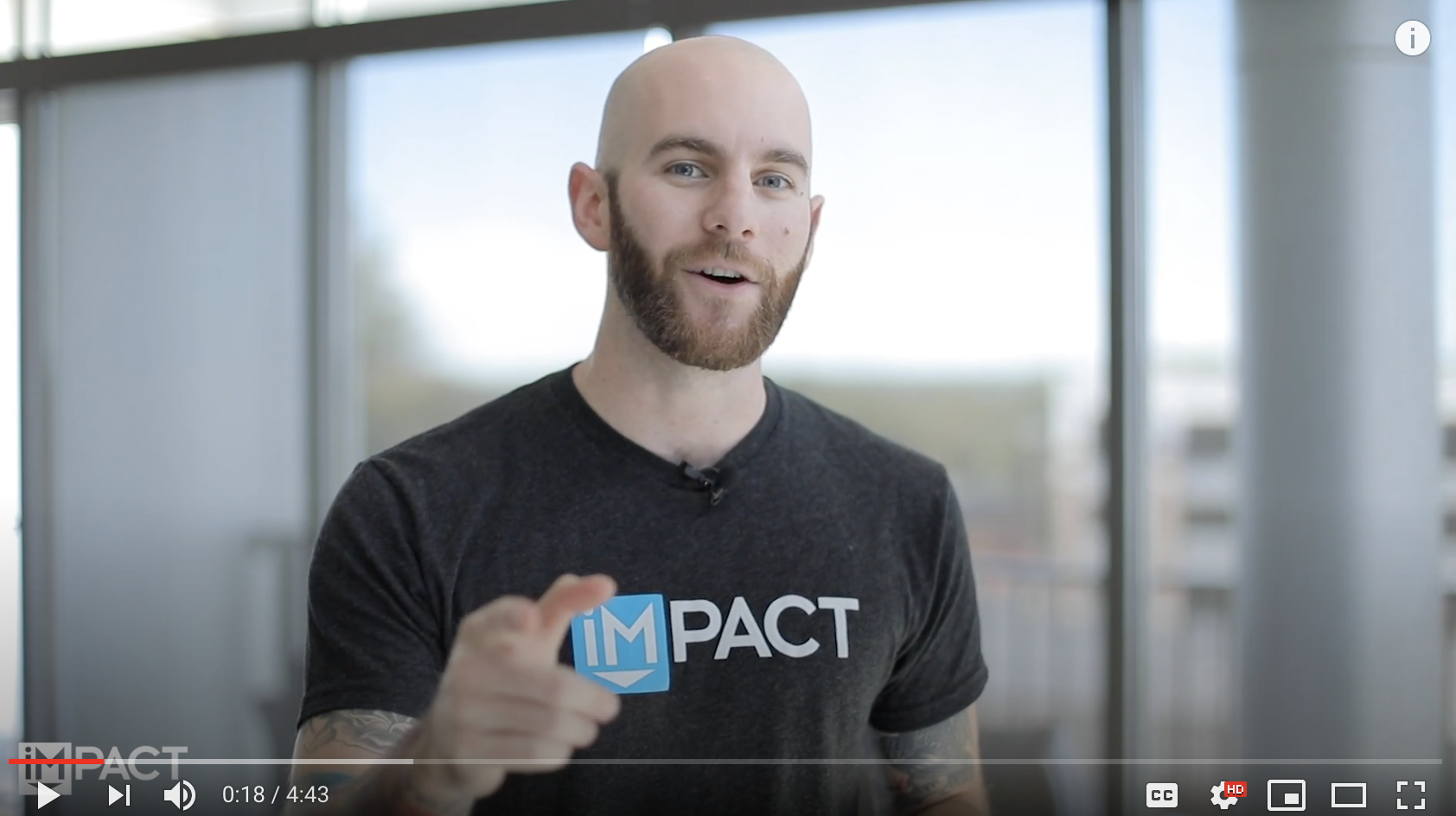 Example from IMPACT that has been correctly formatted.
See the difference? The 16:9 video takes full advantage of the screen space and overall looks more professional and pleasing to the eye.
You'll also notice the second example has an HD badge in the bottom right corner of the video timeline. To obtain that HD badge at the bottom of your video, make sure your minimum HD resolution is 720p (1280x720) when exporting the file.
YouTube consistently makes updates to its guidelines for quality video, so while this is generally recognized as the standard, it's always good to check the platform page for updates.
How to upload a video to YouTube
2. Navigate to YouTube
Once you've exported your video, go to youtube.com.
After you log into your account, hit the camera icon in the right-hand corner of the screen and select "upload video" and you'll be taken directly to the YouTube creator platform to upload your content.

This is the homepage screen, once you click 'upload video' you'll be taken to the upload screen
After you begin uploading your content, YouTube will prompt you with the next steps to fill out Title, Description, thumbnails, etc., all of which I've laid out best practices for in the following steps.
3. Write your title
There's a fine balance between creating a title that is not only captivating, but optimized for search.
As you're deciding what the title of your video should be, think about how users will search for this online.
By thinking about creating a title using this strategy, you're thinking like your potential viewer, which is who you want to attract using this title.
This is also important for your SEO.
The algorithm YouTube uses recognizes early on in the phrasing if a keyword is used in the title of a video.
For example, if you're creating a video for the keyword "hair growth" and you title it "8 Essential Tips for Hair Growth," think instead, titling the video "Hair Growth: 8 Essential Tips."
In this example, by adding "Hair Growth" to the beginning of the phrase, as the creator, you're signaling to the YouTube algorithm that your video is primarily about this topic.
It will be more likely to show your video at the top of the search because of the strategic placement of the words in your video title.
4. Add/Optimize your end screen
After your video uploads, you'll be able to customize the video elements.
This includes adding custom end screens.
An end screen is the last shot in your video before it ends. This is the point in your video where you've implemented a strong call-to-action (CTA) and you can enhance this CTA with an engaging end-screen visual element.
During the pre-production and production process, you should have written into your script a compelling call-to-action. Your end screen is your opportunity to visualize this same offer in front of your viewer.
Knowing this video is meant to live on YouTube, moving forward you can mention your end screen in your videos.
This is your opportunity to guide the viewer on the next part of their journey with you.
Creating a consistent end-screen template also gives you another opportunity as the content creator to show the style and the branding of your page and business as the last impression that someone sees at the end of a video.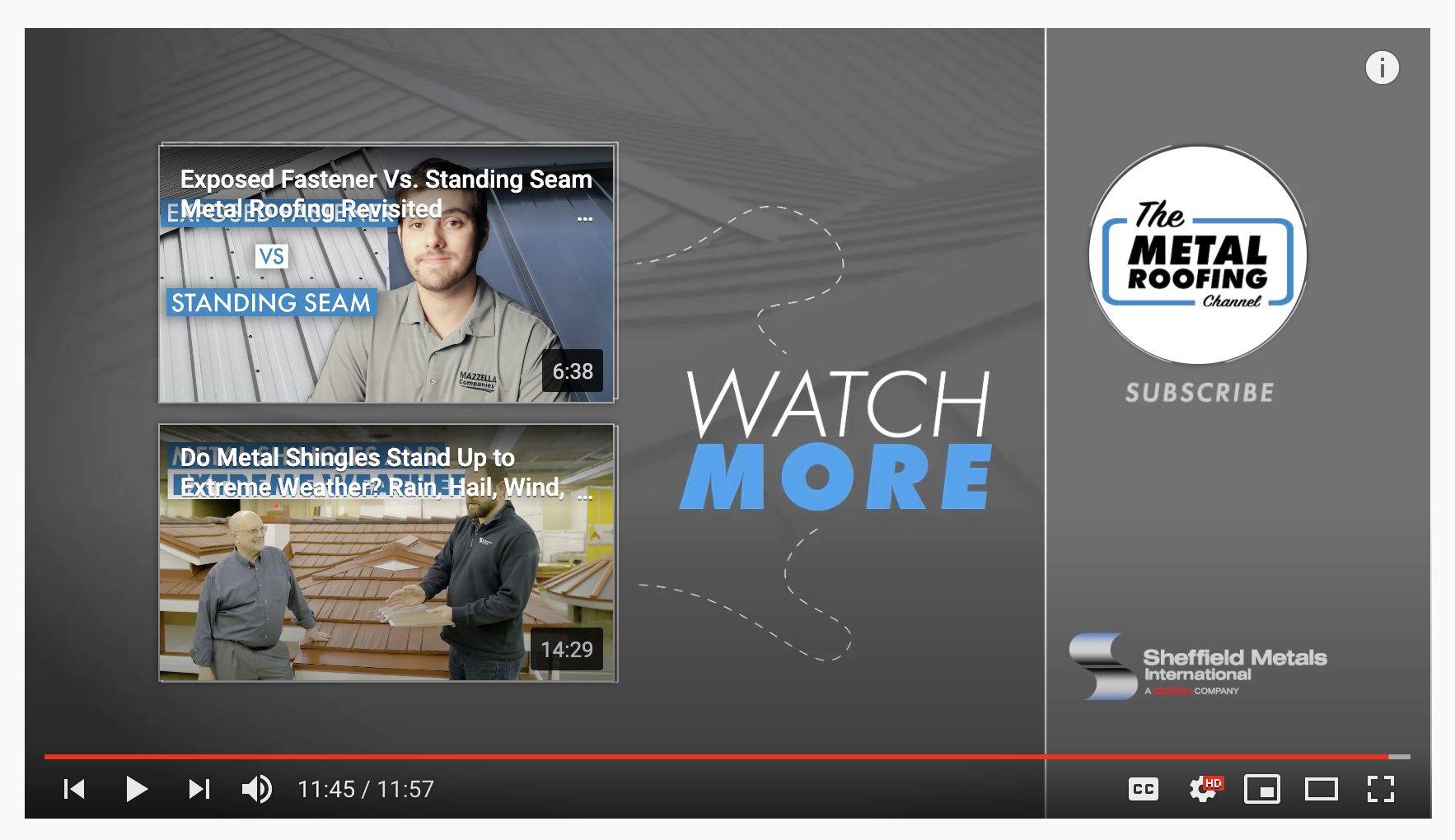 This endscreen template (seen above) sticks true to the branding of the page, The Metal Roofing Channel by IMPACT client Sheffield Metals.
It suggests another video from the channel to watch and encourages viewers of its content to subscribe to be notified when a new video is available to watch.
The links that you provide on your end screen should also be relevant to the content the viewer just watched.
If you're not part of the YouTube Partner Program, your options to guide the journey will be limited to your content inside of YouTube including a playlist, video, or channel.
If you're part of the Partner Program, however, you can include a link from outside the platform.
This can be a relevant blog on your website that's more detailed on the subject you just covered in the video or another video that would be the next logical to watch in the series of video content you have created.
If neither of these makes sense, you visually direct them to engage with your content and direct them to subscribe.
You can create a template on your own, or get inspiration from a number of free templates that can be found online.
5. Create a custom thumbnails
Your thumbnail is the first visual representation of your video that someone searching for content online sees in their feed.
You want it to be custom to your video and complement the title, including the words as in the video as another visual aid.
To reinforce trust with your viewers, your thumbnail should further emphasize what your video is about and your focus keywords, with a text overlay and related imagery..
As a creator, this is your opportunity to set expectations for your viewer on what to expect when they watch this video.
A great thumbnail can often be captured by taking a screenshot of your footage.

In the delivery section of the upload process pictured above, you will notice the option to upload a custom thumbnail image.
This can only be done if you're a verified user and in good standing with YouTube. Otherwise, you can choose an option from the video itself.
Using the example below, I will walk you through how a good thumbnail can aid the decision making process of a potential viewer as they're sifting through content. In a search for "beginner yoga," these were the top three videos that came up: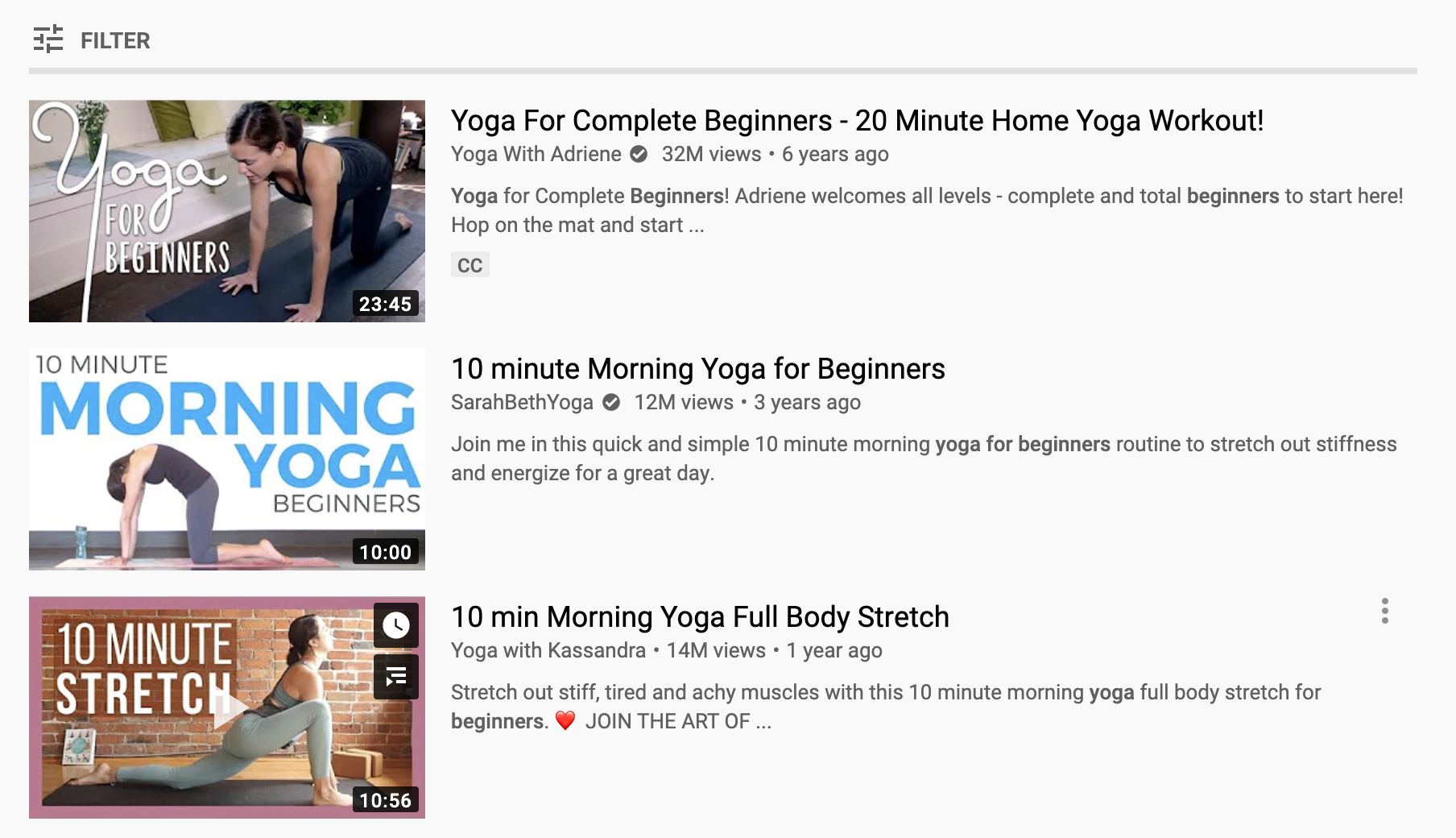 In all of these thumbnails, there is an image of a simple yoga pose, with supporting text differentiating between the options.
The middle thumbnail in particular does a great job. It sets expectations by providing the viewer with a time range in which they can expect to complete this session (10 minutes), emphasizes this is a for a beginner's skill level, and suggests this is a good routine to perform in the morning.
If I were in this viewer's shoes, I would select the middle video based on this descriptive thumbnail.
6. Add captions to your video
Most people watch videos with the sound off, and by most, I mean it's been recorded as 96% of people.
Every video that's uploaded to YouTube will have auto-generated captions to reach this audience and to also allow hearing-impaired viewers to consume the video.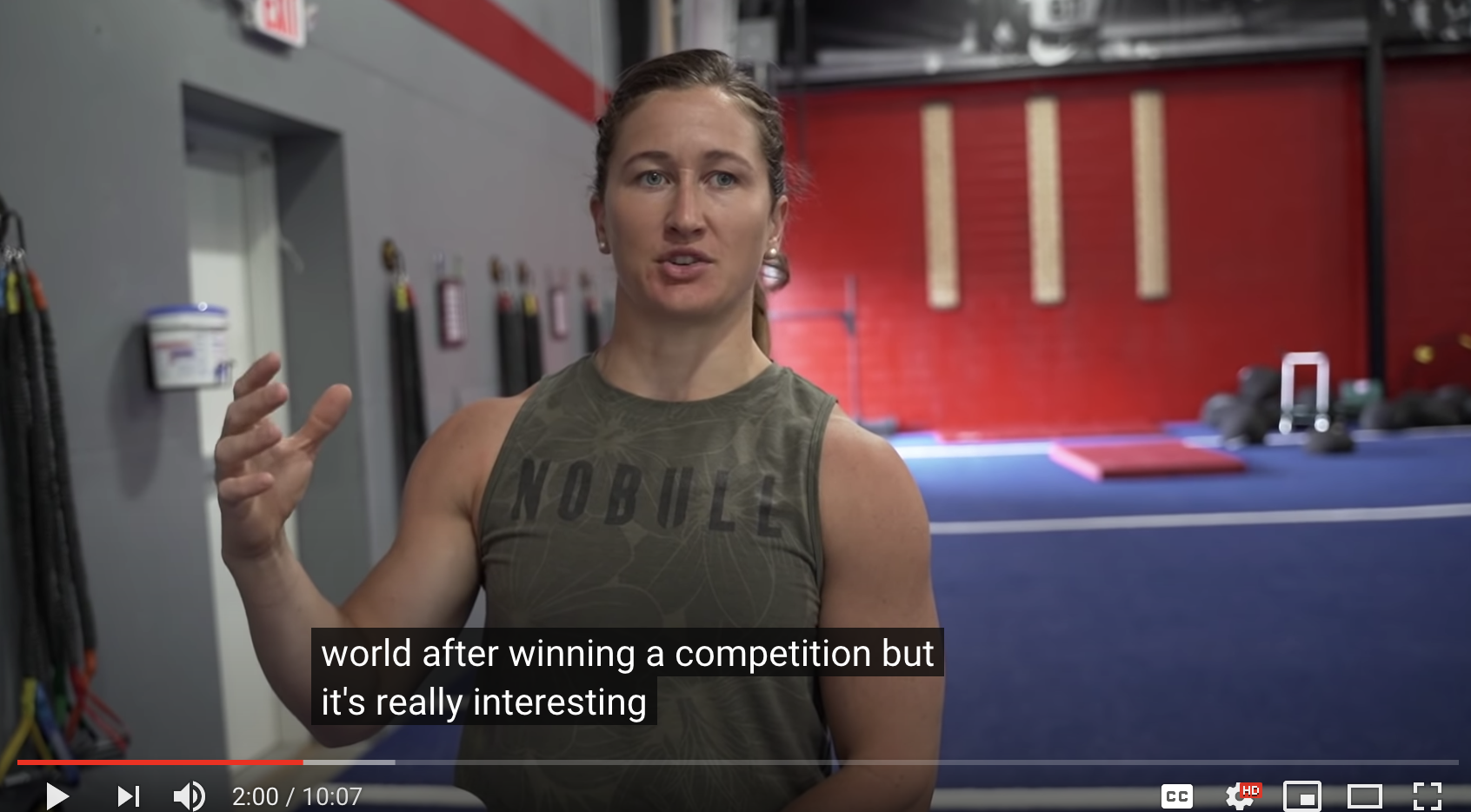 The auto-generated captions, however, are not indexed by YouTube therefore, not factoring in SEO.
By providing user-generated or an edited caption file, YouTube will crawl the subject of your video and properly rank it according to the algorithm.
Editing the captions, uploading your own transcription, or using a transcription service like Rev.com where you can more easily change out the automatic file on your own.

The image above is where you will upload your captions or choose your automatically generated captions by the platform. If you're adding your own captions, and have never attempted it before uploading this video, check out YouTube Support for more information about how to time your captions to sync up with your video.
Helpful hint: Be sure to download the .SRT file and use it when you upload your video to Facebook as well.
7. Add relevant tags
I've already mentioned the importance of keywords in this article, but I'm going to mention it again here.
YouTube tags (essentially keywords on YouTube) are not the most important component when optimizing your video for SEO, but they do help.
YouTube only allows for 500 characters for tags, so you should be choosing tags that are part of your keyword strategy.
Using tools like TubeBuddy, Google Keyword Planner and even the YouTube search bar can help you not only find the keywords that represent the content of your video, but also add to your video metadata to get found.
If you have a phrase that you'd like to use as a tag, use the entire phrase, don't break it up into individual words of the phrase (noted in the screenshot below).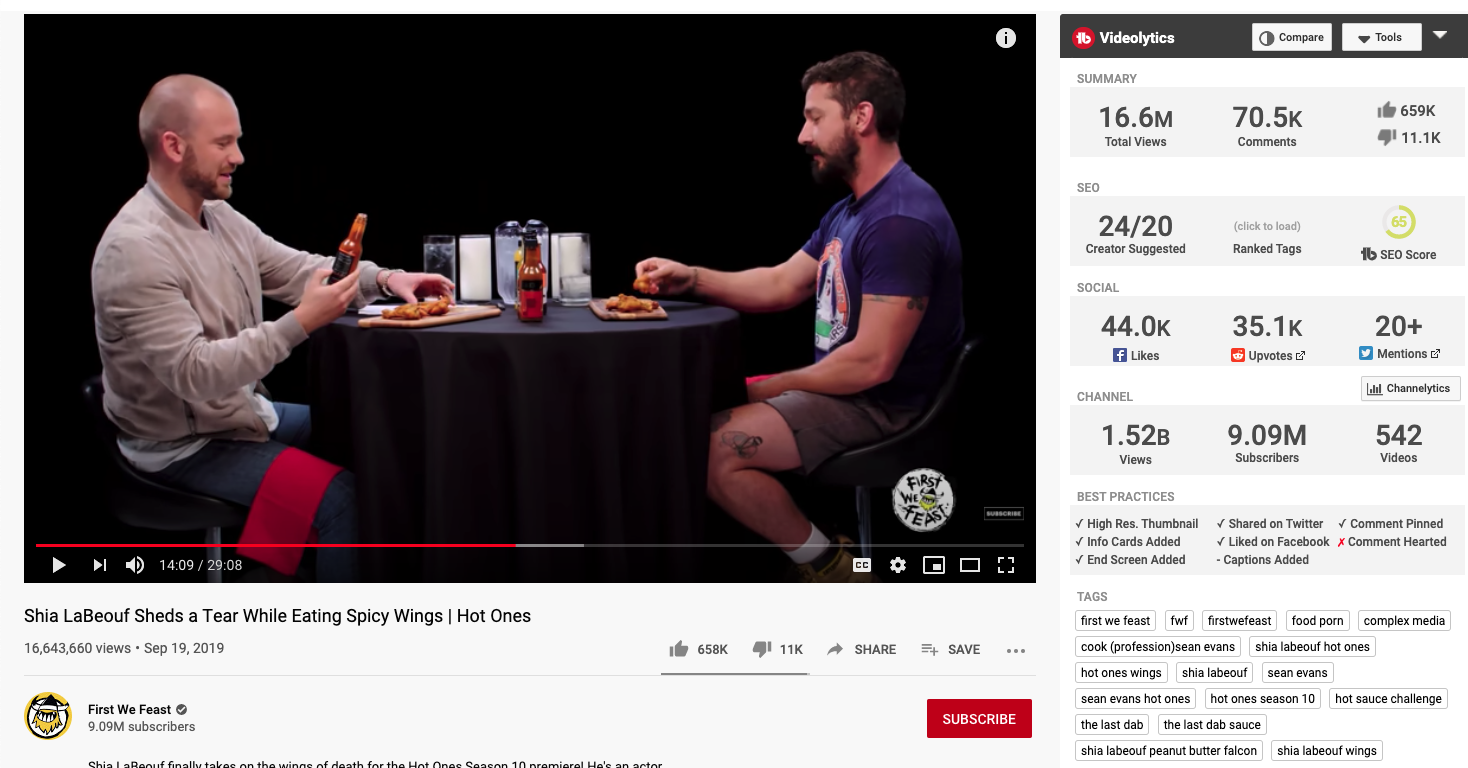 With the help of the TubeBuddy browser extension, the tags used to categorize and promote this video are laid out at the bottom of this video.
As you can see in this example, there are many tags including phrases and single words.

During the first phase of the uploading process, you will be able to implement your tags in the details section (seen below).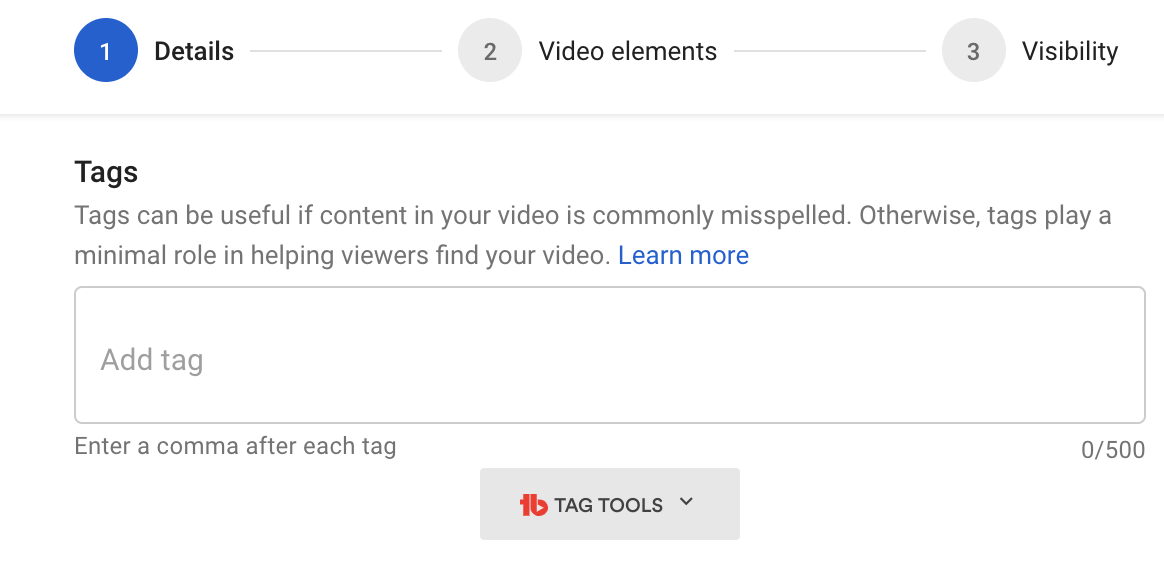 Because I have the TubeBuddy browser extension installed, the option to use the app's tag tools is also presented.
There are 500 characters allowed for tags, and picking relevant search terms that accurately represent what your video is about will be important to getting found. Use the limited space wisely.
8. Add a thorough description
Put the viewer's shoes back on for a moment: You're searching for a video.After you type in the topic you're looking for, thumbnails appear, and next to the thumbnail is some text.
This text is the meta description, and as a content creator, you need to make sure yours is good.
The first couple of sentences should be a summary of what your video is about, otherwise, you run the risk in not appearing in searches for the topic.
The description is also a good place to add additional information like links and shortcuts to your other video content.
Pro Tip: I recommend setting up a pre-formatted description in your Upload Defaults. This way, every time you upload a video, you can create a consistent offering for your brand. All that's left to do is summarize the current video.
Here's an example from IMPACT's own Film School for Marketers channel: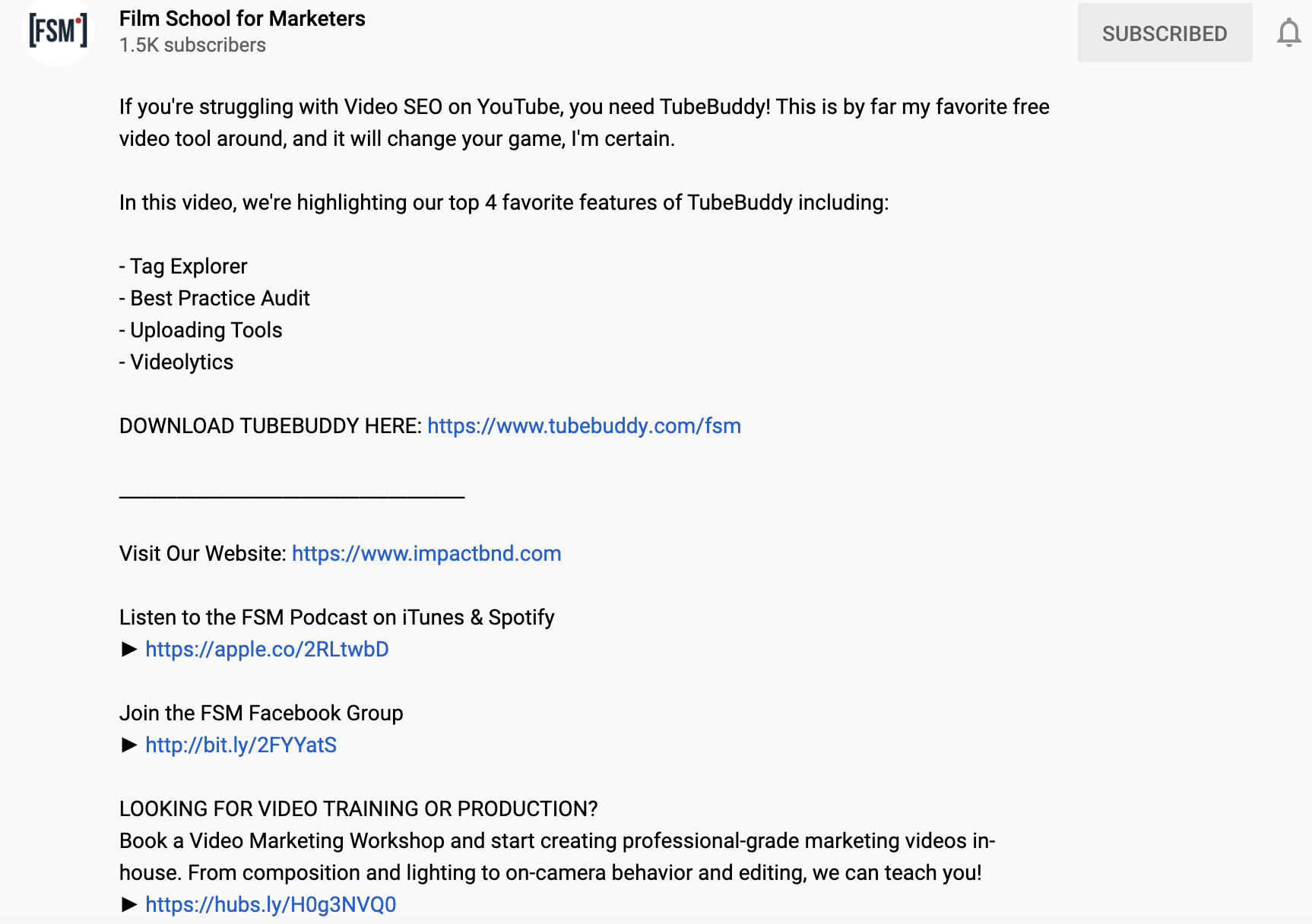 I chose the example above for a couple of reasons.
First, the first part of this description summarizes what the video is about. It gives high-level detail of what to expect if you're going to watch this video.
Additionally, it gives the viewer a bunch of different options and action steps to take at any point during the viewing experience. It links to a community Facebook group, provides another media source to consume in the podcast, and plugs one of the services IMPACT provides.
Overall, it is a thorough, yet easy to consume description that has clear instructions for the viewer of the video on where to go next.
9. Add info cards
A YouTube info card is a small icon that appears at the top of your video.
During the video, if the icon for the info card is clicked on, it shows the viewer more options of videos to watch.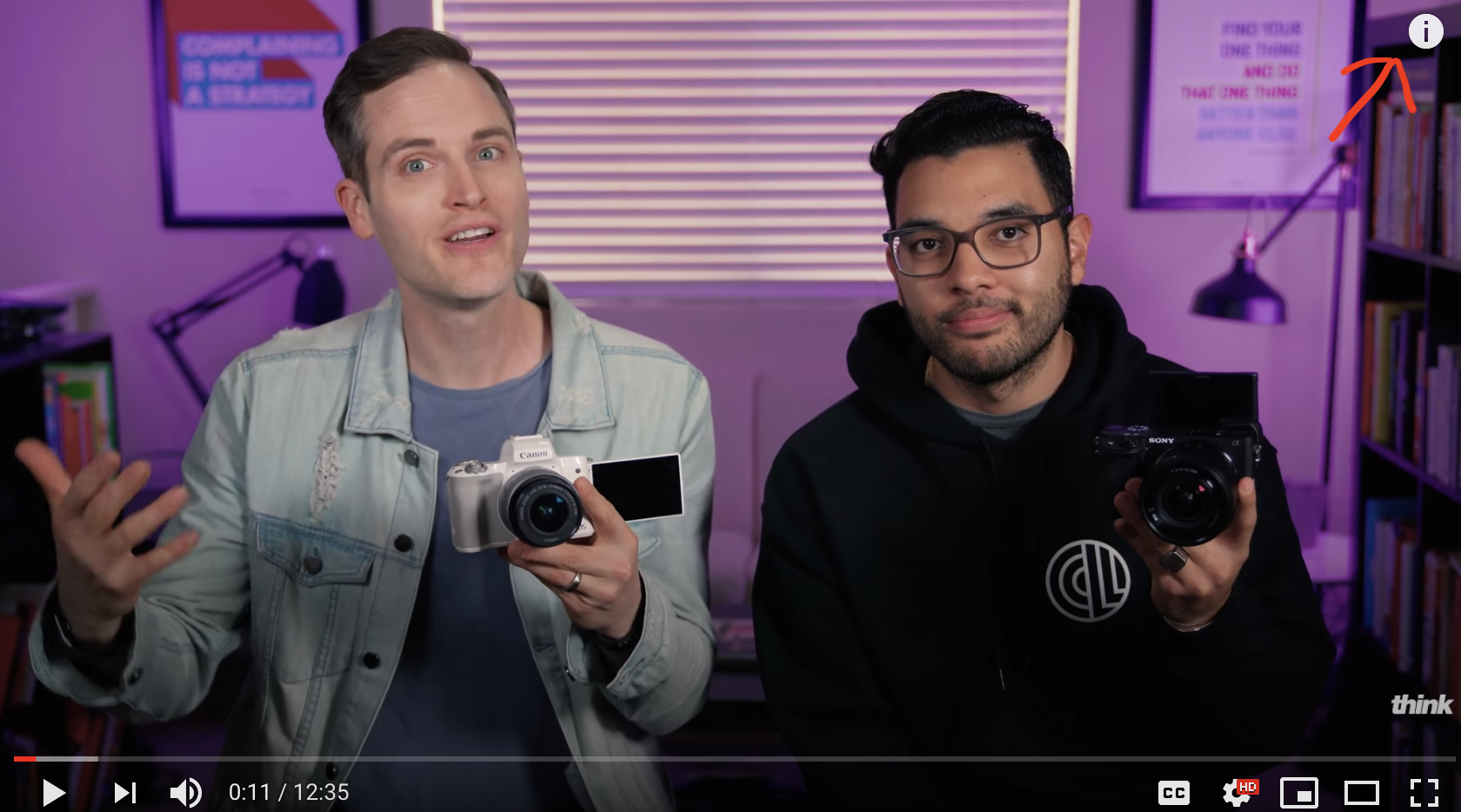 As a creator, this is another opportunity for you to guide the viewer's attention.
Because YouTube is keen on audience engagement, it's important to take advantage of this real estate on our video.
Not only can you add a video, but you can also showcase playlists, other channel links, website links, and even create a poll.
As you can see below, these are different from end screen cards because they can appear at any point on your video and open a side panel directly on top of the video.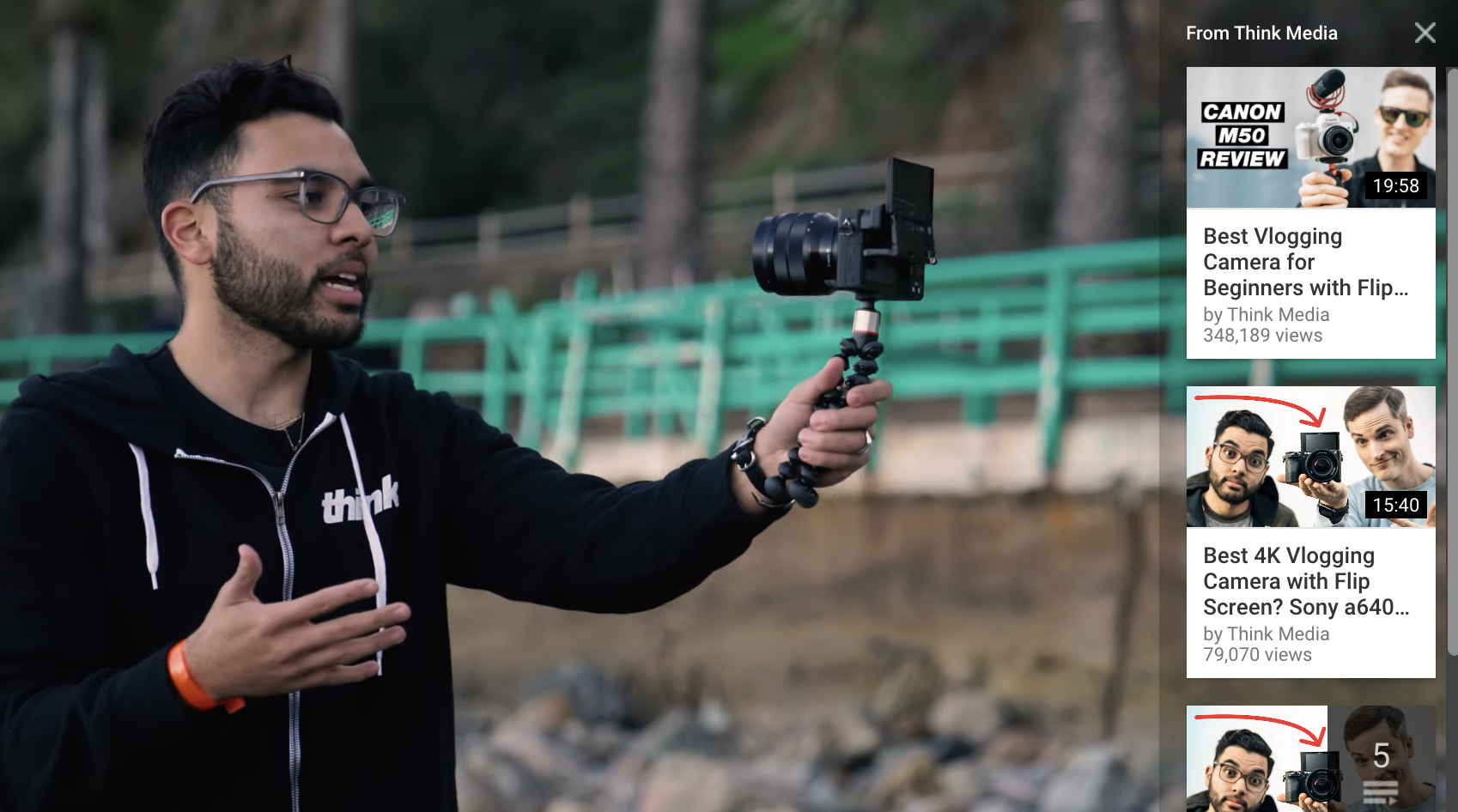 I recommend using info cards to direct users to see more of your videos, linking them to your website, or if you have something you're offering them (an ebook, for example) tee-ing this up with the respective verbal cue would convenience your audience and create more of an engaging experience.
10. Publish!
After you've completed these steps, in the same upload box, YouTube will take you over to a tab called Visibility (pictured below).
To publish your video to be viewed by anyone, select Public.
Once the public option is selected you will see the publish button at the bottom of the upload box. Hit that and the platform takes it from there!
The time it takes to complete uploading and processing can vary based on the size and length of your video file, but once it's done, your video will be available for viewing.
Once your video is published, it's time to promote it!
Sharing your video after it's published
Promotion of your new video is important. The first 24 hours that your video has been published are key for the YouTube algorithm, as it will show popular new videos on the home page of users who could be a good fit for your content.
At this point, you could assume that I might tell you to share your YouTube video on your other social media platforms — but I'm not going to do that.
Because other social media platforms generally have the option to upload native video content, their algorithms tend to not favor external links like YouTube links.
There are, however, more creative ways you can use YouTube itself to promote your content, much of which is similar to how you would engage with users on other social media platforms.
Using tools like TubeBuddy you can change end screen templates on multiple videos to make sure you're promoting your newest piece of content on all of the relevant videos.
Engaging with commenters on your content will show you're an active creator listening to feedback.
Additionally, creating playlists and organizing your channel will attract those binge watchers and automatically play one of your videos after the other if they choose one of the videos in your playlist.

In the example above, it would be easy to go down the rabbit hole of watching cooking videos here with the amount of videos and different playlist options on this channel. There is also an implication that multiple videos can live on several different playlists.
You can also make your new video the feature of your page so it's one of the first users to see when they find your channel.
What's next?
After reading this article, I hope you as a content creator have the tools you need to successfully upload video to YouTube.
The reality is, one video is just the tip of the iceberg. That one video should be part of a greater library of videos for your brand on YouTube.
With that said, the next step is to read this one about branding mistakes currently made on YouTube. To further optimize and understand your metrics, download and watch this webinar.
Free Assessment:
How does your sales & marketing measure up?
Take this free, 5-minute assessment and learn what you can start doing today to boost traffic, leads, and sales.