Video SEO: How To Optimize Videos To Drive Traffic to Your Website
Video is a persuasive marketing tool, but it can be hard to find an audience. This guide shows you how to turn searchers into watchers.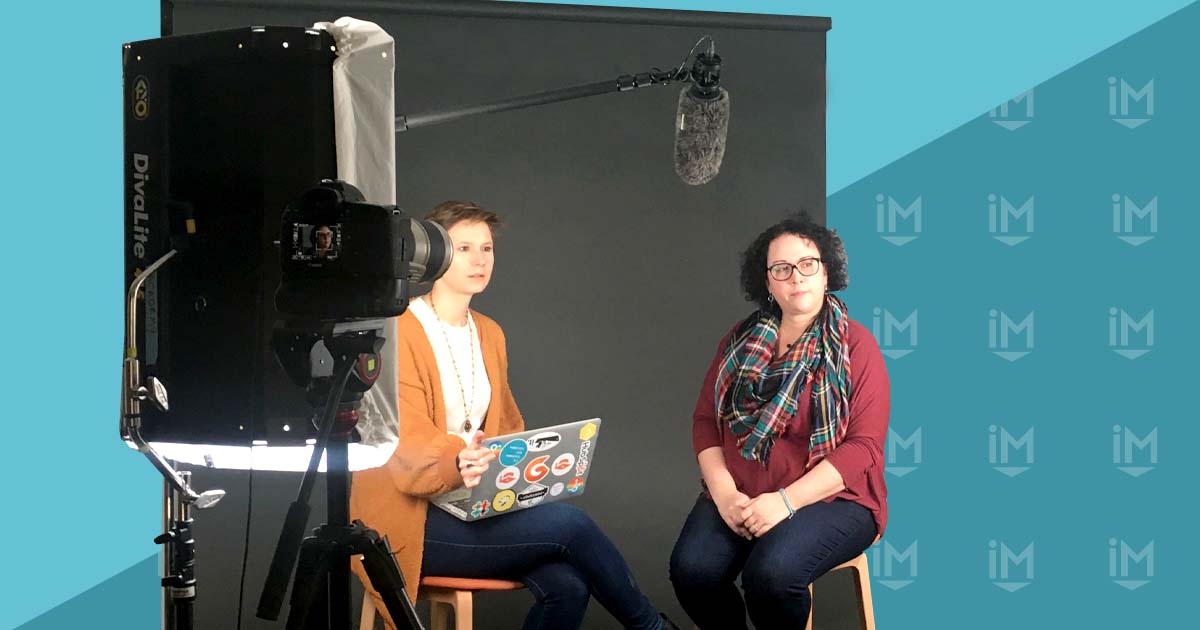 You've probably noticed that video is everywhere these days.
You can watch short and long-form video on your phone, on your desktop, and on your TV. Heck, you can't even fill your gas tank without getting offered at least one credit card or being informed that it's BOGO on the terrible coffee they have inside.
The fact is, people love and respond to the way that video tells a complete story and have come to accept its ubiquity.
Really, though, I probably don't need to tell you this. After all, there are plenty of video marketing statistics that go into the nitty-gritty of how important video is for growing your business.
The fact is, if you're on this page, it's likely that you already know that video is a powerful tool for inbound marketing. You just want to know how to get the most out of it.
We know from experience how important it is to create a video marketing strategy that goes beyond webinar sign-ups or getting more YouTube followers. It's a big part of They Ask, You Answer, and results from our clients have shown that companies that use customer-centric video as part of their marketing efforts see a huge increase in better qualified and more engaged leads.
But to get them to engage with your video content, they have to find it. This is where video SEO (video search engine optimization) comes into play.
This article is going to help you understand:
What video SEO is and why you should care
How video SEO helps search engines understand your content
Video SEO best practices
The most important thing to remember about video SEO
What is video SEO and why should you care?
Video SEO is a practice in which videos and the pages they are on are optimized so they can be more effectively indexed by search engines. In other words, it helps videos rank in Google search results for the keywords you want.
The goal of video SEO to drive traffic to your own website is separate from optimizing for the search function on a video hosting platform like YouTube.
Despite owning YouTube, Google applies a different algorithm to decide what to display in its own search engine results pages. This is why you should make sure that each video that you want to appear in search is available on a public web page.
In recent years, Google has begun shifting to an AI-driven methodology known as MUM, or Multitask Unified Model, which allows the search engine to deliver a greater variety of formats (e.g. video, images, etc.) in their search results.
Turn back the clock and the results were solely of page titles and links, but today, they include several different mediums beyond website pages. Here's an example from the search results for "custom bicycle frame materials."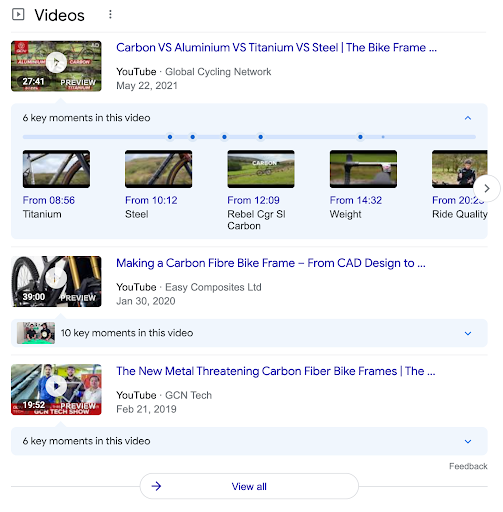 As you can see, these are all YouTube videos. That's great exposure for these companies and a real opportunity for brand awareness through a YouTube channel, however, if you follow some basic video SEO best practices, it's possible that you could also drive traffic to the videos on your own business website.
How video SEO helps search engines understand your content
While AI and algorithms have helped in many aspects of search, video on its own still can't be properly understood and indexed by Google.
The sheer computing power necessary to analyze just a single piece of video content is substantial; to do that same task with every video on the internet would be staggering.
So, if you want your video content to bring in new visitors, you have to perform video SEO.
Search engine crawlers need help understanding the content contained inside video files. You can do this by using metadata (I'll go into that in a bit, don't worry) and creating on-page content that helps contextualize your videos.
Whether it's a post on your blog featuring an embedded video or a dedicated page with a video as its centerpiece, any video SEO you perform on your website should feature relevant language that helps Google understand not just the video, but the context in which you are using it.
For a dedicated page that's centered around a single video, consider providing a complete video transcript for search engines to crawl. In addition to providing relevant keywords and supporting language, transcripts (in addition to closed captions when possible) help ensure that your site is viewed as being as accessible as possible for users. Here's an example of what your dedicated video page might look like: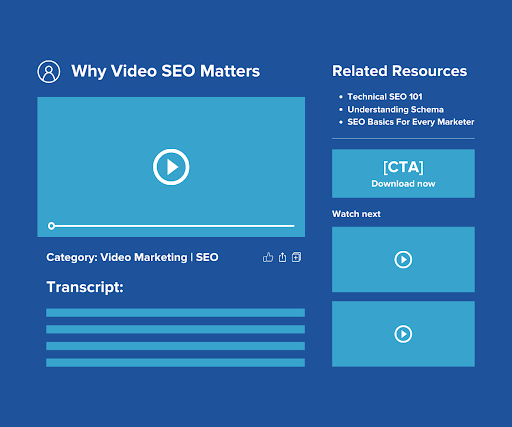 Video SEO around a blog post can work similarly, even if it doesn't use the exact same language as the video itself. Vidyard frequently does this with their blog posts, expanding on points they've made and creating a resource they can use on multiple pages. This example is from their post about explainer videos: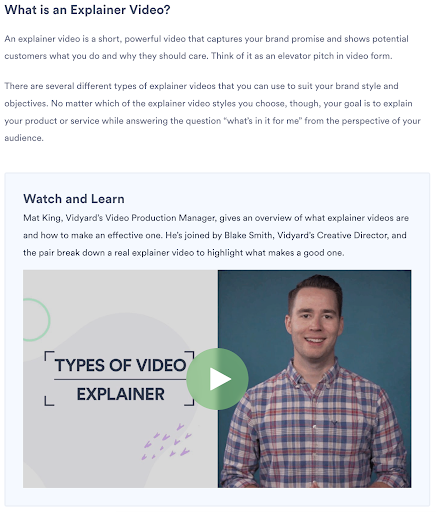 When performing keyword research for your posts, look at other sites with video that perform well around the term. Many keyword research tools like Semrush and Surfer allow you to perform semantic analysis on posts that contain similar videos to what you're featuring on your own site.
Additionally, (and this can seem obvious,) make sure the H1 and <title> of your blog post feature the word "video" in them.
(Before I go on, I should note that it's perfectly okay and even a good idea to post the same video on multiple pages through your site.
Just make sure that you use your videos within the best context for them; you wouldn't post a video about a tangentially-related marketing event from July of 2021 on a blog post about a product launch, would you? Again: contextualize your videos.)
Video SEO best practices
Now how do you maximize your video SEO? Here, we have four video SEO best practices to help you lay the groundwork for your video marketing efforts through search.
If you're already familiar with search engine optimization, most of these should seem familiar, but there are some specific aspects of video SEO that require a different approach than what you would do for written content.
Best practice #1: Perform keyword research, and use it
You can have the best-produced videos on your subject, but that's pointless if people can't find them.
Search engine queries can help direct people to your videos. With this in mind, you want to make sure that you identify and use the same keywords that they're using to find content like yours.
You can accomplish this with dedicated tools like Semrush and Ubersuggest, or you can simply search for a term yourself and see what recommendations Google offers you to help you refine your query, either using People Also Ask or the Related searches functionality.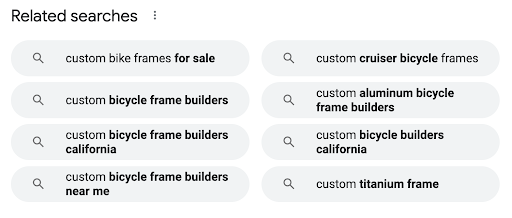 In addition to optimizing your existing videos, properly performed keyword research can help you create a video content calendar to address gaps. Your video SEO strategy should be a touchpoint through every aspect of your video planning and distribution processes
As a bonus, you can also use these long-tail keywords to inform your page titles, metadata, and the content around them. And speaking of metadata…
Best Practice #2: Use metadata and schema
This is the scariest aspect of video SEO for many inbound marketers, but I promise, it's not that complex.
Essentially, schema is a way to directly and explicitly provide information about a thing to search engines through markup that includes metadata about that object. With video schema, you can give the search engines information like the description, URL for your video thumbnail, upload date, and more.
If you're panicking about this, it really isn't as intimidating as it might sound once you've laid a foundation for its use. Google has a great, technically-minded overview of video schema that you can share with your developers.
Structured data
Structured data is a standardized format for providing information about a page and classifying the page content. It is delivered through markup language designed to be read by the browser.
When you create a page centered around a video such as a speaking engagement or product demonstration. you want to ensure that the structured markup for the included video is as complete as possible.
Here's an example of markup provided by Google to help illustrate the concept of structured data for video and just how much information you can provide.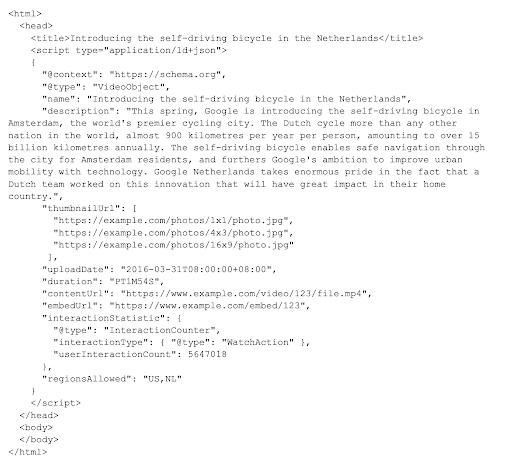 Just like the code that defines your page title and description within the search results, the metadata for the video goes in the <head> portion of your page's code. Even if you're not a developer, it's pretty easy to see that this metadata describes:
A video named "Introducing the self-driving bicycle in the Netherlands"
A video description that goes into more detail about the bike
Three different aspect ratios of video thumbnail images for Google to display
Video duration (1 minute, 45 seconds)
A video watch counter
Regions where you want the video to appear in the search results
There are many other schema attributes that you can incorporate into the markup to provide a more dynamic experience with things like chapter splits, controls, and automatic looping.
(And if you're worried about seeing code in this post, don't be afraid! Most major content management systems make it easy to add schema markup to any page or blog post on a site, either directly or through a plugin.)
Video sitemaps
XML Sitemaps are an important, if almost secret, part of any inbound marketing website. They allow you to quickly show every page on your site to search engines and allow them to be crawled. A video sitemap does the same, but just for videos. Here's an example of a single-page sitemap provided, once again, by Google: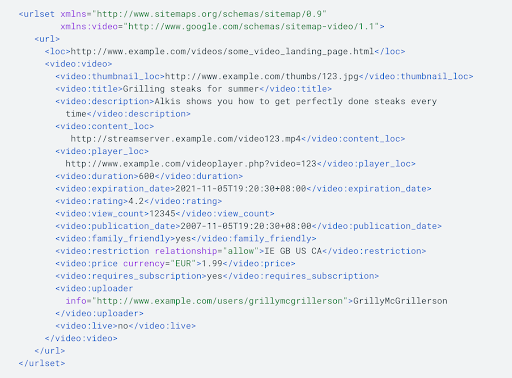 Every entry in your video sitemap features the URL of a page that hosts one or more videos. You should note that Google must be able to access all of the videos on each page (they can't be blocked by robots.txt or require a login)
If you want more information or need something to share with your development team, the Google Developers site has an in-depth article on how to structure and use video sitemaps.
Best practice #3: Keep your video content current
This is something we tell our clients to do with their written content, but your videos should be handled the same way.
When a video is outdated, make sure you take the time to create a new one that addresses new findings or changes to the subject material.
Many people think that video is a one-and-done thing, but if your competition publishes a video that reflects changes in your industry on a properly optimized page, they could beat you in the search results. Additionally, taking the time to update your content to make it more relevant to the present day helps build trust between you and the users.
If it's a video that you're sure is only going to be relevant for a set amount of time, you can actually indicate an expiration date in the schema for that video.
Best practice #4: Make sure your videos load quickly
With the shift to mobile-first indexing and the introduction of Core Web Vitals, Google has made it plain: speed is extremely relevant to search engines and their users.
It can be tempting to upload a really nice 4k video of someone explaining a point, but you should take the time to optimize videos in a way that matches how your target audience views them.
Even with the right video hosting platform, the bandwidth and time difference in loading a 2k video and 4k video can prove critical.
Focus on your video optimization efforts on the platform your audience is going to be using most. For most inbound marketers, that's either a phone or computer monitor, not a 55" HDTV. High-quality videos are great, but your video file should never take long to load.
Here's a great guide from web.dev that goes into the hows and whys of ensuring the videos (and images) on your page load quickly.
Okay, we've gone into some best practices. Now, here's the most important section of this entire post.
All the video SEO in the world doesn't matter if you don't actually address your audience's needs
I can give you lots more tips on how to optimize your video efforts for search, but there's one primary rule of making video content that actually moves the needle for your business's most important metric, revenue: Always create videos that actually address your audience's needs.
Whether it's being primarily hosted on your own site or you're uploading to your business' YouTube channel, use a video title that is descriptive and shows that you understand the customer's pain or problem.
Make sure that the content around your video helps show the search engines (and the users) that you understand the subject matter and can provide them with the answers they need.
Help them find more answers, either through other videos you have produced or by linking to resources within your website's learning center.
They Ask You Answer can help you build a video strategy that does more than get views: it can help you create high-quality content that transforms how your business speaks to your target audience. Start your journey today with our video courses.
Free: Assessment
Does your website build trust with buyers and bring in revenue?
Take this free 6 question assessment and learn how your website can start living up to its potential.
Score My Website
Free: Assessment
Does your website build trust with buyers and bring in revenue?
Take this free 6 question assessment and learn how your website can start living up to its potential.