10 Google Analytics metrics you absolutely must track (updated)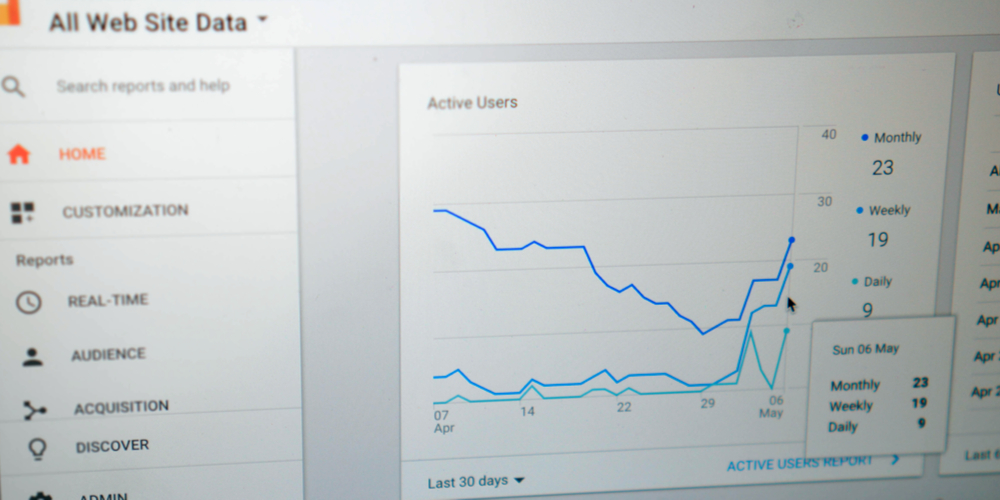 Google Analytics metrics
Users
Sessions
Pages per session
Devices
Source/medium and channels
Pageviews, unique pageviews
Average time on page
Landing pages
Exit pages
Bounce rate
Editor's Note: This article was originally published in August 2016 by Derrick Weiss. It has since been updated to reflect current best practices, features, and platform capabilities.

If you have a business website, tracking its performance is absolutely essential if you want to understand how well your website is (or isn't) driving traffic, leads, and sales. And one of the most powerful tools we recommend for doing just that is Google Analytics.
Google Analytics provides a robust amount of data on your website with numerous reports that offer insights into how your site is performing.
While Google Analytics continuously evolves its reporting capabilities, certain metrics are crucial to track to identify strengths, weaknesses, and opportunities on your site.
What follows are the 10 most essential Google Analytics metrics you need to be tracking, no matter what industry you're in.
1. Users
In Google Analytics, users are people that visit your website. Google Analytics categorizes users into two categories: new and returning. New users are visitors who have never visited your site, and returning users are visitors who have visited your site before.
"How does Google know if a user has visited my site before?"
Google Analytics uses cookies to distinguish user data. It's important to keep in mind how Google Analytics tracks users because the data is not 100% accurate. If a user uses separate devices or browsers to visit a site, deletes or blocks cookies, or uses Incognito or Private browsing, the user is counted as separate users.
You can access the Users metric in the Audience > Overview section in Google Analytics. The Overview section also provides additional information about users including: new users, sessions, number of sessions per user, pageviews, pages/session, average session duration, bounce rate, as well as access to additional details about users.
2. Sessions
Google Analytics defines sessions as "a group of user interactions with your website that take place within a given time frame."
A session begins when a user enters your website and ends after 30 minutes of inactivity, at midnight, or if the user enters the site through one campaign, leaves, and comes back through another campaign. Although the default amount of inactive time that ends a session is 30 minutes, you have the ability to adjust how much inactivity constitutes a session end in your Google Analytics Session Settings.
Sessions are different from users because one user could trigger numerous sessions. They are helpful to track when examining changes to session count and sessions per source to evaluate how effective your campaigns are.
You can access your site's overall sessions in Google Analytics by going to Audience > Overview.
3. Pages per session
Pages per session are the number of pages a user views during a session. If you see an increase in pages per session, this could mean your users are more engaged with your content because they are navigating to more pages throughout your site.
As you create and evaluate your site's page strategies, it is important to make sure that every page offers pathways for users to navigate elsewhere on the site. Think of your website as a guide to help users get to the information they need, increasing trust and credibility, and driving conversions.
To access the overall pages per session metric for your website in Google Analytics, visit Audience > Overview.
4. Devices
The Devices metric in Google Analytics highlights how many users visit your website on desktop, mobile, and tablet devices.
While both mobile and desktop website experiences are important to evaluate, the devices metric is important because it can help you determine whether to focus your efforts on a particular experience. For example, you may want to invest time and resources into optimizing your website's desktop experience, but it turns out that most of our site traffic is on mobile devices or vice versa. Understanding what devices your users visit your website on will help you prioritize your efforts.
The devices metrics can be accessed in the Audience > Mobile > Overview section of Google Analytics.
5. Source/medium and channels
The source metric in Google Analytics refers to where traffic to your website comes from such as from a search engine, such as Google, or direct, where the user goes directly to the URL by typing it out, selects it from a bookmark, or if Google Analytics is not able to identify the traffic origin.
The medium metric is the general category of how the user arrives to the website, such as through organic (non-paid traffic from search engines), ppc, etc. The Channels metric in Google Analytics refers to the groups of traffic sources within the same medium such as Organic Search, Direct, Social, Paid Search, Email etc.
These acquisition metrics are important to track because they will give you insight into where your site traffic is coming from and how effective your campaigns are. For example, as you continue to grow your inbound marketing efforts, your organic search traffic will likely increase.
The Channels and Source/Medium metrics can be found in the Acquisition > Overview, Channels, and Source/Medium sections.

6. Pageview and unique pageviews
In Google analytics the pageviews metric refers to the total number of views per page. Pageviews are also counted if a page is viewed by the same user more than once.
On the other hand, the unique pageviews metric takes into account how many times a page is viewed within a certain session. This means, if a user goes to the same page more than once in a single session, Google Analytics would track the unique pageview as one.
To access overall pageviews and unique pageviews in Google Analytics, visit the Behavior > Overview section. To see the top viewed pages on your website, visit Behavior > Site Content > All Pages


7. Average time on page
The average time on page in Google Analytics is the average amount of time a user spends on a single page. By looking at the average time a user spends on a page, you can gauge how engaged the user is with the content. For example, users typically spend more time on blog article pages.
If there are certain pages that you want users to be more engaged on, but the pages have a low average time on page, there may be opportunities to increase engagement such as by including multimedia content, such as videos.
To see the average time on each page, go to Bahavior > Site Content > All Pages > Avg. Time on Page column.
8. Landing pages
Landing Pages in Google Analytics are the pages through which users enter your website, or the first pages that a user sees when coming to your site. It's important to analyze your site's most trafficked landing pages along with
To see the most viewed landing pages of your website, visit Behavior > Site Content > Landing Pages.
9. Exit pages
The exit page of a website refers to the last page a user views on a website before they leave the site or before the session ends. By examining what pages your users most exit the site from, you can identify opportunities to optimize these pages to not only keep them on your site, but to boost conversions.
For example, if you see in your Google Analytics reporting that your Checkout page is one of the most exited pages on your site instead of the Checkout Thank You page, there may be an issue on your Checkout page that is preventing users from moving on in the user flow.
To view exit pages of your website, go to Behavior > Site Content > Exit Pages.
10. Bounce Rate
A bounce in Google Analytics is defined as "a single-page session on your site." If a user goes to your website, does not interact with the site, and then leaves, they do not trigger any additional requests to the Analytics server and are considered a bounce. The bounce rate is the percentage of all sessions on your site that bounced.
What is considered a good or bad bounce rate depends on the page. If the page is intended to drive traffic to other parts of the site, then a high bounce rate (above 70%) could indicate there's an opportunity to lower the bounce rate.
To find your website's overall bounce rate in Google Analytics, go to Audience > Overview. You can also view individual page bounce rates by going to Behavior > Site Content > All Pages.
What are the limitations of Google Analytics?
Monitoring your website's Google Analytics metrics is important to help identify areas that could use improvement with messaging, usability, functionality, design, or a combination of the various factors.
While it's important to track these metrics, it's also important to keep in mind that they are not 100% precise and to avoid getting bogged down with the exact numbers. Leverage insights from your website's Google Analytics to note trends, make adjustments, and watch for changes.
To get more insights into why users interact with your website the way they do, we recommend leveraging tools in addition to Google Analytics such as heatmapping and user tracking tools such as Lucky Orange.
We also recommend testing variations of webpages by running A/B tests in HubSpot or using Google's Optimize. By creating different versions of your pages, collecting data, and analyzing the metrics, you can see what's working well, and what isn't, to make more informed decisions on your site.
Additionally, digital marketing automation and sales CRM technology is critical to being able to see the full picture of how your website is driving traffic, leads, and sales for your business.
Free: Assessment
Does your website build trust with buyers and bring in revenue?
Take this free 6 question assessment and learn how your website can start living up to its potential.