Website redesign cost: 5 factors that drive the price tag up and down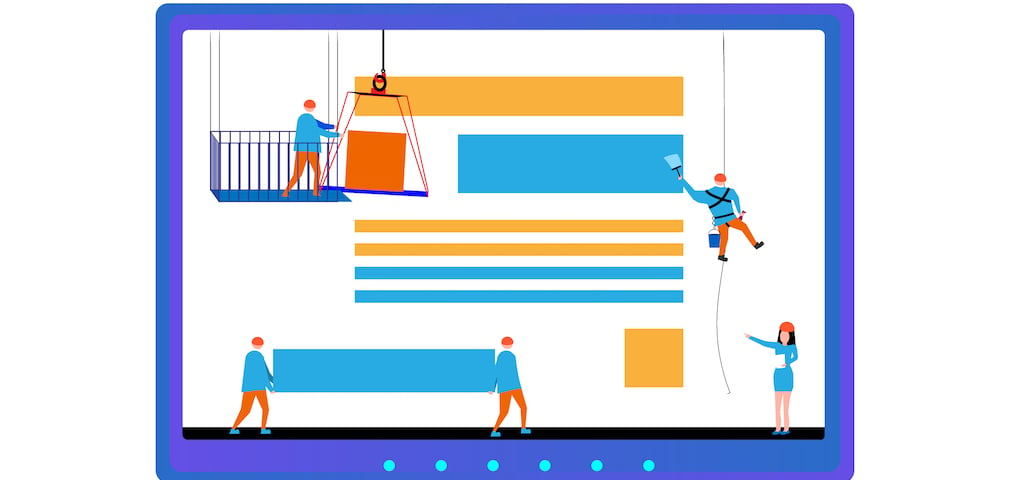 Website Redesign Cost Factors
Strategy
Design
Custom Functionality/Self-Selection Tools
Content
Size or Number of Pages
Living through a global pandemic is no joke...am I right?
This year, August crept around and my usual excitement for back to school shopping and preparations were met with a gut-wrenching uncertainty.
How will I keep my kids physically safe? How will I keep them emotionally, and mentally well? Are they going to school in-person? Will they be distance learning? How can I keep this all from being too much for them?
With much trepidation, I took my oldest daughter back to school shopping. She entered first grade this year and is no longer the baby at school so this was a big deal! I wanted to splurge on so many cool fashion trends — but I paused.
Was this the best time for me to be reckless with my budget?
I decided to stick to the necessities.well mostly. I bought her one extra pair of unicorn Converse sneakers that were on clearance for $11 but I chalked it up to investing in her self-confidence.
During the COVID-19 era, being smart with your budget is top of mind for everyone. This is true whether you're a business owner, an employee, or a mom, but a little investment can sometimes go a long way.
I always tell my clients that their website is a living, breathing organism that needs constant care and nurturing. It is not something that you set and forget. It's worth investing in.
There are so many things to consider when looking at a website redesign that can affect the cost. The good news is that you can embark on a website redesign without breaking the bank if you are able to decipher your must-haves from your nice-to-haves.
Let's dive into the top five factors that can really affect your website redesign budget.
Cost factor 1: strategy
Step one of any good website project is the strategy. Your strategy is going to lay the groundwork for the entire website, its goals, and, ultimately, the ability to get you the conversions or sales you are looking for.
The easiest way for me to explain website strategy is with a tired old metaphor we throw around probably way too often, but, hey, it gets to the point.

"Just as you wouldn't build a house without a blueprint, you shouldn't build a website without a strategy."
The cost of a website strategy really comes down to one thing: the number of deliverables.
So what are website strategy deliverables? I'm so glad you asked…
Value proposition map: This is a user-focused view into the pains, worries, and fears your ideal customer has, and how your specific offering solves them. Sometimes also referred to as an empathy map.

There are many variations to how the physical map can look but the purpose is always the same: to consider the user's needs, wants, and feelings first and then position your benefits and features in support of this information.

This can be a really powerful tool to have while you are mapping out the purpose of each page of your site because it will help you keep the consumer in mind. The pages will be geared toward servicing their needs and what they are looking for versus what you think they are looking for.

For example, if you are an insurance company that offers different types of personal coverage, your customer searching for homeowner's insurance will likely have very different pain points and needs than one who is looking for auto insurance.

This deliverable will help you identify the needs and wants of the person looking for homeowner's insurance and the one looking for auto-insurance and guarantee that the content on these pages is curated to each individual.
Proposed sitemap: This is an optimized, hierarchal list of website pages to be included in your full project which will ensure a frictionless journey for your target audience.

It tends to become the source of truth in a website project. Without it, it is hard to know exactly how many pages you are going to have on your site and if you are covering all of the areas you should be.

It clearly defines what pages will be shown in your website navigation and footer as well as the sub-pages underneath each section of your site.

This list will guide all of the pages created during the project and define where they live once the website is built out.
High-level page strategy: This is an outline of the suggested layout for each of your most important pages focusing on guiding the user through their journey.

A high-level page strategy provides a primary goal and secondary goal for each of your pages and the recommended elements for each page to get your user to convert.

To illustrate, let's go back to that person looking for homeowner's insurance.

You would want to get them to a page where they can:
1. Learn more about your service and what you offer.
2. Realize you are exactly what they are looking for and reach out to get a quote.

There will also be other recommended sections in your page strategy to support your primary and secondary goals. In this instance, coverage examples, user statistics, client testimonials, and educational resources are just a few you may want to include.

Keyword research and rankings

: This is where we Identify popular words and phrases people enter into search engines while also analyzing competitor data in an attempt to figure out what your website should rank for.

This is important because it will let you know what is feasible for your business to rank for and what you should be ranking for in Google searches in order to achieve your goals.

Keyword research will help set realistic goals and help guide the content on your pages around these goals.

Our insurance company example would likely never be able to rank for "Homeowners Insurance" but if they add their geographic location into that keyword it suddenly becomes a lot more realistic.

On-page SEO strategy:

In addition to suggested keywords, this includes suggested URL structure, SEO title recommendations and possibly assistance with meta descriptions and alt text recommendations for images.

This is something that can and should be worked on continuously over time but is important to have in some form sooner than later for your website project.
All of these deliverables are extremely important and valuable to a successful website, but each one has its own price tag. If cost is a concern you may be able to work with your agency to prioritize the deliverables and strip out any you feel you can revisit and optimize later.
Cost factor 2: design
Design can be a tricky part of a website redesign because let's face it — design is subjective.
Just because you really like that lime green accent in your logo does not mean that your users will like it on your site and it definitely does not mean that it will make them convert.
On the other hand, you don't want your website to look like you haven't touched it since 2001 either. This could convey to your audience that you are not keeping up with best practices, not only on your website but within your industry as well.
When it comes to design here are some things to keep in mind:
Bells and whistles: Think slants, swoops, overlaps, and animations. These elements can look really sharp but can take a lot of effort to build in development which can drive up costs.

You should always ask yourself, is this going to get me more leads?

In some instances, the answer may be yes. If you are a company like Stripe with 14 global offices, millions of users, and 2,500+ employees, you may need to portray yourself with a certain level of design customization, but do you have Stripe's budget?

You can always come back

and add custom design elements at a later time. Remember your website is a living, breathing organism that needs constant care so try not to get too hung up here if you need to be budget-conscious.
Custom icons or graphics: Custom graphics and icons are not just petty pictures. If they are done correctly, they will also help to convey information to your user without them needing to read all the text on the page. They will also help support the content on the page and further drive the important points home.

A great example of this is if you are a software company. If you are a software company, you may want to invest in some custom graphics that display your interface.

Let's look at

Monday.com

which is a project management software. It is extremely important to show their potential customer's what their platform looks like and allow them to envision using it for themselves.

However, again this is not necessary for all businesses and can be added in later iterations to keep costs down.

Imagery sourcing or editing: Imagery on your website is important because it can help you capture someone's attention, stand out from your competitors, and add additional context to important information.

A photoshoot for custom photography is always recommended but if you need to start with stock photography, you could recruit a designer's help in selecting these images and cropping them to fit nicely on your website.
Number of website page designs needed: This one is pretty straight forward — 10 custom website page designs are going to cost more than five. However, if you have elements of your website pages that are reused throughout the site, it may not be necessary to have a design for each individual website page.

Ultimately, you want a design that converts users. The design can be modern, simple, and clean without draining your budget. While at times, investing in a more sophisticated design may be necessary. with a solid strategy behind the design, the bells and whistles can always come later.
Cost factor 3: custom functionality/self-selection tools
Custom development is an area of the website redesign process that can really affect your overall budget because of the complexity and time-consuming nature of the work, but there are lot of factors that drive it up or down..
Let's take a closer look at some of these.
Personalization

: General marketing does not always cut it for consumers these days.

Studies have shown

that users are more likely to purchase from companies that know their names and remembers their past purchases or actions.

If you are on the HubSpot CMS platform this could be something that is fairly easy to do with their

Smart Content

feature, however, depending on where you need this functionality and exactly how you want it implemented it can get complex pretty quickly, in turn, driving up costs.

Self-selection tools

: The good news here is that it is possible to build a self-selection tool that is not too expensive. It entirely depends on what the tool needs to accomplish.

For example, how many questions do you need to include? What do you want the final result to be? Will different combinations produce different results? How much control do you need to edit this without a developer's help?

Our friends at

B2 Talent Solutions

started with a simple tool with one goal in mind, funnel their users to the service pages they need. IMPACT client,

Yale Appliance

takes it a step further with their product configurator, allowing a user to select and essentially build out the product they are interested in. They can then get real product results and instantly find out what price range they are falling into.

Each of these examples is extremely valuable for their users but may result in very different price tags.
Membership portals: If you have pages or information that only certain people can view, you will need the added functionality of login pages, password-protected pages, and user profile pages so that a user can update personal settings and information. These portals can really drive the price tag up quickly.

eCommerce functionality

: Selling products on your site is another factor that will require a lot more effort and therefore require a bit more budget.

Adding the ability to sell products on your site opens a whole development can of worms. You will now need a shopping cart and checkout page as well as custom emails for order and shipping notifications.

Will you need to tie inventory into the site? The possibilities are endless but likely your budget is not.
Third-party integrations: Anytime you need to integrate two softwares together, there is potential for a hefty price tag especially if you're requesting unique data.

Yes, there are many free integrations out there that can be enabled easily but they also may not provide you with all of the features you are looking for. When using a free integration, you are given a very specific set of permissions and features. There may be times that a pro version can be purchased, but there may also be times that a completely custom integration needs to be built to get everything you are looking for.

One common example is trying to integrate a warehouse or inventory system with your website shopping cart. If an integration software does not exist you may need to achieve this by building out custom APIs and feeds that sync from your warehouse to your website.
Overall, when it comes to development, there may be certain functionality that is absolutely vital to your website's success and cannot be ignored or put off. The key here is understanding that upfront and allocating budget where you need it.
Cost factor 4: content
If not completely ignored during a website redesign, content tends to be an area that people try to cut budget from and that may be OK, but it is important to know that you will need to be hands-on in order to do this successfully.
Content is the leading cause of website delays and this is because it is a lot more work than clients realize and are willing to take on.
Getting the words written out for your website pages is hard. A lot of times, clients experience writer's block or will spend a lot more time on a page than they anticipate. If they are a person that is wordy, the content usually has to be cut down to be more concise and work well within the website pages.
In addition to the written words, imagery also falls within the content category. Finding imagery for all of the website pages can add additional time to the content process.
Help is available but it will cut into your overall website budget.
Copywriting: Hiring someone to write your website copy for you will help with timeline and capacity but will definitely drive your website budget upward. Copywriters may charge a per-page fee or an hourly fee.

To help keep your cost down with a copywriter, you should prioritize your high impact website pages for them to assist with and then use them as guidance for the remaining content.

The more pages they need to write the more expensive the cost will be.
Content implementation: This refers to taking your written copy and inserting it into your website pages. Depending on the agency you are working with, this may or may not be included in your website project.

If you have the ability within your website platform and the bandwidth within your day to day operations to take this task in house it could help save you budget.
Content review: If you

choose to write the content yourself

you may want it to go through a copy editor for a grammatical review.

You would be saving some budget writing the meat of the content yourself but may want to invest some budget in having a grammar expert check for typos and punctuation.
Content coaching: This service is something that is more unique to us here at IMPACT but can provide a client the guidance to write effective content themselves. Think of the old saying, "Give a man a fish and you feed him for a day. Teach a man to fish and you feed him for a lifetime."
Ultimately, content is an area that you can save some budget on since you can do it yourself, however, if you are not committed to your timeline and will not have the capacity to stay on track it may be worth the investment.

After all time is money and every day that you do not have your newly optimized website live you are losing potential customers.
Cost factor 5: size or number of pages
The size of your website affects every stage of the process: strategy, design, development, and content. The more pages you have, the more you will have to invest in all the previous stages.
So, how can you be smart with your budget?
Focus on your audience to streamline. Cut the fluff and get your audiences where they want to go. You do not need a bunch of pages saying the same thing or with just "nice to have information" unless they are targeting different buyer types.
Clean up your navigation. Make your

website navigation

simple and easy for a user to find what they are looking for. Less is more. If your menu has too many dropdown options a user can easily get frustrated and leave your site. Added bonus here is that it will reduce the number of pages on your site and help streamline your content.
Invest in a Growth-Driven Design (GDD) style retainer. If you do not want to spend a lot of money upfront a

Growth-Driven Design

format may be right for you. The new website redesign launch would focus on just the necessary pages but allow you the tools to create and improve over time. This model also means that you can spread the cost out over months instead of all at once but still see results quickly.
Budget is important but so are results
Phew! That was a lot of information, but you can be assured that there is a website redesign project for all budgets.
At the end of the day, your website should be a sales tool working for you around the clock. Get the strategy right, get a website up with that strategy set in motion, and the rest can fall into place. Costs can be adjusted to your needs and budget to get the most out of every dollar.
I hope to work with you on your website redesign soon!
Free: Assessment
Does your website build trust with buyers and bring in revenue?
Take this free 6 question assessment and learn how your website can start living up to its potential.