How to completely optimize your Google My Business listing for 2020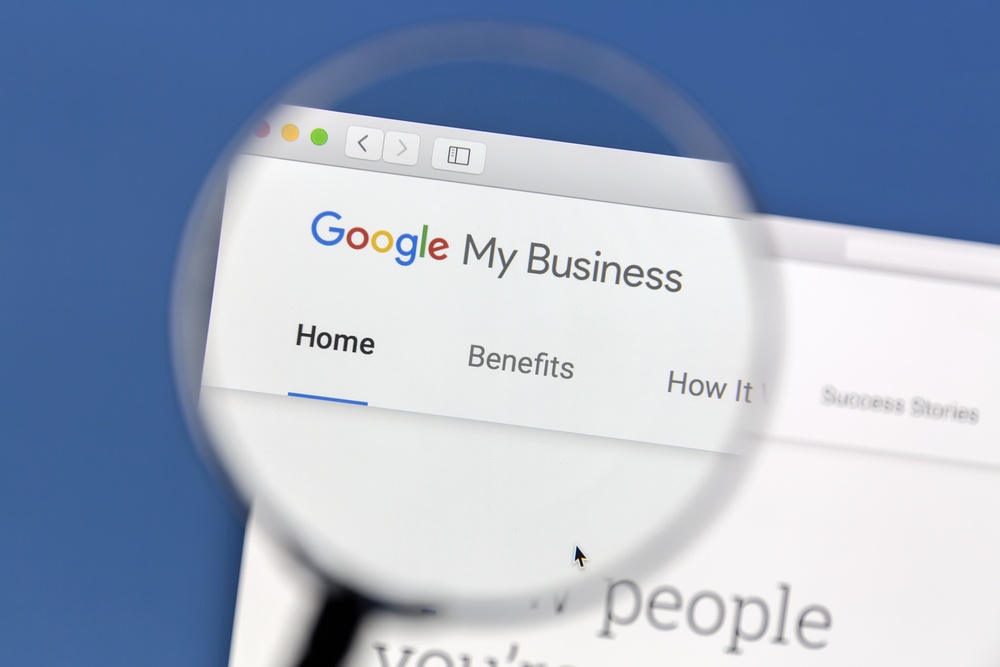 How to Optimize Google My Business
Complete your business information and add a description
Upload more and better images
Respond to Google My Business reviews (yes, all of them)
Use posts to promote events, offers, and content
Create and upload videos
Add shortname
Long before I learned all this cool stuff about Google My Business, I spent a little over a decade working as a carpenter in Alaska.
The most important lesson I learned during my time in construction is how critical it is to choose the right tool for the job, and if you want to get clean results, you've got to utilize your tools in the most efficient way possible.
You'd probably agree that if you needed to drive a screw into a piece of sheetrock, you probably shouldn't be reaching for a hammer, right?
Please tell me you wouldn't grab a hammer.
You got a sheetrock screw gun? Okay, perfect.
Well, just like in construction, when it comes to successful inbound marketing and SEO strategies, you need to choose the right tools for the job and understand how to best employ those tools.
For local businesses, one of the best tools you have is Google My Business.
Before I teach you how to be an inbound journeyman with my top 6 Google My Business Tips, let's answer two quick questions:
What is Google My Business?
Google My Business (GMB) is a free, easy-to-use tool that helps businesses manage their online presence and appearance in Google Search and Google maps.
If you've ever searched for a business' name, you'll often see their GMB "knowledge panel," a card containing important information customers want to know about local businesses, show up first.
If you're on mobile, it will often be the top result before the organic results.
If you're on desktop, it will be displayed just to the right of the organic and paid search results like this:

As you can see, the knowledge card displays tons of valuable information customers would want to know:
Business Name
Business Type
Address
Hours of operation
Phone Number
Link to website
Images
Link to Google maps
Reviews
Overall Star Rating
Popular times to visit
Related Searches
And More
At a quick glance, you can learn a lot about a business and whether or not you want to visit there.
That is exactly the point of the tool: to give customers enough data about a business to help them determine if they want to engage with that business.
Why should I care about Google My Business?
The benefits of Google My Business are threefold:
Increased visibility in search
Better shopping experience for buyers
More traffic to your website, social channels, and front door
An optimized GMB page helps Google understand more about your business: who you are, what services/products you sell, where you're located at, and what your website is (so they can crawl it for more info).
The more Google knows about you, the more types of searches your GMB listing can appear in.
In most cases, when people type the name of your business, it often displays your knowledge panel alongside your website links (if it doesn't, try adding your location into the search).
However, when Google knows more about what you do and sell, they can help match you with other types of search queries; the most valuable of these is Google's Three-Pack.
If you were searching for spray foam contractors in the lower peninsula of Michigan, you'd probably come across a result like this: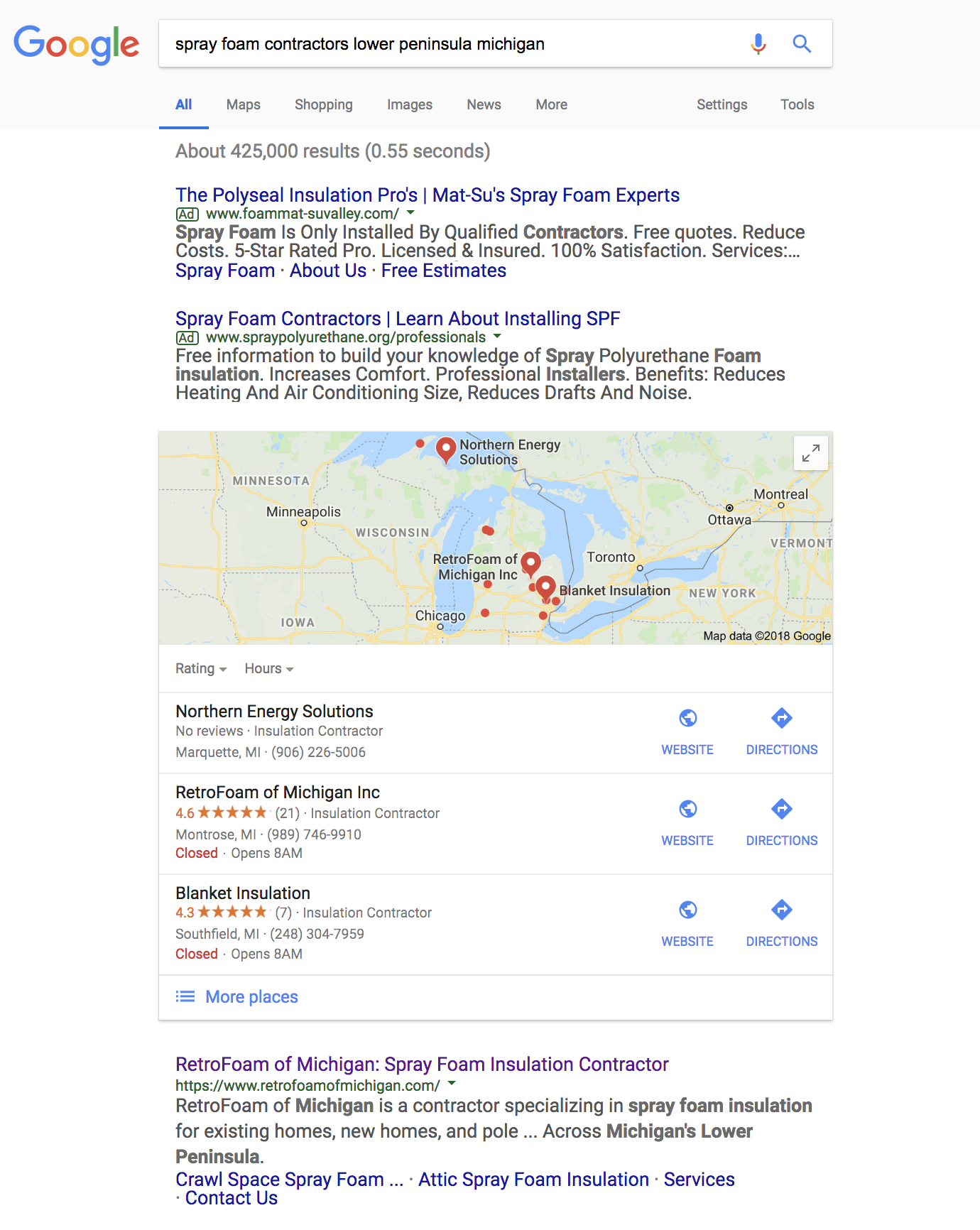 Which one would you pick? Why?
I picked IMPACT client, Retrofoam of Michigan because:
I've worked with them before. They're great people.

This goes for all of the examples I'll be using.

Even though they're second, the first result doesn't have any stars or reviews.
They have more stars and reviews than the third option.
They have business hours posted, unlike the first result.
And maybe if I moved to Michigan, they'd be the closest to me (proximity matters in a lot of local searches).
Now, if you click on their small business card, you'll be taken to the map and their GMB knowledge panel.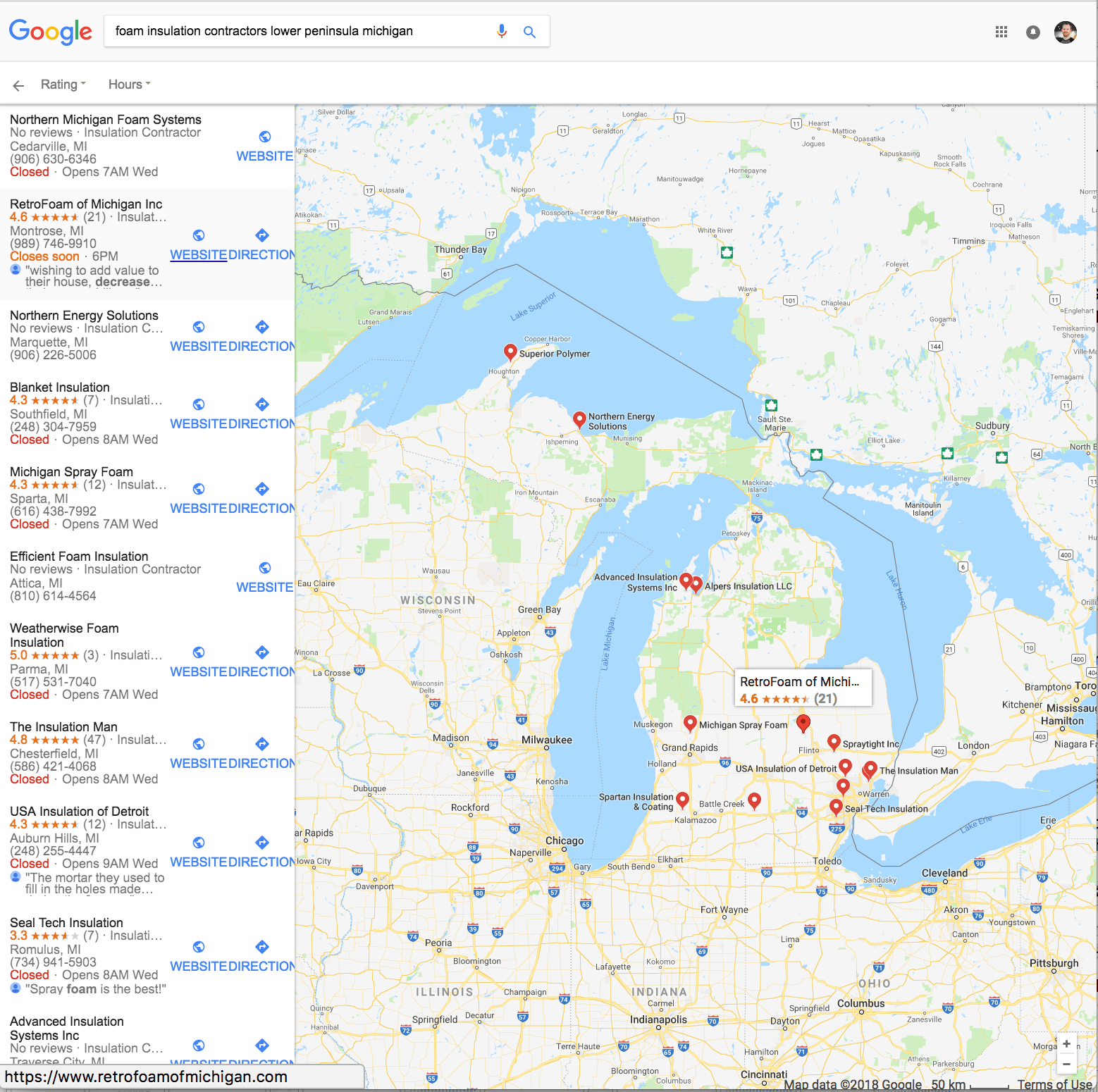 Also notice you now have a full list of other contractors in the far left, and that clicking on their business card pulls up their GMB panel. So keep their attention with a helpful panel.
How do you do this though? Can we finally talk about these six tips? Yes, friends, we can.
1. Complete your business information and add a description
If you've got a local business, I hope that you're up-to-date on your business name, address, phone number, hours of operation, and business category at the least.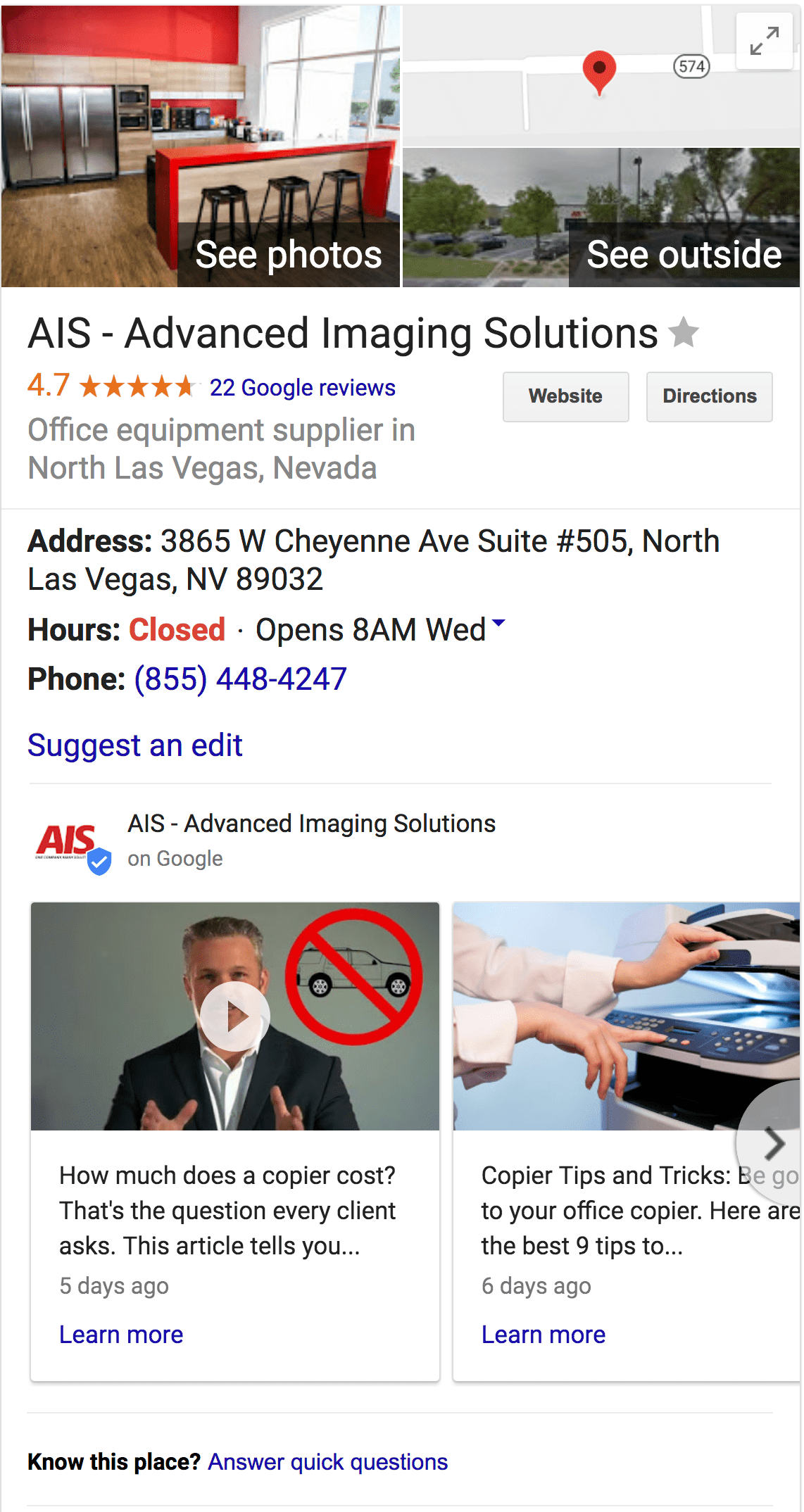 Have you ever looked a local business (like AIS) up in the map, saw that it said it was open, drove all the way there only to find the business closed?
How would that make you feel towards that company? At best you're off to a bad start, right?
But most likely, you quickly turned to their competitor.
And if you've got a strong sense of justice, you may have called just to tell them you'd been there, left, and found someone else.
Double check all the seemingly boring information on your Google My Business page and cross check it with the information on your website. Ensure your messaging is consistent across your channels.
Choose your business categories
You can choose up to 10 categories for you listing to showoff the myriad of services you business performs.
However, you can only choose one primary category, which Google gives the most weight to. So choose your primary and secondary categories wisely.
For example, here at IMPACT, the primary category we chose was "marketing agency" as it's the closest to a catch-all we could find.
But for our secondary categories, we chose website designer, advertising agency, marketing consultant, internet marketing service, and business development service to help us pop up more often for searches of that type that relate to our areas of expertise.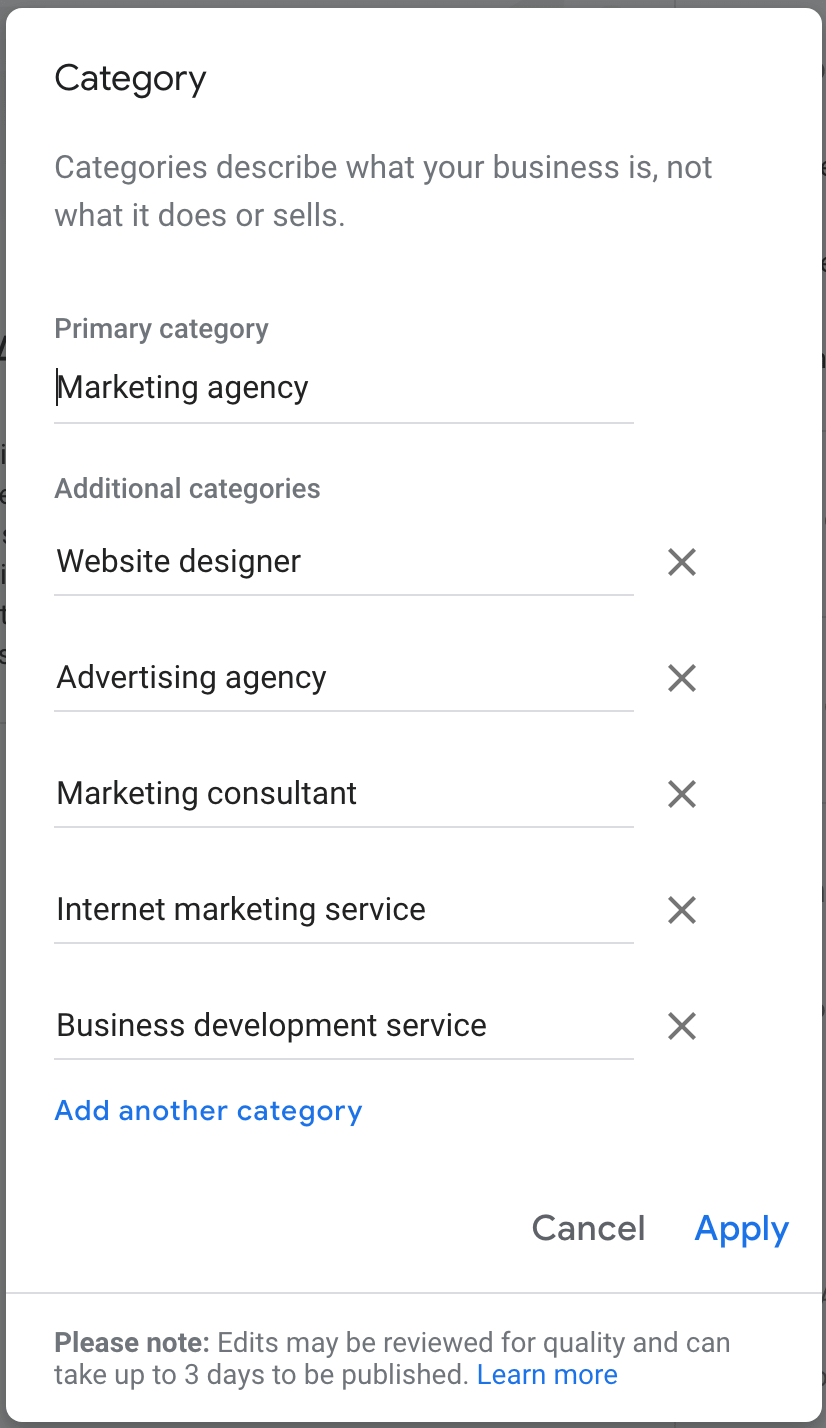 Add a business description
Previously on GMB, the most notable way to tell Google and searchers about your business was through the Google My Business category list of which there are nearly 4,000 options now.
However, that doesn't always give enough information especially if you're in a niche business.

A local friend of mine owns a cloth diaper boutique store and e-commerce site, Arctic Baby Bottoms. She sells "natural parenting" products like cloth diapers, cloth diaper accessories, and cool high-end baby supplies and toys.
When she went to fill out her GMB information, however, she ran into a problem: there's no category for cloth diaper store nor even diaper store.
There's diaper service, but that's not really true. Baby store is the closest to being right, but it still isn't a perfect fit.
It can be frustrating when you can't communicate to buyers who you really are and what you actually sell.
That problem has been solved with descriptions.
If you look down towards the bottom of the image above, you'll see a section that says From Arctic Baby Bottoms. That's the header for the business description.
Google now gives you 750 characters (~250 characters before the "Read More" separator) to describe your products, services, value, or whatever you want to communicate to your audience.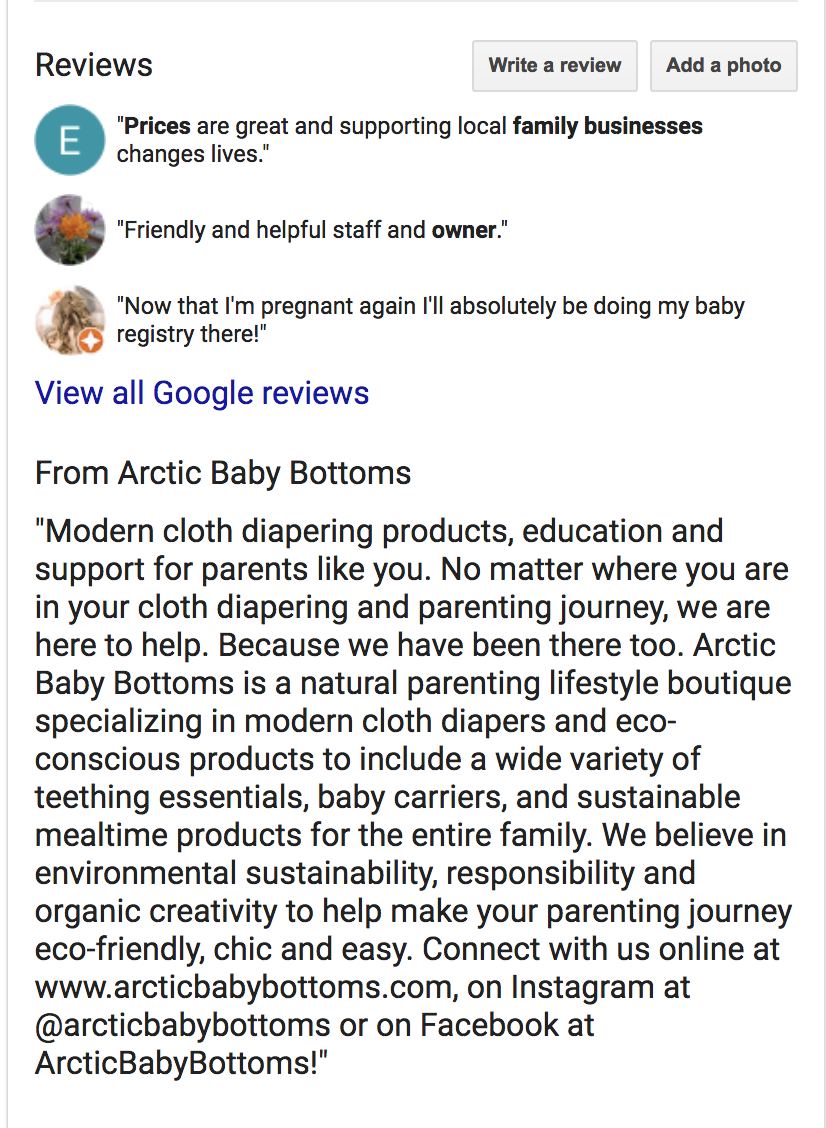 I highly suggest you make full use of every character, with a description between 730-750 characters.
Every sentence, phrase, word, character tells the buyer more about you.
Descriptions also improve your search rankings in Google.
Just as you're able to better communicate who you are to customers, you're able to tell Google the same information, and they can rank you for more search queries.
If you haven't added a description yet, you should see the following card as soon as you log into your GMB listing.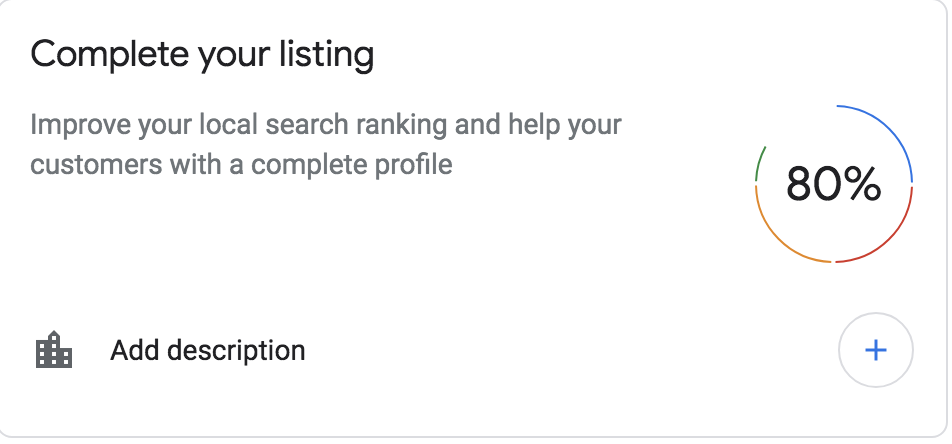 2. Upload more (better) images
Here's a fun fact about images on your GMB listing straight from Google:
"Businesses with photos receive 42% more requests for driving directions to their location from users on Google, and 35% more clicks through to their website than businesses that don't have photos."
Would you prefer customers visit your location rather than your competitors'? Then add some photos.
Let's say you were looking to buy some jewelry from a local jeweler.
One jeweler's GMB listing only shows their storefront, their logo, and their Google Street View; how likely are you to get an urge to drive over there right away?
But if you were able to see images of their showroom, see up-close pics of their display cases, and pics of the sales reps you may encounter, you're going to feel more confident in your expectations when you visit them, right?
If you sell products, showcase your products on your GMB listing.
Here's an example of just some of the GMB images from another IMPACT client, Burrells in Tunbridge Wells, UK.
If you provide a service like landscaping or home remodeling, show off the work you do like our friends at Schill Landscaping in Cleveland, Ohio.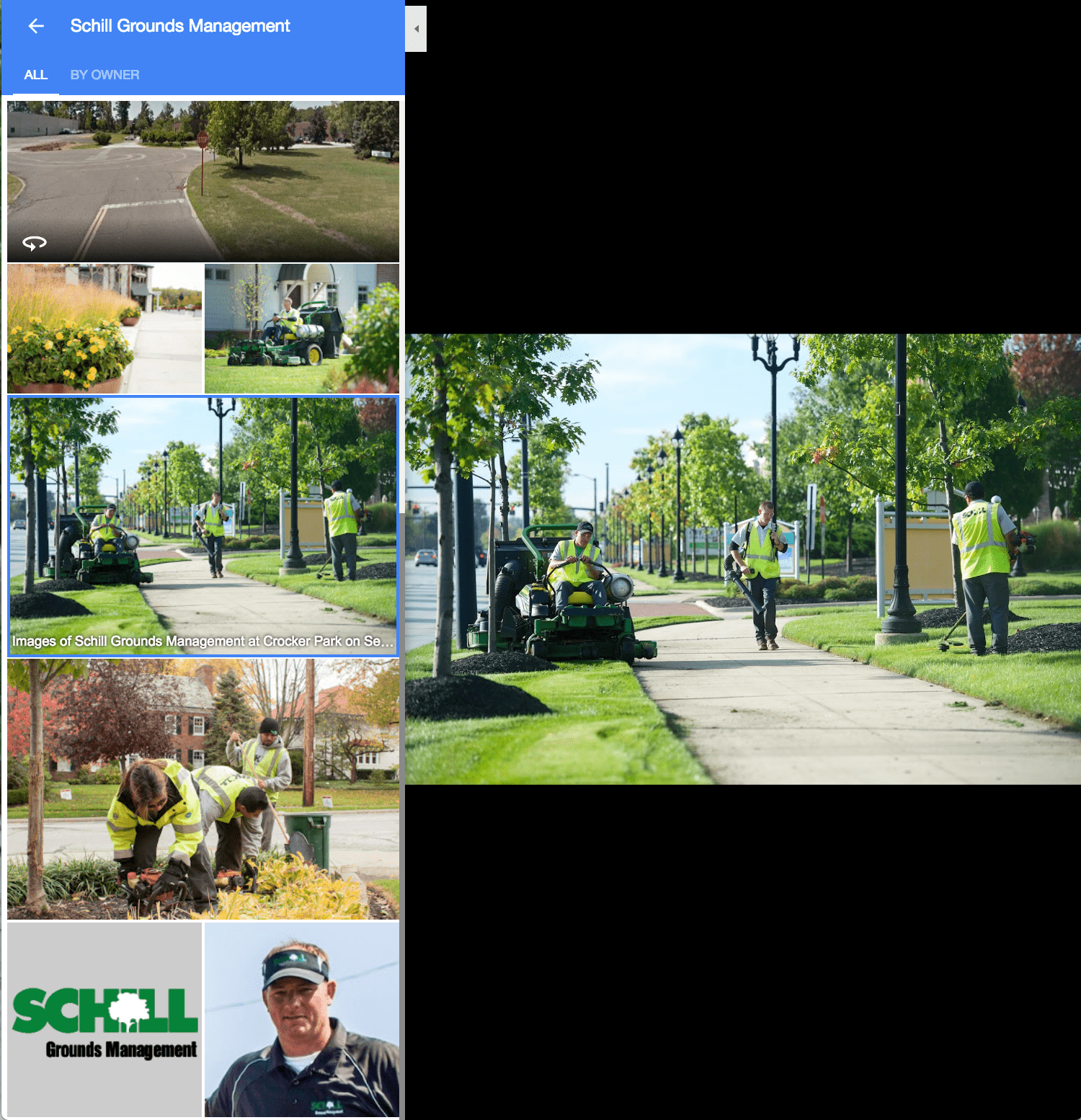 Take interior pics of your office/showroom. Take exterior pics of your building so buyers know which building is yours, or show them how big your lumber yard is. Upload pictures of your team so people know who to look for when they come in.
Other people can upload images to your Google My Business page too, and you should encourage customers to do so.
Do you run a restaurant? If so, you're probably already asking people to tag photos on Instagram and Facebook. Why not on GMB?
Fun fact, the last time I visited IMPACT headquarters in April, some of us went to trivia night at a regional chain, Wood-N-Tap Bar & Grill.
We took a group photo and Wood-N-Tap used it on both their spring and summer menus, and for the purpose of this article, I posted the image to their GMB page.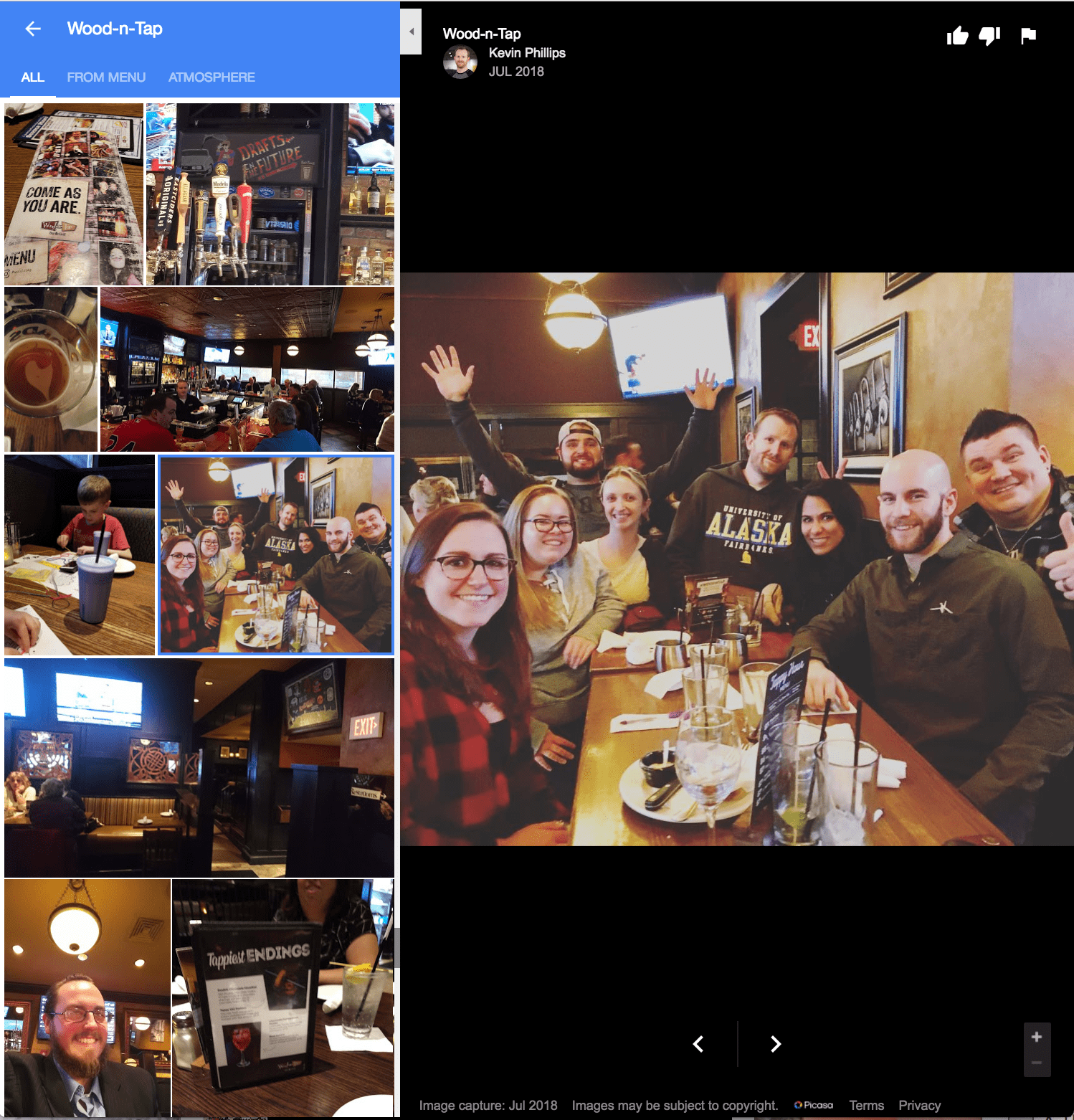 Can you guess which one is me?
Customers who have had a great buying experience from companies often become evangelists for brands they love.
Give them a great experience, and they're more likely to promote your brand by giving you free exposure like adding photos to your GMB page, tagging your business in social posts, leaving positive reviews, and more.
If you do have users sharing photos, don't forget to moderate them, sorting by Images By Customers.
You may find images you want removed:
Images posted by mistake that have nothing to do with your business
Poor quality images you don't want representing your business
Images that may be offensive or should remain private
3. Respond to reviews (all of them)
The reviews on your GMB page can be a deciding factor in whether or not a buyer engages with your brand. Just check out some of these statistics about Local Consumer Reviews:
97% of consumers looked online for local businesses in 2017
85% of consumers trust online reviews as much as personal recommendations
Positive reviews make 73% of consumers trust a local business more
68% of consumers left a local business review when asked
30% of consumers say they've judged a business based on its responses to reviews
When making a purchase decision, people look to others for their opinions.
We all do it. And we do it often. We want to learn from the experiences of those who have purchased before us.
Did they have a positive experience or did they have a negative experience? How likely will their experience mirror our own?
In the same vein, always respond to your reviews. Positive reviews give a good impression of your business and should be easy to respond to.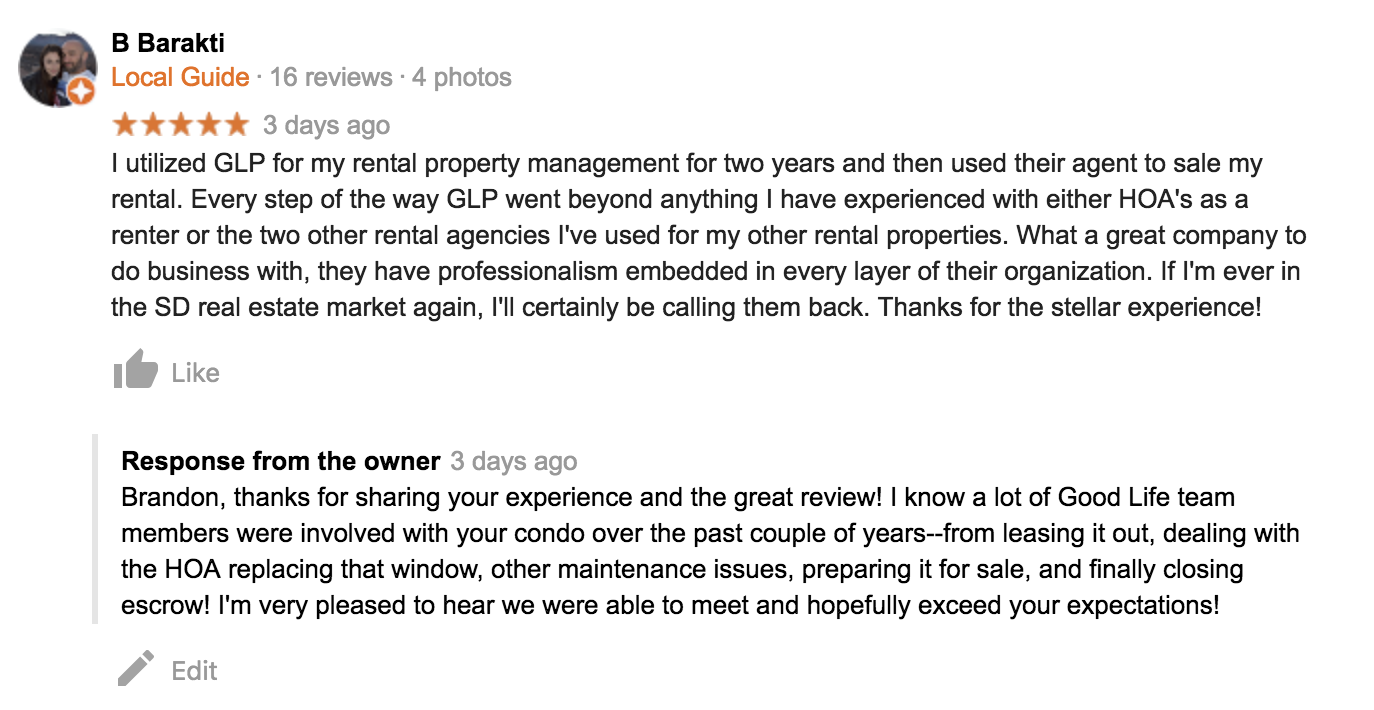 But what do you do about the inevitable one-star rating and the scathing negative review?
Many businesses shy away from them, hoping they'll go unnoticed, or worse, they end up engaging in a public knockdown-drag out-keyboard-fight.
That's not good for anybody -- Least of all the spectators, but you need to respond to those reviews. The people leaving them deserve it, and the people reading them need it.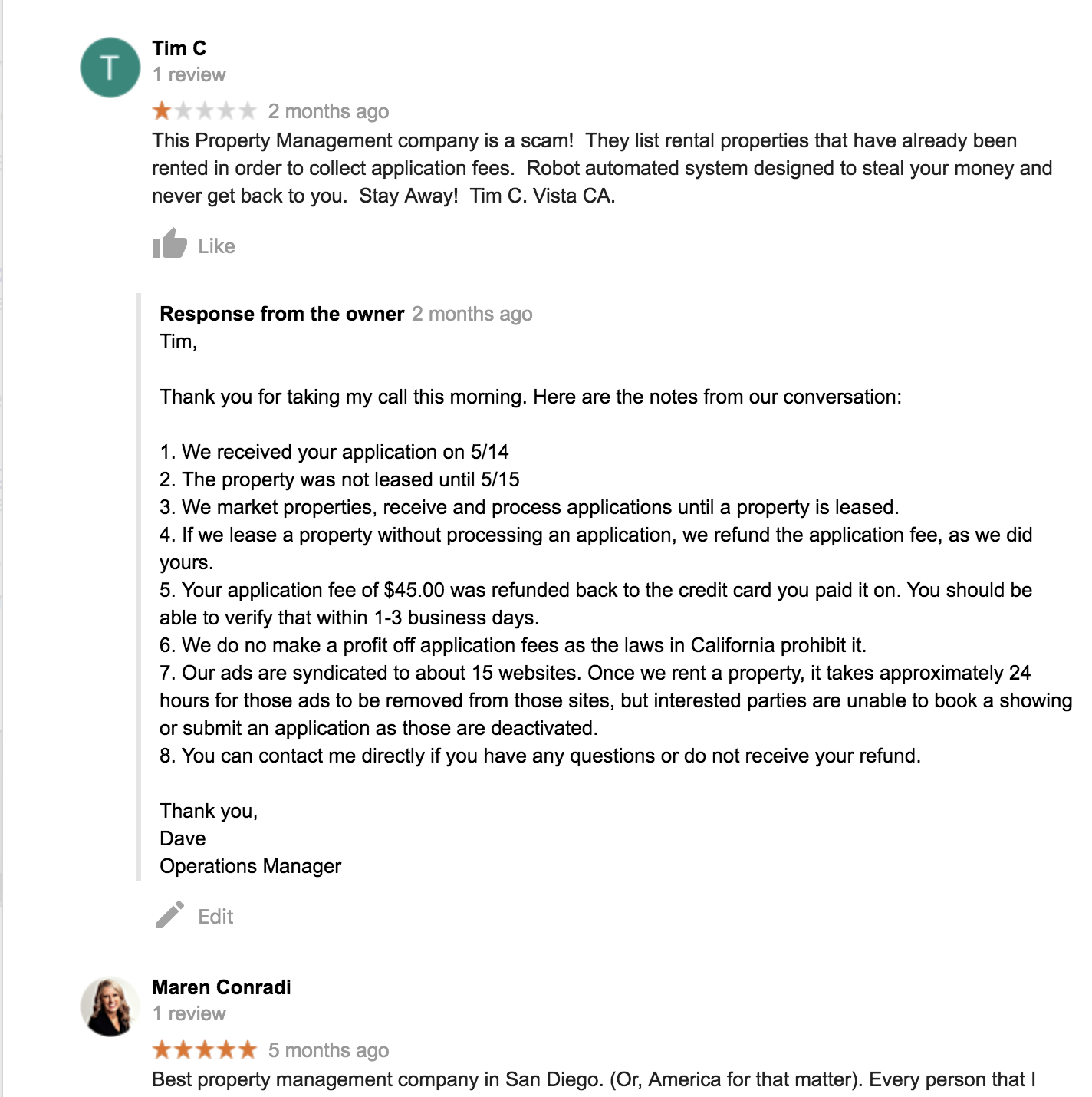 If our clients at Good Life Property Management had left that review unanswered, I may have looked at that page and been left with an impression that "they're scammers."
Why? Because I'd only have the information from one side.
However, Good Life did an amazing job of countering the angry response. They calmly and rationally explained the reasoning behind the issue and they promised to take care of it.
Tim, the reviewer, probably also feels a little better about his situation, having gotten to vent, be heard, and get a helpful response.
For new buyers, the response from Good Life was done so well that a lot of their credibility was restored and they won me over again.
If you need a lesson on how to engage with negative criticism from buyers, I highly recommend Jay Baer's book Hug Your Haters.
4. Use posts to promote events, offers, and content
In June 2017, Google rolled out Google posts to businesses.
Before Google posts, if you wanted to share your content, you had to do it on your website and social platforms.
But now, you can have your content show up on Google Search and Google maps in your business' knowledge panel.
So what kind of content am I talking about?
Blog articles

Company news

eBook downloads

Upcoming events

Special offers

Product promotion
Really, you can post whatever you want buyers to know about you, your products, and your services.
Promote an Event
For example, we used Google My Business posts to promote our IMPACT Live event in 2017.
We had tons of amazing speakers including Bob Ruffolo, Marcus Sheridan, Dharmesh Shah, Ann Handley, David Meerman Scott, and many more marketing, sales, and business pros.
And because we wanted our audience to know we were having this event, not only did we promote it all over our site and social media channels, we created a Google My Business post for it as well.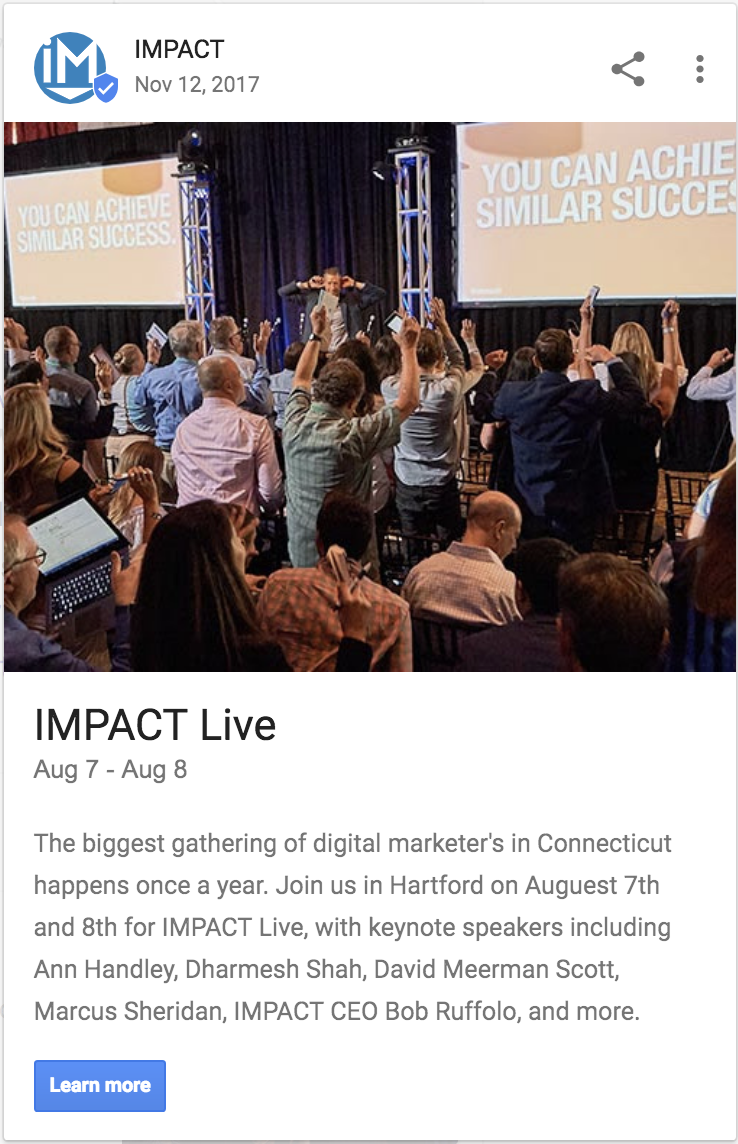 When people clicked on the post, they were taken to a landing page with all of the awesome details.
If you're reading this thinking to yourself, "that event sounds amazing. I wish I hadn't missed out on it," then I've got good news for you: the event will be back April 5-7, 2020 in Hartford, Connecticut as Digital Sales and Marketing World.
And you can bet we'll be promoting it real soon on our Google My Business page.
Here's another quick example of a special offer post: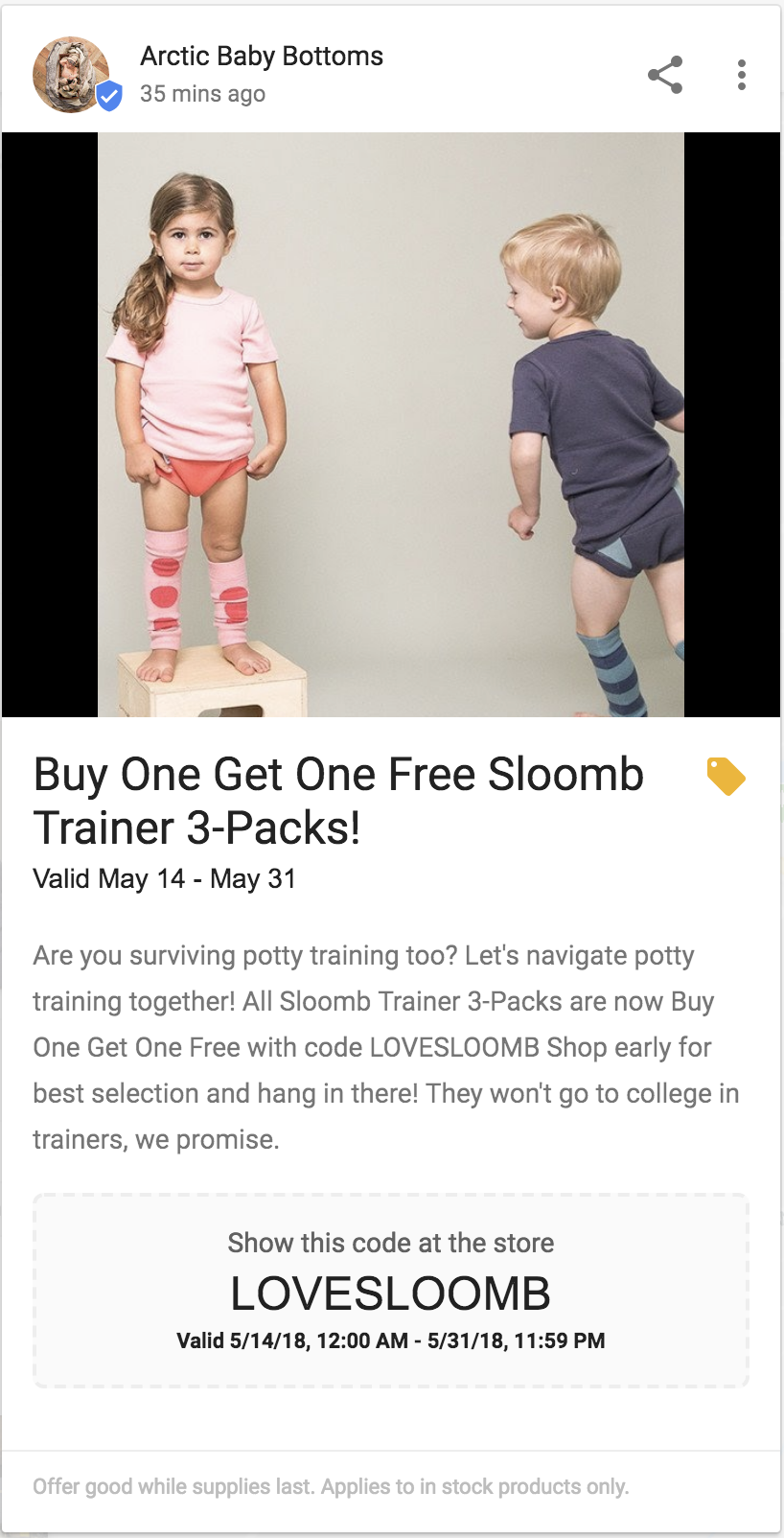 Or this one promoting an eBook download: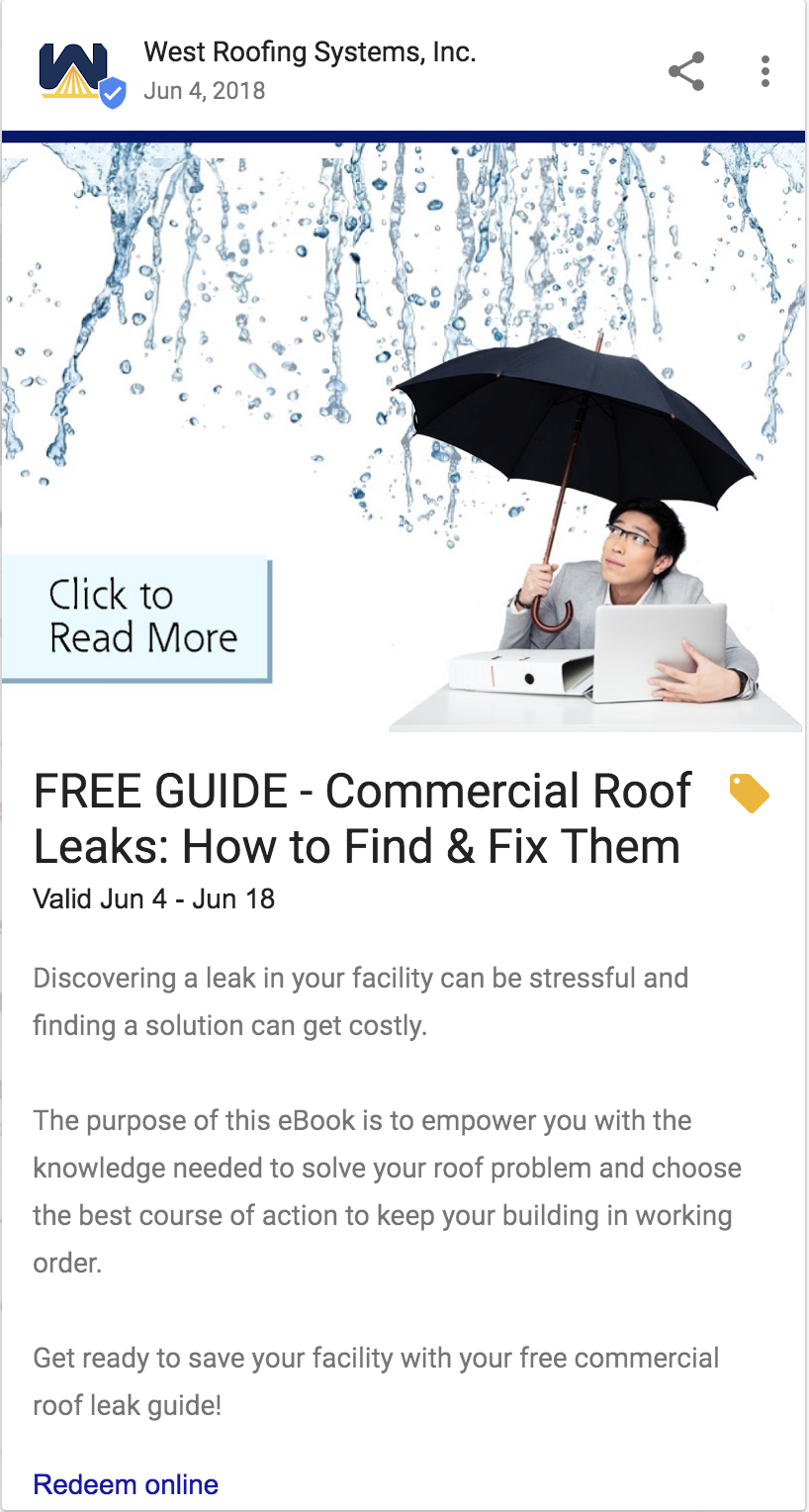 If you're not already convinced the impact Google posts can have on your audience, check out this quote from Google:
"Seventy percent of people look at multiple businesses before making a final choice. With Posts, you can share timely, relevant updates right on Google Search and maps to help your business stand out to potential customers. And by including custom calls-to-actions directly on your business listing, you can choose how to connect with your customers."
5. Upload videos
There is no better way to attract, engage, and communicate with your buyers than through video.
Here at IMPACT, we've been talking non-stop about video marketing for the last couple of years.
It's no longer what's new in marketing. It's here. It's powerful. And if your business isn't already leveraging it, you better get filming.
And once you've got some marketing videos to share, why not upload a few to your Google My Business page?
With Google My Business, there are two ways to promote video:
Upload to your Photos (once you click the "upload" button, it'll ask if you want to upload photos or videos)

Upload Videos as a Post
Upload videos to Photos
Here's an example from Circle Furniture of a video mixed in with their photos.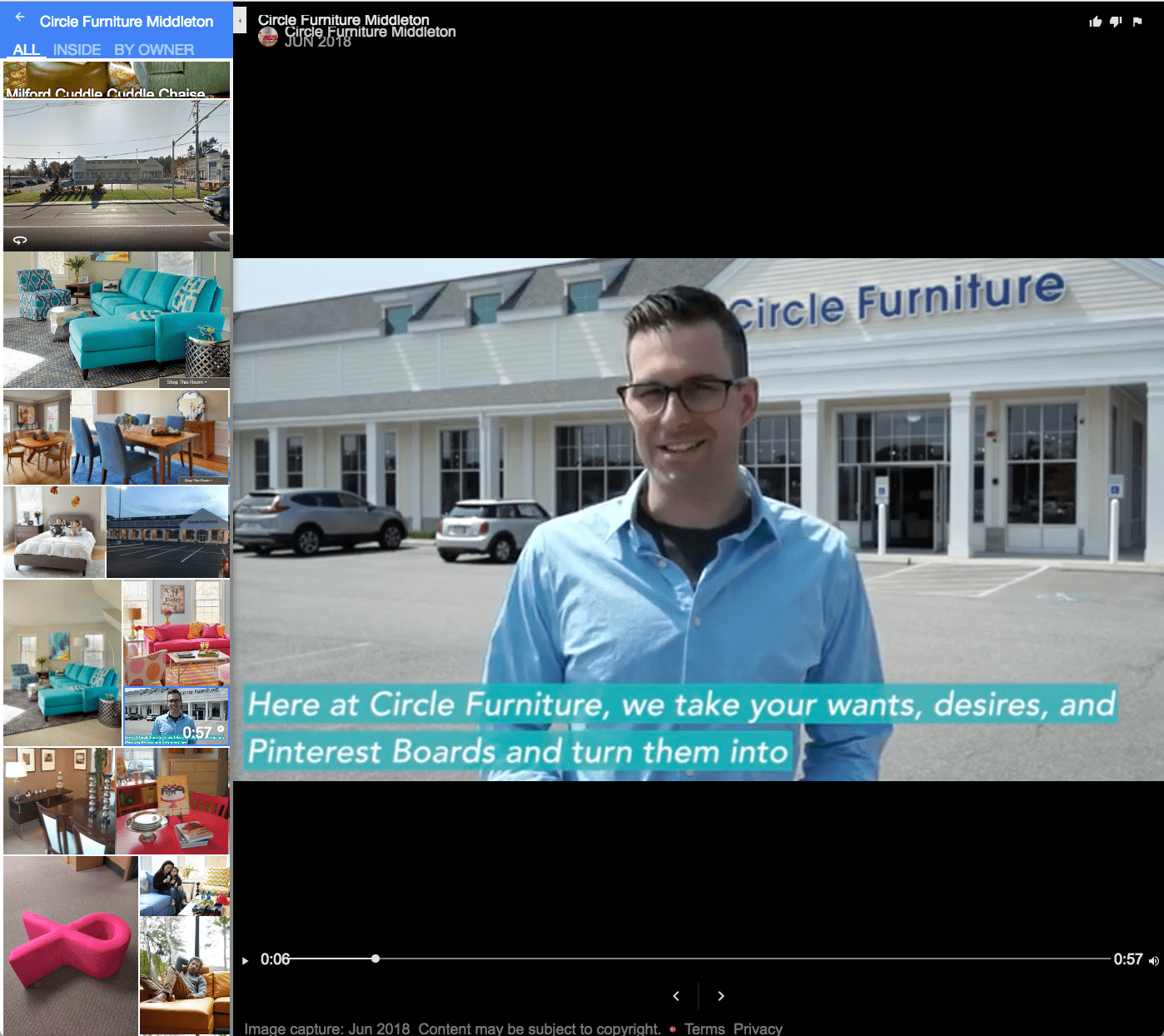 One problem I've noticed with uploading videos this way is that they don't always go to the top of the page (which I think they should). And sometimes, like in this case, the image is a little buried in the photo album (unless you click on it like I did here).
Fortunately, as you're scrolling through a business' GMB photos, the videos autoplay to grab your attention.
The maximum length for the videos claim to be 30 seconds, but I've seen clients upload videos up to 90 seconds without issue.
It seems to be the real maximum to videos is the file size. Keep them under 100 MB and you should be fine.
Upload videos as posts
There's another way to promote your videos through GMB rather than have it get buried amongst your images; you can upload a video as a post.
Remember the GMB knowledge card I shared earlier from AIS?
You may have noticed that one of the posts was a video.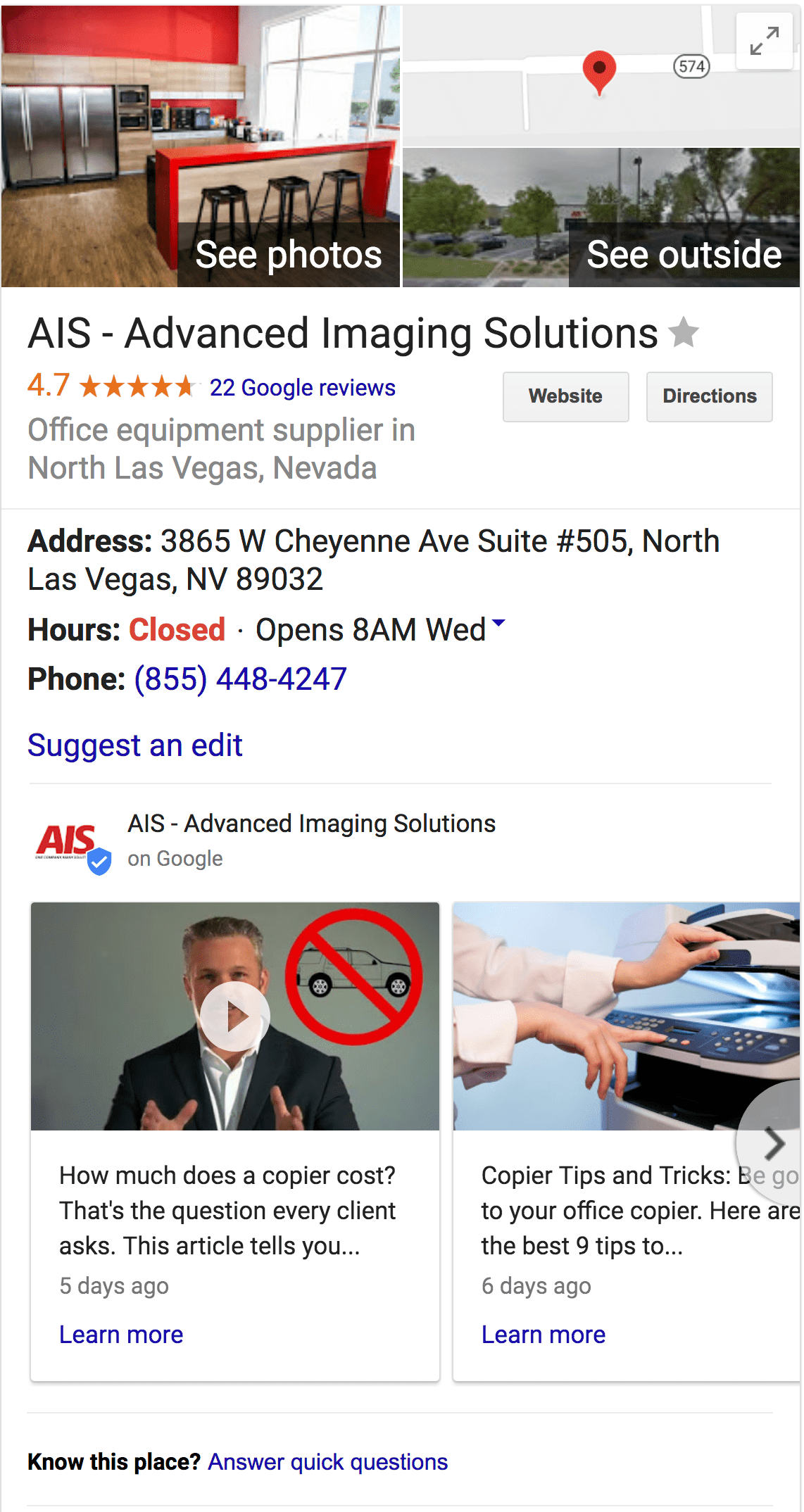 Yep, you can native upload a video as a Google Post and have it viewed directly on your GMB knowledge card.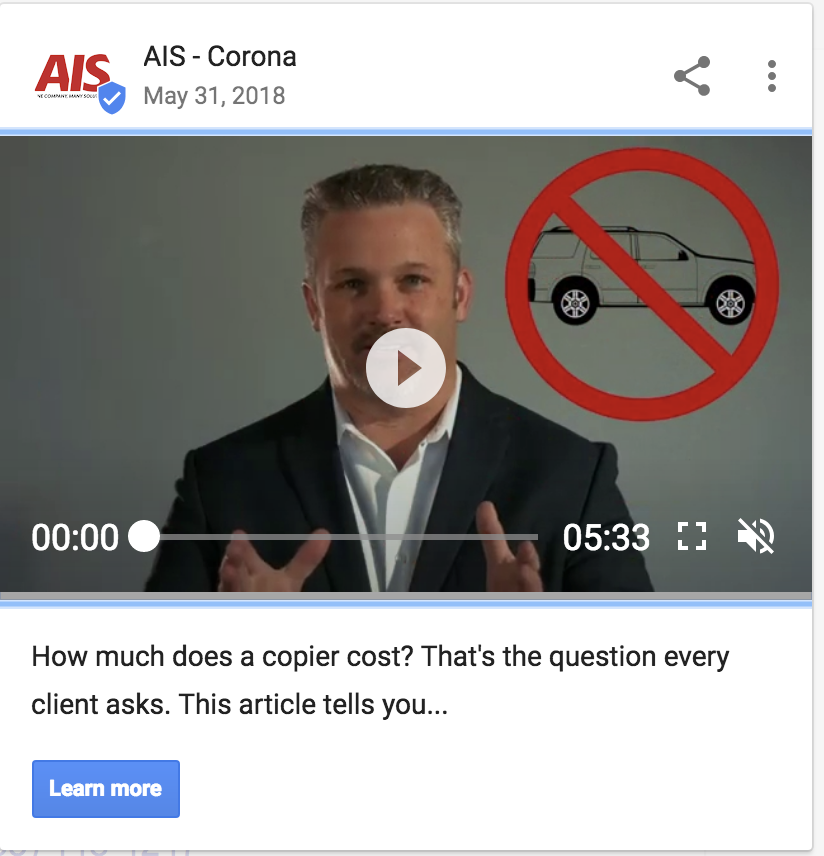 What are you waiting for? Take some of the videos you already have and upload them to your GMB page.
It only takes a few minutes and could be the determining factor in whether your buyer chooses you over your competitor.
6. Add shortnames
As of June 2019, Google added a featured called "shortnames" that allows your posts to get found in Google search as well as Google maps.
Shortnames allows customers to "follow" your business through your Google My Business page.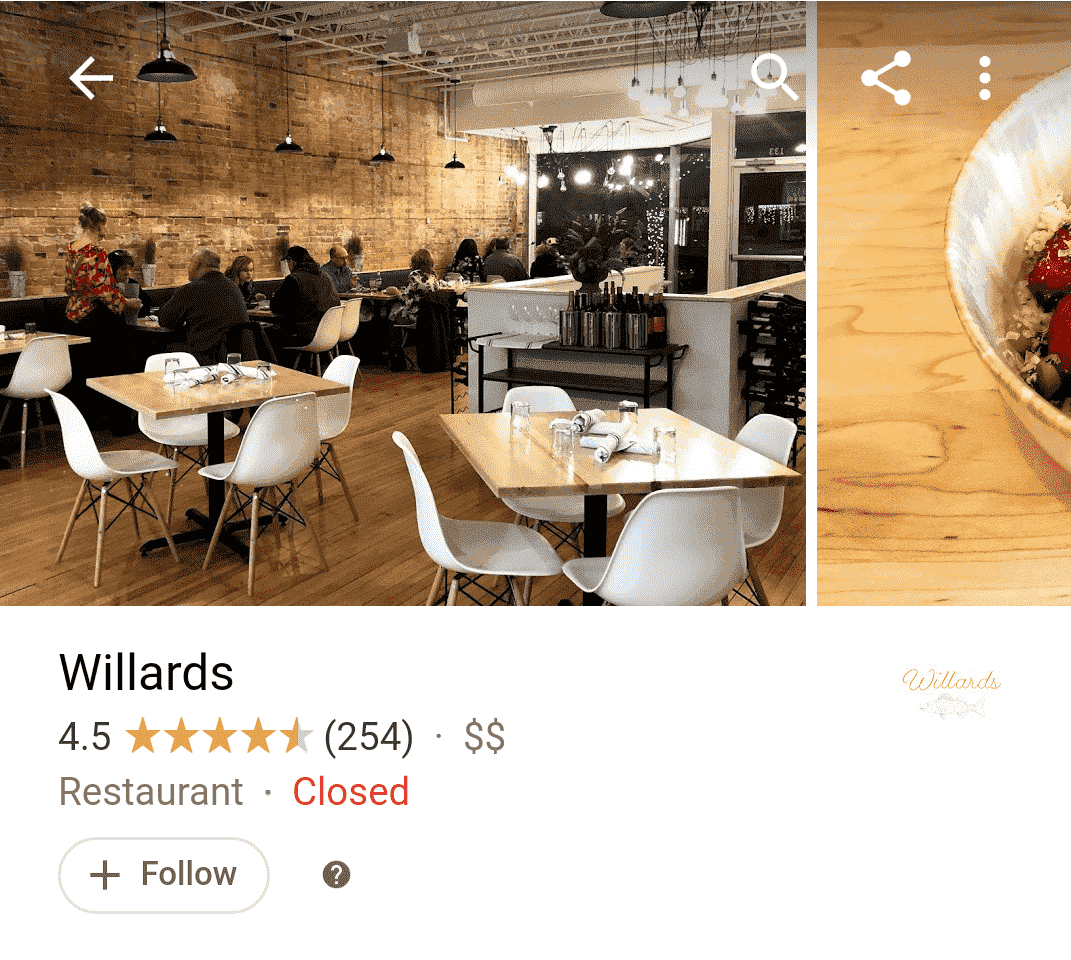 Once someone finds and follows your business, in their Google maps "For You" tab, Google posts and information about the business can begin to appear.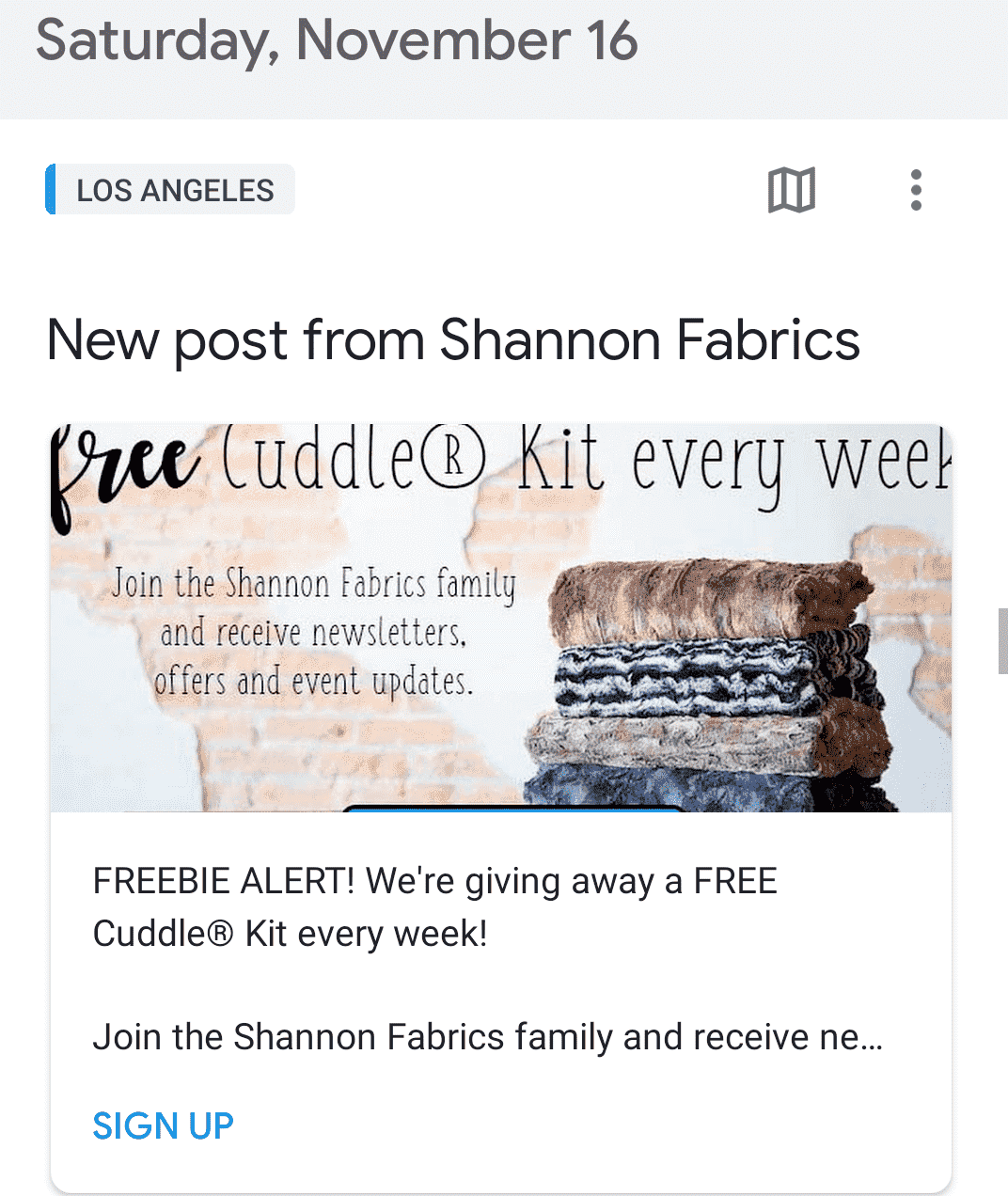 This new feature increases the potential for "local engagement" which also increases the likelihood of transactions.
Shortnames can be found in the info tab between your phone number and website link.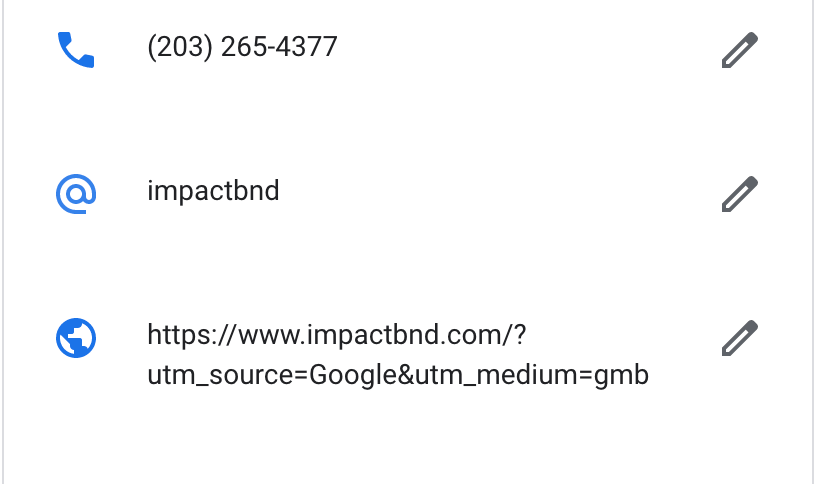 Final thoughts
So there you have it: my top 6 Google My Business tips for small businesses.
You now wield one of the most powerful tools a local business can utilize to position yourself in front of new buyers and stay ahead of your competitors.
And while you're out there hanging sheetrock with a screw gun like a pro, you can laugh at the other guys pounding those screws in with their hammers.
Free: Assessment
Does your website build trust with buyers and bring in revenue?
Take this free 6 question assessment and learn how your website can start living up to its potential.