10 best marketing events to look forward to in 2020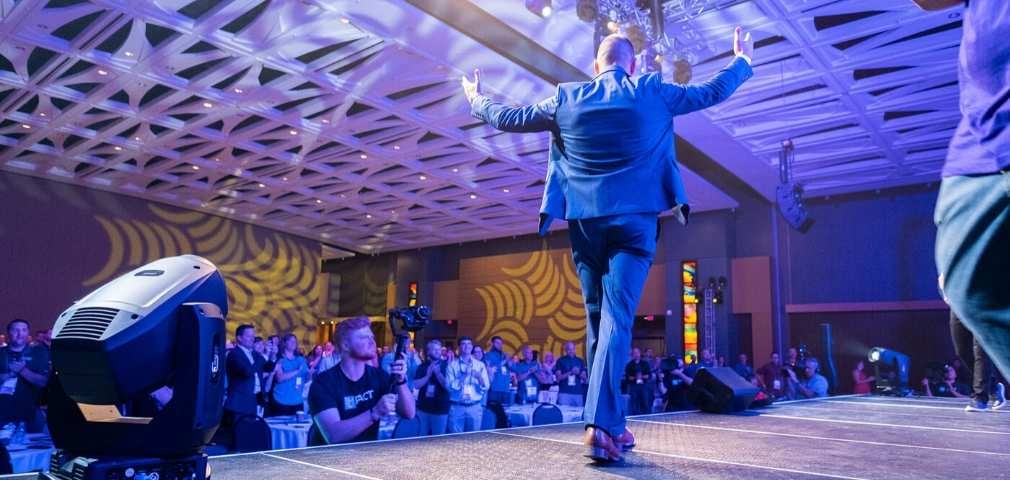 Best marketing events in 2020
SXSW
VidCon
Advertising Week
Digital Sales & Marketing World
Social Media Marketing World
Conex
Social Media Week
MAICON
MarketingProfs B2B Forum
INBOUND
When it comes to marketing conferences, I've done it all! I've been an attendee, a sponsor, a speaker, exhibitor, and an employee.
It's safe to say that over the years I've learned a thing or two about what makes for a great marketing conference and what to avoid. As a marketer, attending the right event is a great way to learn about the latest trends, get inspired and grow your network.
With 2020 just around the corner, I've put together a list of the top 10 marketing conferences I'm most excited about!
What should you look for in a marketing event?


When you're looking for a marketing event to attend, it's important to first know what your goals are.
Are you looking for new tactics or strategies that you can apply in your day-to-day role?
If so, you want to look for an event that's focused on your specific job, like digital marketing for example.
Look through the event's agenda and speakers to make sure the programming is relevant and useful to your role or company.
Are you looking to make a career move and expand your network?
In this case, make sure you look at the event's networking opportunities and who usually attends.
Some events are heavily focused on their programming and there is little opportunity for attendees to meet and get to know one another.
Look for events with networking happy hours, mentoring sessions, or breakout lunches. These will give you ample opportunity to grow your network!
Maybe you're just looking for some inspiration.
Look into conferences or events that cover multiple content tracks and have a diverse roster of speakers lined up This way, you can touch on a wide array of topics.
What should you look for if you want to sponsor a marketing event?
First of all, make sure you look at the event's prospectus or media kit.
This should give you good insight into who the attendees are, where they are coming from, and what the sponsorship opportunities are.
You don't want to spend money sponsoring an event and then find out that the audience you want to be in front of isn't there.
Also, think about your company's strengths and how your product or service will best be represented.
For some businesses, an exhibit space might be right, while others would be better off sponsoring a content track or keynote.
If you know what you want to get out of an event first, it'll help to identify the right events to attend that much easier.
The top 8 marketing events for 2020


1. SXSW - March 13-22, Austin, TX

SXSW (South by Southwest) has come a long way from being a small music festival in Texas. It's now one of the biggest media, entertainment, and branding events in the world.
I've attended SXSW as a marketer a few times and if you're looking to learn from the world's biggest and most influential brands, it's well worth your time.
From social media and content to experiential marketing and more, SXSW offers a broad scope of topics for marketers (and some pretty awesome parties to meet and get to know others in the industry!).
Make sure you take some time to walk around and take in the experiences that brands create during the event. It's truly something to marvel at!
2. VidCon - June 17-20, Anaheim, CA

If you're passionate about online video (which we all should be), VidCon should be on your must-attend list for 2020.
VidCon covers both the B2C and B2B side of online video with three distinct tracks: Community, Creator, and Industry.
The Community Track is made for fans, giving attendees access to YouTube creators, Q&As, live performances, and creative workshops.
Are you a video creator or aspiring to be? If so, the Creator Track is right for you. This track gets into the ins-and-outs of video production, business development, monetization, and more from the standpoint of video influencers.
Finally, for brands, agencies, and marketers, there is the Industry Track.
Attendees on this track will hear from industry-leading experts and digital creators and dive into insights on how to grow and monetize a business through video platforms, building sustainable communities, best practices, and more.

Advertising Week has been a staple event for marketers in New York for over 15 years.
Broken down into tracks as well, the event offers a wide array of content from the latest in Ad and MarTech to gaming, video, retail, entertainment, and more.
The conference is specifically designed to have a broad scope, allowing attendees to put together a curriculum of panels and workshops that not only focuses on what they can use in their daily jobs but what broadens their horizons.
With so much content to take in, make sure to plan your week ahead of time.

How many times have you attended a marketing event, come back to your office with a ton of great ideas you can't wait to implement, but ...no one on your team listens?
Digital Sales & Marketing World (formerly IMPACT Live) is different.
This event, hosted by our team, is designed to bring together marketing, sales and leadership teams.
As an attendee you'll go through an immersive and action-oriented opening workshop with keynote speaker, and author of They Ask, You Answer, Marcus Sheridan.
You'll learn the tactics and methodology that businesses are using to achieve incredible results with inbound marketing and understand how to apply them across your organization.
In addition to world-renowned keynote speakers, the afternoon role and industry-specific summits will allow each member of your team to dive-deep into the exact tactics, strategies, and insights they can apply in their role to help your organization surpass its sales and marketing goals.
Now, you might be thinking, "Wait, Kristen works for IMPACT, of course, Digital Sales & Marketing World is on this list."
While that is true, having attended IMPACT Live prior to being an employee of IMPACT, I can say with unbiased certainty that this truly is a different kind of marketing event.
Community passes start at $399 super early-bird pricing! Prices go up on January 31st, so now is the best time to get your ticket.

Hosted by Social Media Examiner, Social Media Marketing World is a massive, (yet hyper-focused event) designed to give marketers actionable tips from the world's top social media experts on Facebook, Instagram, YouTube, Messenger, LinkedIn, Pinterest, and Twitter.
Throughout the event, attendees can dive into social strategy, advertising, content marketing, video, analytics, and community building across the various platforms.
Social Media Marketing World prides itself on having "pitch-free" content and is specifically designed for marketers, so you can be sure the time you spend there will be valuable.

What I love about Conex, is that its hyper-focused on the content experience from the perspective of marketers in digital, demand generation, content marketing, and more to dive into how each facet of marketing can own and grow content.
Across two days, attendees are given a balance of tactical workshops mixed with actionable insights to take back to the office. If you're focused on growing and evolving your content in 2020, this is a great conference for you.

Don't let the name fool you. Social Media Week has grown beyond just talking about social. The event has over 3,000 attendees and covers everything a digital marketer would need, from content, branding, and technology to culture paid media and, of course, social media.
The theme for 2020 is Human.X and will dive into what it means to build a human-first and experience-driven approach to marketing. I personally love this theme!


If you're looking for ways to differentiate and enhance your marketing through technology, MAICON (from PR 20/20) takes a look at how Artificial Intelligence can be a game-changer for marketers.
While some of the other events on this list have a broad array of programming, MAICON keeps it niche.
If you're a marketer looking to integrate AI technology in your strategy, this conference will cover everything from understanding AI, how it works and how to educate your team, to getting support from leadership and building a successful and scalable strategy.

The B2B Forum is where "leaders, innovators, and people who like to make things happen gather to learn the latest in B2B marketing." One thing I really like about how MarketingProfs does their programming is that they tap into their network of B2B marketers to ensure the topics they are covering are truly what this audience needs to know to succeed.
Last year's sessions covered everything from how to get people talking about your business positively on social media to lessons in B2B video and account based marketing and selling on LinkedIn.
With such a wide array of highly tactical programming, the 2020 conference will be extremely beneficial for any B2B marketer to attend.
10. INBOUND - August 18-21, Boston, MA
HubSpot's Inbound conference brings together over 26,000 marketers, salespeople and customer success professionals for "a week of learning, inspiration and connection." With past keynotes like Michelle Obama, Issa Ray and Gary Vaynerchuk, INBOUND has a reputation for creating a program of thought provoking content.
The event is designed to inspire, educate and get attendees thinking. On top of that, the week is filled with networking opportunities like happy hours and comedy shows.
If you're a marketer, sales professional, start-up founder or solopreneur, INBOUND provides the perfect environment for getting out of the office and focusing on the big ideas your company needs.
Make the most of marketing events and do your homework

Whether you choose to attend one of these eight events or any other in 2020, make sure you do your research.
For any marketer, conferences like these will give you deep insights, actionable takeaways, and ample networking opportunities, but you need to plan your time wisely!
Sign-up for updates to stay on top of event agendas and speaker announcements, check out what networking opportunities there are, and stay engaged with the event's official social media accounts to explore discounts and other deals.
Let us know what events you're most excited for next year in IMPACT Elite!
Free Assessment:
How does your sales & marketing measure up?
Take this free, 5-minute assessment and learn what you can start doing today to boost traffic, leads, and sales.