Subscribe
Join 40,000+ sales and marketing pros who receive our weekly newsletter.
Get the most relevant, actionable digital sales and marketing insights you need to make smarter decisions faster... all in under five minutes.
Thanks, stay tuned for our upcoming edition.
Building a Winning Sales Culture: 6 Steps for Sales Managers and Reps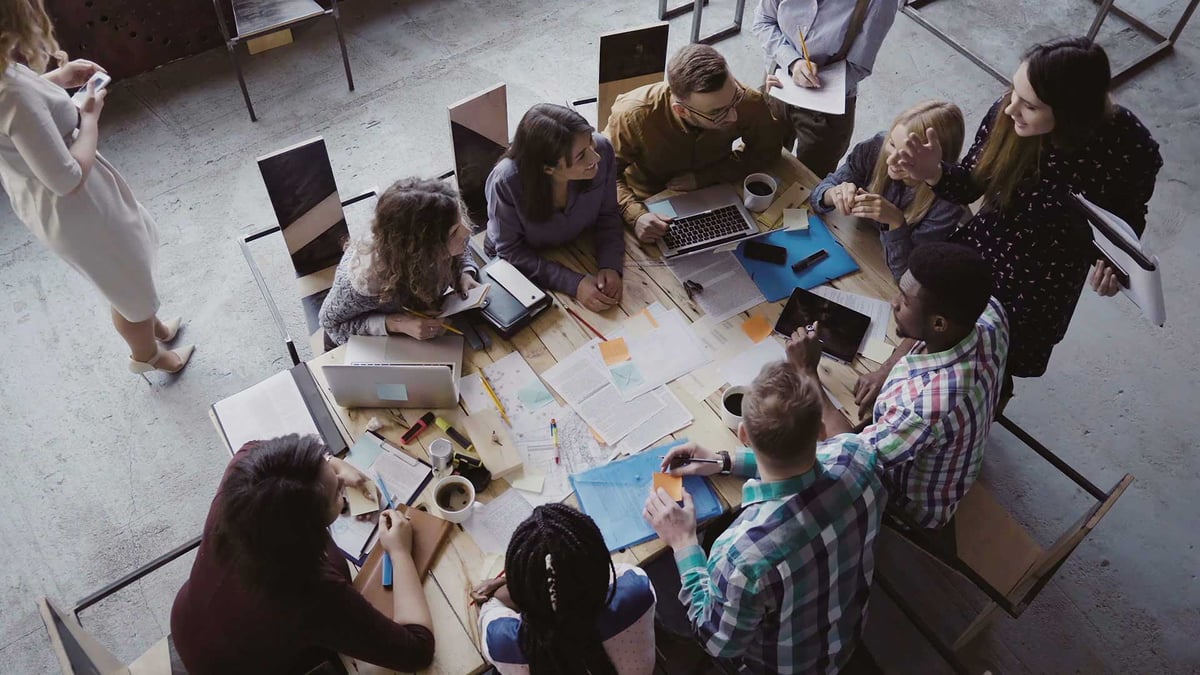 What is a sales culture? And what does it take to build and maintain it?
The basic building blocks of a sales culture appear to be simple, yet are challenging to implement for many.
Proactive Communication.

Full Transparency.

Company Dedication.

Shared Mission.

Continuous Learning.

Data Driven Decision Making.
These points are the foundation and major themes needed for building a successful sales culture.
While everyone may have their own idea of what "successful" means (i.e. increasing your bottom line, closing more deals, etc.), creating a sales culture requires commitment and accountability from the entire company.
That means everyone from the CEO all the way down to the frontline administrative assistant needs to foster it.
Today, we will focus on 6 steps, broken down for sales managers and sales reps, to help build and maintain a winning sales culture.
#1 Create the Right Starting Point
One of the hardest parts of creating change is getting started.
You'll inevitably experience obstacles along the way, but when you take the time to prepare and map out a plan and strategy, you will be more equipped to begin the process.
The right starting point is when goals and expectations are very clear and everyone understands their role.
From a sales manager's point-of-view, you need to dedicate the time to map out your communication plan.
How will you share the sales culture vision with your team? How will you reinforce it?
Half the battle of influencing this type of change is making sure everyone on the team is aligned and shares the same definition and language.
From a sales reps' point-of-view, you want to make sure you have a solid understanding of the overall sales culture goal, why the change is happening, and what's expected from you.
If there's a new process for reviewing sales goals and forecasts, do you know what you need to bring to the meeting to ensure you're making a useful contribution?
From a sales team point-of-view, you need to consider where you are, where you want to be, and how you will help each other enable success.
#2 Collaborate with the Marketing Team
Aligning sales and marketing has a real impact.
Businesses who focus on sales and marketing alignment achieved 208% higher revenue than organizations with disjointed teams.
Since marketing and sales are so closely related, ultimately working towards the same end-goal, it's important to establish a collaborative relationship. This means having a mutual level of trust and transparency.
Often, mistakes and miscommunication happen because of misunderstanding and lack of trust.
To build this trusting partnership, you must understand each other's roles and processes.
While curiosity may have killed the cat, expressing interest and curiosity about the roles and responsibilities of your teammates is one of the best ways to learn and improve.
Sales managers, you can enhance this process by encouraging your reps to carve out time on a weekly or monthly basis to spend with members of the marketing team. You may even consider holding a larger meeting, at least quarterly, to ensure everyone is up-to-date and still working towards the same lead and revenue goal. If not, then it's a good time to re-focus and adjust.
This type of meeting would focus on getting a better grasp of things like: what sources are driving the most traffic to the website? What piece of content or email campaign is driving the most leads and conversions? What type of content or campaigns are coming up next?
This meeting will also present the opportunity for an open dialogue between the teams; Giving both the chance to hear and understand the others' challenges and perhaps even offer solutions.
Sales reps, you can use this opportunity to also voice your concerns. Perhaps you've been using an email template created by the marketing team that just isn't doing the trick. Bring it up to your team, but make sure your feedback doesn't sound like an attack.
The key here is to maintain a level of respect and simply talk to them about the results you've seen, and whether they have any suggestions for improvement. Someone on the marketing team will be more than happy to review these things with you and will likely be appreciative that you want to know more.
#3 Create a Shared Language
Nobody likes playing the blame game, but often, that's what happens between sales and marketing.
Sales says marketing isn't generating good leads. Marketing says sales isn't following up properly.
The vicious cycle goes on and on, but it doesn't have to.
Everyone in the organization should share the same language and standards when discussing company processes and the sales pipeline.
Does everyone share the same definition of what makes a lead sales qualified vs. marketing qualified?
Are opportunities being added to the pipeline in the same way?
Does everyone follow the same process for onboarding new clients? What's the process for renewal clients?
When the entire organization shares the same language, it provides a framework; A shared framework that serves as a reference point and helps keep hand-off of leads simple and prevents people from stepping on each other's toes.
Sales managers, when you work with new hires, consider creating a standard practice where you review the words, acronyms, and processes used in the organization. It will help get your new hire up-to-speed quickly and make them feel more comfortable and less like an outsider.
Sales reps, it's all about consistency and quality. You are accountable for using the language and processes created by your organization.
Be aware of whether you're actually following the guidelines. If you run into any issues or ideas, then make note of it. You are the eyes and ears of the organization and your input is vital to improving upon what's already in motion.
Today, we are just focused on sales and marketing, but it's important to note that to build a successful sales culture, everyone from finance and HR to production and development needs to be involved and be fluent in the same language.
#4 Create an Environment of Continuous Learning
Sales and training. You can't have one without the other.
Sales professionals, similar to professional athletes, musicians, actors and actresses, require constant preparation and continuous practice.
This is why these professionals in all industries perform at such a high level. They know that continuous training and development will prepare them for any and every situation.
In sales, you must also be ready to handle different scenarios like turning around a new objection or thinking quickly on your feet to take a sales conversation in another, more favorable, direction.
Both sales managers and sales reps can help foster a safe environment for learning and development by testing these ideas:
Lunch and learns

. This is like an adult version of "show and tell." Each person is responsible for bringing a new, interesting, or useful piece of information to the meeting. This is your chance to share something you're passionate about.

Practice, or role play.

Think of this like the dress rehearsal before showtime. When you plan and practice what you'll say, you'll have more successful sales meetings.

Weekly Meetings

. Whether you're using your weekly meeting for pipeline reviews or simply as a check-in, it's a great time to incorporate training. Perhaps that means asking a few thought provoking questions to prompt reflection. Or maybe that means sharing a recent win or success story with the team to discuss ways you can replicate success.

Consultants.

Consider bringing in an outside training vendor or consultant to help facilitate and strategize a development plan. It's helpful to have a fresh perspective every now and then.
Winning sales cultures do these things, and more, to go above and beyond the call of duty to foster a healthy team environment where everyone feels supported and valued.
#5 Check In
Building momentum in a sales culture is the goal, but you have to stop and assess your progress from time to time as well.
Schedule regular check-in meetings to make sure you're on track.
Sales managers, this is your chance to ask for and gather feedback from your reps. Since they are "in the trenches" you can gain useful insights into what's resonating with the team and what might need to be adjusted.
Sales reps, use these check-in moments to ask questions, share ideas, and provide feedback. In a winning sales culture, your voice is important and those around you want you to be heard.
#6 Check Out
Checking in to ensure you're on track and making progress is clearly an essential piece of building and maintaining a successful sales culture, but, just as important is the notion of "checking out."
In other words, checking out a little early from the office to go to connect and bond outside of your normal work setting.
Consider a yoga or fitness class. Another form of checking out might be hosting a team potluck where everyone contributes and takes the time to step away from their desk to enjoy each other's company.
In a winning sales culture, team building isn't forced; It's natural and inclusive of everyone. That means providing different options that speak to a variety of personality types and age groups.
Key Takeaway
Creating a sales culture takes discipline, commitment, and focus. Sales managers and reps can help contribute to the overall success of building and maintaining a winning sales culture by following these six steps.
Download our 'Quick Tips for Selling Over the Phone' infographic for more insight into how to be more direct, identify the right times to call, and how to prepare, open, and close each call.
Free Assessment:
How does your sales & marketing measure up?
Take this free, 5-minute assessment and learn what you can start doing today to boost traffic, leads, and sales.