Sales and Marketing Alignment: How To Shorten Your Sales Cycle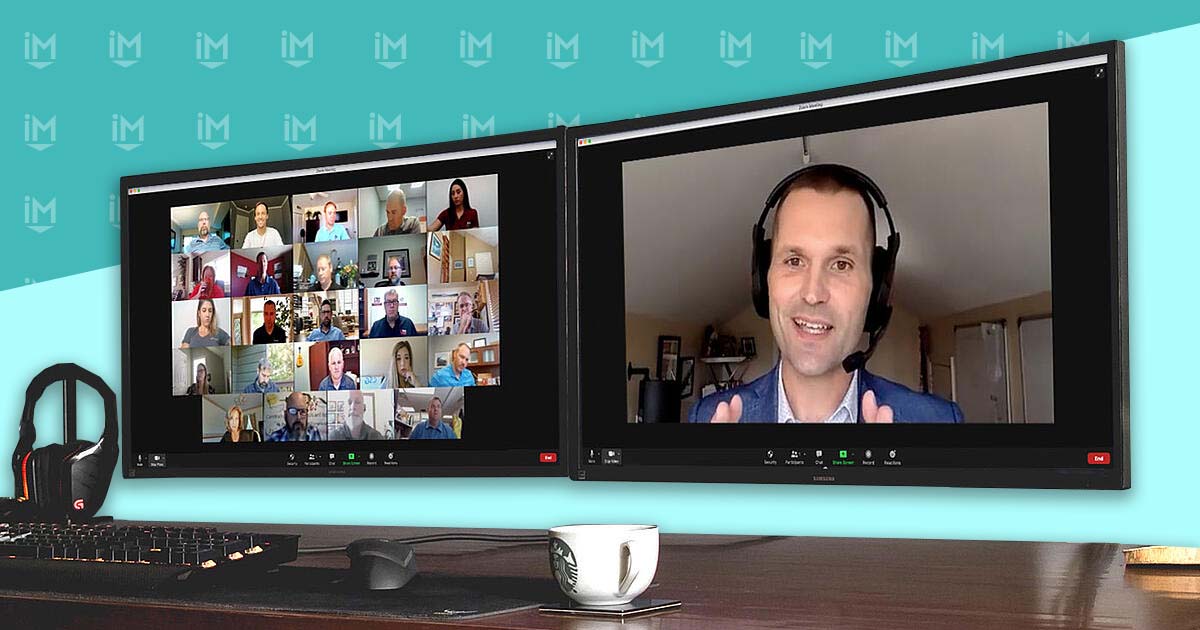 According to a recent study by Marketo, organizations with strong sales and marketing alignment experience roughly 70% higher conversion rates and over 200% more in revenue. But if we know alignment is so important to our bottom line, why do so many of us struggle to get it right?
Maybe you've been publishing inbound marketing content but aren't sure why the sales needle isn't moving enough, or you're getting better organic traffic numbers for your website but your sales team isn't landing as many sales as they should be. It's a challenge the businesses we work with experience daily (and something we at IMPACT sometimes struggle with too).
We all know a well-oiled sales and marketing machine can transform our businesses, whether you operate a B2B or B2C — but understanding how to make it work is where most of us get confused.
If you want to foster a seamless sales and marketing alignment that results in a shorter sales cycle and more revenue for your business, you need a step-by-step approach that takes out all the guesswork and provides a clear path toward success.
The following is a straightforward framework we teach our clients, and if you use this strategy too, your sales team will walk away knowing exactly what content your marketing team is producing and how to use it. In return, they'll experience a dramatically shorter sales cycle and increase in sales.
To get your sales and marketing teams working together more efficiently, resulting in an improved sales process with a shorter sales cycle and better ROI, you need to:
Build a content marketing culture in your business, top to bottom.
Create a revenue team to get everyone on board with the content your sales team needs.
Build a repository of helpful information that sales can use at any part of the process.
Train your sales team to properly use content in the selling process with assignment selling.
If you follow the steps as we've outlined below, you'll finally have a marketing and sales team that works fully together to create incredible content that actually gets not only more traffic but better-qualified leads and sales.
Ready to get started? Here's what to do.
Build a content culture in your business, especially with your sales and marketing teams
The first step toward aligning your sales and marketing teams is creating a content-creation culture in your business.
You might be thinking: What does this even mean?
At IMPACT, we believe that "programs" are abandoned just about as fast as the time it takes to set them up. But when we build a culture in our business, it becomes the way we live, breathe, and exist in our organizations.
But in order to build this culture — where your teams fully understand your customer and how to teach and sell to them effectively — your leadership, marketing, and sales teams all need to be on board with the plan. It's like training your dog to sit without yummy treats or rewards to offer him. Without your team understanding what's in it for them, this major shift in thinking won't work!
You need to ask yourself one question: Does your leadership team believe in the power content has to explode your sales? In other words, do they understand the value content has in growing your business?
If not, you need to fix this first, which is what this section is all about.
Get buy-in from sales and marketing
As we mentioned before, to build a true culture of content (or inbound marketing) at your business, your teams need to know what's in it for them. They need to know the what, why, and how — that by using (the right) content in the sales process, your team will have incredible power in shortening their sales cycle. There is magic that comes from a sales team's willingness to be a part of the content-production process, and when it happens alongside marketing, you'll be kicking yourself for not doing it sooner.
To achieve the success that comes from being the voice of trust in your industry, you'll need a different mindset — and this change is always met with resistance. We see it all the time in the organizations we work with, and one of the greatest success stories we like to share, that of Block Imaging, is no exception.
When Krista Kotrla (then a marketing manager with the company) tried to get her peers on board with using content, she heard the all-too-familiar responses, such as: "I don't have time" or "That's not my job." (Read: We don't see the importance of this "thing" that you do.) When she finally got her team to buy in, the company was able to use content to generate an extra $20 million in revenue.
You read that right. Content did that.
Without this understanding, content marketing will feel to your team like any other marketing trend. Set up that educational opportunity that helps your team learn how effective it is to leadership and sales. Once they catch the vision of what's truly possible, you can all work together toward the rest.
Hire a content manager
When we say content needs to be a culture within your organization, we don't mean you need to turn all your employees into world-class actors or writers. What it does mean is that you need their intelligence — these subject-matter experts know the ins and outs of your products and services.
What this also means is you can't dump content creation on an engineer, salesperson, or anyone else who is wearing a million hats in your organization. You need to have one person on staff who purely owns the content production process — start to finish.
We call this person a content manager, and not only will they ensure content is published regularly without fail, they will also:
Obsess over creating high-quality content that accurately reflects the true tone and spirit of your brand.
Interview your company's subject matter experts and capture their insights (and your company's unique perspective) and integrate it into your content.
Work directly with the sales team and help them integrate content into the sales process, allowing them to close more deals faster.
Monitor your organic search performance and routinely improve ranking and traffic results.
Update existing content to ensure it remains relevant and effective.
Oversee the other areas of your sales and marketing initiatives where content is critical (including your website, email, and social media).
This needs to be a full-time job for one person within your organization. They will regularly meet with your sales team, and be the sole person in charge of publishing at least three pieces of content per week (blog articles, podcasts, videos, etc.).
We've seen organizations take shortcuts here, and it never works out. Inevitably your content creation process will be put on the back burner, and you want to keep up the momentum.
Learn more about driving a content-driven culture with Marcus Sheridan's keynote, Building a True Culture of Inbound with They Ask, You Answer, or, as always, talk to an advisor who can lead you through the process and answer any questions you may have.
Get your sales and marketing teams working together as one
Once you get buy-in from your team and hire a content manager, you'll want your sales and marketing teams to meet regularly. They will meet to form a connected vision of how marketing can help sales get the content they need to close more deals faster.
While other types of "alignment" efforts can work, none will give you the results you want better than building what we call a revenue team. This team is made up of key players from your sales and marketing teams and is centered around their shared goal of increasing revenue through traffic, leads, and sales.
The members of these teams form a single unit that works together to achieve the mutual goal of revenue growth through:
Collaboration.
Information-sharing.
Brainstorming.
Problem-solving.
How it works: Instead of working in silos, where marketing creates content they think sales needs, sales and marketing will regularly meet to discuss which pieces of content the sales team needs. It's also an opportunity to see how the content marketing creates is working. This team needs to be hyper-focused on being aligned with which content will help generate more revenue and help sales close more deals faster.
This could include buying guides, articles on cost, etc. Focus on creating content your sales team gets asked about often, so they can forward this content to prospects before meeting them and save themselves time that would otherwise be spent answering these questions during sales calls.
Learn more about revenue teams in our free course, The revenue team approach to sales enablement content, or consult our advisors on ways to form your own revenue team in your business.
Build an internal content management system
You might have a learning center where buyers can read articles and watch videos about your offerings, but do you have an internal resource where sales can easily find the content they need?
If you build a repository of content that anyone can use at any point in the process, it allows your sales team to know where the toolbox is and find the tools. Resources such as Paperflite can help your team share and organize content easily while capturing engagement analytics as well.
It's also helpful to establish a system where, when marketing creates content, sales is notified about the new resources available to them.
For more information about getting buy-in from your team and making this cultural shift within your company, watch Marcus Sheridan's keynote Building a True Culture of Inbound with They Ask, You Answer. It's full of useful information you can use immediately in your sales process. Also, set up some time to talk to an advisor who can answer any questions you might have.
Implement assignment selling in your company to shorten the sales cycle and sell more efficiently
Assignment selling, when set up and used correctly, will be your sales team's No. 1 selling tool for shortening the sales cycle and driving up revenue.
The plan is easy to draw up and use, and if you design it the right way for your company, you will see unbelievable results in sales cycles, timelines, and closing rates.
It works — and it will always work — because your prospects will always care about one fundamental thing: learning as much as possible about what they are going to buy. Your prospects have questions, and instead of spending your time addressing them on each call, let the content do the work for you.
We call this method "assignment selling," and it's the ultimate tool your marketing and sales teams need to work toward for shortening your sales cycle.
What assignment selling is and how it works
Our sales teams spend far too much time educating prospects on calls, and not enough time actually selling. It all comes down to a choice: Do we spend our time educating prospects whenever we have a chance to meet face to face? Or do we take the time to plan for and create content that fulfills this purpose at the exact moment the prospect is looking for it?
When you use content to educate prospects, you are ushering them toward a sale more quickly and easily for your sales team. We call it assignment selling because after you've created all that incredible content you know your sales team actually needs, you then send it to prospects as an assignment to read before your sales call.
How to use the assignment-selling process to shorten the sales funnel
Using content to accelerate prospects through the sales funnel means educating buyers with at least 30 pages of content before your sales call. This will make sure your prospects are well-educated — and therefore more prepared to buy — before your sales team reaches out.
There's a certain way we ask prospects to do this:
Include a definitive "why" you're giving them the assignment. For example, "I've attached a guide to read before our meeting that will answer all your questions in advance so we can make the best use of our time together."
Offer a tease about what's in it for them: "Here are all the options you need to consider before making a purchase."
Get confirmation they will complete the assignment: "Will you take the time before the appointment?"
If someone's not willing to take the time to read your content, education doesn't matter to them, and they will buy based on price anyway. As such, this process often eliminates prospects that aren't a good fit.
Assignment selling is the best and most efficient solution for your sales team when it comes to shortening the sales cycle and zeroing in on the right potential buyers. It is the content your revenue team should be meeting about and obsessing over because it will improve your sales cycle the most.
For more information on assignment selling and how it works, watch our free course Assignment Selling: Content Is Your Greatest Sales Tool. Set up an appointment to talk to an advisor for additional support.
Don't wait — shorten your sales cycle and enable your sales team to land more deals today
When you take the time to properly align your sales and marketing teams, you will see unbelievable results in shortened sales cycles, skyrocketing closing rates, and incredible ROI.
All the tools and examples we shared with you here are from an award-winning inbound marketing framework we teach our clients called They Ask, You Answer. The framework has helped hundreds of businesses just like yours gain millions in revenue.
To take the first step at implementing They Ask, You Answer in your business, talk to one of our advisors who can walk you through how to see these incredible results at your own company.
If you'd like to read more before you reach out, here are some additional resources:
With strategic coaching and hands-on training for your marketing and sales teams, we can help your company improve your marketing metrics and scale your business with content.
Free Assessment:
How does your sales & marketing measure up?
Take this free, 5-minute assessment and learn what you can start doing today to boost traffic, leads, and sales.