A Weekly Onboarding Guide for Your New Content Manager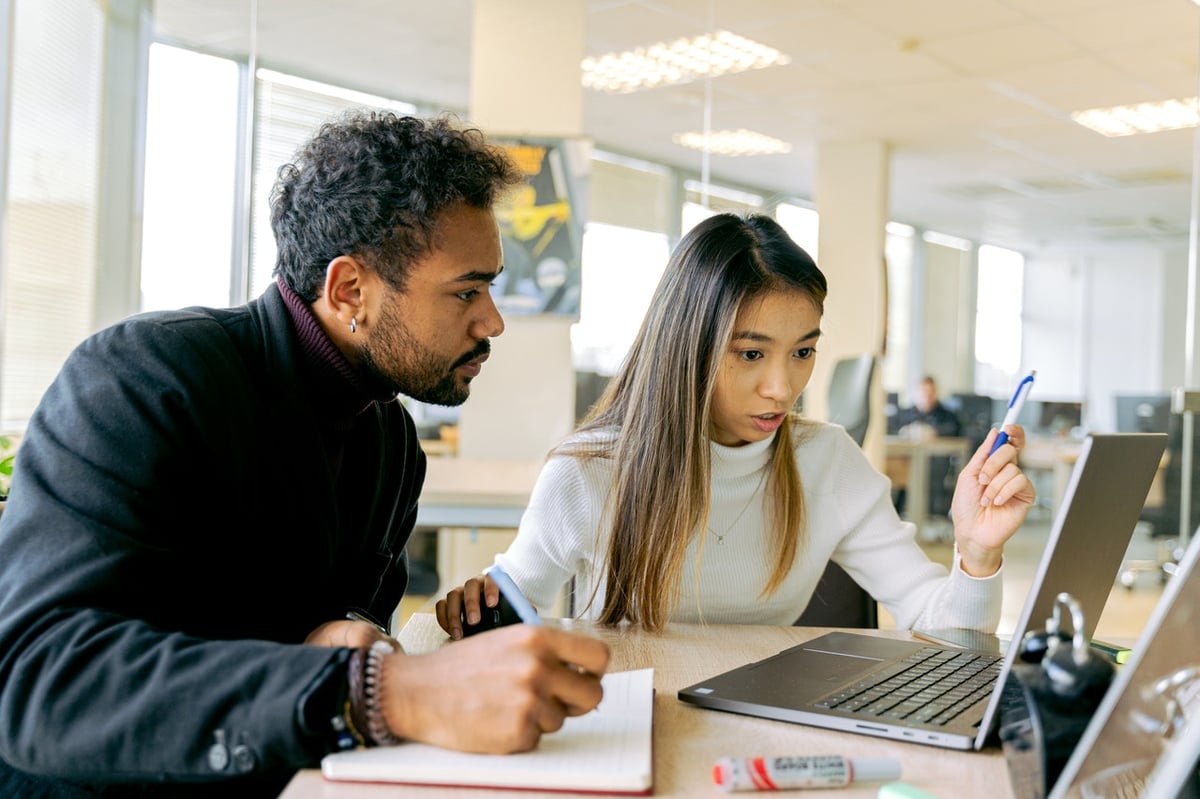 As you start out on your They Ask, You Answer journey, you'll certainly be eager to begin seeing results. The most consequential step you'll take in this whole process (other than choosing to work with IMPACT) is hiring your content manager.
As fast as you want to move, this is a hire you have to get right. (If you're still looking for the right candidate, this course will help you interview and hire the best fit for your company.)
But if you've moved past that step, with an accepted offer and a penciled-in start date for your new content manager, you've now got another challenge: How to get this person up and running to be the voice of your company.
The good news is this: Within four weeks of the day you hire your new content manager, that person should be fully onboarded, producing three articles per week and confidently representing your brand in written content.
To get to that point, this new employee needs a balance of training and support. If you follow the right steps, your content manager will feel challenged and accomplished without feeling overwhelmed.
So, how do you get your new content manager comfortably situated in their new position?
The key is frequent touchpoints, supportive accountability, and trust.
Make sure you're checking in regularly — once a week formally, with frequent informal checkups in between.
Make sure this person is clear about what they need to produce, as well as the process they'll need to follow to produce it.
Make sure this person feels trusted to figure out their own way to produce content and to develop their own writing voice.
Micromanagement and impatience could lead to an unhappy, unproductive employee, so do your best to get this right.
This article has everything you need to get your new hire onboarded:
A deep look at the "why" behind the onboarding process.
How to prepare your company for the cultural shift that a content manager represents.
A week-by-week onboarding guide so your new content manager doesn't miss a step.
Essential relevant resources to round out their learning.
If you're about to bring on a content manager, bookmark this page. You'll want to come back to it to check your progress.
Why onboarding doesn't take as long as you think
Companies new to They Ask, You Answer are often concerned that the hiring and onboarding of a content manager will be a long, drawn-out process that will inhibit their progress.
After all, this new hire will be speaking for your company. Don't they need to learn your business inside and out before they start writing?
No.
Writing content helps them learn about your company and complete their onboarding.
Marcus Sheridan believes that content managers should start producing content almost immediately upon being hired. This is, he says, the best possible onboarding.
Your content manager should have the same "cultural onboarding" as every other employee, and their content production should begin within the first two weeks.
For a content manager — especially if this is the first one you've hired at your company — much of the onboarding should focus on relationship building.
Your content manager will be an integral part of both the marketing and sales teams. They will be asking for people's time and feedback. They need to be well-liked and trusted.
This kind of relationship can only develop if it's given the time to do so. Do what you can to lay the foundations for good relationships.
The rest of the company needs to see the content manager's intelligence, aptitude, and personality.
You also need to onboard your company to your content manager
Your content manager will become the central administrator of your They Ask, You Answer initiative.
But they can't do this job alone.
Company leadership needs to make everyone aware of what the hiring of the content manager means. Bringing on a content manager represents an organizational shift, and if the rest of the company is not bought-in to what that shift means, the content manager is likely to struggle, through no fault of their own.
The biggest mistake most companies make is not giving their new content managers authority.
For the content manager to be successful, the entire company needs to be onboarded to them. Organizational leaders need to make the rest of the company aware of the content manager's role — and the fact that all other employees will have to play a part in content creation.
Thus, when considering the onboarding you plan for your content manager, be prepared to consider the institutional changes necessary to make this new hire successful. Make sure the rest of the company is ready to support this person as they do their job.
A 4-week onboarding guide for your new content manager
When your new content manager has accepted the position and is about to start, use the guidelines below to get them efficiently up to speed.
Week 1: Understanding the company, understanding the role
Starting on day one, your content manager should undergo the normal onboarding that any new employee would experience. In addition to housekeeping items like HR, this could involve reviewing any materials that provide information about your culture, your people, and your processes.
While this is going on, make sure they are immersing themselves in They Ask, You Answer and the nature of their role.
Vital learning:
The materials below are essential. (Other learning opportunities on the IMPACT blog, in IMPACT+, or at HubSpot Academy should supplement these core materials.)
Expected outcomes:
In the first week, it is critical that the new content manager:
Develops a clear understanding of They Ask, You Answer principles.
Meets all key company stakeholders and future subject matter experts.
Begins to plan a production process that will allow them to consistently write and publish three pieces of content per week.
Schedules initial content brainstorm meetings (that will happen in the second week).
Begins to accumulate a backlog of content needs.
What else to add to their schedule:
The new content manager should have frequent check-ins with their new manager (at least every other day).
At the same time, they should be getting a crash course on everything they need to know. Schedule coffee chats for them. Have different team members take them out to lunch. Have the content manager sit in on huddles and other meetings, getting to know your business, your products or services, and your people.
By the end of week one, your content manager must see themselves as a crucial part of your They Ask, You Answer initiative.
Week 2: The revenue team and the content production process
Meet with your content manager and other stakeholders to determine a list of content priorities and important topics to cover. Remember, to follow They Ask, You Answer, your content manager should first focus on content for the sales team. What buyer-centric content will help answer questions and speed up the sales process? What questions keep coming up in sales calls?
Make sure your content manager schedules at least two subject matter expert (SME) interviews during the second week. As new content topics emerge, help your content manager attach an SME to each article. The SME could be a salesperson, an engineer, a service lead, or anyone else at the company who has the necessary knowledge.
Think of it like this: If a prospect has a question during the sales process, who would be the most compelling internal expert to answer that question? Your content manager will serve as a conduit to convey that answer to the person asking the question.
Vital learning:
Expected output: 1 finished article, 1 draft, 2 outlines
The content manager should plan to write one article during week two, but not plan on publishing it until week three. Other drafts, outlines, and content ideas will help them begin to build a backlog.
Your content manager should establish a process to organize projects. This should be completed by the end of week two.
One step of the process will be getting approval before a piece goes live. Make sure you're clear about which stakeholders need to grant approval to any given piece of content. This prevents bottlenecks and keeps things moving along.
What else to add to their schedule:
The content manager should sit in on any sales meetings that happen this week, time permitting. Additionally, they should watch at least 30 minutes of recorded sales calls per day.
Continue to schedule coffee chats and other such events to build relationships.
Week 3: Assignment selling and The Big 5
For They Ask, You Answer to have the most immediate impact possible, the sales team must utilize content with prospects to shorten the sales cycle. We call this process "assignment selling," and the more the content manager knows about this, the better the content will be.
We tell our clients to first focus on The Big 5 — five topics that are on the minds of every one of your buyers. Big 5 content can be immediately employed in the sales cycle, and it can also be optimized for search engines.
The first pieces your content manager will produce are going to be Big 5 articles, so building early familiarity is critical. By the third week, the content manager should know The Big 5 very well.
Vital learning:
Expected output: 2 finished articles, 2 drafts, 3 outlines
Work with your content manager to determine the greatest content needs. Your content manager should produce two drafts following SEO protocols and adhering to your company's brand style.
After the drafts are submitted, read them and be ready to provide feedback at a workshop session. Don't wait. Try to get feedback to the content manager as soon as possible. It will kill their momentum if their drafts sit around for days and days.
What else to add to their schedule
The content manager should continue to attend sales meetings and coffee chats, and other meetings as time permits.
Week 4: SEO and the healthy content pipeline
Content is not just for use in the sales process. Over time, it will attract organic site visitors who will find your blog, come to your landing pages, and check out your offerings. If your content speaks to these potential buyers and answers their questions, it will build trust and drive revenue.
Your content manager will need to know how to optimize their content for search engines. While SEO can be an esoteric and highly technical subject, the basics are pretty simple to grasp.
In week four, be sure that you're covering your bases by having your content manager focus on SEO best practices.
Vital learning
Expected output: 3 finished articles, 3 drafts, 3 outlines
Use the established project management system and approval process to monitor progress on these newest drafts.
While these three drafts are written, the content manager should be writing outlines for the next three articles.
A healthy content pipeline should have a content manager always working two to three weeks ahead. In other words, on a Monday, the content manager should already have their three pieces for the week staged and scheduled.
In the early weeks, they'll have to work to start building that pipeline.
What else to add to their schedule:
Set up regular content brainstorm meetings with the sales team. These should be once a month at least, but probably once every two weeks. Your content manager will need a constant influx of questions to answer and topics to cover. Brainstorms are critical for this reason.
Now the fun begins
After four weeks of intense learning, your content manager should be fully up to speed.
Does this mean they've learned all they need to know about your company, content marketing, and They Ask, You Answer? Not even close.
We advise our clients to develop a culture of learning so that employees are encouraged to keep tinkering, discovering, and adapting, always seeking to do their job better.
At our monthly content manager Mastermind groups on IMPACT+, seasoned content marketers gather to discuss the finer points of their trade. Even with years of experience, these professionals are always seeking out new tools, new angles, and new perspectives.
Your content manager must keep learning — and writing will be a way to facilitate that growth.
Your content manager should keep up to date by taking IMPACT+ courses, earning HubSpot Academy certifications, and attending conferences and events.
And make sure they make time to sit in on meetings for different teams, watch sales and service calls, and help shape the way your business talks about itself.
You will increasingly trust them to tell your stories and speak to your customers because they will come to know them as well as anyone else.
Free Assessment:
How does your sales & marketing measure up?
Take this free, 5-minute assessment and learn what you can start doing today to boost traffic, leads, and sales.