Subscribe
Join 40,000+ sales and marketing pros who receive our weekly newsletter.
Get the most relevant, actionable digital sales and marketing insights you need to make smarter decisions faster... all in under five minutes.
Thanks, stay tuned for our upcoming edition.
As a Business Coach, Here's When I Tell Companies to Hire Instead of Promote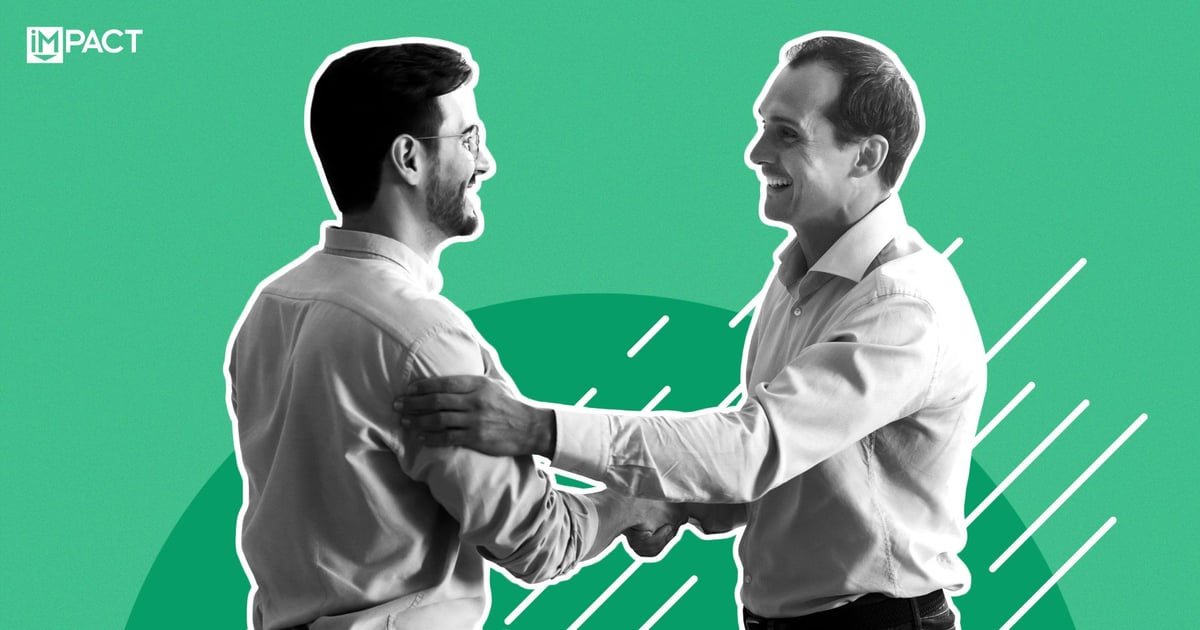 Bill Gates famously said that "a great writer of software code is worth 10,000 times the price of an average software writer."
There's a bit of hyperbole here, I suppose, but the sentiment is a powerful one: The difference between average employees and great employees isn't measured in tiny improvements. The impact the great employee will have on your organization is massive. Possibly transformational.
This is yet another reminder that getting the right people on the bus is directly tied to the long-term success of your business.
As if you needed another reminder.
Getting hiring right is tough. And this difficulty really hits home when you're deciding between hiring externally or promoting from within. Not only does the success of the single hire weigh upon your decision — so too might company morale. If you pass over a promising employee for an outsider who makes all the wrong waves, you risk losing both.

For more than 12 years, I've coached businesses through hiring decisions. This is how I help them decide between an internal and external candidate.
When to hire externally
Everyone loves the started-as-the-cashier-ended-as-the-CEO story. We want to promote from within and show our workers that they can advance to leadership roles.

But it's not always the best choice. Even though bringing in outside candidates can hurt company morale, it's sometimes the right choice for your business.
The hard truth is this: Just because someone is great at one job does not necessarily mean that they will be great at the job that's one level above.
Great chefs don't always make great restaurant managers, great teachers don't always make great principals, and great marketers don't always make great brand managers.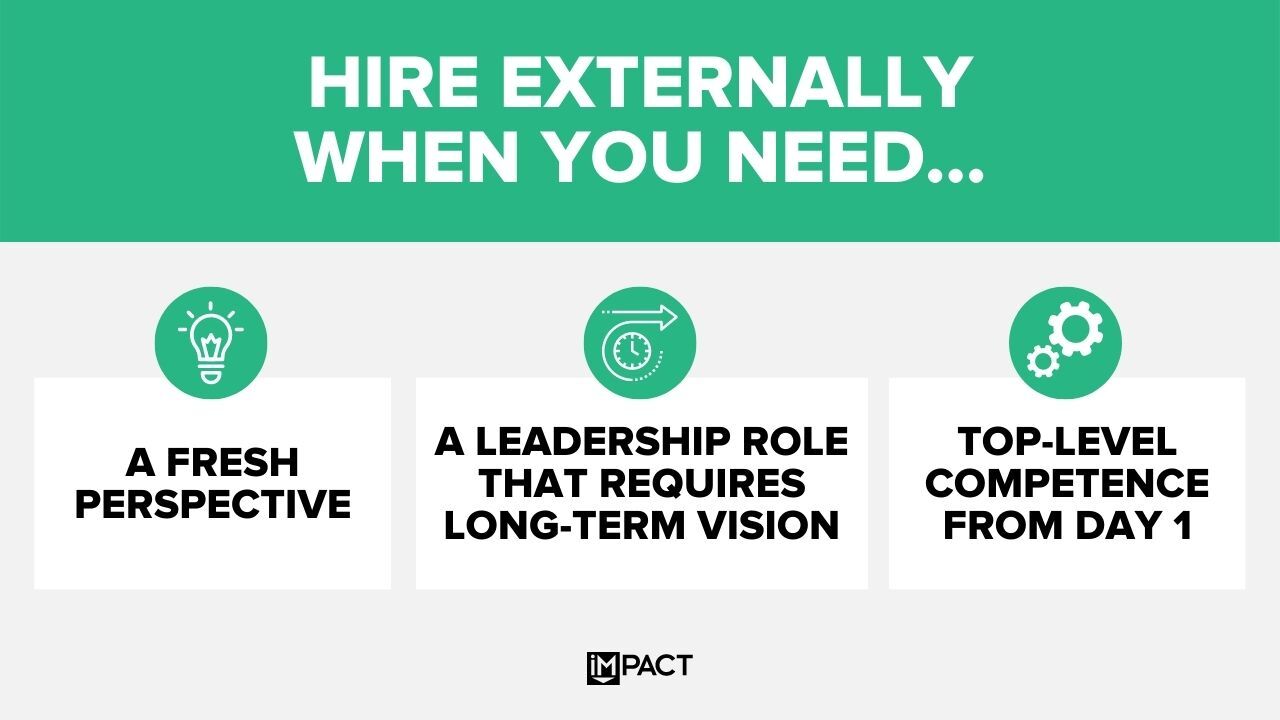 Hiring externally makes the most sense in three cases:
You need to hire for a leadership role that requires long-term vision. A major limitation I see with some internal hires is that they're bound by short-term thinking. They're able to plan for a quarter or two, but they're not prepared to craft the 3-5 year visions that are vital to the long-term direction of a company.
You need to hire for a fresh perspective. This is less cut and dry, but it's connected to the first one. Sometimes (but not always) internal candidates are bound by inside-the-box thinking that reflects the way we do things here. If you're in need of innovation, an external candidate can often bring that.
You need a new hire to have top-level competence from Day 1. You need a VP of Marketing. You need a CFO. You need a Director of Product. The new hire needs to step in and immediately be prepared to lead a team. In such cases, you want someone who has filled the same role somewhere else. Sure, they'll need to learn your company, but you're much less likely to have any rookie mistakes.
In these cases, an external candidate is your best bet, but such hires come with risks.
The risk of the external hire
No matter how good people look on a resume, no matter how well they interview — there's no real way of knowing what their impact will be until they're on your team. They're not a known commodity. This is the biggest risk with hiring externally.
They could be better than you're hoping, ready to grow and flourish into a true impact player. Or their best days could be behind them, and unforeseen deficiencies turn into office issues.
Do everything you can to vet candidates. Make sure they complete appropriate tasks during the application process. Make sure they know everything they need to about the role. Make sure they meet the team. Make sure to call and follow up with references. This will provide the best hedge against the risk.
When to promote from within
When you hire internally you're working with more of a known commodity. The applicants know your culture and know your people. Though they will need to adjust to their new role, other aspects of onboarding can be quick.
Hiring internally helps your company fulfill its promise to its employees. After all, you want to be a place where people come, grow, and stay. Each team member wants to see a career path that offers advancement, challenge, and a higher salary.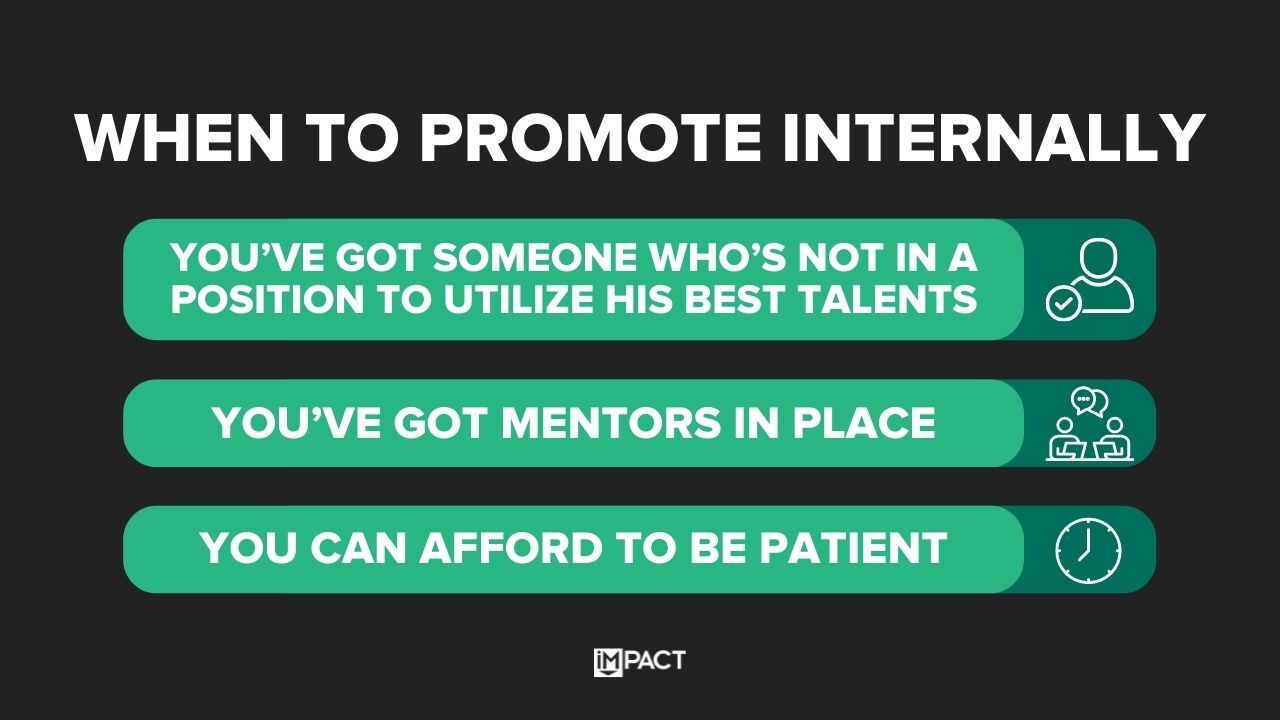 So, when are the best times to promote that team member into a new role?
You've got someone who's not in a position to utilize his best talents. An employee with high growth potential might become bored in a role that doesn't offer new challenges. A promotion can kickstart growth.
You've got mentors in place. Is this newly promoted VP going to have more seasoned peers to coach her? Is the new sales manager set up for success? With an internal candidate who might lack role-specific experience, a support team is vital.
You can afford to be patient. Growth takes time — and it often comes by way of mistakes. If you can be patient and help coach an internal promotion, you can be in a position to benefit from her potential.
The beauty of internal promotion is the possibility for growth. That newly minted head of marketing has put in the time and is ready to shine. She could be better than any external candidate you could find. It just might take some time.
However, it does come with risks.
The risk of the internal promotion
The risks of hiring internally are pretty much the flipsides of the very benefits that make this option attractive.
Yes, they know your culture. Are they still going to be able to bring fresh ideas?
Yes, they know your people. Are those relationships going to limit their impact?
Yes, they know how things are done now. Can they set a long-term vision for change and smart growth?
All of the exciting potential of an internal candidate comes with risks that need to be weighed before any decision is made.
The best way to solve for this is to get it out in the open. In the interview process, ask specifically about the candidate's vision. (Note, there still must be an interview process for internal candidates!) Speak to people on the same team to get specific feedback. Look over past performance reviews and other documents, too.
Focus on hiring, but don't forget about culture
Let me say one last thing clearly: There is no such thing as a perfect candidate. To reach their full potential, all workers need a balance of challenge and support. While hiring the right person is important — critical, even — even the best workers will flounder if your company culture is not one of collaboration, stability, and psychological safety.
Hiring the right people will help you build a better culture, but not without effort.

If you'd like to learn more about how I and the other IMPACT coaches help businesses transform, you can reach out to me on LinkedIn or talk to one of our in-house advisors.
Free Assessment:
How does your sales & marketing measure up?
Take this free, 5-minute assessment and learn what you can start doing today to boost traffic, leads, and sales.