What is Assignment Selling? (Using Content to Close Deals Faster)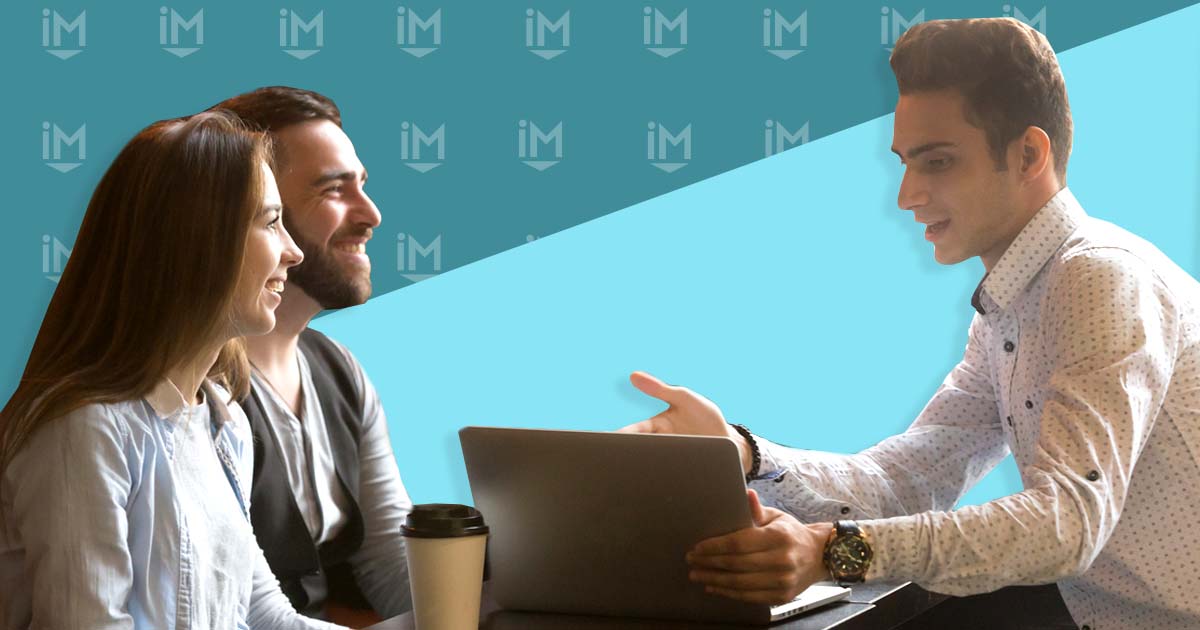 One of the most frequent complaints I hear about content marketing is how much time it takes to see results.
You write an amazing blog, hit publish, and often have to wait several weeks (or even months) before it ranks high in search.
In fact, one of my own pieces of content, What is Content Marketing, took just shy of a year to crack the first page of Google and is just now starting to bring in organic traffic.
For businesses looking for quick ROI from their content, it can be a bit discouraging, leaving many wondering if the time it takes to see results is worth the effort.
However, even though that particular piece of content took nearly 11 months to reach the first page, by then, it had already accrued hundreds of views and helped influence revenue for our company.
A fundamental misconception about content marketing is that it's only good for two things: bringing in organic traffic and bringing in social media traffic.
While organic traffic works well in the long run, social media traffic is helpful in the short term. One takes a long time to catch on, and the other flares up and burns out in the blink of a day.

But there's another, much better, option for your content that can be used from the day it's published and for as long as the content remains relevant: have your salespeople send relevant, helpful content to prospects ahead of sales calls to educate buyers on their most pressing questions before they even ask them.
We call this assignment selling.
Join the IMPACT coaches for a deep dive on a new topic every month in our free virtual event series.
What is assignment selling?
Assignment selling is the process of intentionally using educational content you have created about your products and services to resolve the major concerns and answer the burning questions of prospects so they are much more prepared for a sales appointment.
IMPACT partner Marcus Sheridan describes assignment selling in his book They Ask, You Answer.
Where did assignment selling come from?
The idea for assignment selling came to Marcus when he was doing sales calls for his swimming pool company, River Pools and Spas.
He had been writing lots of content, his website was getting tons of traffic, the number of requests for sales appointments was rising — but his closing rate remained unchanged.
While digging through metrics in HubSpot, he realized he had two very different groups of people requesting sales calls, and they had dramatically different close rates.
The first group had a closing rate of around 25% and had only viewed a small handful of his website pages.
The second group had viewed an average of 30 pages of his website and had a closing average of 80%.
So what were the key differences between these two groups?
The first group requested sales calls even though they were fairly uninformed about the process and cost of purchasing a pool.
The second group, however, requested sales calls after they did extensive research on pool buying.
One group was completely ignorant about buying a pool, and after the sales call, usually realized a pool was not a good fit for them, while the other knew nearly everything and were ready to buy.
Shortly after making this connection, Marcus decided all prospects should be as educated as possible before he went on a sales call.
He began to make it mandatory that any prospect requesting a sales call review the most important pieces of educational content he had.
While the total number of sales calls went down, closing rates and revenue went up.
How to implement assignment selling
Before you can begin assignment selling, you need to ensure you have the right kinds of content on your website.
Review all of the content on your website with these questions in mind:
How much of your content is promotional versus educational?

How much of your content is helpful to consumers trying to make a tough purchasing decision?

How much of your content is obviously biased?
To really excel, your content needs to be relevant, helpful, thorough, and honest.
It needs to answer the key questions most consumers want to know (or should know) before making a purchase.
Getting sales involved
If you're struggling with finding relevant topics, talk with your sales team and ask them to write down the top 25 questions they hear most frequently from prospects —the questions that 80% of people ask during a sales call.
We've found time and time again nearly all people looking to make a major purchase have a few major questions they need answers to:
How much does it cost?

Which are the best options?

How does this option compare to others in its class?

What are some of the problems with this solution/product?

Are there reviews of this product/company?
We call these The Big 5.
Once you've written answers to these topics in blog articles, don't wait for people to find the content on their own through search.
Instead, put the content back into the hands of your sales team.
They've told you the most pressing questions prospects have and you've answered those questions thoroughly and honestly.
Your sales team can now use this content to save time and help prospects better prepare for sales appointments.
The most important aspect of getting your sales team to use the content is making sure they know where they can get it.
In our experience, many salespeople would be more than happy to use content in their sales cycle, but often don't know where or how to find it.
There are several ways to do this.
Make the content easy to access
Show your sales team how to navigate your company's website.
Do you have a learning center that allows your content to be filtered by service, subject, or medium?
Does your website at least have search functionality?
If your content isn't easy to find on your website, both your website visitors and your salespeople won't be able to get the answers they're looking for.
Work with your sales team to create a spreadsheet or repository they can bookmark that includes links to content they can use.
Below you'll get a glimpse into IMPACT's own internal assignment selling spreadsheet that includes the types of services we sell along with content that should be reviewed by prospects before a sales appointment.
There's even a section for including topics that have yet to be written.
Tips for assignment selling
Every salesperson has their own way of handling sales calls, so there's no perfect method for using content in the process.
We can say, however, that there are a few important things to consider:
Use assignment selling both proactively and retroactively.
When you're being proactive, you're anticipating the common questions and concerns people will have before the sales call and sending them content to educate them ahead of time.
You're effectively answering questions before they ask them so they're best prepped for a call.
After a sales call, your instinct may be to send an email that says something along the lines of "hey, just wanted to check in with you. Let me know if you have any questions."
Instead, you can continue to educate prospects after your initial sales call by using assignment selling as a follow up. Below you'll see a screenshot of an email from our own Myriah doing just that.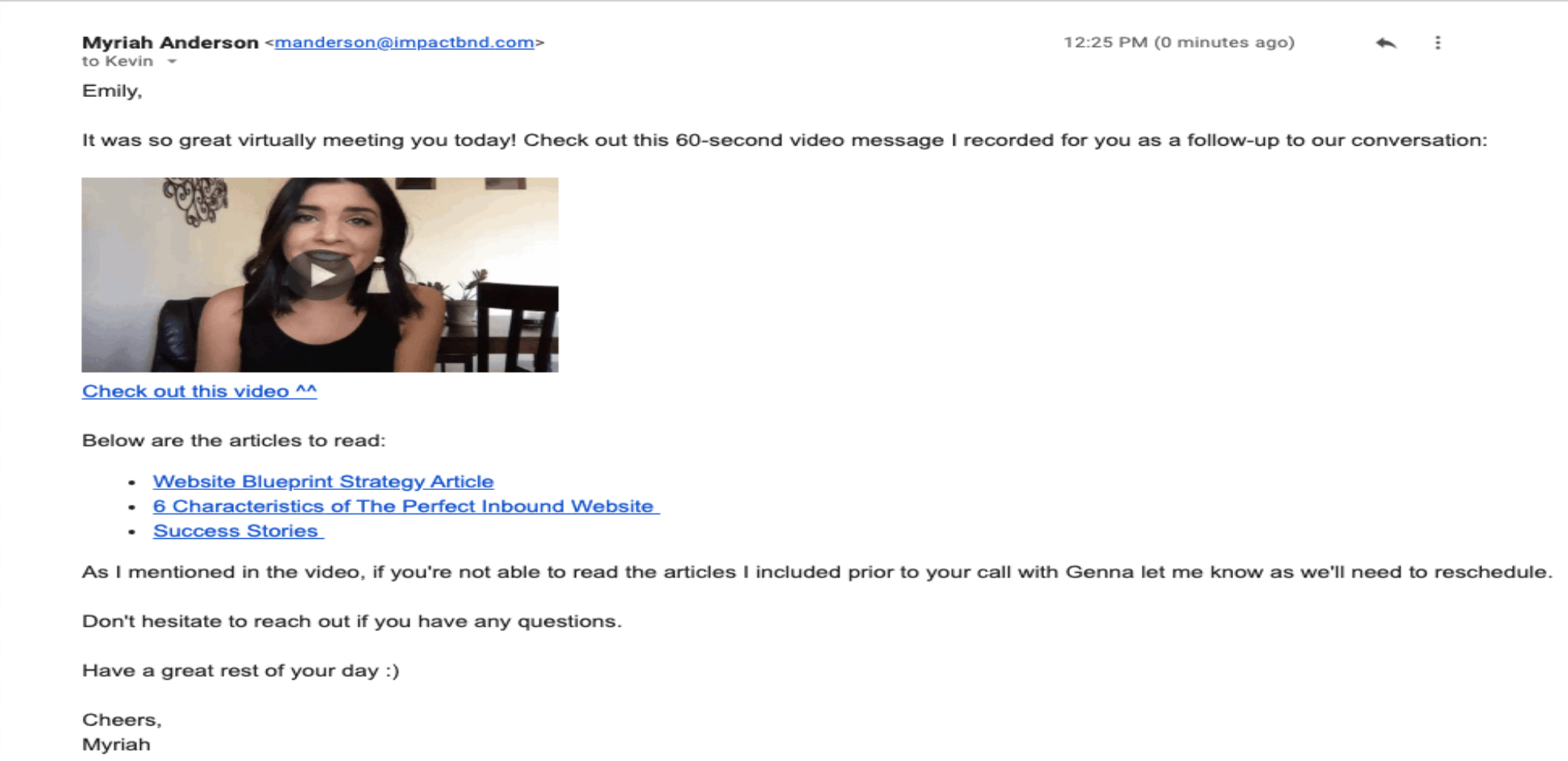 Don't worry about scaring prospects away.
One of the biggest push backs from sales reps for implementing assignment selling is, "if we educate prospects before a sales call, they might think they're a bad fit and cancel the sales appointment."
Many sales folks measure part of their success by the volume of sales calls they have, and it's true —if you're giving people the best education possible, some of that content may make them realize they're not a good fit for your products/services.
Assignment selling may influence some non-fit customers to exit the buying funnel, but that's a good thing.

Just as Marcus saw the number of sales appointments decline, his closing rates for the sales appointments he did go on increased.
He was only meeting with prospects that had been educated thoroughly on his products and were wanting to continue forward.
He didn't have to go on nearly as many sales appointments to answer questions that ultimately pointed out to prospects that his product were not a good fit for them.
Next actions
Now that you have a better idea of what assignment selling is, why it's important, and how you can implement it, it's time to start doing it.
First, meet with your sales team and get their top list of most asked questions on a sales call.
Identify if you already have these answers on your website.
If not, add those questions to your content calendar to create ASAP.
Make a repository for sales so they can easily access links to the content to use in emails.
Follow up with your sales teams to see the impact that assignment selling is having on their sales calls.
If you want to learn more about assignment selling, check out a few of the links below.
Join the IMPACT coaches for a deep dive on a new topic every month in our free virtual event series.
Published on November 2, 2021