How to Know When You've Outgrown HubSpot Sales Hub Starter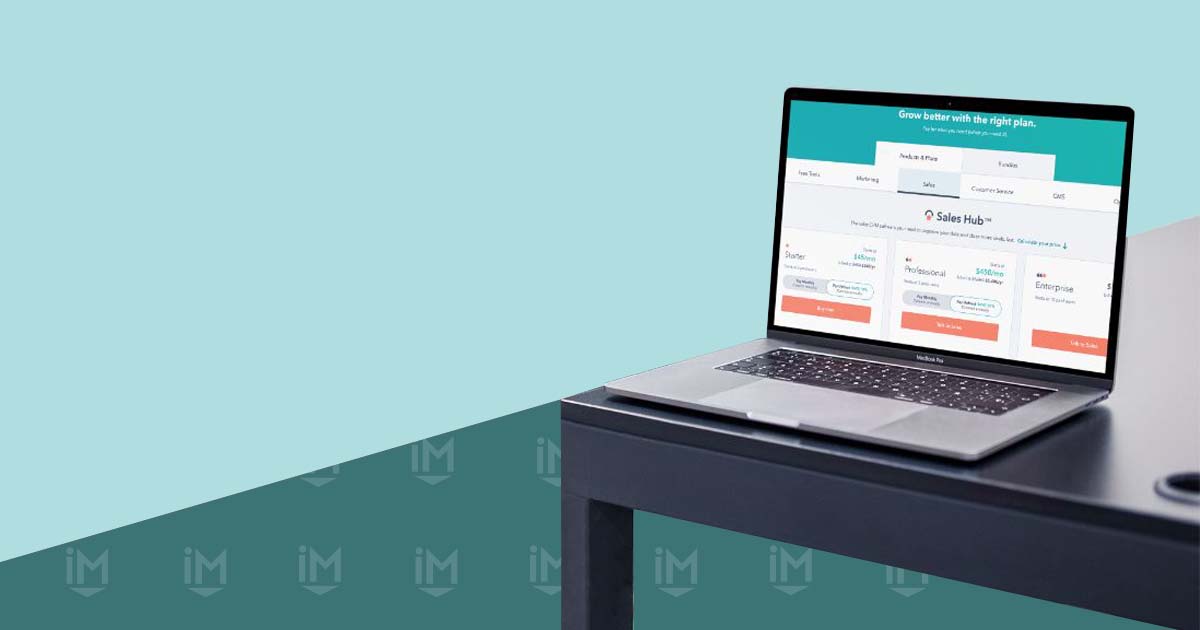 For companies looking to get their sales team started with HubSpot Sales Hub, the Starter tier offers a great balance of function and affordability. (After all, it's called Starter for a reason.)
Even getting your sales team to use a CRM (or customer relationship management software) can be a challenge for many businesses, so any step in the CRM direction means progress.
Because some organizations anticipate hesitancy from their sales reps to fully embrace a CRM, they don't want to plunk down more money than they need to.
For those in that position, Sales Starter is perfect. In fact, it's what we recommend our clients use when they bring HubSpot to their sales teams.
But, I'll say it again: It's called Starter for a reason. Many sales teams find that they begin feeling the limitations sooner than they might think.
Carina Duffy is a lead HubSpot trainer here at IMPACT. She notes: "Many of our clients begin with Starter for the low financial investment, thinking an upgrade to Pro could happen way down the line. But they find themselves ready to jump to Pro in six to 12 months — way faster than they anticipated."
If you're using HubSpot Sales Hub Starter — or are planning to — here's how to know if and when an upgrade to Pro is the right call for your business.
Is Sales Hub Starter a long-term solution for my team?
First off, it's important to note that different companies can have very different HubSpot needs.
Larger companies coming to HubSpot from another CRM such as Salesforce or Zendesk are likely to jump right into Sales Hub Pro. They're likely to know what they need, and it's just a question of integrations and data migration that need to be addressed before they get up and running.
A smaller business might be coming to HubSpot after using spreadsheets or another home-grown organizational system. For them, Sales Hub Starter is a huge step up, and it might actually be a long-term solution. If they're not growing rapidly, Starter could be a solution that's long-term — or forever.
But for many businesses, Starter is just that — a way to learn HubSpot and get their feet wet before upgrading.
And the price is right.
According to Carina, "If a company is starting from scratch, the Starter rate of $25 per seat per month is much more palatable than $100 per seat per month for Pro."
But when they're ready, the functionality of Pro easily justifies the cost. So, let's see exactly what it is that Pro offers that's worth the extra cost.
3 key Sales Hub Pro features that cause people to upgrade
Although Sales Hub Pro offers dozens of capabilities and functions that Starter does not, Carina says it comes down to three features that make it a worthwhile investment for our clients.
1. Custom reporting and sales analytics
First up, with Pro you will have access to amazing reporting and analytics tools that let you easily look at data in ways that would normally take hours to compile.
Carina says "HubSpot has a sales analytics tool that almost eliminates the need to build your own sales reports." There are numerous reporting options that can be configured to your team's needs.
If you want to look at a report on close rates or see how long your deals are taking, you can see that in a few clicks. Says Carina (affectionately), "It would take one of your nerdy people a good bit of time to build a report like the one you can easily get with Sales Hub Pro."
So now you can deploy your nerds elsewhere.
2. Automation
"If you want to automate anything in your sales process," Carina says, "you'll need the functionality that's available in Pro."
Automation improves your sales team's performance from start to finish. Automation is generally used more by managers than by the sales reps themselves. When a lead comes in, that lead can be automatically assigned to one of your sales reps on a round-robin basis.
Then, as a deal moves from one stage to another, that can trigger certain actions to occur, which could include emails being sent or notifications going to a manager.
These automation features keep teams running smoothly and give managers insights into each sales rep's pipeline.
3. Sequences
Related to automation are sequences, which allow your team to more easily follow up with prospects in the sales process. Email sequences allow for nurturing campaigns to keep prospects engaged who are not yet ready to buy.
For example, if a site visitor comes and reads several articles about a particular product, a rep could trigger a sequence that sends several helpful emails related to their needs — without the sales rep having to send each one individually.
Sales reps find themselves sending very similar emails to client after client. Rather than having to write out the same follow-up email after each exploratory call, say, they can build a template and start a sequence.
Then, they don't have to remember to send another email in three days if the first one didn't get a response. The sequence automatically takes care of this.
For sales reps working dozens of deals at once, sequences help economize the process and prevent things from slipping through the cracks.
How to know when the time is right for your HubSpot upgrade
Considering your unique needs, how will you know if or when an upgrade makes sense? Carina offers a simple solution to this complex question: Listen to your sales team.
"If they're just using the CRM to keep track of their pipeline," she says, "you've probably not outgrown Starter." But when they start using the tool more heavily — and mentioning how expanded functionality could help them — you might be ready to upgrade.
"Once your sales reps are logging and tracking all of their deal activity, as well as all of their communication with prospects," Carina says, "they're going to start to feel the limitations of the Starter tier."
The same thing can be said for data. If your sales team bemoans the fact that they can't parse and analyze the HubSpot data because doing so is too labor-intensive, Sales Hub Pro is probably in your near future.
Remember, an upgrade to your HubSpot CRM is a good sign!
Although no business wants to spend money it doesn't have to, don't be upset by the fact that you're moving from Starter to Pro. If you're in the market to upgrade, it usually has to do with three things:
Your sales team is fully bought into using the CRM. They're tracking deals and logging call notes with it. This should be celebrated.

Some sales teams are very resistant to getting even this far

.
You're growing. More revenue means more sales reps, more deals, and more customers. You might just need a bigger and better system to keep track of it all.
You're using data to make decisions. Paying for HubSpot is paying for data. When you have data you can make sense of, you can make better decisions about how you market and sell to your customers. Paying a little more each month to make more informed decisions sounds like a good deal to me.
Still, you want to make sure you're not overpaying to get what you need. Check out this article: Think you're paying too much for HubSpot? Here's how to get your money's worth.
When you're ready to make the jump, though, you should see the upgrade to Pro as a clear metric of progress. You'll be amazed by what you can do.
Free Assessment:
How does your sales & marketing measure up?
Take this free, 5-minute assessment and learn what you can start doing today to boost traffic, leads, and sales.