Subscribe
Join 40,000+ sales and marketing pros who receive our weekly newsletter.
Get the most relevant, actionable digital sales and marketing insights you need to make smarter decisions faster... all in under five minutes.
Thanks, stay tuned for our upcoming edition.
Think you're paying too much for HubSpot? Here's how to get your money's worth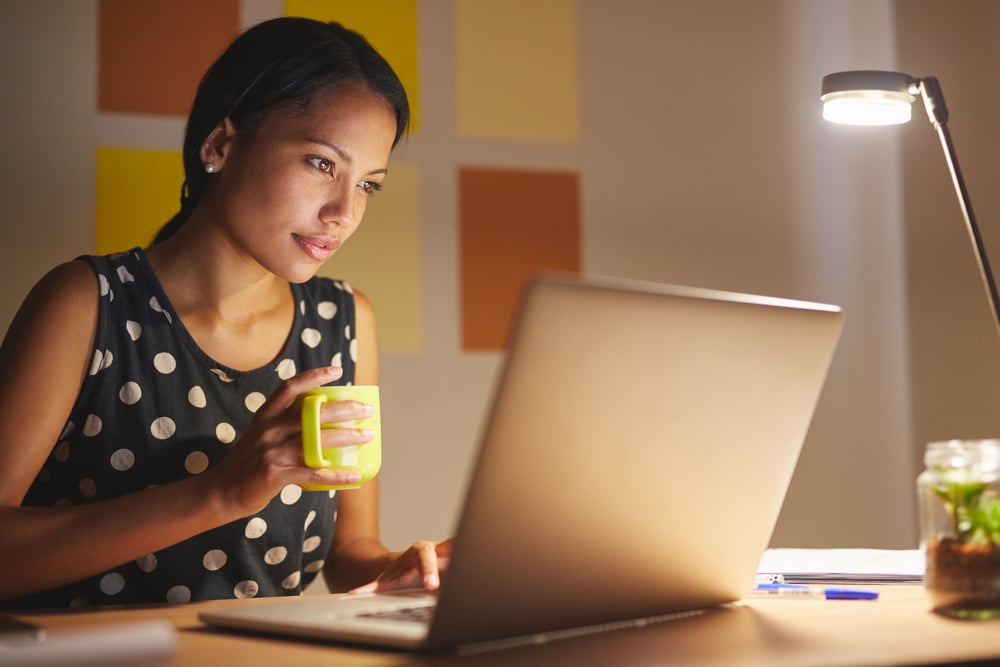 It often starts like this: A business leader sees a product demo or webinar that displays the amazing power of HubSpot. They think:This is amazing! HubSpot is a platform that can make everyone at my company more efficient!
They're ready to go all-in. They purchase HubSpot — usually Marketing Hub — but a year later, when their contract renewal comes up, they're frustrated. Here they are paying all of this money — and HubSpot has not revolutionized their business the way they hoped.
The problem is that a product demo can be a very persuasive but very misleading sales pitch.
We see how much a tool can do, and we see how easy everything is. What we don't see, of course, are the countless hours of backend work that went into making everything look so effortless.
And so, when HubSpot doesn't seem to do for you what it did in the demo, it's only natural to start wondering if you're paying too much for what you're getting.
According to Carina Duffy, a certified HubSpot trainer at IMPACT, "Most HubSpot users underutilize the tool." Often, she says, people are excited by what HubSpot can do, but they might not have a specific reason for buying the platform — or a strategy for employing it.
So, they're left wondering, Am I getting my money's worth?
Here's how business leaders who might feel frustrated or overwhelmed can be sure their investment is a sound one.
Start with the big questions.
Question 1: Do you need what you're paying for?
Many organizations get into HubSpot for pretty cheap, but their use of the platform expands and their contact list grows — and they soon might be paying more than they realize.
The first step is making sure you need what you're paying for.
Do this: Know your renewal date and plan accordingly
Most HubSpot contracts last 12 months, but some can extend for two years or more. Keep track of when your renewal date is.
A month or two before it, start to audit your HubSpot use to look into ways you can save and be proactive in communicating your concerns with your HubSpot Customer Success Manager.
Do this: Before you move up a tier, carefully analyze functionality vs. cost
According to Carina, organizations sometimes move up to a new tier in HubSpot only to find that they don't make use of all the tools they're now paying for.
If you're moving from Pro to Enterprise, you're looking at a significant cost increase. Are you going to make use of enough features to justify it?
Remember, it can go both ways. For some organizations, one key functionality might be worth the cost. For others, they move up thinking they will make use of more features than they do, and find themselves eager to move back down to Pro or Starter to save money.
You should do as much research ahead of time as possible.
(At this point there is no way to pay for specific features a la carte. You either need to go without it or upgrade your tier.)
Do this: For Sales and Service Hubs, don't pay for seats you don't need
While Marketing Hub offers unlimited seats but limited contacts, Sales and Service are the other way around — limited seats but unlimited contacts.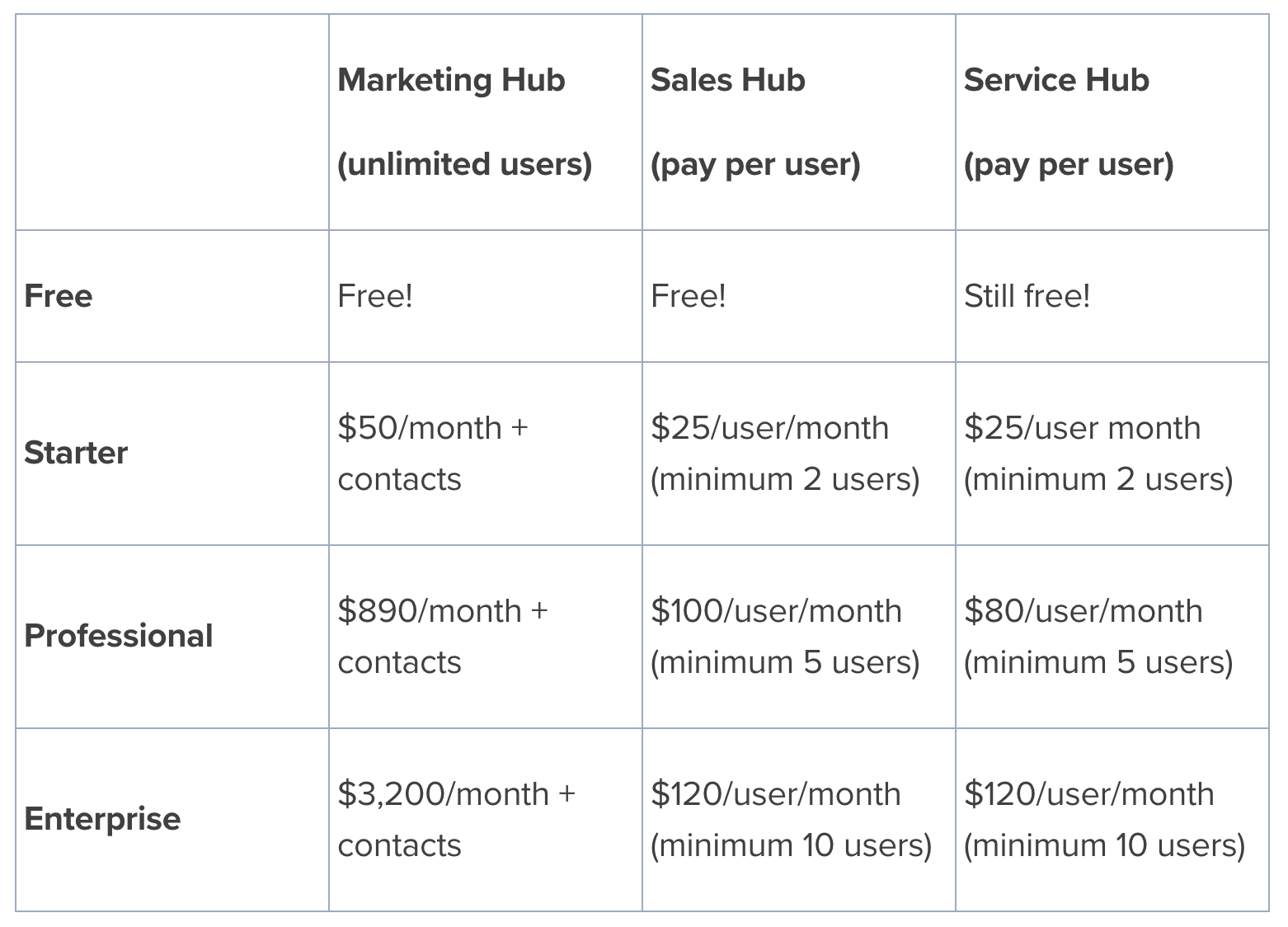 Carina advises keeping a close eye on the number of sales seats you're paying for. "A lot of times, companies will pay for a seat for a VP of sales," she says, "because they think that person might need one."
The trouble is, they end up paying for more seats than they need.
That VP can still be in the HubSpot portal and have visibility into activity, but if they're not actively using paid features like email templates or automatic owner assignments, they probably don't need a seat.
At the Pro level, each sales seat costs $100 per month, so scaling back can help you save a bundle.
Do this: Learn the ins and out of the marketing contacts policy
"The biggest question regarding the cost of HubSpot," says Carina, "is about contacts."
HubSpot charges you based on the number of contacts in your marketing database. Until 2020, this was a flat fee that increased with each threshold you passed (and there are some HubSpot customers who still pay this way).
More recently, HubSpot has rolled out a new pricing structure that allows customers to differentiate between marketing and non-marketing contacts. Under this structure, customers pay only for contacts they're actively marketing to, not their entire database.
In general, once you start on a paid version of Marketing Hub, you'll have the following marketing contact costs:
Starter: 1,000 marketing contacts included with subscription; $45/month per 1,000 additional marketing contacts
Professional: 2,000 marketing contacts included with subscription; $224.72/month per 5,000 additional contacts
Enterprise: 10,000 marketing contacts included with subscription; $100/month per 10,000 additional marketing contacts
Contact expenses can add up pretty quickly. Use the information HubSpot provides to make sure you're not paying for contacts you shouldn't be.
For more complete guidance, check out our regularly updated guide to everything HubSpot costs.
Question 2: Do you know exactly what HubSpot can do for you?
HubSpot can touch all aspects of your customers' experience, from the first impression to post-sale. Lead scoring, email sequences, chat features, list segmenting — there's a lot the tool can do, and it's growing and changing all the time.
How can you be sure you know what HubSpot can do for you?
Do this: Know what features you're already paying for
First off, it's no joke when HubSpot calls itself an ecosystem.
Here's a full list of the products and services the platform offers for each Hub at each tier. It's as long as a phone book. Look:
How can you ever keep up?
According to Carina, this is a pretty common worry. Many companies use HubSpot for certain core features and never venture much further. The first step to truly getting your money's worth, she says, is to know exactly what features you're currently paying for.
Do this: Evaluate whether a tier move is right for you
If your research leads you to see you're not using many of the features you're paying for, it might be time to consider moving from Enterprise to Pro, or from Pro to Starter.
Again, this will likely mean giving up some tools you're using, so you'll need to determine if that's the right call.
Do this: Develop a marketing and sales strategy that uses more tools
HubSpot is beloved by sales pros and marketers because of all the automation and insight it offers. So, if you're underutilizing the tool, maybe your strategies are in need of an upgrade.
HubSpot Academy and IMPACT+ offer courses on how to best use the platform to connect with customers throughout their customer journey.
The tools are there because they're helpful — and there are a bunch of training materials to help you get better. You can start with baby steps.
📚 Related course: Getting Started with Sales Technology
The value of HubSpot
At IMPACT, we couldn't imagine functioning without HubSpot because it's so deeply enmeshed with the work we do. That's how it is for many companies — but full adoption takes time and competency can sometimes feel slow.
The reality of HubSpot is that you will never master the entire platform. But you should strive to learn what you can, improve the skills you need, and never stop growing.
If you're in a place where you're not sure if HubSpot is worth what you're paying, there are ways to save (ahem, contacts!), and ways to grow your utilization of the platform.
If you want the tool to fully serve your marketing and sales efforts, your team needs to take time to learn the platform, experiment, and build their comfort. Often, that process can benefit from outside expertise.
IMPACT can help you employ the full suite of HubSpot solutions to accomplish your business goals, whether that's through our free course offerings or with direct support from our expert trainers. Talk to one of our coaches and see how our training could help you grow.
Free Assessment:
How does your sales & marketing measure up?
Take this free, 5-minute assessment and learn what you can start doing today to boost traffic, leads, and sales.