HubSpot CRM review (updated for 2023)
Here's an honest look at the pros and cons of the all-in-one marketing, sales, and customer service platform, written with the help of IMPACT's HubSpot Specialist Carina Duffy.
I first learned about the power of the HubSpot CRM in 2015 when the company I freelanced for was in the throes of revamping their digital marketing strategy. After seeing one of Marcus Sheridan's keynote speeches on driving better-qualified leads to your website that result in more sales, the executive vice president of the company convinced the entire leadership team to buy in on his revolutionary but simple approach to inbound marketing: Obsess over your customer and answer their questions as honestly and thoroughly as possible.
No more leaning (exclusively) on painful keyword research for building traffic to your website. Rather, write and make videos about common questions your customers ask and watch how quickly people reach out to you, ready to buy.
The company hired Sheridan (who is an IMPACT partner and author of bestselling inbound marketing strategy book They Ask, You Answer) and IMPACT coach Kevin Phillips to train me on how to implement their strategy. Not only did they teach me how to write the traffic-driving, sales-landing content that grew the company from 250 organic website views per month to over 35,000 (which is still producing about 80% of their leads), but they also taught me how to track that progress in HubSpot.
🔎 Related: What is They Ask, You Answer?
Originally developed as only a marketing platform, HubSpot provides tools for marketers, sales, and customer service teams to capture leads, run marketing automation, and execute email nurture campaigns, among other incredible features. It was the tool we leaned on most to ensure all that hard work we put into helping customers find us was working.
In this look at the HubSpot CRM, we'll help you see how this customer relationship management software.
A more powerful and comprehensive HubSpot CRM
HubSpot's CRM (customer relationship manager) component has noticeably expanded — mostly in the past year — rolling out several improvements alongside a constantly updated range of features, complete with inbound marketing, sales, and customer service tools that work together to provide an all-in-one experience.
HubSpot has essentially rebuilt its CRM to make it competitive with the likes of Salesforce and other midmarket and enterprise-level CRMs.
🔎 Related: HubSpot CRM vs. Salesforce: Which one is better?
Because there have been so many changes to the platform recently, I sat down with our HubSpot specialist, Carina Duffy, to revisit the pros and cons of this popular CRM.
Keep in mind that although IMPACT is a HubSpot Elite partner agency and we teach our clients how to implement a They Ask, You Answer approach to inbound marketing often using the HubSpot platform, this is an unbiased assessment.
Although the HubSpot CRM makes it easy to organize, track, and grow your contact list and sales pipeline, as many CRM platforms do, it also has benefits and drawbacks to weigh. These are the key points you should consider as you evaluate which marketing and sales tools will work for you.
Let's dive in!
Pro: HubSpot is free to start
If you're implementing a content marketing strategy for a small business or startup, and you have a low budget, you can start with HubSpot's free tools or their starter tools, which begin at $45 a month. Then you can upgrade as you need more features. Most comparable platforms can be pricey and require you to go through a complicated process to get started. With HubSpot, you can sign up and create a portal easily, and even the most basic tools — such as contact collection and data tracking — are available to you.
This means that whether you're diving into a They Ask, You Answer inbound marketing strategy or inbound marketing in general, you can start small and work your way up as you go.
🔎 Related: They Ask, You Answer for entrepreneurs starting on a budget
Pro: HubSpot grows with your business
HubSpot loves working with startups and small businesses, as Carina Duffy explains:
"HubSpot is big on growing with you. They even have a HubSpot for startups program where you can get a 30% to 90% discount if you're early on in your startup funding. HubSpot was initially geared toward small to medium-sized businesses, which was their core customer base for a long time. HubSpot wants you to be able to start where you're at — and if that means you're a really small business or startup, and you have a super low budget, you can use still their free tools starter tools. So, there's a low barrier to entry to get your business going, then you can upgrade as you go, whereas with other platforms, you typically have to start with a pricier version."
Carina also mentioned that most of the basic CRM tools are available for free (with monthly usage limits), and as you progress to the starter account, you have access to more tools, such as meeting scheduling, live chat, and conversation routing. Once you get into Professional- and Enterprise-level accounts, you unlock features such as sales analytics, sequences, hierarchical teams, and even 1:1 video for sales.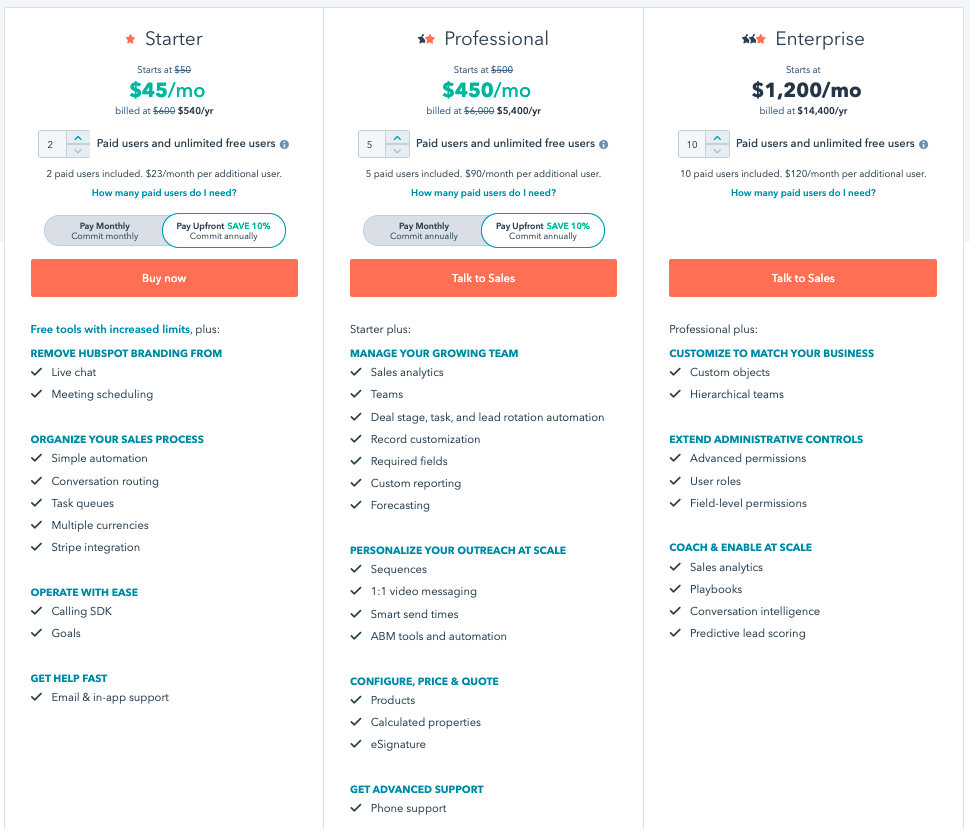 This is also one of the reasons we introduce HubSpot to our clients implementing the They Ask, You Answer mindset to their business growth strategy. Many companies IMPACT works with are small businesses that don't immediately have the funds to go with the larger, more expensive CRM platforms. Being able to still track ROI and lead behavior can be invaluable in helping newly formed businesses grow.
🔎 Related: Is the HubSpot CRM the best for They Ask, You Answer?
Pro: HubSpot has an easy-to-learn user interface
HubSpot has always been easy to use compared to other CRMs and marketing automation platforms. Over the years, HubSpot CRM reviews and the vast majority of users have found the user interface (UI) highly intuitive. This can be helpful for people who like to get more technical (such as getting nerdy over tools such as Google Analytics), but don't want to spend time figuring out how to do something or how it works.
For example, if you're in a HubSpot contact record, you can see everything associated with that contact right there, such as the web pages they've visited, emails they've opened, and how often they return to your site.
HubSpot takes all of this into account, and it's more user-friendly than some of the midmarket and enterprise-level CRMs. These CRMs tend to be more customized than HubSpot, but that can also make using them a bit clunky and more difficult to use.
🔎 Related: Get your sales team using your CRM platform in 5 easy steps
Pro: HubSpot has great customer service
HubSpot's customer support is excellent. The support team is easy to access; you can chat with them, email them, or call them if you have a paid subscription. They also offer customers access to HubSpot Academy, which has a ton of courses where you can learn things, from the basics (What is inbound marketing?) to the highly technical (Powering your website with CMS Hub Enterprise). On top of everything offfered by the company there is also a vibrant HubSpot community of regular users and developers eager to help.
Pro: HubSpot integrates with Gmail and Outlook (you can work out of HubSpot, or your inbox)
So many sales reps live in their inbox, and most are either using Outlook or the Gmail suite. They need sales software that works where they do. HubSpot integrates seamlessly with both. This means that while you're emailing a customer, you can see all of the contact information and lead intelligence available for them. You can even enroll contacts into automated sales follow-up sequences, right from your email.
This is especially helpful for assignment selling — when your sales team assigns educational content to their potential customers to answer most of their questions up front, shortening the sales cycle. As you're communicating with your customers, the sales software allows you to see in real-time which pieces of content they've seen and how prepared they may be for your meeting.
🔎 Related: 5 real-life examples of assignment selling in action
Pro: HubSpot offers out-of-the-box reporting for sales reps and managers
For Professional- and Enterprise-level HubSpot CRM users, the software offers a tool called Sales Analytics that has pre-built reports you can customize and adjust. It's easy to navigate data, such as sales close-rate reports and trends over time, and you can view them based on one sales rep or the entire team.
With most other CRMs, these reports need to be custom-built by an operations person who knows the data and can custom configure them. In contrast, HubSpot has built the tool so that any rep or sales manager can pull reports up for themselves or their teams, and they don't have to build them from scratch.
Pro: HubSpot combines marketing, sales, and customer service on one platform
Most companies use separate systems for their marketing, sales, and customer service platforms, which can cause confusion between teams and extra work.
According to Carina:
"Having disparate systems that don't talk to each other or likely don't talk to each other very well makes it more difficult for your team. If I'm a marketer and I want to run a report that excludes customers that show signs of recent sales activity, but I'm using disparate systems, I probably need to go into another system to pull the report. If all of the data lives in one place, everybody can access it and use it. This is better for team alignment and efficiency because I don't have to go to another team member for the information. I don't have to enter a different system. It's all right there."
Having all teams in one system also enables the user to use what HubSpot calls flywheel-type reporting, where you can see the first time a customer landed on your website, the pages they viewed, and all of their activity, including touchpoints from before they became an active opportunity.
This saves your marketing, sales, and customer service teams from having to find the information in a different system or ask someone else. All those actions add time and complexity to your customer relationship management process.
🔎 Related: Marketing and sales alignment when using HubSpot and Salesforce [Infographic]
Pro: HubSpot invests significantly in ongoing R&D
As far as research and development goes, HubSpot is constantly investing in ways to bring new features and functionality to its customers. As they make updates to programs and tools, you can access a new-product feed in your portal that updates you on any new features added based on your subscription level.
As Carina explains, it seems like all of a sudden HubSpot went from a nice program you could use to send automated emails to people to a platform you can use to run your business.
This is useful for companies looking to consolidate their sales, marketing, and customer service tools in one place — especially for those looking to align their sales and marketing teams, as recommended by Marcus Sheridan. It makes the cultural shift from treating sales and marketing as separate teams to combining their efforts and helping them strive toward a common goal (ahem, more revenue) much easier.
Con: HubSpot is still relatively new to the enterprise space
When you look at CRMs built for midmarket and enterprise-size companies, the vast majority have been around for a long time (most since around the 1980s and '90s). HubSpot was started in the 2000s, but developed tools for these larger companies only in the past three years. They are still developing features and functionalities that are useful for larger companies.
This can make it more unsettling for big companies with huge sales teams to trust a platform that is newer to the space, versus CRMs that have been around forever, such as Salesforce and Microsoft Dynamics. Even though these platforms typically cost more than HubSpot, they can require more time and energy to set up and train people on.
🔎 Related: HubSpot CRM vs Salesforce: Which one is better?
Con: HubSpot is less configurable than other enterprise CRMs (not necessarily a con)
Sometimes HubSpot users get frustrated when they can't create customizable features that do user-specific functions for niche businesses or industries. HubSpot's position has always been to discourage users from customizing too much — but there's a reason for this, as Carina illustrates:
"When organizations create ultra-custom interfaces for their teams that are highly specific to their process, whenever that process changes, it becomes difficult to adapt. For example in sales — reps just want to go out and sell. They don't want to go through a lot of data entry; they want to close lots of deals in the most efficient way possible. So HubSpot, in a lot of ways, has flipped the conversation around to say, 'We're not going to lead with customizability and configuration. You can still do some of that, but we're going to lead with a clean, easy-to-use interface that reps love and makes them more efficient.'"
When other big-name CRMs allow a highly customized model, the implementation of that CRM can often take several years, and if a business's sales process changes, the CRM would need a complete overhaul.
So, although the configurability limitations might seem inconvenient on the surface, users typically find the CRM handles their needs just fine.
Ready to get started with the HubSpot CRM?
The HubSpot CRM software has become a fundamental tool in helping marketing, sales, and customer service teams do their job more efficiently — and it's the perfect match for making your They Ask, You Answer journey a breeze to keep track of and analyze, for myriad reasons.
As you dive into They Ask, You Answer, keep in mind that you're going to need a platform useful in showing you all the ways your inbound efforts are working — and HubSpot is one of those tools that works alongside inbound marketing seamlessly.
If you have questions about getting started, we're here to help. Get your team trained all at once with one of our coaches, or dive deeper into more information about HubSpot with the following resources:
Free Assessment:
How does your inbound marketing measure up?
Take this free, 5-minute assessment and learn what you can start doing today to boost traffic, leads, and sales.
Get Started
Free Assessment:
How does your inbound marketing measure up?
Take this free, 5-minute assessment and learn what you can start doing today to boost traffic, leads, and sales.
Published on July 27, 2021