Subscribe
Join 40,000+ sales and marketing pros who receive our weekly newsletter.
Get the most relevant, actionable digital sales and marketing insights you need to make smarter decisions faster... all in under five minutes.
Thanks, stay tuned for our upcoming edition.
Sales and Marketing Friction is Hurting Your Bottom Line – Here's What to Do About It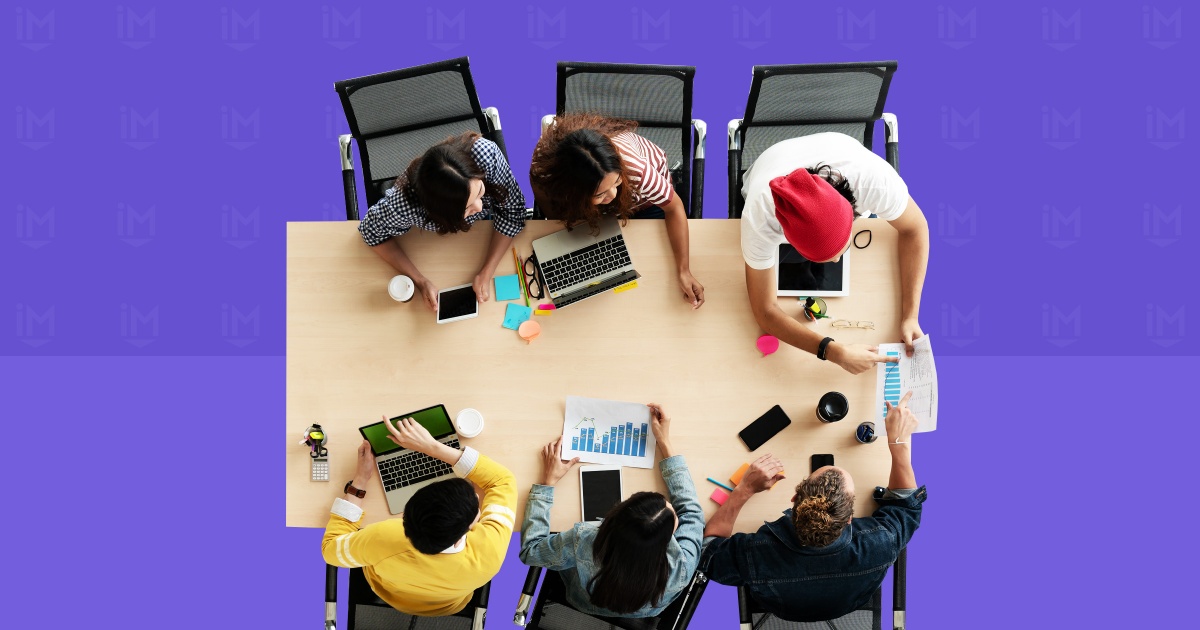 Oil and water. Cats and dogs. The New York Jets and winning. Some things in this world just never seem to go together.
Is sales and marketing in the same category at your business — destined to bicker, squabble, and storm off — when what you need is harmony?
If so, you're not alone.
According to research from LinkedIn, 96% of sales and marketing professionals agree that strategic alignment between their teams is a persistent challenge. It makes sense when you think about it. By and large, sales and marketing teams:
Report to different executives
Measure success differently
Use different KPIs
Disagree about lead quality
Don't have regular meetings
At the same time, 87% of sales and marketing leaders believe that alignment between their teams is essential to business growth.
So, in summary — no one has it and everyone wants it. Why can't we make this work?
Let's start by getting it all out in the open. Come on, this will be therapeutic.
Below, I'll cover:
What sales and marketing teams really think of each other
Why misalignment is so costly
Real-world steps you can take to start solving this problem at your organization
What do marketers (really) think about the sales team?
The work marketers do can yield fickle results, and every click, open, impression, and conversion is hard-won. To outsiders, the results don't always seem worth the effort.
According to Allison Riggs, a business coach here at IMPACT, marketing teams often feel underappreciated by sales. Sales gets the glory (and the commission), while marketing is seen as an expensive undertaking with questionable return.
Working under a lot of pressure from company leaders, marketers produce and deliver leads to the sales team, only to have the sales team take credit for the good leads and complain about the bad ones.
"I feel like there is an unspoken competition that happens between the two departments," Allison says. "Both want to provide value, but both feel siloed and feel that there is more friction than collaboration."
What do salespeople (really) think about the marketing team?
Sales, too, is under pressure. The entire organization lives or dies by its sales team. Without revenue coming in, there are no paychecks.
I spoke to one sales pro who's been in the game for years. She says she's never worked on a sales team that has collaborated with its marketing counterpart. Ever. Not once.
Marketing, to her, didn't touch sales at all. "Sometimes we'd hear about marketing campaigns or get random leads from a form fill or a download," she says, "but, in my experience, they've always been terrible leads, so we didn't really see the value on what marketing did."
It's no wonder sales teams see marketers as ineffective. They often create messaging and content in isolation from sales and then deliver subpar leads.
When two teams undervalue and misunderstand each other, resentment and disconnection are soon to follow.
But sales and marketing alignment is not just about good vibes at the office. Misaligned teams are an expensive and inefficient liability. And that should concern everybody.
Why does this misalignment cost money?
Speaker and author Marcus Sheridan works with business leaders to bring their marketing and sales teams together.
He insists on actually bringing the teams together and forming a single team; a blended "revenue team" — the very structure and name of which acknowledges that both teams have a huge influence on the buyer experience.
According to Marcus, a lack of sales and marketing alignment doesn't just hurt morale, it hurts your bottom line.
Here's why: Both your sales team and your marketing team are composed of competent, intelligent professionals with an ever-increasing knowledge and skill base. If that knowledge never gets shared outside of the department, it doesn't benefit the company the way it could.
Marketers can do their job better if they learn from sales. And sales can do their job better if they learn from marketing. Collaboration is mutually beneficial.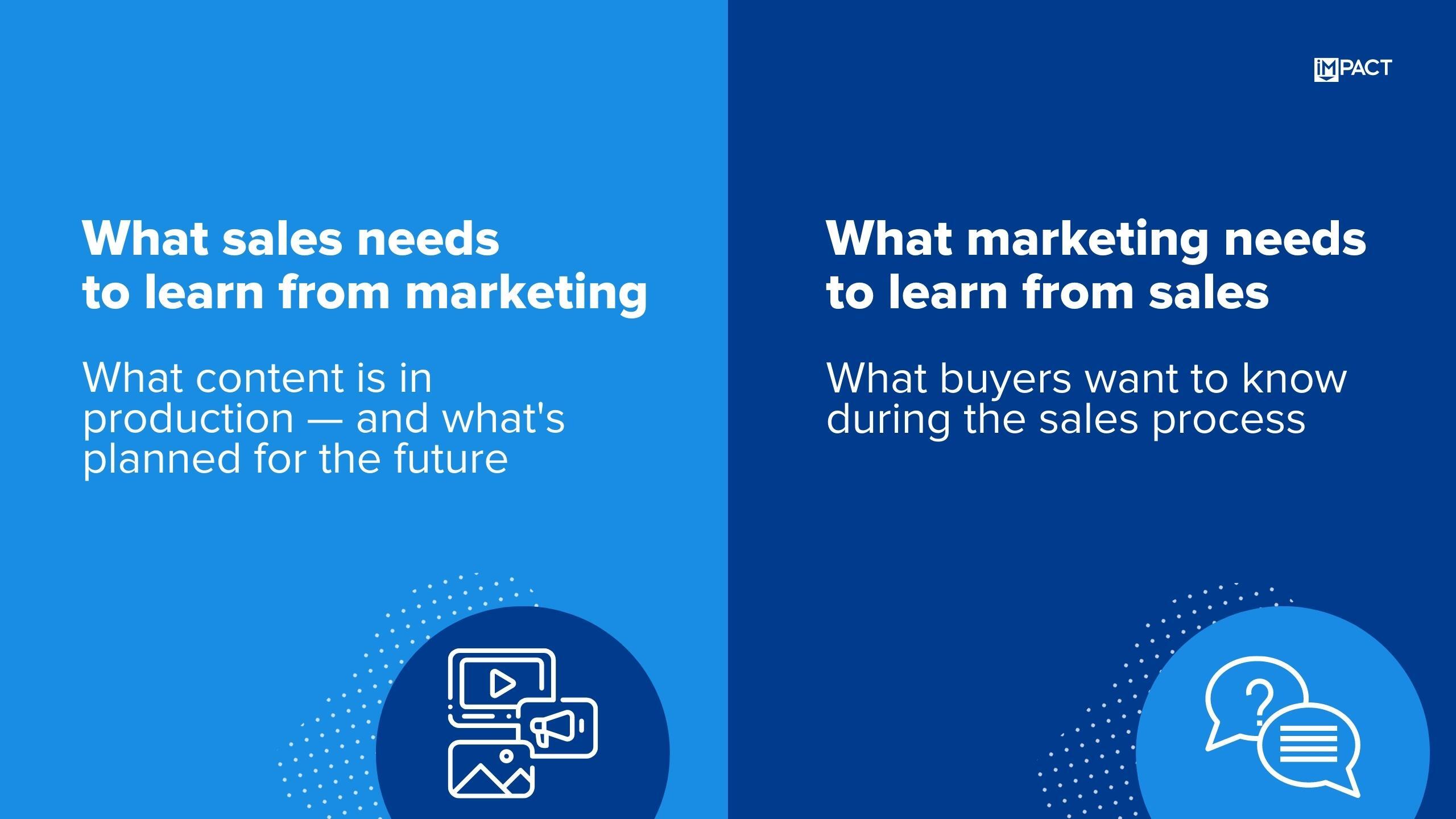 What marketing should learn from sales in order to do their job better
Sales has in-depth, first-hand knowledge of your marketplace. Marketers can't do their job well without this kind of knowledge.
Knowing who your buyers are: Do your marketers know who you're actually selling to? It's your sales team that has its ear to the ground in your marketplace. "Unless marketing spends significant time with your sales team," Marcus says, "they're likely to become out of touch with your buyers." Marketing materials that don't speak to your buyers are less likely to bring in revenue.
Objections that come up during the sales process: Sales hears these objections every day. If they're not addressed in content or on the website, prospects are less likely to consider your solution. That means fewer conversions and leads.
What sales should learn from marketing in order to do their job better
Marketing has technical know-how that sales can use to better connect with customers and close deals.
CRM use: Marketers are often CRM wizards. There's so much lead intelligence in your CRM; marketers know how to access it, sales reps sometimes don't. This means less effective sales calls.
Email best practices: Sales teams email all day long, but marketers are usually more adept at maximizing open rates and click-through rates. "It's your marketers," says Marcus, "who understand the technical details of getting people to open emails." Unopened prospecting emails waste time and don't bring in money.
Content production schedule: If new content is coming out or the website is going to be updated, sales needs to know. (Actually, they should have a hand in the process and be made aware of what's coming.) When sales enablement content gets leveraged in the sales process, close rates go up.
What campaigns are live and when: Is marketing planning a new offer or promotion? Is a rebranding effort in the works or a new service rolling out? Sales needs to know — with as much runway as possible. Otherwise, their pitch to clients might not match what's being said elsewhere.
Considering all of this, it's fair to say that marketing and sales each hold keys to the other's success. So, how do we make this work?
How do we actually fix this? 6 steps to take today
Let's be honest: Completely un-siloing your business is not going to happen overnight. If there is entrenched opposition, it could take some time. But, the fact remains: Both teams will benefit from what they learn from the other.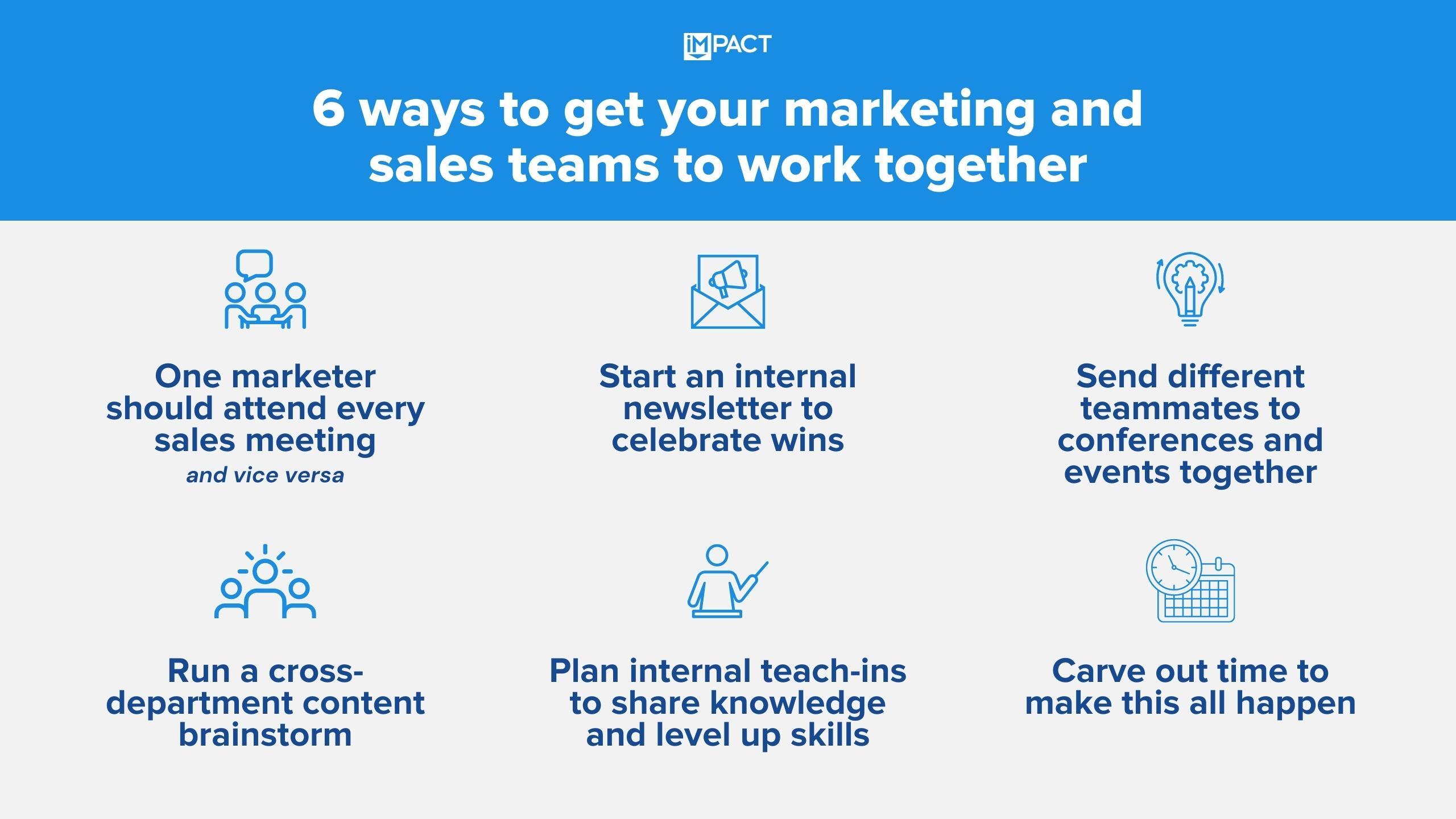 As such, Marcus says your organization can take these steps to start breaking down the walls.
1. One marketer should attend every sales meeting — and vice versa
No one wants to add superfluous meetings, so start this way: Have one marketer attend a regular sales meeting. "Even if it's a sales training meeting, a marketer should be there," says Marcus. You'll be amazed how much they take away.
And this goes the other way, too. A sales rep should be at each marketing meeting — especially if they're talking about the editorial calendar. A sales representative can help marketing prioritize content strategy.
2. Marketing needs to start an internal newsletter
At least once every quarter and probably every month, marketing should let the whole company know what content has been published, who helped produce it, and how it has aided traffic and sales. This helps with transparency and also gives credits to sales and service folks who were involved in the content creation process.
3. Expand your professional development
Want your sales team to be excited about the work your marketers are doing? Send them to a marketing conference. Have them read an important marketing book. Have your marketers do the same thing for sales. See what's trending, what's exciting, and what's possible.
4. Run a content brainstorm together
I know I said no more meetings, but this is a crucial one. Once a month, have a content writer sit down with your sales team to brainstorm a list of content topics that speak directly to your buyers' needs. These meetings ensure that sales is invested in the content creation process — and knows what's coming out.
5. Plan internal teach-ins
Once a month, have an informal lunch-and-learn or other gatherings where one person can share tips or insights with another team: On Thursday at 12:30, Alice will be showing everyone how to build a reporting dashboard in HubSpot.
If people see the value, they'll show up and learn.
6. Have Leadership lead
Look, we're all busy. When we try to do something that's hard, it's easy to fall back into old patterns. That's why sales and marketing alignment can't really happen unless leadership makes it a priority.
If the top brass is not checking in and keeping pace, meetings become less frequent, that newsletter peters out, and the whole thing falls apart.
Take the first steps
It's not easy. Sales and marketing teams are both filled with busy pros doing their best to build brand awareness and close deals. And it's likely that they don't totally understand and appreciate the work that the other is doing.
All the more reason to work together.
Today, buyers do a great deal of self-educating by way of website content before they're ready to make a purchase. As Marcus frequently says, your customers are making 70% of their buying decision before they call you or walk into your store. That means that more and more customer acquisition depends on the marketing materials those customers can find.
Yet far too many companies see marketing as a lesser part of their operation. Says Marcus, "Sometimes you look at leadership team meetings and marketing doesn't even have a seat at the table, which is kind of unbelievable."
Step into the 21st century. Bring your marketing and sales teams together to make sure your customer has a seamless experience, all the way from awareness to purchase.
The benefits are enormous.
And if you need help, talk to us at IMPACT. We can't make the Jets win, but we can bring your teams together to drive meaningful growth.
Free Assessment:
How does your sales & marketing measure up?
Take this free, 5-minute assessment and learn what you can start doing today to boost traffic, leads, and sales.