How do I get my old school sales reps to buy in to They Ask, You Answer?
Getting sales on board is critical to They Ask, You Answer success.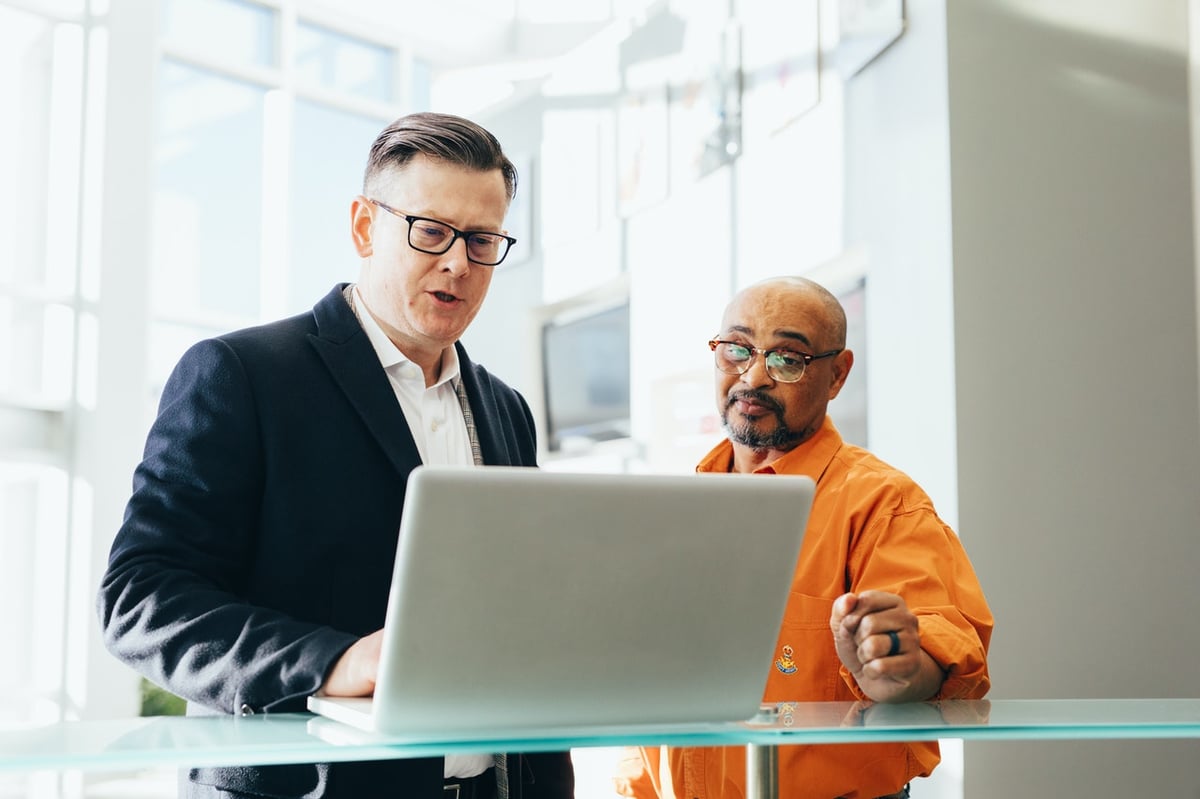 I say it all the time, but it bears repeating: the way people buy is changing — and this change has only been sped up by the global COVID-19 pandemic.
Increasingly, this means that the way sales teams and salespeople operate has to change to cater to the way people want to buy today.
According to a recent study from Gartner, 33% of all buyers would prefer an entirely "sales-free" sales experience. For millennials, it's even higher: 44%. Think about that for a second. At least a third of your buyers would prefer not to talk to your sales team at all. They want to be able to purchase exactly what they want without any contact with a sales rep.
We've seen this play out for years in the retail space with cashierless checkout lines, and now touchless sales are becoming more and more popular in every industry. Today, people buy their mattress online. They buy their groceries online. They buy their TV online. Heck, you can even buy a car online.
Considering the state of sales today, the company that best serves its customers — and the way those customers want to buy — is the company that will win their business.
The companies that cling to the old way of doing things will get left behind by buyers who've changed, and who expect companies to change as well.
Why They Ask, You Answer serves the modern buyer
Today, before buyers make a purchase, they spend a great deal of time doing research on the internet. This could mean looking up reviews for a product, comparing two services side by side, or researching how to get the best price.
Then, when they're ready, they reach out to a company. At this point, they're much more educated than buyers in the past. In fact, much of what used to be part of the sale process is already complete at this point.
If a company can serve as the educational resource that makes potential customers feel more comfortable as they're approaching a purchase, that company will see two enormous advantages:
First, those customers will trust you, provided that they see you've been open and straightforward with them.
Second, those customers will be more qualified for sales conversations, as they already know enough to make an informed decision.
They Ask, You Answer urges businesses to obsess over the questions their prospects have — and to answer them honestly on their website.
This way, customers can find the answers they need and begin to build a trusting relationship with your brand.
At the same time, these answers can also be used in the sales process — through a technique we call assignment selling — to help thoroughly address the questions buyers have. Rather than a sales rep having to repeat the same answer to prospect after prospect, they can share a thorough, vetted piece of sales enablement content that the prospect can read at their leisure, and even share with others.
These benefits of They Ask, You Answer (driving traffic, building trust, shortening the sales cycle) will allow your business to best serve today's buyer.
However, it will only be a successful initiative if everyone at your company is bought in, including leadership, sales, and marketing.
They Ask You Answer needs sales buy-in to be successful
I have taught over 250 on-site trainings with sales teams over the past 10 years. What I've seen is that the most successful content marketing initiatives are those from companies where the sales team is bought in. When content is something that's seen as only related to marketing, it never gains traction and influences sales. Rather, this furthers the divide between the two teams.
If you want They Ask, You Answer to succeed at your company, you need your sales team to be on board — and in order for them to be on board, they need to see that it works.
Salespeople are often resistant to change. If they have a tried and true method, they're unlikely to try something new that is more uncertain.
But even these salespeople are sure to recognize that buyers have changed. Today, buyers are more informed than ever before. And, if you can acknowledge that your buyers are getting information from somewhere, you can easily see the advantage to having them get it from you.
Getting They Ask, You Answer buy in
The key to getting They Ask, You Answer buy in from your sales reps is to show them how the methodology will make their lives easier.
Just like with anything, a directive from upper management that a new initiative must be adopted immediately will lead to resistance and resentment.
It's fine to eventually make They Ask, You Answer a requirement for all sales reps, but you should only do that once you've built a cohort that is bought in and will be able to help you spread the word.
Bringing They Ask, You Answer to your sales team in 4 steps
Therefore, in order to get full adoption, start with a subset of your team — and build consensus from there. That early group will be crucial to full team buy in.
Pick a subset of your sales team (say, 25%), who are typically more open to new initiatives. Teach them They Ask, You Answer, preferably with a coach who can help with training.
Let those sales reps practice They Ask, You Answer techniques with prospects. As they get the hang of it, have them share their successes with colleagues.
As word of successful adoption spreads, prepare to offer They Ask, You Answer trainings to the whole team, using early adopters to help instruct and encourage.
Make They Ask, You Answer required for all sales reps, with the clear indication that leadership will help support their adoption.
Once They Ask, You Answer is a requirement at your company, make sure to put the structure into place to allow for a successful full adoption. This means ongoing training and support, as well as the meeting time necessary to make sure sales and marketing are working together.
Putting They Ask, You Answer into practice
Although They Ask, You Answer is primarily a sales initiative, the bulk of the work falls to marketing. After all, they will be the ones writing and publishing the content. Because of this, getting sales to do their part is a relatively small ask.
Sharing questions with the marketing team
One aspect of this process is easy. Get your sales reps to share the questions they're hearing from buyers with the marketing team.
A recurring content brainstorm meeting every two weeks or once a month will be sufficient for this. It's a small time commitment, after all, and makes a big difference.
Assignment selling is harder, and requires training
However, to truly embrace They Ask, You Answer, your sales reps need to practice assignment selling. That is, they need to use the content in the sales process.
The marketers have produced the content that answers the customer questions. Now, it's up to sales to use this content to better educate their buyers. This can be done proactively — they send a piece of content that answers an anticipated question — or reactively — sharing content after a call to fully satisfy a question that came up in a conversation.
In order to do this well, you'll need some training. Sales leaders need to be ready to provide the necessary instruction and support.
To get you started, you can use the resource below, or talk to us about our coaching services.
🔎Related resources:
The time is ripe for change
The COVID-19 pandemic has forced businesses to adapt at lightning speed. This means we have changed how we sell, how we market, and how we operate — because to not change could mean not surviving.
Since the pandemic began, I have seen hundreds of businesses embrace virtual selling (that is, selling over a Zoom or other video call), many of which had previously been very skeptical of such practices. Instead, they found that virtual selling could work for their industry. As a consequence, many are saving money on travel, they're saving money on trade shows, they're saving money on office rentals — and they're still seeing good sales numbers.
With the buying process continually moving away from the traditional sales model, and the global pandemic shaking up all aspects of business, now is the time to implement a new initiative like They Ask, You Answer at your company.
It will allow you to best serve your modern buyers, and to build trust in the marketplace.
The time is ripe for change.
Free Assessment:
How does your inbound marketing measure up?
Take this free, 5-minute assessment and learn what you can start doing today to boost traffic, leads, and sales.
Get Started
Free Assessment:
How does your inbound marketing measure up?
Take this free, 5-minute assessment and learn what you can start doing today to boost traffic, leads, and sales.
Published on November 18, 2020