IMPACT+ Free vs. Pro Account: What's the difference? Is Pro even worth it?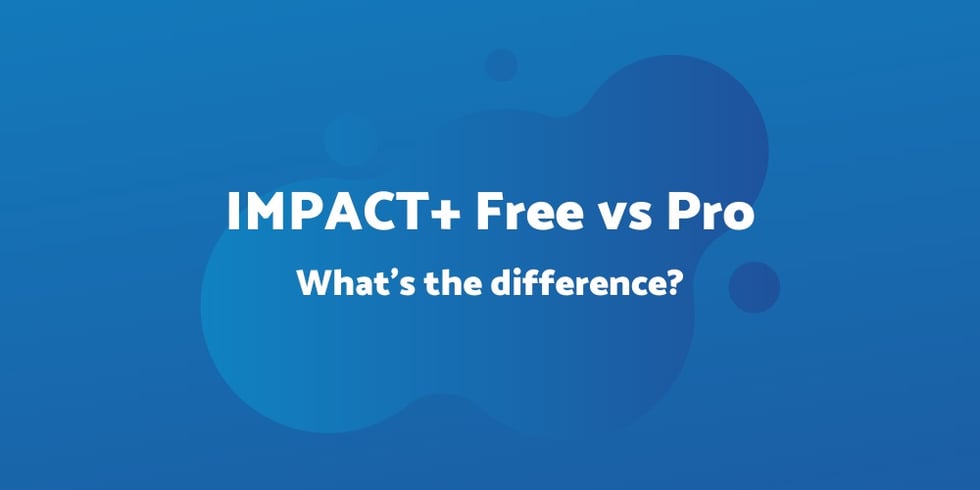 August 27th, 2020 min read
They say the best things in life are free.
They say the best things in life are free.
Don't ask me who they are. It's just a thing, okay?
IMPACT+ may not be the moon, but it does help you shoot for the stars.
Ok, I'll see myself out now.
IMPACT+, our new online learning platform, is your roadmap to business success, starting from an immediate impact on sales to building your entire team's in-house sales and marketing expertise.
Anyone can sign up for a free account and get essential access across the platform, but if you want to get the most out of IMPACT+, you'll want to upgrade to Pro.
We know we're biased about this. And we're not trying to hide it, but we truly believe that it delivers everything you need to support your digital sales and marketing journey and succeed in the most efficient and organized way possible. Here's why.
Note: All features and numbers included are based on the time of this writing, August 19th 2020.
What's the difference between IMPACT+ Free and IMPACT+ Pro?
Obviously you get more with IMPACT+ Pro. Surprise! 🎉
Free accounts can access free courses, free recordings, a personal version of the digital sales and marketing scorecard, and can join open community-created groups. What's the scorecard? It's an easy way for you to track how well your business is doing on key digital sales and marketing principles.
For $99 per month or $990 per year, Pro accounts unlock all of this as well, plus:
Double the courses
Double the recordings
Exclusive virtual peer groups
Let's dig into the details for everything that's included and why IMPACT+ Pro is worth it.
More courses and recordings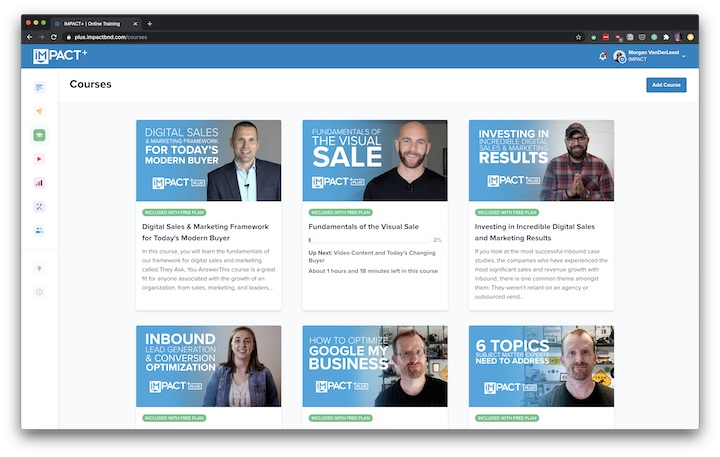 Courses are a core building block of IMPACT+. They convert the fundamental coaching and training we do with hundreds of clients into focused, actionable learning content, you can consume on your own time, at your convenience.
About 50% of the current courses (14 of 27) are available for free, with the other 13 unlocked with a Pro account. And we're launching one new course per week, on average.
For context, we launched 18 new courses in the last three months, with plans to launch another 11 over the next month and a half.
What's the main difference between free and Pro courses?
Think of them like college courses. Free courses are your intro classes like Video Marketing 101 and 102, and a few 200s. You'll get a foundation and level up your knowledge, filling in some of your gaps.
Pro courses, however, are your 300 and 400-level courses, advanced training in your specialty that are unique to your institution and instructor (or, in this case, subject matter expert).
One of our goals with courses (much like other areas of IMPACT+) is to help you start generating ROI before you need to take the next step.
What does that ROI look like? That depends on what you do with what you learn. For example, you may implement assignment selling and see it reduce your sales cycle by 20% because your sales team has content they can use to close a big deal and your prospects are better qualified in turn.
Or you may bring a high-level marketing strategy to your leadership team, which nets you confidence and exposure to get that promotion at your next annual review.
Pick the 2-3 things in a course that you can implement right away, then actually do it. And your results will follow.
If you want a crash course in They Ask, You Answer and aligning your sales, marketing, and leadership teams, you'll want to start with these three free courses:
After you generate some returns (or just want to move faster), the courses behind Pro access become a lot more impactful.
You'll find in-depth sales training, such as How to Role Play Virtual Selling with Your Team and Digital Communication Techniques for 1:1 Sales.Content Managers will love The Subject Matter Expert's Guide to Content and How to Write "The Big 5". And when you're ready to take your business to the next level, Scaling Up Your Digital Sales and Marketing will help you take your company from good to great.
Event recordings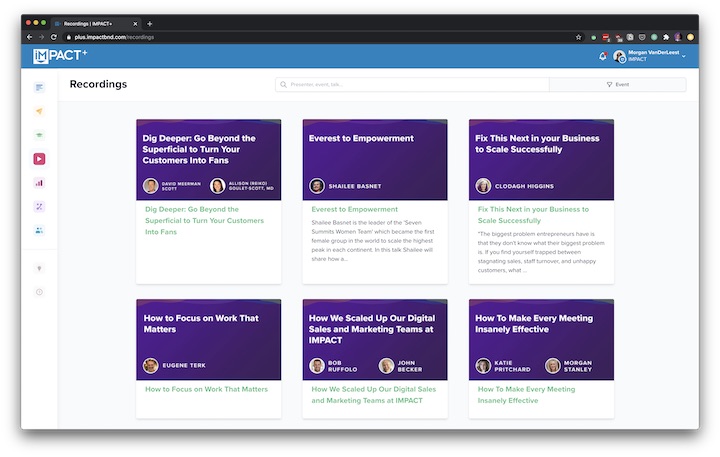 IMPACT+ gives you access to recordings from all of IMPACT's major events (in-person and virtual) from the last four years.
Similar to courses, about 50% of our event recordings (74 of 146) are available for free, but the other 72 unlocked with a Pro account. The bulk of those free recordings came from our last three virtual events in 2020:
The vast majority of our in-person event recordings are unlocked with Pro. Tickets to each of those events cost anywhere from a few hundred to over $1,000, and featured speakers such as Brian Halligan, Ann Handley, Ryan Deiss, and David Cancel.
They share invaluable talks that are not only inspirational but actionable and you get access to every event recording with a Pro membership, often for less than it would cost to attend one of those events.
Groups
Another big feature that differs between Free and Pro is groups.
A group in IMPACT+ is a gathering of people with conversations that are only visible to that group. Anyone can create or join an open group, but Pro memberships include a virtual peer group seat.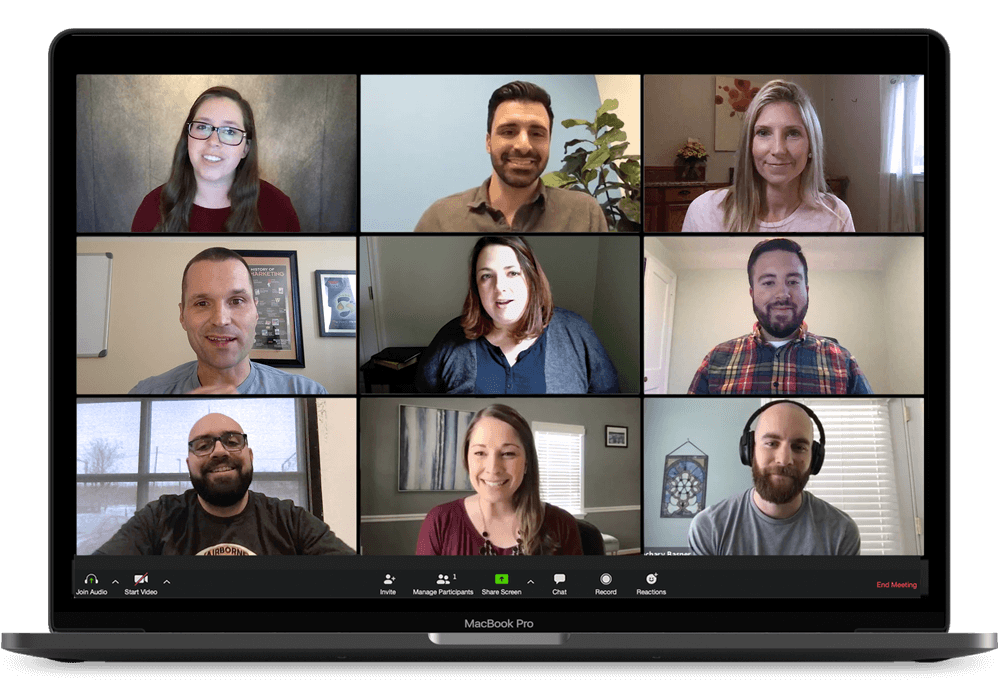 Pro memberships, however, include a virtual peer group seat.
Virtual peer groups are exclusive groups for individual's in specific roles. They are created and led by an IMPACT subject matter expert, limited in size, and include monthly calls. They're a great way to:
Advance your skillset beyond what you've learned in courses
Connect and share experiences, successes, and failures for collective growth
Gain feedback from others that are in a similar position with unique perspectives
While open groups can be created and moderated by anyone in IMPACT+, virtual peer groups are structured with your progression in mind.
Your IMPACT subject matter expert will facilitate discussions, encourage activities for your day-to-day work, and keep you accountable for your professional growth.
You also have the same benefit as other groups in that you can have conversations scoped within that particular group, so there's a level of privacy and intimacy included.
Is IMPACT+ Pro worth it?
Let's look at the numbers, starting with costs.
High-quality online courses cost upwards of $100 each. So 13 Pro courses at $100 is $1,300.
Let's say you paid to attend IMPACT's in-person events at the base-level rate (~$300). Four events at that rate is $1,200.
While virtual peer groups and mastermind groups have some differences, an IMPACT subject matter expert-led peer group has a lot in common too. Mastermind groups can cost tens of thousands or more annually, but let's round it down to an even $1,000 per year.
We have $1,300 + 1,200 + 1,000 = $3,500 worth of content and guidance for $990/year. And that's not including any of the content and tools you'll get access to as IMPACT+ improves.
Pretty sweet deal.
Now, what about the value you'll get out of IMPACT+?
That depends on your circumstances.
Assume the average deal size for your company is $1,000 and each deal takes about 30 days to close.
If your content marketing brings in one extra deal per month, you've paid for IMPACT+ Pro for a year and the rest of the year's deals are gravy ($11,010 if you're keeping track).
If your assignment selling cuts your sales cycle down to 15 days because of less back-and-forth between your sales team and prospects, you can close twice as many deals per month (or spend more time on the bigger deals). And that means thousands of dollars more sold per month.
So… is IMPACT+ Pro worth it?
I'll take "Resounding Yes" for $990, Alex.
IMPACT+ meets you where you are
Whether you are just getting started and need to learn some fundamentals, or you're well into your They Ask, You Answer journey and looking to master your craft, IMPACT+ is your tool for success. Sign up for what you need, when you need it, and go at your own pace.
Not ready to spend any money? Dive into our free courses and recordings and start applying the principles to your business.
Starting to see results and want to dial it up? Upgrade to Pro and unleash your potential.
See you in IMPACT+.
Want to learn more about digital sales and marketing?
Master digital sales and marketing when you join IMPACT+ for FREE. Gain instant access to exclusive courses and keynotes taught by Marcus Sheridan, Brian Halligan, Liz Moorehead, Ann Handley, David Cancel, Carina Duffy, Zach Basner, and more.
Access hundreds of FREE courses and keynotes