IMPACT+ Free vs. IMPACT+ Pro: What's The Difference?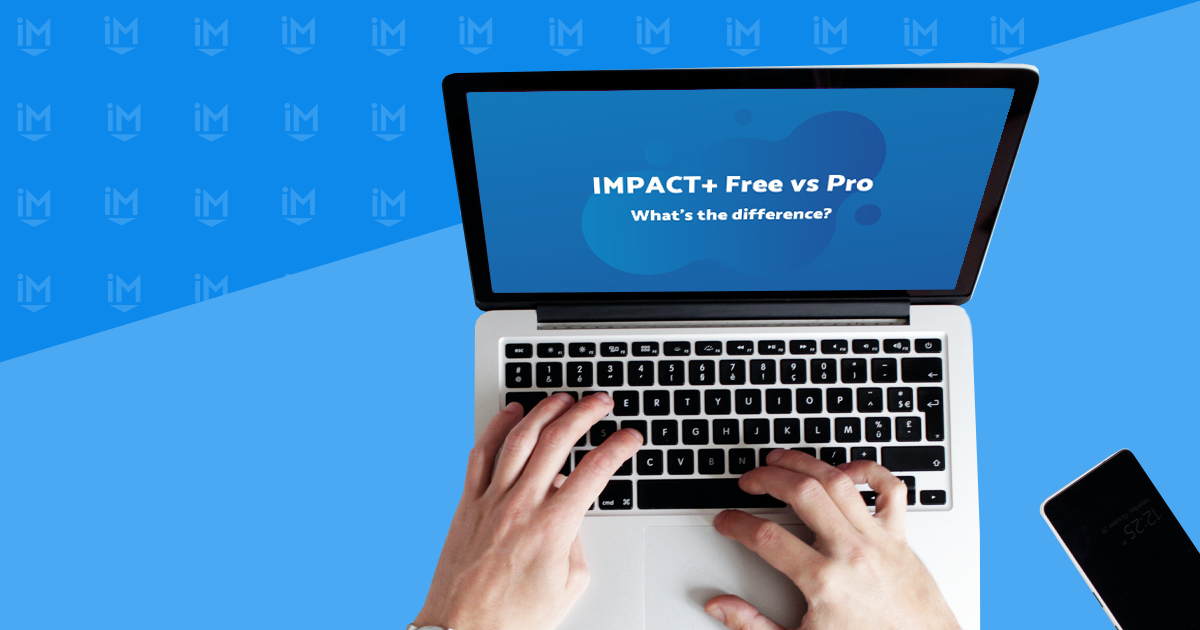 The beauty of They Ask, You Answer is that it provides marketing expertise to people without a marketing background. When organizations put this framework into practice, they can suddenly envision a future in which they don't have to pay an outside agency to generate their leads.
This does not happen overnight, of course. It takes months of strategy and planning, as well as steady execution. But most of all, you will need guidance.
That's where we come in.
After working with hundreds of companies over the past dozen years, we've learned a lot about what works and what doesn't when it comes to inbound marketing and sales — and we know the right way to put They Ask, You Answer into practice.
But we know that not every organization can work with us directly. Some don't have the budget or the size.
We created IMPACT+ to help businesses of all kinds thrive with They Ask, You Answer. It's all there. Courses, lessons, keynotes, and learning sessions — as well as tools, discussion groups, and more.
The best part? Anyone with an email address can sign up for a free IMPACT+ account and get started right away.
But the free version of IMPACT is designed just to get you started. If you want to experience the full power of IMPACT+, you'll want to upgrade to IMPACT+ Pro, which unlocks the entire platform.
In this article, I'm going to cover the information you need to understand the differences between IMPACT+ Free and IMPACT+ Pro, including each level's features:
Courses and lessons
Event recordings and keynotes
Mastermind groups and tools
Team functionality
Let's walk through everything you need to know as you decide what level of membership is right for you.
What's the difference between IMPACT+ Free and IMPACT+ Pro?
The free level of our IMPACT+ platform is designed to give you what you need to know to get started with They Ask, You Answer — whether you're a business leader, marketer, salesperson, or solopreneur.
IMPACT+ Pro gives you way more content and features so you can move faster and more confidently.
Now, it goes without saying that yes, of course, I believe in our platform and believe in the offer that we have put on the table with our paid membership. Let me explain why I think it's so valuable.
Back when I started here at IMPACT, I was pretty new to inbound marketing. Looking back, I can see just how valuable this platform would have been for me as someone who was just getting started. It's something I certainly would've invested money in.
Free accounts get access to essential, introductory courses and lesson content, select event keynotes and breakout sessions, our open community forums, and a personal version of our They Ask, You Answer scorecard, which helps you track your progress within the platform.
For $79 per month (or $699 per year), Pro accounts get unlimited access to:
All courses and lesson content
All upcoming events and past event recordings
Exclusive mastermind groups
Learning paths and playlists
Enhanced scorecards, planning periods for progression tracking, and greater team functionality
For a quick visual breakdown of IMPACT+ Free vs IMPACT+ Pro:
| | | |
| --- | --- | --- |
| | Pro | Free |
| Total Courses and Lessons included | 59 | 36 |
| Total Event Sessions included | 255 | 95 |
| Tickets to Future Events | ✅ | ❌ |
| Access to Mastermind Groups | ✅ | ❌ |
| Learning paths | ✅ | ❌ |
| Instructor playlists | ✅ | ❌ |
| Team Functionality | ✅ | ❌ |
Let's take the time to dive a bit deeper into each of these five sections of IMPACT+.
Courses and lessons
Courses are a core building block of IMPACT+ because they give you the opportunity to work at your own pace.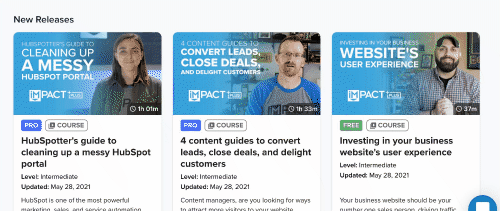 We recommend users start out focusing on the fundamental principles from They Ask, You Answer and other proven strategies we teach our clients and put them into practice through actionable, entertaining content.
Types of courses
What's the main difference between the courses available in Free and Pro, and how do they work together?
Think of it all as a school curriculum. When you are getting started, you take courses that teach the fundamental strategies and principles that help build the foundation and give you a clearer picture of where you will be going next.
Those strategies and principles are brought to life in our free courses such as:
Once you have those foundational principles in place, you move up to the higher-level subjects that come with a Pro membership. These are the advanced courses and lessons that focus on specific elements by job role and strategy.
Some of the courses included with Pro that take those foundational principles to a deeper level include:
Long story short, if you start with Free, that makes perfect sense and will set you up for success.
Eventually, however, you'll hit a wall when you go through all the beginner content, and you won't get the more in-depth knowledge you need to take your success to the next level.
Learning paths
New to IMPACT+ are learning paths, which help you organize your education into clear, linear paths.
You'll be able to see exactly how to follow up on that introductory course with the right intermediate and advanced lessons. They look like this: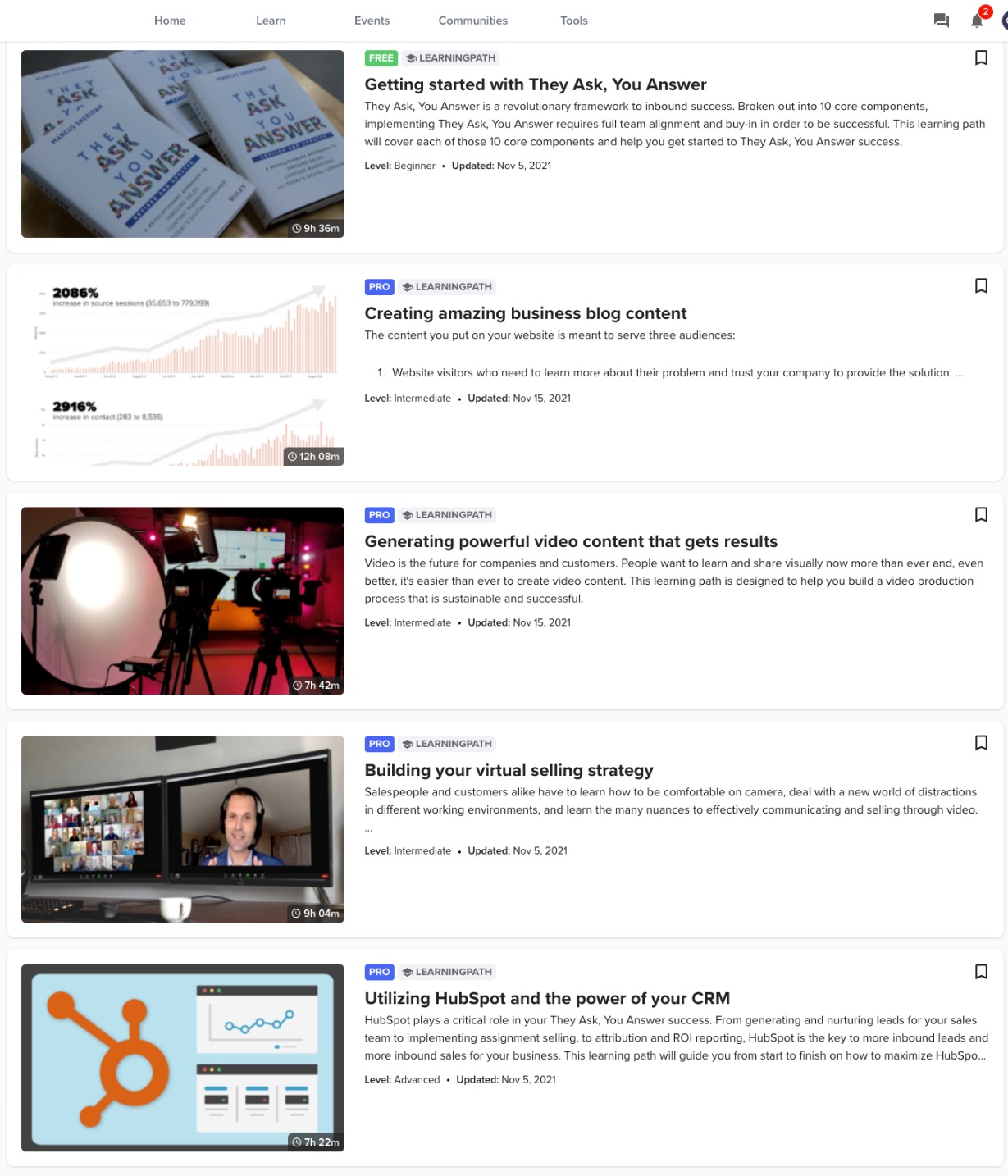 The first learning path is available for everyone on IMPACT+ (note the green badge above), while the others are just for Pro-level users.
There are five learning paths currently available, with more planned for future release:
Instructor playlists
Everyone has a favorite teacher growing up. It could be their style, their intelligence, their ability to ask the right questions. Whatever it is, some experts just resonate with us.
You can now find the courses and lessons from a particular instructor within IMPACT+. Seven are currently available.
Upcoming events and session recordings
What better way to learn the latest strategies, trends, and industry insights while hearing from some of the industry's top voices than to attend an event with your peers?
With any IMPACT+ membership, you get access to not only all of our upcoming events, but you also get access to hundreds of past sessions from keynote speakers like David Meerman Scott, Yamini Rangan, Ann Handley, Donald Kelly, Marcus Sheridan, and more.
With IMPACT+ Free you get access to select introductory webinars and smaller-scale workshops, as well as keynote and breakout sessions that help reinforce some of the most important principles and strategies we teach in a new format.
With IMPACT+ Pro you get everything included in Free plus access to all our past event sessions and a ticket to all of our future events.
With the incredible past speakers that are included in our IMPACT+ events section, you can gain access to invaluable talks that are not only inspirational, but also progressive and actionable.
Mastermind Groups
One of the most valuable aspects of IMPACT+ is our role-based mastermind groups. While Free members get access to our free community forums in IMPACT+ that focus on specific skills or roles, a Pro membership unlocks a mastermind group seat.
Masterminds are niche groups led by subject matter experts on the IMPACT team. These groups meet once a month for candid discussions to help each other learn, grow, and succeed. These groups are around 20 members in size and are determined by your role at your organization.
Although the communities are great for asking questions and engaging with larger groups of members, mastermind groups are designed to help you advance your skillset beyond what you've learned in courses, connect and share experiences, successes, and failures for collective growth, and gain feedback from others who are in a similar position with unique perspectives.
You'll experience all of this in a more individual, person-to-person way.
The list of mastermind groups include:
Your IMPACT subject matter expert will facilitate discussions, encourage activities for your day-to-day work, and keep you accountable for your professional growth.
Team functionality
Teams do their best work when they are aligned and focused on the same goals and objectives. IMPACT+ can help your team do just that.
The easiest way to achieve this is to create a team in IMPACT+. That way, you can invite your team members to the platform and get everyone set up, absolutely free!
Once everyone is in IMPACT+, you can communicate directly with them in the platform and even track metrics that your team has set through our strategic business tools.
With a free membership, you are able to fill out your personal They Ask, You Answer scorecard. This will allow you to see where you are currently; however, you can't take further action individually, nor can you share it with your team.
With Pro, you unlock full functionality with the scorecard, which will allow you to:
Get aligned on where your company is struggling the most.
Identify clear action steps for what you will need to do next.
Set up metrics to track the progress that your whole team can see.
Build a timeline for when those need to be completed.
You'll also see other features designed to help you communicate, collaborate, and chart progress. Among these are topic-focused scorecards, which specifically look at things like HubSpot proficiency, content strategy, and video production. You can use these scorecards to outline initiatives, plan team training, and level set across teams.
Here's how it would work:
Let's say you are the leader of an organization and you want to begin implementing They Ask, You Answer. You have a marketing manager and a sales rep on your team who are bought in and want to help.
When each member of your team has a Pro membership, you can assign them to take the They Ask, You Answer scorecard to see where you rank at that moment.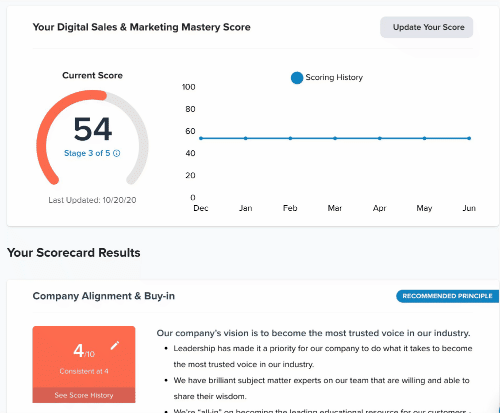 Once each of you completes the scorecard, you will then be given a clear picture of your areas for focus, along with clear actions for how to improve those scores.
Your team can then set personal and team performance goals to grow those metrics and to track against those metrics over a specific period of time using the planning period functionality.
You can then couple the scorecards with the training and resources included in the platform to help grow your business and achieve your goals.
Is IMPACT+ Pro worth it?
When you're getting started with They Ask, You Answer, you need to bring your team up to speed. They need to understand the framework so they can start to catch the vision.
IMPACT+ is the place to come for that sort of education.
At the free level, you can find all of that 101-level material to align your team and start to build momentum. From there, IMPACT+ Pro will be the resource that can supercharge your growth.
Many of our members have successfully leveraged free membership content to drive marketing and sales success — especially if they can't afford to invest in IMPACT's flagship services.
However, you will eventually hit a wall where you need more specifics and insights that are only available to Pro members.
Everyone deserves to learn, grow, and succeed in their business. Don't let yourself sit on the sidelines while others get ahead and drive results.
See you in IMPACT+!
Free Assessment:
How does your sales & marketing measure up?
Take this free, 5-minute assessment and learn what you can start doing today to boost traffic, leads, and sales.