Best sales enablement tools in 2021:
HubSpot's Sales Hub
Vidyard
Paperflite
Intercom
Drift
Most marketing or sales leaders we talk to are familiar with the term "sales enablement," but they're not exactly sure how to get it right. Without the proper tools to close deals faster, their sales reps are frustrated — and the roadmap on how to fix holes in a weak sales enablement strategy is unclear.
Free Guide: The Ultimate Inbound Marketing Strategy Playbook 2022
If you too feel discouraged about not knowing which exact steps you should take to guarantee better sales enablement results and grow your business, you're not alone.
In the last year, and especially during COVID when most sales teams were forced to focus more on virtual selling, we've helped hundreds of companies implement sales enablement programs and tools that drastically improved closing rates, the time sales reps had to spend with prospects, and the overall number of new deals closed — so we certainly have a lot to say on this topic.
In this article, we're going to cover three things:
The core concepts of effective sales enablement that all successful companies employ well.
The content assets that your marketing team must produce for your sales team, and the ways your sales team must use them.
The software tools that we recommend for all of our clients to best enable your reps and provide you with the data you need to know if your sales enablement efforts are successful.
Also in this article, we're going to share a couple of examples of companies just like yours that are using core marketing concepts to increase sales, and how they use tools to improve their effectiveness. We've selected one example that is B2B and another that is B2C to show you that the tactics we're going to teach you in this article will work for any company, of any size, in any industry.
Core concepts that successful companies use to succeed and the sales tools they use to optimize their success
If you're like most of the people we talk to, you believe in content marketing, and you may already be using some of the elements of They Ask, You Answer in your business. You're investing in content marketing because you want to drive more opportunities for your sales team.
You understand that content is the most important tool in your toolbox when it comes to sales enablement, and you're trying your darndest to provide the sales enablement support your sales team needs. And you're frustrated. Because no matter how much content you create, it gets ignored. "I don't have time," they say, or even worse: "What you're creating isn't helpful."
They don't get it. But don't be surprised – most sales teams don't. Here you are, doing your research trying to help the sales team, putting what you learned into action, and when you share it with them, it's like they don't even care.
If they only knew what we knew, they would understand that using content as a sales enablement tool will have an incredible impact on their bottom line, help them close more deals, and sell more in less time.
Buy-in from your sales team is the key. But how does that happen?
Having seen hundreds of companies break down silos and execute sales enablement strategies, I can definitively say there are three things you must do at your company if you want to have similar success:
Get your sales team and your marketing team working together as one "revenue team." If you truly want to create a successful sales-enablement program, your marketing and sales teams

must

be working as one unified team and meeting together once a week. IMPACT's Liz Moorehead provides everything you need to know about revenue teams in this video.
Teach your sales team how to use assignment selling. How effective do you think it is to create a bunch of content and tell the sales team to just start using it? Not effective at all — if you don't teach them the right way to use sales enablement content, and hold them accountable to do so, it'll never work. We have a free course called "

Assignment selling: Content is your greatest sales tool"

that explains everything you need to know about assignment selling and how to get it started in your business.
Kick off your sales enablement efforts with a workshop, in-person or virtual. As Marcus Sheridan says, "You can be a prophet to the world, but no one is going to listen to you in your own backyard." You're not going to be able to break down the silos of sales and marketing on your own. Time and time again we've seen companies try to engage the sales team on their own, and it fails more times than not.

Talk to an IMPACT advisor

if you'd like one of our coaches to facilitate a sales and marketing alignment workshop for your business.
All these steps help your sales team understand how powerful content is in the selling process by teaching them the what, how, and why of this effective strategy. But next, you need to focus on creating the content that supports your sales team the most.
The best sales enablement tool you can use is content
We teach our clients how to produce two types of content that not only drive the most traffic to your website but can also be used by your sales team to grow leads and sales. By using them in your sales process, you will see an immediate increase in closing rates and a decrease in selling time. In short, these are the types of sales enablement content you can create that will increase the productivity of your sales team.
And they don't take weeks or months to make — you can create and use them today.
These pieces of content are effective because they build trust with your prospects and help them understand how your business can help them solve their problems. In turn, they answer often-asked sales questions upfront and save your sales teams tons of time by not having to answer these common questions over and over again on every sales call.
They are:
1. The Big 5: These written blog article topics are the pieces of content discovered by Marcus Sheridan to be the most effective in growing organic traffic and educating prospects. When he wanted to see what content was and wasn't working in his inbound marketing strategy, he noticed specific topics getting the most traction — and after teaching them to thousands of companies that use them to this day, he also realized they applied to every industry (whether B2B or B2C). They include:
Costs: How much your solution costs (factors, considerations, what defines value, etc.).
Problems: The negatives about, or issues with, your solution (that buyers tend to ask about).
Comparisons: How your product or solution compares to similar products or solutions.
Reviews: Honest and unbiased opinions and observations about your product, solution, etc.
Best: What the best available solution is.
In our course How to Write "The Big 5", IMPACT's Content Coach Kevin Phillips teaches you how to write each of these blog articles for your website and sales team.
2. The Selling 7: Using video as a sales initiative is one of the best decisions you can make for your sales team. Unfortunately, when companies use video for sales, they don't focus on the videos that create the most trust with prospects and ROI. In turn, they can seem like marketing fluff to your sales team when they really ought to be your sales team's greatest tool.
Videos such as the 80% video (where your team addresses questions they're asked on every sales call) and bio videos (where your customer-facing team members introduce themselves to your prospects) help you avoid wasting time on videos that won't make a big difference and narrow in on content that actually drives sales.
Stop wasting time and spinning your wheels figuring out which videos your team should make. IMPACT's Digital Sales and Marketing Coach Will Schultz teaches you how to make these high-impact videos in our Pro course Crafting "Selling Seven" videos that convert.
Unless you're creating content for your sales team to use in their process and properly set up the strategy we've outlined for you above, software tools can't do much to help your sales team. Only after you've taken these first steps and laid the proper groundwork will the sales enablement tools be most effective.
Sales enablement software we recommend
When we teach our clients at IMPACT which sales automation tools to use, there are clear winners — tools that are intuitive, and easy to train your team on quickly and use. Most also have free versions you can implement until you're ready to upgrade for a broader experience, which is helpful for businesses that are starting out and can't spend too much, initially.
Here are the sales enablement tools your sales team will benefit from most:
HubSpot's Sales Hub
HubSpot is one of the most powerful marketing, sales, and service automation platforms on the market today. Ask any HubSpot user and they can tell you it's a game-changer. Plus, it's free to start, and you can work your way up the different packages as you go: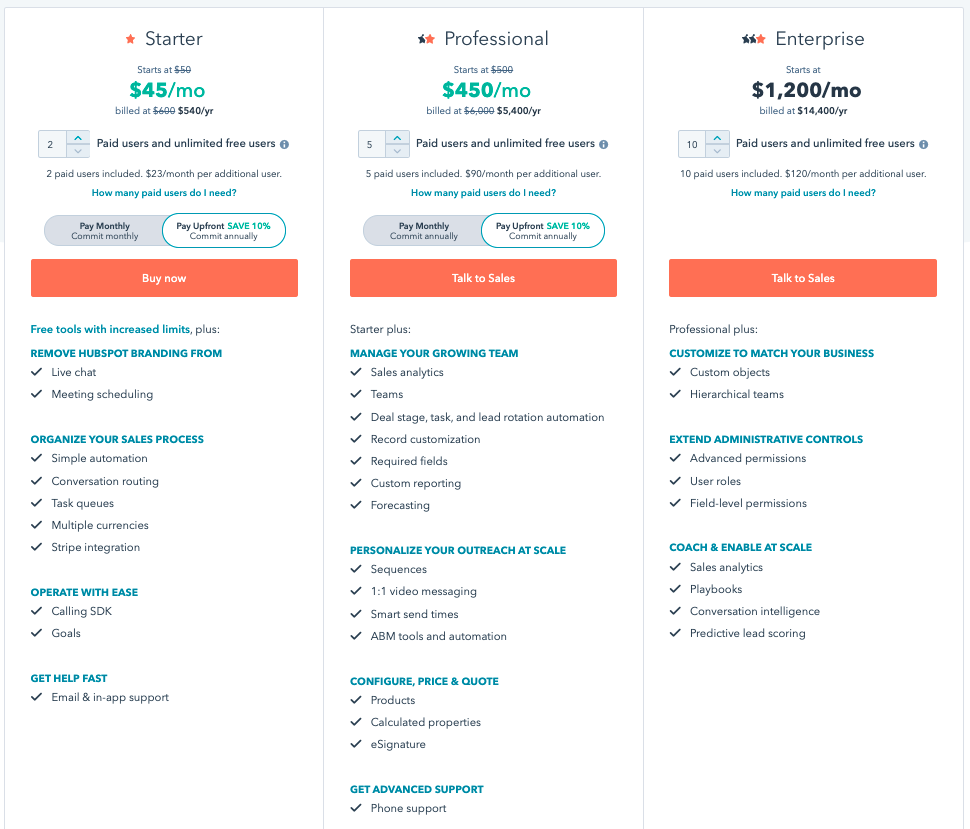 Even with the free version, there is a lot you can accomplish with the software. For example, whenever prospects fill out a form on your website (contact form, ebook download form, etc.), you have the ability to track that person and see major data points about lead behavior. This includes what pages they've visited, how much time they spend on your site, and what emails they've received, opened, and read.

Your sales team will also benefit from HubSpot's automated tasks, such as:
Tracking ROI with automated reports.
Automating emails.
Allowing prospects to book calendar appointments with your staff.
Engaging with prospects on live chat.
The platform allows sales representatives to target specific prospects so they can spend more time with qualified leads, and the dashboard helps your sales reps access real-time data (such as sales leads by sales representatives, how many calls their team has made each day, and revenue made).
You can also see or test what is and isn't working with your content to convert more leads. For example, many businesses use calls-to-action or CTAs (like "click here" or "download now") on their site. But many don't test to see if the color of the button or the wording used has an effect on lead conversion rates. Sometimes we think our websites are driving those leads, but there might be something simple you can do to make it even more effective for your team.
Another plus is that your sales and marketing teams can collaborate on projects together directly in the platform by sharing access to files, documents, and reports, which makes it easier to align your sales and marketing teams around common goals. Without a collaborative platform like HubSpot, many of our clients still have teams working in silos, which sets the stage for miscommunication and too much time wasted going back and forth between teams.
To learn more about how HubSpot can help your sales team, head on over to IMPACT+, where you'll find a library of courses, including Sales reporting and dashboards in HubSpot given by our HubSpot expert Carina Duffy. You can also Talk to an IMPACT advisor about using HubSpot in your sales process.
Vidyard
When I started at IMPACT, one of the first things I learned was how to use Vidyard — and it took me mere minutes to figure it out, it was that easy. We use it here all the time to quickly share information between departments and give feedback on projects.
It's a tool you can access from your Chrome browser that allows you to record, post, and share videos effortlessly. And this makes it easy for your sales team to personalize correspondence with prospects in email. By saying your email contains a video for your prospects in the subject line, you can increase open rates by 20%. That's pretty incredible considering the average email open rate is 20%, which means you can potentially double your email open rates.
Vidyard also offers a range of analytics — such as how your viewers are interacting with your content and who they are — and it integrates with other popular platforms, such as HubSpot, LinkedIn, and Salesforce. This saves your sales team time and allows them to view valuable video data alongside customer records and reports.
With different versions of the platform, you can split-test thumbnail images, customize CTAs, and use heat maps to see where users are clicking, all of which can help your sales team track how prospects engage with your content. Like HubSpot, Vidyard's free version is helpful to your team, so you don't have to go all-in and spend too much at first. There are more features you can add if you need to: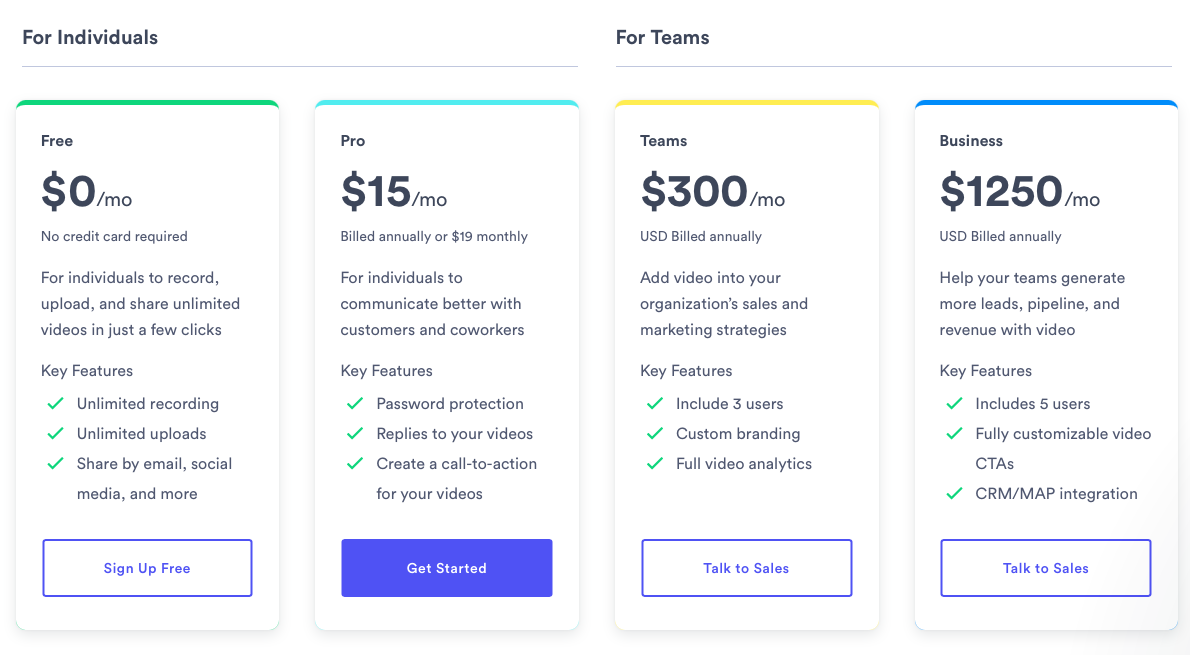 Some of the paid packages include custom branding capabilities and the ability to sign up more users. But all versions allow you to see how people are interacting with your video content to some degree. This means you can see how well each video your sales team creates is performing. This helps your team make smarter decisions while generating more traffic, leads, and sales.
Other sales enablement tools we recommend
Paperflite
Paperflite is a content management tool that can help your sales team consolidate its content in one place. This makes it easier for your team to access and share the content they're looking for by grouping content by different collections and categories, so they don't have to go rummaging through desktop folders or request that a team member send them files.
Not only does it help your sales team categorize content, but it also helps them share content in a way that is visually appealing, rather than sending prospects a bunch of bulky attachments: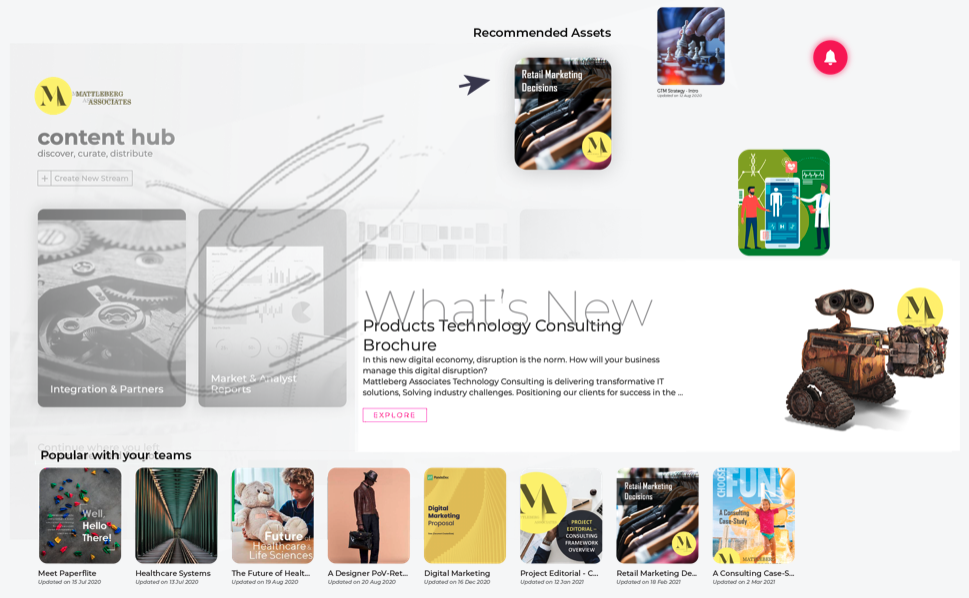 This tool is most helpful for your sales team if they work with a lot of content and need help organizing and sharing that content in a more visually appealing way.
Intercom
Intercom is a conversational tool that makes it easy to use live chat and chatbots on your site. You can set the Intercom software up to help your customers choose their own path through your sales process or easily access someone on your team.
Here is an example of what a chatbot user experience looks like on the Intercom site (you may have seen something similar elsewhere). As you can see below, I asked it to tell me more about the software and how it would help me with sales: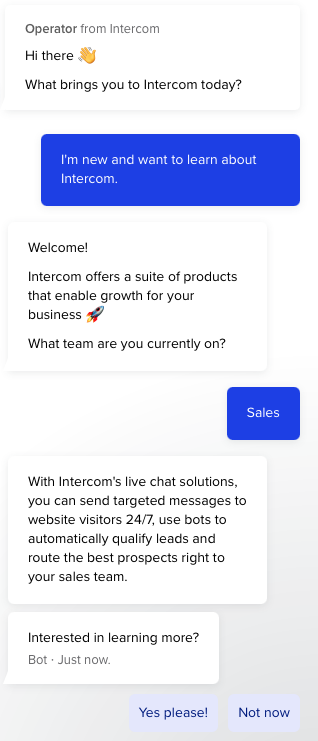 This might not replace the entire sales process, but it helps your team clearly understand what prospects are looking for and can help lead your prospects in the right direction.
Drift
Drift is a sales engagement platform that helps businesses engage with prospects in real-time via live chat, video, voicemail, and email. The software allows you to track when prospects are on your site and how engaged they are. This helps your sales team focus on prospects further down the pipeline:

You can also set it up so prospects get a personalized notification while they're searching for information on your website. That notification might look something like this: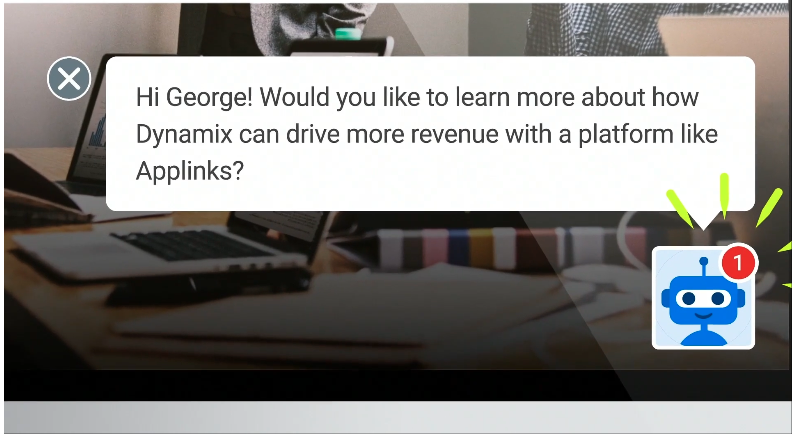 It's a great tool for making sure your sales team isn't wasting time chasing bad-fit leads.
To learn more about how to use these programs to support your sales team, schedule a free consultation with an IMPACT advisor.
Start building a winning sales enablement strategy — today
All the tools and examples we shared here are from an award-winning inbound marketing framework we teach our clients called They Ask, You Answer. Here at IMPACT, it is our sole mission to help businesses like yours thrive with all aspects of their inbound marketing journey, including setting your sales enablement strategy up for success.
Hundreds of our IMPACT clients have used these steps to help their sales teams realize incredible results.
One example is Krista Kotrla of B2B business Block Imaging. After taking these steps, she helped the business drive $20 million in revenue. And then she received this email from a salesperson on her team:
Guys,

Y'all may be sick of hearing these stories, but I still get a kick out of it. I just had a conference call with a pain management center in Arkansas. Come to find out before we even spoke, the purchaser had printed off several of my blogs to bring to her board meeting. It enabled her to answer questions on comparison models, budgets, what equipment they needed, etc.

She had read and seen so much of our content, she said she couldn't wait to talk to me. She told me who my competitors were and how much they were quoting. Even when I told her we would likely charge more, she said, "But I trust you guys, I'd rather work with you."

I realize they don't all line up like this, but when our funnel is working at its best it is so so so sweet ... I'm sure I could still find a way to screw up the deal, but the point is, I couldn't be better set up to succeed.

The effort to produce the content is WORTH IT! Thank you to the stellar efforts of the marketing team for really setting us apart.
Another is Kendall Guinn of Aquila, a B2C commercial real estate business in Austin, Texas. She cited this comment from her company about using this process for sales, which is now bringing in over 200 leads per month:
"When the idea (of content marketing) was first presented to us, I was definitely hesitant," admitted Aquila principal Jon Wheless. "I had done our sales process one way my whole career and it seemed to be working. I thought, 'Why change something that isn't broke?' Over time, I was proved wrong."
Both pulled it off using the They Ask, You Answer framework, and you can too.
To take the first step at implementing They Ask, You Answer in your business and see incredible sales enablement results in your company, check out these helpful resources:
Our strategic coaching and hands-on training for your marketing and sales teams will help you improve your marketing metrics and scale your business with a better sales enablement strategy. Set up a time to talk to one of our advisors, and we'll show you how to alleviate your sales challenges so you can finally celebrate incredible results.