How To Improve Your Sales Process
Your sales process should be a well-oiled, revenue-generating machine. If yours needs work, these improvements will help you get it there.
Kimberly Marshall also recommends this free guide, The Sales Manager's Guide to an Incredible Virtual Sales Process.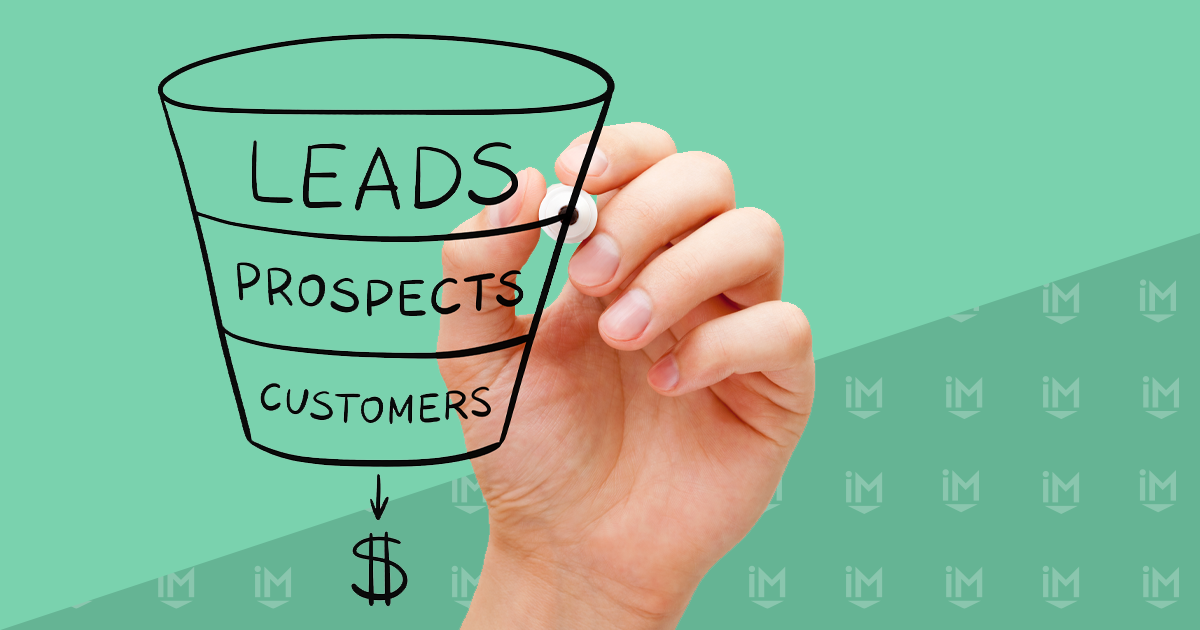 Learn how to improve your sales process by taking the following steps:
Make sure the stages of your sales process are well defined.
Get your sales team using a CRM to track your sales process.
Create tools, playbooks, and checklists for each step of your sales process.
Analyze the success of your sales process.
Continue training your sales team.
Use content in your sales process with assignment selling.
If you're a business owner or sales manager who knows your sales process needs work — but you aren't sure exactly what those changes should be — you're not alone. Most of the clients we work with have a general idea of what their sales process needs to look like, but they aren't sure if that means making a few tweaks to their current sales process or initiating a complete overhaul.
If you're tired of attempting to smooth out your sales process by trial-and-error, you can instead implement this framework for developing a system that is proven to generate more revenue for your business.
Here at IMPACT, we've helped hundreds of B2B and B2C companies eliminate the wasteful guesswork and standardize their sales process so it's more efficient, while supercharging it with an effective process called assignment selling.
It's a strategy that many businesses aren't using, even though it's been proven time and time again to significantly reduce time spent on your sales pipeline and explode your revenue.
In this article, we're going to explain how to improve your sales process so your sales team can close deals faster and more efficiently than ever. The information we will share with you includes:
How to structure the stages of your sales process.
What assignment selling is, how it works, and how it optimizes your sales process.
How to use assignment selling at each stage of your sales process to grow your business.
With these simple tips, your sales reps will be able to shorten their sales cycle and be far more efficient in their day-to-day work and help grow your business's bottom line.
Ready to stop trying to figure out what might work, and focus on what does?
Here's what to know.
Free Guide: The Sales Manager's Guide to an Incredible Virtual Sales Process
How to structure the stages of your sales process
When your sales process is structured properly, it not only helps your team close deals faster and more efficiently, but it also eliminates the need to "sell" at all — at least in the traditional sense.
As Will Schultz, one of our They Ask, You Answer coaches here at IMPACT, describes it:
"Your sales team should act as guides who steer people along the well-beaten path of your sales process. And your prospects should feel like they are one of thousands of people who have gone through this process with your guide before."
This means there should never be anything left to the discretion of the salesperson — that they should never be "winging" it. Your sales team should know exactly what steps to take, how each question should be answered, and which sales tools they need to use every step of the way.
To get to the point where your sales process is a well-oiled machine, you need to deeply analyze, then restructure your sales process so it works for every sales scenario.
To achieve this level of seamlessness in your sales process, take the following steps:
1. Make sure the stages of your sales process are well defined
The first thing your team should do is map out what happens during a typical sales journey, from acquiring a lead to closing the sale. For most companies, this looks like a flow chart of touchpoints, which will be unique to your business, as every company's sales process is different.
After you spend time analyzing your process, you'll start to see a few stages emerge. Common stages include:
Connect
Explore
Present solution
Agreement
Close
You can also be even more specific on where your deals are in each stage. Instead of just saying "Explore," have stages for "Explore call scheduled" or "Explore call completed."
Here's an example of what that might look like.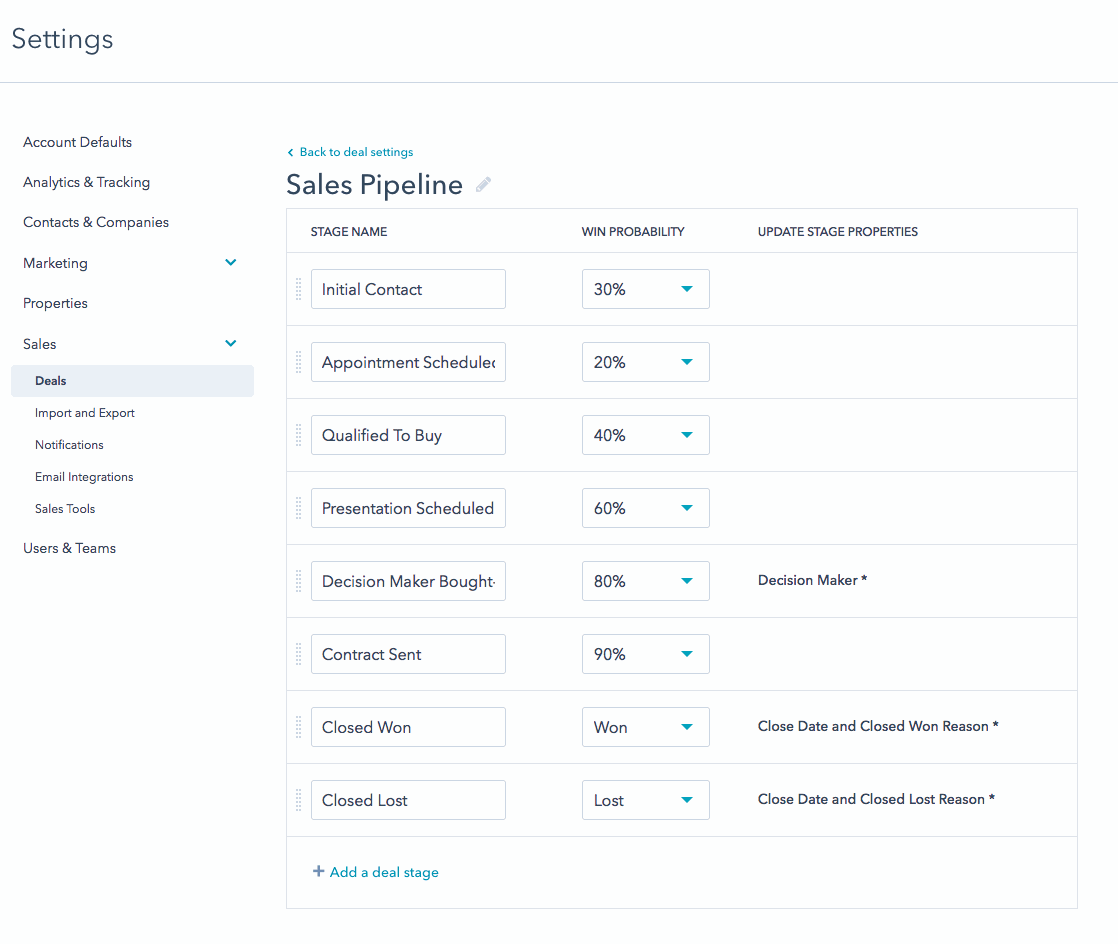 Yours may have other variations too. For example, you may have a goal-setting and planning call between the time you explore your opportunity and present your solution, but most companies tend to follow this timeline.
The trick is being sure to get familiar with what happens at each stage so your sales teams know exactly how to get the client to the next phase. You also want to be sure you're weeding out bad-fit leads from the start, so you're not wasting your time chasing prospects that will never buy.
Assignment selling helps with this immensely. (More on this later.)
2. Get your sales team using a CRM to track your sales process
The next step is getting your sales team to use a CRM to track their sales process and to enter data.
Proper CRM adoption is critical for:
Enabling sales efficiency.
Getting all customer-facing team members aligned.
Logging your customers' interactions with your business.
Gathering data on how your business is performing.
Yet, many of our sales team members don't see the value in using them, and it can be difficult to get them on board.
After training hundreds of clients on how to get their sales reps using HubSpot — which is one of the most powerful CRMs for tracking your sales cycle out there — we've come up with a few tips:
Explain the why. Your sales team will want to know what's in it for them. Tell them HubSpot can help them streamline communication and land more sales. It can also automate their day-to-day tasks, such as making and recording sales calls and email — saving them a ton of time.
Organize a learning workshop. This helps your team learn not only how to use the technology, but also how other sales reps like them are doing, which can be a motivating factor. It's also a great opportunity for your team to ask any questions they have that might be getting in the way.
Get your team's commitment. Have them agree to use the technology, and teach them one element of the functionality at a time so it's not too overwhelming all at once.
Hold them accountable. Set the precedent that if the action wasn't recorded in your CRM — and accurately — it never happened.
Emphasize how important it is to the team's success. Without this data, it's impossible to know what to improve and how to refine your sales process even better moving forward.
3. Create tools, playbooks, and checklists for each step of your sales process
At each step you've mapped out in your prospects' buyer journey, there needs to be a piece of content or tool created by your marketing team that has been set up to keep the process moving.
As a few examples, these could be something like:
Email workflows to send to prospects that are entering (or even exiting) your sales pipeline.
Videos that explain your pricing structures.
Brochures that show what your products and services are and how they work.
The idea is that each sales rep needs to know that when potential customers are interested in learning more about a specific product or service, they receive a relevant piece of content.
This helps streamline your sales process by eliminating any guesswork your sales team might have while trying to figure out what to do. A sales rep should always already know what actions to take.
The content you send should do the same for your prospects (answer their questions and clearly detail next actions).
4. Analyze the success of your sales process
Your process will likely need to be adjusted as you grow and learn more about your potential customers and how the process works.
A couple ways to do this include:
Tracking the conversation rate of each stage to see which steps convert well and which don't. For those that don't, ask what would improve their key performance indicators?
Monitor call recordings so your team can learn from different interactions with prospects.
This will help you identify where there is room for improvement. Sometimes it's as simple as using a different email template or adjusting your message in a way that resonates better.
5. Continue training your sales team
Once your process is set up and running, and you're consistently tweaking it for even better results, don't forget the importance of keeping your sales team trained and up to speed.
Have your team listen to each other's sales video and phone calls. Find new areas of your CRM they can master. Teach them which pieces of content convert leads faster.
Have them continue to roleplay and go over the process so that each step is second-nature and they know how to handle every situation.
Will explains:
"When your sales process is structured and mapped out as well as it should be, your sales team acts as a self-selection tool that guides people down the buyer's journey."
You'll start to see that your sales people aren't the ones closing the deals — it's the process that does the heavy lifting.
What assignment selling is, how it works, and how it optimizes your sales process
Assignment selling is a way we teach our clients here at IMPACT to stop spending so much time on sales calls educating prospects so you can use that time instead to narrow in on how you can solve their unique challenges.
You can use assignment selling in your sales process by sending content as an assignment to prospects ahead of your sales calls. This way, by the time your sales team meets with them, they are more educated on what it is you do, and either more ready to buy or funneled out of the process as a bad-fit lead.
When using assignment selling in your sales process, you're essentially asking prospects to do a little homework before your sales call.
It might sound a little something like:
"Hi, John! I look forward to our meeting next Tuesday. This is a guide to read prior to our meeting that explains all the options you need to consider when working with us. It will answer any questions you have. This will help us make the most of our time together when we touch base next week. If you can't get to this beforehand, let me know and I will reschedule our meeting for a better time. Please confirm you're able to do this prior to Tuesday."
Assignment selling this way is effective because it:
Spells out a definitive "why" this assignment is important (it will answer their questions so you can better use your time together).
Offers a tease about what's in it for them (we're explaining all the options you need to consider).
Shows why it's important to complete the assignment prior to meeting with you (if they can't get to it, you'll reschedule).
Requests confirmation that they will complete the assignment (so you can be sure when you go on the sales call that you're not wasting your time).
By sending these assignments, you are strengthening your good-fit leads while also weeding out any bad-fit prospects you don't want to meet with anyway.
When you use assignment selling in your sales process, it shortens the sales cycle by doing lots of the educational heavy lifting for your team. It also helps you zero in on the right potential buyers.
The truth is, great content holds immense power when it comes to moving the sales needle. It saves our sales reps a ton of time and leads our prospects down the sales funnel.
And when you intentionally use content to improve your sales process, you're going to be dramatically more successful.
How to use assignment selling at each stage of your sales process to grow your business
Now that you understand why assignment selling is so impactful in the sales process, here is how to design your assignment selling timeline to be most effective for your team at each point.
Content for a prospect's first contact
Whether your prospects first reach out to you by filling out a form on your website or calling the office, the first round of assignment selling content your team sends to a prospect needs to answer any questions they have.
This might be an email with links to content on your site or documents attached that answer these top-of-the funnel questions.
An example could be, "Thanks so much for filling out this form. You likely have questions, so here's a guide that's going to walk you through what our customers typically want to know."
Content for a prospect's second contact
Your prospect's second point of contact with your company typically represents one of these three outcomes. Each one requires a specific piece of content:
They aren't a good fit: Send a note that thanks them for their time and leaves the door open for future engagement with your business.
They might be interested: Send content that educates your prospect more and helps them further down or out of the sales funnel.
They want to buy: Send content that explains your process for making a purchase.
Map out your typical sales funnel and know which content you will use for each. This way your team doesn't have to guess — they know what to do and can quickly pull the trigger.
Content for a prospect's third contact
When your prospects are at their third point of contact, these are typically the leftover prospects from your second touchpoint that were in the "maybe" group.
These people typically need more information, and will either funnel into the "not a good fit" category or a "sale."
At this point, they should get the content you had ready for these two scenarios (either a thank-you note for the bad-fit leads or information on how to finalize the sale for the prospects who are ready).
For a specific and detailed course on how to set up this process, watch Marcus Sheridan's Assignment selling: How to master the art of using content in the sales process, or set up an appointment with one of our advisors. They can help you flesh out exactly what this looks like for your specific business.
Supercharge your own effective sales process today
All these tools we share with you here stem from an award-winning inbound marketing framework called They Ask, You Answer, and combining this strategy with your inbound marketing and sales enablement tools and initiatives leads to incredible success.
Your sales process can work better! And with our years of experience teaching businesses like yours how to make millions in revenue, we can walk you through exactly what works and what doesn't.
If you'd like to read more before you reach out, you can take our free course Fundamentals of Highly Effective Sales Communication with IMPACT Coach Chris Duprey, or browse additional resources:
To take the first step at implementing They Ask, You Answer in your business, talk to one of our advisors, who can walk you through how to see these incredible results at your own company.
With strategic coaching and hands-on training for your sales and marketing teams, we can help your company improve your sales process and scale your business faster and more efficiently than you ever thought possible.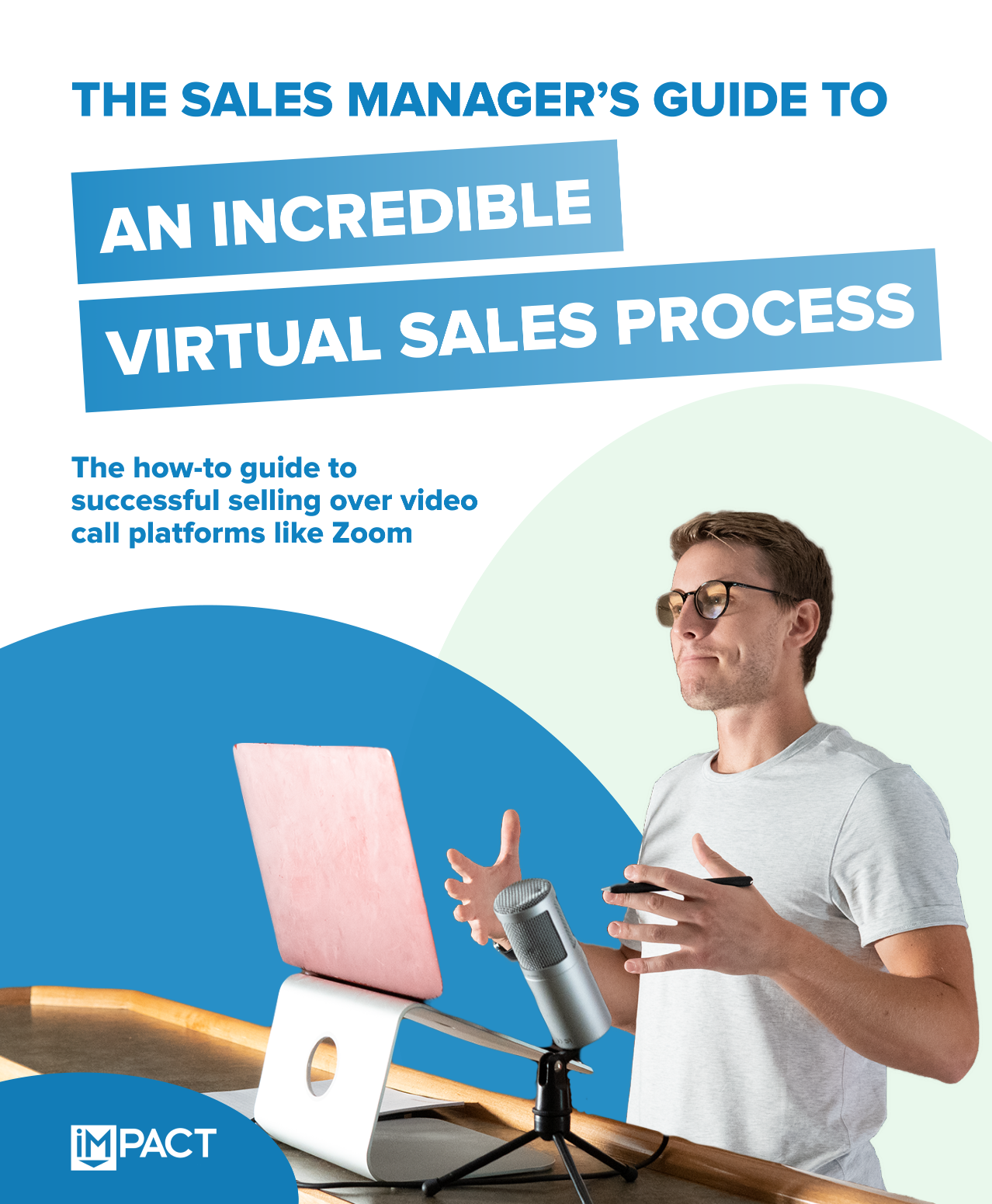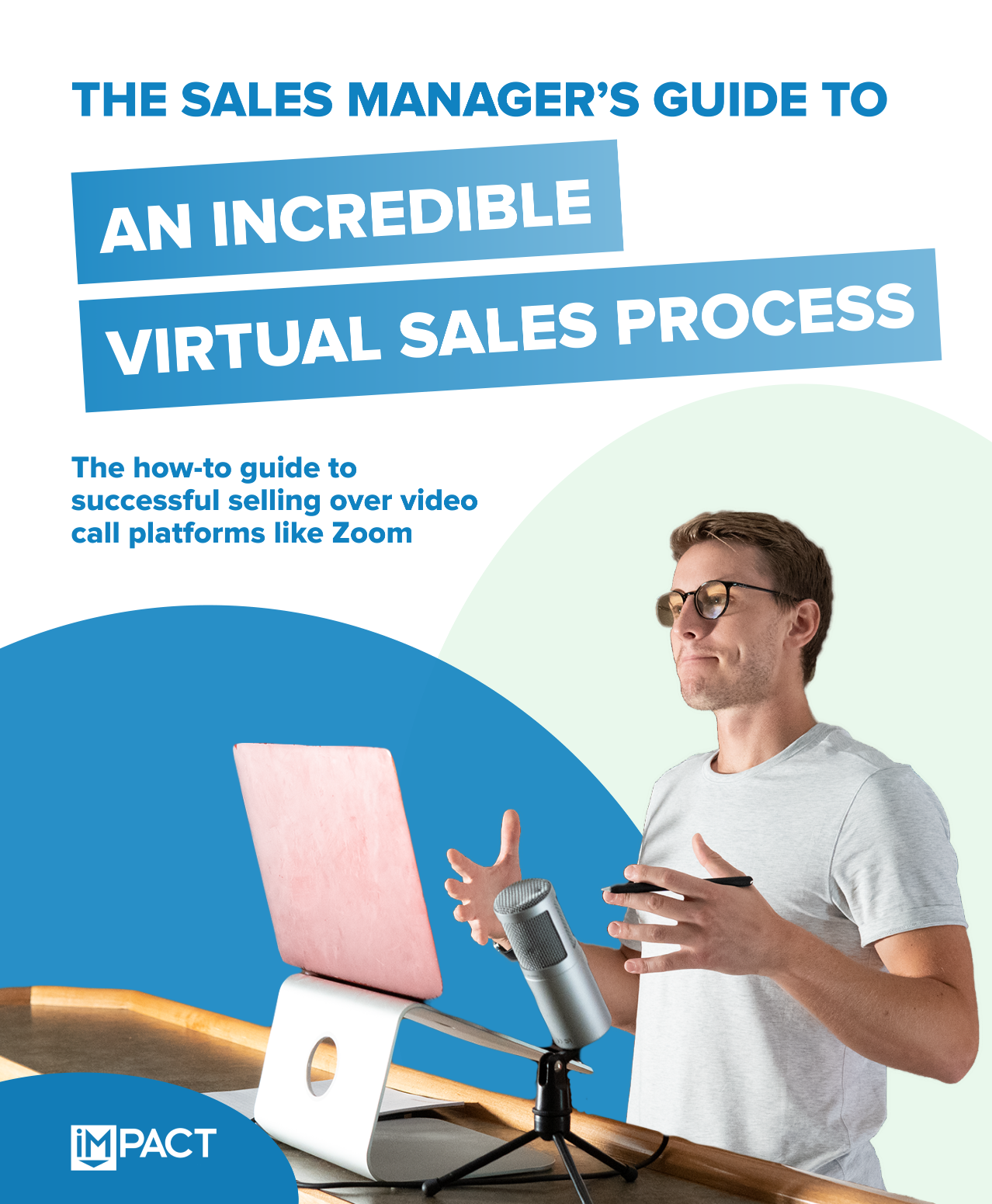 Free Guide:
The Sales Manager's Guide to an Incredible Virtual Sales Process
Empower your team to close more deals, you set your organization up for long-term success
In this guide, you'll learn:
How to successfully sell over video call platforms like Zoom
The 6 keys to virtual sales training success
11 tips for sales call magic
Published on November 8, 2021