Your Buyers Want to Control the Sales Process; Here's How to Let Them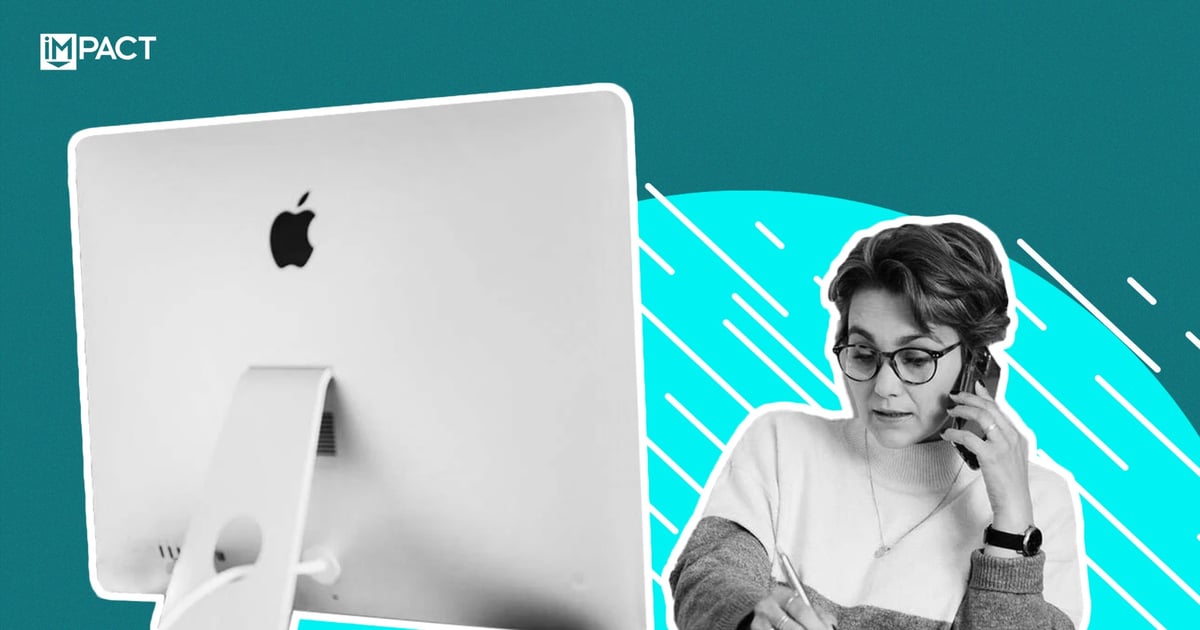 I've been saying the same thing from stages around the world for years: The way people buy has changed.
But that change isn't something that's a simple before and after. The change continues — and savvy businesses adapt to meet the needs of their buyers.
And even smarter businesses anticipate where the changes will go next.
One trend is clear: Buyers want to be in control of the sales process.
They want fewer meetings, fewer sales pitches, and access to all the information they're looking for.
And you should give them what they want.
The changing buyer
According to a study from Gartner, 33% of all buyers would prefer an entirely "sales-free" sales experience. For millennials, it's even higher: 44%.
Think about that for a second. At least a third of your buyers would prefer not to talk to your sales team at all. They want to be able to purchase exactly what they want without any contact with a sales rep.
This statistic does not stand alone. It feels like every day I read something new about how more and more of the buying process is happening according to the customer's preferences.

But this doesn't mean that your sales team has been rendered irrelevant. Instead, it means you need to retrain and redeploy them to better serve your buyers.
Reimagining what you salespeople do
When customers say they want a sales-free buying experience, they're objecting to a company being pushy, aggressive, or manipulative.
But that's not what the sales process should be anyway.
In the purest sense, a salesperson helps a buyer know what a purchase experience will be like. I believe this kind of buyer education is more important than ever.
To help your buyers to feel in control of the sales process, position your team as the guides who will help them solve their challenges. This way, they control the buying process and you get the sale.
1. Make your marketing interactive
Today, buyers self-educate more than ever before. They use the information available online (on your and your competitors' website, on review sites, on YouTube, on social platforms) to help them make the right purchase.
The more interactive you make your marketing materials, the more in control the buyer feels.
Self-selection tools
Every buyer of every product is asking the same question: Which option is right for me?
The reason salespeople have gotten a bad rap is that some have answered that question without really taking the buyer's needs into account. Instead, they've steered people toward the product that's right for the salesperson to sell, not for the buyer to buy.

A self-selection tool lets the buyer get a customized response to their central question. If they need a new refrigerator, say, a self-selection tool can ask a few questions about size, budget, and design to help them narrow down a lengthy list in an interactive way that they control.
Here's a self-selection tool from Rancilio Group — a business that sells high-tech coffee machines. Buyers can click through to find the best option for their needs.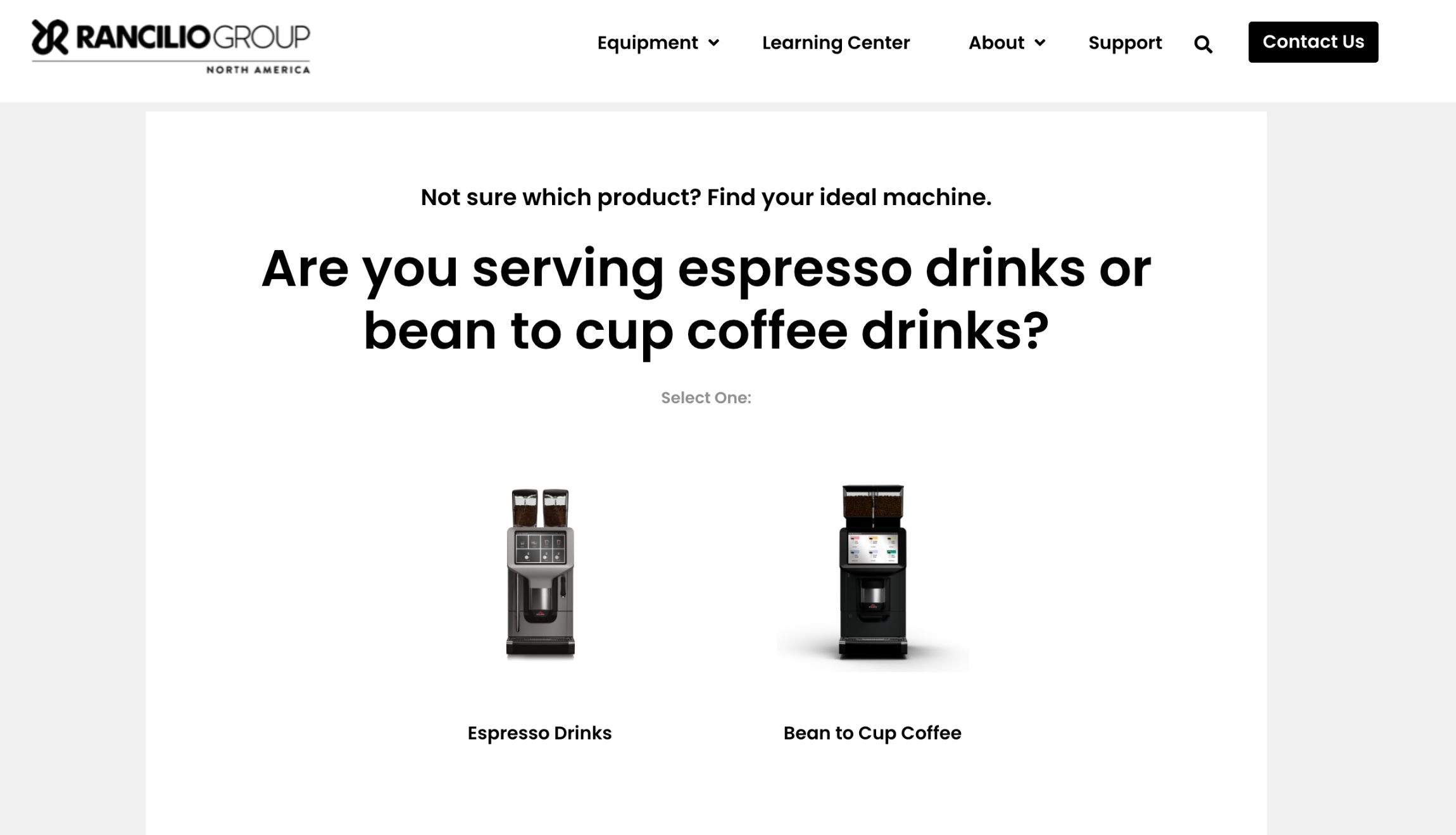 But Marcus, what if our self-selection tool counsels them toward a product we don't offer?
No big deal! That's a bad-fit prospect out of your pipeline. If you ended up selling them something that didn't fit their needs, they'd become unhappy customers down the line.
At my swimming pool company, we only sell and install fiberglass pools. We think fiberglass is a great option for most backyards. But it's not best for everyone. There are circumstances where a concrete pool would be a better choice. (For instance, if they want it highly customized or bigger than a certain size.)
If we tried to convince those people that they actually wanted fiberglass, they'd likely end up with buyer's remorse, which benefits no one.
On-demand information in a learning center
But a buyer-centered sales process doesn't have to involve a branching-logic selection feature or AI functionality. It can be as simple as providing thorough, honest information that's well-organized and easily searchable.
If you provide unbiased answers to buyers' questions — especially if you talk frankly about the pros and cons of your own offerings — you're giving customers the ability to control their own learning.
Here's a learning center example from Alabama-based EW Motion Therapy.
This is their homepage. It's front and center. Any information a customer needs can be found there.

Imagine if your buyer could go through your pages, learn what they need, and move forward when they're ready. You'd be talking with more educated customers who know what they want and are ready to buy.
But to do this best, you need to teach them the way they want to learn.
That means written and video content, all of which is presented in their vocabulary.
If you're not answering the questions they're asking on your website or in your sales enablement materials, your content will not resonate.
2. Provide a no-pressure buying experience
We all know what it feels like to be sold to. Whether it's a cold call during dinner, a tone-deaf sales email, a LinkedIn prospecting message, or any other invasive outreach or pushy approach, we recoil when we're getting rushed along the sales process.
At the same time, we all love discovering new products and buying new things. It's human nature.
So, how do we match our offerings to our customers in a way that doesn't turn their stomachs? By being helpful, not salesy. If we take the pressure out of the equation, everyone is more comfortable.

I've shared this before, but it's worth mentioning again: I was recently watching a sales call recording from one of our reps here at IMPACT. She was patiently explaining our services to a prospect.
Now, it's worth noting that what we sell is complex: An 18-month coaching and training program to help you master inbound sales and marketing. It takes a lot of learning for company leaders to fully understand their own struggles and how we can help them.
On this call, just as it was wrapping up, the CEO told our salesperson, "Thank you for educating us instead of selling us."
This was music to my ears.
We were focused on their growth, not on our sale.
In the end, they weren't a good fit for our services, but I know they left with a positive impression. And I'd bet they'd recommend us to their friends who might be better prospects. That's worth a lot more than pushing through a sale and ending up with an unhappy or difficult customer.
Ask, what decisions does someone need to make to buy from us?
Once you figure out the decisions your buyers make, base your sales process around that, not around arbitrary steps. This way, you're always focused on your buyers' needs.
3. Keep customers happy and engaged with your post-sales experience
After you close a deal, don't simply write off the customer and move on. A core tenet of inbound marketing is that happy customers are your best marketing resource.

After all, word-of-mouth referrals and five-star reviews can drive tons of business.
This is the flywheel HubSpot talks about so much.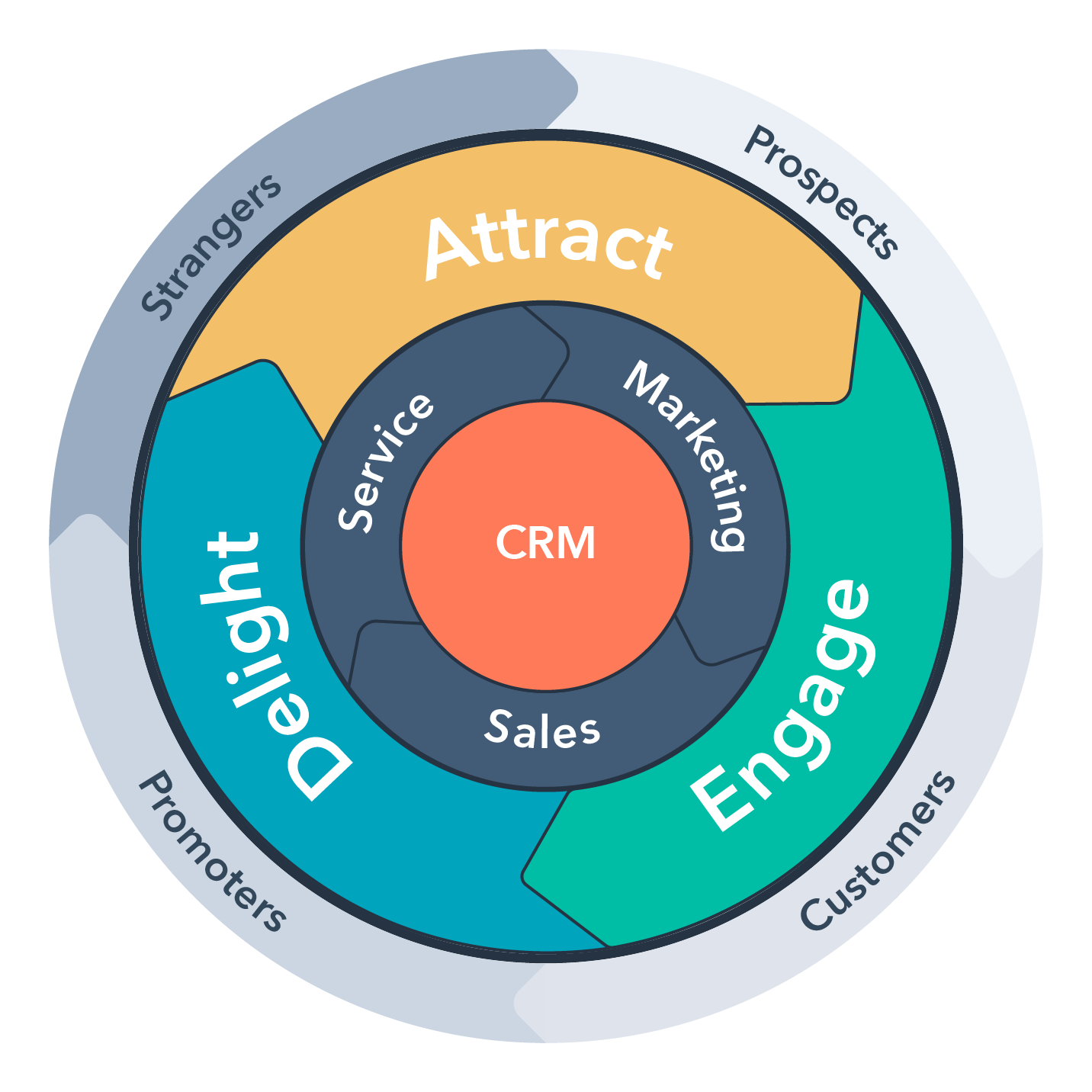 Even if your sales team sees the purchase as the end, the customer sees it as the beginning. A customer-centered sales process needs to keep this in mind.
Think of ways you can keep your customers in the loop after you've made the sale. If you sell pizza ovens, maybe you send out monthly recipe roundups or start a Facebook group for your customers. If you sell software, it could be notes about updates, use cases, and events.
Whatever you sell, keep the relationship going after the sale.
Keep in mind, this should not be a major focus. The sales team's efforts should still be aimed at new deals, but creating some automated email sequences to keep your customers happy will serve as marketing for the future, whether that's in the form of repeat business or word-of-mouth referrals.
Think like a customer
Car salespeople have long known that if you get your customer in for a test drive, they're more likely to buy the car. Other industries have been doing similar things for years. Furniture giant IKEA uses AR technology to let customers see that new sofa in their actual living room.
Benjamin Moore lets customers upload a photo of a room and then digitally change the color without picking up a brush. Once customers can truly imagine how that new furniture or new color will look, it starts to feel like theirs, which brings them closer to a purchase.
And as AI brings new tools to market, the possibilities are endless.
But it doesn't have to be about big budgets and high-tech. You really just need to think like a customer. When you buy something, what's the experience you prefer?
At the end of the day, letting your customer control the buying process requires your sales team to do these three things:
Be helpful, not pushy.
Provide the resources they need to make the right decision for them.
Keep your customer happy long after the purchase.
To do so, you don't need much more than a good website and basic email software. You'll need to:
Focus on education, not aggressive sales.
Create content that will educate your prospect, even if it makes them not choose your product.

(Make sure this content is in the format your customers want. If they want e-books, give them e-books. If they want TikToks, give them TikToks.)

Give website visitors self-service options so they can have their questions answered even faster.
Reach out to past customers to keep them engaged.
When you do these things, you're giving the customer what they want: a buying process that's tailored to their needs.
Free Assessment:
How does your sales & marketing measure up?
Take this free, 5-minute assessment and learn what you can start doing today to boost traffic, leads, and sales.