Technical SEO Strategy: 7 Vital Best Practices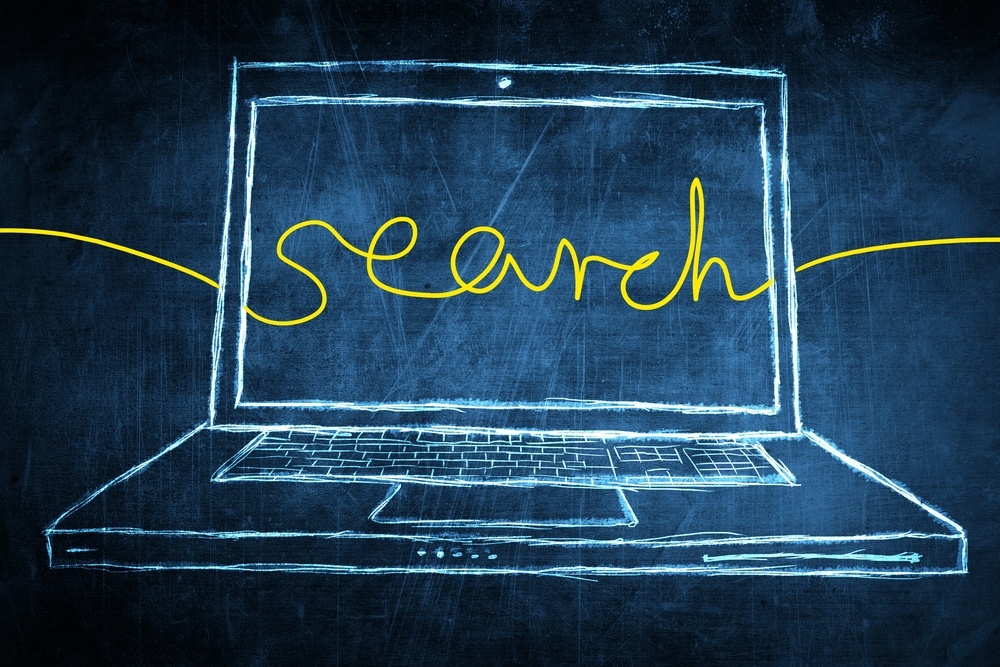 Search engine optimization.
We know we should be doing it, but we don't always know the best ways to ensure our website benefits from it — especially when so much has changed in the last year alone.
Optimizing your site for search engines basically means you're improving your online presence, so you're more likely to be found by qualified visitors in search results.
Think about it.
When you search for something, how often do you leave the first page of results?
I can bet that you find what you're looking for in the first few listings, and ignore the rest.
How can you ensure you earn your audience's coveted click in 2020?
Keyword-focused SEO vs. technical SEO
We often think of keywords when we think of SEO. While that's a huge part of it, the evolution of optimizing for search engines has come far from stuffing our website with relevant words and phrases.
In the last few years, Google and other search engines have put a large focus on quality of content rather than quantity in order to provide users with the best results possible.
Security and how the content is presented/formatted has also begun to play a big factor in what Google chooses to rank higher.
Although it can be argued that technical SEO has always been important, with the recent algorithm changes, it's now more vital than ever to pay close attention to the technical health of our websites.
In its simplest definition, technical SEO refers to any optimization of your website that doesn't involve the content part. However, if done correctly, technical SEO will give your content the boost it needs to get found.
As you can imagine, if you're not keeping on top of these advancements, you risk falling behind. Because of this, it's important to derive a thorough strategy with prioritized items you can implement as soon as possible.
Creating a technical SEO strategy
Before you can create an actionable strategy, you'll need to know what you should be focusing on. Therefore, it's mandatory that you conduct a technical SEO audit.
Franco Valentino, Founder of Narrative SEO, elaborates on why this is so important:
"Your website is the digital front door to your customers. It can either welcome them in or repel them if the site isn't fast and inviting. A technical SEO report shines a light on the hidden connection surrounding your server. Identifying that digital sludge, and scraping it off can dramatically improve keyword densities and conversion rates. We've seen traffic increases of 87%, and lead growth of +160% or more after correcting problems uncovered by these reports."
Tools like SEMRush, Screaming Frog, and Google Search Console can help you analyze what you're doing well and what you need to work on fixing.
The goal of completing this type of audit is to be able to organize a list of to-do items in order of what will have the biggest effect in the least amount of time.
Refer to the Pareto Principle to help you prioritize (80% of the output from a given situation is determined by 20% of the input), as well as the 3 main pillars of SEO: security, site speed, and crawlability.
Then, include these 7 technical SEO items
Once you have your list of items, assign the most sensible team members to each action, and create a timeline for completion.
Depending on your website's technical health, you may see a variety of issues for you to tackle. The following seven are some of the most common that you can begin working on right away.
1. Apply SSL
SSL is a term we hear bounced around a lot, but may not know exactly what it means. It stands for Secure Sockets Layer, and it's essentially a security protocol used to establish encrypted links between a web server and a browser in their communication online.
We used to see it used mostly when we bought something online (to safeguard your credit card or payment credentials), or when we signed up for something using our personal information.
However, today it's a hugely important part of maintaining any website, no matter what its purpose is.
In July of this year, Google Chrome and the other browsers rolled out their "Not Secure" movement where any website without a security certificate installed on their website was marked as "Not Secure."
The result? Any visitor would know they were entering a risky environment, and your website potentially risked losing rank behind those that were actually safe.
The solution is fairly obvious; install a security certificate on your website domain and migrate your website to HTTPS.
If your website is hosted on HubSpot, it's as simple as visiting Settings, Domains, and URLs, clicking on the Edit dropdown for the domain you're trying to change, and checking the box that says "Require HTTPS."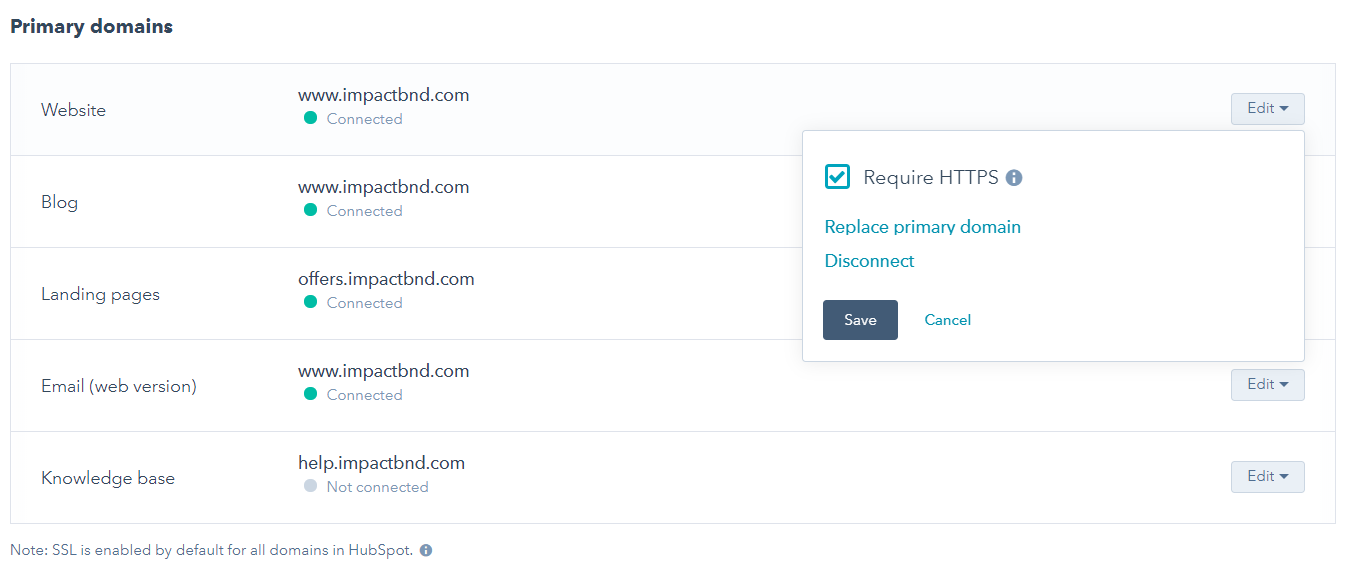 Save your changes, and you're ready to go.
If your website is hosted on WordPress, here's a handy guide that can help walk you through the process.
Once you've enabled SSL, you can expect the changes to take effect within about 10-15 minutes, but give it up to 72 hours to completely switch over, depending on the size of your website.
2. Decrease site load time (desktop and mobile)
Have you ever visited a website that took too long to load? Consequently, have you ever left a website because it was taking too long to load?
You're definitely not alone. Over 40% of users have abandoned a site because of the slow time it took to propagate, and that number is only growing with time.
Therefore, site load time is extremely important to your success for a few reasons:
Users are much more likely to abandon your site if it doesn't load in under three seconds on mobile, and under two seconds on desktop.
Part of Google's ranking factor takes load speed into consideration.
If users are leaving your site, they're clicking the back button — and that counts as an increase to your site's bounce rate, which Google also uses as a ranking factor.
Increasing your site speed can be done in a variety of different ways.
The most common culprits of slow speed are large images and rich files that may — themselves — take way too long to load.
Compressing these images and optimizing these files can drastically help improve your site's load time.
In addition, browser caching, utilizing CDNs, removing unused scripts & files, and decreasing HTTP requests also contribute to rectifying this common issue. IMPACT Creative Lead, Christine, goes into more detail in her article here.
After going through the punch list, you can usually see your site's speed increase almost immediately.
To effectively test it, try going to a website like www.webpagetest.org, and submit your site before (to see exactly what you need to improve) and then after (to see the results of what you fixed).
3. Eliminate 404s or broken pages and links
When your website has 404 errors, it means that you have — and are linking to — pages that do not exist. In short, they're broken, and this doesn't make for the best user experience.
This is most likely caused from when you had a page that originally lived at a specific URL, but you changed the URL later, or maybe you didn't need the page anymore, so you unpublished it.
Once this happens, you want to make sure you set up a 301 redirect. This allows the old page to bring a visitor to the new page it's being redirected to.
When a page is broken, it doesn't allow Google to crawl it, which can negatively affect your search rankings. What's more, if you've linked to this page from other pages, or external sources have linked to your page, you'll lose the authority you once had.
In order to find which pages on your website are broken, you can do a few different things:
Use LinkMiner. LinkMiner is a Google Chrome Extension that I swear by. It works amazingly on a per-page basis by confirming which links (or pages you're linking to) are live and which are broken. However, it does not let you audit an entire site at once, which essentially makes it good for new or updated page quality assurance tasks or smaller web projects.
Use SEMRush. By running a site audit in SEMRush, you can get a report of all of your pages and their statuses in just minutes. You can then organize your 404 pages, decide where you'll redirect each to, and quickly implement those redirects.
Use Google Search Console. Once logged in to Search Console, you can check for Crawl Errors. Under the "Not Found" tab, you'll see a list of your 404 error pages. If you want to take it further, you can click on the "Linked From" tab to see which pages these 404 pages are linked on.
Once you've rectified your broken pages and links, it's a best practice to generate a newly updated sitemap to submit to Google to let it know you've made these changes.
4. Eliminate mixed content issues
If you have mixed content issues, it's very likely that you've recently forced SSL onto your website.
What this means is that you have non-secure (HTTP) pages linked within your content.
Although you've secured your website, this doesn't automatically change the linked content you had before you made the switch.
Fortunately, this is actually a rather easy fix, but it could take some time if you do it manually.
An easy way to identify any mixed content issues on your website is to run a Site Audit in SEMRush.
Mixed content will show up under the Errors report, and it will show you all of the pages you should be concerned about.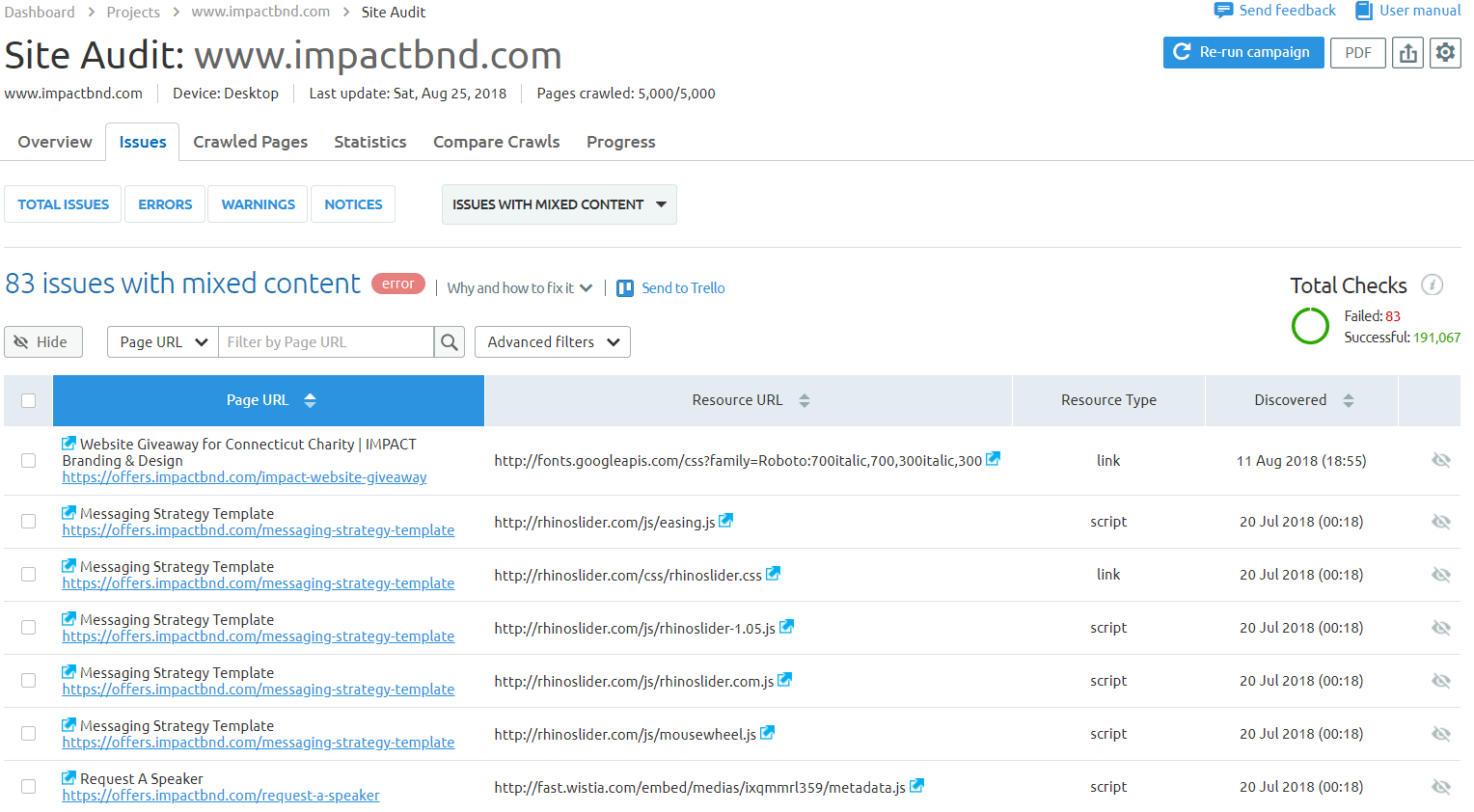 Once you have a list to work off of, you can go through each page, find the HTTP links, and change them to HTTPS — but who has time for that?
If your website is hosted on HubSpot, the best way to tackle this at first is by using their Developers Tools' Console to identify exactly which files are being blocked. After your developer resolves those issues, re-run the site audit to catch any remaining errors you may need to manually fix.
Moving forward, remember to only embed secure content on your site to avoid any accumulating issues.
5. Eliminate duplicate content
If your website has duplicate content, it means two or more pages have identical or nearly identical content, and Google is confused about which page to rank first.
As a result, you can expect to see your search rankings falter which, in turn, will also affect the rate of your website traffic.
To find if your website is guilty of having duplicate content, you can use SEMRush's Site Audit tool to gain a list of these errors.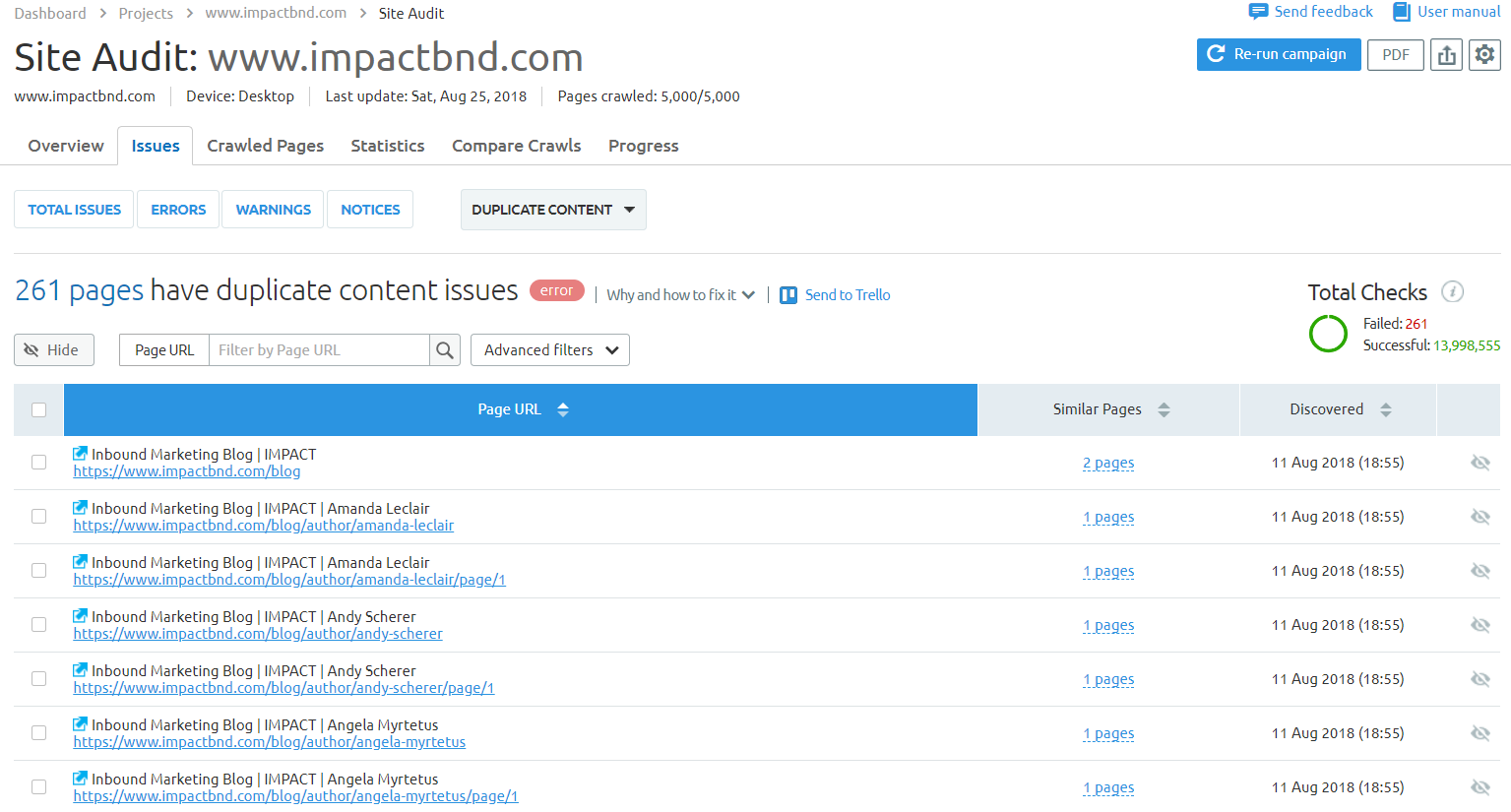 Once you're aware of which pages are considered duplicate, you can begin working to fix them.
The obvious solution is to make sure your pages are unique. You can do this by editing the content on your pages or by removing some of the duplicate pages altogether (don't forget to redirect these!).
If your pages have to have duplicate content for some reason, you can also add a rel="canonical" link to one of them to let the search engines know which page you want them to show in search results.
6. Disavow toxic backlinks
Over time, your website may accumulate backlinks.
While we normally assume this is a good thing (especially if those backlinks are credible), some may actually be toxic. This means they can be detrimental to your search rankings, and you should get rid of them.
So, how do you know if your site is suffering from this problem?
Tools such as Screaming Frog and Google Search Console have records of the domains that are backlinking to your site and also give you the domain score to help you evaluate the links.
Rule of thumb is if the site linking to you has a score over 50, you probably want to disavow or get rid of it.
The first step you'll want to take to disavow links is to reach out to the domains manually and ask them to remove the links to your site.
More often than not, this request is ignored or denied (unfortunately), so it's important to let Google know you've asked for this favor before you attempt to disavow the links through Search Console by submitting a reconsideration request.
Once you've completed that step, you'll then want to export your list of toxic backlinks and upload your disavow file to the Google Disavowal Tool.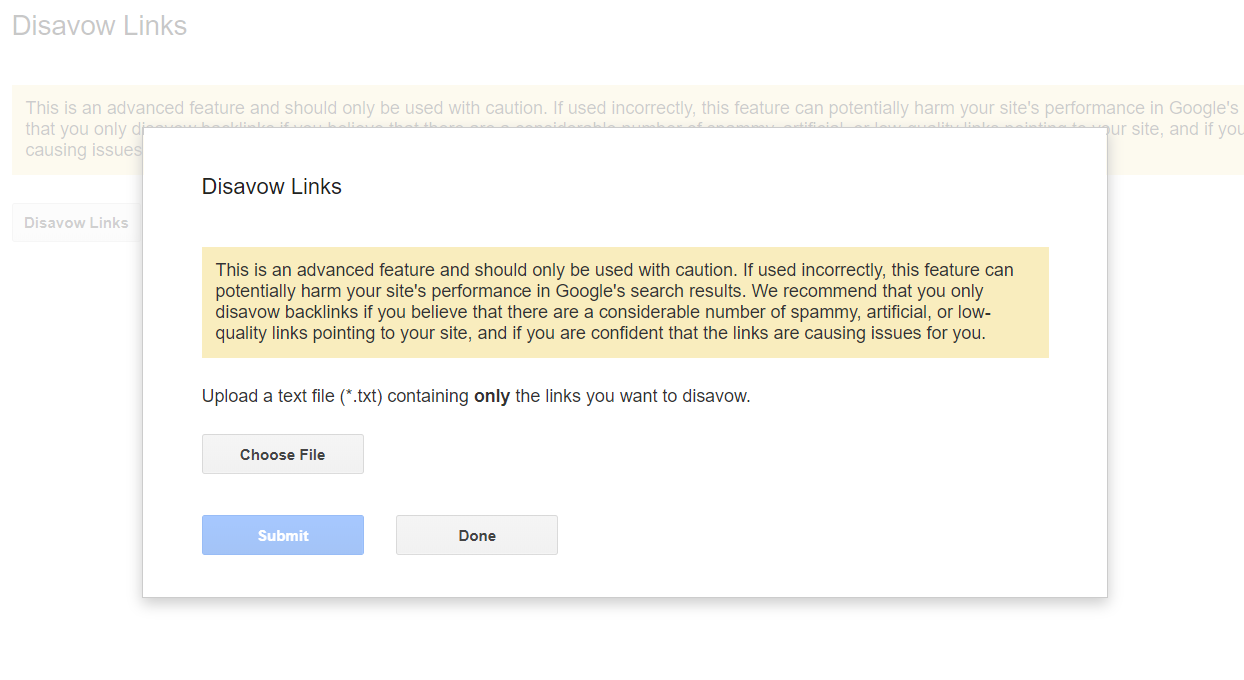 Once you're finished, Google will assign a 'no follow' tag to them, and they will no longer affect your search rankings. (This usually takes about 2 weeks.)
7. Create an XML sitemap and submit it
Once you've finished forcing SSL onto your website, getting rid of mixed content and broken pages, and completing the rest of your technical SEO plan, you're going to want to let Google know you've improved your online presence.
Sure, it will eventually become aware on its own, but by submitting your newly updated sitemap manually, you help Google know much faster.
As we've eluded to, a sitemap essentially tells Google all about the most important pages on your website.
If your website is hosted on HubSpot, you can find your sitemap by venturing into Settings, then Domains & URLs, and finally, Sitemap. If you click View XML File, you'll be able to see your sitemap.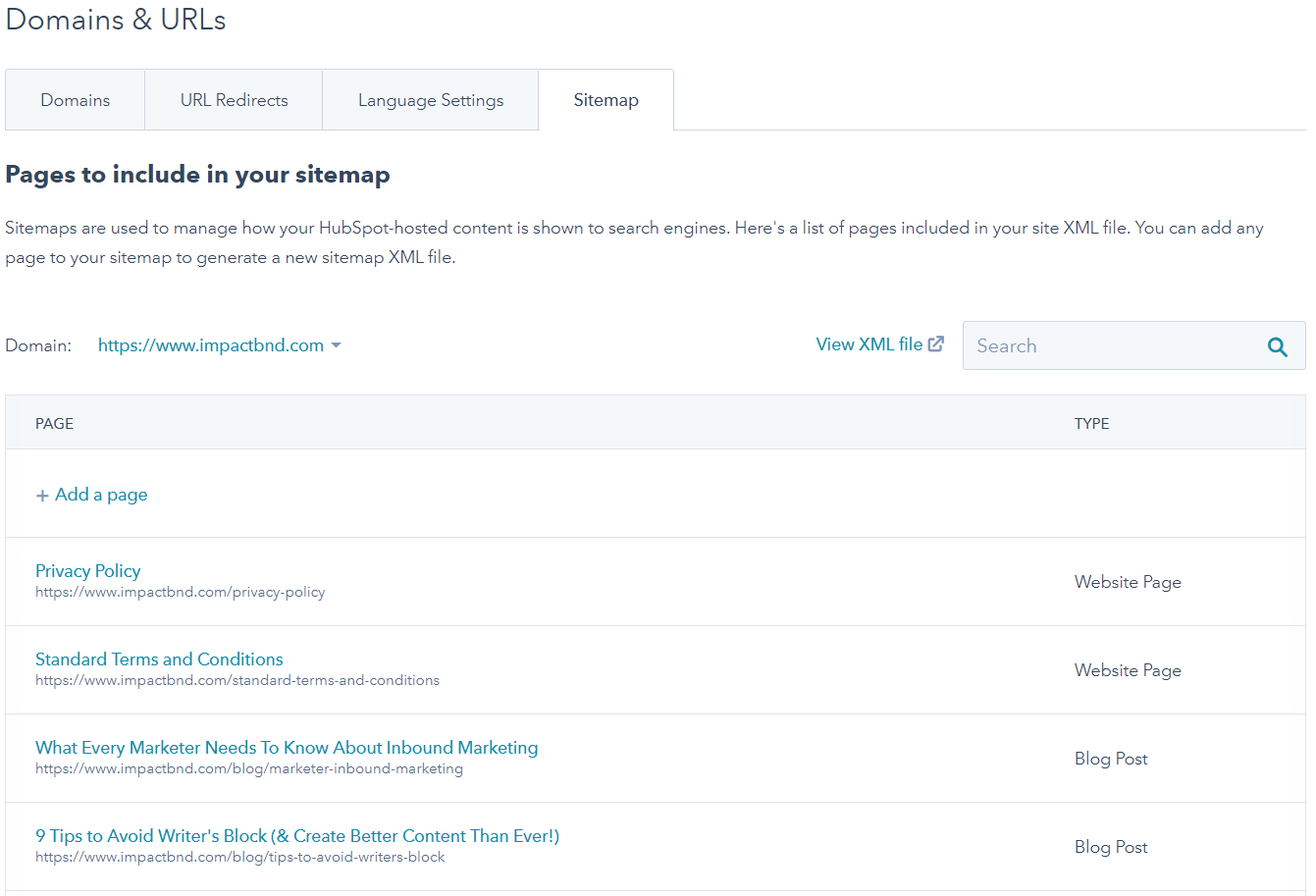 The next step is to submit it to Google. Log in to Search Console, click Crawl, and then Sitemaps.

You can then enter your sitemap by typing in the URL you initially generated.
While submitting it takes only a minute, it may take Google some more time to begin indexing. It's also important to know that it's perfectly normal to only have some of your sitemap indexed versus all of it.
If you think about it, you don't want all of your pages to be indexed. Some may be instructed to not be followed by Google (thank you pages, for example), some may be errors that haven't been fixed yet (broken links or duplicate pages), and some may be categories or tags pages.
By submitting your most recent sitemap, you're allowing Google to index your optimized web pages which can directly affect your search engine rankings (which can directly affect your business metrics).
The unavoidable importance of SEO
It's no question that SEO is a top-list item that every business with a website should be paying close attention to.
After all, if people can't find you online, do you really exist?
It's important to remember that technical SEO, along with keyword-oriented SEO work well when implemented hand-in-hand.
If you need help starting your very own technical SEO audit and strategy, talk to us!
Free: Assessment
Does your website build trust with buyers and bring in revenue?
Take this free 6 question assessment and learn how your website can start living up to its potential.