The only Google Ads copywriting formulas you'll ever need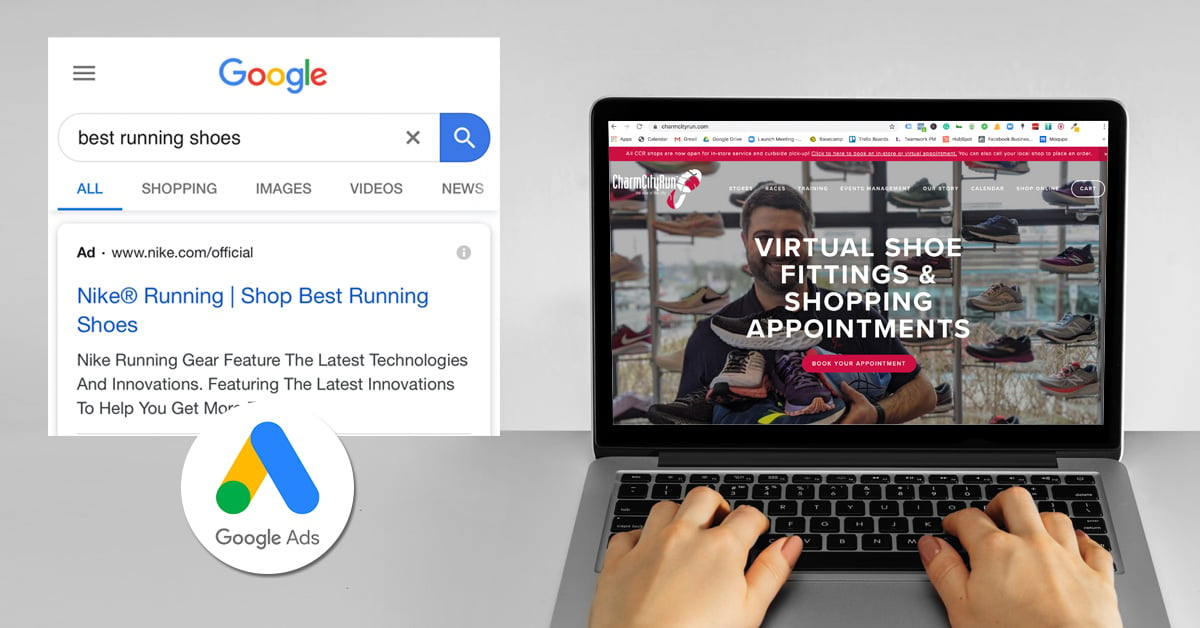 So, there I was — a digital marketer thrust into a world of paid media advertising and I was just handed my first big budget Google Ads client.
I was hungry. I was ready.
I had done all I could to learn my new craft and was excited to start blending the best of these worlds together.
I just knew I was going to be more successful from the others before me and with the added bonus of being a digital marketer my ads were going to stand out.
My ads were going to be unique, creative, and thought provoking. My new client was going to just love them and me and we were going to make a ton of money together. The end.
At least, I wish that were true.
Unfortunately, when the day came where I was asked how our ads were doing, I was completely mortified at the results.
At first I didn't know what the issue was, but from the initial results we reviewed, we were able to determine that people were looking at my ads, but just straight up ignoring anything I had to say. How rude!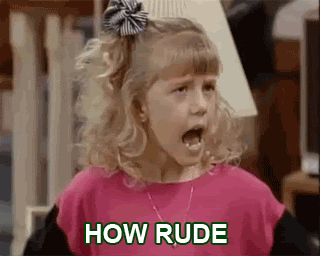 OK, confession time.
Remember back when I mentioned that I did everything I could to learn my craft? Well that is still 100% accurate except I chose to ignore the science side of paid advertising and lean into my artsy side.
I mean, after all, we're only given a small number of characters on search engine results pages (SERPs), so we have to make them count and bedazzle our ads to make them pop, right?
Wrong.
My copywriting wasn't working. My target audience didn't know what exactly I wanted them to do or what to expect from clicking my ads. I was overly vague and fluffy, and I had effectively sabotaged my ads without evening knowing it.
🔎 Related: Ultimate Google Ads getting started guide
Simple mistakes like I made could end up holding you back from getting the results you and your client are looking for. That's why today, I want to share with you my top five Google Ad copywriting formulas that will help you nail your next campaign.
The biggest swing and miss of ad copywriting
Before we jump into any sort of formulas, we need to get an understanding on what makes for bad ad copy.
The biggest offender of all is that you miss your searcher's intent.
You have gone to general, become passive in your tone, or have shown up to the SERP party with the wrong ad context trying to force conversations searchers just are not ready for. I know, it all can seem so bleak.
Let's take a quick look at how this can play out.
Say I want to know what the best (customer relationship management) CRM is in 2020 and search "best CRM 2020."
I want to know this because I am considering moving into a new CRM platform and want to know who I should be considering as options.
(And yes, I wanted to stress that the importance of my search intent was around consideration. This is where I am at in my journey — my intent — and it is key to how I feel about the results delivered back from Google.)
What I get as I search are two ads showing me the benefits and features of their respective tools, but what am I not getting?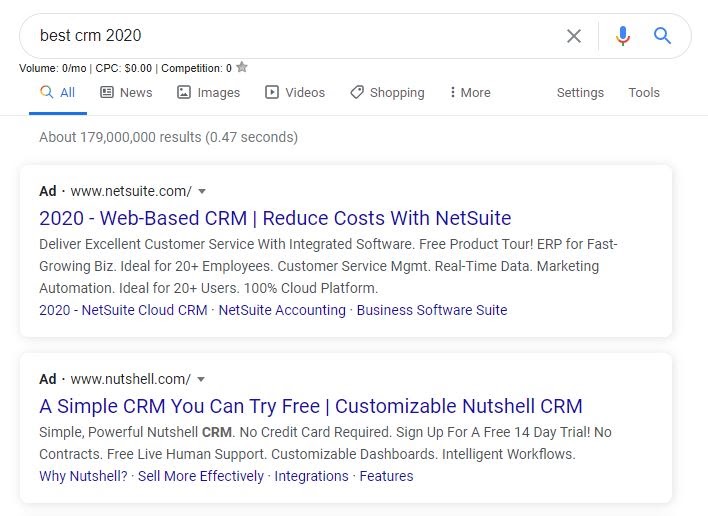 What I asked for: the "best crm."
Who is the best? Who should I even be comparing or considering?
These ads just aren't what I want.
So let's say I run another search using the same keywords again.
Maybe the Great Google will offer me something more in the ballpark of what I am actually looking for...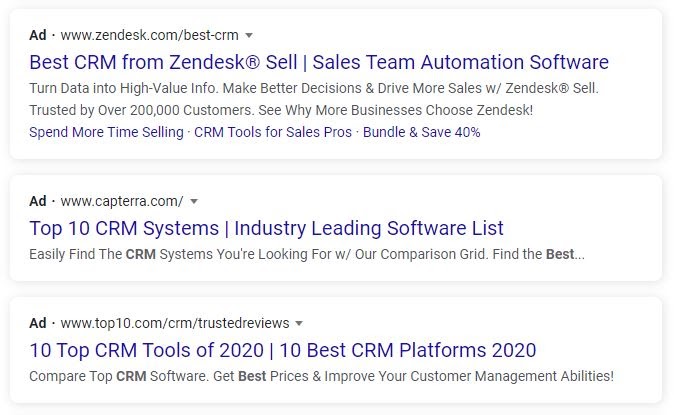 Ah, now we are getting somewhere.
This feels more like what I wanted.
I wasn't ready to sign up or commit to anything as seen in the first search results that were delivered to me. I simply wanted to know who the best are in the industry, an easy starting point for my CRM journey. This isn't speed dating after all. This second round of ads took my intent and exact words into consideration. They spoke directly to my needs.
By not taking into consideration my intent to research who the top CRMs are in 2020 the initial set of ads were just simply wasting my time.
The framework that first connected the dots
Once I realized the importance of search intent and saw that my ad copy was simply failing I needed a solution fast!
Enter MECLABS Institute…
"MECLABS is dedicated to using the Web as a laboratory to gain an understanding of the factors that influence human choice. MECLABS develops robust partnerships with leading businesses and universities to conduct real-world research that continuously validates and updates our library of insights."
The smart folks at MECLABS crafted a conversion formula they were able to visualize a while back that quickly became a framework for successful ad copy creation.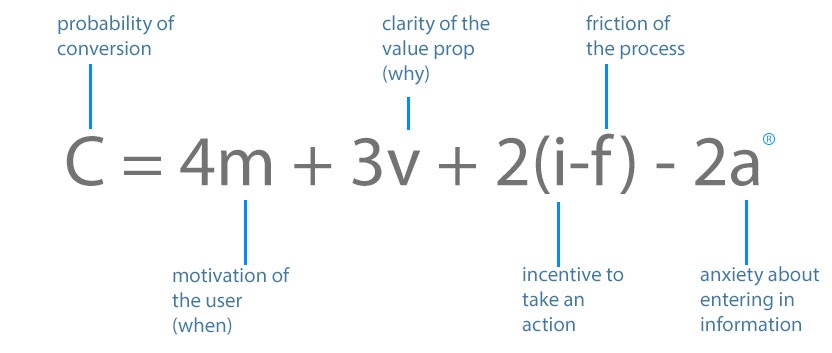 In essence what you are seeing in this formula is that the probability of you getting a conversion is primarily based on:
Your searchers' motivation (i.e., intent): Are they ready to buy or take that action you expect them to?
Your proposition: Why should they buy from you? Why do they need what you have?
Your incentive: What should they expect and what is the friction to obtain?
Anxiety: How much personal information are you asking to complete the action?
What most in the search marketing biz, including myself, took away from this was that we needed to focus on each of the elements listed above with better discipline to ensure that we are touching all angles within our ad copy and that we don't forget any important points we are looking to achieve.
Ultimately, what this did was help bring structure that would still allow for us to lean into our artsy side as promised. Win!
Google Ad copy formulas you say?
Just to stress this again, there's no one-size-fits-all approach to ad copywriting (womp, womp), but utilizing MECLABS conversion formula as a base structure, very specific ad copy formulas have risen to become toolbox staples when it comes to crafting ads.
Let's take a look at my go-to starter formulas, in no particular order.
Keyword-focused ads
Headline 1: [Keyword]?
Headline 2: Value Prop or Incentive.
Headline 3: [Keyword] Anxiety
Display path URL/[Keyword]
Description 1: Incentive / Anxiety Reminder
Description 2: [Benefit 1]. [Benefit 2]. [Call to Action]
This one is a go-to for me when crafting my initial set of first round ads for most clients. The main goal here is to highlight your high-value keywords within your ad copy.
Example (keyword "Virtual Selling"):
Headline 1: Virtual Selling
Headline 2: How to Close Deals Remotely
Headline 3: Don't Let Your Sales Stall
Display path URL/virtual-selling
Description 1: Empower your salespeople to effectively engage customers in virtual meetings & close deals!
Description 2: Contact us for delivery options of our brand-new "Virtual Selling Skills Program.
Landing page ads
Headline 1: [Headline from Your Landing Page] |
Headline 2: [Subtitle Part 1 from Your Landing Page] |
Headline 3: [Subtitle Part 2 from Your Landing Page]
Display path URL/[Keyword]
Description 1: [First sentence from your landing page].
Description 2: [The Call To Action from Your Landing Page].
This one is fun! Pretty much with this formula you are looking to mirror your landing page copy so the searcher's user experience is consistent in terms of initial messaging and your call to action.
Example (keyword "Virtual Selling"):
Headline 1: Selling and Managing Virtually
Headline 2: Don't Stop Building Skills
Headline 3: Be Proactive, Go Virtual
Display path URL/virtual-selling
Description 1:Virtual sales program built to provide the skills and confidence your sales people need.
Description 2: We've Trained Over 100,000 Sales Professionals in Over 35 Countries. Get Started Today!
"Informer" ads
As the name suggests, these ads lead with information and "inform" the viewer of something compelling. Searchers LOVE seeing numbers in ads. They really do stand out in a sea of letters. Our eyes are often drawn right to them.
Headline 1: [Surprising Statistic]
Headline 2: Anxiety (negative or positive)
Headline 3: [Your Product/Service Name].
Display path URL/[Keyword]
Description 1: [Benefit or Features Related to Statistic].
Description 2: [Short Benefit or Features Related to Statistic]. [Call To Action].
So by capturing them right away with a quick number stat and following up with something deeper they can relate to or need your odds of winning that click skyrockets.
Example (keyword "shopping cart abandonment"):
Headline 1: 72% Cart Abandonment
Headline 2: Stop Losing Your Revenue
Headline 3: BizGennie
Display path URL/cart-abandonment
Description 1: Discover high-impact personalization strategies to stop shopping cart abandonment.
Description 2: Trusted by top retailers for 15+ years - Book a demo now.
Hyper-local ads
Now, this is great for local services and shops.
Headline 1: [Keyword] + [Location/City]
Headline 2: [Value Prop]
Headline 3: [Location/City] & Surrounding Areas.
Display path URL/[Location]
Description 1: We understand [State name] [Condition Related to Your Business].
Description 2: [Offer] for [Location/City] residents.
I know it seems like location overkill, but in the end remember that this is meant to have the searcher know that you are local and available.
Find the right space to address your targeted location; it doesn't have to be all of them.
Example (keyword "roof repair near me"):
Headline 1: Maryland's Best Roof Repair
Headline 2: Fix Your Leaky Roof Today
Headline 3: Charm City Roofing
Display path URL/maryland-roof-repair
Description 1: Prevent further damage to your roof by calling the #1 roofing experts in Maryland today.
Description 2: Over 10 years in business - Call now.
"VIP" ads
If you really want to make the ad seem super special and catered to your target audience – possibly in an remarketing list for search ads (RLSA) campaign — this is the formula for you.
Headline 1: For [What Your Target Audience Calls Themselves] Only
Headline 2: [Your Product / Service Name]
Headline 3: [Benefits]. [Benefits].
Display path URL/[What Your Target Audience Calls Themselves]
Description 1: [Keyword] by /[What Your Target Audience Calls Themselves] for /[What Your Target Audience Calls Themselves].
Description 2: We are [Keyword] Experts. [Call to Action].
Mention your target audience directly by your tribe's name.
This adds that personal touch and sense of community that immediately connects with your searcher. Having that trust gives you the extra hand over your competing ads.
Example (keyword "faux fur rugs"):
Headline 1: For Our Wolfpack Only
Headline 2: Save An Extra 15% Today
Headline 3: Animal Inspired Faux Fur Rugs
Display path URL/wolfpack-special
Description 1: Bring your adventurous side into everyday life with our latest faux-fur rugs.
Description 2: This sale ends June 20th - Hurry while they last!
Remember that these are baseline formulas that should be paired with MECLABS conversion formula while you're off homebrewing your next round of ad copy.
The journey is always going to be from A to B for your target audience. It's about connecting on their intent and eliminating friction. Yep, all in as little amount of characters as possible. Thanks Google!
What next?
I know, I know, you are all wondering whatever did happen with the client I mentioned above?
Well, the honest answer: It took me some time to get it right, but after discovering what I have shared with you above, I was able to adjust the way I approached ad copywriting and diligently worked towards rolling out new ad copy with a lot of testing ads waiting in the wings.
I am happy to report searchers weren't ignoring my ads anymore and that client turned out to be one of my most successful in my early years.
[Insert roar of the crowd!]
By taking advantage of the formulas above along with my testing framework, I was able to concentrate more on the other fun aspects of paid advertising which in turn helped scale faster for my client and the others that ended up following after.
No matter which formula or formulas you find fit your ad copy needs best, remember to test, test, and keep on testing. This is my last ask from you.
Without testing your copy, you are simply not improving your results! I can not stress this enough. Test with a purpose and get your messaging right.
You will want to learn and understand what makes your searchers feel good about clicking on your ads that will continue to help you improve your ad performance.
A simple little framework that helps me with my testing looks something like this:
Labeling: Reminding me of my ad intent.
Scheduling: Keeping my ad run times in check
Setting my testing thresholds: Having enough people looking at my ads to be confident in my results.
Limit my testing elements: I always want to make sure that I am keeping my variations similar enough to learn.
Keep track: Find a way to keep track of your testing so you don't end up repeating the same test twice.
If you have questions or concerns or want to share your Google Ad copy experiences, hit me up on IMPACT Elite. I would love to have a conversation or help in any way I can.
Free: Assessment
Does your website build trust with buyers and bring in revenue?
Take this free 6 question assessment and learn how your website can start living up to its potential.
Score My Website
Free: Assessment
Does your website build trust with buyers and bring in revenue?
Take this free 6 question assessment and learn how your website can start living up to its potential.
Published on June 26, 2020