Big Google algorithm update moved to June with new performance report
Originally, this massive core algorithm update was scheduled for May. Now, it's delayed, but Google is offering new features with the release.
Liz Moorehead also recommends this free guide, The Inbound Marketer's Guide to Search Engine Optimization.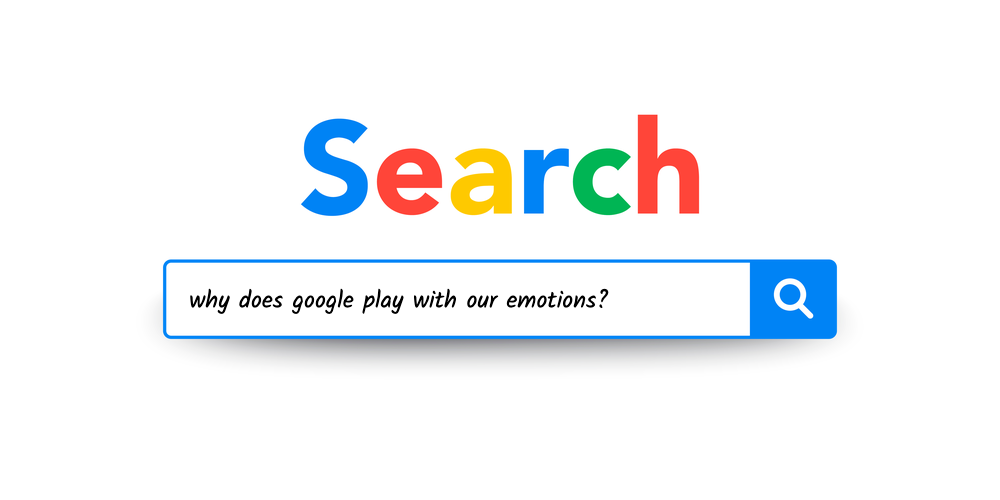 Editor's note: Google has since clarified that this update will be mobile-first, with desktop to be impacted at a later date. Here's the fully story.
Just when we thought we could finally relax, Google comes along and smashes our dreams (and our plans) into dust with a hammer. Much like a cat swiping a wine glass off of a coffee table with impunity.
Sigh.
Here's the short version
Back in November 2020, Google announced that page experience markers (load time, stability, etc.) would become ranking signals factoring into how well website pages and content do (or

don't

) rank in search results this May. So, like... next month.
This was something they teased earlier that year in May. And, in that update, the Google team said that, although it's common practice for them to give lots of lead time ahead of a big change like this, they were giving more than the usual notice because of the impacts of COVID-19 on businesses.
Earlier this week, however, they announced that this big change has been pushed back. Now it will be a "gradual rollout" beginning in mid-June, along with a few other key updates... for example, a page experience report in Google Search Console for website owners.
Google also noted that while the rollout will begin in June, it won't start having an impact on rankings until August.
Why is this Google update a big deal again?
Last year Google added new, page experience-specific metrics to something called Core Web Vitals. And if you're today-years-old hearing about either of these things, that's OK.
Free Guide: The Inbound Marketer's Guide to Search Engine Optimization
Basically, Core Web Vitals measures how "healthy" your website is from a search and page experience perspective – this includes how quickly your site operates and pages load, the responsiveness of your website design across different devices), your website security, how easy your website is to use, and so on.
🎓 IMPACT+ course: On-page SEO and the user experience
The new page experience-specific metrics added were:
Loading
Interactivity
Visual stability
Or, in human speak, your site speed (loading), your site's responsiveness to your website visitors interacting with your site (interactivity), and how stable your website layout and visuals are (visual stability).
Previously, these metrics were displayed for website owners like you without serious penalty, in the form of diminished rankings. So, if you were having page experience issues, you're in the clear... well, until this rollout is completed, that is.
And that's why this is a big deal.
Once this core algorithm update goes live, you need to understand that your website page and content rankings will either be positively or negatively impacted, depending on how you measure up in those key areas. You need to be taking action now to improve your website's page experience, so you're prepared.
Wait, so this is going to have a big impact?
To be fair to Google, they're saying no:
"As we have said before, while this update is designed to highlight pages that offer great user experiences, page experience remains one of many factors our systems take into account. Given this, sites generally should not expect drastic changes."
I'm not disputing this, nor am I saying they're lying about this when I put forward that this is a "big deal" update.
For instance, they're absolutely right – you could be serving up the best page experience in the world to your users, but if your content is of low-quality, and not answering the most pressing questions of your buyers thoroughly and honestly, you won't win the rankings game. It's that simple.
However, let's say you're publishing great, educational blog articles and videos on your website, but your page experience overall sucks. You're going to send your ideal buyers running in the other direction with pages that load too slowly, glitchy user experiences, and websites that don't respond the way they're supposed to.
🎓 IMPACT+ course: On-page SEO and the user experience
You're going to see your rankings fall, because Google will see through those metrics that you're failing in that area. Then that will only be made worse when your ideal buyers abandon your website quickly, because your site annoys them – and rapid site abandonment is another signal to Google that will cost you rankings.
You see what I mean? That's why, if you've been neglecting your page experience metrics, this should be a wake up call to get your act together.
Why is this Google update being delayed?
Though they didn't say something like, "We're postponing the update and here's why," here's what Google did say about the pushback:
A gradual rollout allows them to address "any unexpected or unintended issues" that may crop up.
"

We hope that this adjusted roll-out schedule will help you continue to make refinements to your website with page experience in mind."

They've also been sharing answers to frequently asked questions about this update and how the page experience metrics work.
In short, they want to get it right on their end and not create big problems, and they want website owners to feel they have the time to make page experience-focused updates.
What are the new additions to the update?
One of the exciting new additions to this update is something called a page performance report that website owners will be able to access through Google Search Console: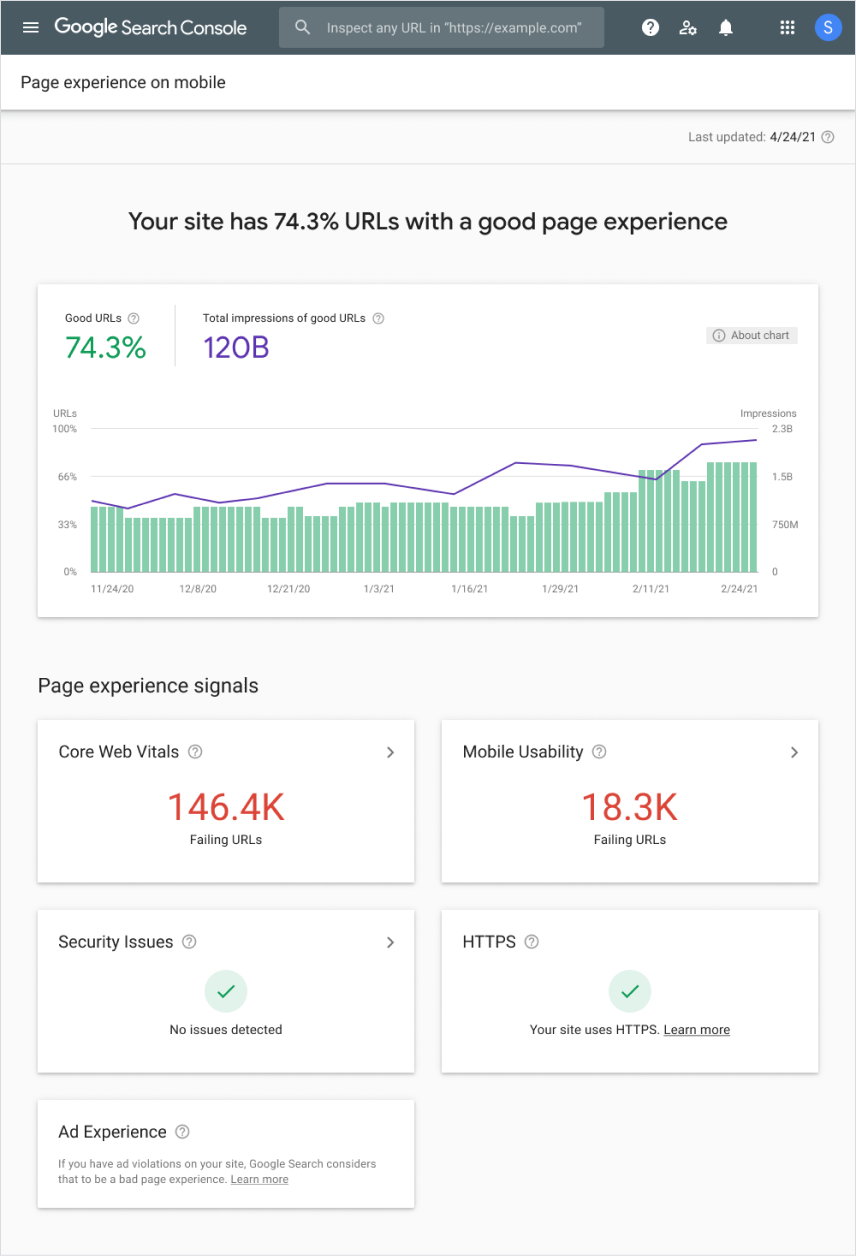 Here's why this new report is awesome, according to Google:
"The Page Experience report offers valuable metrics, such as the percentage of URLs with good page experience and search impressions over time, enabling you to quickly evaluate performance. You can also dig into the components of page experience signal to gain additional insights on opportunities for improvement."
In short, our friendly, neighborhood Skynet has made it easier for us to track how well we're performing against the metrics that will now sway our rankings up and down for our websites.
In summary, once more with feeling...
There are two things you need to keep in mind with this update:
If you've been neglecting or otherwise ignoring the page performance of your website, now is the time to get on track with it. For, example, you can't ignore how things like poor site speed and intrusive pop-ups can hurt you with your audience and, ultimately, in your rankings. This is your wake-up call.
Of course, you also have to remember that you need high-quality, relevant content on your website if you really want to win the search rankings game. A beautiful, sleek, peak-performing website will only go as far as the substance it contains.
Now, fingers crossed this is the final word from Google on this particular update.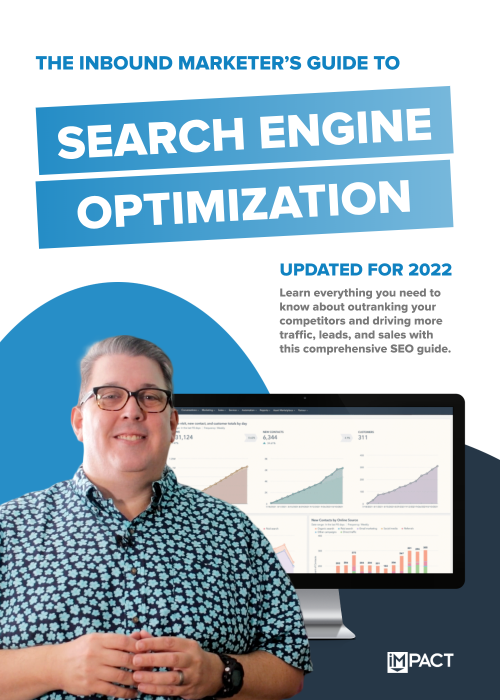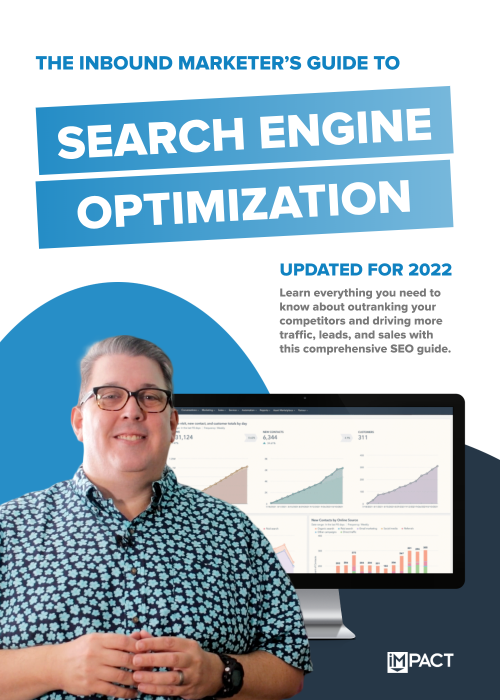 Free Guide:
The Inbound Marketer's Guide to Search Engine Optimization
Generate more traffic, leads, and sales with search engine optimization
In this free guide, you will learn:
What search engines are and who uses them.
What search engine optimization is and how it works.
Best practices for search engine optimization.
Published on April 21, 2021