Google: Website Content Quality More Important Than Quantity
Ever-present Google SEO expert John Mueller reminded us this week why your best bet for boosting your site's rankings is valuing high-quality content over quantity.
Paul D. Grant also recommends this free guide, The Inbound Marketer's Guide to Search Engine Optimization.
What you need to know about Google's take on quality (short version)
As may or may not know, we here at IMPACT like to react whenever Google SEO maestro John Mueller tweets, blogs, shows up randomly on Reddit, or talks to some random folks in a roadhouse bar.
(For example, not too long ago, Mueller, whose official title is

senior webmaster trends analyst,

dropped some juicy goodness about how site structure influences content rankings

.)

More recently, on Aug. 6, he hopped into an episode of Google's English Office Hours hangout to offer his thoughts about whether the search engine giant checks for quality improvements in content that would trigger a wholesale site re-evaluation – and,

whether or not content quality improvements will lead to a boost in search rankings

.
Given how important historic optimization is to any inbound marketing content strategy to drive traffic, leads and sales, this question is something that is relevant to all of us.
Mueller's response was, and I'm paraphrasing here (we get more in-depth down below), "Don't sweat it, my friend. We're always watching." That somehow came across as creepier than I intended. Anyway.
What does this have to do with you? Let's get this party started.
Why Google is totally right about this
Within the SEO community, there are two seemingly competing schools of thought:
Free Guide: The Inbound Marketer's Guide to Search Engine Optimization
Publish as much content as possible, so you'll drive massive traffic growth.
Focus on publishing quality content, not quantity, so as to stand out.
It's the old debate pitting a few really good pieces against many just-OK pieces. What Mueller's comments indicate is that Google is more of a believer in the former than the latter.
🔎 Related resources:
When asked specifically if there was a way to flag Google about significant improvements to your site, Mueller responded, as quoted by Search Engine Journal:
"I don't think there is anything technical that you can do to … trigger a re-evaluation.

"And usually that's also not necessary because essentially our systems re-evaluate all the time.

"They look at the content that we found for a site and, over time, as we see that change we will take that into account.

"So that's not something where you kind of have to do something manually to trigger that."
But get ready for the caveat:
"The one time where we do have to kind of reconsider how the site works is if the site does a serious restructuring of its website, where it changes a lot of the URLs and all of the internal links change, where maybe you move from one CMS to another CMS and everything changes and looks different.

"Then from a quality point of view or from a technical point of view, we can't just keep the old understanding of the site, of the pages, because everything is different now.

"So we kind of have to rethink all of that."
So, take heart. If you've been doing inbound marketing for a while now for your site, improving as you go will help boost your quality. This reiteration that quality over quantity is also at the center of what we do here at IMPACT.
Why content quality is so important
I've been in the chair as director of content at IMPACT since early April. In that time, I've grown to learn more and more about Marcus Sheridan's They Ask, You Answer framework, which empowers companies to drive more sales with inbound.
But we don't just show other companies how to establish themselves as the No. 1 teacher in their space by answering their ideal customers' most pressing questions honestly and transparently.
🔎 Related: Why you need to be your industry's #1 teacher to get results
We practice what we preach; we are also out here creating the best content online that helps our audience drive traffic, leads, and sales. In other words, we are laser-focused on quality over quantity in our content. Our goal is to educate deeply to the right buyers, not flood the zone with traffic-driving fluff.
What this information means to you
Specifically, you want to be focusing on the most important content you create. It should be honest and transparent and authentic. Don't bury the content; make it easy to find. Overall, make sure the on-page and SEO experiences are exactly where they need to be.
It's OK to step off the fast-moving train. Take a look around. Make sure you're historically optimizing your content to maximize the effectiveness of what is out there by updating text and smartening up headlines.
This isn't about winning the internet. We're not all about cheap clicks. (But we are all about Cheap Trick.)
If you are doing all the right things:
... Google is going to notice – cue an evil, bottom-lit vision of Mueller saying, "We're watching you ..." – and adjust accordingly. You won't have to worry about the little changes if you're knocking down the big stuff.
🍿 IMPACT+ on-demand: The 1% B2B content strategy to beat your competition
The internet is the long game; what you do today might not have instant results tomorrow, but a few tomorrows down the line it could make a ton of difference. To return to the boat analogy, it takes a long time for water to rise and fall, so it takes a long time for you to get a good sense of how well you're doing.
If you still have questions about driving traffic, leads and sales with your inbound marketing, chat with one of our advisors. But don't tell them John Mueller sent you.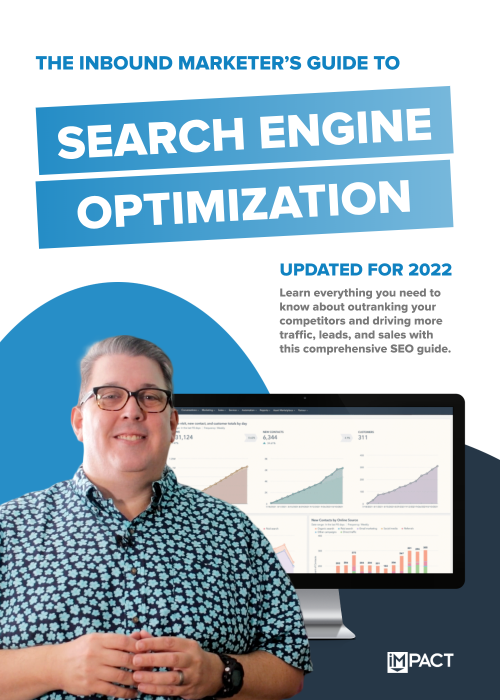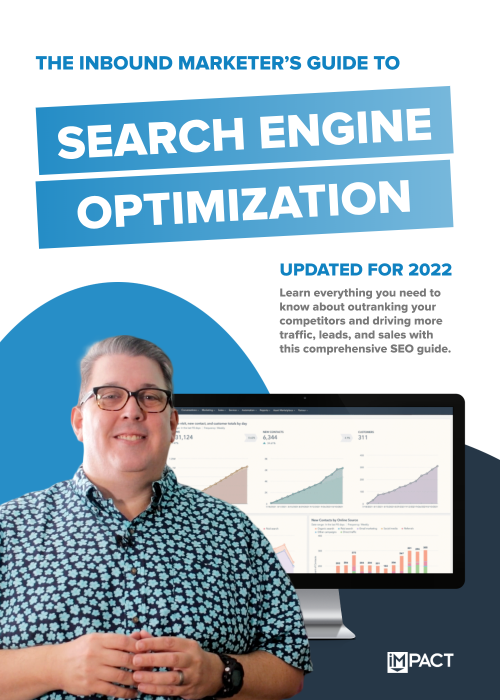 Free Guide:
The Inbound Marketer's Guide to Search Engine Optimization
Generate more traffic, leads, and sales with search engine optimization
In this free guide, you will learn:
What search engines are and who uses them.
What search engine optimization is and how it works.
Best practices for search engine optimization.
Published on August 10, 2021