ICYMI: Digital marketing news update for July 12, 2021
Google's July core update is more volatile than June's, Apple is in hot water with advertisers over privacy updates for iOS 15, Google weighs in on website revamps hurting rankings and Facebook brings revenue value for publishers.
Liz Moorehead also recommends this free website performance assessment.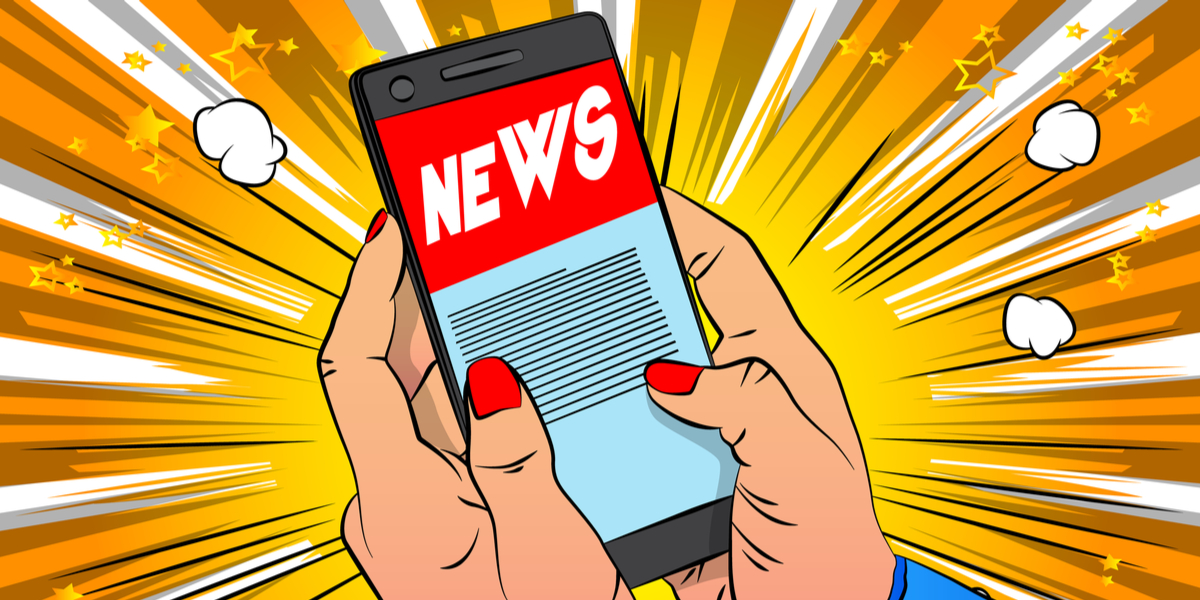 Sure, none of us can say we did something as wild as fly into outer space last week. But that doesn't mean we can't give ourselves a good ol' fashioned pat on the back for all of the hard work we did put in to achieve our most aggressive traffic, leads, and sales goals.
We're not astronauts, but we are daily and weekly results warriors, right? So, let's arm you with the digital marketing and sales news you may have missed last week. That way you can continue to make smarter decisions faster this week ...
Free Assessment: Website Performance Assessment
OK, let's get into it ...
Let's get you up to speed on what the heck this bit of news is about. Although be warned that (per usual) Google has been pretty tight-lipped on any details while also saying there's nothing to be concerned about.
In early June, Google announced it had begun rolling out one of two paired core algorithm updates, which is not a usual move for the search engine. Details were sparse about what was included in either update, just that some stuff wasn't ready yet, so a July rollout was also needed.
On July 2, Google announced that the July core update was going ahead as planned. They reiterated that they do these updates all the time, and also reminded folks that if they saw increases or decreases in traffic, they may reverse themselves with this update.
Now, new reporting from Search Engine Land has illuminated the fact that while June's update was a bit underwhelming, this one "hit hard and fast." Data from Semrush provided to SEL showed that some of what Google said was true – some saw a reversal of what they experienced as a result of June's core update. RankRanger also shared that this

"was a substantial update in comparison to the December 2020 update."
What does this mean for you? Well, Google is right in that they make a lot of core updates throughout the year. Of course, right now is a much more volatile time with Google as these core updates also overlap with the page experience update that began its rollout last month.
So, for now, stay focused on creating the best content possible for your ideal buyers and optimizing your business website's user experience. And try not to panic or overreact too much as you see potential fluctuations in your website traffic.
🔎 Related resources:
2. Apple privacy updates and comments ruffle advertiser feathers (via VentureBeat)
As we covered previously, Apple iOS 15 has already been making waves with marketers and newsletter creators because it promises to cut off access to tracking data about how marketing audiences react to and engage with emails:
"In the Mail app, Mail Privacy Protection stops senders from using invisible pixels to collect information about the user. The new feature helps users prevent senders from knowing when they open an email, and masks their IP address so it can't be linked to other online activity or used to determine their location."
Now, advertisers and the ad tech industry overall are upset. They say that Apple is making broad, sweeping changes that negatively impact pretty much everyone except for Apple:
" ... [Apple] can change the rules within its ecosystem with minimal financial risk to itself while imposing a severe impact on other ad tech companies. By turning its rivals' (read Google and Facebook's) key revenue source into a liability while wooing consumers with a privacy-first message, Apple has become the leader of the very market it publicly decries."
Meanwhile, Apple CEO Tim Cook is adding fuel to this fire by calling the behavior of advertisers "creepy."
🔎 Related resources:
Whenever you go through a website redesign project, your goal is likely to increase traffic, leads, and sales. Duh. As a result, one of the biggest outcomes we fear of a website redesign is accidentally doing something that hurts how well our content ranks in search results.
In a recent "Office Hours" hangout, a website owner asked a question targeting this very issue. Previously, they had "revamped" their website without hurting their rankings. However, this time around, they weren't so lucky, and they experienced "extremely negative ranking changes in Google search."
Unfortunately, before answering, Mueller did not clarify what was meant by "revamping" the website. That said, here is what he shared:
"In general these kinds of things I would look at on a per website basis. There is nothing on our side that is kind of saying that … if a website is revamped then we must change its ranking ...

"But the main thing that I would watch out for when you're doing a revamp is to make sure:

"That the URLs stay the same as much as possible so that you don't change the URL structure.

"That the internal linking stays the same as much as possible.

"That the content and the layout on the pages stays the same as much as possible.

"And if those technical elements are essentially aligned, then from our side the only thing that we see is that maybe the website is a little bit faster now because you're using a faster infrastructure."
🔎 Related resources:
We took a deep dive into some data from Digiday last week about how much revenue and brand-building value publishers get out of different social media networks.
As content marketers, social media is a critical area of your strategy where you need to work smarter (not harder). It's also an area of your strategy where it's often the hardest to do that because we can be so easily distracted by headlines and updates from social platforms that won't actually help us move the needle.
So, what did the data have to say?
"For publishers, there is no contest here because 49% of publishers reported that Facebook is either "valuable" or "extremely valuable" in driving revenue. In contrast, Twitter (which I know grabs a lot of headlines) is actually driving the least ... even below TikTok."
Will Twitter ever deliver results?
Only time will tell:
"Of course, this picture may change since Twitter wants to double its revenue to $7.5 billion by the end of 2023.

"Quite frankly, I don't see how they do that effectively without figuring out a way to make the platform valuable to the most prolific content creators of all: publishers. As someone with her own personal brand, I love the stuff they're innovating, features-wise, for individual and independent creators.

"But as someone who also works for a publisher, I'm curious when we're going to have our day to shine."
🔎 Related resources:
Every Monday, you can expect this little weekly dose of digital marketing news. If you have any tips or stories you think we should know about, hit me up at lmoorehead@impactplus.com.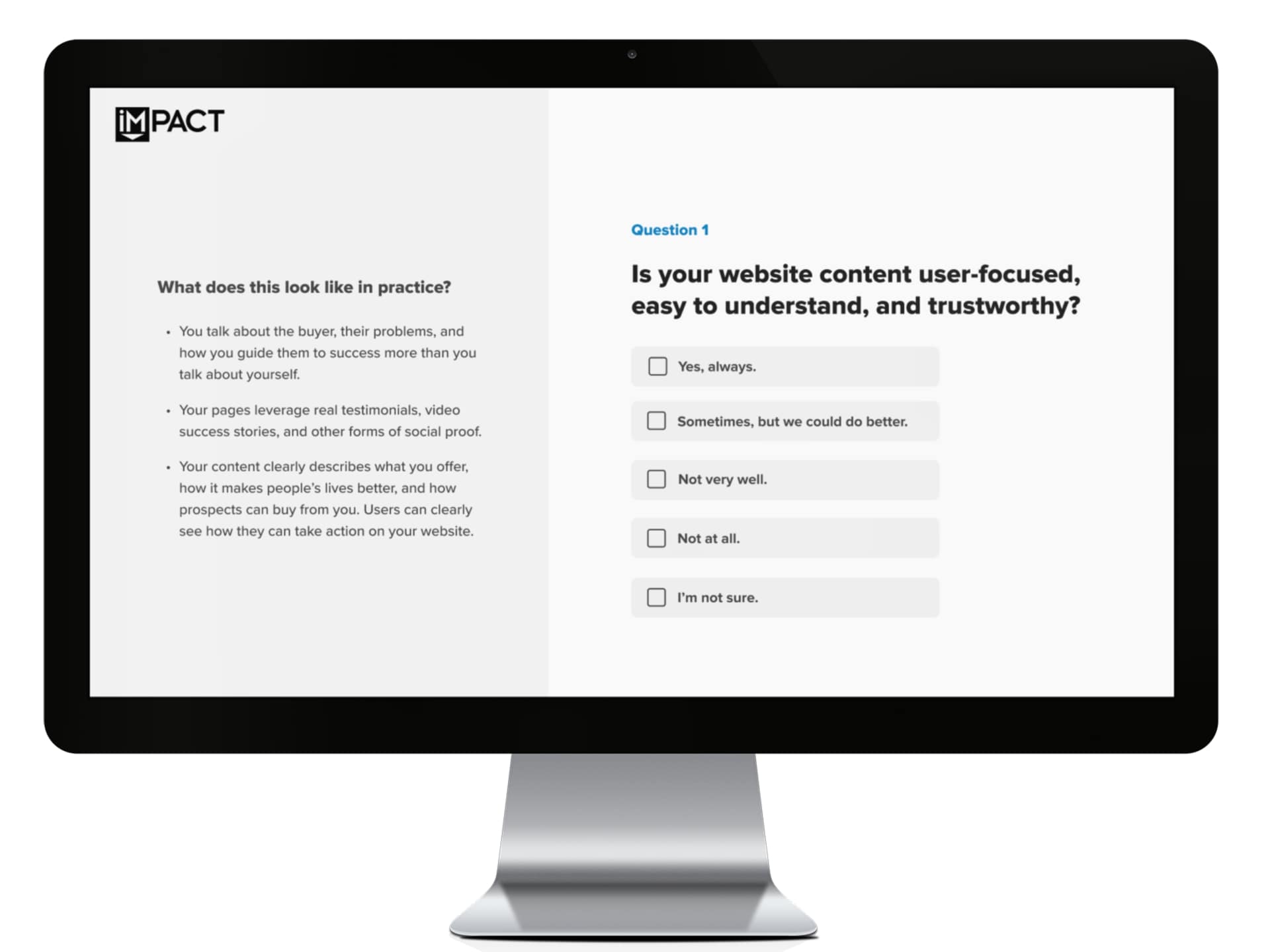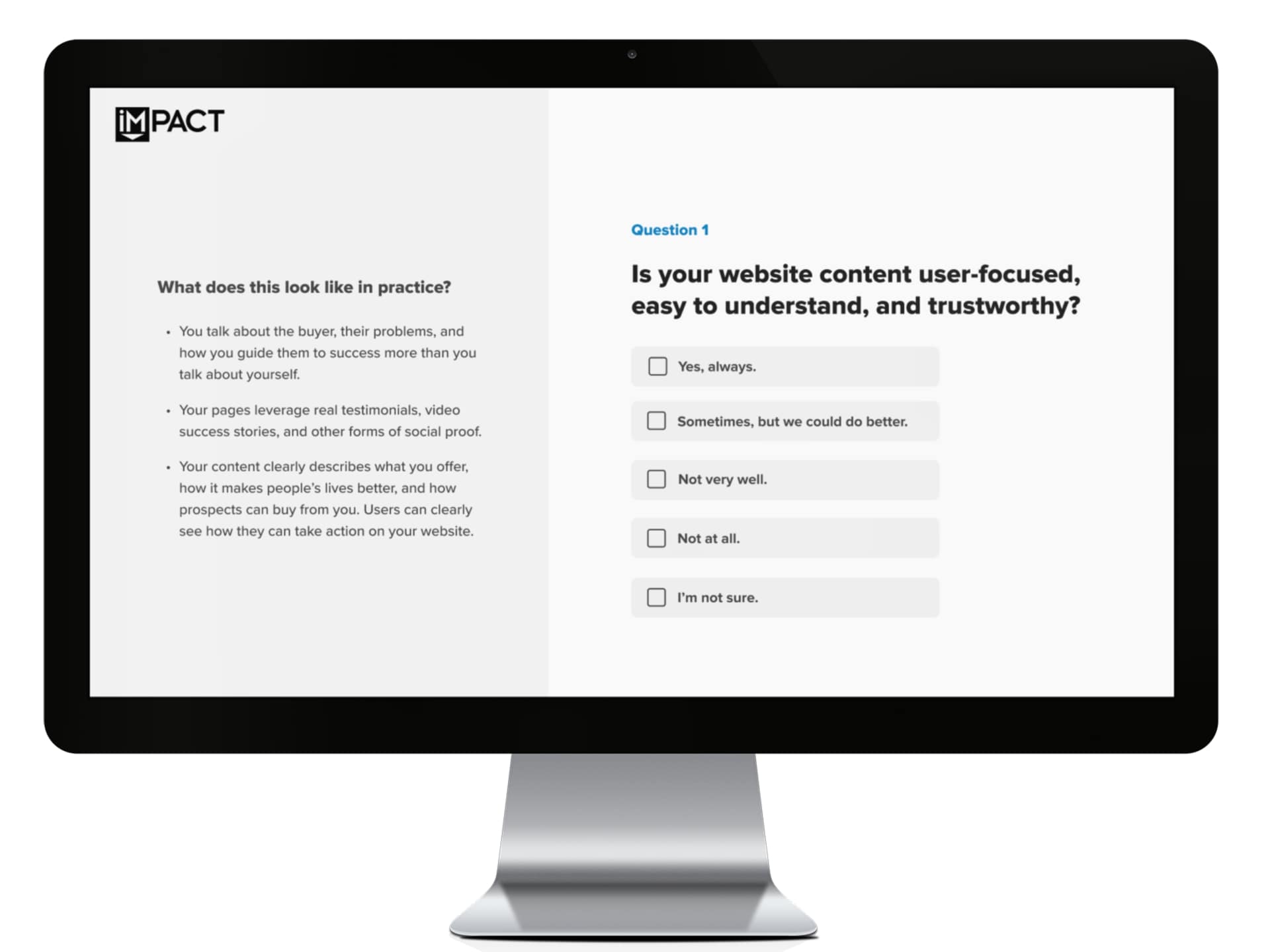 Free Assessment:
Website Performance Assessment
Does your website build trust with buyers and bring in revenue?
Take this free 10 question assessment and learn how your website can start living up to its potential.
Published on July 12, 2021