ICYMI: Digital Marketing News Update for July 19, 2021
New data shows marketing budgets across all industries slashed to record lows, TikTok partners with Vimeo to support SMBs, Facebook shares how news feed algorithm works and Google says resistance to a more private web is futile.
Liz Moorehead also recommends this free website performance assessment.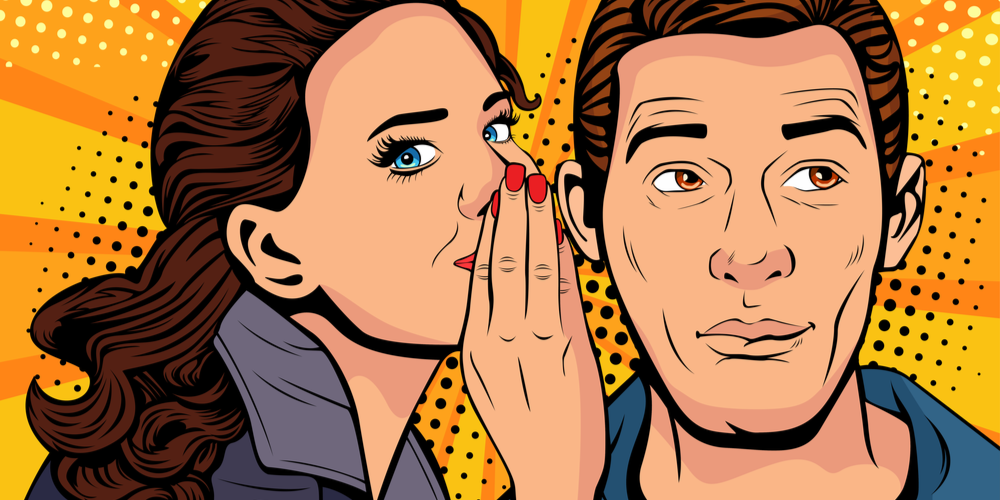 Last week was a big news week, my friends. For example, I walked outside and said, "Wow, it's only 88 degrees with 57% humidity? What a relief!" Then I cried on the inside because it was, indeed, a true relief, and I still spent most of the day looking like a frizzy, disgruntled tomato who wants to speak to someone's manager.
But that wasn't the only headline. Here's what you need to know about the top digital sales and marketing stories you may have missed last week, so you can continue to make smarter decisions faster this week ...
Free Assessment: Website Performance Assessment
OK, let's get into it ...
It doesn't matter if you're a digital marketer on the front lines or a marketing leader (VP, CMO, etc.), I think we can all agree that last year sucked a lot. On top of that, we were more than happy to "do less with more" because the realities of the pandemic crisis we were living through necessitated it.
Of course, a lot of us expected that to bounce back:
"Despite facing in-year budget cuts in 2020 due to the pandemic, most CMOs expected budgets to bounce back in 2021."
Well, cue the sad trombones, folks. New data released from Gartner shows that, across almost every single industry, this "optimism was misplaced":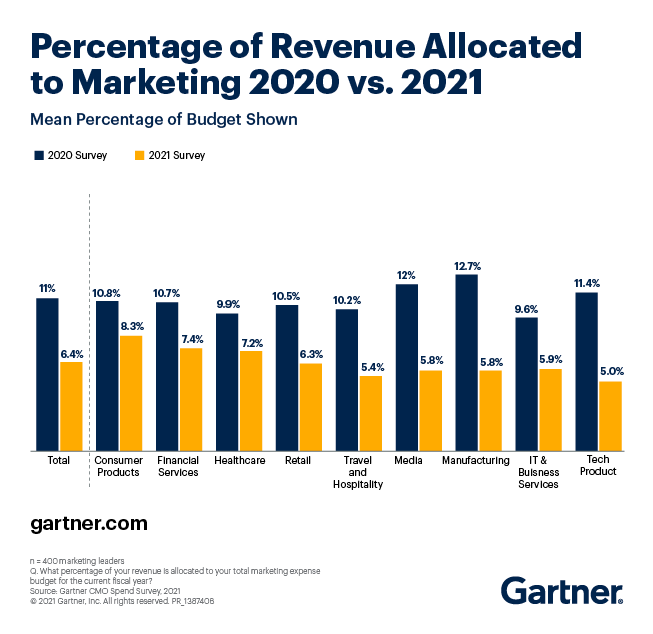 Source: Gartner
With this level of budget reduction, it's understandable that most marketing leaders are looking to change how they're spending what little they are getting. One of the places that's continuing to happen is with less spending on outsourced support:
"'Albeit a small dip from 23.7% in 2020 to 23% in 2021, this continual change indicates significant in-housing activity, as CMOs reimagine the capabilities that can be supported by their internal teams,' added Ewan McIntyre, co-chief of research and vice president analyst in the Gartner for Marketers practice.

"CMOs report that 29% of work previously carried out by agencies has moved in-house in just the last 12 months alone. The focus of in-housing is changing as well – with brand strategy, innovation and technology, and marketing strategy development making up the top three capabilities areas CMOs are moving to internal teams."
It's disheartening to see marketers losing the budget they so desperately need – often being pegged unfairly as an expense, rather than as a revenue driver.
That said, one of the core tenants of They Ask, You Answer (the approach to actually drive sales with inbound marketing) is this idea of in-housing. Specifically, hiring a content manager to own your content creation efforts, instead of outsourcing that work to an agency, is one of the most powerful and profitable ways to guarantee the success of your online strategy.
🔎 Related resources:
Two weeks ago, I was lamenting how social media platforms are seemingly in an arms race to empower individual "creators" with new features and options, while SMBs with significant publishing and/or ad-based strategies have been left to fend for themselves, for the most part:
"... Twitter wants to double its revenue to $7.5 billion by the end of 2023.

"Quite frankly, I don't see how they do that effectively without figuring out a way to make the platform valuable to the most prolific content creators of all: publishers. As someone with her own personal brand, I love the stuff they're innovating, features-wise, for individual and independent creators.

"But as someone who also works for a publisher, I'm curious when we're going to have our day to shine."
Apparently, the powers that be at TikTok heard my call and have introduced a new partnership with Vimeo just for SMBs:
"Vimeo and TikTok are solving one of the most significant pain points for SMBs in reaching customers — how to easily and affordably create professional-quality content at scale," said Richard Bloom, SVP, Business Development, Vimeo.

"We're thrilled to be the first video creation platform to integrate with TikTok For Business and to expand the reach of Vimeo Create, so more businesses can engage even more customers online."
Prior to the announcement of this partnership, TikTok invited small businesses to take the new Vimeo-powered features for a test drive:
More than 85% said they saw "successful" results and plan to run another campaign in the future.
Others saw 50% higher clickthrough rates than they saw in previous campaigns, while also doubling the amount of video they were able to create.
Of course, if we take a trip in the way-back machine to some Digiday data I reported on a couple of weeks ago ...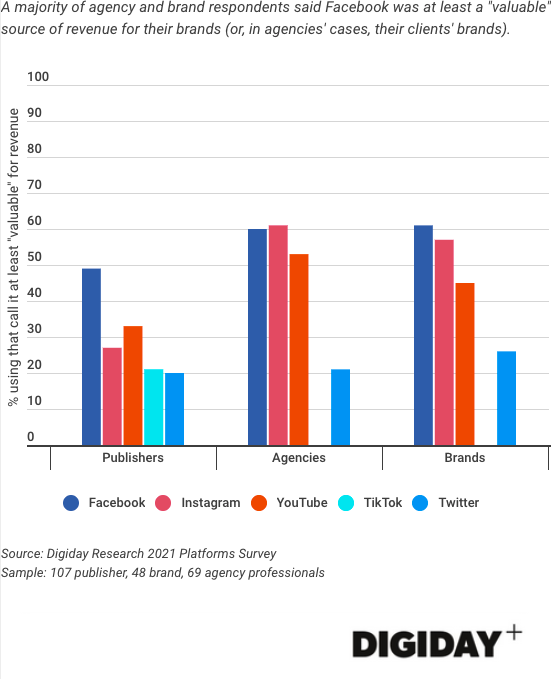 Source: Digiday
... TikTok didn't rank well (to put it mildly) among brands and agencies as a valuable revenue driver. Of course, TikTok may be social media network non grata in this data set because agencies and brands haven't put any resources into the platform.
Considering, however, that TikTok was (once again) the most downloaded non-gaming app in June 2021, ignorance may not be a smart move for much longer.
🔎 Related resources:
3. Facebook's 4 factors that determine if your buyers see you in their news feed (via IMPACT)
If you're leveraging inbound marketing or They Ask, You Answer to drive traffic, leads, and sales for your company, you're in the business of publishing. That means you need to have a smartly calibrated social media strategy to amplify your content – or, more simply, to get your ideal customers to see your content.
Facebook has shown to be the top revenue-driver and brand-building social media platform for publishers like you and me, which means it's critical to understand how their core algorithm works:
"Our goal is to make sure you see the posts that are most valuable to you at the top of your Feed every time you open the Facebook app.

"And because most people have more content in their News Feed than they could possibly browse in one session, we use an algorithm to determine the order of all of the posts you can see."
Although they didn't muddy the waters with too many details, Facebook did recently share the four factors that they use to decide what content of yours (if any) is shown to your ideal buyers organically in their news feeds:
Inventory:

First Facebook catalogs all the content that could potentially be served to your ideal customers in their news feeds. The total volume of content will always exceed what can be served to your ideal customers.
Signals:

To whittle down this inventory to something more manageable, Facebook's algorithm looks at "signals" to see what might be the most relevant. Signals include how your buyers have interacted with pages and people in the past.

Predictions:

Now, based on these signals, Facebook makes predictions of how likely your ideal customer will interact with each post in their feed.
Score:

Finally, based on these signals and predictions, Facebook's algorithm gives each post a score, again based on relevance to your ideal customers.

The higher your content's score, the better chance you have of your ideal customer's seeing your post at the top of your feed,

without ads.
🔎 Related: Help, why are my Facebook ads not converting with my customers?
4. Google says the future of the web is private, whether we like it or not (via IMPACT)
For years, marketers, advertisers, and website owners have been dreading Google's looming threat to block third-party cookies on their Chrome browser. (Which is a big deal, considering Chrome is the most popular desktop browser on the planet.)
Even though that has now been pushed by Google from 2022 to 2023 – so they have time for more "responsible planning" – the collective anxiety being felt by anyone with a website meant to drive sales is still palpable.
So, last week, Google published a short, 700-word(-ish) bit of guidance about how everyone should be preparing for a future when the web is more private. To be blunt, the guidance wasn't terribly groundbreaking, as it pretty much beat the same drum they've been beating for many moons about what marketers and advertisers should be doing:
Don't focus on the individual, focus on large groups.
Don't focus on the individual, focus on large groups.
Did we mention don't focus on the individual, focus on large groups?
That said, the larger message they were telegraphing through this calm, yet seemingly exasperated bit of messaging – akin to a parent reminding a toddler in a patient tone for the 10,023rd time that they need to brush their teeth more than once every 13 days – was loud and clear.
Although very smart people are working around the clock to find first-party replacements for marketers and advertisers who rely upon third-party solutions, they should not expect to have access to the same level of data as before.
And, similar to the Apple Mail announcement from last month, a more private web is the digital norm we must accept.
🔎 Related resources:
Every Monday, you can expect this little weekly dose of digital marketing news. If you have any tips or stories you think we should know about, hit me up at lmoorehead@impactplus.com.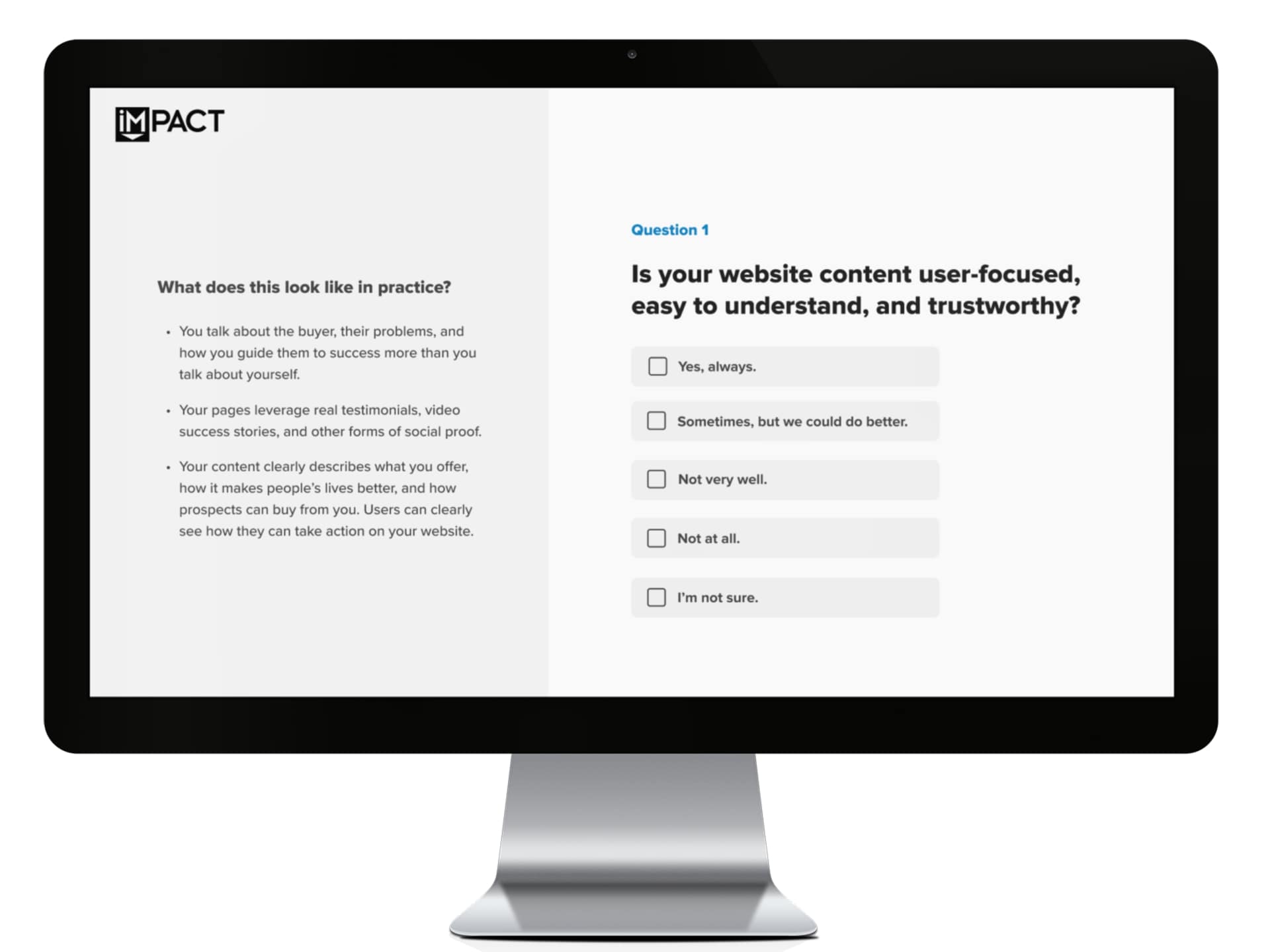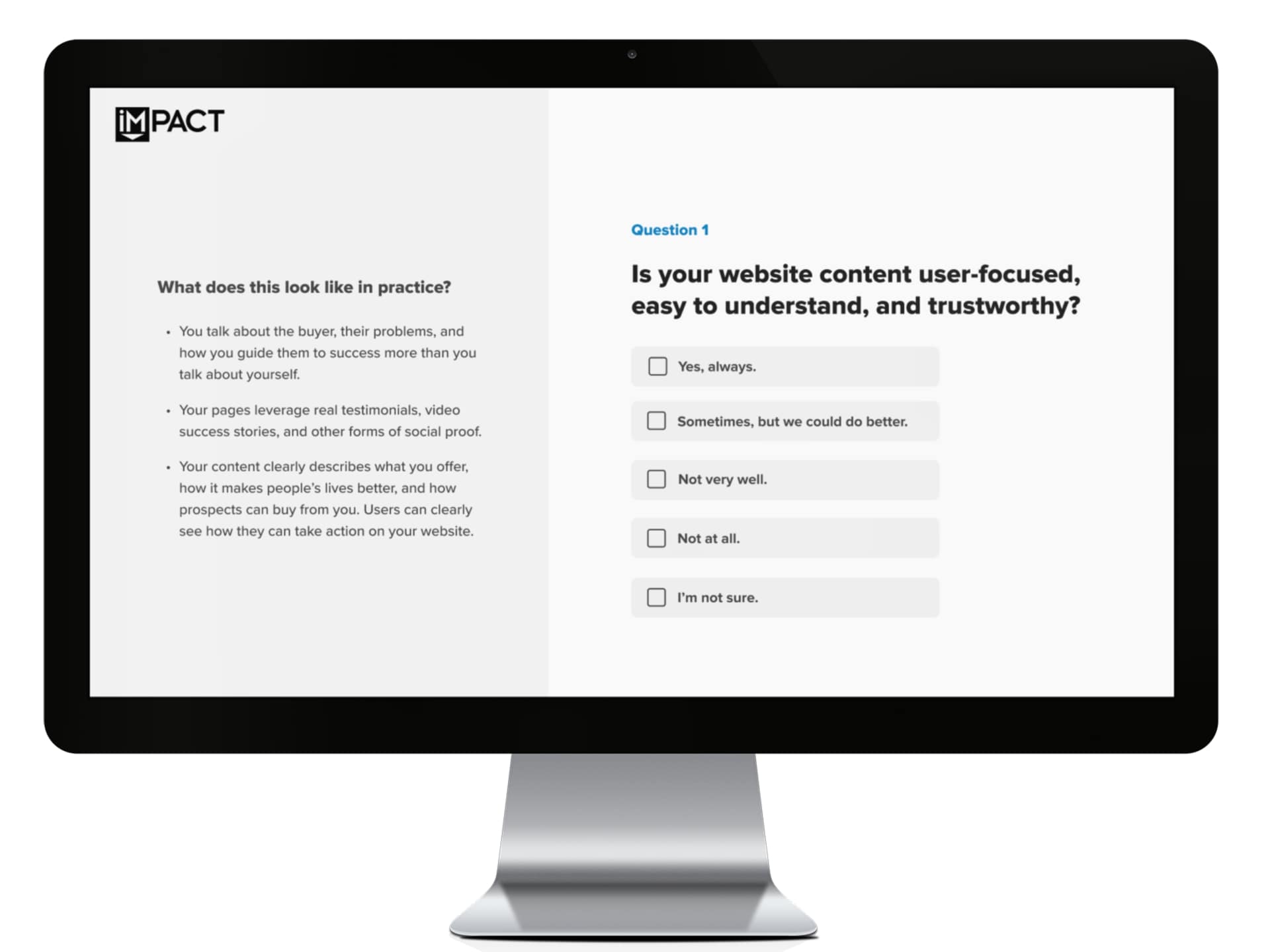 Free Assessment:
Website Performance Assessment
Does your website build trust with buyers and bring in revenue?
Take this free 10 question assessment and learn how your website can start living up to its potential.
Published on July 19, 2021