ICYMI: Digital Marketing News Update for July 26, 2021
Google lays out new timeline for cookie-blocking piece of their Privacy Sandbox Initiative, Instagram expands timeframe for analytics, 'funny' seniors imagery could hurt your bottom line, and post-pandemic interpersonal skills are rusty in the workplace.
Liz Moorehead also recommends this free website performance assessment.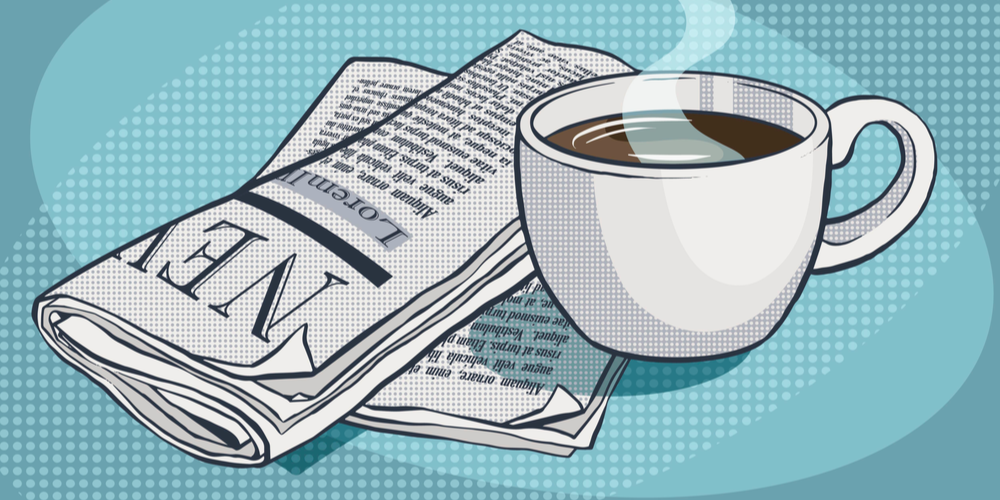 I was last-week-years-old when I learned that Bill Murray's iconic character of Carl Spackler in Caddyshack was originally written as a completely silent role with no lines. Obviously, once Bill and his schtick were cast, that changed ... but can you even imagine that film without moving, heartfelt lines such as:
"Licensed to kill gophers by the government of the United Nations. A man, free to kill gophers at will. ... Who's the gopher's ally? His friends. The harmless squirrel and the friendly rabbit."
I know I can't.
Anyway, that wasn't the only big news story. Here's what you need to know about the top digital sales and marketing stories you may have missed last week, so you can continue to make smarter decisions faster this week ...
Free Assessment: Website Performance Assessment
After pushing out their own deadlines, Google shares new proposed timeline for Privacy Sandbox Initiative touchpoints:

With four different categories of activity – spam and fraud, relevant content and ads, measuring digital ads, and strengthening website privacy – Google's fresh timeline (released last Friday) has all parts of the PSI "ready for adoption" by the start of Q4 2022, which would include the third-party cookie block on Google Chrome.
In a tiny bit of news, Instagram is doubling the timeframe available for account metrics tracking: Instagram is a powerful platform for any company publishing content that answers their ideal customers' most pressing questions, according to recent data. And now, Instagram has increased the metrics visibility window for accounts from 30 days to 60 days.

New data from Google shows "funny" imagery of seniors befuddled by technology is a big liability for marketers:

Photos of seniors humorously perplexed by technology are not only a meme culture staple, but they're also often used by well-intentioned marketers to get a laugh – but new data from Google spotlights how misguided these images are because today's seniors have a lot of buying power and are way more tech-savvy than you think.

Finally, post-pandemic interpersonal skills are rusty for a lot of employees returning to work

: Digiday has published yet another fascinating entry in their Future of Work series, as we all are challenged with understanding the unexpected nuances and roadblocks of returning to the pre-pandemic norms of work and office life. This time, the target is something we all feel to some degree – after more than a year of isolation, our in-office interpersonal skills are not what they used to be, and it's stressful.
OK, let's get into it ...
1. Google releases a fresh new timeline for the Privacy Sandbox Initiative (via Google)
Google created their Privacy Sandbox Initiative with a singular vision:
"The Privacy Sandbox initiative aims to create web technologies that both protect people's privacy online and give companies and developers the tools to build thriving digital businesses to keep the web open and accessible to everyone."
This sounds great – in theory. However, the PSI has also left a lot of publishers, website owners, marketers, and advertisers feeling completely stressed out, if not outright angry, because of the changes Google is proposing to achieve this vision.
For instance, blocking the third-party cookie on Google Chrome is a big part of achieving the mission of a more private and open web ... and not everyone is happy about it because it could have serious, negative impacts on the bottom lines of companies that rely on third-party cookie-tracking for ads, personalized content, and more:
"Google wants to wait a bit, Apple and Firefox believe the crisis is already too big and have already started blocking third-party cookies — perhaps before there's a viable replacement for some use cases (and in some cases, they may not want there to be one).

"The battle is big and the rhetoric is getting sharp. People accuse Apple of wanting to smother the web in favor of a walled-garden App Store. Others accuse Google of wanting to maintain an ad-tracking dystopia.

"Google worries that cutting off cookies now will encourage bad actors to switch to harder-to-stop fingerprinting methods, but then everybody notices that it's awfully convenient that Google doesn't want to stop ad tracking until later." (Source)
Especially since Google is saying that, even with new replacement technology, no company, publisher or advertiser should expect the same level of individual user data to be available. That time is over, as the future of the web will be private.
To further aid impacted website owners, publishers, advertisers, regulators, and other interested parties, Google published a revised timeline last week that breaks out when they envision all of the different pieces of PSI being completed: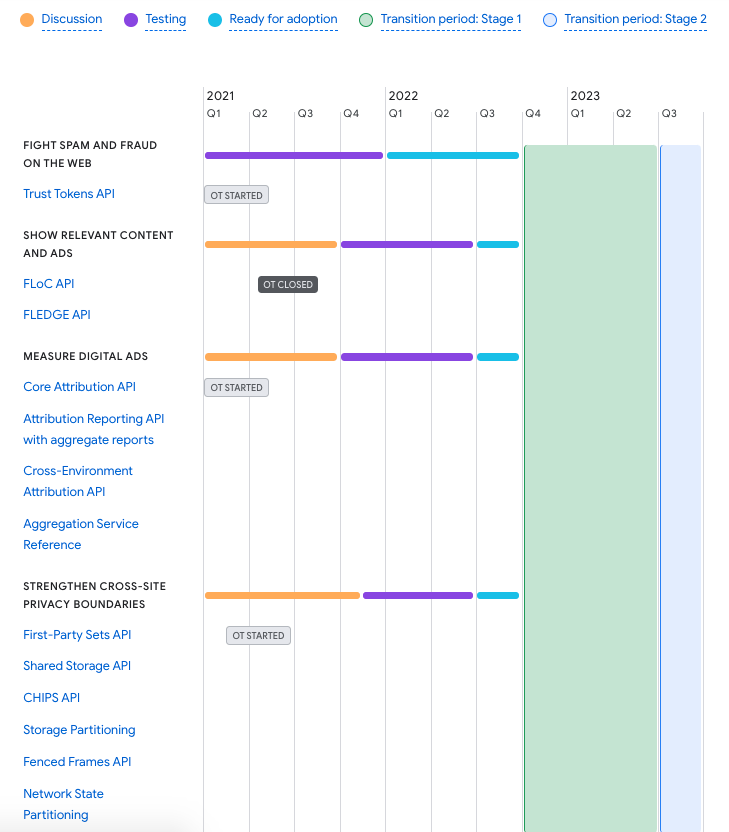 Admittedly, there's a lot of technical jargon in that little calendar view. But, at a high level, here's what you can expect:
This year, discussions are taking place. It's why we saw the timeline move around with the cookie block, and that's why we're seeing Google over-communicate.
Next year (2022) is going to be dedicated to testing and preparing everyone for adoption.
Although Google originally said that the cookie block was moved to 2023, all line items on this timeline show that transitions to new technology will start at the end of 2022.
Google also noted in the FAQ that the timeline will be updated monthly and:
"It's difficult to forecast how long the open, public process for developing a new web technology might take, as the new APIs may receive a lot of feedback or require multiple testing cycles. These extended discussions and testing stages often produce better, more complete solutions, and the timeline for testing and ready for adoption of use cases might change accordingly."
🔎 Related resources:
2. Instagram doubles timeframe for metrics insights (via Instagram)
This is a tiny bit of news, but still, it's exciting.
As we talked about a couple of weeks ago, Instagram is considered one of the most valuable platforms for brand-building if you're a content publisher: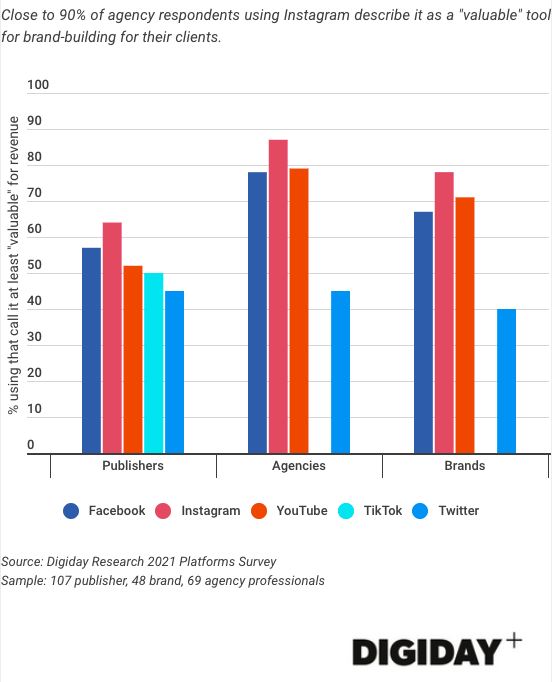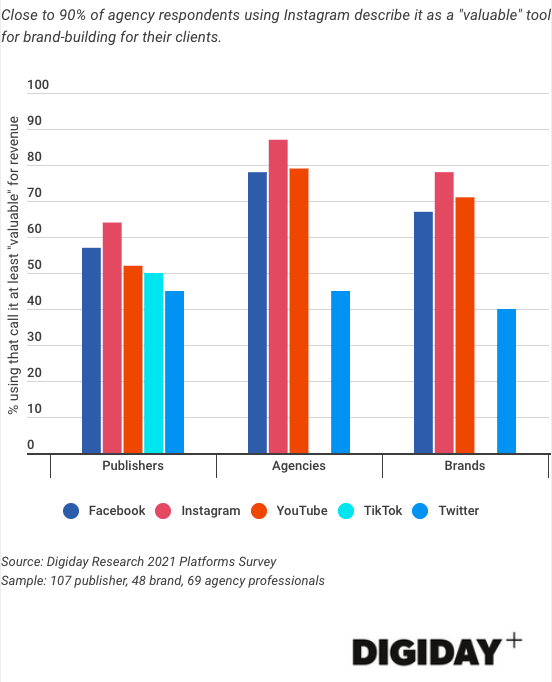 Source: Digiday
Fun fact! If you're publishing content on a regular basis as part of a larger inbound marketing strategy or They Ask, You Answer-based approach to inbound, you're a publisher and that tidbit of information applies to you.
Now, your insights into how well you're performing on Instagram are about to get much deeper: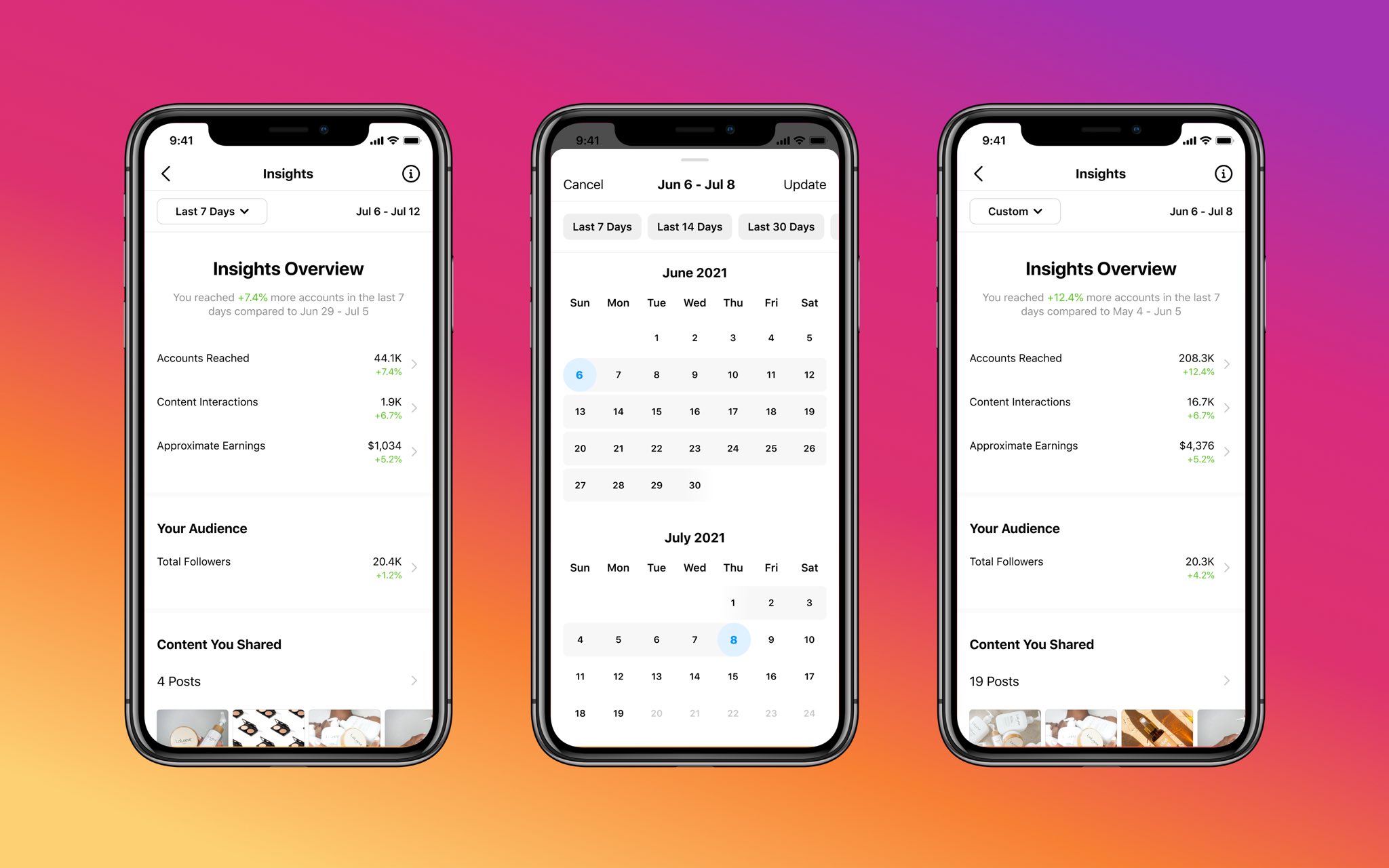 According to Instagram, they're expanding the metrics reporting window from 30 days to 60 days. They're also planning on expanding that window to 90 days "later this summer."
🔎 Related resources:
3. Data: 'Funny' seniors imagery is not only demeaning, it's inaccurate (via IMPACT)
Photos of seniors humorously perplexed by technology are not only a meme culture staple, but they're also often used by well-intentioned marketers to get a laugh – but new data from Google spotlights how misguided these images are:
The spending power of seniors – commonly

referred to as the silver economy

– continues to expand exponentially because of a variety of factors, estimated to increase from $8.7 trillion to $15.7 trillion by 2030.
Intergenerational fighting and the societal implications of the consolidation of wealth aside, the reality is seniors also

possess the most wealth

of any of the other buying groups, such as millennials and Gen Z.
A majority of online seniors spend at least

six hours a day online

and

own an average of five devices.
These are what are called "sophisticated seniors," as

80% continued education beyond high school

and

82% use their smartphones every day.
Seniors aren't just boomers. The upper end of

Gen X is now part of the senior crowd, with the oldest Gen Xers now being 55 years old.
Again, if you've adopted a They Ask, You Answer approach to inbound marketing to drive more sales, you need to pay attention to this bit of news. Remember that the pool of ideal customers you have – the "they" asking all of those questions you're answering in your content – are likely more diverse than you think.
🎓 IMPACT+ course: They Ask, You Answer fundamentals with Marcus Sheridan
We spent more than a year wishing for life to just go back to normal, as the COVID-19 pandemic wreaked havoc on every aspect of our lives – personally and professionally.
Now, with The Big Quit, and as employers and employees struggle to realign expectations around remote work and what constitutes normal working hours, there's another challenge on the horizon:
"Employees' soft skills didn't disappear during lockdown, but they did lie dormant and will need dusting off and refreshing as people return to the office ...

"[Helen Jambunathan, associate insight director at U.S. and U.K.-based employee behavioral experts Canvas8] cited how soft skills around areas such as body language will need to be addressed as people move from a virtual-only world and start meeting clients and senior colleagues face-to-face again.

"'This will be a key part of adjusting to in-person interaction,' she said. 'On Zoom, we've been using purely verbal and facial cues, but when returning to the office, we suddenly have much more information to work with.'"
It's a fascinating read and a reminder of how nuanced our "return to business as usual" approach needs to be; we're not simply navigating lifestyle and office-reopening procedures.
Every Monday, you can expect this little weekly dose of digital marketing news. If you have any tips or stories you think we should know about, hit me up at lmoorehead@impactplus.com.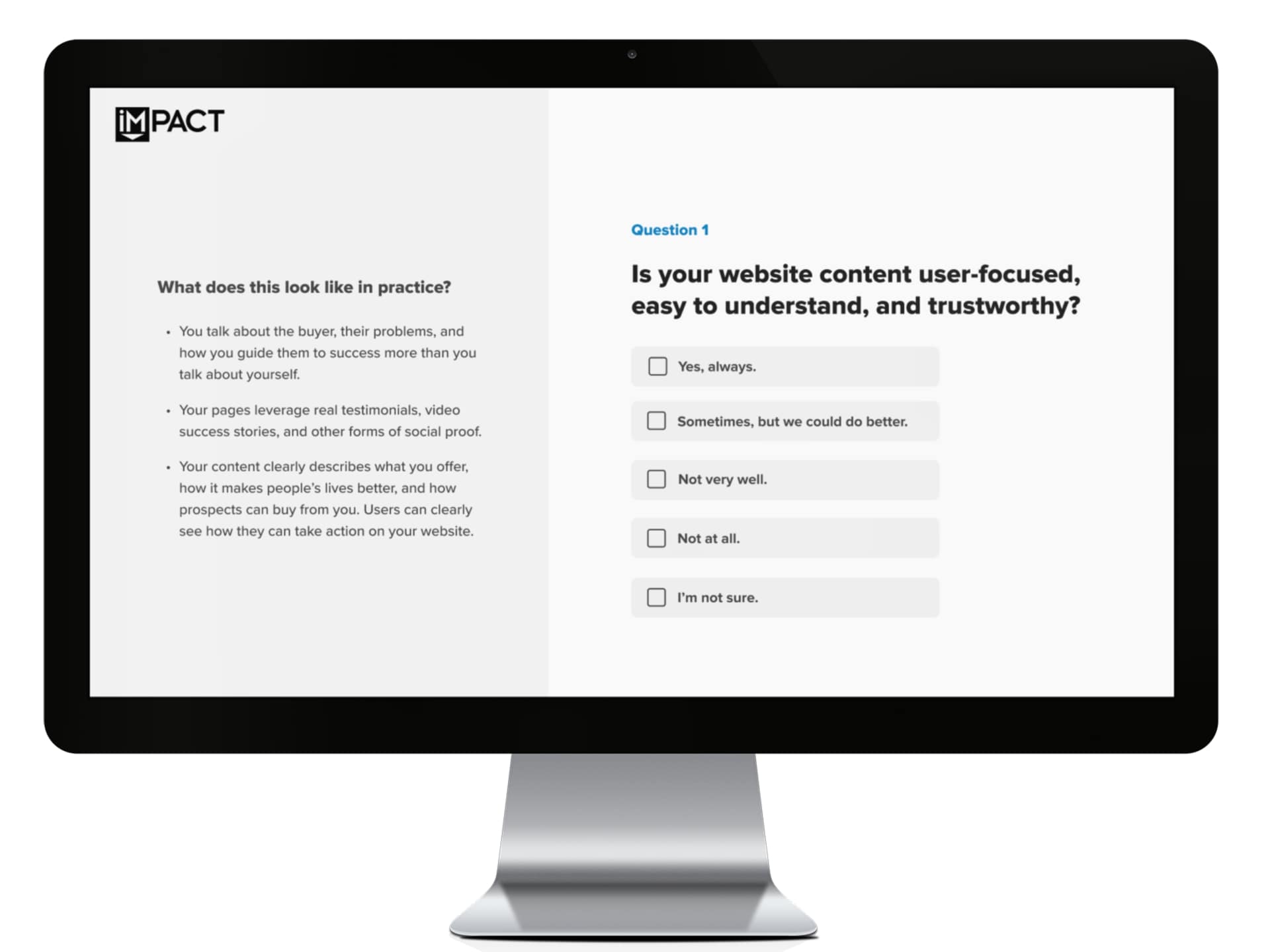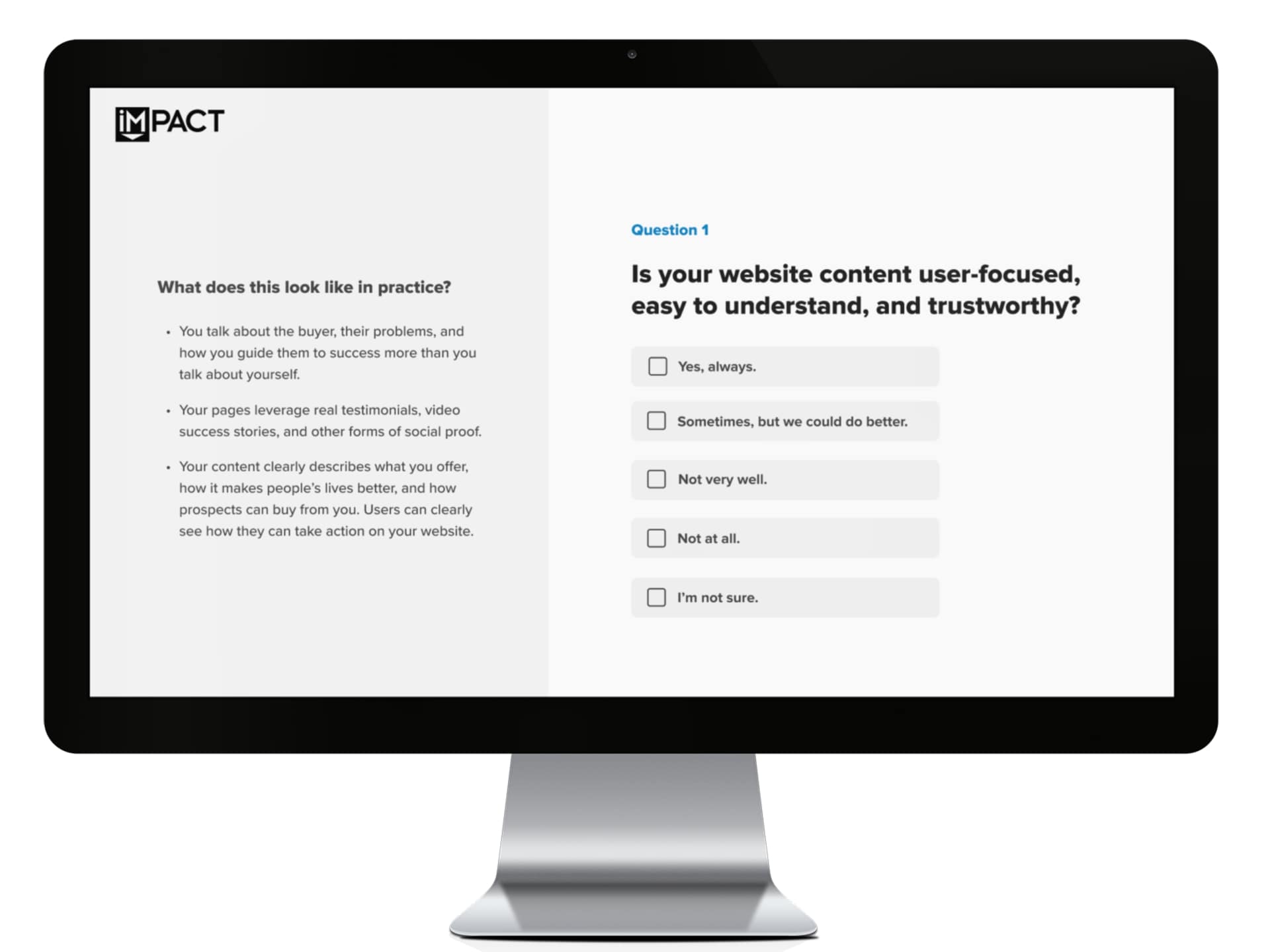 Free Assessment:
Website Performance Assessment
Does your website build trust with buyers and bring in revenue?
Take this free 10 question assessment and learn how your website can start living up to its potential.
Published on July 26, 2021