Welcome back to another exciting week! If you're in the United States like me, I have a feeling that your to-do list ahead of the July 4th holiday weekend is probably somewhat daunting.
So, to prepare you for the week that is, let's take a look back at the week that was – that way you can make smarter decisions faster. Here are the big digital marketing news stories and expert tidbits you may have missed:
Free Course: Fundamentals of Social Media Marketing
The biggest story last week was Google's delay of the third-party cookie block until 2023:

Google and data privacy advocates don't like third-party cookies, which is why they initially announced they would be blocked starting in 2022. That has now been pushed to 2023 for more "responsible planning."
Heads up, social media marketers! Instagram teases it may allow you to post from desktop soon: It's always been touted as a mobile-only product (with some limited web functionality), but Instagram says it may finally allow posts from the desktop.

Facebook released fascinating consumer research:

Though the primary focus of the data published by Facebook is around e-commerce, their new report – The Evolving Customer Experience: Perspectives from the Industry – is packed with fascinating data for all digital marketers and business leaders.
Uh oh, Google Analytics 4 isn't as great as promised: Although the powers that be at Google swore up and down the changes they were making would make reporting easier and more seamless, the backlash against GA4 is strong.
The post-pandemic remote work debate rages on with employers: Although we spent over a year wishing for things to "Go back to normal," remote work is seemingly not on the "If I could turn back time" list for a lot of employees. But there is a lot of friction with employers who do not feel the same.
Also, after more than a year of waiting, F9 was finally released, and hands-down, it was the magical experience I always hoped it would be. I mean (spoiler alert) a Pontiac Fiero in space?! Swoon.
Anyway, let's get into it.
Cookie Monster ... Cookiegeddon ... whatever you want to call it ... Google's decision to block third-party cookies as part of its Privacy Sandbox initiative to create a more open and private web has been lurking menacingly in the wings ever since it was announced.
You see, lots of website owners, advertisers and publishers rely on third-party cookies for visitor tracking, ad serving, retargeting, and other personalization tactics. The problem is that Google and other privacy advocates say third-party cookies are a little too good at tracking website visitors and harvesting their data – and most people aren't even aware it's happening or how much data they're giving away.
Originally, this block was slated to begin rollout in 2022. However, last week it broke that Google has delayed the block until 2023.
Google shared the reason as time for more "responsible planning," but reporting suggests regulatory issues (particularly in the U.K.) is to blame for the hold-up. Although I don't think a lot of website owners and publishers are complaining, as innovative replacements to what third-party cookies were able to deliver have yet to materialize.
Even for Google.
Moreover, I realized this week that many people don't clearly understand if they're even impacted by this news – not everyone is.
🔎 Related resources:
2. Instagram teases it may allow posting from desktop (via TechCrunch)
Social media marketers have been wishing for years that Instagram would allow posting from desktop computers. Those prayers have potentially been answered, according to folks who have noticed Instagram testing desktop posting in the wild: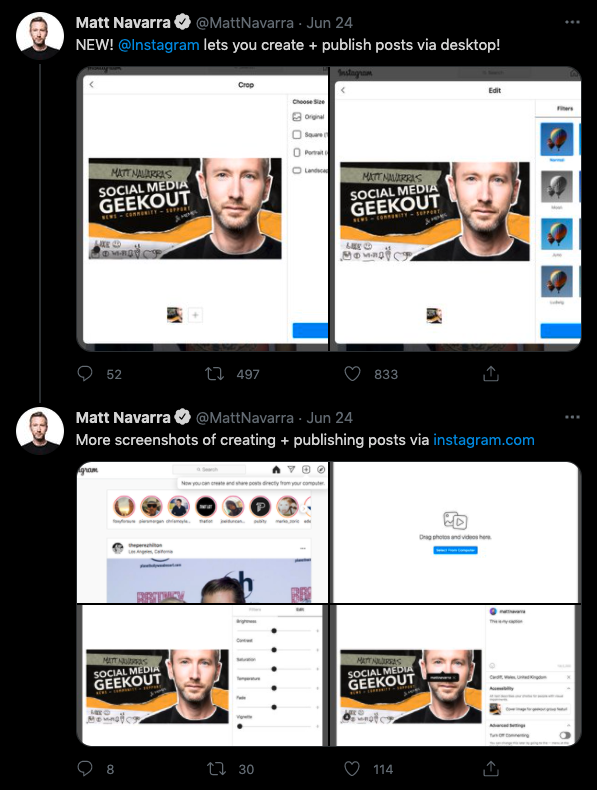 Instagram then confirmed to TechCrunch it was testing with this statement:
"We know that many people access Instagram from their computer," an Instagram spokesperson said. "To improve that experience, we're now testing the ability to create a Feed post on Instagram with their desktop browser."
Interestingly enough, the reason Instagram finally began testing this option is because it saw a rise of use on desktop during the pandemic.
🔎 Related resources:
I'm a total sucker for dense research reports, and The Evolving Customer Experience: Perspectives from the Industry report Facebook just dropped is no exception. Although the report itself is geared more toward e-commerce companies, there are broad, data-backed insights we can all learn from.
Here were a few of my favorite highlights:
Although more than 70% respondents from Brazil and India said they would be more likely to buy from a company that offered them personalized recommendations, only 44% of U.S. respondents expressed the same sentiment. The takeaway here is that global sentiment around personalization and privacy is not the same everywhere.
On the other hand, 86% of consumers worldwide want more transparency into how their data is being used. Specifically, 82% of Gen Z and Gen Y say privacy is not a privilege; it's a right. (Also, Gen Y is a thing again?)
Also, 81% of consumers say a shopping habit has changed since the pandemic, and 92% of them went on to say that those shopping behavior changes will stick around for the long-term.
Finally, here are a few quotes that stood out to me from surveyed experts:
"Discovery will be more important than ever. COVID-19 shifted consumers' willingness to be monogamous to brands, and they are now expecting to discover new products and services. Relevancy, purchase friction and creative quality will be paramount to winning." (Omar Zayat)

"To meet consumers' expectations, the way brands manage data and consumers' preferences around data will need to evolve. This means providing customers with full transparency and control so they both understand how their data is used and can express their preferences." (Graham Mudd)

"Transforming an industry isn't easy. To remain relevant, brands need to embrace how changes in consumer behavior are providing an opportunity to do everything differently and better, and ruthlessly stop legacy practices that no longer meet consumer needs." (Sophie Neary)
🔎 Related resources:
4. Yikes, people really don't like the new Google Analytics 4 (via Search Engine Journal)
It was only two weeks ago when Google announced the Google Analytics changes they were rolling out were the bee's knees:
"The goal of these new features is to help marketers fill the gaps of those who opt-out of being tracked and to help advertisers access the most data that they need more quickly while recognizing that those data points vary from business to business."
Ah, the good ol' days.
Unfortunately, according to reporting from Search Engine Journal, promises made are not translating into promises kept:
"Twitter has been on a low boil for weeks as many users across the search marketing world expressed their extreme displeasure with Google Analytics 4 (GA4). While there are some positive comments, the many negative comments come from search marketing professionals who one would expect to be brand ambassadors of GA4 and not their most passionate critics."
The primary complaint is that Google Analytics 4 is now impossible to use. Moreover, it seems to cater more toward the enterprise-level user rather than small businesses.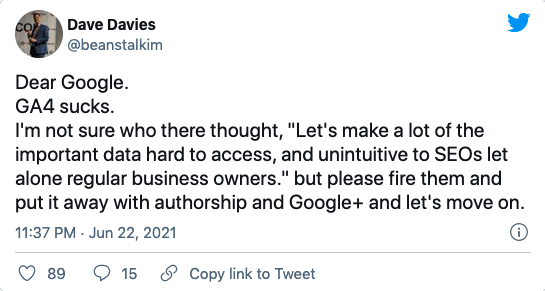 One user stated that she wondered how committed to small businesses Google really was, because this update had brought her to the verge of tears: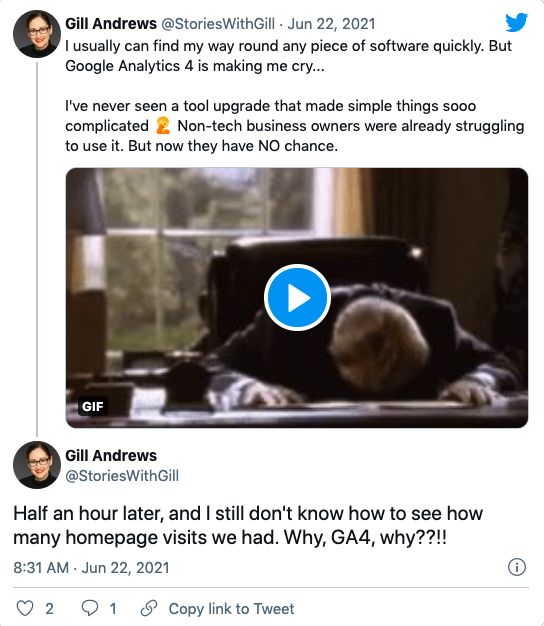 These are only two of the many, many very negative public responses and complaints to the Google Analytics 4 rollout. Although one can hope Google will weigh in shortly and make things right, we'll have to wait and see.
5. Finally, the post-pandemic remote work debate is intensifying (via Digiday)
This time last year, a friend of mine told me during a socially distanced hangout that there was a good chance this would go into the fall, and he had zero plans to return to the office before the new year.
My heart sank into the pit of my stomach, and I genuinely felt ill. The idea of only being at the start of such an isolating, life-shattering ordeal was horrifying.
Many, many months later, "normal" is slowly creeping back into our everyday lives. But after so much time spent wishing for "normal," it would seem – at least when it comes to work – things have changed, and our desires around how our work fits in our lives has evolved:
We clung to our jobs (if we were able to keep them) during the pandemic. Now, quitting is on the rise, as they question the work they were doing (and the benefits they are receiving), in a job market where opportunity far outpaces demand.
More than that, our understanding of what constitutes "normal" vs.
"weird" working hours became much more broad and accepting, as millions of people adapted their working habits to their new at-home office.
Of course, even though large numbers of employees around the world see the value of remote working options (along with a few big employers), not every company is on-board.
In fact, the rhetoric around this specific issue is getting quite tense:
"Morgan Stanley's chief executive James Gorman suggested that employees who work remotely and in locations outside big cities like New York could not expect to earn New York salaries. As he was quoted as saying: 'None of this, "I'm in Colorado … and getting paid like I'm sitting in New York City." Sorry, that doesn't work.'"
Some posit, however, that these companies are "on the wrong side of history" as remote work is a "permanent civilization shift."
Right or wrong, we're currently in a "buyer's market" for jobs, where employees hold the power. More than that, the data shows that flexible working options are quickly becoming a non-negotiable:
"In a recent survey of 8,800 frontline employees, office workers and business leaders by Fuze, a Boston-based cloud communications and collaboration platform, 75% of respondents saw flexible work as a must-have, not some special benefit, with 65% saying they would consider changing jobs for greater long-term flexibility."
Before business leaders start panicking, however, keep in mind that not all employees want the same thing. The key here is flexibility ...
"In its survey, Fuze found that 20% of respondents want to return to the office full-time, while another 20% would prefer to work fully remote and 60% lean toward a hybrid setup. 'This fear that everyone wants to remain 100% remote is just not true,' Walker said."
Every Monday, you can expect this little weekly dose of digital marketing news. If you have any tips or stories you think we should know about, hit me up at lmoorehead@impactplus.com.