My Monday began with me running the coffee maker without any coffee grounds in it. Hot water, anyone? ☕
Anyway, while you were busy growing your business, creating moneymaking content, and absolutely slaying your digital sales and marketing goals last week, here are the big digital marketing news stories and expert tidbits you may have missed:
Free Course: Fundamentals of Social Media Marketing
Google drops huge algorithm update:

I didn't see this coming, but do we ever see anything coming, really, when it comes to Google news? Over the weekend, Google dropped a "huge" algorithm update that seems to be creating results and repercussions that are "off the charts."
Why your Facebook ads do (or don't) get approved: Ah, yes, what's the one thing Facebook is known for? Its transparency ... just kidding. Although the team at Facebook seems to be trying to change that image by releasing a new overview of what Facebook's ad review policies are.
Twitter creators will be able to do ticketed Spaces: Spaces is the audio feature Twitter has added to its platform to compete with the links of Clubhouse. Now, the Twitter team is saying creators will have the ability to sell paid tickets to their Twitter Spaces events if they meet certain criteria.
Public business profiles on Snapchat: If you're targeting ideal buyers on Snapchat, this update is for you. Snapchat has finally introduced public profiles for businesses. It's about time.

Return-to-office plans are in the air:

This is just a fascinating read about how many post-pandemic return-to-office plans are totally up in the air, with loads of insightful data about how companies around the world are struggling to land on what they feel are the right answers to this new challenge.
As for me, I tried to get the girls into my beloved F1 racing this weekend, during the iconic Monaco Grand Prix ...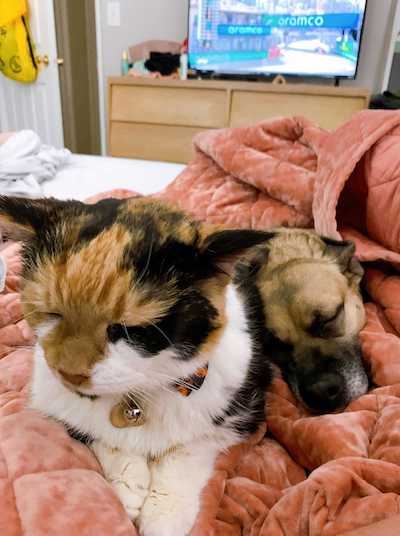 ... but Pumpkin and Nugget "politely abstained" from broadening their worldview and trying something new.
With that petty grievance out of the way, let's look at the week that was, shall we?
1. Google's May 22 algorithm update was "off the charts" (via Search Engine Roundtable)
I feel like I say this every single week – with last week being no exception – but Google's turn-ons are seemingly:
Long walks on the beach.
A sense of humor.
Toying with our emotions as website owners whenever possible.
I mention this because one of the first Slacks I received this morning was from IMPACT Director of SEO Kevin Church:

Here's the scoop from our pals at Search Engine Roundtable:
"There is yet another Google search algorithm ranking update that seems to be going on – it touched down yesterday, Saturday, May 22nd. The tracking tools are off the charts, all of them, showing changes in the Google Search results that I have not seen before in a long time. This is at the levels of a core update or the old Penguin and Panda updates."
Author Barry Schwartz also noted something else strange.
Normally, when an update like this happens, the "chatter" in the SEO community skyrockets to an expected level of "Oh my gosh, things are happening!" This time, however, he noted that wasn't the case.
Yes, there were some folks crying, "Another day in hell" – yes, that's an actual quote – but Schwartz pointed out the volume of public discourse and commentary was much, much lower than it should have been "for an update of this magnitude."
Bottom line, if you're a business website owner, you should check the vitals of your website performance in Google Analytics, Google Search Console, or other commensurate platforms ASAP.
🎓 IMPACT+ course: On-page SEO and the user experience
One of the most common questions our wizard-like paid media team gets is:
"Help! Why are my Facebook ads being rejected?!"
In an effort to help paid advertisers (potentially) like you better understand how the Facebook ad review process works, the team behind the social media giant released new guidance:
"How we review ads across Facebook apps and services is a common topic of interest among businesses and people who use Facebook, and we want advertisers to understand our policies and how our enforcement system works. Today we wanted to take the time to break down our ad review process to further explain topics like: what constitutes an ad, how the ad review system works, how we evolve our systems and more."
In this new overview, Facebook breaks down which policies ads are subjected to when and why, a step-by-step overview of exactly how the review process works (including automated and human review stages), and how "advertiser accountability" is achieved on the platform.
🔎 Related resources:
Calling all virtual event planners and aficionados! This tidbit of news may be of interest to you.
In tandem with an alleged (and failed) bid to buy Clubhouse, the powers that be at Twitter also launched a new Clubhouse-copycat, audio-only feature called Spaces. And now Twitter has announced it will allow creators to sell tickets to those Spaces events: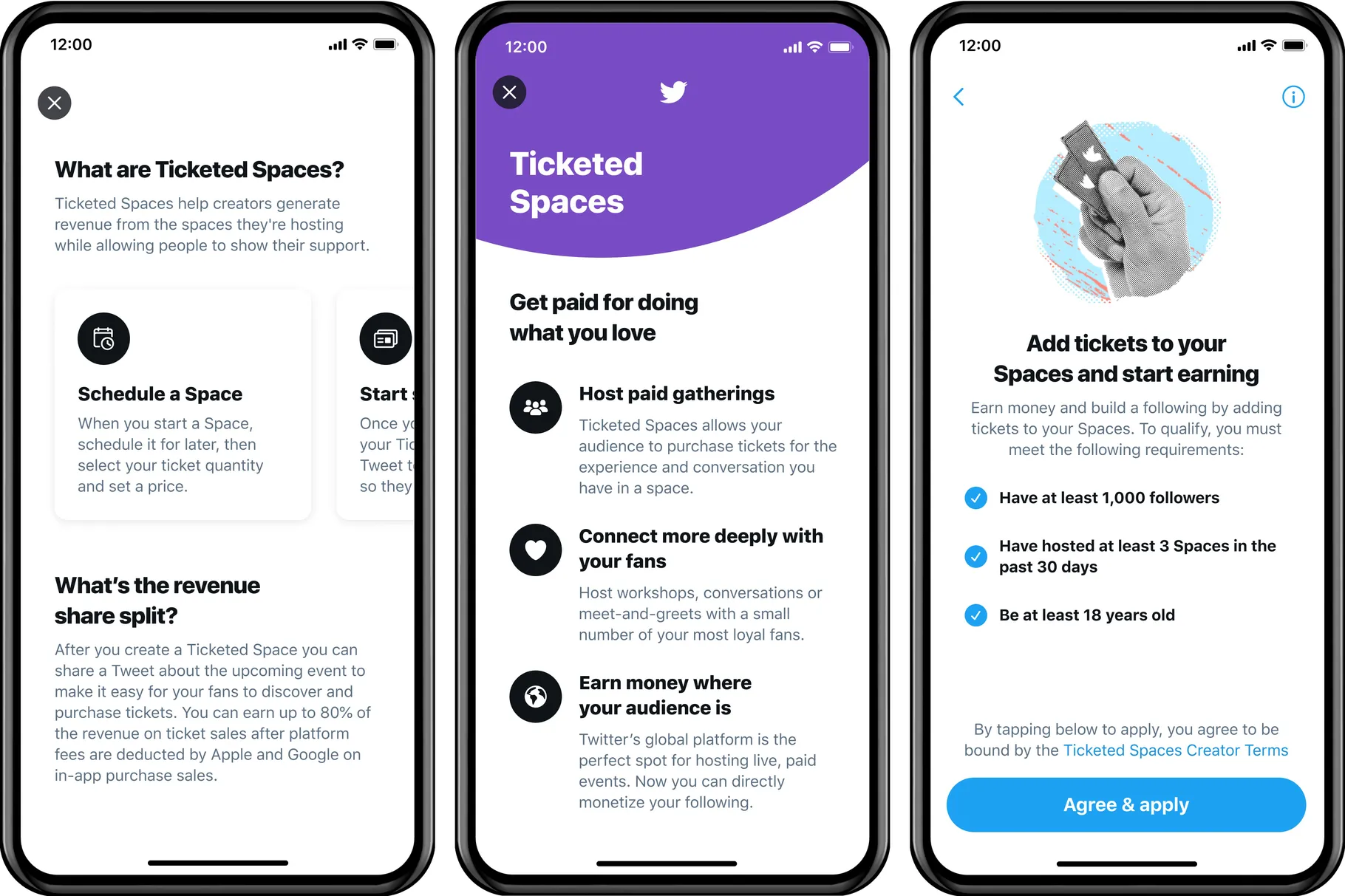 Of course, not just anyone will be able to apply to do this. According to Twitter, you need to:
Have at least 1,000 or more followers.
Have hosted at least three Spaces in the past month.
Be at least 18 years old.
According to reporting from The Verge:
"A Twitter spokesperson says initial applications, when they open, will be processed within a few weeks, and the team plans to start with a small test group. Although only US users will be able to host these ticketed spaces for now, anyone around the globe can purchase access. Spaces just began allowing anyone with more than 600 followers to host and added the ability to schedule an event, and the company says it's working on co-hosted spaces as well."
Could this be a new potential avenue for brands to monetize their events? Maybe, we'll have to see!
🔎 Related resources:
The number of you out there who likely care about Snapchat for your traffic, leads, and sales efforts may be small. But I thought this tidbit was worth sharing because I was surprised to learn that this wasn't an option before now, given the age of the platform.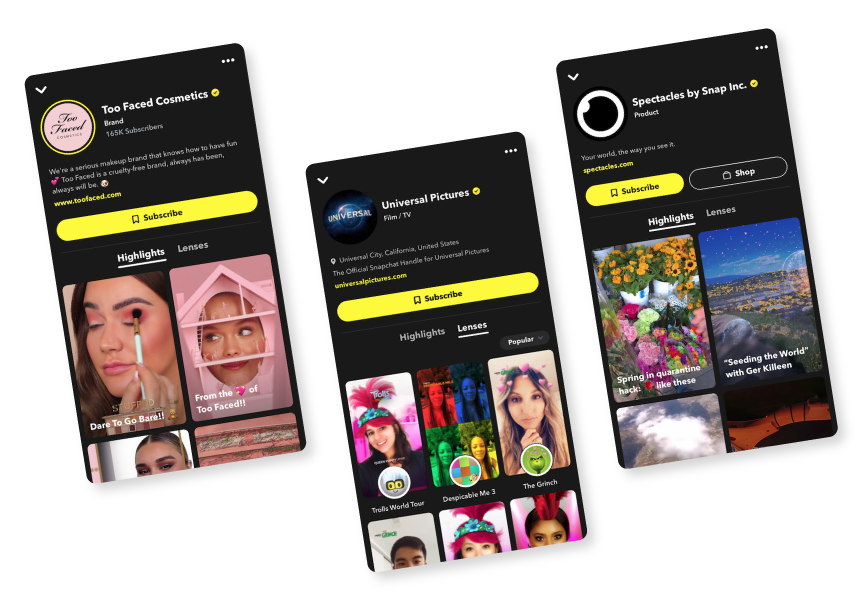 In the before times, only individuals and show-runners had the ability to create public profiles on Snapchat, but that's all changed with this update:
"In addition to Public Profiles for Creators, Shows and Snapchatters, we are excited to extend a permanent home to businesses on Snapchat with the launch of Public Profiles! Public Profiles give brands the ability to have an organic presence on Snapchat, and house all of their unique Snapchat content in one discoverable place.

"With Public Profiles, you can connect with your customers organically by highlighting useful and engaging content, showcase existing Lens AR Experiences, and share shoppable products directly within the Snapchat app - all while delivering insights for your business."
Thanks to this revelation for brands trying to target their ideal buyers on Snapchat, companies will now also have access to more mobile and web management tools through Snapchat's business manager feature.
Seriously, how was this not already an option? I'm floored.
🔎 Related resources:
This isn't exactly news. That said, I still strongly urge you to carve out time in your day to read it. I've been thinking about this a lot lately – we're all so excited to "get back to how things were," but ...
How feasible is that really, now that some have become very accustomed to working from home?
What are the consequences we can't predict or foresee of all of us not having worked together, in person, for over a year?
How can companies successfully navigate the muddy waters of issues like vaccine requirements (if any)?
Also, how can companies adapt to the demands of employees who want a more hybrid (at-home/in-person) work environment?
In a surprise to absolutely no one, I'm not the only one asking these questions in the corporate world. And, so far, clear answers are few and far between:
"'While we're going to do our best to take the perspective of our teams into account, the reality is that nobody knows the right answer (about resuming face-to-face).

"'While there's no way to make a decision that will have everyone cheering, we're going to respect what's been working and be honest about what hasn't worked as well over the last year and ultimately find the right balance.'"
And here's a wild stat that jumped out at me from this reporting:
"86% of 2,000 U.S. respondents said they felt their personality change as a result of the pandemic in one or more of the following areas: extraversion, agreeableness, openness to experience, conscientiousness and neuroticism."
Bottom line, going back to "normal" sounds great in theory, but is it realistic?
Every Monday, you can expect this little weekly dose of digital marketing news. If you have any tips or stories you think we should know about, hit me up at lmoorehead@impactplus.com.