Watch Marcus Sheridan deliver the fourth principle of this playbook.

"It takes about a year or more for inbound marketing to work."
We hear this all the time, and there is a clear reason for this, we've discovered.
In the majority of cases where a company stakeholder believes this to be true, they demonstrate a clear misunderstanding of what will move the needle forward in their content strategy with revenue and sales.
Why is that, you ask?
Most of us are familiar with this funnel.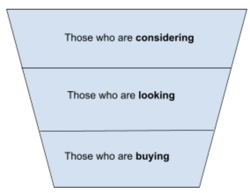 Unfortunately, when most companies begin their journey with inbound marketing, they start creating content in what we call "The Land of Fluff" – which is so far at the top of the funnel, it's pretty much above it.
What does "The Land of Fluff" look like?
Well, let's imagine for a moment that you sell swimming pools. As one of the first pieces of content you're going to produce, you decide to write a blog article called "5 fun games to play in your swimming pool this summer."
If you're trying to sell swimming pools, this is one of the most useless articles you could ever write, at least early on in your content journey. Here's why.
Sure, a lot of people may be searching for information like this and it could drive a large amount of traffic, but would they actually be ready to buy?
Someone searching for this article could be planning a pool party or trying to entertain their kids in a pool they already have.
The target of this article is so broad and so unfocused, you're almost certainly going to be attracting more unqualified traffic than you are traffic interested in what you're selling.
Instead, the smart move for you as a pool seller is to create content that targets the buyers you know are in the market to buy their own pool. For instance:
How much does an in-ground pool cost?
What are the best pool companies in [my geographic area]?
You want to start at the bottom of the funnel with your inbound content strategy with those ready to buy, and then, later on, work your way to the top of the funnel.
There are five categories of content topics that are proven to drive more revenue than any other content topic around, no matter what industry you're in:
Pricing and cost
Problems
Comparisons
Reviews
Best in class
At IMPACT, we call these topics "The Big 5."
As buyers, we are obsessed with knowing the answers to The Big 5 questions when we're getting ready to make a purchase. They are the things that actually cross our mind and could make or break whether or not we actually buy.
Here's the irony though – many companies avoid answering these questions like the plague out of fear that they'll scare people off. Instead, they say, "Let's wait until we're face-to-face with our prospects in sales conversations to answer these questions," thinking perhaps they can win them over.
In today's market, however, that doesn't work. If you wait to answer those questions, your buyers will abandon you.
They will abandon you for a company that does not frustrate them – the "F" word of the internet – by refusing to answer their questions; a company that isn't just trying to get them on the phone to "sell" them.
Modern buyers don't want to be sold to. They want to make their own informed decisions.
With this in mind, they will reward the company that goes out of its way to make it easy to find honest and thorough answers to the questions they seek with their trust and, most importantly, their business.
To see the remarkable growth you're looking for with inbound marketing, again, your goal must be to establish your company as the No. 1 resource in your space about what it is that you do or sell. You need to be who buyers trust to give them reliable information. That means you need to dedicate yourself to becoming the Wikipedia of your industry, willing to address any and every question put in front of you by your ideal customers – the good, the bad, and the ugly.
The smartest companies in the world don't avoid pointing out the elephant in the room. They point it out willingly to their ideal customers and say, "Here is our elephant. Do you have any issues with it? Because we love our elephant."
Let's put this into action
Take our course, "How to Write The Big 5." In it, you'll learn from IMPACT's most sought-after content trainer, Kevin Phillips, about how to write each of The Big 5 topics for your business – pricing and cost, comparisons, problems, "best of" topics, and reviews – which makes this a great fit for anyone struggling to see bottom-line results from their content marketing.