WordPress Alternatives: 16 Worth Considering For Your Website Redesign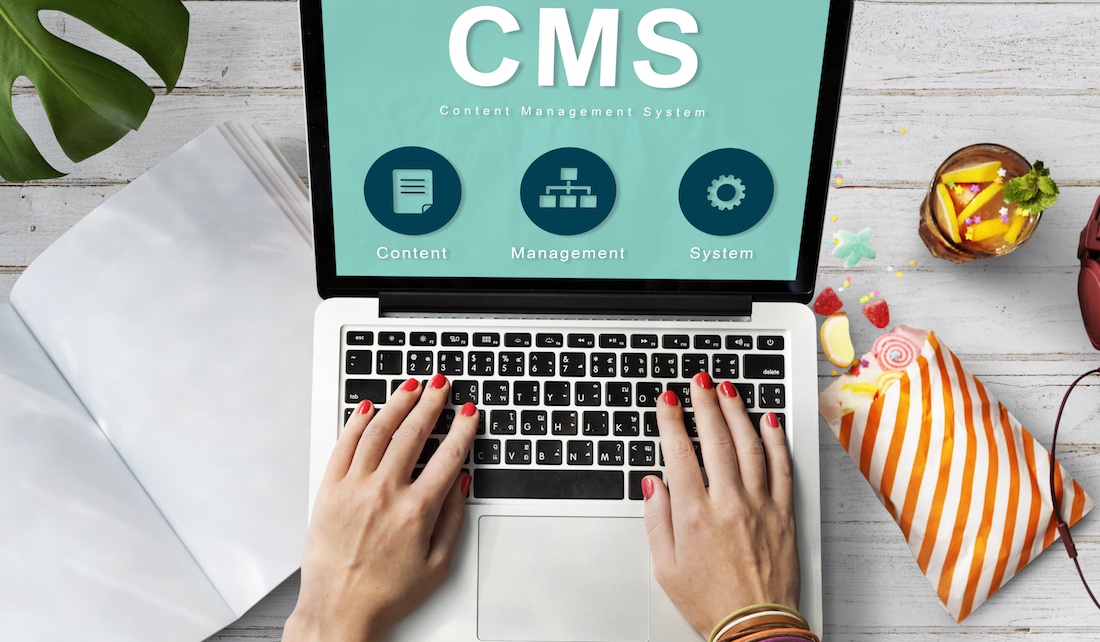 WordPress Alternatives for 2019
Squarespace
Wix
HubSpot
Weebly
Shopify
Drupal
Joomla!
Magento
Ghost
Concrete5
Webflow
Webydo
Pinegrow
Zoho Sites
Craft CMS
Jimdo
It's no doubt that WordPress is one of the most dominant CMS platforms on the market.
According to CodeinWP, "around 15,886,000 websites on the web use WordPress," and that number has consistently stayed high.
This popularity doesn't go without reason. WordPress' vast amount of themes & plugins, knowledgeable support, and consistently updated platform make it an appealing content management system (CMS) for many businesses and personal users.
However, WordPress does not come without its limitations or concerns.
For example, WordPress may offer a considerable amount of customization to its templates, but the technical knowledge needed to edit them can be overwhelming to those not skilled in coding. Edits can also prove to be dangerous, as some plugins are only compatible with certain versions of the WordPress engine, and larger updates you push may result in lost content that's not retrievable.
With these in mind, a CMS may not be the most optimal solution if you're looking to redesign your company's website.
Perhaps you want something simpler or find yourself better fit for a website drag-and-drop builder. For those looking to be more self-sufficient, maybe you prefer downloading your assets and creating and managing your website yourself.
Regardless of what bucket you may find yourself in, here are 16 WordPress alternatives that may be better suited for your level of expertise and/or business or personal goals, during your next website redesign.
Squarespace's robust software gives you a place to host your website, a website builder, and a blogging platform so you have all the basics you need to get yourself started.
Its wide variety of website templates, all with a modern, visual appeal, give you the ability to easily select something that's pre-built with some basic functionality to customize it.
For those who find they need to use eCommerce, Squarespace also gives you the ability to integrate an online store to make for a seamless experience.
Benefits & Features:
Great range of templates with a modern design, good UX, and responsive functionality

Customize the CSS

Hosts your website for you, rather than having to go somewhere else.

24/7 support

Virtually no learning curve to start using it and very hands on throughout the tutorial process

Very easy page editor which allows you to drag-and-drop and duplicate elements at your leisure

eCommerce is also already integrated, which means you have the ability to add a store in at any time

Built-in analytics platform that gives you insight into how your site is performing and your visitor's behaviors
Cons & Limitations:
If you want to add a vast amount of functionality and changes to the template you choose, you'll find it challenging to be able to implement them unless you have intermediate coding knowledge to implement them.

Can be challenging to find some of the more advanced options, such as redirects, integrating Google analytics, etc.

No support or regulation for 3rd party apps or plugins used in some of the templates. So if something breaks, you are essentially on your own to fix it.
Price: Starts at $12/mo for personal, $18/mo for business, and $26/mo for eCommerce
Wix's CMS, like Squarespace, allows you to select a template from a generous amount of options and customize it to it fits your business needs.
To do so, users can navigate through the drag-and-drop editor to pull in and remove elements from the site. This makes it easy for those looking to create a website without the hassle of learning code.
Wix also takes care of hosting your site, which removes any intimidating technical issues you may face trying to find a separate hosting platform yourself.
Benefits & Features:
Large library of templates to choose from that all come optimized and are mobile responsive

The drag-and-drop editor makes creating your website super intuitive

Consistently invests in improving the platform and letting you know what's going on

Supports 16 different languages allowing you to make multilingual websites.

eCommerce packages are available for those who need them.

Comes with version control. This enables you to revert your website to a previous state if you find a mistake you have trouble fixing

Can have password protected pages, or pages where people create their own login information
Cons & Limitations:
Only a 2 level max for website navigation, some companies may require a 3rd

Changes to the template are limited. You are essentially locked into what you choose

There is no access to the source code, so you cannot edit the HTML or CSS of the template

Could be too bloated for those looking to use the software for blogging-only

Doesn't have built-in analytics, but you can integrate your Google Analytics account into it
Price: Ranges from FREE - $25 a month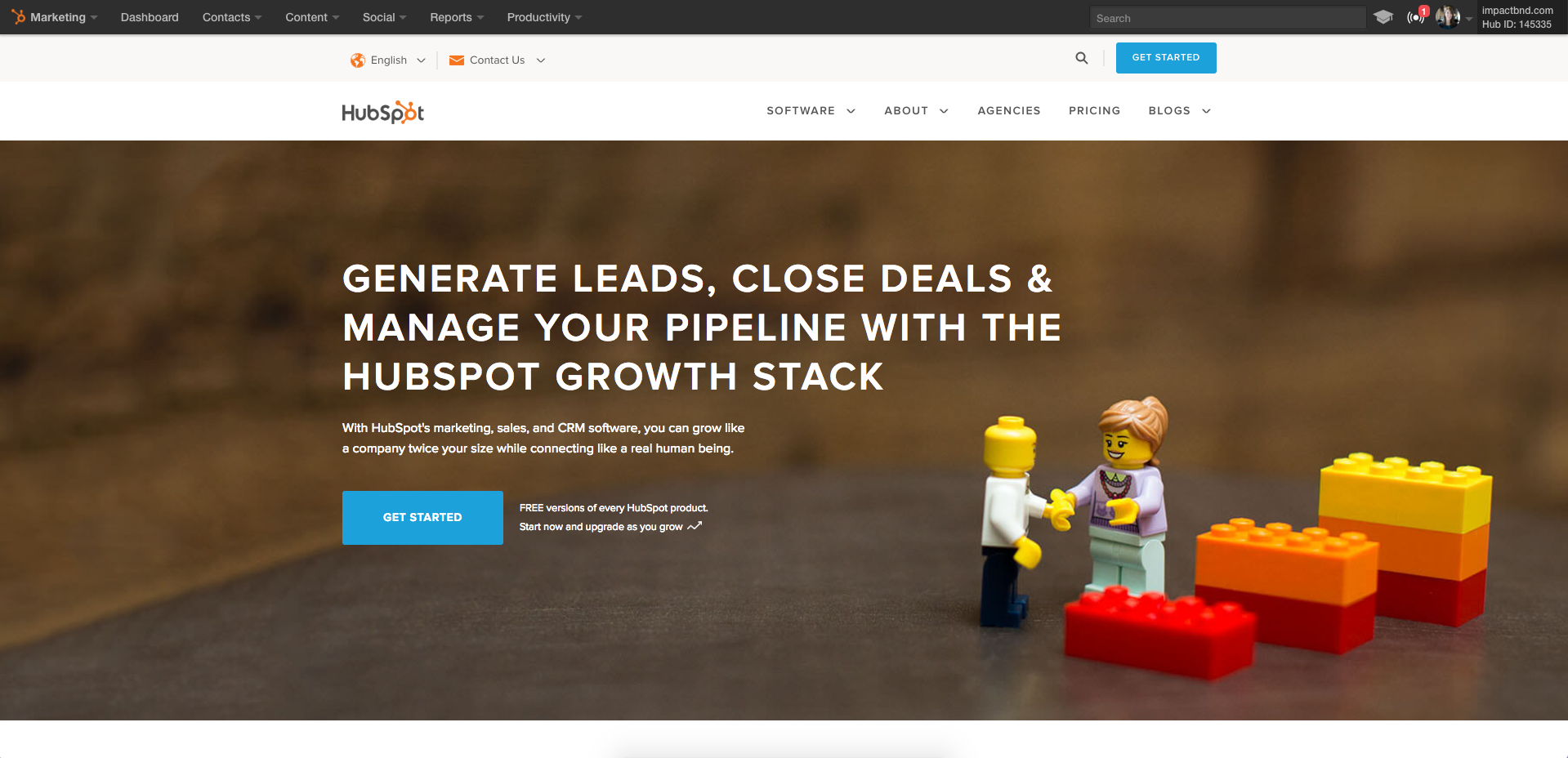 At IMPACT, it's no lie that we love HubSpot, but depending on what type of CMS or website builder you are looking for, you may find yourself looking at its software as well.
HubSpot's full-funnel inbound marketing website platform not only makes it easy to create a beautiful, high-performing website, but its integrated marketing platform gives you the tools necessary to track all your key metrics for it as well.
We're also experts at designing and developing on the HubSpot Website Platform. Considering it? Talk to us.
For those who really want to get into blogging, HubSpot's has a place for you too. Their blogging software enables you to write, format and edit the content with ease. For those who are concerned about driving traffic to it, the software gives you as-you-type keyword suggestions and on-page SEO advice so you can outrank your competitors for the keywords that matter.
You can even take your blog a step further and add forms to it to start generating subscribers that you can send update emails to every time a new article is published. As with all their tools, you can monitor that newsletters performance to see how often people are opening and clicking through the email.
Benefits & Features:
Full suite of tools to facilitate building your website, creating and monitoring emails, managing your blog, publishing to social platforms, etc.

Lots of educational material to show you how to get the most out of the software.

Many out-of-the-box templates in their marketplace to choose from that come already optimized for SEO and mobile responsiveness

The platform allows you to track a monitor your goals and metrics on a customizable dashboard so you are constantly aware if your site's performance

Many integrations (such as with Zendesk, Salesforce, Wistia, Snapengage, GotoWebinar)

Can easily create your own templates using their template builder and WYSIWYG editor to add content and optimize the page
Cons & Limitations:
Small learning curve; the software is pretty robust and allows for a fair amount of customization so long as you take the time to educate yourself on the product.

No eCommerce integration into HubSpot, so all functionality requiring this would need to be hosted on another platform.

Doesn't allow you to run PHP on their website. This language is used primarily as a way to pull large amounts of complex data into websites.
Price: FREE - $2400 depending on what resources you need.
Similar to Wix and Squarespace, Weebly gives you the ability to choose your own template from its online gallery and it using its drag-and-drop website builder tool. Its interface is super intuitive to use and can leave you with a great website in just a few hours.
As of today, the platform continues to remain the easiest to use for any basic site building project since Weebly handles all the tech behind hosting it, leaving you to worry about designing your pages.
Benefits & Features:
Multiple pre-designed layouts within the templates to help you get started with editing and dropping in the right content (homepage, about page, contact us, pricing etc.)

Easily change templates, the content will move to that new template once the switch is made

Great drag-and-drop editor which reduces any unnecessary elements that may otherwise confuse those new to website editing

Offer more advanced tools to help you hit your sales goals, increase traffic, become more social, etc. All the tools easily integrate with Weebly's platform
Cons & Limitations:
Limited in the changes you can make to templates (other than color and font choices). You will need code to do anything even slightly more advanced

Isn't the fastest in introducing updates or new tools to their platform

Blogging capabilities are fairly fundamental (you can add in content, schedule your posts, social share buttons) but you have no way of showing related blog posts to articles people are reading or showcasing articles that you want to get more attention to.
Price: FREE - $38/mo
Out of the alternatives listed thus far, Shopify's platform gives you the easiest time creating an online store or marketplace for products and is a great option for new online businesses.
Their selection of themes makes it easy for you to pick a clean storefront design, rather than worrying about designing and developing one yourself.
Benefits & Features:
Provides you with a large theme store (both free and for purchase) with templates targeted to those selling specific types of products

Give you the tools you need to manage the store as well, such as inventory management, email management, popup plugins, shipping automation tracking, etc

Integrated with payment providers, and has built-in speed checkout allowing customers to pay with minimal website load time
Cons & Limitations:
Not multilingual

Don't have the option for one-page checkouts which can sometimes help conversion rates

Integration of many premium apps can cause your price to increase, making the platform overall more expensive.
Price: $29 - $299+ depending on other apps you include
Drupal is a free open source (free software that can be downloaded and modified by users) CMS that is regarded as one of the closest competitors to WordPress. The tool is geared more towards developers as it gives them the ability to download the necessary assets and create custom websites using their framework.
While there are Drupal themes you can buy from external sites, it does not contain a drag-and-drop functionality. But it's still a great CMS for those looking for a customized website that they have more flexibility to control.
Benefits & Features:
Can quickly build a complex website once you are able to understand the framework.

Vast documentation on the API which enables developers to implement more customization and integrations.

Very dynamic regardless if you are a large or small website.

Dedicated community who's willing to assist and consistently discover new ways to move the software forward.
Cons & Limitations:
Can be very difficult to learn for people with limited coding experience.

Can become overwhelming if you need a lot of 3rd party plugins. This can also cause slowdowns.
Price: While Drupal is free of cost, other fees, such as downloading templates, finding a host, and or finding marketing/design/development team to help you with maintenance and setup can run you $500+
Joomla is another type of open source CMS that's similar in nature to Wordpress and Drupal. It's primarily used for those looking to have some advanced controls over the design and development of their website. Its intuitive management interface allows you to control all the features and functionality of the framework.
Whether you're looking to build something small or add in eCommerce features, Joomla offers plugins and integrations to help you mold your site into exactly what you want.
Benefits & Features:
Provides you with a simple installation process to setup and prepare your website (although you need a host).

Comes with a diverse number of plugins and modules that are open source. This allows you to integrate components such as comment forms, chats, shopping carts, social integrations, etc to your website.

Simple editor to add in content which comes right out of the box with the software.

Over 5,000 templates already exist that can be downloaded and used stock, or manipulated to fit your business needs.
Cons & Limitations:
Limited marketplace if you need to add very specific types of modules to your website.

Since its open-source, there is a time investment in learning the platform and how it's used. Rather than using a template that comes with a drag-and-drop builder.
Price: While Joomla is free of cost, other fees, such as downloading templates, finding a host, and or finding marketing/design/development team to help you with maintenance and setup can run you $500+
For those looking for another eCommerce solution, you might end up coming across Magento. Empowering over 200,000 retailers, the software offers a wide range of powerful and flexible features to help control the look and feel of your website & storefront and tools to help optimize your site's SEO and measure its performance.
Its scalability also enables those using it room to grow for those who need to modify their current platform.
Benefits & Features:
Open source platform

, allowing the source code to be modified to customize the template to your liking.

Multilingual and multicurrency support

Can handle multiple storefronts

Easy-to-use backend and store management isn't a hassle

A vast community whose dedicated to building extensions and plugins that are compatible with the software

Ability to expand your storefront as your business grows; not worried about having to switch platforms after a few years of investment
Cons & Limitations:
Can be very expensive, those looking for a standard customizable eCommerce store can find the price tag starting at $4000/yr

Finding a team of Magento developers can be difficult due to the complexity of the software and its sheer scale

Must make sure you're hosting on a platform that can handle Magento, otherwise your site will be bogged with slow load times, leading to frustrated users
Price: Magento doesn't list pricing on its website, but sources shows it could start at $2500/yr and increase from there
Ghost, while similar to WordPress, is primarily a professional publishing platform and is geared towards those who are more interested in blogging. While WordPress gives you the tools to create a blogging website, Ghost's platform integrates further features to facilitate the best experience possible for those looking to publish content.
Benefits & Features:
Gives you both the option to self-host your blog (a version that is free to download and use) and a paid version where Ghost hosts your blog on its own servers

SEO settings and social sharing features are built into the core platform, no need to download external plugins

Integrates any 3rd party service you'd like to customize your templates

Email subscriptions are also already built in, which allows you to easily collect, view, manage and export subscribers

All their software is released under a

free open source license
Cons & Limitations:
Not ideal for those looking to build a complete business website, as the software isn't geared towards people with that goal

No easy way to combine eCommerce into the sites build

Lacks the ability for complex customization or integrating plugins that are too manipulative to the template
Price: 14 day trial, $19 - $199
Concrete5 is a PHP-powered open source CMS that is ideal for any small to medium-sized business that's looking to build a website to little to no experience of code.
For those using a purchased template, Concrete5's backend presents you a WYSIWYG editor with a toolbar that enables you to edit your pages as you see them. For those finding themselves in trouble, Concrete5 has a dedicated community who's willing to help answer any questions.
Benefits & Features:
The framework is free to download and use, not forced to host the code on their site, but you have the option to.
WYSIWYG editor and interface enables you to add content to any of the sections without having to touch code.
The content blocks create a clean organization of the pages sections so you can segment areas you want to edit or duplicate SEO tools to make sure you are optimizing your pages using best practices.
Templates are mobile responsive
Many add-ons that will extend the the core functionality of your site to handle things such as Ecommerce inventory management, sales, transactions, customer management, etc.
Cons & Limitations:
Not super flexible for those looking to have more complex customization integrated into their website.

Community is smaller than its competitors

Not multilingual by default

A little to robust for those looking to use it as a blogging platform
Price: Free to download. But web hosting for Concrete5 starts as low as $5/month.
Webflow is a CMS tool that enables you to design and develop your own website without the need to actually touch the code. Whats compelling about this WordPress alternative is its dynamic design editor which allows you to create expansive websites that are already responsive by nature all without the need for a developer to create the code for you.
Content for your website can be easily edited live and updated instantly and easily. Its CMS platform also gives you the capability to create blogs and designate a specific 'structure' for the articles within it. The structure is created from the list of modules they give you which can be organized in whatever fashion you'd like.
Webflow also gives you the ability to host your website with them, rather than finding another tool to do it for you. They assure users that they're 'server fleet' are much more spread out than what you may see in a typical hosting situation.
Benefits & Features:
Detailed and feature heavy platform that's similar to Photoshop (which means photoshop experience is a plus)

Google Fonts are integrated with the platform

Team is constantly pushing out updates and is responsive to issues that occur.

Considered one of the smartest layout editors due to the usability in adding sections and its nature to scale responsively fairly naturally
Cons & Limitations:
Price: Free (for no hosting) - $35 a person per month for teams. This price can become custom depending on how expansive your needs are.
Webydo is a very similar WordPress alternative to Webflow due to its website creation software that's similar to Photoshop's UI. The website follows a similar goal in eliminating the technical barriers web design/development typically impose and making it code-less and design-centric.
The tool enables users to create interactive websites with features including parallax scrolling and animations. Like Webflow, it also allows you to make content edits on the page for easy updates.
For those looking for an eCommerce platform, Wwebydo offers a widget integration with Ecwid so you can manage your shops functionality and shipping needs.
Benefits & Features:
Drag-and-drop editor lets you easily add in elements and upload and place images in your layout

Pre-existing templates to help users get started

Free liberty to move, resize, and edit content (access to HTML/CSS code to facilitate this as well)

A variety of interactive tours to help you get started and understand the platform.
Cons & Limitations:
The software can be complicated to new users who aren't versed in using Photoshop.

Fewer widgets than most other builders have

Doesn't have website analytics like other CMS platforms do, but does give you the ability to integrate Google Analytics.
Price: Free 30 day trial, Price can range from $25/mo for single members to $45/mo (team) or $125/mo (agency)
Unlike many of the cloud-based web editors, Pinegrow is a downloadable wireframing tool that also posts a visual editing interface with drag and drop capabilities for quick and easy layout creation. What's interesting about this alternative is you can edit WordPress themes either from scratch or from an existing template. This gives users a high variety of templates to work with as opposed to a limited library of ones created by the community.
Once you create your templates, you can easily export them and upload them to the CMS editor where they will appear as an option to use.
Benefits & Features:
A healthy selection of pre built layout blocks you can use to get a quick start to creating your website

Each block also gives you editing capabilities to further customization

Responsive design already built into both the templates and pages you create

The ability to download the application to your computer gives you the flexibility to work offline on your designs if need be
Cons & Limitations:
The interface can very overwhelming for people who are new to working on a website using a visual editor (this is due to a number of elements shown)

Only Pinegrow Pro + Wordpress has the WordPress theme builder capabilities (which happens to be their most expensive plan)

Doesn't have built in FTP or hosting services. This requires you to look for an additional tool to get your website live.
Price: Can range from $49 - $207 (one-time payment) for personal licences to monthly subscriptions of $8/month - $20/month
Zoho is a great all-in-one WordPress alternative that allows users to create a beautiful website in minutes with functionality that allows you to analyze your social networks and website analytics. Its ability to capture information with its customizable forms helps grow your list of contacts that can be nurtured and segmented based on your buyer personas.
It's drag and drop builder helps users professionally craft themes that are mobile ready without the need to touch any code.
Benefits & Features:
Easy and reliable hosting with quick domain registration already integrated.

The CMS gives collaborators the ability to manage content easily.

Analytics to manage traffic on your website avoids the need of finding additional analytics plugins.
Cons & Limitations:
Difficult to invite collaborators to templates and documents you want others to review.

A limited number of templates to help get you started, which means your website may look similar to others on the platform.
Price: Free - $15/mo per site for its professional level
15. Craft CMS
CraftCMS is built using a templating engine which enables developers to quickly create dynamic pages using coding blocks that can be used throughout multiple pages of your website. Once your pages are pushed live, you can easily work in a work real time with a live preview WYSIWYG website editor that helps you quickly edit your website and blog posts using the modules in the template.
Benefits & Features:
Gives developers the ability to build almost whatever they want with the metadata they provide.

Simple UI with distinct labels when editing pages and placing in content

An active community to answer questions or provide you with resources to solve many problems.
Cons & Limitations:
Need a developer to help create the templates, not ideal for people without HTML/CSS experience.

Alittle expensive for small businesses ($299)

Need to integrate an

additional plugin

to create an analytics dashboard
Price: Free for personal sites - $299 (per site, one-time price) for business sites.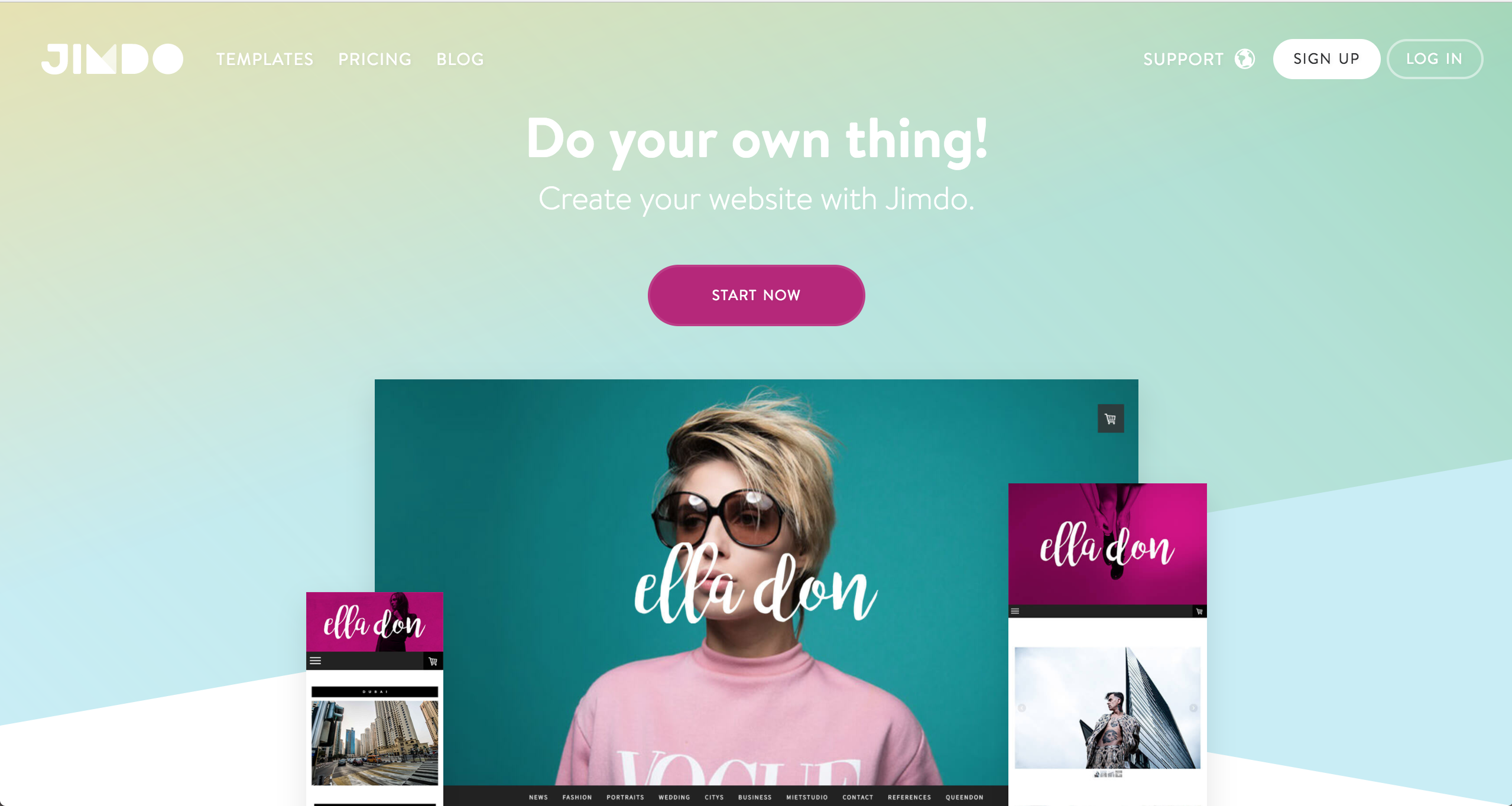 Jimdo is another web hosting service that enables users to build their own website with a WYSIWYG editing tool. With over 20 million websites created using the platform, it has multiple thought-out features including the Jimdo online store which takes minutes to start using.
By keeping the tool simple, yet complex in its possibilities, many have transitioned to using the tool to help manage their websites. The fact that their pro and business packages also already include a domain name and email hosting makes their services extremely competitive and appealing to those looking for all-inclusive web purchases.
Benefits & Features:
The editor makes creating a website very user-friendly to beginners. Adding elements and updating styles with the tools makes the website development straightforward and painless.

Jimdo's capability to customize pages SEO and reveal how changes reflect your ranking make it appealing to those who care about their sites optimization.

Advertisement/Banner free
Cons & Limitations:
Can be somewhat challenging to move particular sections around due to limitations the tool will impose.

Although the online store is a fantastic integration, there is no credit card gateway available with it. The only options it allows are manual payments or Paypal.
Price: Free - $20/mo.
Free: Assessment
Does your website build trust with buyers and bring in revenue?
Take this free 6 question assessment and learn how your website can start living up to its potential.