Facebook Rolls Out New Ad Policies Ahead of 2020 Election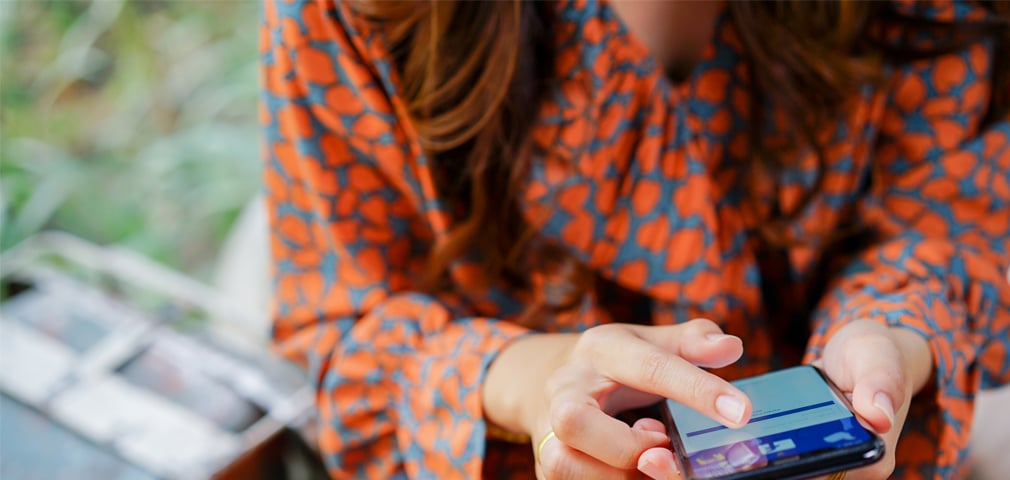 With 433 days until the 2020 U.S. Election, Facebook is taking steps by updating its ad policies for political advertisers and anyone running electoral or social issue ads.
Facebook says "people should know who is trying to influence their vote and advertisers shouldn't be able to cover up who is paying for ads. That's why over the past few years, we've made important changes to help ensure more transparency and authenticity in ads about social issues, elections or politics."
Advertisers must already provide identification to confirm who they are and where they are located, as well as place a "Paid for by" disclaimer to show who is responsible for the ad. Even with these requirements, advertisers were still trying to put misleading "Paid for by" disclaimers on ads. Hence the rollout of these most recent policy updates.
The new policies will start mid-September, and anyone running political, electoral, or social issue ads will have until mid-October to comply. If you do not provide more information by mid-October, your ads will be paused.
These policies include new disclaimer requirements and updates to the platform's list of social issue topics in the United States.
Important to note: This applies to both ads on Facebook and Instagram.
What are the disclaimer requirements for political, electoral, and social-issue ads?
Anyone running such ads will need to give Facebook more details about their organization. There are five options for providing more information, three of which are a way to show that you are registered with the US government.
Along with providing your U.S. street address, phone number, business email, and a business website matching the email, you must provide one of the following:
Tax-registered organization identification number (i.e. EIN)
A government website domain that matches an email ending in .gov or .mil
Federal Election Commission (FEC) identification number
If one of the three government options is used, you will be allowed to use your registered organization name in the disclaimers, and the "i" icon that appears in the upper right-hand corner of the ad will read "Confirmed Organization."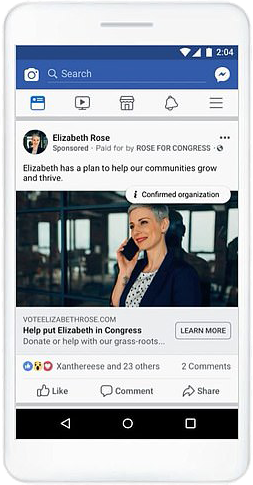 Image Credit: Facebook
For those who may not have those credentials, such as smaller businesses or local politicians, you are still able to run ads. You can choose one of the following two options.
Submit an organization name by providing a verifiable phone number, business email, mail-deliverable address, and a business website with a domain that matches the email.
Provide no organizational information and rely solely on the Page Admin's legal name on their personal identification document. For this option, the advertiser will not be able to use a registered organization name in disclaimers.
If one of the two options for smaller businesses or local politician are used, the "i" icon will read "About this ad" instead of "Confirmed Organization."
What is the purpose of the "i" icon and what information does it supply?
The "i" icon helps people on Facebook and Instagram better understand who's trying to influence them and why.
With a tap of the icon, you will be able to see information about the ad, as well as the information confirmed by Facebook, such as whether the advertiser used an EIN or FEC identification number.
With this information now readily available, users can confidently gauge the validity of an organization and quickly raise concerns or questions.
What are the new updated social issue ad categories?
Facebook originally had 20 distinct subject areas that it would assign its social issue ad topics to — now there are only 10.
Civil and social rights
Crime
Economy
Education
Environmental politics
Guns
Health
Immigration
Political values and governance
Security and foreign policy
(Facebook made this list of categories broad so that it can be refined over time. The shift from 20 to 10 does not mean that the authorization process will be less restrictive.)
You can see examples here in Facebook's Help Center.
What does this mean for me?
You may not be a marketer managing ad campaigns for political candidates, but anyone overseeing ads for an organization must follow these new policies updates if the content falls under these categories.
The number of political, electoral, and social ads will only increase over the next 433 days, and continue to do so over the years. Marketers responsible for running these types of ads on Facebook and Instagram will need to stay on top of the ad policies to make sure that everything runs smoothly.
Over the coming months, Facebook will be rolling out more updates to make elections safer and provide more transparency on the ads people see. According Facebook, these updates will include:
More enhancements to our Ad Library, such as making it easier to track and compare spending of US presidential candidates
Expanding [Facebook's] policy to prohibit ads that expressly discourage people in the US from voting, a commitment we made as part of a recent civil rights audit (found on page 20 here)
Requiring all Pages for national candidates or elected officials to go through Page Publishing Authorization, which requires that Page administrators turn on two-factor authentication and verify their primary country location so that [Facebook] can confirm these Pages are using real accounts and are located in the US
Exposing more information about a Page, such as the business or organization behind it
Interested in learning what else Facebook decides to update in the coming month and future elections? Let us know your thoughts in Elite!
Free Assessment:
How does your sales & marketing measure up?
Take this free, 5-minute assessment and learn what you can start doing today to boost traffic, leads, and sales.