Fortune Names IMPACT One of the Best SMBs to Work For. Here's the Story.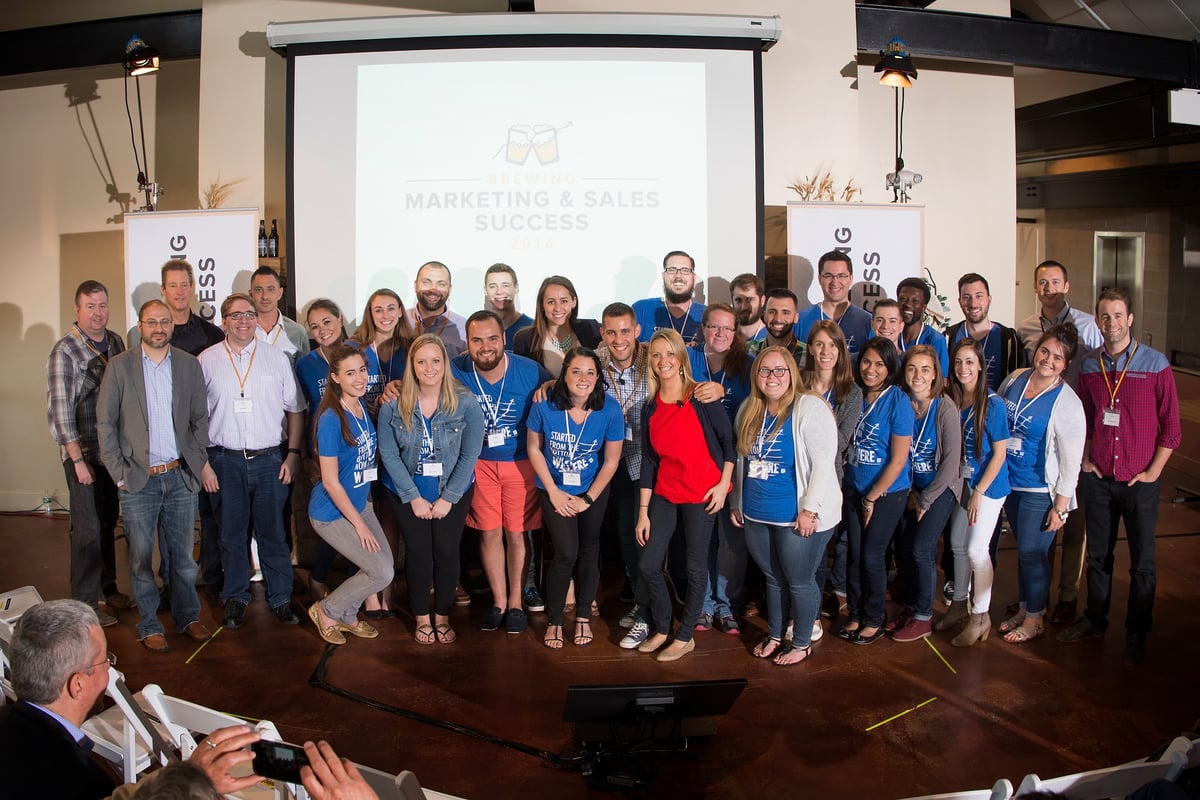 About three years ago, IMPACT was at a crossroads.
Morale was low, clients were leaving us, and even more disheartening, so were team members in droves.
At one point, we lost someone about every two weeks. Looking at the grim horizon, we never would've imagined that, today, we would be named one of Fortune's Top 25 SMB Workplaces in the New York area.
After being certified a "Great Place to Work" earlier this year and achieving a 4.9 out of 5 rating on Glassdoor, we are truly honored to see our name alongside such accomplished organizations as Etsy, Ceros, and Contently.
Anyone who knows IMPACT knows that it has been a long road to being able to say we're one the greatest places to work, but looking back at the growth we have experienced over the last few years, both as an organization and as individuals, it comes as no surprise.
How We Changed the Game
As our Director of Talent, Natalie Davis, shared in an article in February, 2016 was a year of big change at IMPACT. Reflecting on our high employee turnover rate in 2015, we knew something was awry and that we had to get it back on track if we were going to accomplish all of IMPACT's goals.
Much of our efforts were focused on improving six key areas:
Compensation

Transparency

Remote Employee Experience

Autonomy

Career Growth

Environment & Culture
Compensation
Inspired by Daniel H. Pink, IMPACT first set out to reach a point where "individuals...mostly forget about compensation and instead focus on the work itself." In other words, we wanted our talent, both early and advanced in their careers, to be able to live comfortably and focus on their work rather than whether or not they could make ends meet.
After speaking to fellow agencies and conducting thorough research on Glassdoor, HubSpot's Salary Grader, and PayScale, eventually we were able to take compensation off the table as an issue, arriving at competitive salaries that would not only retain, but attract first-class talent. We also began offering a 401k and retirement plan.
While yes, this all meant a bigger expense for the organization upfront and in the long-run, they were necessary changes for the overall well-being of our talent.
Transparency
In the past, we often heard team members say they didn't know what was going on with the organization at a higher level, like many decisions that affected everyone were being made in a silo.
In a small organization like ours, this was the last thing we wanted to hear. We wanted our team to know their voices mattered and were being heard.
So, today, we strive to be as open and honest as possible, across every department.
Whether it be sales numbers, the status of a client, or office pain points, we use monthly all-hands meetings, team surveys, collaborative score cards, and personal one-on-one meetings to make that information known and keep the floor open for feedback.
Remote Employee Experience
As a member of the digital community, IMPACT has had remote team members for well-over four years, but it's no secret that it wasn't always the best experience.
To attract and retain the best talent, we knew we had to put processes in place to not only make working outside of the office (sometimes even outside of the country) possible, but easy, effective, and even fun.
Between making video conferencing mandatory, implementing digital greeting cards, and organizing more in-person team events, we've made dramatic leaps and strides to ensure the experiences our remote employees have are just as productive and rewarding as those in-house. You can learn more about that culture shift here.
Autonomy
Another issue we identified was autonomy. At IMPACT, we want everyone feel like they "own" their work and responsibilities and even a part of the organization to a degree.
To do this, we give team members flexibility in their hours and using Agile Marketing and Scrum, enable them to take command of their own work loads.
Our employees are experts in their fields, so rather than micromanage, we wanted to foster an environment where people could feel free to creatively tackle their assignments as they seemed fit -- so long as they made their commitments, of course.
Career Growth
As mentioned earlier, the future of IMPACT didn't always look bright.
After listening to some feedback from exit-interviews and talking with current employees, we realized many people didn't see what the future held at IMPACT, so they started to look elsewhere.
Today, team members can vividly picture their futures with the organization and that of IMPACT as a whole.
Along with many of the elements mentioned above, we put a great deal of effort into finding a strong, scalable team structure that helped our talent be as efficient as possible and also outlined realistic career paths.
In addition to this, we focused on developing our purpose, core values, ideal customers, and the long-term goal of the organization to help align everyone.
As Natalie explained, "with this in mind, we've been able to retain people who shared the same vision, and those who didn't, realized it wasn't the place for them. (And we're ok with that kind of turnover.)"
Environment & Culture
Last, but not least, overall, we wanted to create an office environment and culture that people enjoyed being a part of.
Agency life can be extremely stressful, and the hours long. We wanted to alleviate that as much as we could.
From little perks like free snacks and drinks, books, and a relaxed dress code, to team activities like our annual Dip Day, happy hours, cultural events, and an adventurous retreat, we've strived to make being a member of the IMPACT team a great way to spend your day, even if you are technically at work.
Some of the IMPACT team enjoying a celebration of the Hindu festival, Holi.
The 100%
Take a look at our "Great Place to Work" profile and you'll see the numbers speak for themselves.
"At IMPACT, 100 percent of employees say their workplace is great."
100% are proud to say they work here. 100% feel their colleagues care about them. 100% think their teammates are willing to give extra to get the job done.
I don't share all these details to brag, but to hopefully inspire those of you facing similar difficulties and fearing there's no way to turn things around. We have seen highs, but most definitely, also lows.
The statements above are ones we only dreamt of hearing just a few short years ago.
Today, thanks to our team's dedication to improving processes, work-life balance, team transparency, focusing on remote and in-house experiences, and our culture overall, it is a reality --- but that doesn't mean things are perfect.
We're constantly asking for feedback and looking for opportunities to improve even further for our team. As the industry evolves, we will as well, and I urge you to do the same.
Until then, a big thank you to the IMPACT team for all their hard work to help make this happen and congratulations to all of the companies listed along with us!
Free Assessment:
How does your sales & marketing measure up?
Take this free, 5-minute assessment and learn what you can start doing today to boost traffic, leads, and sales.