What's Changed with Google Ads for 2019? (Tips, Tactics, & Advice)
OK, obviously, I've been having too much fun bugging other people who work at IMPACT to learn more about what they do.
I've already talked with our Facebook Ads wizard, Ali, about building revenue-generating Facebook ad campaigns and our senior front-end developer, Tim, about his background and what marketers need to understand about web development for their website projects.
Today, my learning party continues with my interview with Jason Linde -- a fellow IMPACTer and Marylander, who does stuff with Google Ads for our clients that borders on sorcery.
(Yes, I'm basically Ellen Page's character in Inception, asking everyone obvious questions to keep the audience informed. I'm leaning into the role.)
Much like Facebook Ads and web development, Google Ads is a complete mystery to me. The only real factoid I know about it is that it used to be called Google Adwords and now it's not.
So, I invited Jason to join me for a late lunch last week, so I could pick his brain about Google Ads; specifically, what's new for 2019 and what marketers should be thinking about as they continue to shape their Google Ads campaigns and strategies going into Q2 and beyond.
ME: OK, talk to me a little bit about the state of affairs of
Google Ads coming out of 2018

. Were there any surprises or big headlines?

JASON: I would say yes. The big thing is automation and the AI. Meaning, Google can take the keys and drive the car, so to speak, for your Google Ads.

You can say, "Here are some Google signals I would like. This is what I like to go after."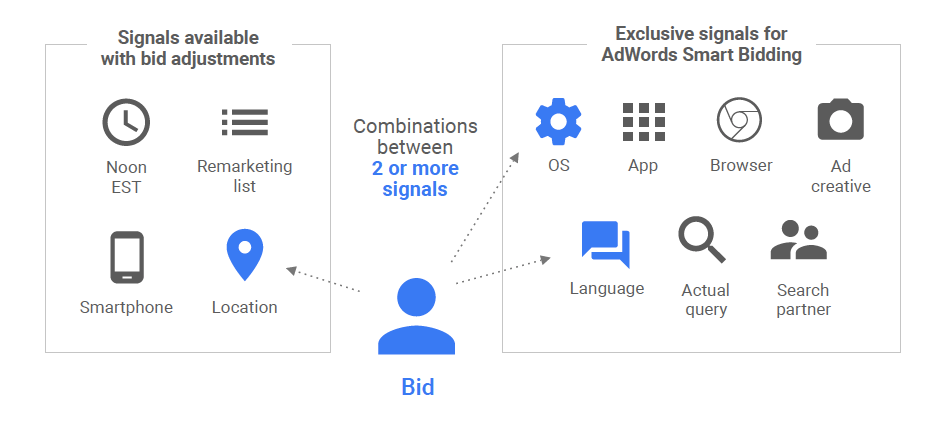 Source: Google
Then Google's like, "Yep. I'm gonna take all this information and I'm gonna make the best decision for you." You can still do it in what's called "manual mode," but automation with Google Ads is the big headline for me.
That's how people used to do it, though. We didn't always trust AI with Google Ads. You know, with AI being so young a few years back, you knew it would make some bad decisions. So, if you were a seasoned true PPC manager, you were doing it all manually. Automation was like a support system, but not really the go-to.
ME: So, I'm thinking about those
marketers who've gotten burned by Google Ads in the past

. They've put things on autopilot before --

either by Google or an agency

-- but they ended up spending a ton of money without having much to show for it.
Can you tell me why those folks should "come off the ledge" with Google Ads, and how they can
avoid flushing money down the toilet again

with PPC?

JASON: So, yes, there's a lot of potential with automation and Google Ads, but I would still always recommend doing what I do with all of our clients -- I tiptoe into the automated space.

I always come out of the gate in manual mode. I want to manually control how much is being spent, where we're placing ourselves in terms of time of day, day of week, etc. Because I want to see that I have that control and what the data returns. Once the data starts coming back in, that's when you can start playing around with automation options.

I would tell anyone when they're just starting out with Google Ads is to keep an eye on them. Also, stay informed and keep up-to-date with Google Ads news. Search Engine Land and Search Engine Journal are my two favorite publications, because they always know what's happening and they're always diligently testing the tools.
ME: What are some
Google Ads trends that are on the way out

? Or maybe they're not on the way out, but should be, in the world according to Jason?

I think the days of really having to do A/B testing are over -- in terms of creating multiple ads, putting them in different ad groups, etc. They're going away because they have responsive ads now.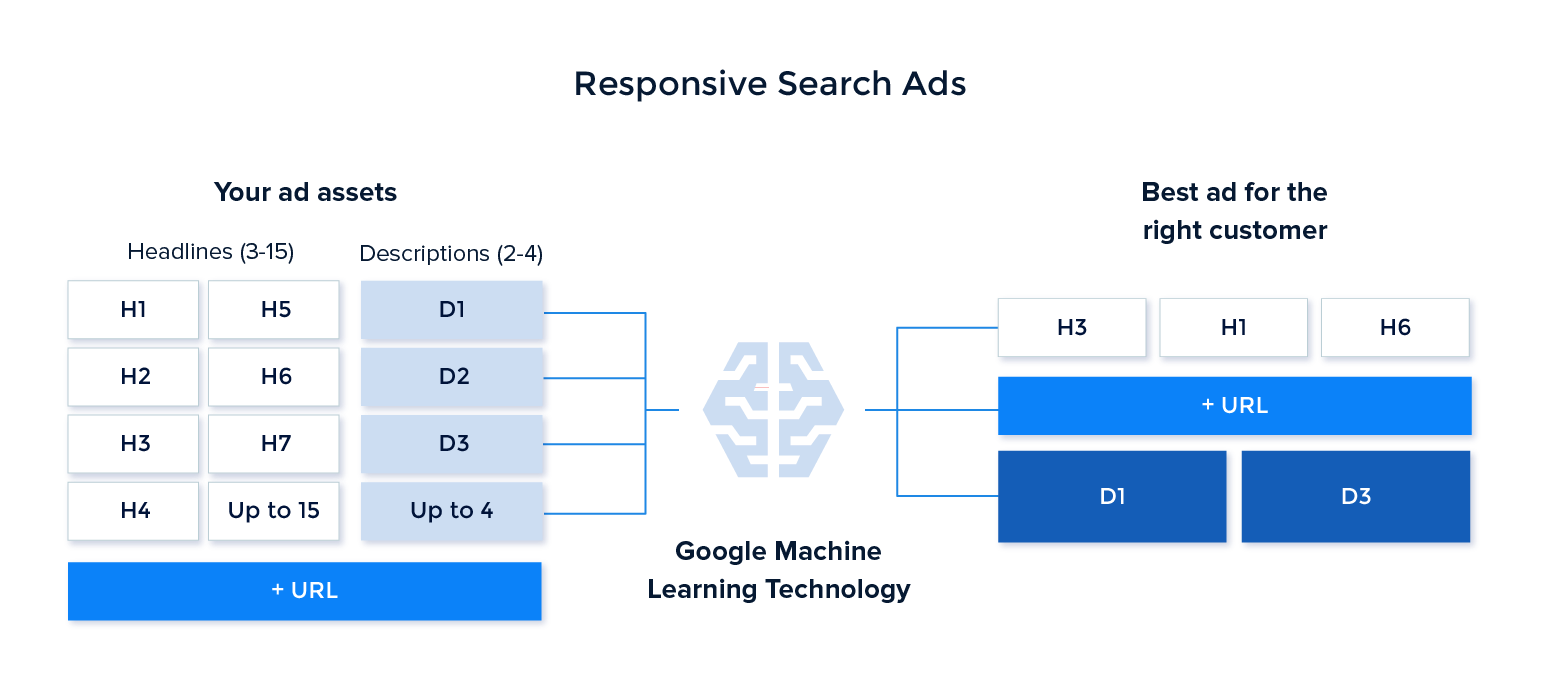 Source: Google
Thanks to responsive ads, I have the opportunity to create one ad with 10 different headlines, 10 different descriptions, and so on.
Then Google will optimize -- kind of like a washing machine, mixing maybe headline one with description four, headline five with description two, etc. Then it finds where it's most optimized. Where you convert the most. Then that's the deliverable.
You could do this testing now, right with these responsive ads.
You don't have to build out different tests, so you can build quicker. You can get data faster, and you can make modifications faster. That's the nice thing.
Then they have dynamic ads, where it used to be dynamic keywords. You could let the machine take a keyword from the user, and apply it to the ad without you having to have that keyword available. Now you can do the whole ad.
ME: Aside from what we've discussed, what would you say someone who is investing in Google Ads
should be thinking about or looking at this year

, in order to be successful?

JASON: Hands down, quality. The quality of your content. The quality of your ad. Just, 100 percent quality. I can't stress that enough.
ME: Why?
JASON: Google will weigh, I think it's around 39% or 40% of your quality score inside of Google Ads is based off of your landing page. Landing page experience.
What that means to Google is this:
You go to Google. You type in a search term. The idea is, what they deliver back is as close to exactly what you want because what they don't want you to do is click on a link, and then immediately hit the back button.
Because that's a bad user experience. The same really holds true with Google Ads.
If your ad is going to place in that top of the surf spot and somebody clicks on that ad and then they hit that back button, then it's a poor experience. Or they click on it because it is what they want, but the page speed sucks. The content's really lean. It's not what they were expecting, you get weighted on that. That quality score goes down.
ME: Wait, what's a
Google Ads quality score

?

JASON: Google's quality score is graded on a one to 10 scale. Ten being the best, one being the worst. They put three main factors into it. It's a proprietary algorithm, so they don't give you all the details.

But, broadly speaking, they'll weigh is ad relevance, landing page score, and then the click-through expectancy. In other words, if your ad is relevant to your keywords, which is relevant to the search query and you position well, you should have a high expected click-through rate that then goes to the landing page.

Again, time on that page, activity engagement, conversions, things of that nature help explain to Google the success of that page.

More plainly, you can have as many goals as you want with Google Ads. But, in 2019, if your quality is crap -- meaning your pages are crap, your page speeds are crap -- all that's not gonna work.

There is so much potential with Google ads with what they're doing with automation. But if the quality if what you're putting out there is subpar, you're going to just throw money out the window because you're not going to position well. You're going to overpay for your cost-per-click, and then ultimately you're going to lose traction.
Free: Assessment
Does your website build trust with buyers and bring in revenue?
Take this free 6 question assessment and learn how your website can start living up to its potential.