How to run a virtual event (checklist, tips, and examples)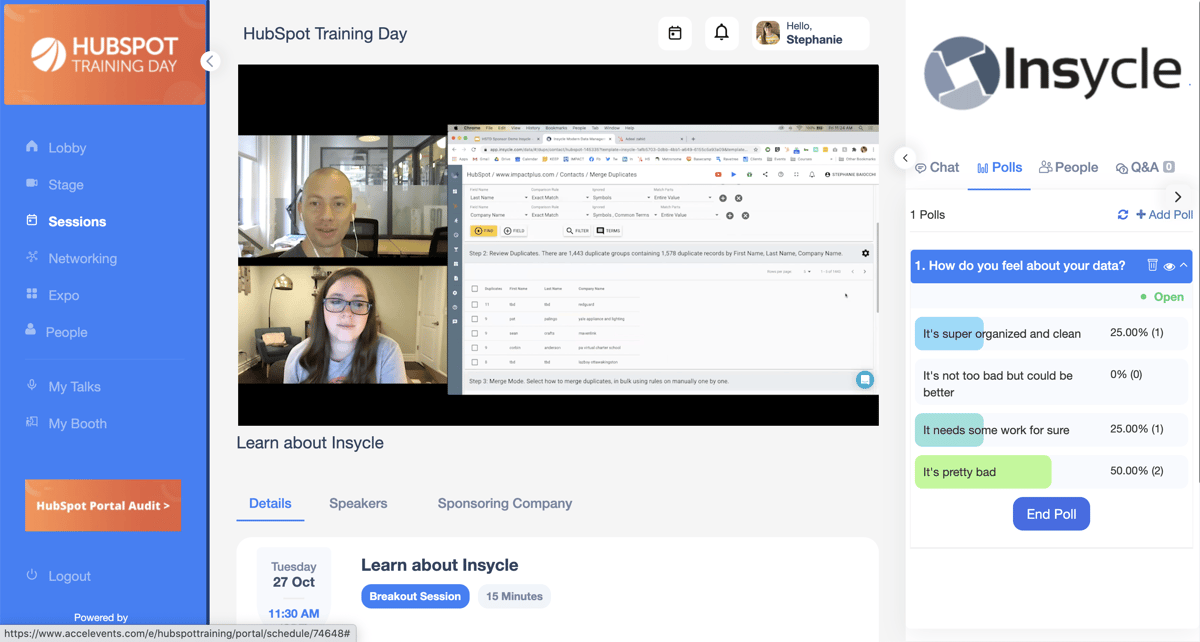 How to run a virtual event checklist:
Choose your event date and time
Name and brand your event
Build your virtual event team
Create programming and draft agendas
Pick a platform
Run test purchases and registration on your new platform for bugs and glitches
Choose and manage speakers
QA all speaker content and visuals
Promote your event
Create special promo codes for your event
Create registration email workflows
Schedule event reminder emails for registrants
Film walk-through videos for registrants of your virtual event software
Set your out of office reply for the day of the event
Block your calendar for no meetings for a day or two after the event (in advance)
Layout your outfit and make your meal plans for event day (in advance)
Complete necessary follow-up
Send speaker thank you gifts and/or notes
Despite the fact that I knew it was coming, the day we were forced to cancel Digital Sales and Marketing World (our flagship, in-person conference) earlier this year, due to the COVID-19 pandemic, I posted our update, closed my laptop, and sobbed.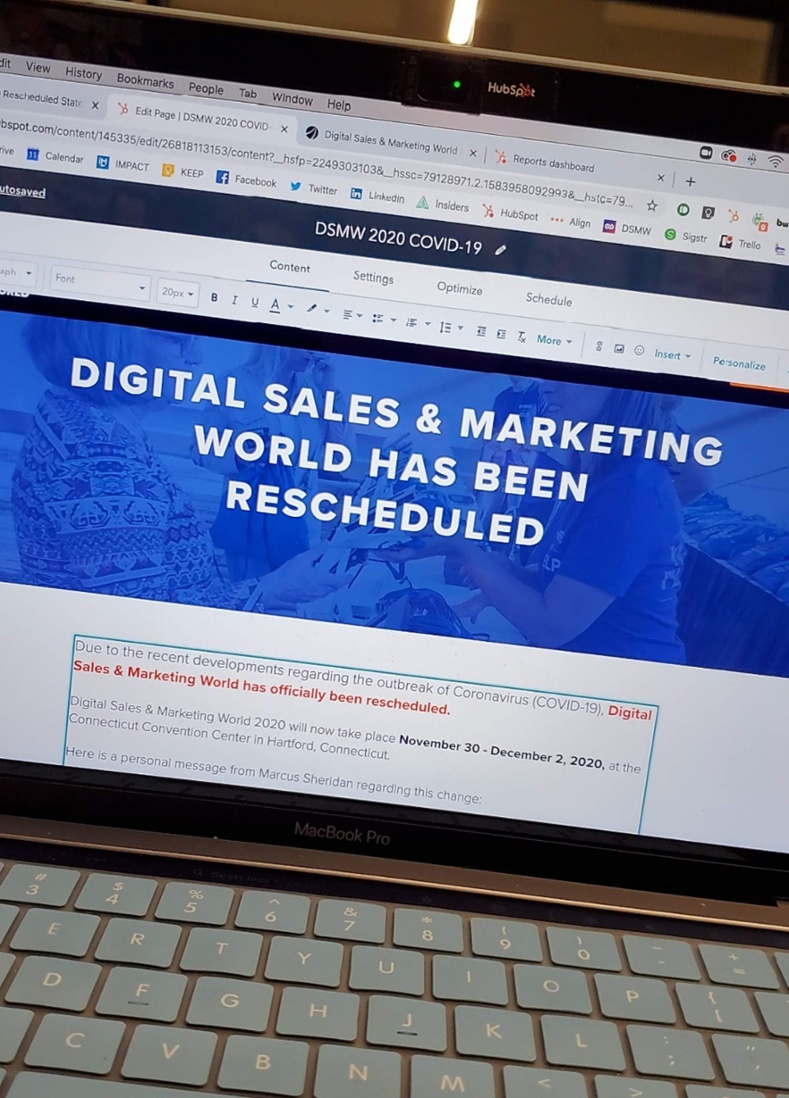 I felt as if my professional guiding light had been ripped away from me and I had no idea what would come next. I had been planning for this moment for a few weeks, yet I still somehow didn't fully believe it would happen.
My team and I created multiple contingency plans:
A hybrid in-person and virtual event
Postponing the event entirely
Switching to a different venue
Creating a fully virtual version (somehow)
I had an order pending for a thousand customized hand sanitizer bottles. I also purchased multiple phone sanitizing stations and shipped them to our office in New Haven, Connecticut. I had even worked with our caterers to develop safe appetizer-serving plans for attendees and to switch our buffets to sanitized, pre-packaged individual meals.
🔎 Related: How we took our 3,000-person live event virtual in 3 weeks
Of course, through all of this hopeful planning, I had thought through how to handle requests for refunds before we knew if we'd even get a refund from the convention center. I had pre-written a few versions of various COVID-19 update statements.
I even had Marcus Sheridan, our event emcee and keynote speaker, record a video explaining why we would do everything we could to have the event in-person, how we'd do it safely, and why people should still plan to attend.
Yet, when we had to cancel, it still hit me like a ton of bricks
On Tuesday, March 10, 2020, Connecticut Governor Ned Lamont declared a state of emergency. Two days later, Lamont signed the inevitable executive order banning all gatherings of more than 250 people.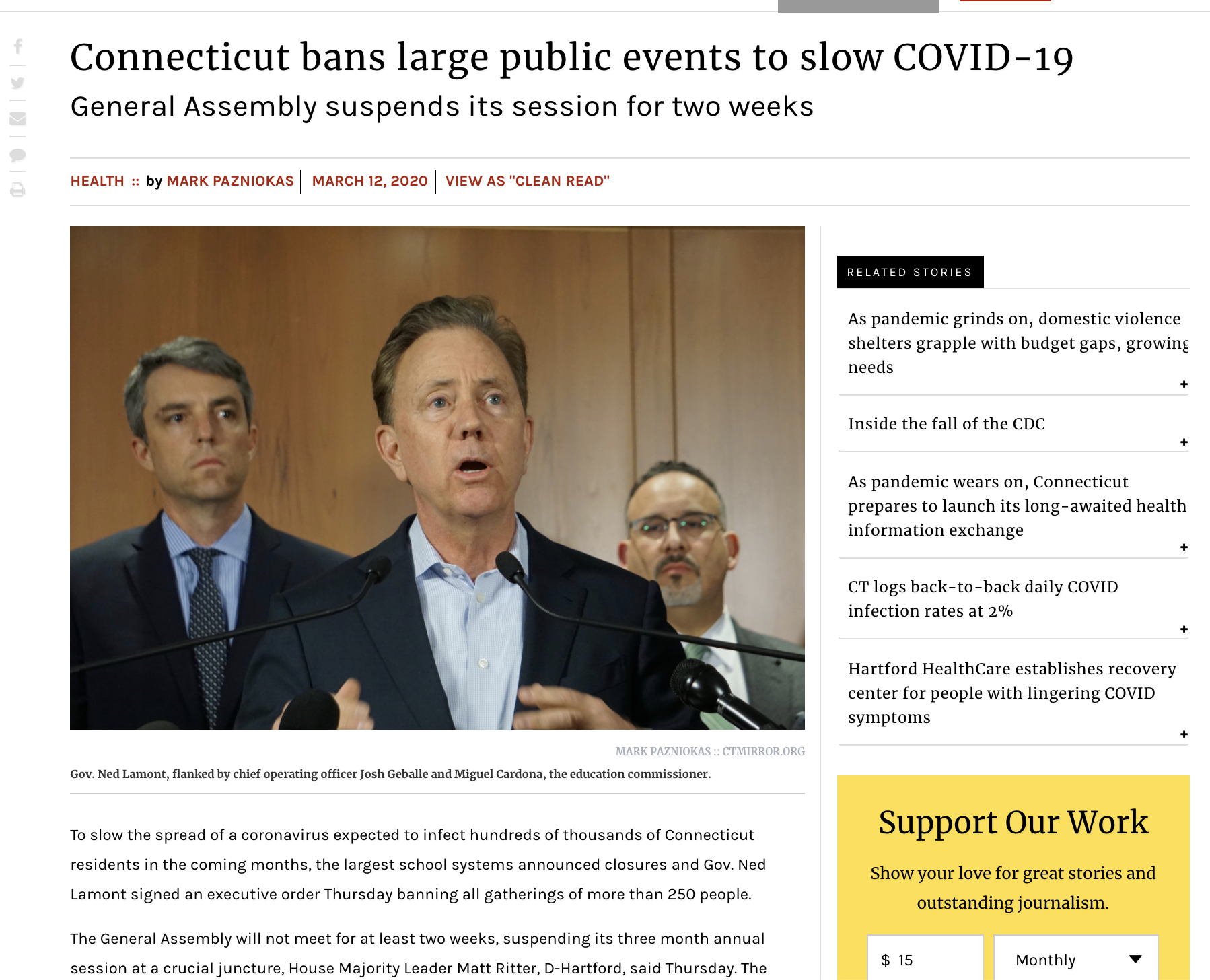 Our event team was on a Zoom meeting discussing how we would attempt to proceed with Digital Sales and Marketing World when we saw the news alert come through. At that moment, we knew that it didn't matter what we wanted to do or felt we could do safely. We could not have our 1,000-person conference as planned in Hartford, Connecticut in April.
That was the moment I broke. I cried, as messy tears streamed down my face.
"What are we going to do now?"
I mourned the loss of the event I'd spent eight months planning. More than that, I was also wrestling with the loss of the chance to see so many people I love all in one place. Also, truthfully, I was scared of what this meant for the future of events and of my job.
I had done tons of webinars and livestreams, but I had never produced or even experienced a virtual conference. I had no idea what we had to do to make one happen. Meanwhile, Bob Ruffolo, our fearless CEO, was already concocting a plan that would make my head spin until I finally blurted out:
"We can never do that in time!"
The official announcement from the governor came Thursday afternoon and by Friday morning at precisely 9:06 a.m., Bob sent out the following update to our entire company: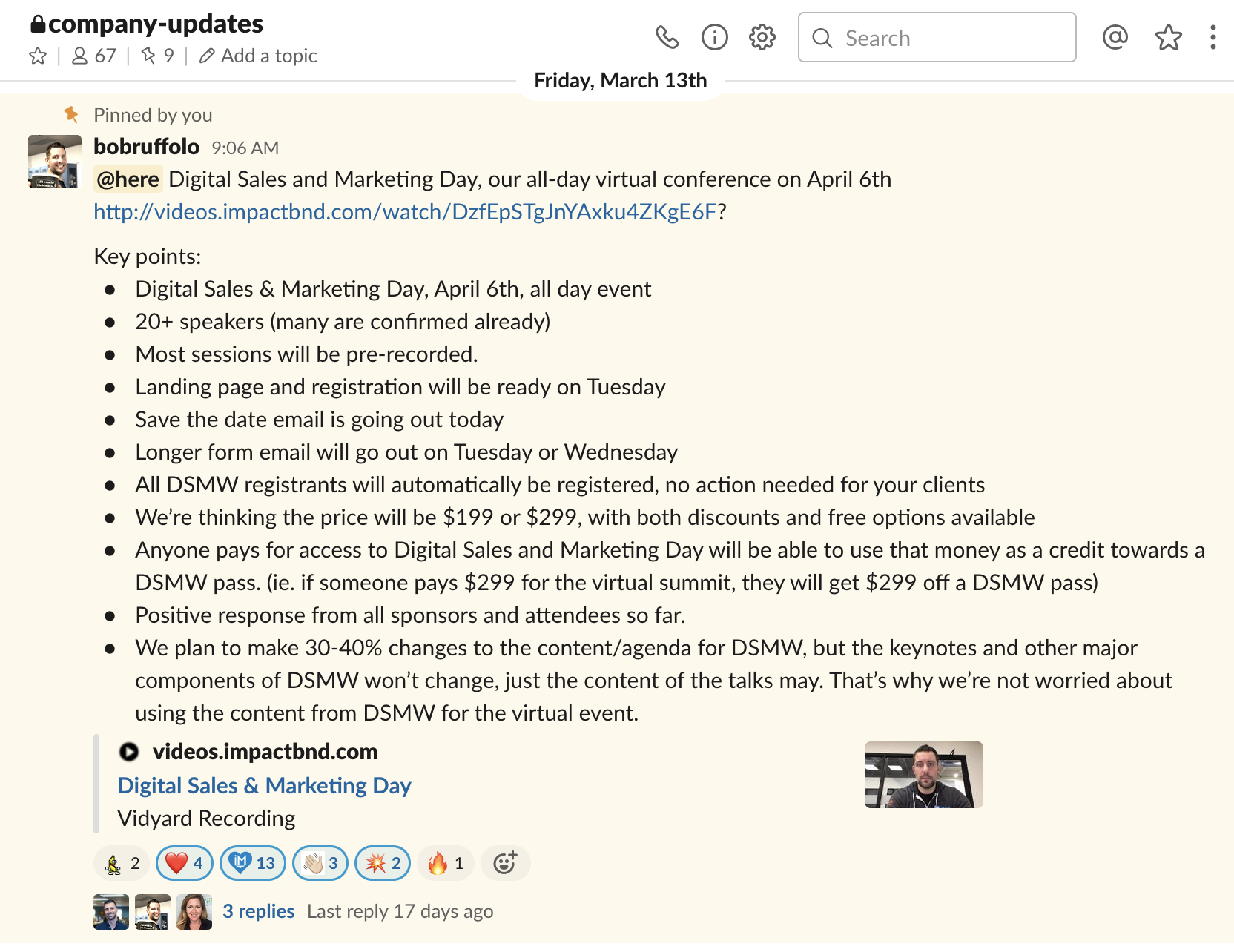 Yeah I totally wasn't freaking out...
But sure enough, in less than four weeks, we had successfully planned and hosted a virtual version of our event for 3,000 people. (Yes, that's three times the number of attendees we would have had in person!)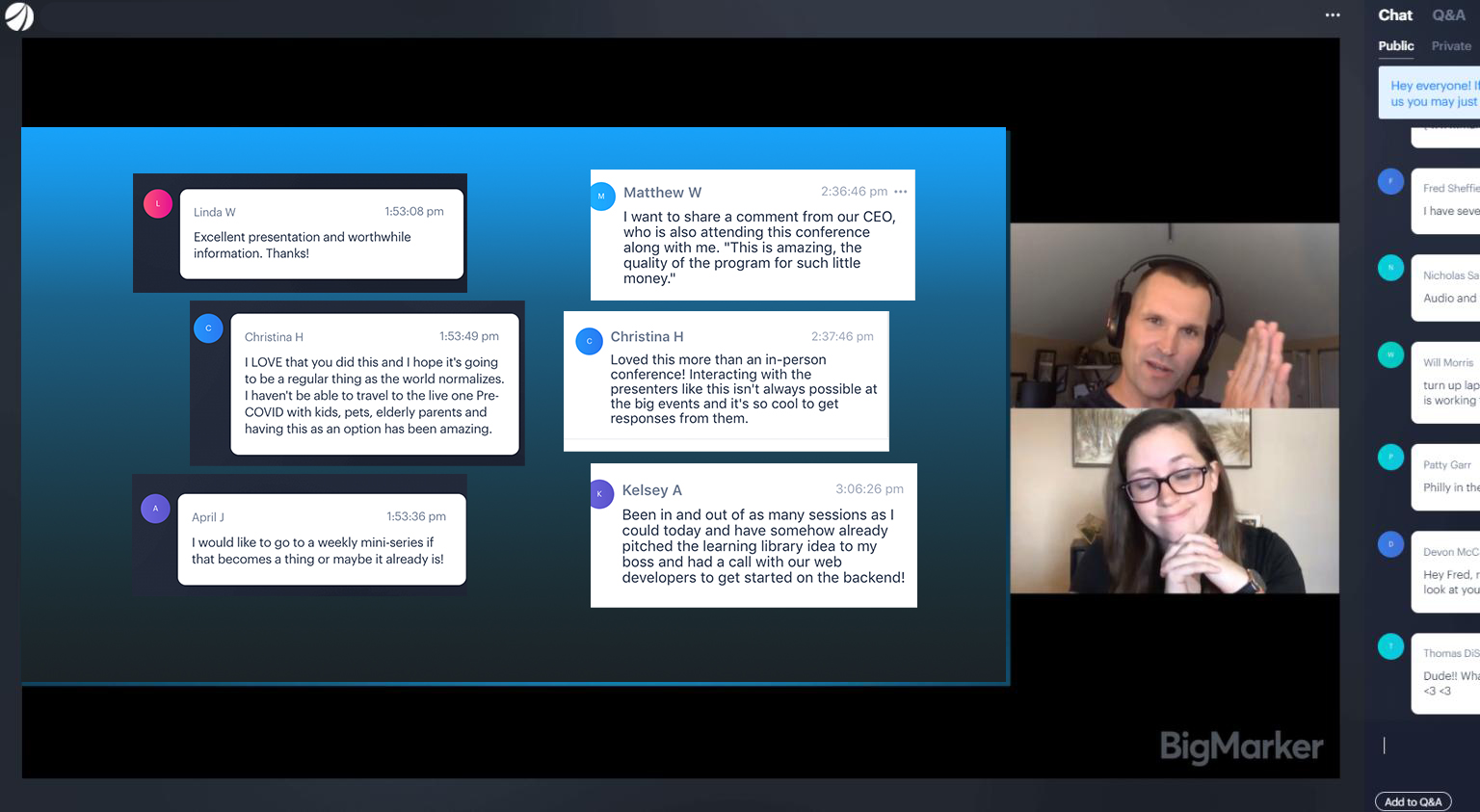 And people loved it.
Now, let me clearly say, this is not a realistic timeline for a successful virtual event. What I have described was done completely out of necessity, and included a lot of sleepless nights and working weekends.
You need much more time to successfully run a virtual event. So, do not panic. The checklist that follows will not include the same break-neck pace.
That being said, I am baffled by how many people still cling to the common misconception that virtual events are easy to throw together. That they don't require as much detailed planning and execution as an in-person event.
🔎 Related: How long does it really take to plan a virtual event?
Hear me when I say that is utterly false. It's not easier to run a virtual event; rather, you simply have a completely different set of things to manage… and you'll meet with unique challenges.
What is the standard for virtual events today?
Today, I am currently in the midst of planning my fourth virtual event for IMPACT. We also have two more to follow right behind that, before 2020 comes to a close.
Although, for a while there, it seemed as if every single company out there (whether they previously had an in-person event scheduled or not) was whipping up a virtual event. However, as people have realized how challenging virtual events are to produce, fewer have kept having them. Plus, people are getting burnt out from attending all these screen-based events.
🔎 Related: What does a best-in-class virtual events team look like?
Virtual events aren't a novelty anymore — but they can still be incredibly successful. That said, the bar has been raised. You can no longer skate by with a half-day long Zoom webinar with a few speakers sharing one giant slide deck. You have to be better to stand out.
And sure, there will always be people who will say: "Nothing is as good as in person." I get emails from these people weekly at least.
But when you truly think about what your event is going to accomplish, that's what matters most and what makes virtual events just as good as — if not better in some cases — in-person events.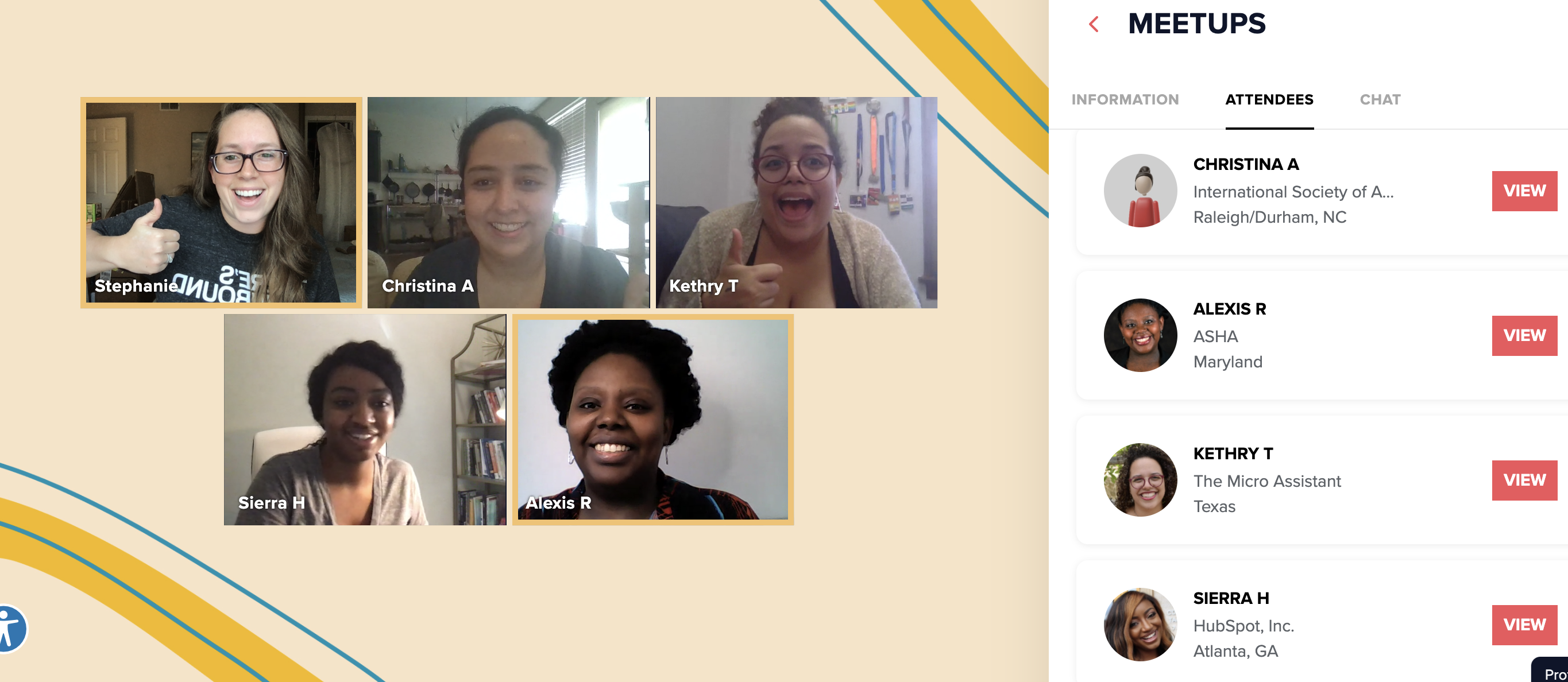 INBOUND 2020 Networking Meetup
I had an amazing time networking at INBOUND 2020 and felt like I was meeting people in person. We were randomly matched and got to have organic conversations and connect.

Of course, people will always miss free pens, bad coffee, and the joy of snagging an extra drink ticket. But when it comes down to what people really want out of an event, you can absolutely accomplish it in a virtual setting.
For instance, Thera Martens, marketing director at Visier suggests sending gift cards to people so they can order lunch while watching the event:
"Sending gift cards [is] a nice touch, especially for speakers if you want them to virtually hang out with folks after."
At this point you might be saying to yourself, "Stephanie, it sounds like a ton of work to run a virtual event. Where do I even start?"
Well, it is a ton of work. But you can do it and I'm here to help. This guide is broken down into three main sections to walk you through how to run a virtual event:
Before the event
During the event
After the event
Alright, let's dive in!
What to do before your virtual event
Before your virtual event you need to do some initial planning, create your programming, pick a platform, find speakers, promote your event, and more. Let's begin with what you absolutely have to decide before you can dive into building and promoting your event.
Virtual event pre-planning and timeline
In the case of our first virtual event, we were stuck with only a few weeks to pull our event together if we wanted to keep our original event date. However, I cannot stress enough how important it is that you allow yourself and your team enough time to plan and execute your virtual event.
I recommend an absolute minimum of eight weeks (ideally 12 weeks) to plan and promote a virtual event once you have your initial event strategy in place. Your initial strategy may include defining your audience, nailing down your event's branding, and picking a virtual event platform. If you're figuring all of these things out for the first time then you'll definitely want to allow 12 weeks or more.
🔎 Related: Best virtual event softwares you should consider (+ planning tips)
In the early weeks of planning, focus on building out the content and driving registrations. As the event gets closer, it's time to obsess over every logistic detail and make sure your content and platform are air tight.
Choose your virtual event date and time carefully
When choosing your event date and time, you will have to make a few very important decisions:
Is this a one-time event or a series?
How long will it last? Will it span multiple days?
How much content and how many speakers you'll have?
Where is your audience located? Have you considered all important time zones?
Is the date you've chosen a holiday or important date?
That last question is so important — for example, recently I had people telling me about their events which were all scheduled on Election Day in the United States!
I recommend putting your events into an event calendar that has important dates already added in. You can start with a template that includes holidays and major events and then add in your own company dates. I really like this free yearly calendar of events template from Vertex42.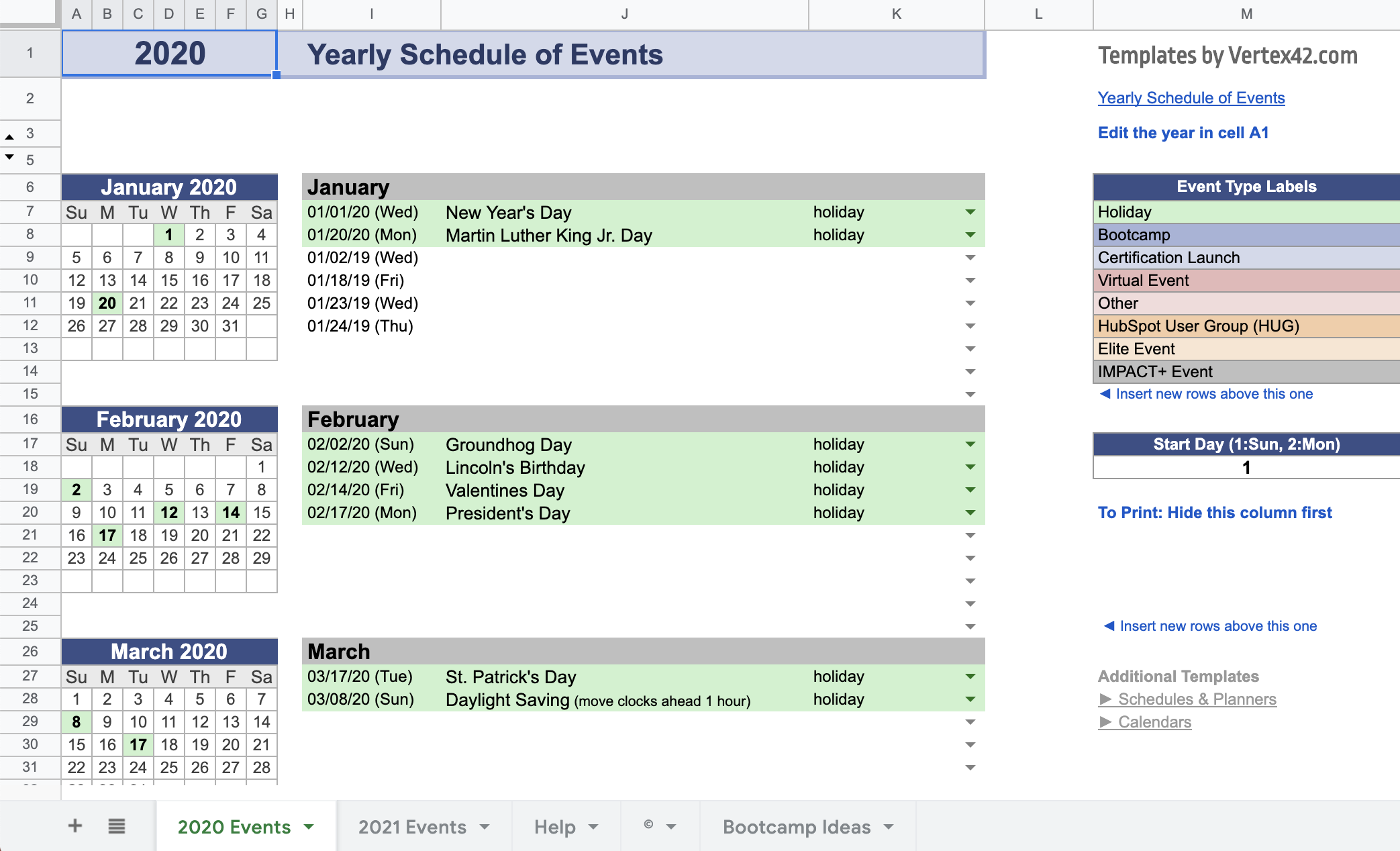 It's much easier to pick an event date when you can easily
glance at a calendar and spot key dates to avoid.
Some additional questions that will help you plan your timeline include:
Will it be live, simulive, on-demand, or a combination?
Will you have sponsors?
Will you charge or will it be free?
If you're going to charge, what is the price of tickets and how will pricing change over time?
Will you have early bird or launch pricing?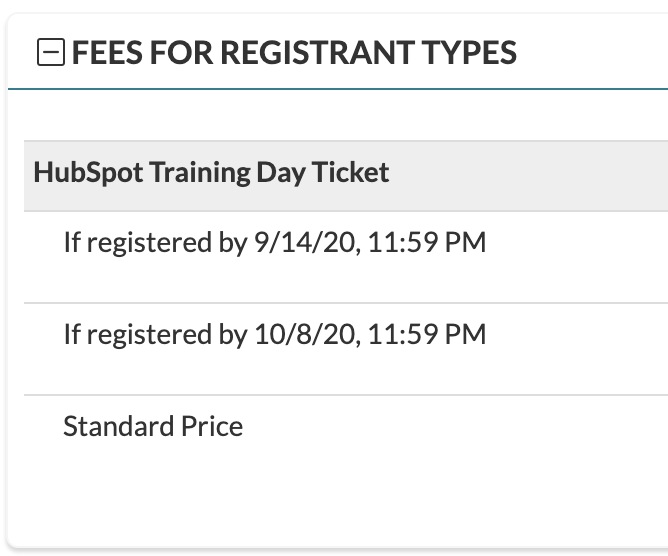 We use Swoogo for our virtual event registration which allows for price increases
to be set ahead of time and automatically go into effect when set.
If you have price increases, make sure you're aligned with your marketing team about when these happen so they align with promotion.
Naming and branding your virtual event
In addition to ticket price, to promote your event you'll need a name and logo. Just like an in-person event, a virtual event needs a specific name and its own colors and branding. You may already have these things if you're pivoting from an in-person event. If not, here are a few tips for naming your event.
Our event naming formula tends to look like this:
[The skill or topic to be covered] + [event noun/synonym]
Here are a few "event" synonyms you can consider for your own event.
Event
Day
World
Experience
Conference
Bootcamp
Symposium
Summit
Answer these questions:
Who is your core audience? Who are they not?
What type of language do they typically use? (Professional, casual, etc.)
What is the concept of the event?
What are their pain points and/or emotions as it relates to the event content?
What solution are we providing with this event?
Once you have your event named (along with your color, branding, and logo assets defined and created), you will want to put all of those things together in a single space for your team, so they can draw upon it for planning and promotion purposes.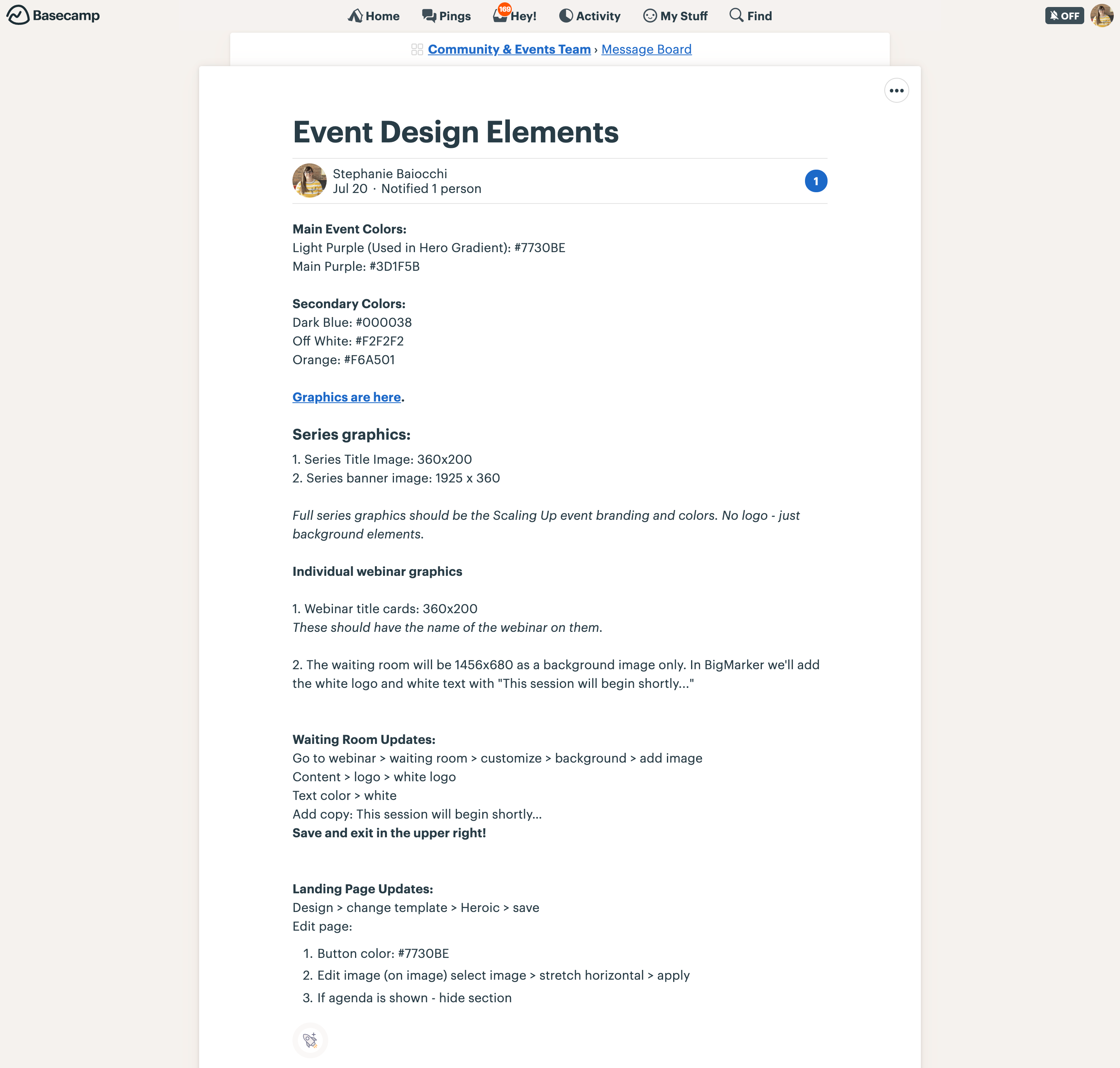 IMPACT's virtual event design elements are saved for our team in Basecamp.
Assembling your virtual events team
I wrote all about what a best-in-class virtual events team looks like. In addition to a virtual event manager (that's probably you), here's a summary of who I recommend making sure you have on staff:
Design and development resources (and potentially video editing)
Event promotion, email marketing, and copywriting
Attendee support
Tech support
Host or emcee
Moderator or co-host
Virtual presentation coach
Sponsorship sales
Some of these roles, such as tech support or graphic design, may be outsourced if necessary but make sure you have someone available.
One thing I cannot overstate enough is how you cannot be more than one of these things. For example, if you are the host or emcee you absolutely cannot be answering attendee questions at the same time.
I learned this lesson the hard way. During our first event (Digital Sales and Marketing Day) back on April 6, I was hammering through hundreds of attendee questions in our support inbox (we had a lot to learn on the usability side still). At the same time, I was also trying to moderate our chat and have a conversation live with our keynote speaker to welcome attendees.
I ended up giving a member of my team the login to my email so he could take over. Plus, having too many open tabs and video streams was causing my internet to lag as well. Even now, my screen pretty much always looks like this during an event:

This was my screen during our July event. My team and I were on Zoom (upper left) while monitoring the stream and chat in multiple sessions, while discussing on Slack (lower right).
While I'm thinking of it, you should definitely have at least one additional monitor to run your virtual event. Seriously, my screen gets so wild during events:

In addition to your team, be sure to let the rest of your company know what's expected of them before, during, and after the event. Here's an example of how we do it: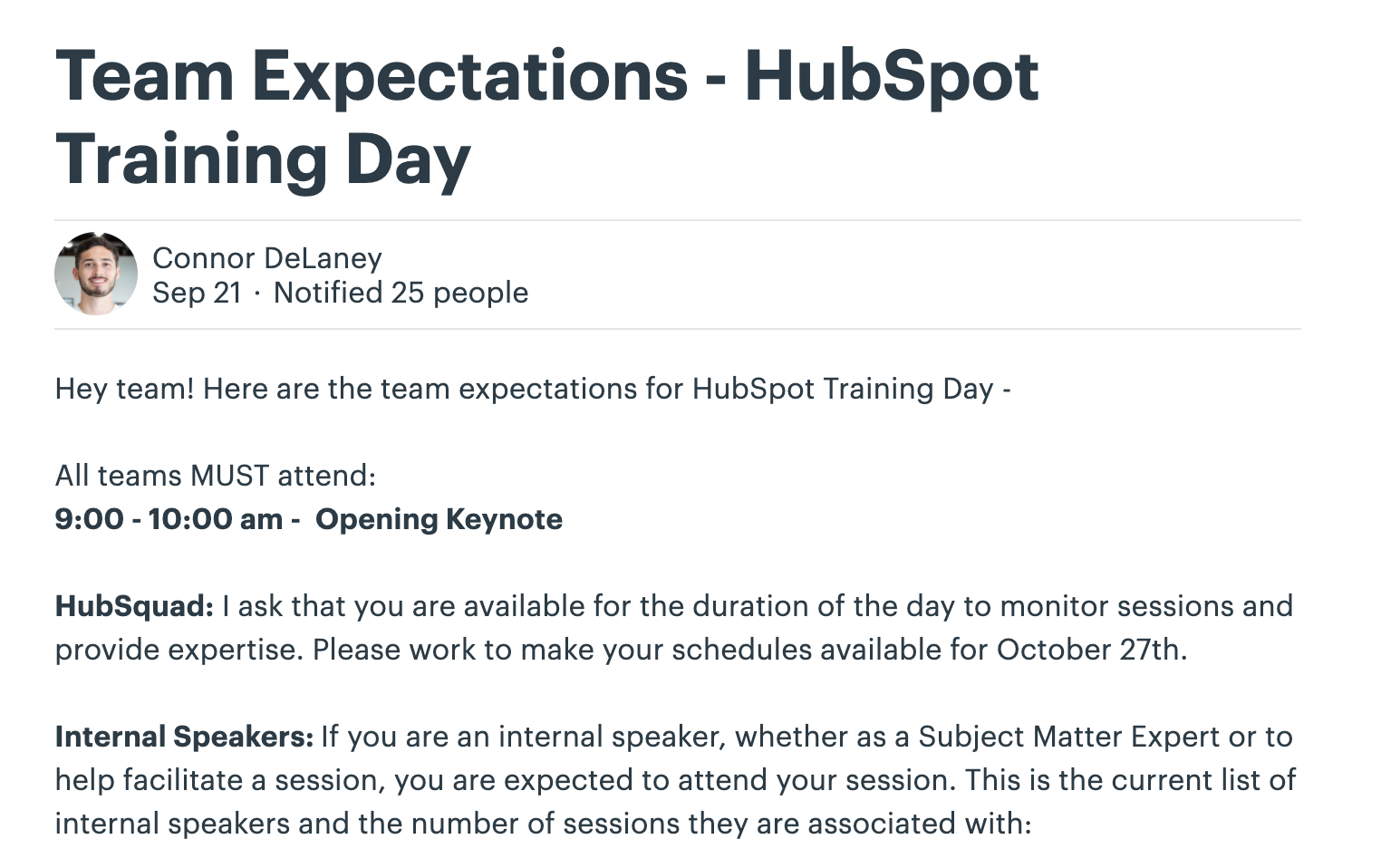 This gets more or less specific depending on the complexity of the event.
For some it may be talking to clients about the event, for some it may mean speaking at the event, and for your sales team it likely means being ready to follow up after the event.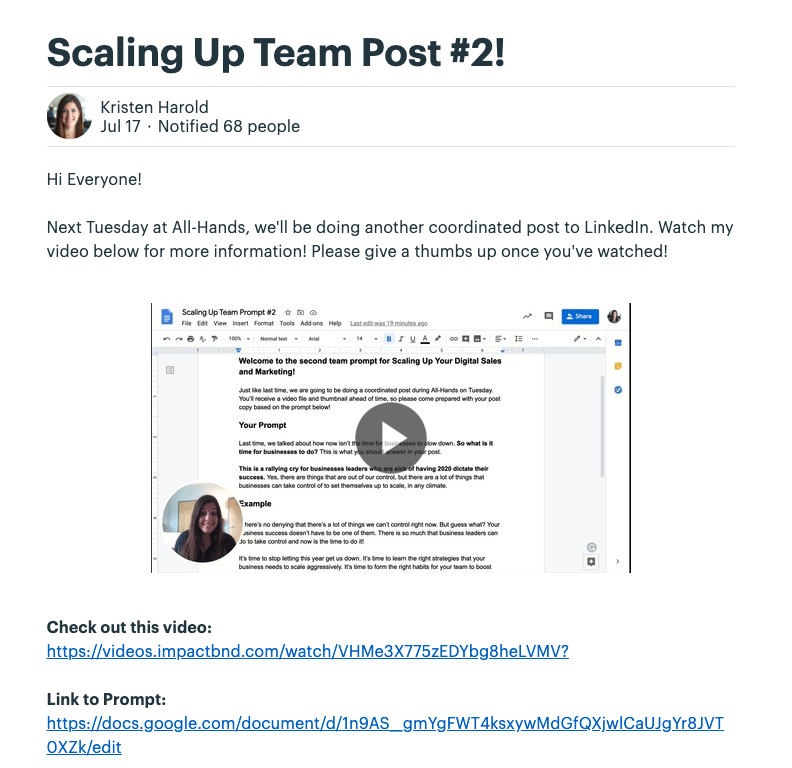 We work together as a team to promote our events.
When working with our sales team, we even go so far as to create a sales and marketing SLA for our events, outlining exactly what sales and marketing are responsible for delivering.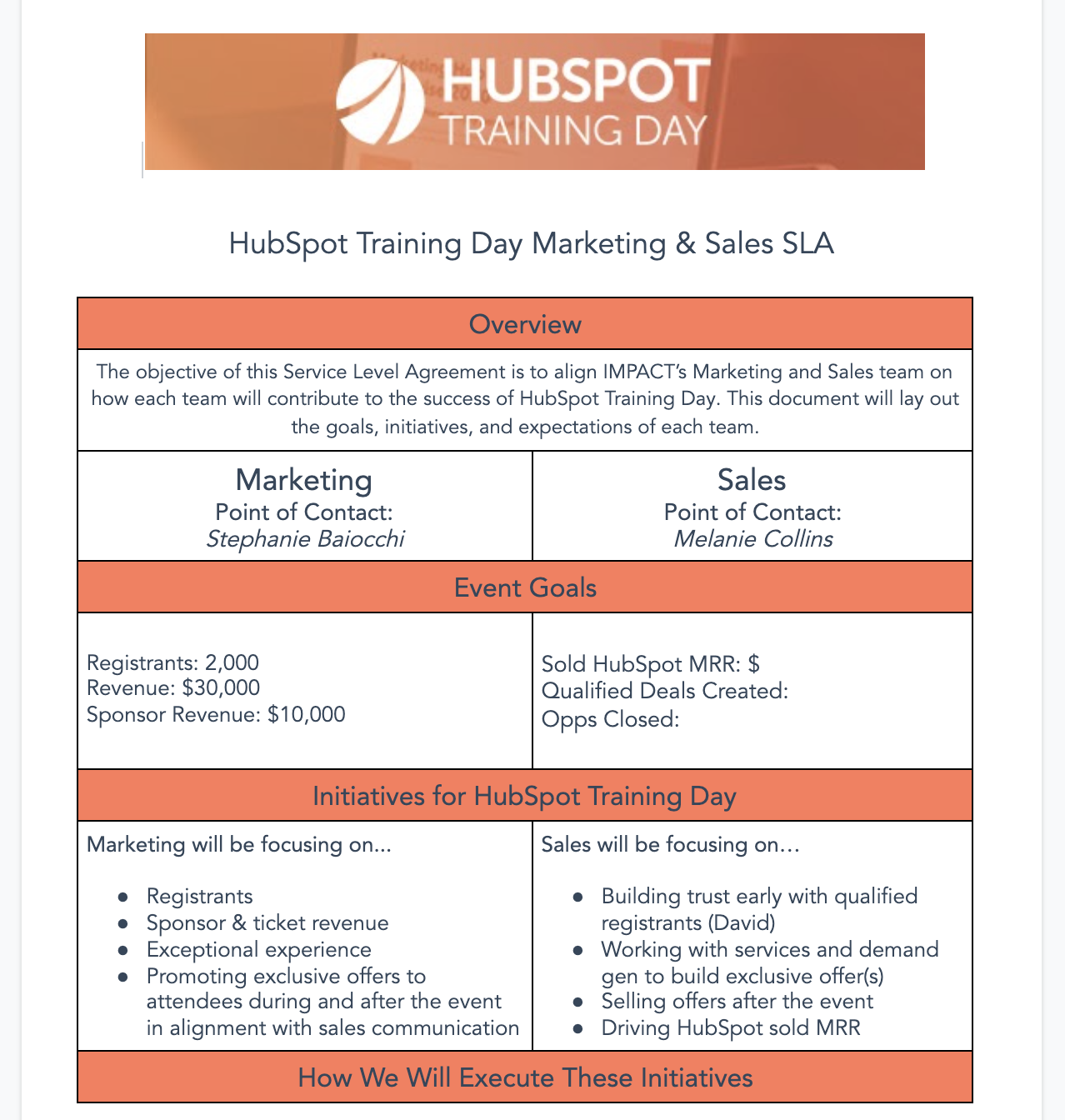 Here's an example of what an SLA might look like for an event.
Finally, if you feel like you're still missing a bit of input or want another perspective, consider an outside advisory committee. You can invite your customers or members of your community to apply to participate.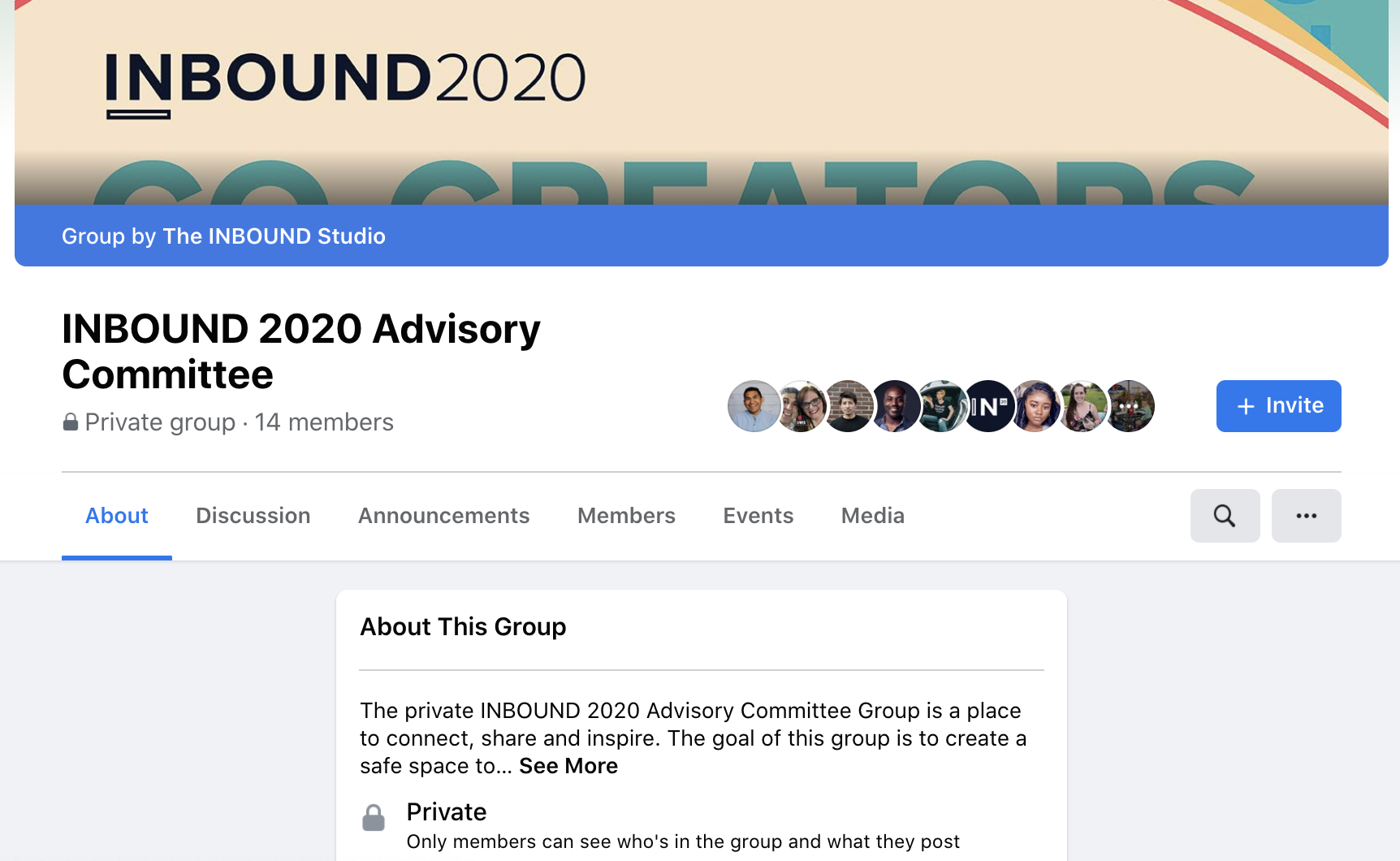 INBOUND ran their 2020 advisory committee through a combination of a private Facebook group and three group Zoom calls.
I was on the INBOUND 2020 advisory committee and had a great time providing their team with insight about my experiences.
Virtual event sponsors
If you decide your event will have sponsors you'll need to determine exactly what sponsors will get out of your event and how:
Will you be offering them a session or demo?
Will you have ads in between sessions?
Will your sponsors get part of or the entire attendee list?
Will you have virtual booths for your sponsors?
If you do, how will you encourage your attendees to visit them?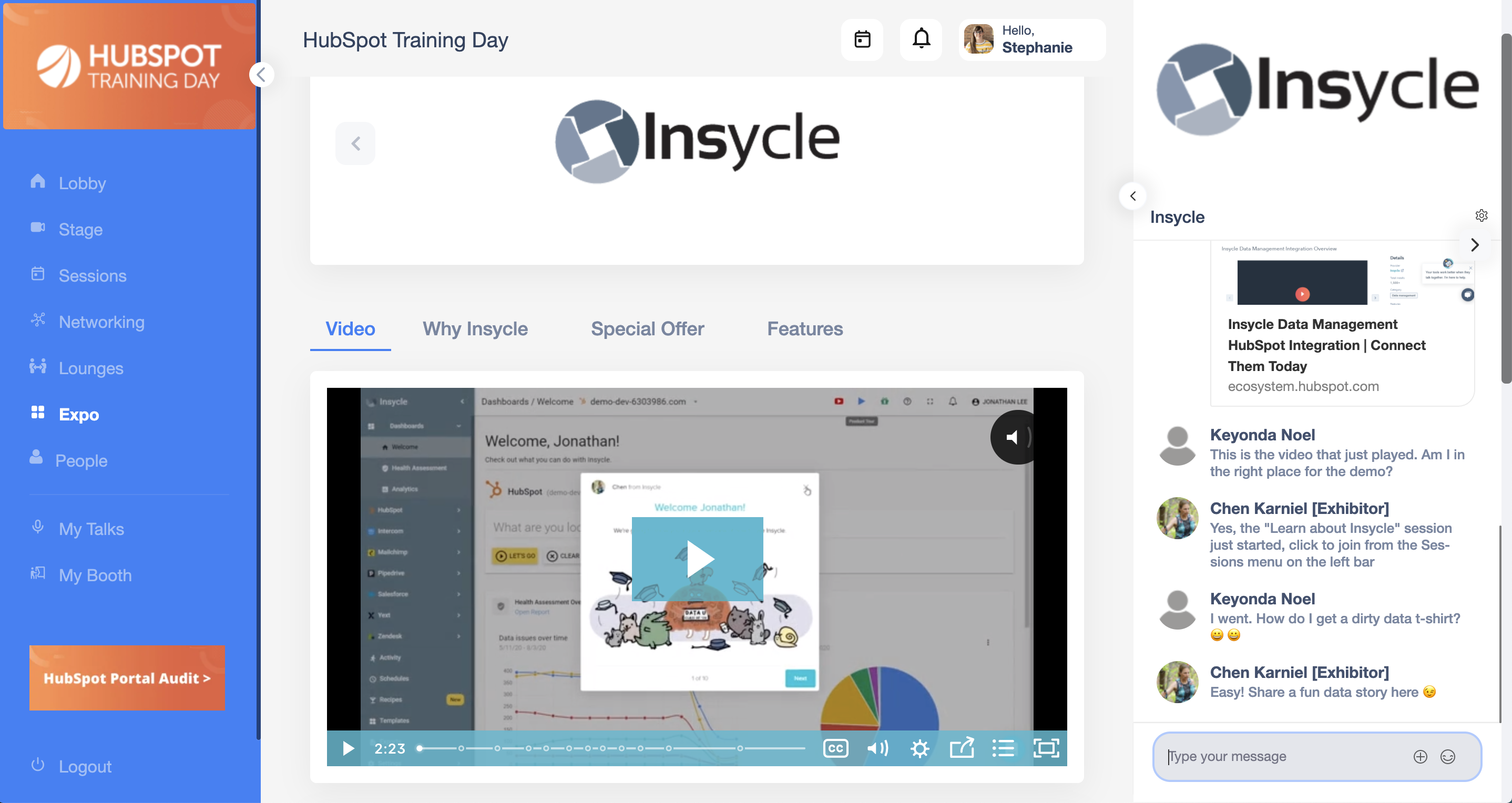 Insycle's sponsor booth at our most recent event.
Our team has been working to determine the best way for sponsors to benefit from virtual events. It depends on the industry, goal of the event, audience attending, and sponsors' goals. So consider all these things when building your sponsorship packages.
🔎 Related: What does a virtual event sponsorship look like?
You'll also need to make sure you have an agreement outlining the package cost and benefits which is signed by your sponsor and someone on your team. Just because this is a virtual event doesn't make it any more real of a sponsorship than an in-person event. Cover your butt, and your money, with a sponsorship agreement.
Developing virtual event programming and content
Now it's time for the meat of your event — the content.
Once you've decided on a length and time for your event, you'll need to determine the format. You may want to have multiple tracks or sessions tagged with topics for different audiences.
Next you'll want to decide how long each session will be and how many breaks you'll offer. One thing we learned doing our events is no matter how great your content is, people need to be given breaks — even if it's just to absorb all that they're learning.
I originally assumed that if people were home they could just stand up and stretch whenever they wanted or take their laptop into the kitchen while they made lunch. However, this is often not the case. Everyone's situation is different and, without scheduled breaks, people may miss some of the content of your event which will leave them feeling like they've missed out on a part of the experience.
🔎 Related: How to find and manage virtual event speakers
Instead of focusing on not losing your audience, focus on creating an immersive and engaging experience that's not exhausting. Give your audience breaks but encourage them to jot down some notes or take a quick walk for some fresh air and tag you in a photo of their walk. We also added in guided desk stretches and meditations to our events.
Don't want to lose your audience over lunch? Consider sending them a list of ingredients ahead of time for an easy but fun lunch recipe and then record someone (or find a guest chef!) walking them through how to make the recipe.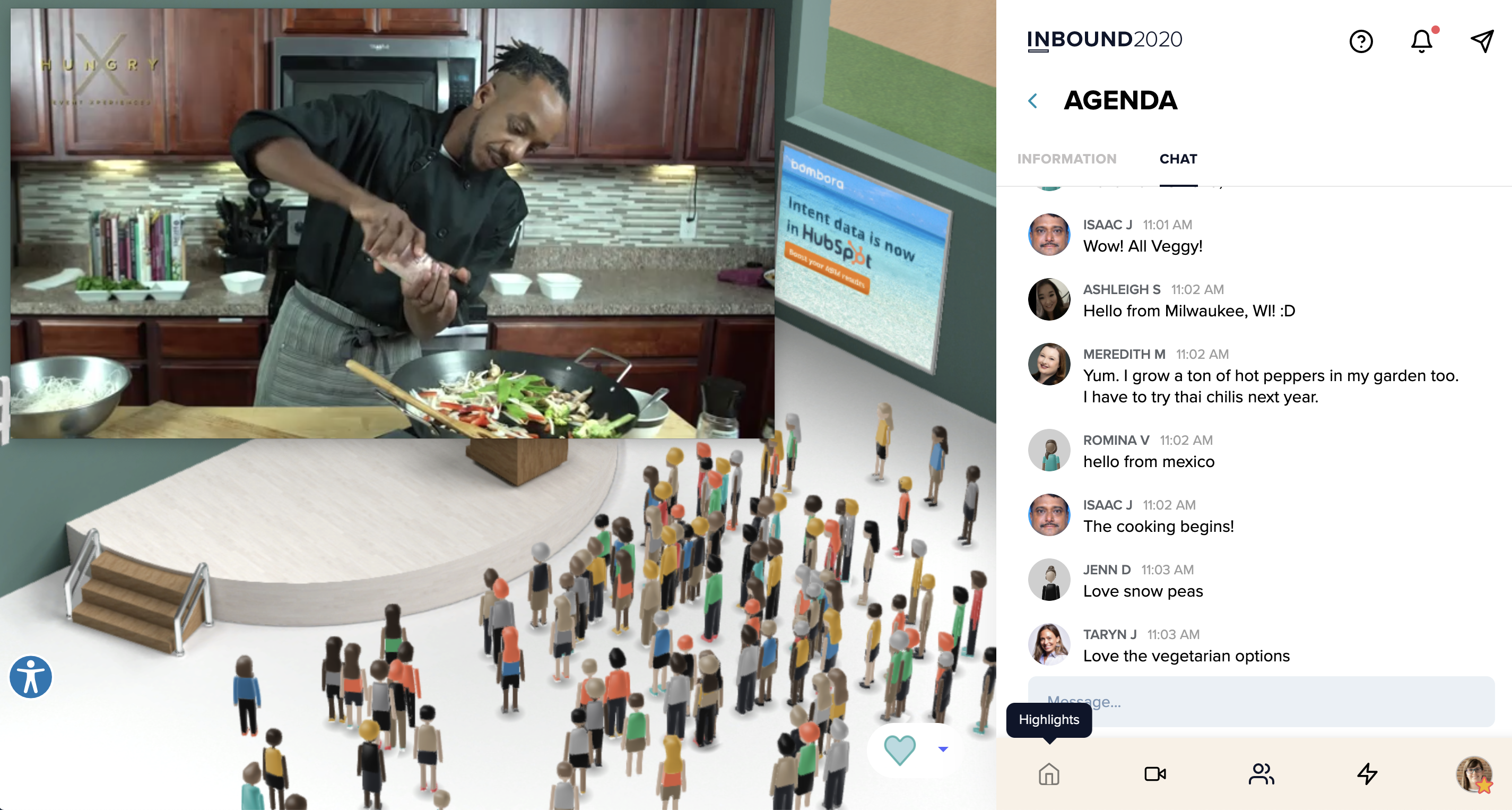 This was a guided lunch tutorial at INBOUND 2020.
Once we have a general idea of how we want the day to flow, we usually take a first pass at our agenda in a spreadsheet and then spend time working through it, adding in potential titles, speakers, and descriptions.
Just be sure to set a deadline for when your agenda must be locked in so your marketing team can promote your event with the agenda information. (You can see this in my example below in red.)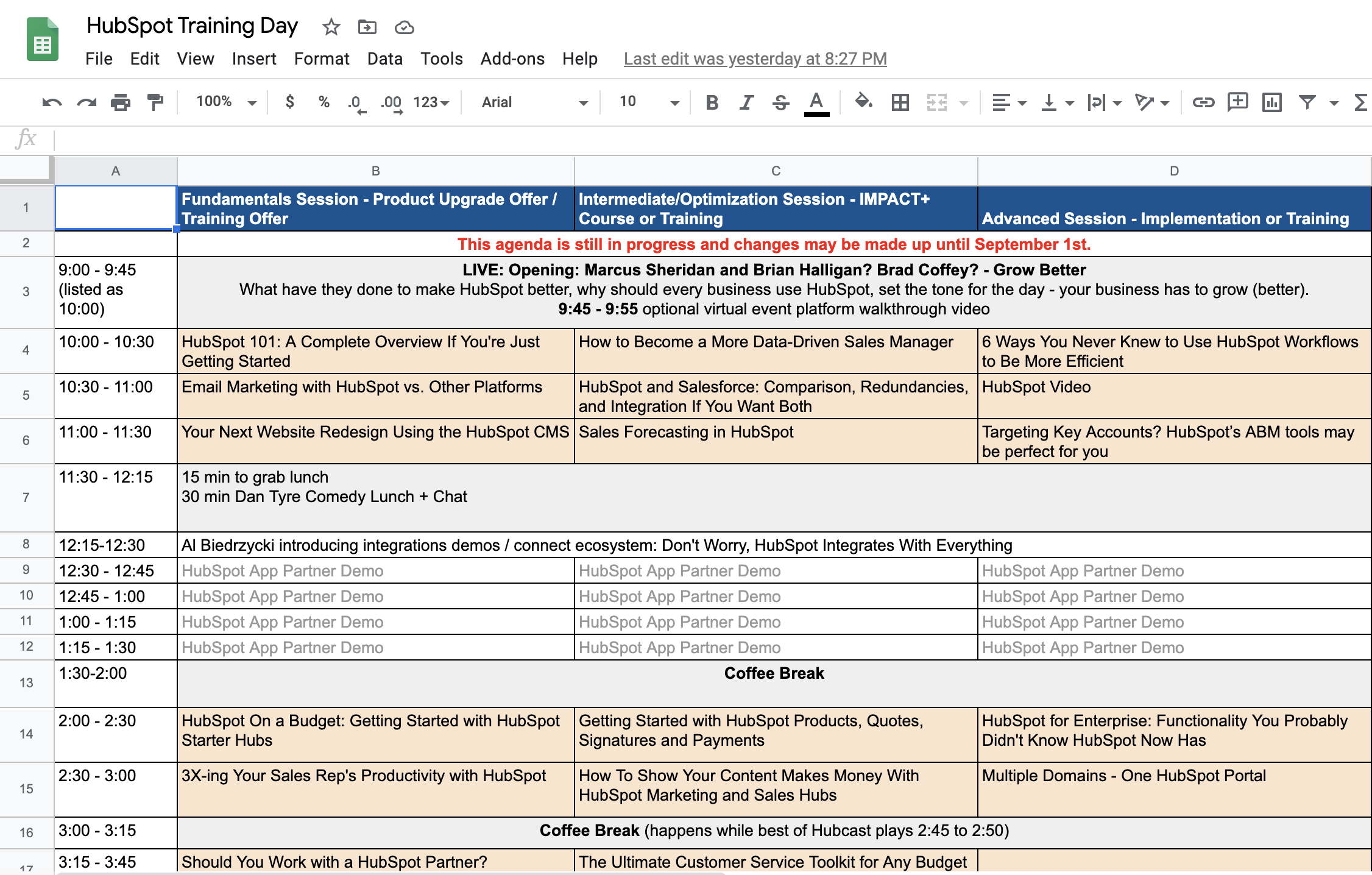 This was our working agenda for HubSpot Training Day.
In addition to your speakers, think about who you will want to co-host or moderate any live sessions. From answering questions in chat to launching polls, you need someone to manage this. You cannot do it all yourself, at least not well, while also presenting.
Our keynote speaker shared this exact experience in his article about what he learned from hosting his first large-scale virtual event.
He went on to say:
"Interestingly, the co-host can serve as a sort of intermediary for both the audience and the speaker.

For the audience, they can see themselves in the co-host. They can hear their thoughts as the co-host's voice answers the speaker, and the co-host can be the one to voice the comments from chat.

For the speaker, the co-host can be one more person to present to, who feels more tangible than the avatars and names in the session."
Once you have your event outlined and know what you want to accomplish, it's time to pick a platform and start building your event.
Picking a virtual event platform and building the experience
Unsurprisingly, there's an overwhelming number of virtual event platforms out there to choose from. We've narrowed down a few of our favorites but we're still in the process of finding the perfect fit for our needs as well. You'll have to do some demos and testing to find what you need within your budget.
Once you find a few you like I recommend building a test event, researching reviews of the platform, and ask about their day-of support. Finally, ask what the biggest event they've hosted is and how they'll reserve bandwidth for you and your event. Confirm what they do in the event that the platform crashes.
If you choose a platform that doesn't cover event registration, make sure you know how you'll import or add registrants to your event platform especially those who register day-of your event.
Pro tip: If your attendees will pay to attend through a third-party registration platform (or even one you own), you will definitely need to test the payment processing with a test transaction.
In addition to all the features you may want (live streaming, simulive, networking, chat, etc.) you'll need to take a look at the accessibility features of whatever platform you choose to go with.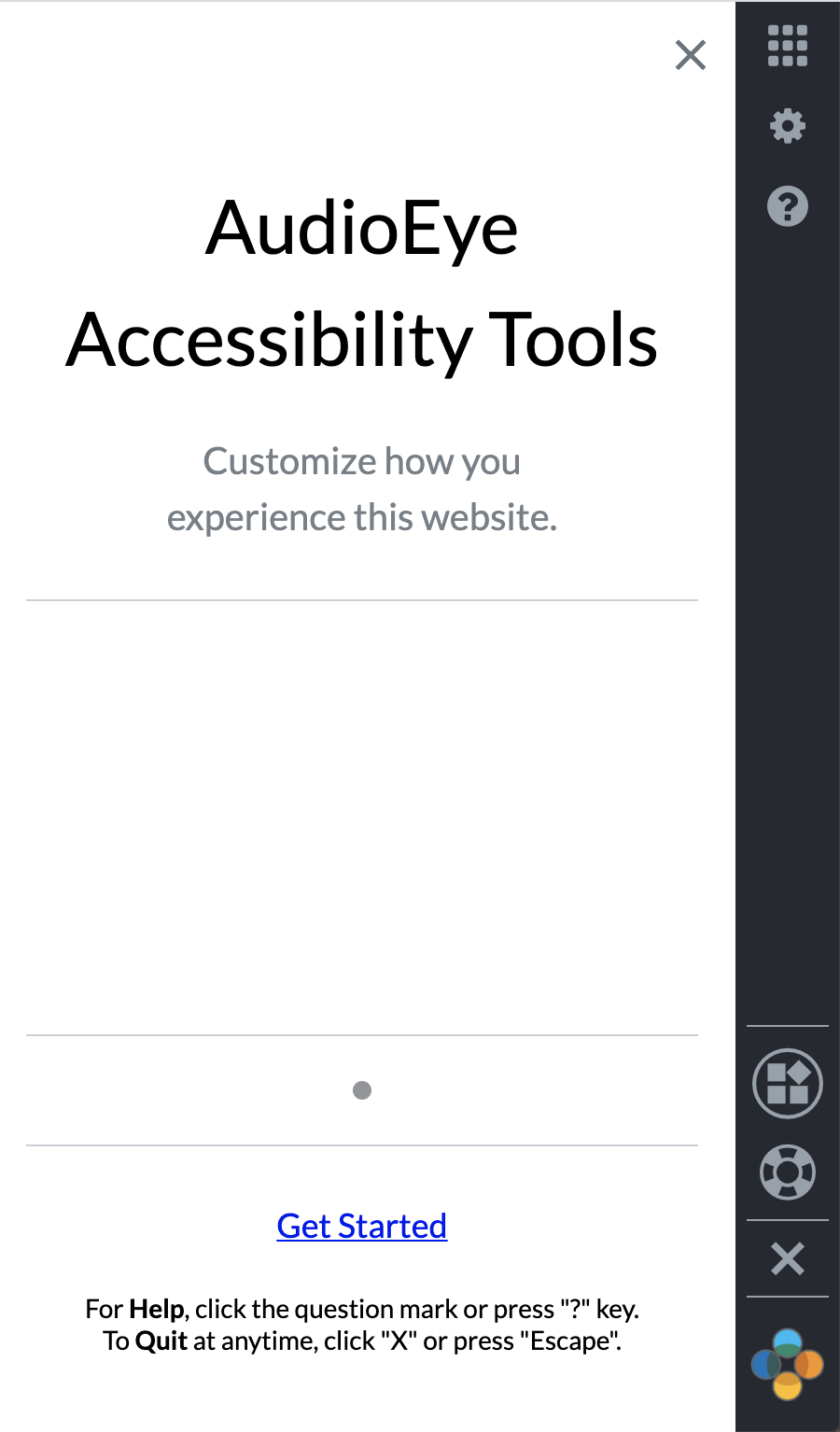 INBOUND 2020 had some great accessibility tools available to attendees.
For example:
Does your platform have a way to add captions or live transcription?
Can users download slides, increase text size, or change the colors if needed?
I'm constantly bugging my friend who can't see green/white combos well to see if she can read what we've created. The first time I asked her to read the text on the image below, she said "Read what?"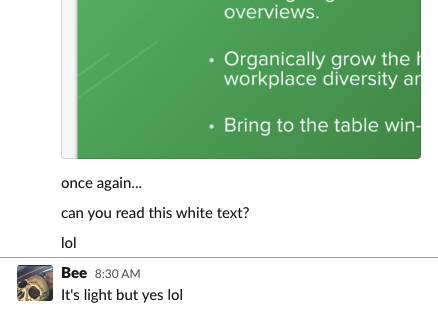 My friend confirming this was not the best choice of green and white.
But then I found a tool that offered options like this: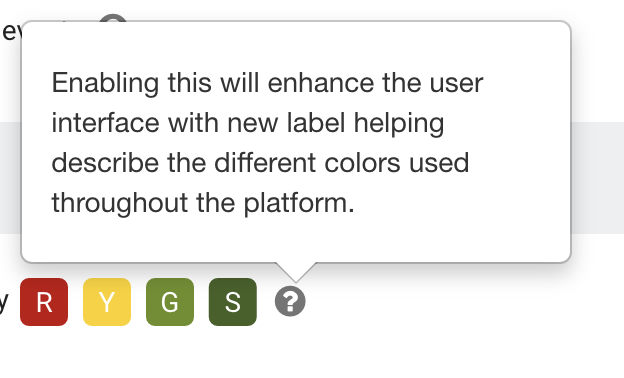 Finally, you've got to look at security and privacy options for your virtual event software provider. From how they manage attendee data to how you, as an admin, can block people from the platform and keep your event secure, there are a few important things worth checking on when it comes to privacy.

I was so happy to see GDPR settings available in Swoogo!
Once you've decided on a virtual event platform
Once you have your platform chosen and you start to build out your event, you'll want to revisit your branding guidelines and make sure you update or at least check on the following items in your platform:
Standard logo and colors
Waiting room design
Sponsor booth design
Attendee profile options
How speakers are displayed to attendees
The design of networking areas and activities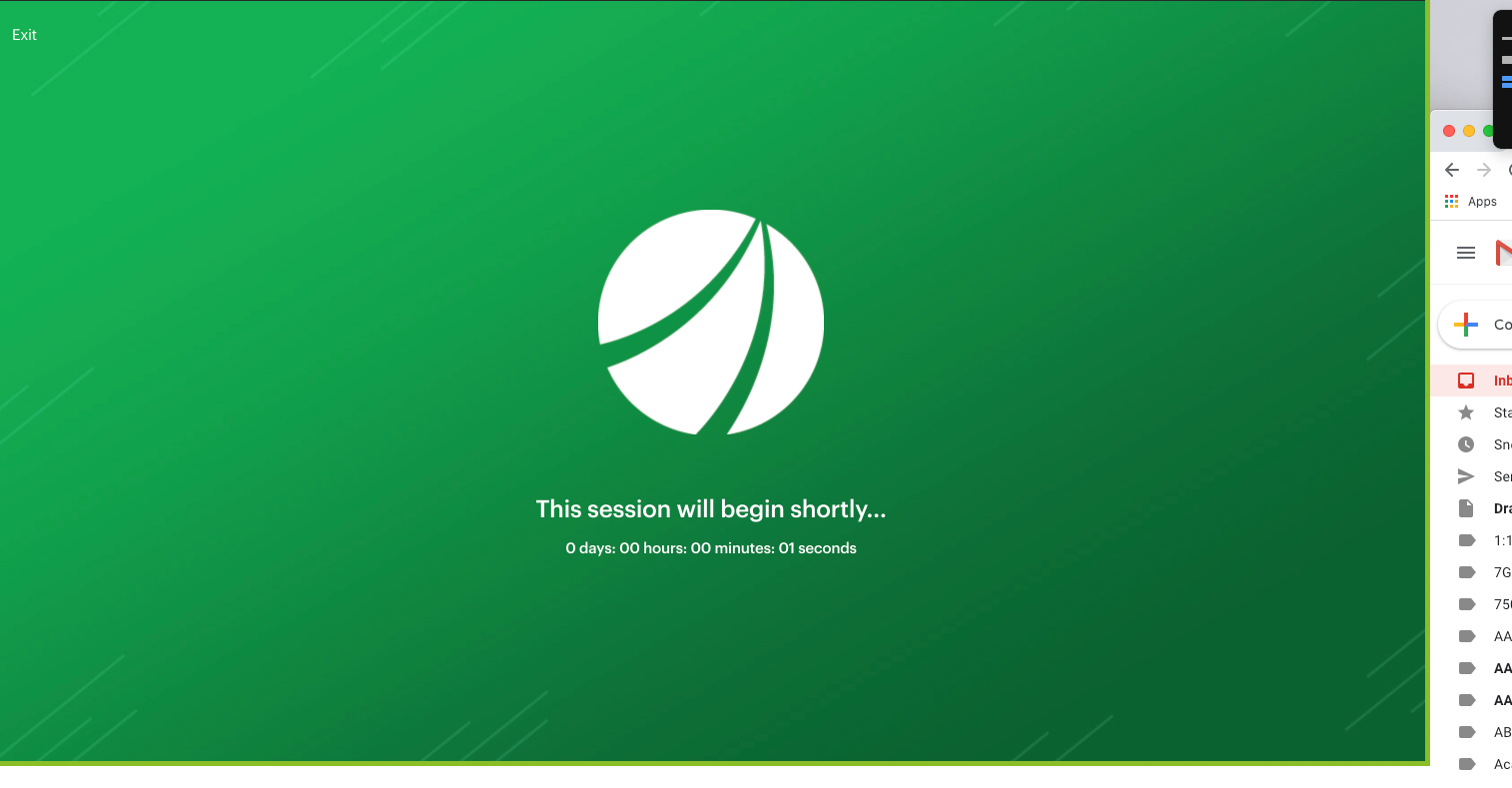 This was one of our waiting room screens for one of our events.
If you update the style or colors of an element in a session, and have multiple sessions, go through and test that element on every session to make sure they've all been updated.
We actually create a spreadsheet with all variable elements related to a single session and use it to spot check every session.

An example of our spreadsheet for tracking QA of each session
Managing virtual event speakers
If you need help finding speakers for your virtual event, I've outlined some tips in this article including:
Asking your audience who they'd like to hear from
Considering involving your customers to share their stories
Leveraging subject matter experts at your company
Leveraging existing partners you have
Reaching out to hosts of popular podcasts in your industry
Doing a search for top keynote presenters in your industry
One of the ways you can guarantee a much stronger event is by diversifying your speaker lineup... but how do you find diverse speakers for your event? Ask the speakers you know if they can suggest anyone, post on LinkedIn asking for recommendations, and check out other events in your industry.
Setting the right expectations
Once you've picked your speakers and had them sign any necessary agreements, it's time to set expectations.
I usually kick things off via email with a confirmed speaker by recording a video for them that walks through our documented speaker expectations and guidelines, like this one: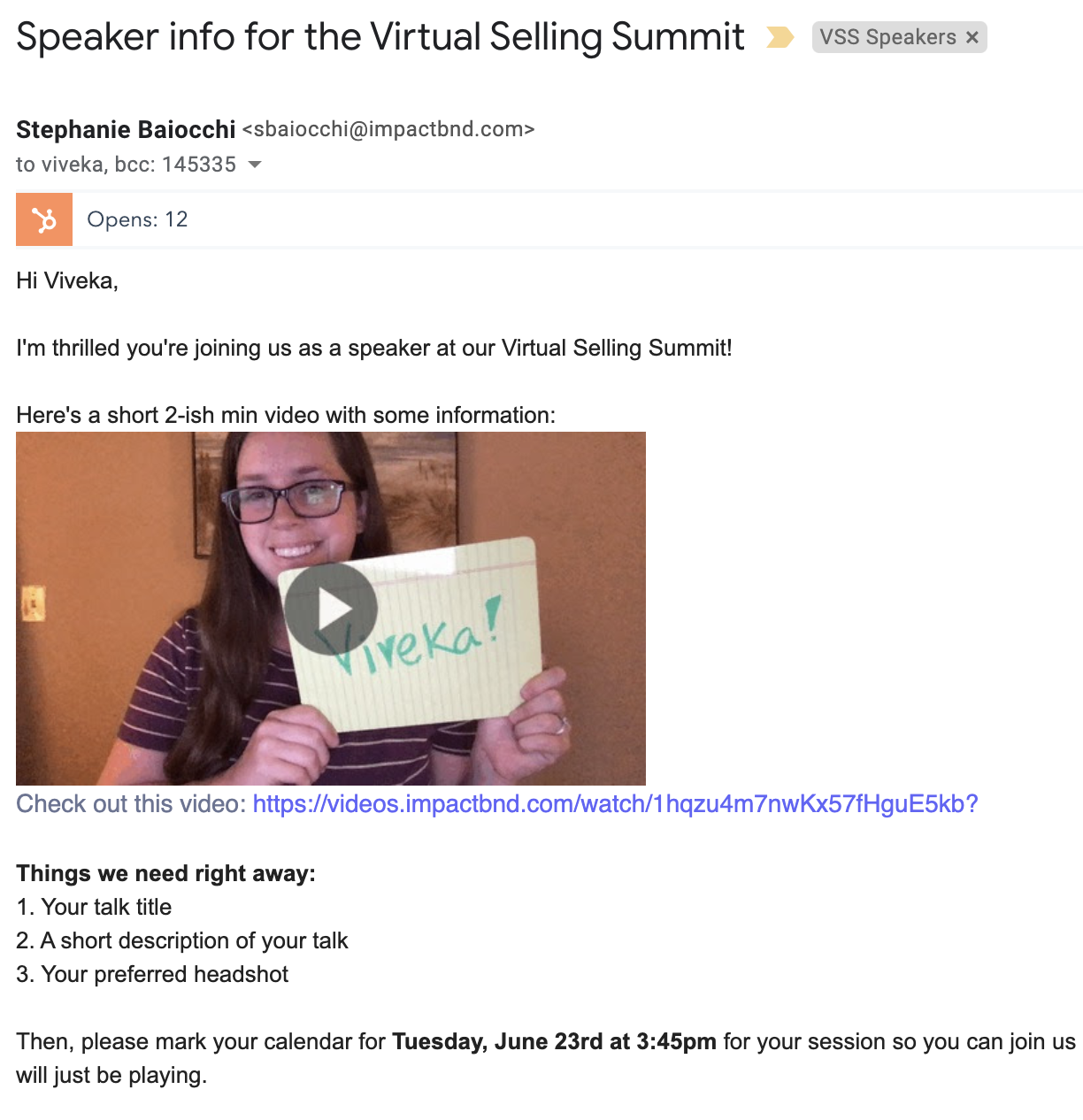 I outline key due dates, steps for recording in the way we need, ask them to send their headshot and bio, and cover anything else related to the event that they need to know. I also remind them that we'd like them to promote the event and share assets and resources for them to use to do so.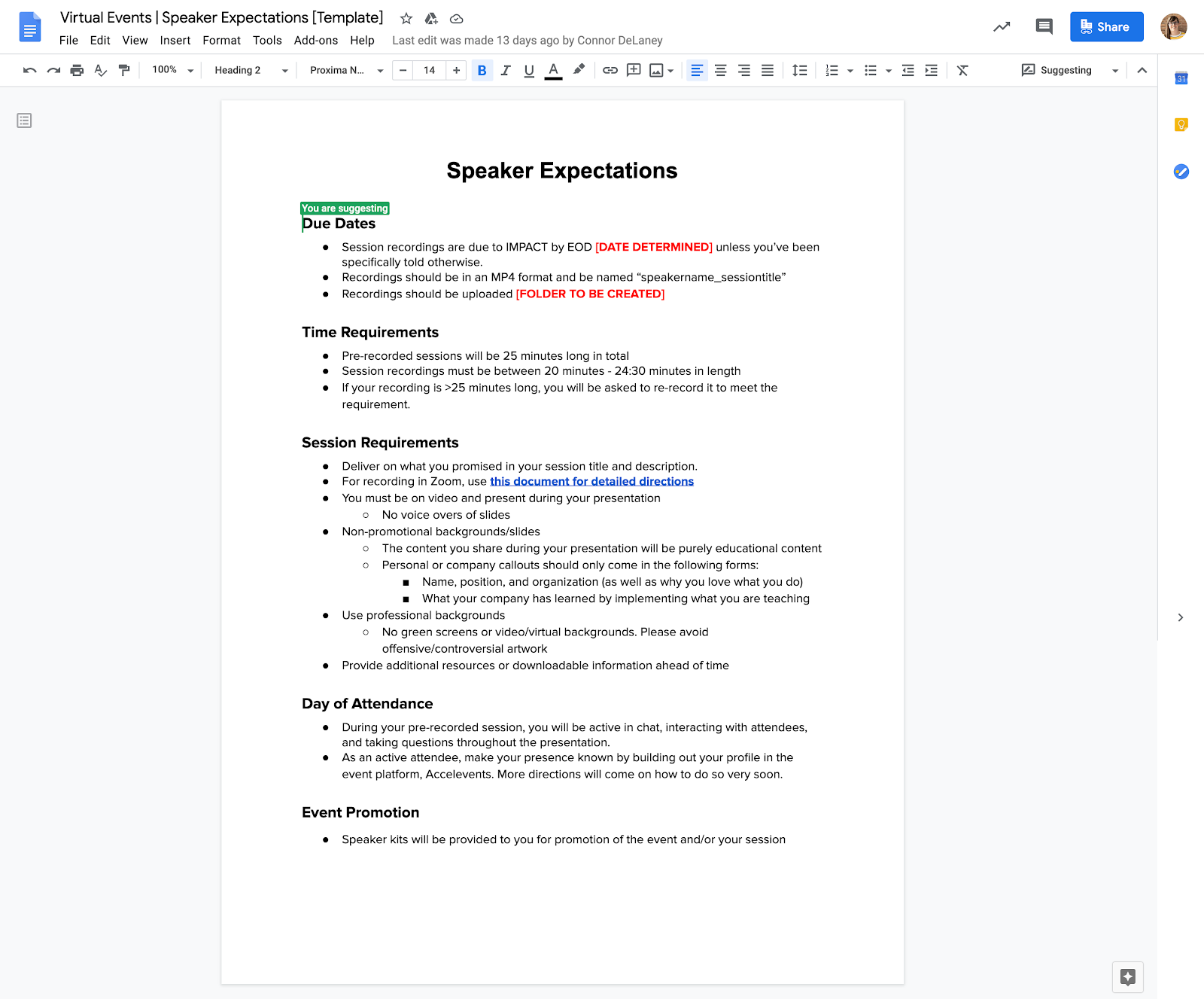 Our guidelines cover:
Due dates
Time requirements
Session expectations
Day-of expectations
Expected event promotion
Recording guidelines on appropriate backgrounds, attire, and more
Lighting and audio tips, and settings to record a screen properly
A slide template if one exists
If our speaker is going to be live I always schedule a rehearsal or tech run-through. This may be a few days before the event or potentially just signing into the session a few minutes early to test everything.
Once I send speaker deadlines and expectations, I immediately start a spreadsheet to keep track of everything. It can be so easy to lose track of who has turned in what when you have multiple sessions and speakers. Just like with an in-person event, you need to know where everyone is at and what their status is.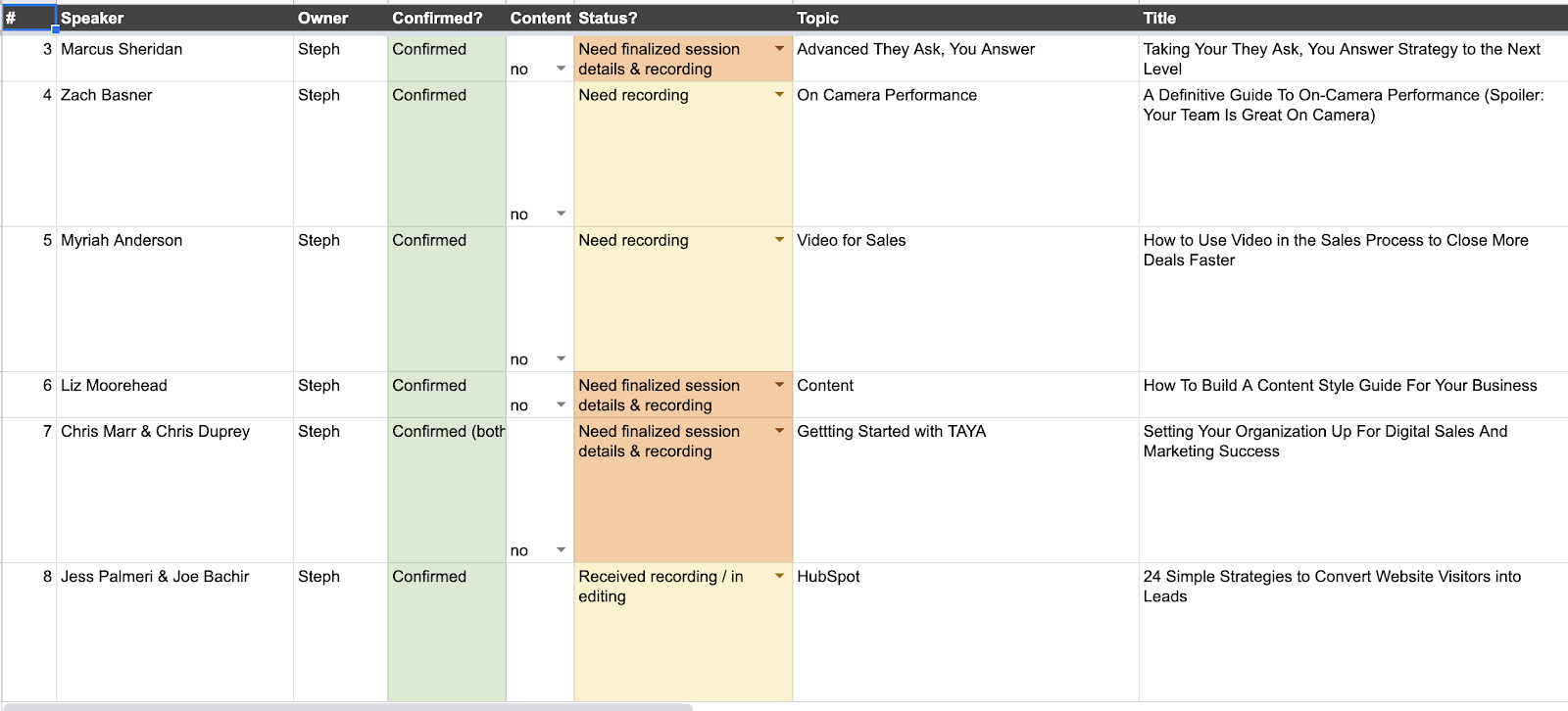 This is one of our spreadsheets we used to track speakers and content
If you can, it helps to pre-write some check in language that you can easily copy and paste when you need to check in with your speakers. Put a reminder on your calendar and paste the pre-written content in the calendar description! Then when the day to check in with everyone comes, just pop open the calendar invite and copy what you wrote.
Lights, camera,
action

audio

While you don't have to have a big stage or a film studio to make a virtual event visually appealing and engaging, you definitely need to consider a few things. From the backgrounds your speakers use to what they wear to their lighting situation, they'll need some guidance for sure. That's why it's vital to include these things in your speaker guidelines.

Want to be sure they don't use earbuds or are not sitting on a couch? You'll need to specifically say that. To save time and play it safe; assume nothing and explicitly set the expectations.

In this episode of Film School for Marketers, I shared my favorite video production tips for virtual events.

Now, as the bar continues to rise for virtual events, we're seeing events get even more creative. Leading the way as always is Tony Robbins with his 50-foot round, 20-foot tall screen displaying up to 2,000 participants in the event at a time.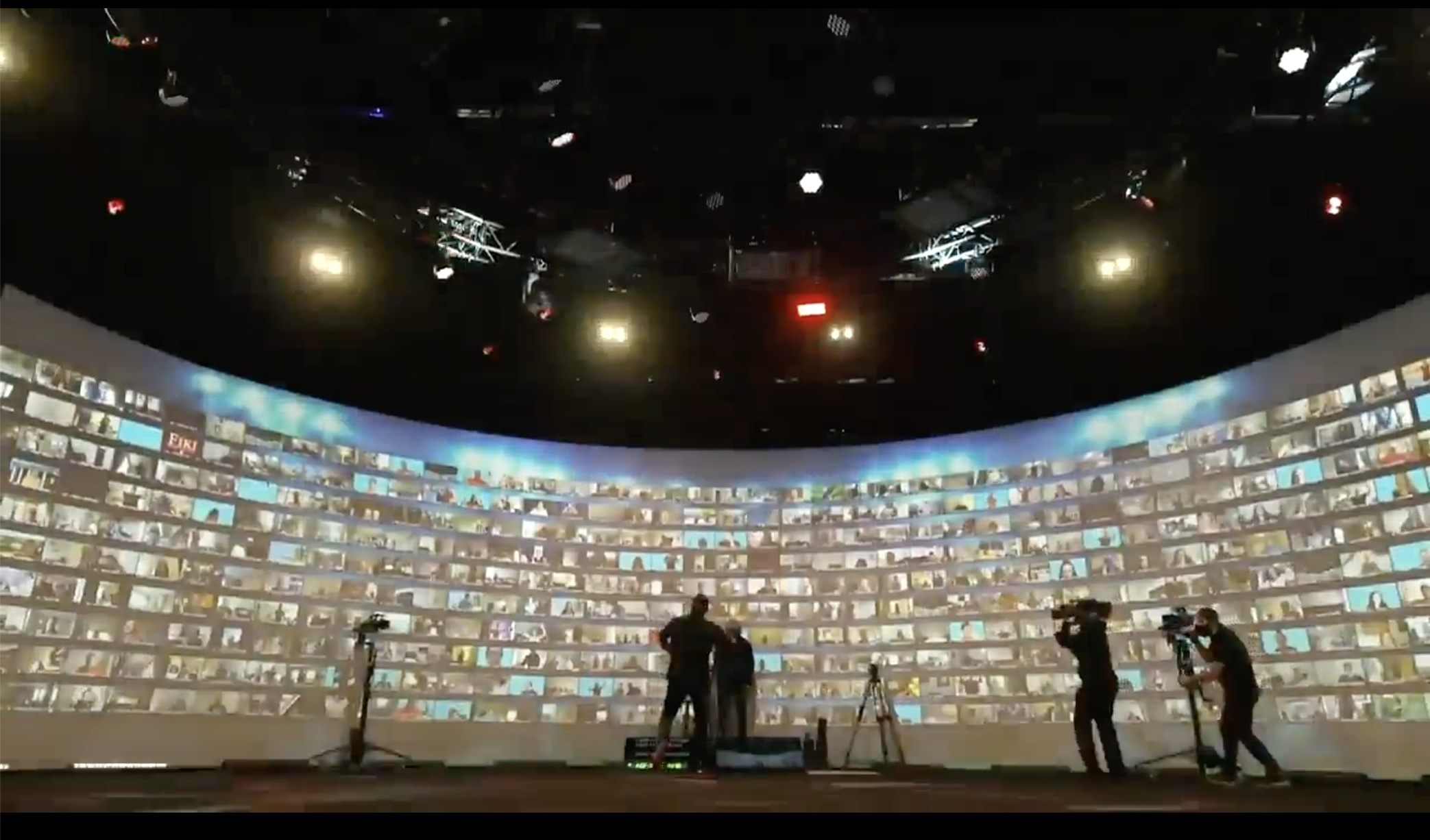 Tony Robbins Business Mastery stage (photo courtesy of David Meerman Scott)
Spoiler: We're stepping it up for our next virtual event. Below is the keynote stage we filmed on for HubSpot Training Day. We're going to go even further for our next event in December!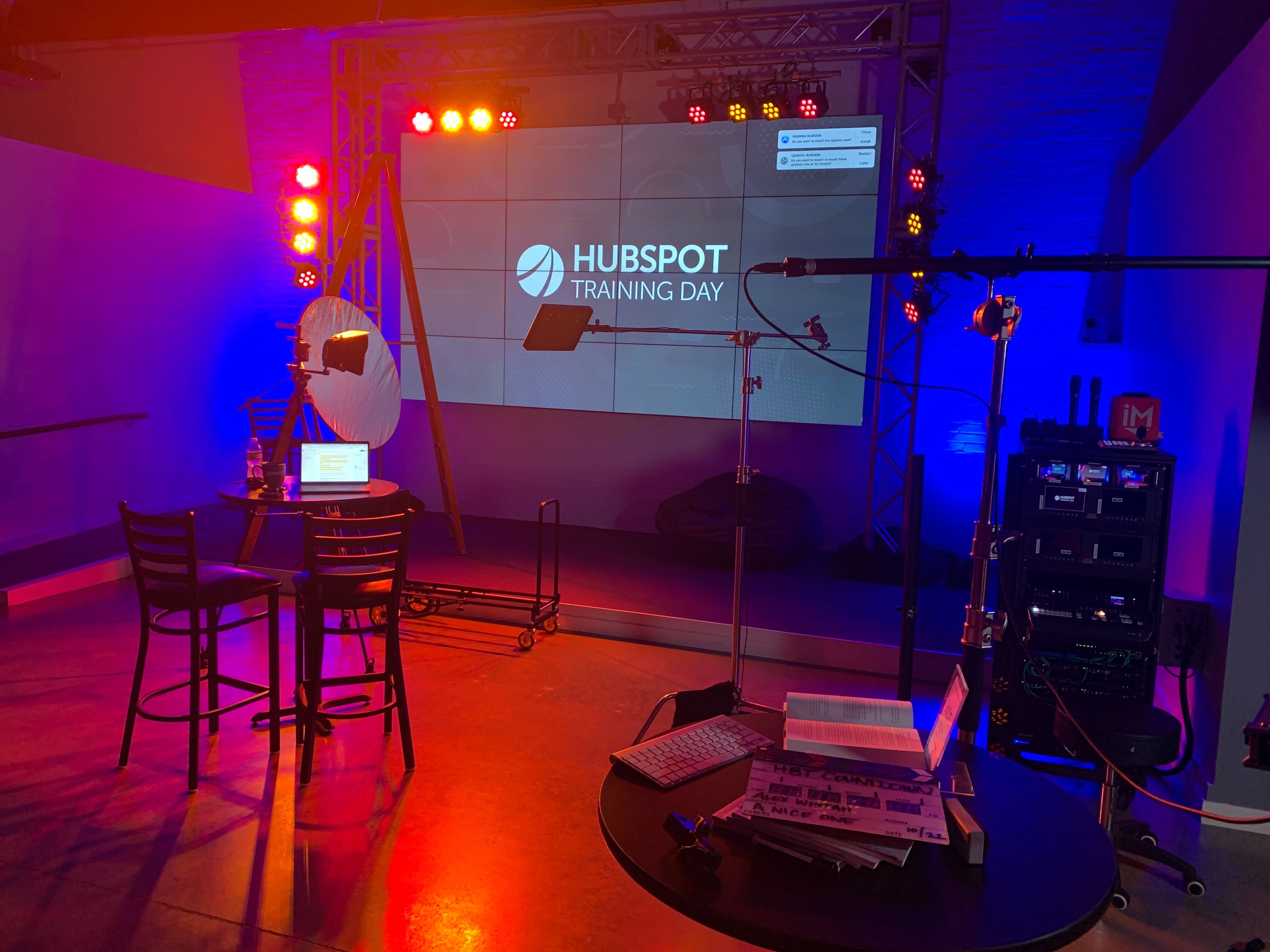 We had a lot of fun with our last stage setup, and it's only going to get better!
But beware, the fancier you get with your video the more limitations you may run into in your software. For instance, the last platform we used only allowed us to upload videos that were 4GB or less in size.

And even if you can't manage a stage, there's plenty you can do to step up your lighting game. IMPACT's Jessica Palmeri did whatever it took to get good lighting for her last session.
Promoting your virtual event
IMPACT's Director of Demand Generation, Kristen Pecka, wrote a great guide to marketing a virtual event. Since we're here to talk about how to run a virtual event, I won't dive too deeply into promotion. However, I will share a few examples of things Kristen and I have worked together on that I think are worth noting.
In addition to emails and flash sales, one thing our team loves to do is have a little fun with promo codes.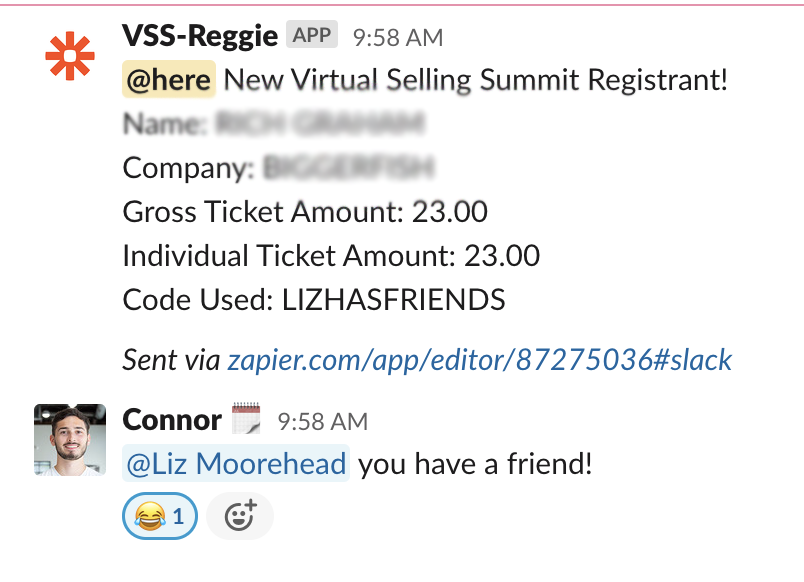 Liz always likes to get creative with her promo codes
We do try to limit the crazy promo codes so we can keep track and they make sense for registrants. Too many promo codes out there can get confusing. One way to avoid having too many codes is to use referral links for speakers and attendees.
Sometimes, as an attendee, when I sign up for an event I'm prompted to share my referral link for the chance to win prizes.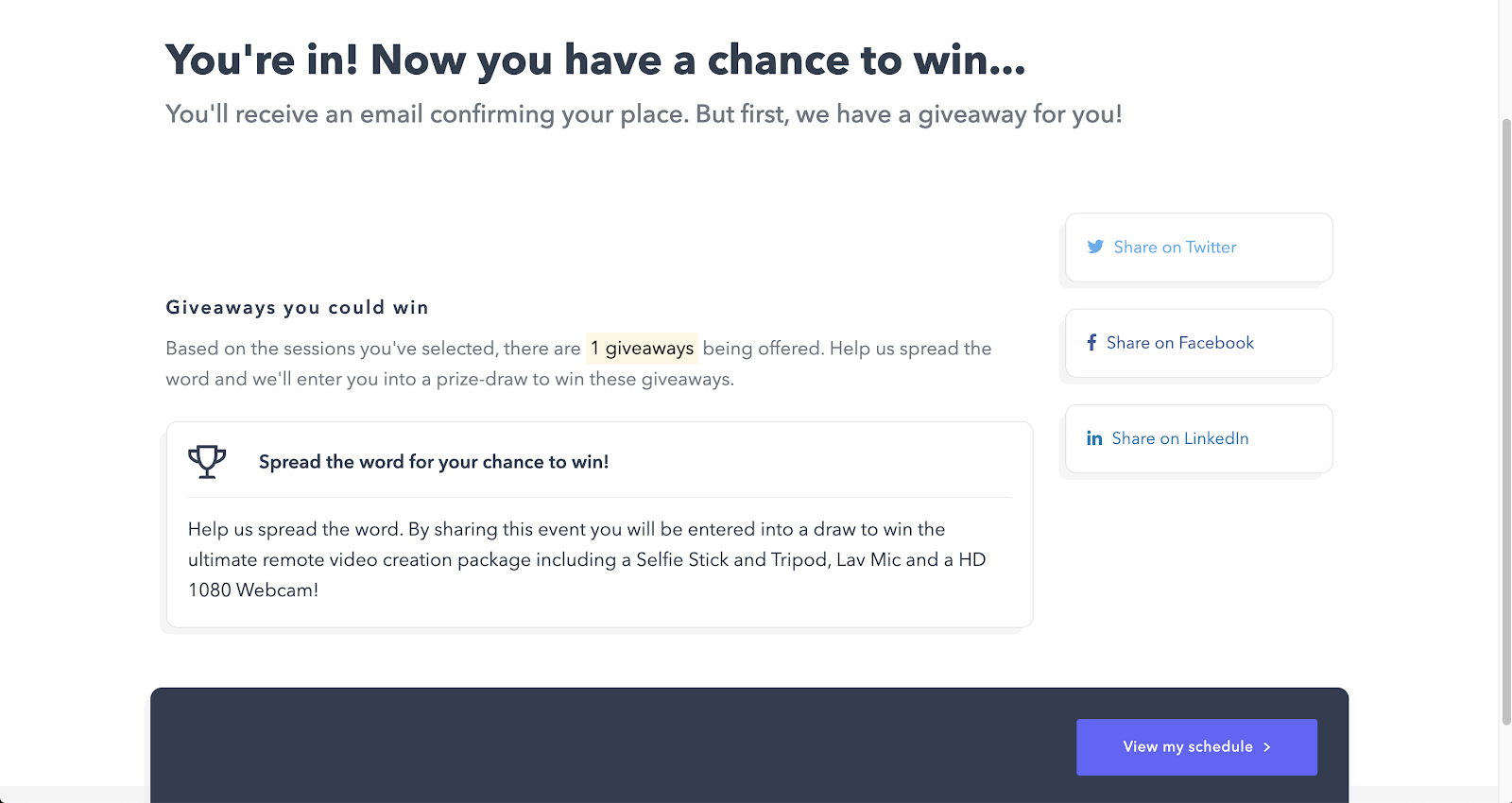 Event promotion contest from an event I attended recently.
Some platforms even give you the ability to manage speakers in a speaker dashboard and share all their information easily in one place.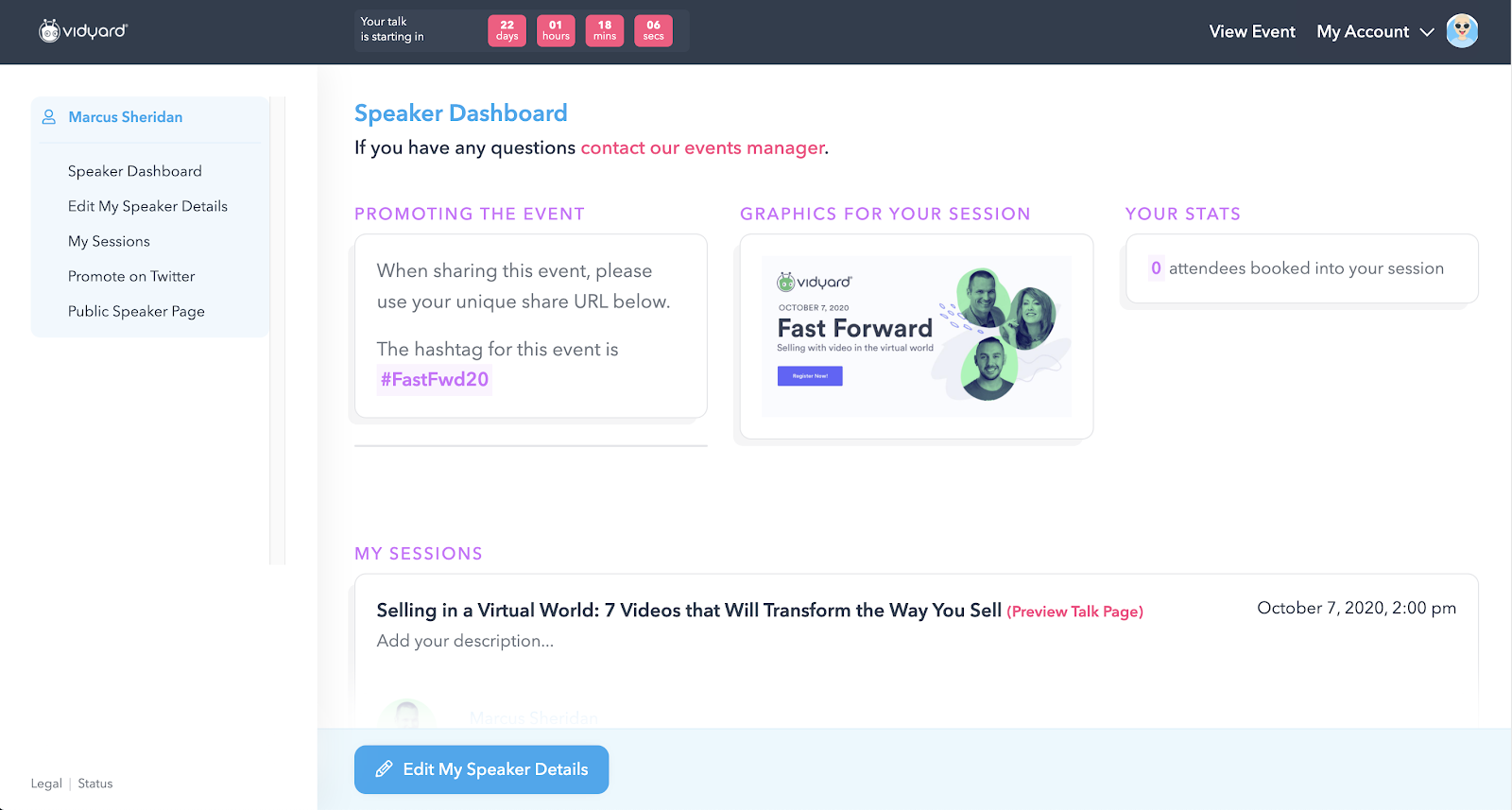 The speaker dashboard page from Vidyard's Fast Forward event.
Finally, we create graphics specifically for each of our speakers and ask them to share. The stats don't lie on this one - when speakers do share your event with their audiences, it typically draws some attention.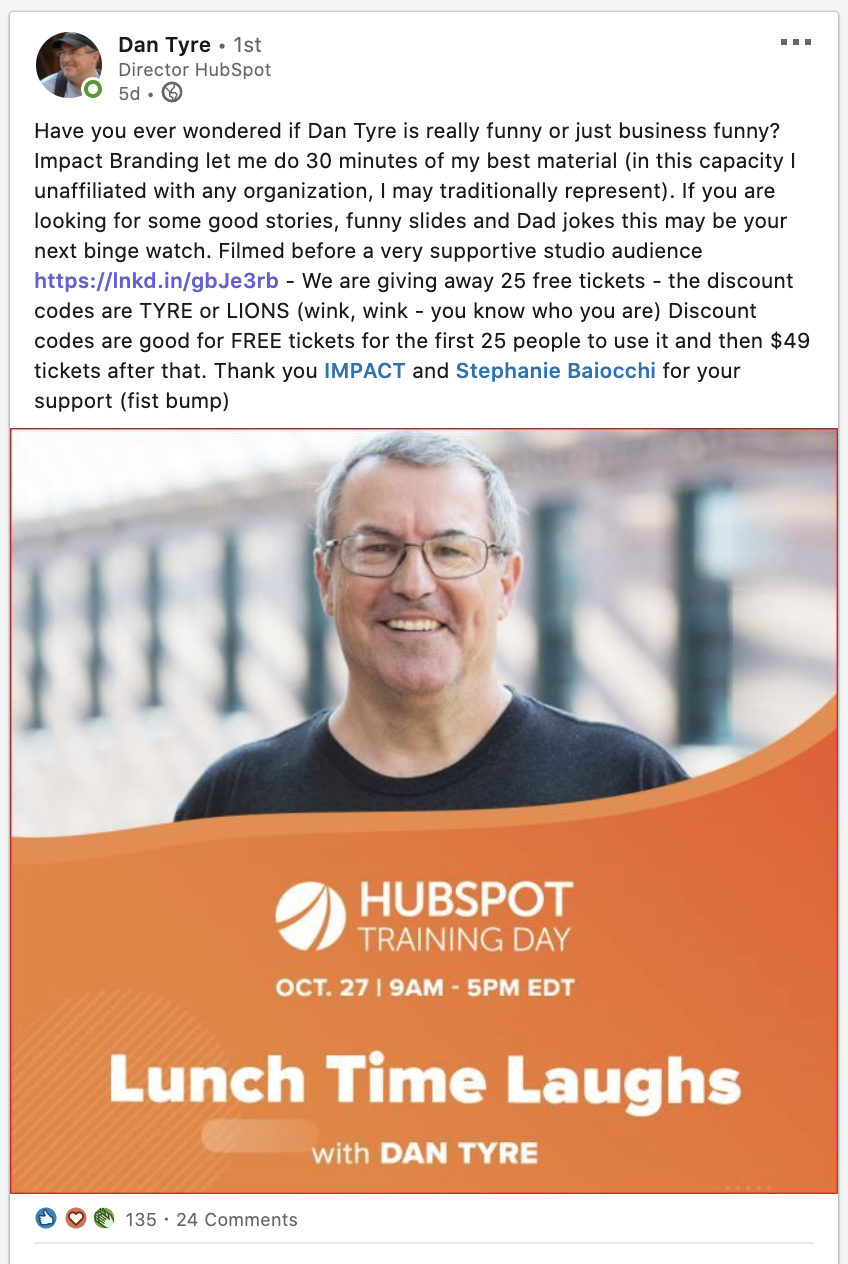 Dan Tyre shared HubSpot Training Day and his post on LinkedIn alone got 135 reactions, 24 comments, and over 30 registrations for our event.
Post-registration experience for your virtual event
One phase of virtual event planning that is often overlooked is the post-registration experience leading up to the event. Once someone registers for your event it may seem like it's time to stop emailing them. But that's actually not the case.
First of all, send a detailed confirmation email that contains a link for registrations to add your event to their calendar, as well as reminders when the event gets closer: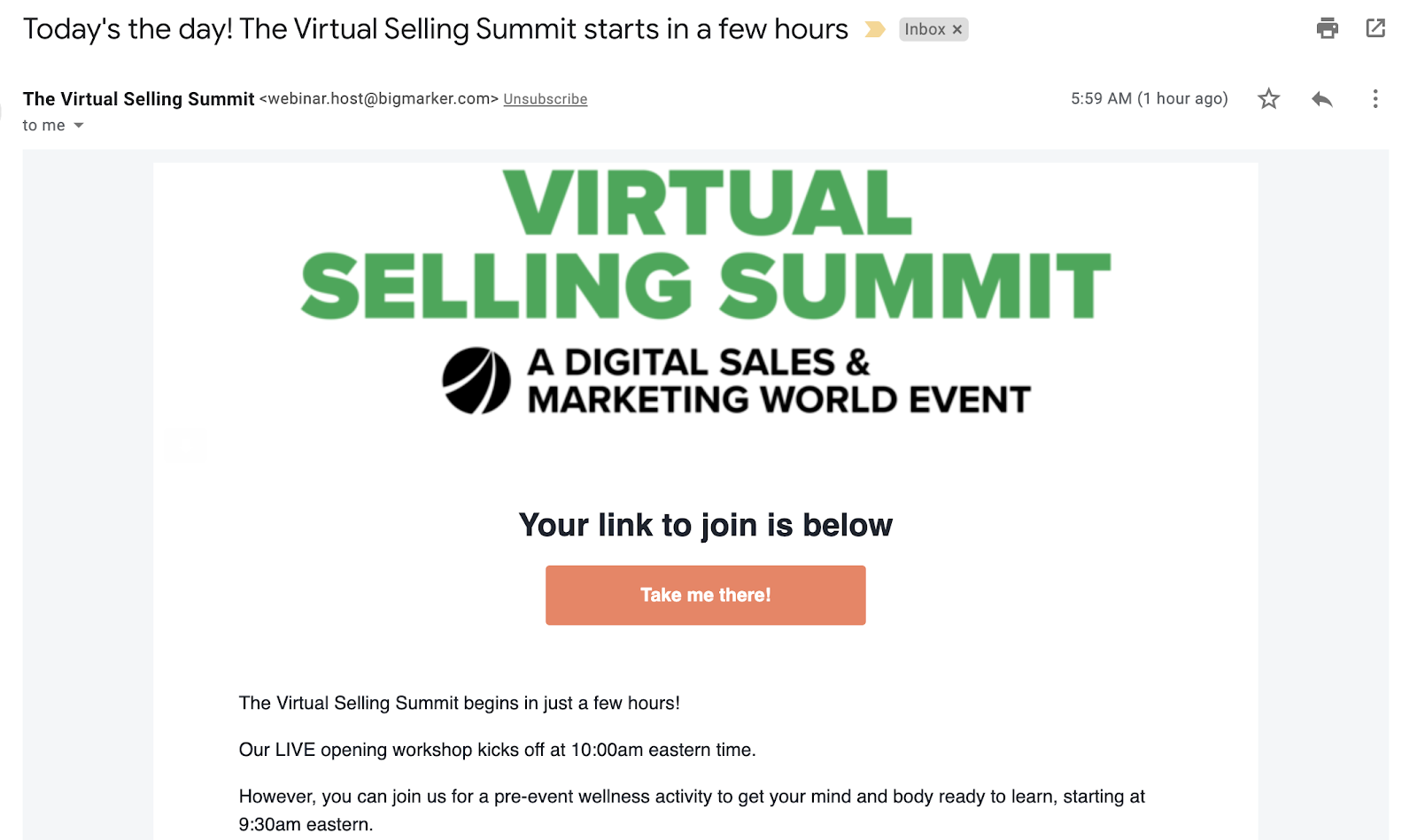 After that, follow up with recommended sessions, guidance on how to login and set up their profile, tips for getting the most out of the event.
Most virtual event platforms other than Zoom will likely be new to your users. You may want to record a video walking them through how to use the tool: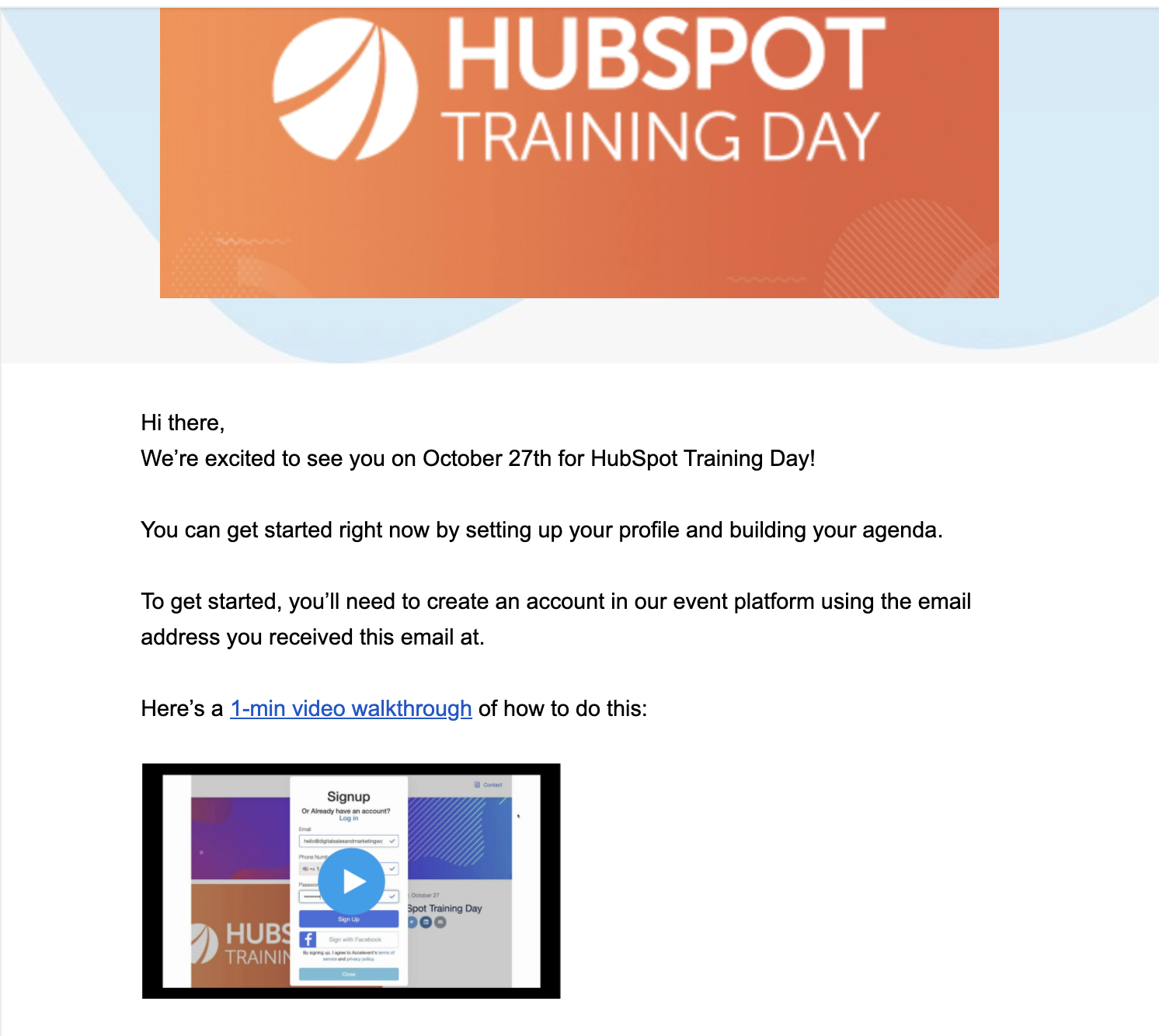 You can watch the video in the email pictured above.
Also, go out of your way to guarantee your registrants know exactly how to reach you if they have a question or run into any trouble in your platform.
Finally, encourage your attendees to immerse themselves in your event. You may want to send some pre-written out of office emails they can put up the day of the event and, if you really want to step it up, send a physical package with something they can use during the event such as comfy socks or a mug.
Just because you won't meet in person doesn't mean you can't still send swag!
The legal stuff for your virtual event
As with anything on the internet, there's some legal stuff you have to make sure to consider to protect your event and your company as well as the privacy of your attendees.
First, make sure you have all legally compliant opt-in settings enabled for your registration before you allow attendees to sign up for your event.
Of course, you'll need a standard privacy policy but for events, even virtual, you'll also want to outline a clear refund policy.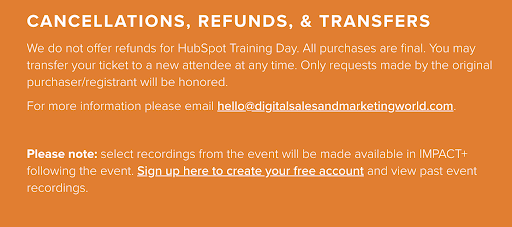 Finally, make sure any music you stream during your event (think videos, breaks, etc.) is properly licensed or royalty-free.
During the virtual event
The big day is almost here! As you make your final preparations be sure to confirm all roles are assigned to your team, contact information has been shared if needed, and all devices are charged up and ready to go.
Then, you need to:
Set your out of office reply email, so people won't expect to hear from you on event day.
Change your Slack status and notifications, so people know you're focused on your virtual event.
Whatever else you need to do or update, so you can stay 100%-focused on making your virtual event a smooth success.
I recommend putting a do not disturb (or do not ring doorbell!) sign on your door if you're going to be streaming live or even if you just want to focus.
Lay out your clothes ahead of time. Even if you won't be seeing any attendees, it's fun to wear something similar to what you would've worn to the event if it were in-person. Even if you'll just be on Zoom with your team, don that company swag.

Plan for ALL THREE meals of your day. I mean this. If you start your event day without breakfast it will be 2:00 p.m. before you know it and you'll be cranky and dragging. At that point, you're not helping anyone.
When the event is over you'll be so tired and have made so many decisions that even ordering a pizza can be tough. Instead, plan out your after-event meal ahead of time so you have something to look forward to!
Oh, and make sure you have water on hand throughout the day so you don't get dehydrated. (You can make the 30 seconds to run to the bathroom, I promise.)
On the day of your event, check in with your support team first thing and make sure they don't have any questions. I recommend designating one place for your team to ask questions internally. Whether it's a Slack channel or whatever you use to communicate, it helps from having multiple people ask the same question in different spots.
Throughout the day, stay calm and manage issues as they come up. At this point, you've done absolutely everything you can to set yourself up for success and all you can do now is handle issues as they arise as best you can.
Finally, don't forget to enjoy your day! You worked hard to get here.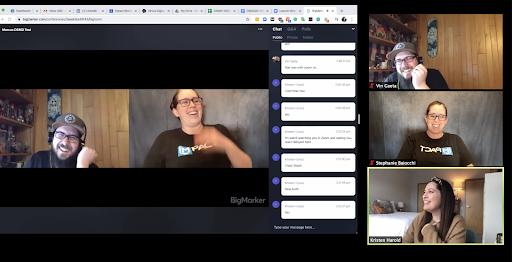 My team and I clearly enjoying testing our event software.
Oh, there is one more thing I recommend doing for your event day is setting up a post-event Zoom or virtual happy hour. If you're an event planner you're probably at least a little bit extroverted. I can tell you with absolute certainty that if you don't plan something for when your event ends, the stream ends and you're suddenly just alone.
The silence is deafening and you'll probably break down and just cry. We're used to hugs at the door, rides to the airport, a gradual wind down. In the virtual space it ends and you're just suddenly back home alone. Plan a happy hour with your team or even a quick Zoom chat with a friend!
After your virtual event
When the event is over you'll want to send your attendee, speaker, and staff follow up content.
Pro tip: Create and schedule your follow up (recap, recordings, surveys, etc.) ahead of time. You'll be exhausted at the end and won't be able to think as clearly. You're more likely to make a mistake if you wait until after the event to do these things.

Write it ahead of time and fill in any links or recordings as you get them throughout the day.
In addition to your attendees, don't forget to send sponsors any promised lead lists and thank them for sponsoring. Don't forget your speakers, either! There are lots of great ways to thank your speakers:
Speaker thank you ideas:
Handwritten note
Thoughtful email
Digital gift card
Physical gift card (Knack, Alyce, etc.)
Charitable donation in their name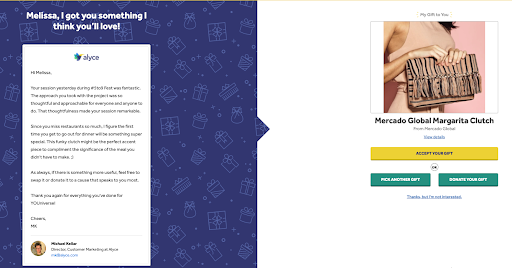 I love this example from Alyce which lets you send a gift which the recipient can keep, swap for something else before shipping, or even opt for a donation instead.
Finally, block off at least one or two days on your calendar, so you can be completely meeting-free. Set that expectation early with folks, and they'll understand.
This time can be used to retro your event, follow up on questions from the event, catch up on emails you missed, and more. But your brain will be drained and your eyes will need a screen break. Give yourself the gift of no meetings the day after your event.
Now you know how to run a virtual event
If there's one thing I can leave you with it's that you must be relentless about getting what you need on time. Whether it's answers, speaker confirmation, content, or support from your platform... call, text, do whatever it takes.
Because one way or another your event is happening on the day you picked and you're responsible for what happens.
The good news is, you're not alone. There are great communities of event planners and managers on Slack, Facebook, and more.
I also highly recommend attending as many other virtual events as you can until you feel familiar with the space and some of the tools and trends out there.
You can also watch the recording of my talk on how we did our first virtual event here in IMPACT+ for free. Just sign up or log in and click on recordings. Want to hear me talk more about virtual events? Check out my From Tradeshow to Tradewhoa talk from Alyce's event:
Now, if you'll excuse me, I have another virtual event to plan...
Free Assessment:
How does your sales & marketing measure up?
Take this free, 5-minute assessment and learn what you can start doing today to boost traffic, leads, and sales.