A comparison of HubSpot onboarding with HubSpot vs. IMPACT (+ video)
Getting to know HubSpot can feel like entering an overwhelming and unfamiliar world. So, you need a partner who can show you the ropes. But which partner — HubSpot or IMPACT — is the right choice for you?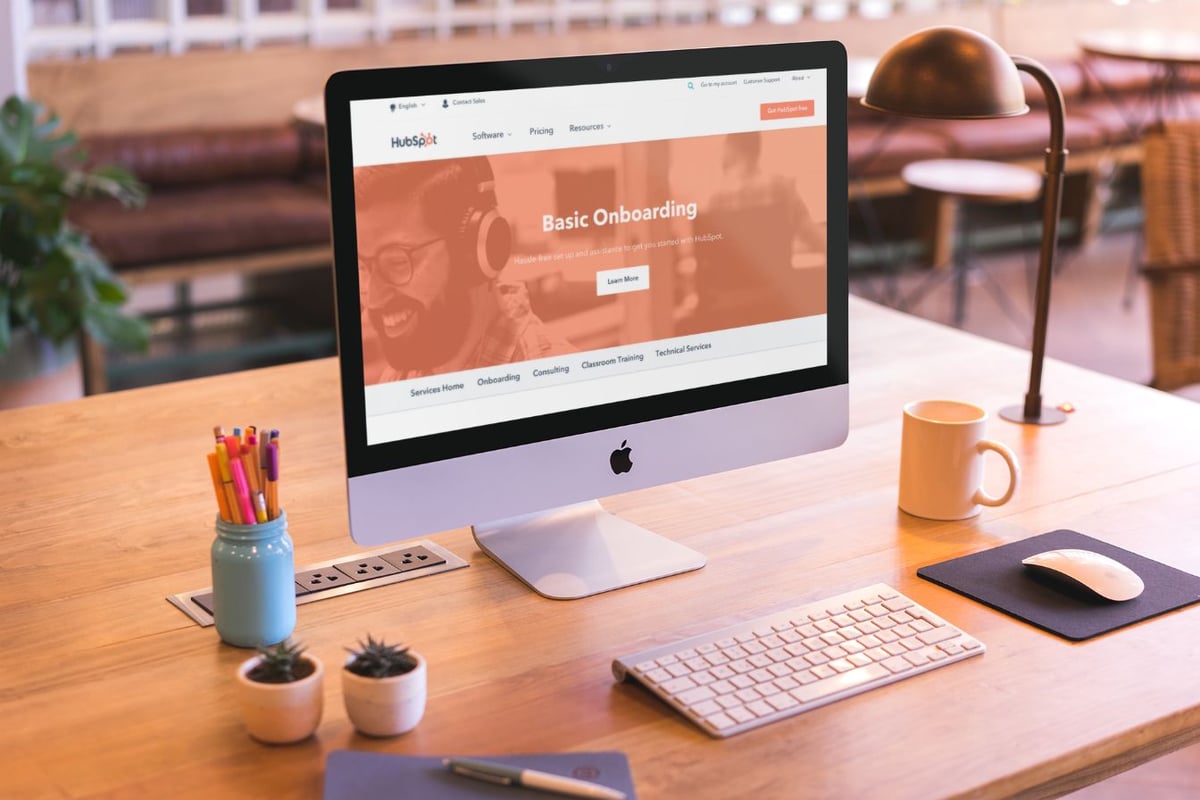 IMPACT vs HubSpot for HubSpot onboarding
Watch: HubSpot vs. IMPACT for HubSpot onboarding
You're excited because you've made the decision to supercharge your digital sales and marketing strategy by investing in HubSpot for your company. (Smart move, we love HubSpot.) But when it comes to onboarding, should you use HubSpot or IMPACT? Great question! Let's go learn the answer together.
Congratulations! Your decision to invest in HubSpot is sure to prove a valuable choice for your business, especially if you start off on the right foot.
When learning any new software, especially one as robust as HubSpot, it's easy to feel overwhelmed.
Unfortunately, this means that many companies who invest in HubSpot don't ever take full advantage of the platform. All too often, they learn the basics and then never venture much farther. But if you're not fully utilizing HubSpot, you're not really getting your money's worth.
So, how can you and your team best get trained in the software? Should you use HubSpot's onboarding, or work with a partner agency like IMPACT? What are the associated pros, cons, and costs?
If you're ready to get going with HubSpot and are looking to get the most out of the platform as possible, you're in the right spot. We'll cover what you need to know.
🔎Related reading: Your ultimate HubSpot pricing guide for 2021
You need something; here's why
HubSpot is an extremely powerful platform of tools that can make life easier for marketers and sales professionals. However, there are so many facets of HubSpot that many users barely scratch the surface.
You will need an expert to take you in and show you around, just as you need a guide whenever exploring something new. Could you reach the same level of learning on your own? Probably, but it's going to take a lot longer and include a good deal of costly trial and error.
🔎 Related: Getting started with HubSpot Marketing Hub guide for beginners
HubSpot's own statistics show that most customers are not going to adopt the tool as fully or as fast without expert support. That's why, if you are a paying customer, HubSpot requires that you complete an onboarding program, either with HubSpot directly or with a partner agency.
The fact is, there are countless functions, capabilities, and integrations that will benefit your work that you are unlikely to find on your own. Onboarding helps you get the most out of the tool.
To onboard, you have two options: do it with HubSpot or do it with someone else. IMPACT, as an Elite tier HubSpot partner agency, offers our own onboarding services.
Here's what you can expect from each.
🔎Related reading: The ultimate HubSpot Marketing migration checklist
What HubSpot's onboarding looks like
Onboarding with HubSpot means working with an "onboarding specialist" who will help you get set up and get going. This means a limited program of pre-scheduled phone conversations, email support, and "any other activities related to the setup and/or implementation of your subscription," according to HubSpot's website.
HubSpot's offerings change slightly depending on your pricing level, but there is some form of onboarding for everyone, except for free users.
Details and cost
HubSpot onboarding costs vary based on your pricing tier, with higher tiers offering some expanded services.
Starter: $250
Professional: $3,000
Enterprise: $6,000
Custom: $8,000
More information can be found on HubSpot's onboarding pricing page.
HubSpot uses an "objective-based onboarding" model that begins with a planning session to identify two or three broad onboarding objectives you want to complete. These could be things like "attract audience attention" or "optimize conversion rates."
Your onboarding specialist then acts as a sort of project manager to oversee their completion.
You can expect one 45 minute Zoom conversation check-in every every seven to 10 days. There is minimal hands-on technical support.
Once you have completed your objectives, your onboarding is complete — whether that takes you 60 days or the full allotted 90 days.
The pros: Doing your onboarding with HubSpot means you'll be working directly with HubSpot employees who know their product very well. These specialists are invested in your success and will help you grow into the platform.
The cons: HubSpot employees will always think within the system, suggesting other HubSpot products to solve for any problem you have. Onboarding specialists are incentivized to suggest products and upgrades that keep the client within the system.
HubSpot onboarding specialists may work with more than 70 clients at one time, so personal attention is minimal. In some cases, HubSpot outsources their onboarding to partner agencies if they can't handle all of their clients.
If you elect additional HubSpot training after your onboarding is complete, you will not work with the same HubSpot employee.
What IMPACT's HubSpot training looks like
First, here's a quick overview of our HubSpot services:
Watch: What do IMPACT's HubSpot services include?
As a HubSpot partner agency, IMPACT offers onboarding services with our certified HubSpot trainers. IMPACT team members work with clients to onboard them to the platform — and that coaching can continue for as long or as short as the customer desires.
As IMPACT typically works with our clients over longer periods of time, we identify key objectives every quarter, and help you work towards those key objectives through each weekly or bi-weekly consulting session we host with your team.
The relationship is highly dynamic, defined by what you want to accomplish, and continues as long as you feel it's valuable for you. IMPACT is there to meet your needs, but there's also accountability. We make sure you're learning the tools and producing the necessary content to meet your team's goals.
You have access to us every day, all week, and in between the consulting and training calls we host for you. We guide your team's work and we evaluate your set up at each stage to make sure that you're setting things up properly so you can be self-sufficient.
We train you to build your internal expertise so you are not reliant on us long term.
Details and cost
IMPACT offers two packages to our clients:
Standard HubSpot onboarding offers four 30-minute training calls per month (or two 60-minute training calls) — as well as access to your HubSpot trainer via Basecamp or email between meetings. The cost is $2500 per month.
Advanced HubSpot onboarding offers eight 30-minute training calls per month (or four 60-minute training calls) — as well as access to your HubSpot trainer via Basecamp or email between meetings. The cost is $5000 per month.
(Note: Although IMPACT does offer these stand-alone HubSpot onboarding programs, we have found that our clients see the greatest success when they bundle HubSpot onboarding with our other strategic consulting services in our Digital Sales & Marketing Mastery program, which offers more comprehensive coaching and training.)
The pros: IMPACT's HubSpot coaching is customized to your needs. Your HubSpot coach will get to know your business and its goals. Coaching will be suited to the problems or issues unique to your situation.
Coaching can continue beyond your initial onboarding — and you will continue to work with the same coach.
The cons: IMPACT is less of a household name than HubSpot, a publicly-traded multinational company with over $600 million in annual revenue.
IMPACT's training can be more expensive than HubSpot's onboarding, depending on your package.
Although we suit our training to our clients' needs, we typically ask for a six-month commitment.
Utilizing all available resources:
Whatever option is best for your company, you should certainly avail yourself of resources out there to help you learn about HubSpot.
The worst case scenario: An agency who won't teach you
When getting started with HubSpot, you need a partner invested in your growth, not a expert who excludes you.
Imagine this:
When Jess Palmieri was a young marketer, her company made the switch to HubSpot — and hired an agency to assure successful implementation. At first, things went well. Jess says, "we were using marketing automation features and website landing pages, email marketing, and social media tools within, I would say, four to six weeks."
However, the agency was the one to set up everything. There was never an emphasis on teaching company employees to learn the tools themselves. As such, the company remained dependent on the agency for anything beyond the basics. The agency was the gatekeeper.
"It's sort of like hiring a driver versus learning how to drive a car yourself," Jess explains.
"We hired an agency whose approach to HubSpot onboarding was to drive our marketing machine for us. They were the experts. Everything was set up. We just handed them the keys and said 'go for it.' And there was very little forethought on the part of my company's leadership team thinking, if this relationship doesn't continue, who's going to know how to drive?"
Jess took it upon herself to learn the platform, utilizing HubSpot Academy and webinars to take in as much as she could.
However, "It always felt like I was backseat driving. The agency had their own methodology, their own way of doing things. And I had a little sliver of understanding of why they were setting up workflows this way, or why they were setting up lists that way."
Eventually, when Jess' company parted ways with the agency, they were left with a robust software platform that sat at the center of their sales and marketing efforts — yet almost no one at the company knew how to use it.
Today. Jess is a HubSpot trainer at IMPACT, helping companies avoid a similar fate.
IMPACT's vision for your company
When you're learning the ropes of a new software, you're at an information disadvantage. It can be hard to put your hand up and ask a question. You might feel self-conscious and vulnerable.
Jess remembers that feeling, and uses it to inform her work as a HubSpot trainer. She works with businesses every day to make sure their experience is better than hers was. Rather than hiding her expertise from her clients, she shares it freely, working to train them to move from dependency to self-sufficiency to mastery.
Jess wants her clients to feel like true partners in the relationship. "I want to make sure they're going to get to the point where they feel so comfortable in their HubSpot knowledge that they no longer need me."
IMPACT's vision for your company is self-sufficiency.
Getting to know HubSpot can feel like entering an overwhelming and unfamiliar world. We want to be your guide, helping you discover what aspects of the platform are best suited to your needs. We will hold you accountable, but will go at your pace, training you so that you become HubSpot masters yourself — self-sufficient and confident in all relevant aspects of the platform.
That, in our opinion, is true onboarding.
Free Assessment:
How does your inbound marketing measure up?
Take this free, 5-minute assessment and learn what you can start doing today to boost traffic, leads, and sales.
Get Started
Free Assessment:
How does your inbound marketing measure up?
Take this free, 5-minute assessment and learn what you can start doing today to boost traffic, leads, and sales.
Published on December 31, 2020