Who is IMPACT's ideal client?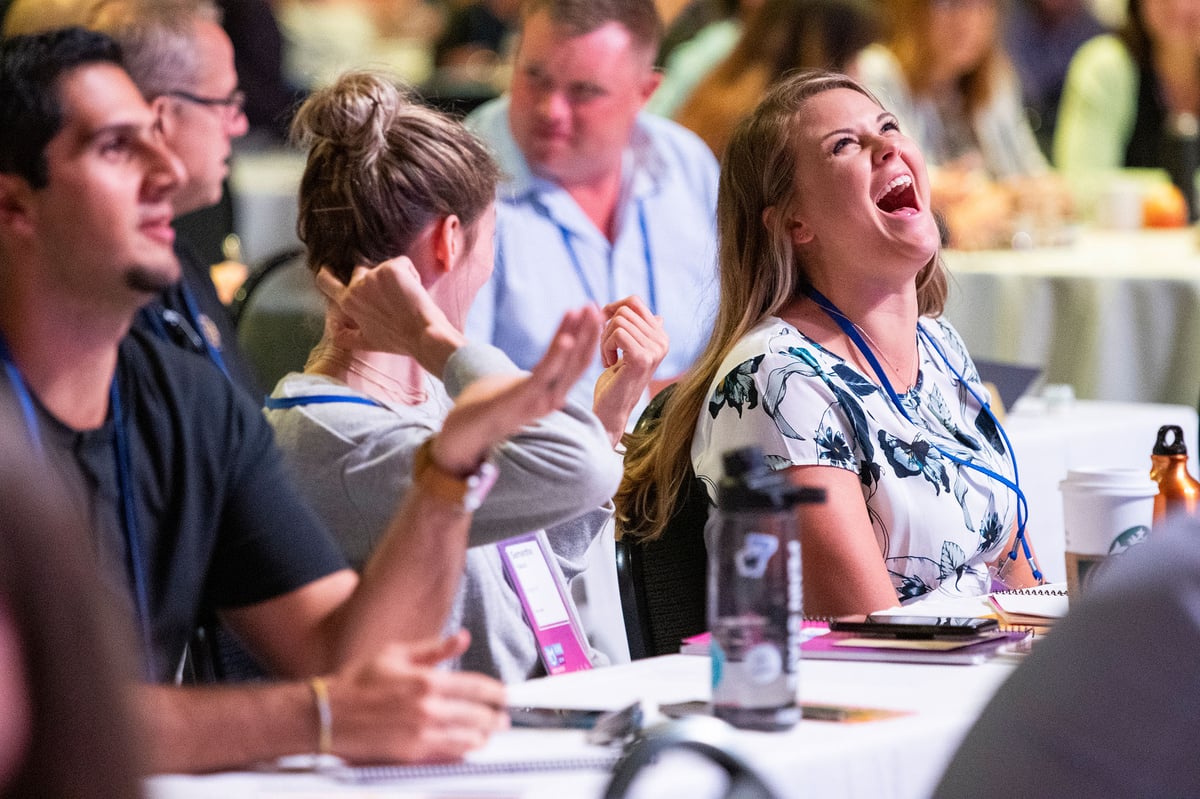 Can you describe your company's ideal buyer?
Your organization might have this information organized into buyer personas — listing out specific demographics and psychographics of the perfect customer for your business.
Many companies even have multiple personas for segmented audiences, and like to give their personas clever names like "Millennial Marty" and "Nerdy Nelly" (with apologies to the Martys and Nellys of the world).
Understanding your ideal customer is not only important for the marketing team to create effective and targeted messaging, but it also helps identify who will be a good fit for your products or services.
If you don't have buyer personas for "Student Sarah" and "Social Media Savvy Samuel," don't stress. In fact, here at IMPACT, we'd suggest you spend your time instead on determining your good fit prospects, so your team can tap into their concerns, issues, worries, and questions.
Defining your good fit buyers will also empower your team to feel confident in identifying who is a bad fit for your business — a tactic that will ultimately save you and your company time and money.
When you understand which prospects are a bad fit, you can qualify those leads quickly and move on, dedicating your time and effort to the buyers who are better aligned with your values, and saving your sales team from spinning their wheel on people who would be happy elsewhere.
The moment you start thinking in long-term relationships rather than short term transactions, you create an opportunity to build a coalition of customers who will rave about your services and become brand ambassadors.
At IMPACT, we believe in transparency and sharing the qualities that we consider to be a good fit with our company.
When we think about our clients and the prospective companies who will see the most success in working with our agency, we consistently see companies with the following seven qualities:
They are looking to grow and improve their companies by teaching
They are values-based and vision-oriented
They are disciplined and financially sound
They are active learners
They invest in training and building great teams
Their sales teams depend on leads
They are open to growing their marketing team
They are looking to grow and improve their companies by teaching
These business leaders want to grow by embracing honesty, transparency, and obsessing over their buyer's concerns and questions. They want to create marketing and sales content that is unbiased, conscientious, and truly helps educate their customers. They want to help buyers make informed decisions — and be the trusted leader who will provide that information.
Growing and improving their companies means putting aside the typical marketing fluff that brags and boasts about how great their company is. Leaders at these companies are open to thinking more like a teacher, and less like a business owner.
These leaders see the value in having every piece of content published on their website, social media, and e-newsletters as a teaching opportunity. Instead of asking "how will this blog get my ideal customer to buy from me," they ask "how will this blog educate my ideal customer to make a smart buying decision."
They're less interested in becoming the leading expert, and more concerned with doing the right thing by their prospects and customers. Whether these leaders are in marketing, sales, or at the C-Suite level — they all want to build a stronger emotional connection with their buyers — and they all believe that buyers purchase products and services from companies that they trust.
They are values-based and vision-oriented
These are companies that not only see the long-term benefits of building trust with their buyers, but they also believe in supporting, empowering, and creating organizations that their employees are proud to work for.
At IMPACT, we pride ourselves on being a values-based organization built on trust, helpfulness, and dependability. We look for these similar traits in our ideal clients because we want to build long-term relationships.
We look for companies who, like IMPACT, have implemented organizational growth programs like EOS (Entrepreneurial Operating System) or Scaling Up. Leaders who believe growing and improving their company starts with growing their employees are generally a strong fit with us.
These companies are run by leaders who put people over profit and understand the importance of breaking down internal silos. Marketing and sales teams work more efficiently when their goals and strategies are aligned — and the ideal IMPACT client knows this is a priority for success.
They are disciplined and financially sound
We're not talking about companies that must be trading on the New York Stock Exchange — but they should be in a strong financial position to engage with an outside agency.
These organizational leaders believe in spending resources on consultants that will help guide, train, and coach their teams to build stronger and more efficient sales and marketing strategies.
They are active learners
Business leaders with an open mind for learning and growing make for the most successful partners with IMPACT.
They have probably heard the quote "If you're not improving, you're falling behind" and thought, "Yes, that's our company, and where can I buy the T-shirt?" OK, so they don't necessarily have to own the t-shirt (they probably do), but these organizational leaders are constantly interested in learning new things and getting better.
They read … a lot. And they want their employees to do the same.
More importantly, they want their employees to grow and build their personal and professional development opportunities. Leaders not only participate in executive groups, but they provide their employees with the opportunity to grow their networks by joining peer groups and learning about industry best practices.
They attend conferences and events throughout the year, both virtually and in-person. And when they show up at these events, they not only seek out the networking dinners and complimentary happy hours — more importantly, they attend the learning sessions, ask questions, and plan to take actionable steps based on the things they've heard and learned at each event.
They invest in training and building great teams
Not only are the leaders of these organizations students themselves, but they are committed to providing continued education for their teams in order to build stronger and more aligned employees.
They have hired agencies and consultants in the past, but are looking for something a little different. Maybe it's a partner who can help them grow their internal staff, and give the sales and marketing teams the tools they need in order to execute their jobs more effectively.
They believe insourcing is just as important as outsourcing. Having an internal team that is educated, consistently trained, and empowered to try new things — they believe in putting the right people in the right seats and always learning, growing, and hiring.
Their sales teams depend on leads
Whether these are companies hoping to win future customers for their products or services, organizations looking to build their membership base, or businesses planning to grow their partnerships, their sales and marketing teams depend on generating and closing leads.
Leaders at these organizations are not only interested in the number of leads, but more importantly, the quality of leads. They understand that bottom of the funnel (BOFU) prospects need just as much, if not more attention than top of the funnel (TOFU) leads.
They have heard about and possibly implemented some form of inbound and content marketing — the idea of creating educational content that is helpful to their leads, and ultimately becoming the trusted source of information in their market space.
These companies see the importance of educating their leads through content, and using these resources to build trust with prospects throughout the buying process.
Related content: Top 9 proven lead generation ideas you need to try in 2020
They are open to growing their marketing team
In order for content marketing to be effective and generate real results, someone on your staff must own the process. Business leaders who engage with IMPACT know that a marketing manager cannot do it all. These marketing leaders already wear multiple hats — overseeing annual marketing plans, coordinating with sales and leadership teams, writing copy, organizing and developing creative design, and possibly doing the creative work themselves.
Our good fit organizations believe that growing their business starts by growing and building smart teams. The most successful companies that engage with IMPACT understand that hiring a content manager and a videographer to oversee these inbound marketing efforts is the first step in becoming the trusted leader in their space.
When people on staff own both processes of content and video development, editing, and publishing — and their sole responsibilities are focused on the success of these initiatives — growth happens at a much more efficient and steady pace.
We want your company to become a case study
Our ultimate goal is to help your company grow — and to showcase that success as a case study on our website. We want to put a spotlight on your achievements, from organic website traffic growth to assignment selling successes and sales teams shortening their sales cycles.
Companies who exhibit the seven qualities listed above and are committed to growing their teams, not just their revenue, will be primed for success.
Maybe you have read through these seven qualities and thought, "We have a few of these, but not all seven. Are we still a good fit?" The simple answer is actually a question: are you willing to learn, grow, and make the commitment to improving your business? If the answer is yes and your mindset is open to new ideas with proven results, then let's get started.
Free Assessment:
How does your inbound marketing measure up?
Take this free, 5-minute assessment and learn what you can start doing today to boost traffic, leads, and sales.
Get Started
Free Assessment:
How does your inbound marketing measure up?
Take this free, 5-minute assessment and learn what you can start doing today to boost traffic, leads, and sales.
Published on June 18, 2020