#IMLive19 Day 1 Recap: Transformation & Announcing Digital Sales & Marketing World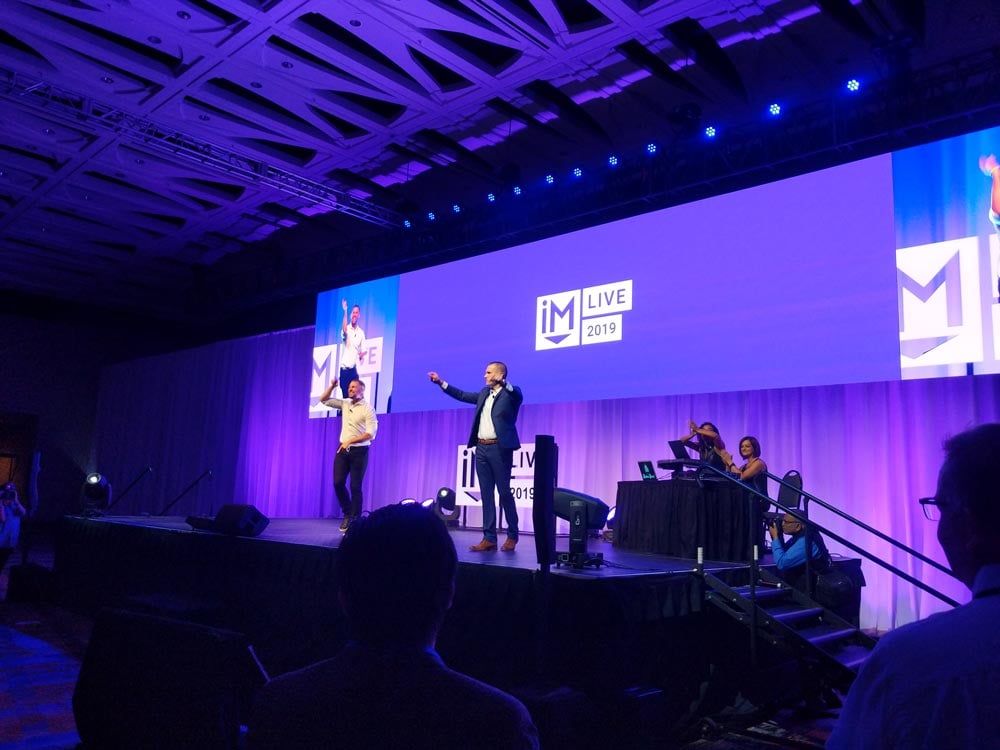 The time to transform your business is right now.
That is the message attendees of IMPACT Live 2019 were met with as the event kicked off yesterday with a cinematic look at a few of the world-class organizations that have been transformed by content marketing and, more specifically, the They Ask, You Answer methodology.
The two-day event (our third year running IMPACT Live) began with our signature They Ask, You Answer workshop hosted by the one and only Marcus Sheridan.
"Consumer ignorance is no longer a viable strategy" @TheSalesLion #IMLive19 🤯🤯 pic.twitter.com/CaibuLdxHj

— Emma Sepke (@Emma_Sepke) August 6, 2019
His workshop took attendees through a custom workbook, which outlined the seven principles of becoming the most trusted voice in your space and encouraged listeners to take a deep dive into their businesses and the questions their customers ask.
#IMLive19 kicking off with all kinds of energy with @BobRuffolo & @TheSalesLion on an epic stage!! pic.twitter.com/FsBiKgjiZp

— Brian Fanzo 😎 iSocialFanz (@iSocialFanz) August 6, 2019
The workshop also featured specialists from IMPACT sharing some insights into some of the principles.
Melanie Collins talked about assignment selling, Carina Duffy shared qualities of Dope HubSpotters, and Zach Basner covered The Selling 7 and video marketing.
We then heard some inspiring success stories from IMPACT clients who have experienced the effects of these tools first hand — Yale Appliance, AIS, and RetroFoam of Michigan, and Education Elements.
The afternoon then introduced us to some of our event sponsors, including Moneypath, Workable, and Real Thread before continuing with the day's spotlight speakers.
Speaker Highlights
Ryan Deiss: The 5 Authority Triggers
"The world is a noisy place, and it's getting noisier by the day. That's why it's critical that your brand truly matters in the marketplace. In this session, the Co-Founder and CEO of DigitalMarketer, Ryan Deiss, showed attendees the secrets to reverse-engineering authority and the five steps to building a "mini-brand" in virtually any market."
All too true! @ryandeiss #IMlive19 pic.twitter.com/STmtqX4zOE

— Lisa Cole Miller (@lisacolemiller) August 6, 2019
One of biggest mistakes we made at @DigitalMktr when we stopped focusing on the little things and making everything complicated when our customers just wanted an answer! @ryandeiss #IMlive19 pic.twitter.com/bZmkNqtazg

— Brian Fanzo 😎 iSocialFanz (@iSocialFanz) August 6, 2019
Here we go! One of my fave speakers, marketers & a longtime friend @ryandeiss speaking at #IMLive19 🎤 "Everyone is overwhelmed with options!" Yep.

P.S. @Impactbnd, seriously gorgeous stage & LED screen! pic.twitter.com/gXYaJ3LS3D

— Mari Smith 👑 Facebook Queen (@MariSmith) August 6, 2019

Tiffany Sauder: More Money, More Problems: How to Scale Trust When You Win the Business Lottery
Having grown and pivoted the success HubSpot Partner Agency, Element Three, Tiffany Sauder how to scale your brand and company and determine "what's next."
Want to grow and take your business to the next level? "Find the person that knows 80% of what you do and then celebrate them and get out of their way" - @tiffanysauder dropping truth bombs at #IMLive19 pic.twitter.com/wD9qSDowdT

— Kathleen Booth (@WorkMommyWork) August 6, 2019
Remember, "your real job is being obsessed with trust." @tiffanysauder #IMLive19 pic.twitter.com/ijB6sXkNlf

— Ramona Sukhraj (@ramonasukhraj) August 6, 2019
As success comes we must look beyond just marketing to prepare ourselves to let go of things along the way..... @tiffanysauder of @ElementThree #IMlive19 pic.twitter.com/NdTSgsB5qT

— Brian Fanzo 😎 iSocialFanz (@iSocialFanz) August 6, 2019

Stephanie Baiocchi: Empowering Your Community to Amplify Your Brand
It's not enough to simply have a community, you need to give it the tools it needs to empower and grown your brand for you. In this talk, I shared the three steps to doing just that: Identify, Empower, and Reward.
Brand Ambassadors vs Trust Ambassadors

Via @stephbaiocchi #IMlive19 pic.twitter.com/KnzGr4WbqU

— Brian Fanzo 😎 iSocialFanz (@iSocialFanz) August 6, 2019
How to empower your trust ambassadors:

1. Identify them
2. Empower them
3. Reward them @stephbaiocchi #IMLive19 pic.twitter.com/XphUwlovyq

— IMPACT (@Impactbnd) August 6, 2019
David Meerman Scott: Fanocracy: The Power of Making Business Personal
"Fandom isn't just for actors, athletes, musicians, and authors anymore. It can be rocket fuel for any business or nonprofit that chooses to focus on inspiring and nurturing true fans. The key is creating a 'Fanocracy' — an organization that puts the needs and wishes of fans ahead of every other priority. It can be scary, at first, to focus on intangibles like community, generosity, and fun, rather than squeezing every penny from each interaction. However, those who apply the strategies of Fanocracy are more likely to dominate their categories. And beyond the financial benefits, a focus on fans spreads more joy and inspiration to the world at large."
Super exciting to interview Nolan Collins from Grain Surfboards at @Impactbnd #imlive19 I built this wooden surfboard with them at their York, Maine factory! #fanocracy in action pic.twitter.com/oJ7nN8GNbR

— David Meerman Scott (@dmscott) August 6, 2019
The power of fanocracy on display as @dmscott shares his live music passion from the Dead to Miley to Bob Marley!

It's about our emotional connection to loving to do things with others who love what we also love! #IMlive19 pic.twitter.com/iFUeB8mVqV

— Brian Fanzo 😎 iSocialFanz (@iSocialFanz) August 6, 2019
"The closer you get to someone, the more powerful the shared emotions." @dmscott #IMLive19@Impactbnd
YES!! Love this!! (David told us of the time he saw @st_vincent's Annie Clark get into the crowd & play her guitar! 🎸🎶) pic.twitter.com/Tz6Io3srLJ

— Mari Smith 👑 Facebook Queen (@MariSmith) August 6, 2019
Introducing Digital Sales & Marketing World & The PACT
Amazing talks aside, we made two major announcements.
IMPACT Live is no more
The first was that, in 2020, IMPACT Live will become Digital Sales & Marketing World (DSMW), the first and only conference where marketers, sales, and leadership teams get aligned on digital strategy and ignite true business transformation.
And we couldn't be more excited!
Throughout the past three years of hosting IMPACT Live, we learned countless powerful lessons.
Specifically, we learned what we need to do to provide our audience with the best and most transformative experience possible.
That's exactly why IMPACT Live is being reborn and we're lining up some major enhancements to provide deeper, highly-specialized, and more advanced education that's role and industry-specific, just for you.
We're excited about the new era of DSMW — and we look forward to seeing you again right here in Hartford at the Connecticut Convention Center.
Plus, with the busy summer season in mind, we're moving the event up to April 5-7, 2019 so we'll be back together sooner than ever!
Don't forget to get the exclusive Launch Pricing before it ends on Friday.
Introducing ThePACT

But wait — there's more!
IMPACT Live attendees were also the first to be introduced to ThePACT.
ThePACT is an upcoming membership program created for members of the IMPACT audience who are life-long students — always hungry to learn the best ways to drive results — and thrive around like-minded, growth-focused individuals.
Marketing, sales, and business leaders will have access to session recordings from all of IMPACT's previous events (Brewing Marketing & Sales Success and IMPACT Live 2017, 2018, and soon 2019), role-specific peer groups, and exclusive courses.
The program will launch in a free beta on September 1st, but only 300 lucky companies can participate. Want to be one of them? You can request your beta membership now!
The second and final day of IMPACT Live kicked off early this morning.
Stay tuned to our Twitter and Instagram accounts for real-time updates!
Free Assessment:
How does your sales & marketing measure up?
Take this free, 5-minute assessment and learn what you can start doing today to boost traffic, leads, and sales.