"Imposter Syndrome Series: Finding Your Voice" (MarketHer Ep. 13)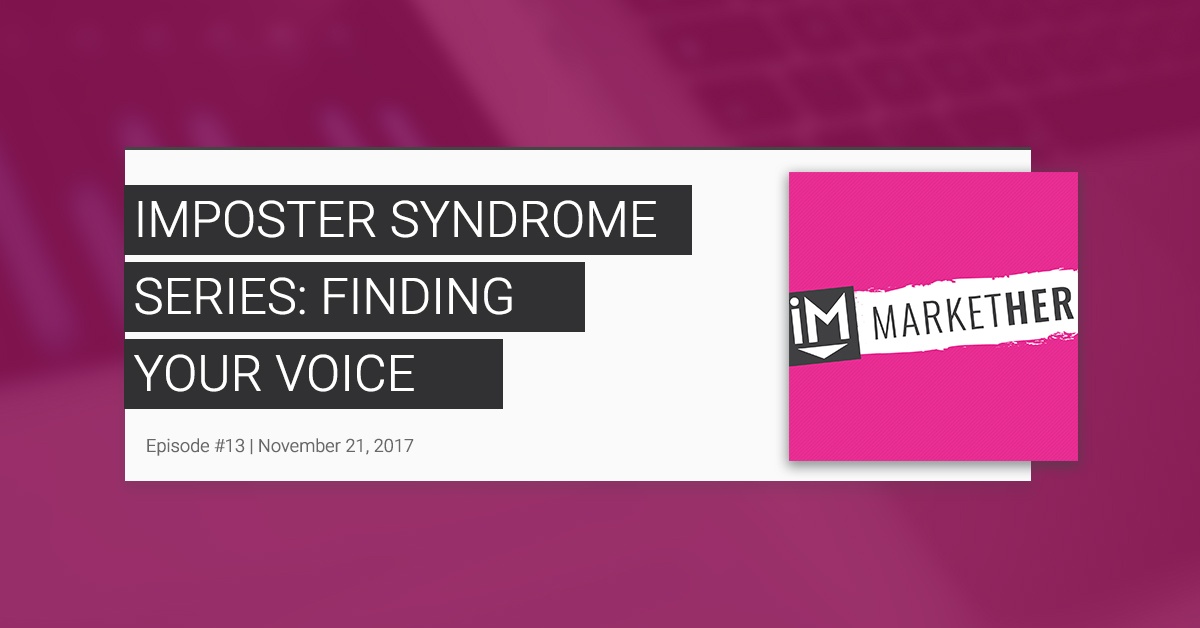 Reserved. Shy. Quiet. Stoic.
I can't tell you how many times people have used these adjectives to describe me. It's true I am more apprehensive to react emotionally in the moment, which quite frankly I don't mind, but being called "shy" is - the -worst.
Join the IMPACT coaches for a deep dive on a new topic every month in our free virtual event series.
Why does it bother me so much? Because deep down, I don't feel shy. What I do feel is annoyance at myself for holding back what I'm really thinking, especially in situations where I'm new or not as comfortable.
If you have ever found yourself in the same boat, where you hold back your voice from either previous bad experiences or a slew of situations where it felt better to not speak up, this episode is for you.
In my experience, this is one of the many consequences of Imposter Syndrome and to grow in your career, you know you need to get over it.
That's easier said than done, so in this episode, we share resources we've found to make that discomfort a little more manageable.
After you watch, join the conversation on our MarketHer-specific Facebook page. We already have some chatter in regards to our teaser video for this, and there's a lot more to say once you take a look.
Sources:
How Not to Be 'Manterrupted' in Meetings
How To Perform During Life's High Stakes Moments | Michael & Amy Port | TEDxCambridge
Listen to the Episode on iTunes
Stay Connected, Get Engaged!
First, subscribe to MarketHer on iTunes.
Second, have a question or an idea for a future episode of the podcast? Let us know by commenting below, subscribe to our playlist on YouTube, connect with us directly on our channels below or send us an email.
Angela: LinkedIn, Twitter, Instagram
Britt: LinkedIn, Twitter, Instagram, Facebook
Brie: LinkedIn, Twitter, Instagram
[NEW] MarketHer Official: Facebook, Instagram, Twitter (also Snapchat IMPACTMarketHer)
Or, you can leave us a comment below! Until next week...
We Listened, You Heard, Now, Go MarketHER!

Join the IMPACT coaches for a deep dive on a new topic every month in our free virtual event series.
Published on November 22, 2017