Instagram to Launch Ads in the Explore Tab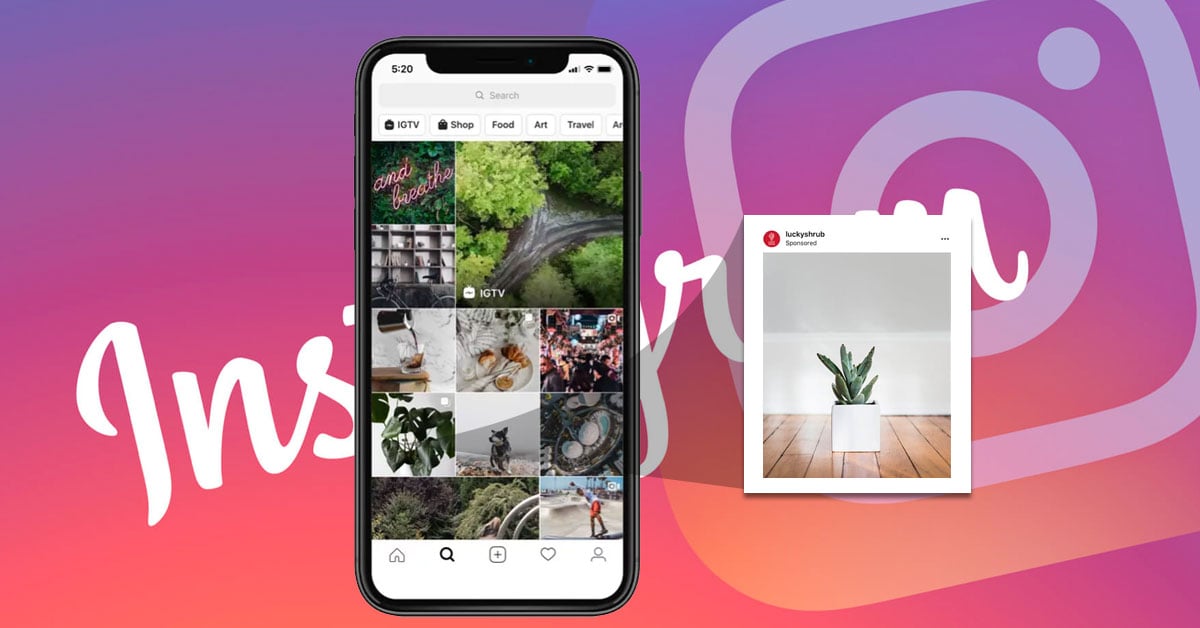 Instagram announced that it will be introducing ads within the Explore section of the app, giving advertisers a chance to reach highly-targeted audiences.
The ads won't be served in the initial Explore screen, leaving the personalized content exploration unaltered. Instead, they will be worked into the feed that results when a user engages with featured content.
According to Instagram, more than half of its users access the Explore feature every month when looking to discover something new, making this a great opportunity for users to discover brands and for advertisers to be a part of what's culturally relevant and trending while reaching new audiences.
How Explore Tab Ads Will Work
Instagram's Explore tab is one of the best places for users to discover and connect with new people, brands, creators, and more. I personally find it to be one of the most engaging aspects of the app because it is personalized to me.
I don't know about you, but I actually love connecting with my favorite brands on Instagram — sometimes it's shopping, other times it's checking out their latest stories and posts. I love being able to see what's going on in their world and how I can make it part of mine.
Over the next few months, Instagram will slowly and thoughtfully introduce ads in the Explore section. Ensuring both a great user experience and the continuity of the platform is of utmost importance to Instagram as it rolls out these new features.
Introducing the ads to groups of users, a few (million) at a time, allows Instagram to receive feedback and make adjustments as needed before the feature is fully rolled out.
As a marketer (and Facebook/Instagram ads specialist) this is amazing news — but I also really do like the idea from a consumer standpoint as well.
Advertisers will be able to easily extend their campaigns using automatic placements and a simple opt-in to reach audiences within Explore ads. The ads will not serve on the initial Explore screen but will show up in the feed that results from the user engaging with a piece of featured content.
Here is a demo video from Instagram that shows how things are planned to work:
Advertisers: Get Excited About Explore Ads!
As many of you already know, there is real power in advertising on Instagram, and I really do feel like this new feature is only going to supercharge what ads on the platform can do.
Ad placements in the Explore tab give advertisers a new way to connect with users that is more personalized and highly targeted.
Because of the nature of the Explore tab and the amount of time users spend engaging with content, these ads present opportunities for brands to consider as this new placement rolls out. Long-form video, for one, would be a great concept to test, as would fun and creative ways to make your content stand out.
I am really excited to start testing this ad placement option with clients as soon as it is available. I predict that being able to target users at the level that Explore ads will provide is going to be game-changing for brands.
However, will all new features, minor concerns exist until we are able to get access and test things. It will be interesting to see if putting ad spend behind the new Explore ads works for or against our other Instagram advertising efforts. Sometimes when these new opportunities roll out, they can cannibalize ad spend and cause wonky results.
What are your thoughts on Explore ads? Do you plan to try them out? Drop me a line in IMPACT Elite or feel free to reach out directly; I would love to hear from you!
Free Assessment:
How does your sales & marketing measure up?
Take this free, 5-minute assessment and learn what you can start doing today to boost traffic, leads, and sales.