Keyword research tools: Our top 5 easy-to-use options to improve your content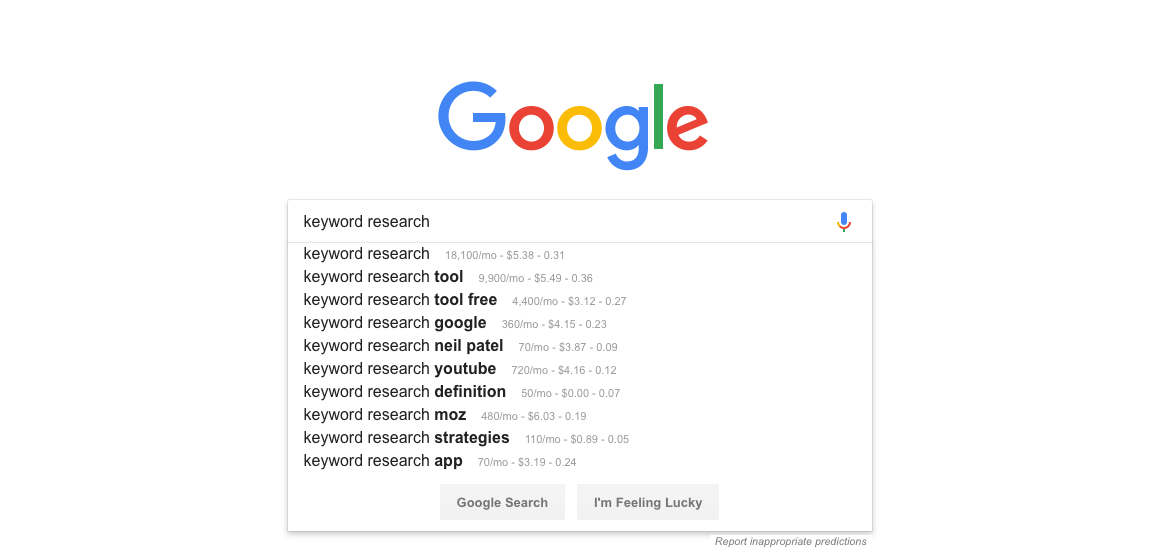 Top Keyword Research Tools
Here at IMPACT, our team of strategists is charged with literally writing the book on how we as a company do keyword research. They've done the homework for the rest of us and have vetted the top keyword research tools:
SEMRush
AnswerThePublic
Keywords Everywhere
Google Trends
LSIGraph
We've written a lot about how to do keyword research over the years and it's no wonder - as an agency focused on lead generation and inbound marketing, we spend a considerable amount of time ensuring that our marketing, and our clients', is optimized for the keywords and phrases that we want to get found for.
Keyword research and optimization is the foundation upon which content and inbound marketing strategies are built. Get it right and you have the makings of a plan that will open the organic website traffic floodgates. Get it wrong and you will have poured a tremendous amount of time and resources into a dead end.
Because the rules of the game are constantly changing when it comes to search engines and how they rank content, trying to stay on top of keyword research strategies can sometimes feel like going to the grocery store after they've rearranged everything - you're left wandering the aisles wondering where the milk is.
Recently, one of IMPACT's top strategists, Stacy Willis, wrote an article about just this situation and why we've changed the way we do keyword research in response to Google's changing ranking algorithm.
The good news is that there are a number of tools that make doing keyword research fast and easy.
Keyword Research Tools
Google the phrase "keyword research tools" and you'll see that there are no shortage of tools, articles and solutions (169 million, to be exact).
Some keyword research tools are free and some charge either a one time or a monthly recurring fee.
Some are quite simple and easy to use, and some definitely require that you take a tutorial to understand.
With the wide variety of tools available, how do you choose the one that's right for you?
Here at IMPACT, our team of strategists are charged with literally writing the book on how we as a company do keyword research. They've done the homework for the rest of us and have vetted the tools, and here's what they say their favorites are.
SEMRush
It is not overstating things to say that SEMRush is the center of our keyword research solar system here at IMPACT.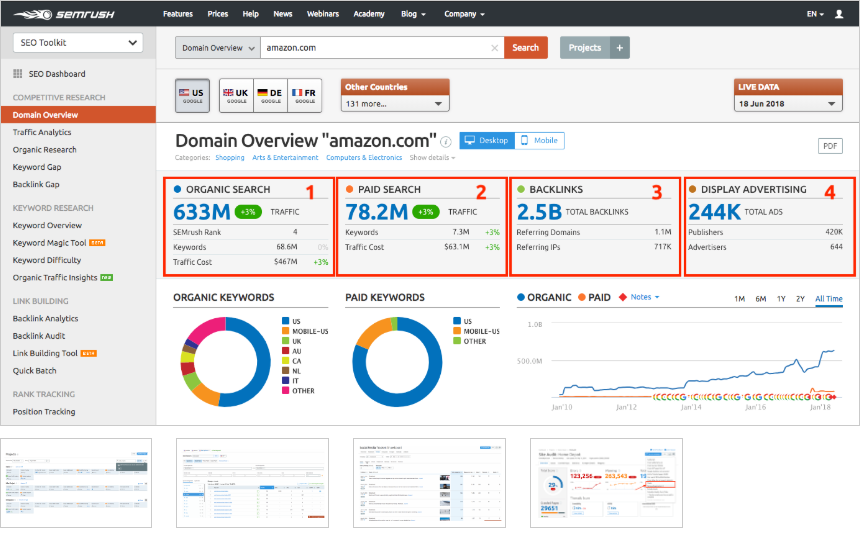 Every one of our customer-facing marketers uses SEMRush on a weekly (if not daily) basis throughout just about every stage of our keyword research process, from assessing current performance through identifying new keyword opportunities, to ongoing measurement and optimization.
We're not the only ones who love SEMRush. It currently has a 4.5 (out of 5) rating on software review site G2 Crowd and was recently named the Best SEO Software Suite at the 2018 US Search Awards.
Why is SEMRush such a hit with marketers? Here's what two of IMPACT's top strategists had to say about it:
"It's user friendly. I love the Keyword Magic tool, and the related keywords section helps me very easily recognize the exact keywords I wouldn't have initially thought of. The competitor tool, site audits, and domain performance are other areas I look at very regularly."

- Stacy Willis
"I really appreciate having the right data at my fingertips that can be easily manipulated and exported to make decisions with my clients on how to best approach their SEO goals. It's all my most needed data in one place. A click here and I have keyword data, a click here and I have backlinks. It's the ease of logging into one place that covers SEO data so broadly that makes me love it so much!"

- Britt Schwartz
SEMRush has too many features to list here, but a few of our favorites include:
Analytics reports covering organic traffic, advertising, backlinks, keyword performance, and more.
Tools that measure keyword difficulty, compare SEO performance across domains, audit backlinks, and surface keyword optimization opportunities.
Project-based features that allow you to easily conduct a website SEO audit, track SERP positions, monitor brand mentions, and analyze your content. It's a great quick check to see if your keyword research strategy is working.
A Keyword Magic Tool that does exactly what it says and helps you research long tail keywords.
There is so much value packed in here. If we could use only one keyword research tool, SEMRush would be it.
SEMRush's monthly packages start at $99 for the Pro level and go up from there based on usage. Get a free 7-day trial of SEMRush here.
AnswerThePublic
Once our team identifies new keyword ranking opportunities in SEMRush, we then work on building out topic clusters.
This is where free tools like AnswerThePublic come in handy.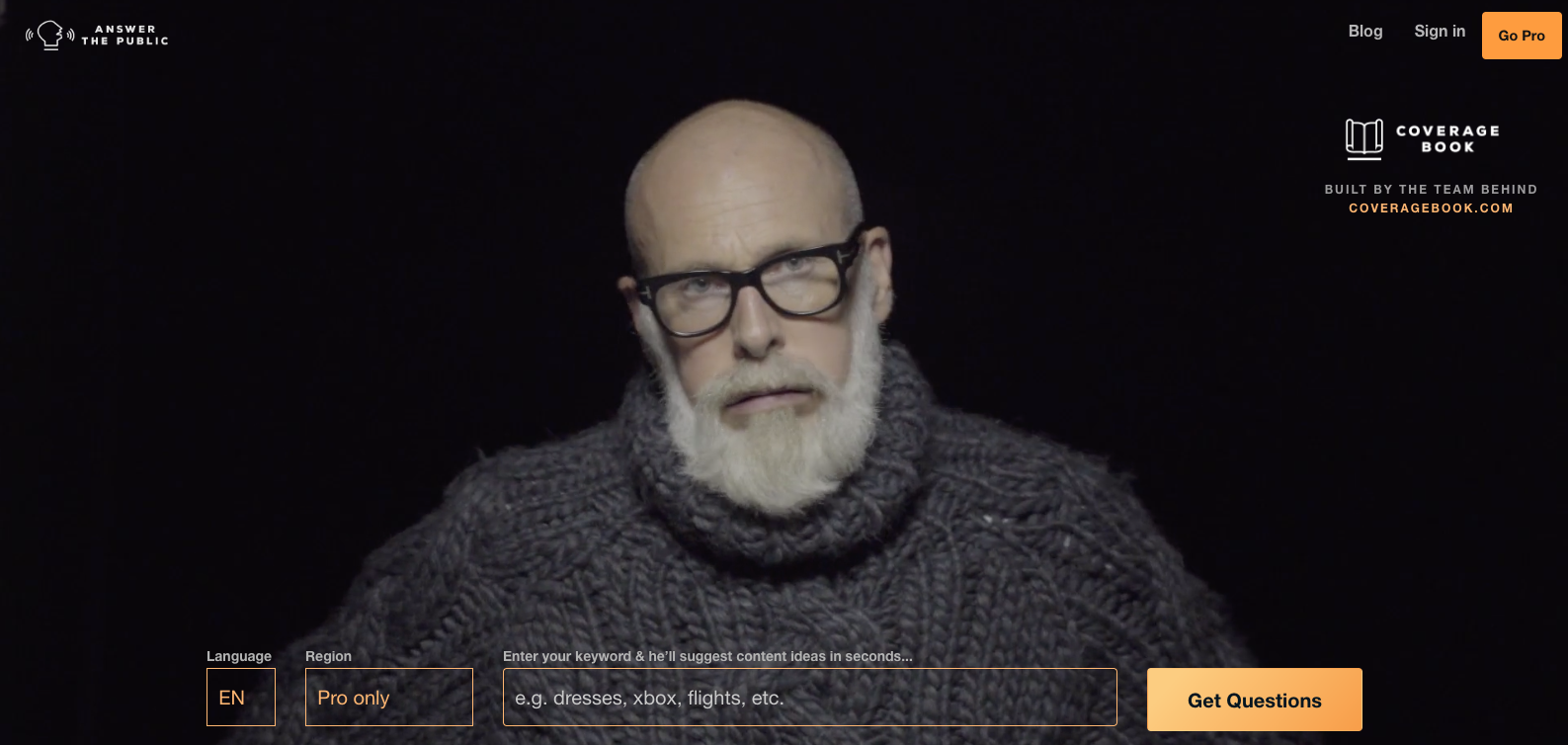 Not only does AnswerThePublic have quite possibly the best homepage of any website (call me crazy, but I love that grumpy old guy on their site!) - it is incredibly simple and easy to use.
Just enter the primary keyword that you are looking to rank for into the search bar, hit the "get questions" button, and AnswerThePublic returns with a list of the questions people ask about that topic as well as common comparison queries (those x versus y searches that are so common) and other helpful information including an alphabetical list of related search terms.
Best of all, the results can be downloaded as a .csv file, making it very easy to generate reports or upload them into other tools you might be using to track keyword performance.
Keywords Everywhere Chrome Extension
Whereas AnswerThePublic is a great (and free) way to quickly identify long tail keywords for your topic cluster strategy, not every keyword is created equally.
Understanding search volume and competition is critical to our ability to prioritize which keywords we should focus on first and which will give us the greatest search traffic bang for the lowest buck.
This is where Keywords Everywhere comes in.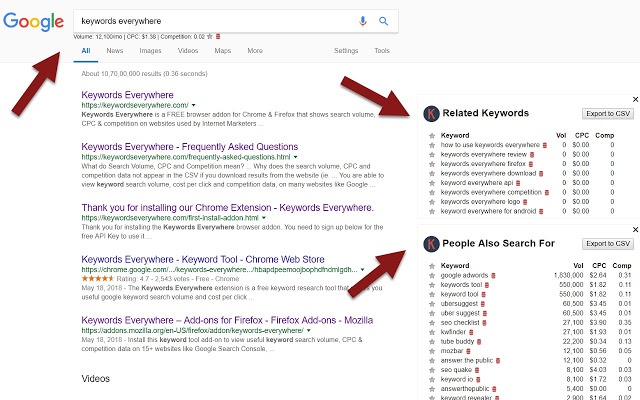 This free browser extension for Chrome and Firefox provides Google search volume, cost per click (CPC) and competition data and automatically appends this data onto the interface of your favorite keyword research tools.
You can also download keyword metrics for any list of keywords as a .csv, excel or PDF file.
Google Trends
Data on keyword search volume is helpful to determine the potential that a given keyword or phrase has for delivering organic traffic to your site, but most tools give you a snapshot of search volume for a specific moment in time.
What if search volume is high now but shows signs of declining dramatically? Or - even better - what if a keyword currently has a low search volume and isn't very competitive, but shows signs that the volume of searches is growing? How does search volume compare for two similar (or synonymous) terms?
These are the kinds of questions that you can answer using Google Trends.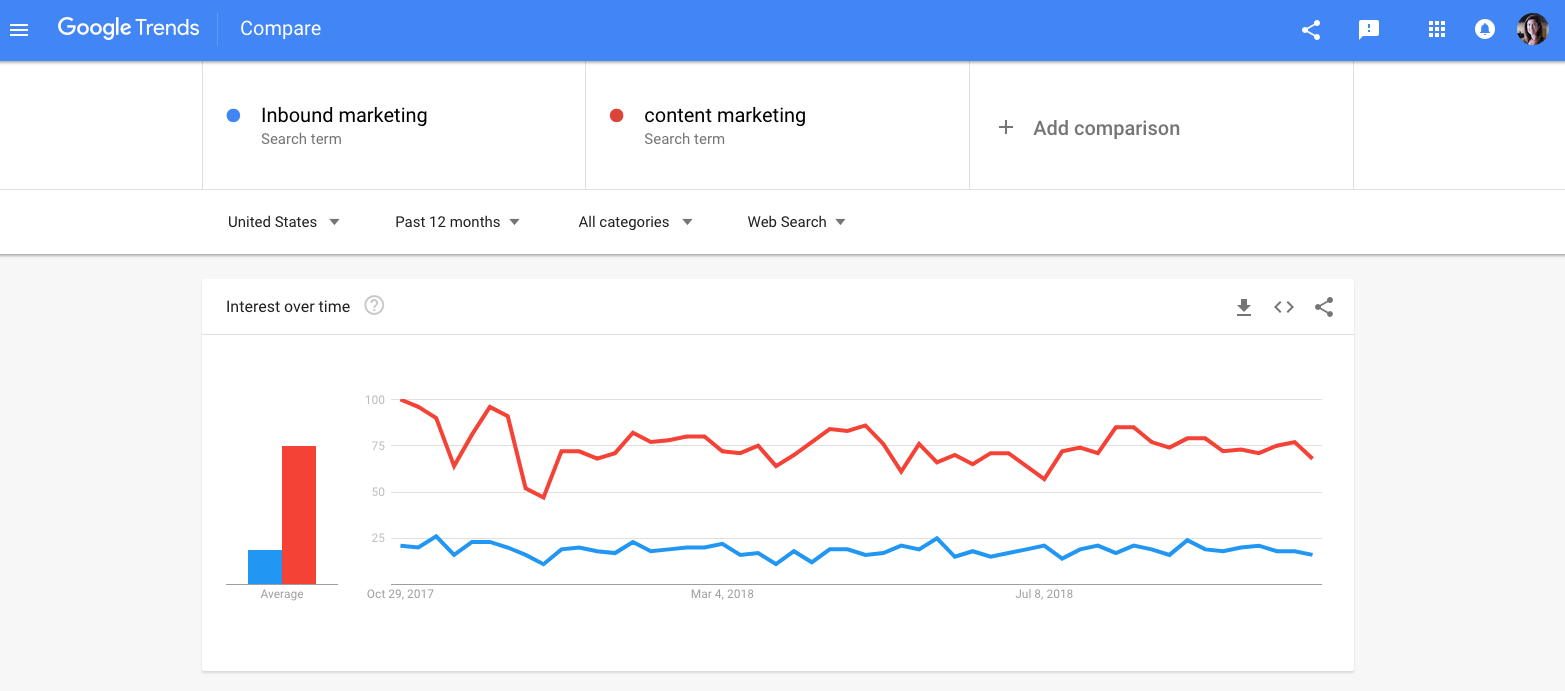 For example, here at IMPACT we talk a lot about inbound and content marketing. When considering which of these terms to use in our website copy, Google Trends provides valuable insight into the relative search volume (turns out there are a lot more people searching for "content marketing" than there are for "inbound marketing").
In addition to showing how search volume is trending over time, Google Trends also provides data on how search volume varies by geographic region (countries) and subregion (U.S. States), as well as other related queries.
Google Trends is free of charge and most helpful for comparative keyword research (like the example above) and to identify event-triggered spikes in keyword search volume (useful if you are looking to newsjack).
LSIGraph
With Google moving increasingly in the direction of using artificial intelligence ("Rank Brain") instead of algorithms to determine search rankings, it's more important than ever to ensure the content we create is packed with related keywords.
In fancy marketing terms, these are called "latent semantic indexing" keywords (or LSI keywords) and are basically keywords that are commonly found together within a single topic and are naturally related to each other.
Google uses LSI keywords to determine what a page is about. For example, if it sees that a page seems to be about the keyword "collar", it will look to see what other keywords are on the page. If the word "dog" appears, that helps Google to understand that the content is referring to pet collars as opposed to "collaring a criminal."
LSI Graph is our go-to tool for discovering LSI keywords.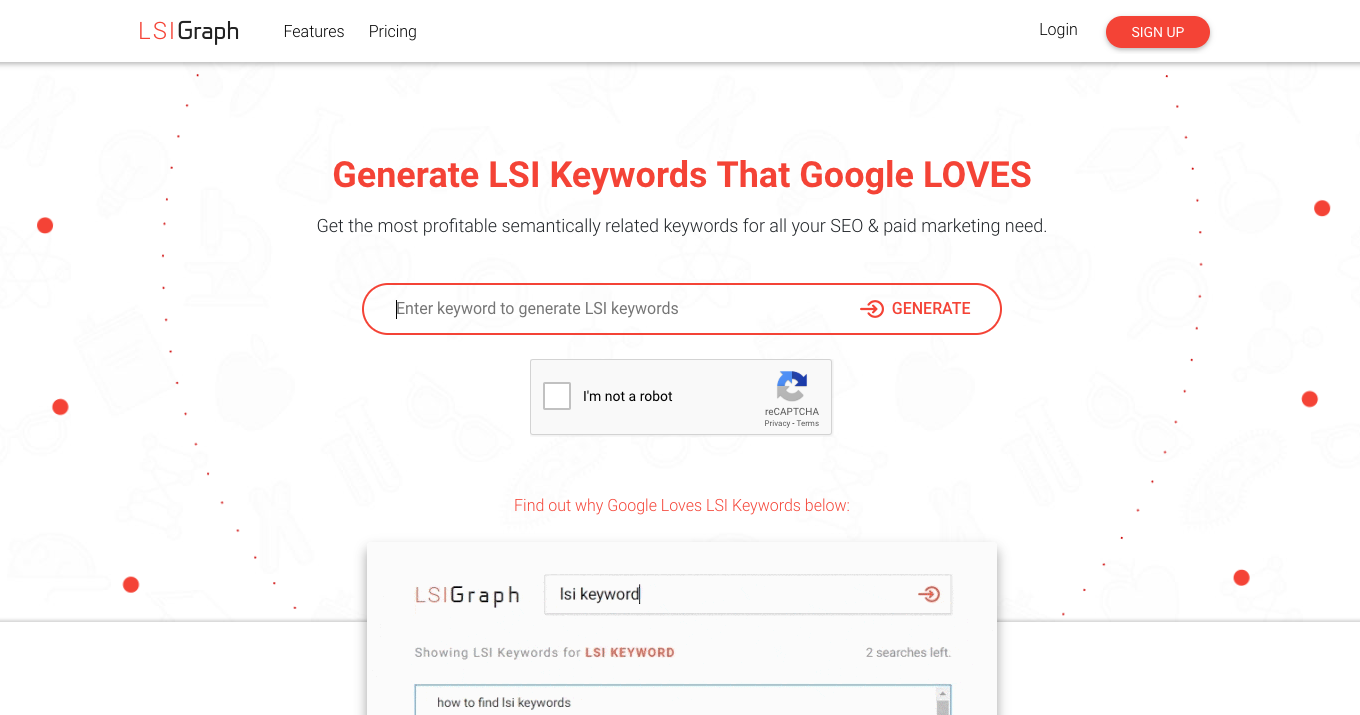 Simply enter a search term into LSI Graph's search bar, hit the "generate" button, and it will deliver a list of LSI keywords for that search term.
You can conduct a limited number of searches on LSI Graph for free (a great way to "try before you buy") and then you'll need to upgrade to the paid version, which starts at $24 per month.
Choosing the Right Keyword Research Tools for Your Needs
The five tools I've profiled above are the ones that our team here at IMPACT uses the most. They meet our needs based on the type of work we're doing and together, fit within the budget we've set for keyword research.
This is not to say that these are the best five tools available or that these are the five tools that you should be using - they're simply the tools that work best for us.
If you're looking for online tools that can make the keyword research process easier or more effective, these are a great place to start. I also recommend doing your homework and checking out the product reviews on G2 Crowd - an independent website where software users like you and me can post reviews, and where prospective software buyers can do side-by-side evaluations of competing products. It's a great and unbiased resource that I use frequently.
Free: Assessment
Does your website build trust with buyers and bring in revenue?
Take this free 6 question assessment and learn how your website can start living up to its potential.
Score My Website
Free: Assessment
Does your website build trust with buyers and bring in revenue?
Take this free 6 question assessment and learn how your website can start living up to its potential.
Published on October 25, 2018